20 Must-Have Supplies for Christmas DIY Projects
Do you enjoy making Christmas DIY projects? Having the right supplies helps to make Christmas crafts special. Here are at least 20 must-have supplies for Christmas DIY projects you will love to make.
I've been making some new awesome Christmas DIY projects. Christmas decorations and gifts are more personal and special when you make them yourself.
Personalized gifts can make the perfect gift. Handmade home decor is one of the best ways to tell family and friends how much you care. Plus, it's so much fun to create using your own two hands.
I love the sense of satisfaction that comes from making items that can't be bought at a store. Items that are one-of-a-kind, unique, that no one else has or gives. With these must-have supplies for Christmas DIY projects, you can make just about anything for your home or gifts.
How about making pretty Christmas DIY decor and gifts that are unique this holiday season? If you want your Christmas projects to be even more special, these must-have supplies for Christmas DIY projects should be on your shopping list right now.
There's no better way to get in the holiday spirit than creating Christmas decorations for your home.
Christmas DIY Projects Must-Have Supplies
This post contains affiliate links to products used in the creation of this project. If you should order any item from this site, I may receive compensation, but you do not pay a penny more. Your purchase is greatly appreciated as it helps support the continued publication of this site.
What is the great thing about these products? They help you make holiday decorations without having any great DIY skills. Just a desire to be creative.
Links to all these supplies are below for your convenience.
Styrofoam Cones, Balls and Embellishments
Styrofoam is a great supply to have on hand for a variety of Christmas projects. Cone shapes are perfect for making Christmas trees.
What can you embellish styrofoam cones and balls with?
glitter
adhesive gem stickers
paint
yarn
twine
paper
felt balls
ornaments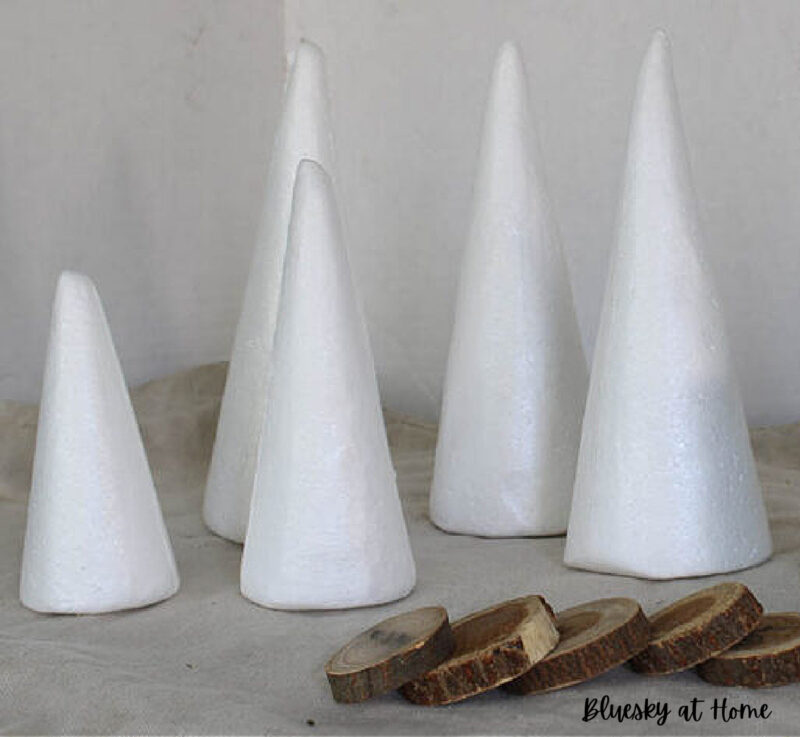 I've used styrofoam cones to make glitter trees.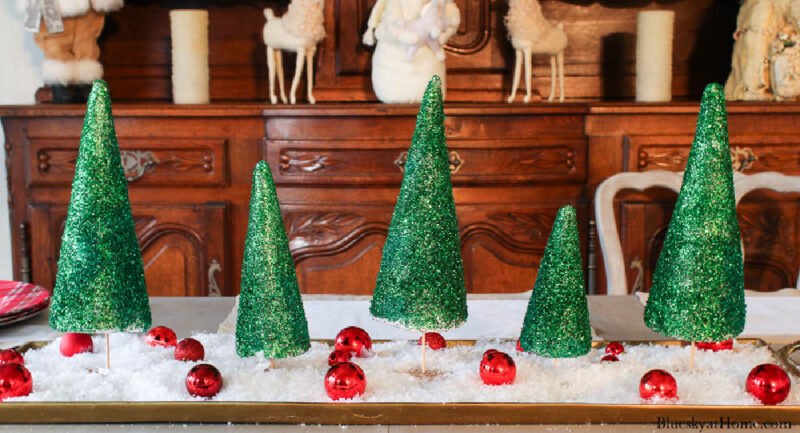 Want a softer Christmas tree look? Use yarn to wrap the stryofoam cones. Use your favorite colors of yarn to make a homemade Christmas craft that fits your color palette.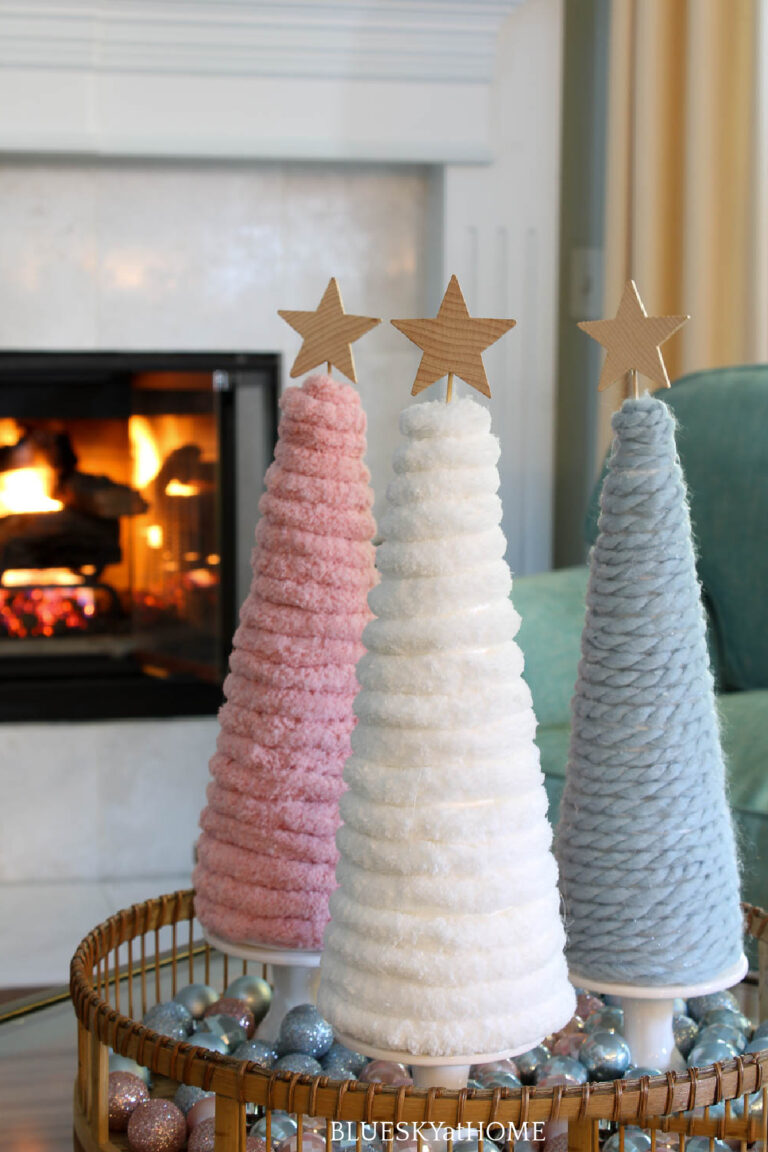 Another pretty way to make Christmas trees from styrofoam cones is to embellish them with felt balls in your colors of choice. You can vary the patterns, too. I made several felt ball Christmas trees last year and it was such a fun project.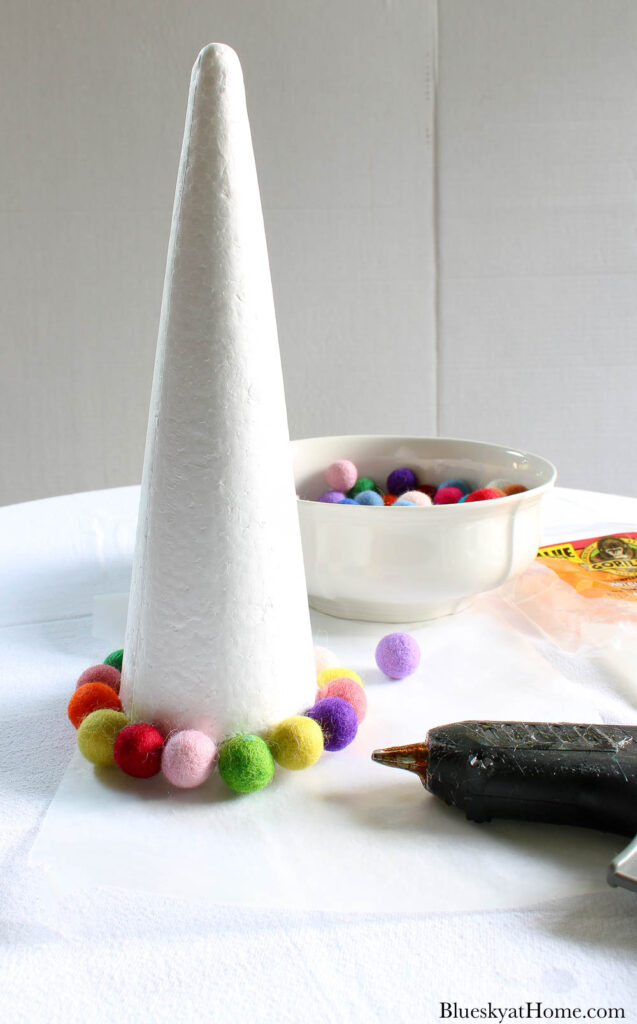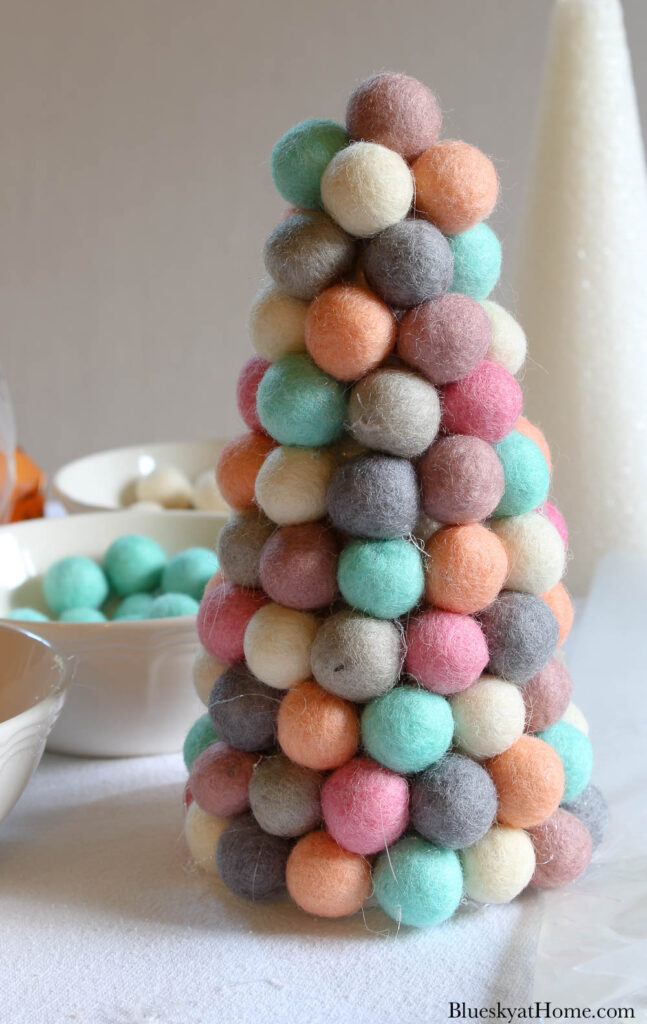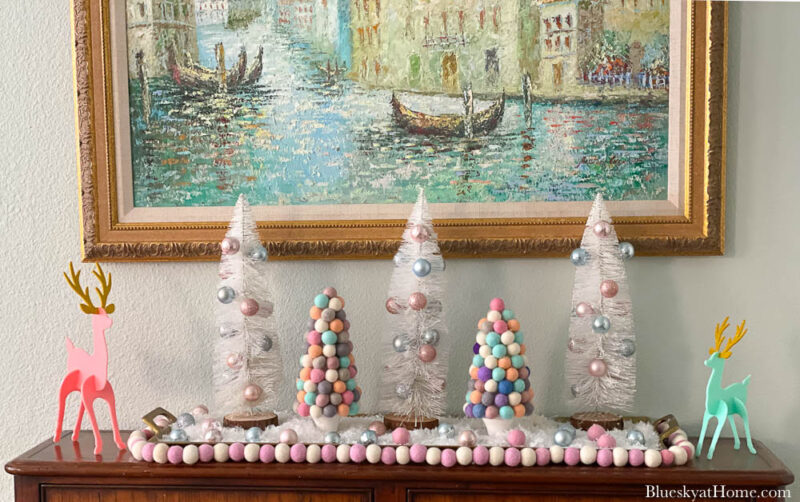 Styrofoam balls are perfect for making Christmas ornaments.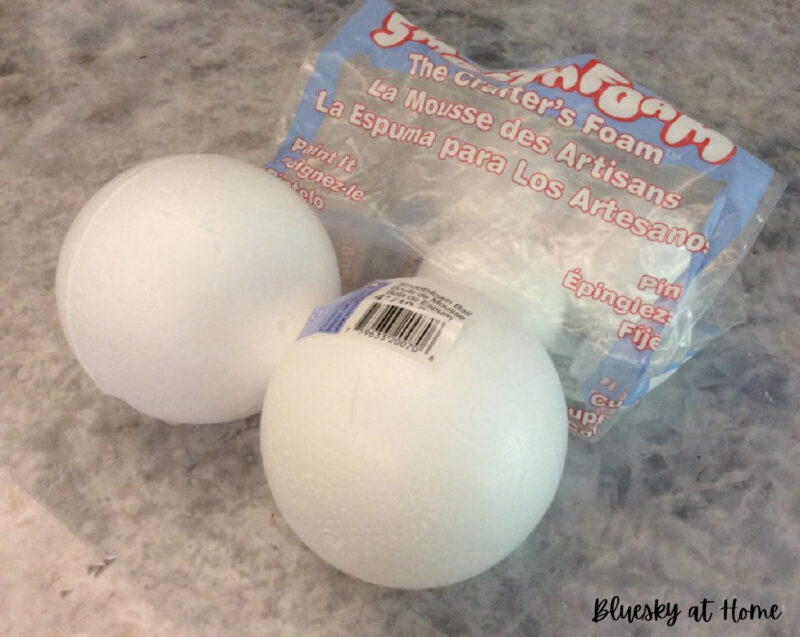 You can cover them in glitter, glue on "gems" or wrap them in yarn or twine. I used adhesive backed "gems" to make these pretty sparkling ornaments.
Christmas Stencils and Chalk Paste
I don't know about you, but writing or drawing in beautiful lettering is not my forte. And that's why stencils have been a lifesaver over the years.
We all have had the unfortunate experience of craft paint seeping under a plastic stencil and ruining our project. That doesn't happen with mesh stencils from A Maker's Studio. Think of fabric, like a silkscreen. Secondly, the stencils have an adhesive backing ~ no need for spray adhesive or taping down.
Now to the fun – A Maker's Studio recently released dozens of brand-new Christmas stencils that are unique, versatile and just so cute. The possibilities are endless. You and 10 of your friends could have the same stencil and never make the same project.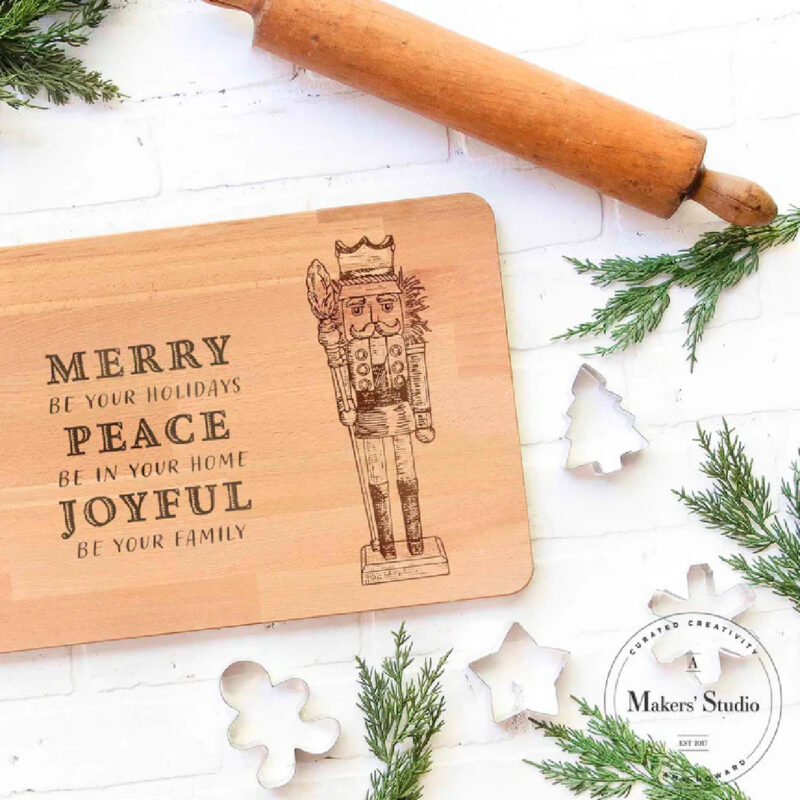 The Christmas Maker Box is a special way to treat the person in your life who is a devoted DIYer. Each month for 3 months, a special, limited edition stencil with a jar of Chalk Paste, a spreader and a surprise gift will be delivered to their door. Of course, you can give it to yourself or ask for this on your gift list.
To use your Christmas stencils, you will need Chalk Paste (different from regular chalk paint). This unique product is so easy to use. Pair it with the amazing selection of stencils, give it 15 minutes to dry, and just wait till you see the look on people's faces when you show them what you created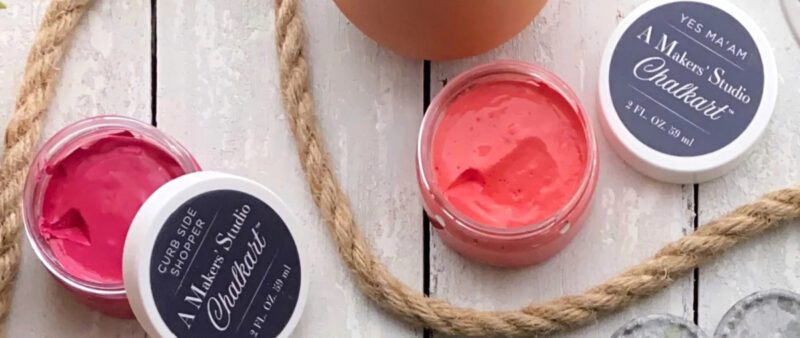 Any Wood Surface
Any wood surface can make a fun Christmas craft. Places like the dollar store, online or your favorite craft store are great places to find wood pieces. I've made countless decorations using wood crafts, like these Christmas wood signs that I painted and stenciled.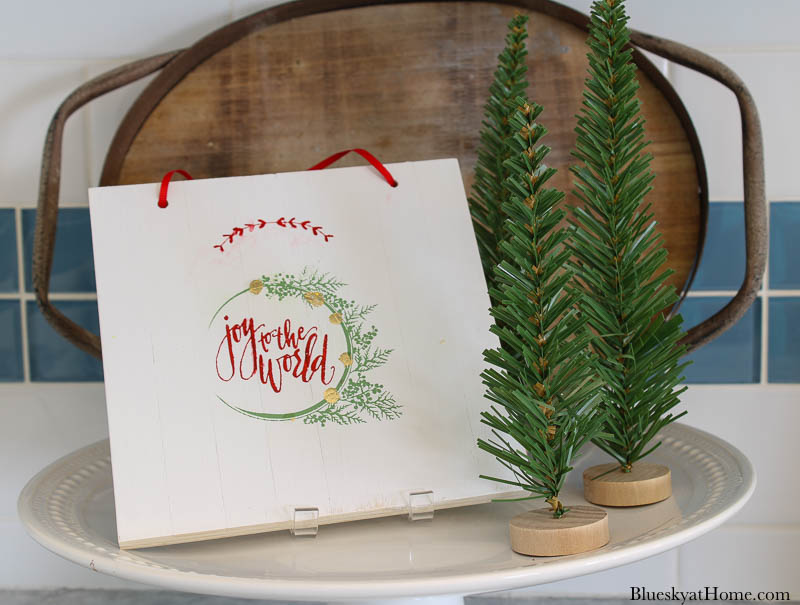 What cute Christmas wood crafts can you make?
wood signs
wood trees
wood sleighs
wood palettes
wood cut-outs – Santas, snowflakes snowmen
cutting boards
I painted cutting boards one year and added cute Christmas stencils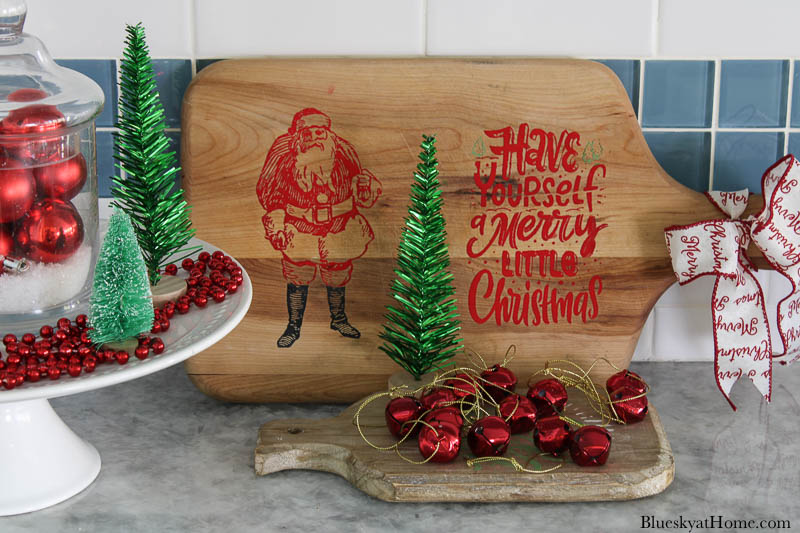 Ceramics
Buy inexpensive plates, platters, coasters or mugs online or at your dollar store. Paint or stencil them.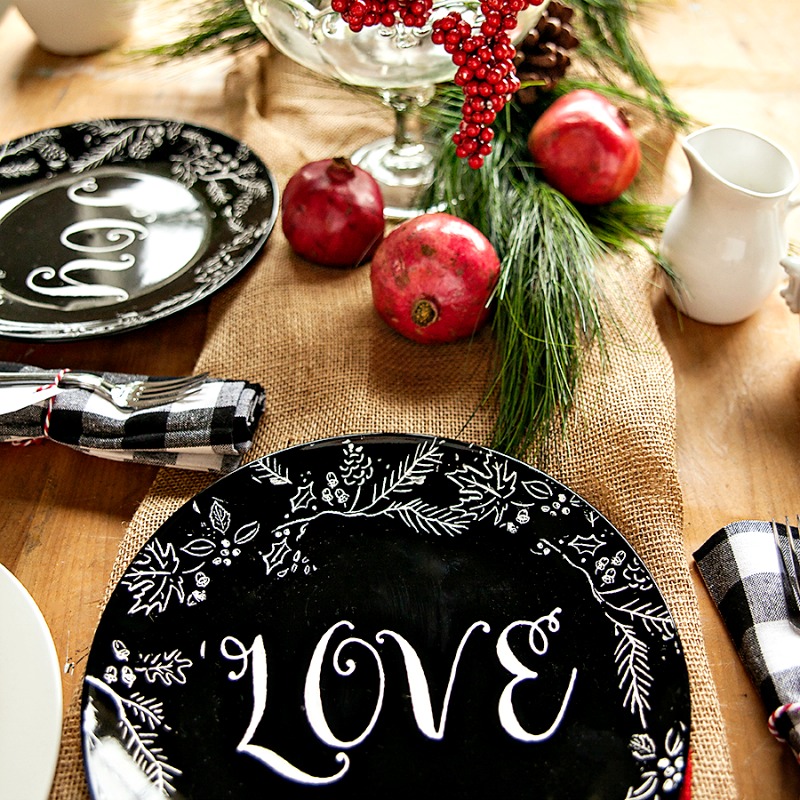 I made this set of stenciled Christmas tiles a few years ago for the area on our stove hood. They add such a bright, merry look to our kitchen.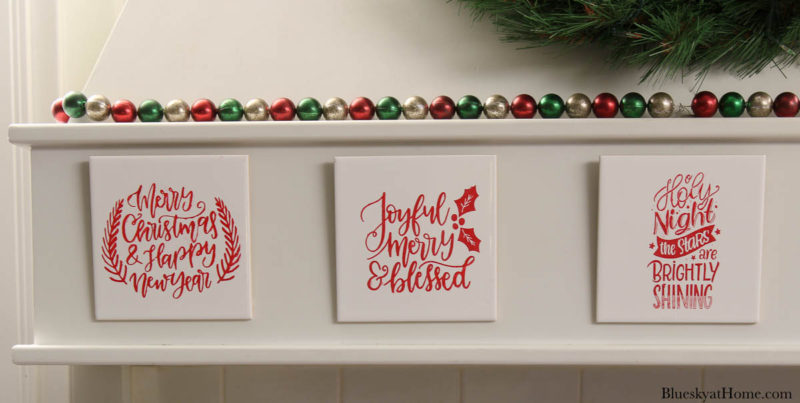 Burlap
Fabric is a great surface for DIY crafts. So many things can be made with burlap, including cute Christmas bags. You can embellish them with stencils, paint, or sew on felt Christmas trees or snowflakes.
Felt Squares and Felt Balls
Felt squares are another wonderful material for making Christmas crafts. Pair them with felt balls and you can make the prettiest Christmas garland like I did. You can change the colors to make garland to your style and personality.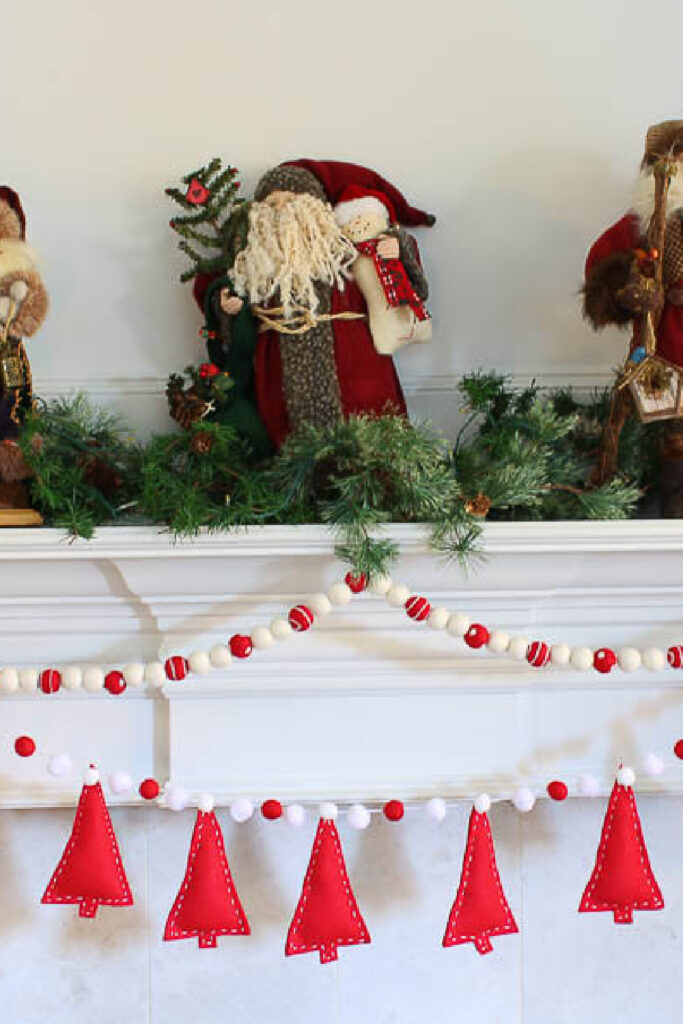 I made this felt ball garland in shades of pink, blue, and white last year.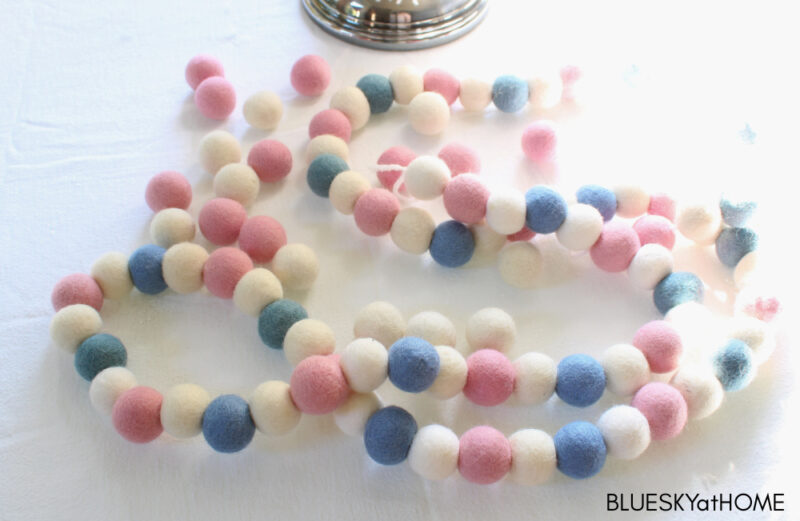 Decoupage Decorations
The art of decoupage is a perfect method for creating fabulous Christmas decorations.
Mod Podge is the must-have ingredient for decoupaging.
You can use decoupage to attach napkins to many of the items mentioned here, such as the cardstock, wood signs, heavy paper, or ceramic tiles.
Christmas beverage napkins can be used to make lovely ornaments. I think overall designs work best for this project.
Paper
Craft paper and cardstock are two of the most versatile DIY supplies ever. What Christmas projects can you make with paper?
gift tags
Christmas cards
place cards for Christmas dinner
gift bags
decorate craft paper and use it to make wrapping paper
bookmarks – great for your book club or Bible study group
Use stencils to make gift tags using cardstock.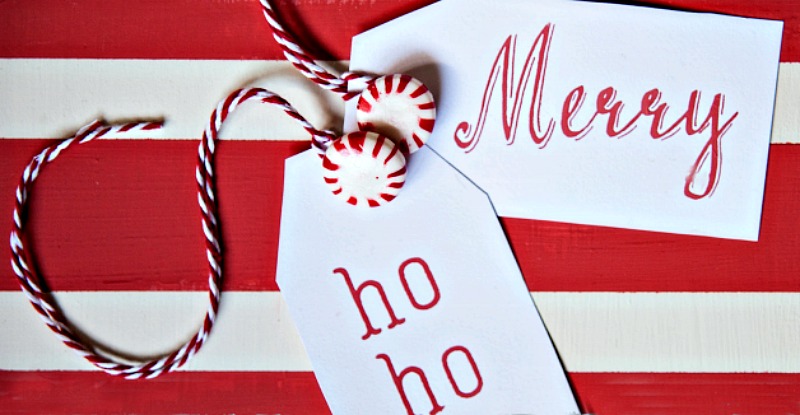 Or personalize a gift bag.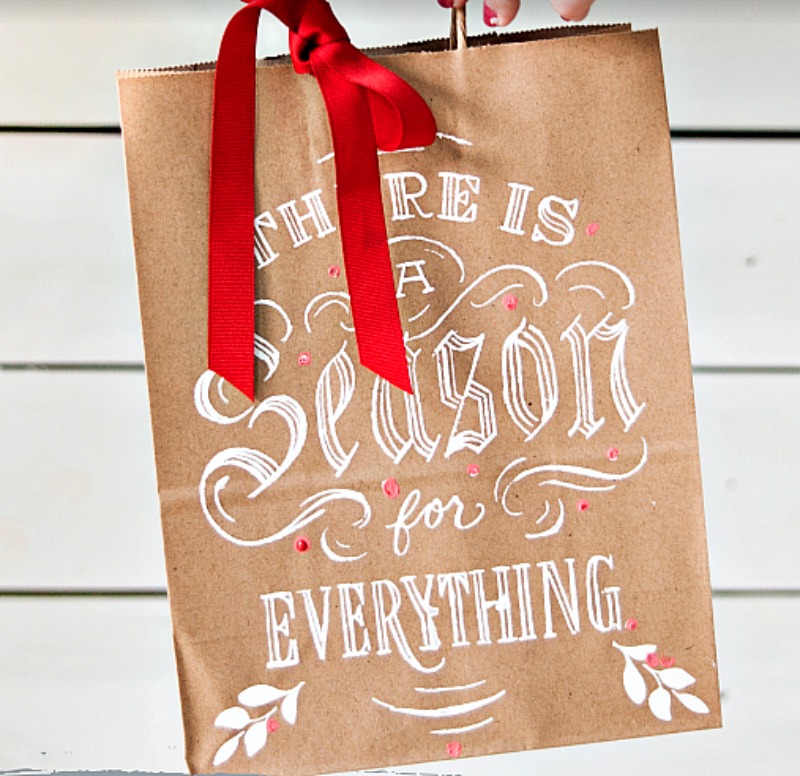 Make a custom Christmas card.
I made a variety of Christmas decor and gifts with cardstock. I made these bookmarks a few years ago for my Bible study group.
Gold Leaf and Gilding Size
Using gold leaf (or silver or copper) is one of my favorite ways to make gifts or embellish decorative items for the holidays.
I've embellished glasses, votives for candles, planters, and artwork. Most recently, I added gold leaf to give a tray a shiny metallic flair.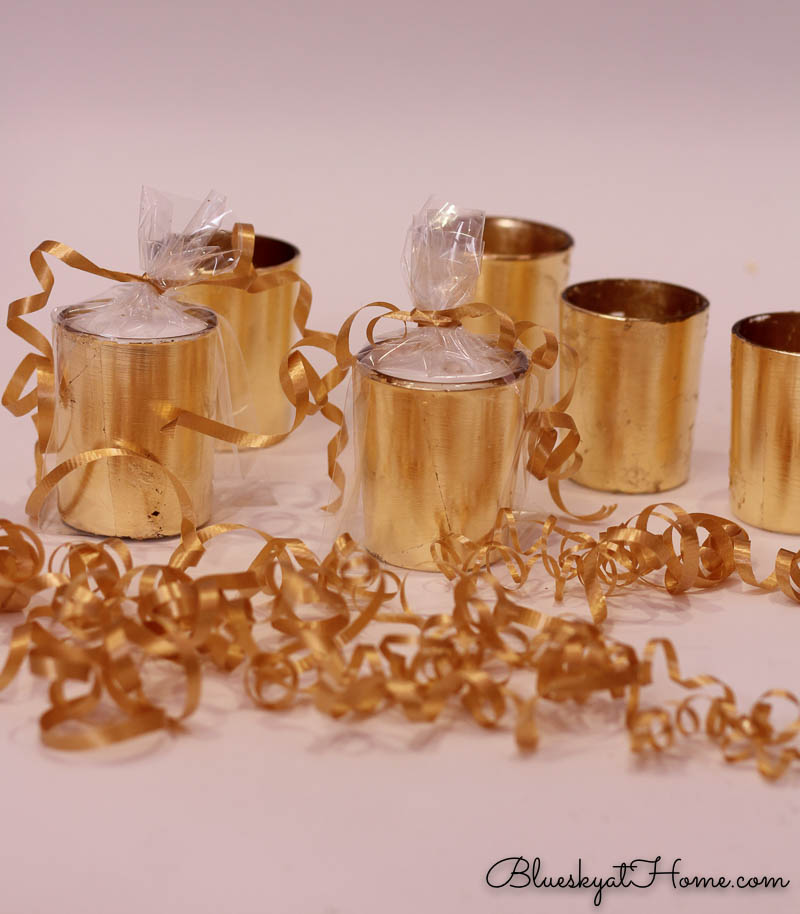 If you are anxious to start your Christmas DIY projects, I (gently) urge you to order your Christmas supplies now before they run out, especially stencils and Chalk Paste (quickly because when they are gone, they are gone).
Paint Types and Colors for Christmas
Chalk Pasta is a product designed to work with A Maker's Studio stencils. Chalk Pasta has a thicker consistency than paint and is easily applied using a plastic "spreader". It comes in 21 colors, but here are the ones that I believe are perfect for Christmas DIY projects.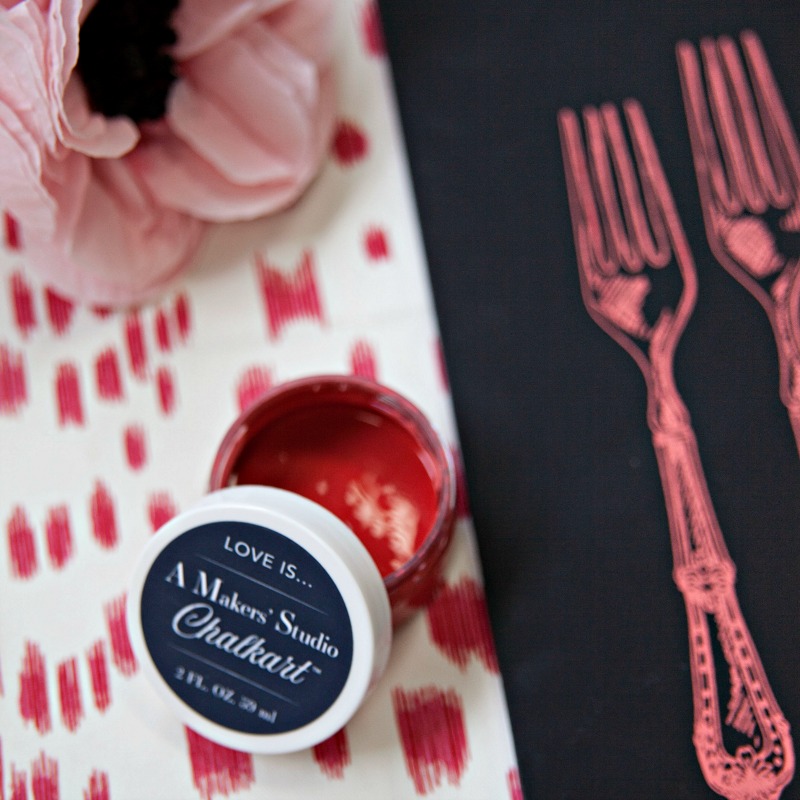 Together Forever – a soft Christmas green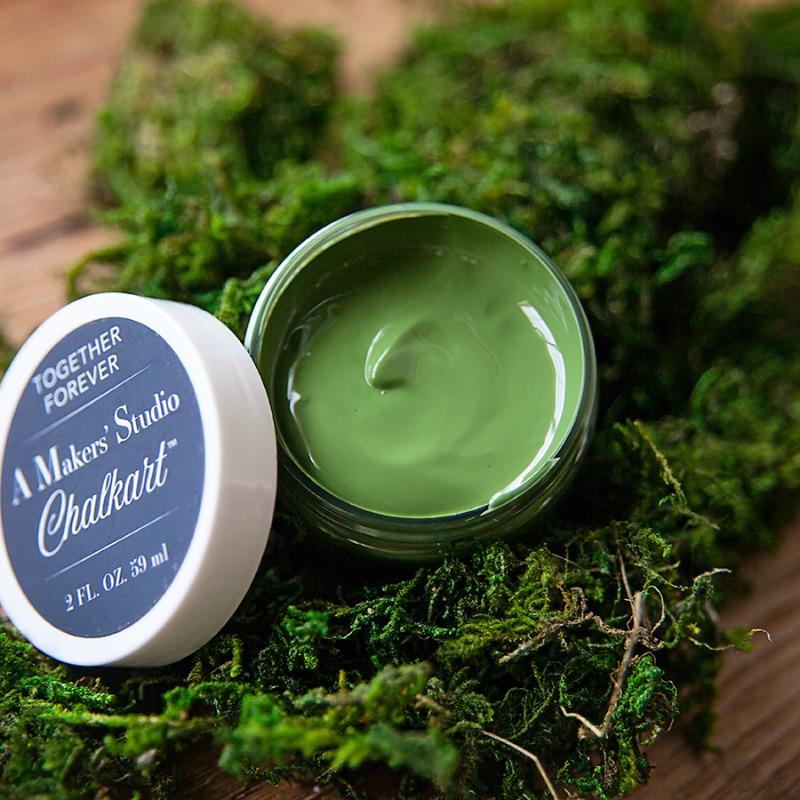 Metallic Gold and Metallic Silver – what can I say? Use metallics to give shine and sparkle to the holidays.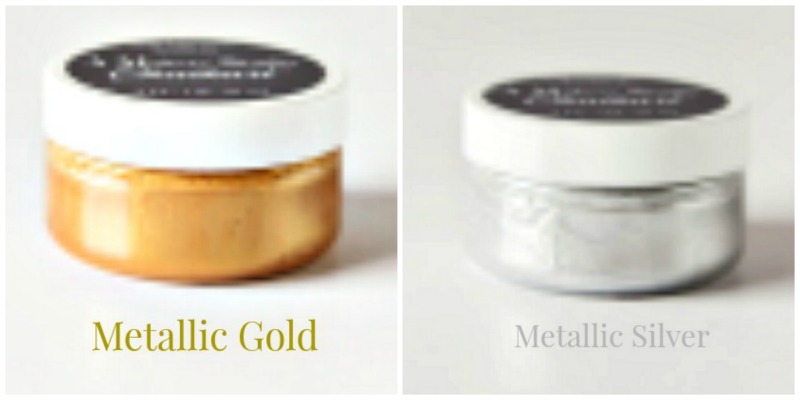 I recently discovered Metallic Acrylic Paint and I love it. The shiny finish is perfect for the holidays. So far, I've used it on styrofoam cones and craft balls. I love the results. I'll be sharing those projects soon.
I've lost track of how many must-have supplies for Christmas DIY projects that I've shared here. I do know that with them, you have an endless list of Christmas decor and gifts you can make.

You'll be able to enjoy the process of creating, be proud to display the items you make in your home and give them as gifts to friends and family. I'm so excited about all the possibilities, and I hope that you see the creative potential in these Christmas DIY project must-have supplies.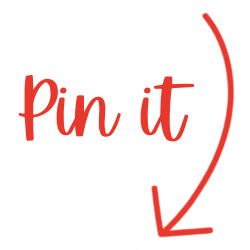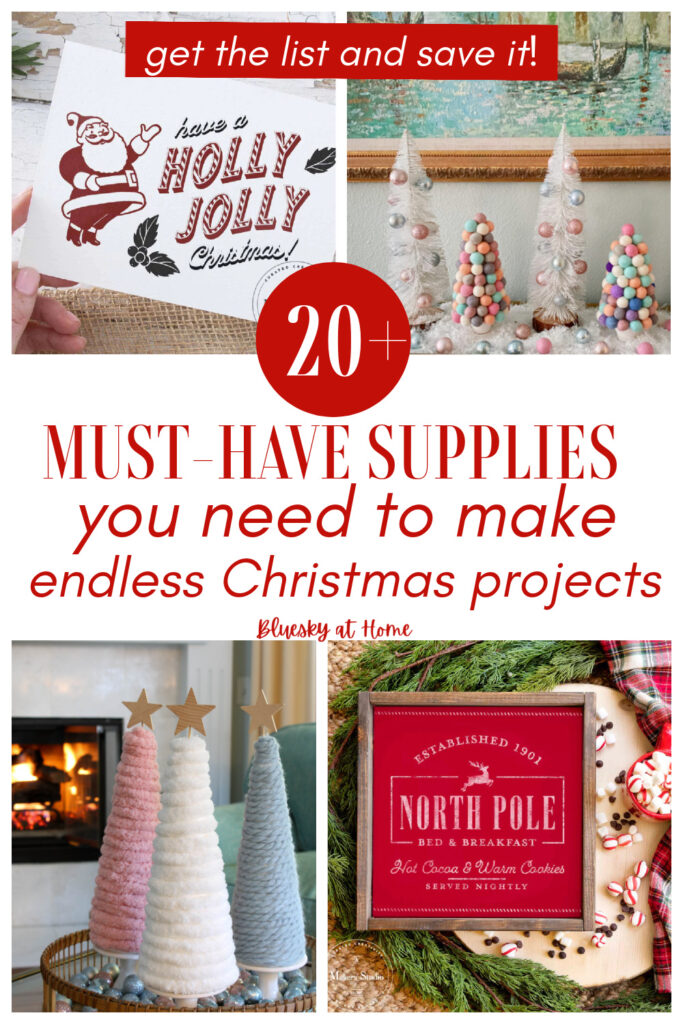 If you have any questions, please leave me a comment or drop me a message. I'd love to hear what your creative plans are.