Christmas DIY Projects Must Have Supplies
Do you enjoy making Christmas DIY projects? Here are some must~have supplies for the prettiest Christmas DIY projects you've ever made.
I am so ready to make some awesome Christmas DIY projects. Christmas decorations and gifts are more personal and special when you make them yourself.
Personalized gifts and home decor are some of the best ways to tell family and friends how much you care. Plus, it's so much fun to create using your own 2 hands. I love the sense of satisfaction that comes from making items that can't be bought at a store. Items that are one~of~a~kind, unique, that no one else has or gives.
Now I know that you can buy all sorts of DIY and craft supplies at your local craft store or online and I do that too. But how about making pretty Christmas DIY decor and gifts that are even more unique? If you want your Christmas projects to be even more special, these must~have supplies for Christmas DIY projects should be on your shopping list right now.
 Christmas DIY Projects Must~Have Supplies
This post contains links to products that I love, use, and highly recommend. If you should order any product through this site, I may be compensated, but you do not pay one penny more.
If you have been reading posts from Bluesky at Home for the past few months, you know that in July I became a Maker Boss (I love being a boss!) with A Maker's Studio. During that time, I am continually amazed at the quality, creativity,  and innovation that the design team offers. I am so excited to start making Christmas DIY projects for our home and for gifts. So here are what I think every DIYer should have for the holiday season ~ regardless of your level of DIY expertise.
Because of the great thing about these products? You don't have to have any great DIY skills. Just a desire to be creative.
Christmas Stencils
I don't know about you, but writing or drawing in beautiful lettering is not my forte. And that's why stencils have been a lifesaver over the years.
We all have had the unfortunate experience of craft paint seeping under a plastic stencil and ruining our project. That doesn't happen with mesh stencils from A Maker's Studio. Think of fabric, like a silkscreen. Secondly, the stencils have an adhesive backing ~ no need for spray adhesive or taping down.
Now to the fun ~ A Maker's Studio has released 7 different Christmas stencils that are unique, versatile and just so cute. The possibilities are endless. You and 10 of your friends could have the same stencil and never make the same project.
So here are the Christmas stencils.
1 Welcome | 2 Merry Christmas | 3 Noel | 4 I'll Be Home for Christmas | 5 Happy Holidays | Blessed Grateful Thankful
And here is a special way to treat the person in your life who is a devoted DIYer. The Christmas stencil subscription. Each month for 3 months, a special, limited edition stencil with a jar of ChalkArt, a spreader and a surprise gift will be delivered to their door. Of course, you can give it to yourself or ask for this on your gift list.
Need some inspiration? You can apply the Christmas stencils and ChalkArt to just about any surface. Check out these ideas for Christmas DIY projects.
Any Wood Surface
Ceramics
Buy inexpensive plates, platters or mugs at your dollar store and stencil them.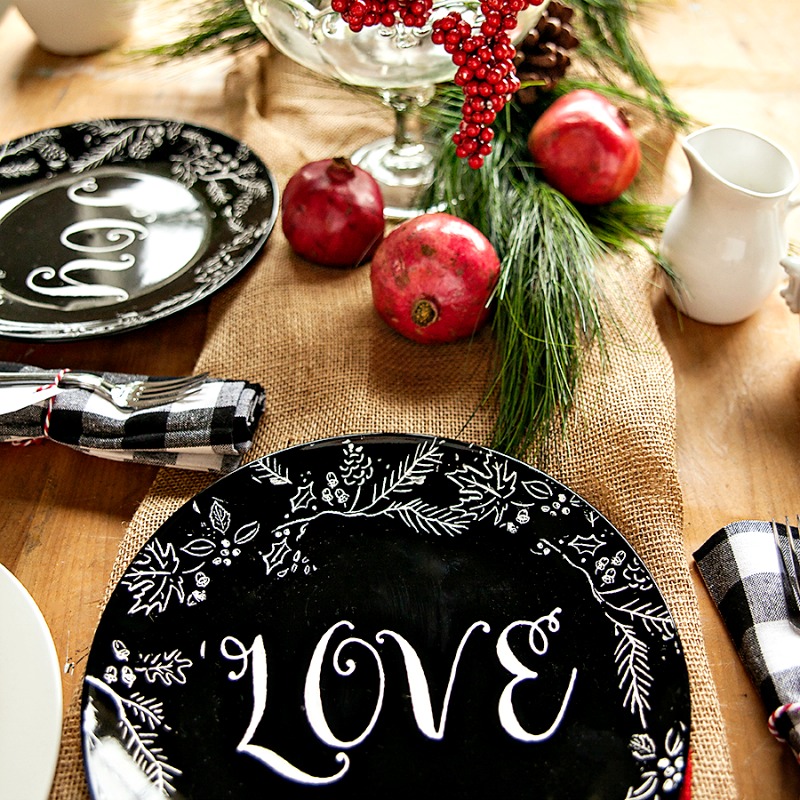 Burlap
Fabric is a great surface. 
Metal
This picture is from my friend Carol at The Red Painted Cottage. Use a metal tree collar and stencil of your own design from A Maker's Studio.
I made this sign using a galvanized charger from Hobby Lobby. I painted the inside of the charger with Blessed Rescue Restore paint; then I painted the NOEL stencil in the center with Love Is ChalkArt. On the rim of the charger, I used one of the many leaf designs in Together Forever. Using the eraser end of a pencil, I made a "berry" using Love Is.
Paper
Use stencils to make gift tags using cardstock.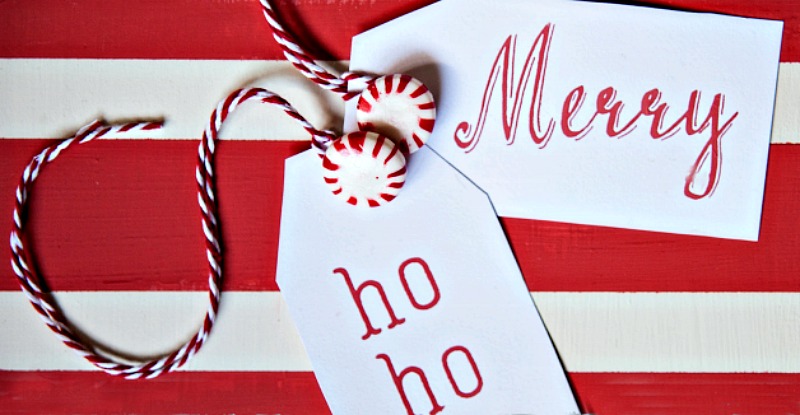 Or personalize a gift bag.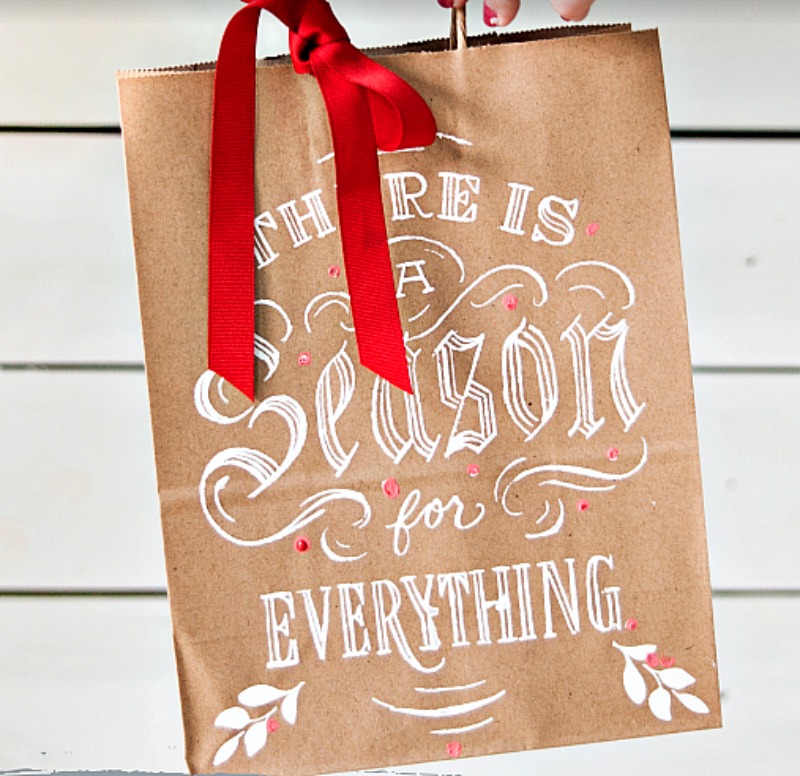 Dry Eraser Board
I used this dry eraser board (the other side is chalkboard) with our Antler stencil from the Details Stencil in Love Is with "deer me" in Together Forever using our Alphabet 4 Stencil.
If you are anxious to start your Christmas DIY projects, I (gently) urge you to order your Christmas stencils quickly because when they are gone, they are gone.
ChalkArt Colors for Christmas
ChalkArt is a product designed to work with our A Maker's Studio stencils. ChalkArt has a thicker consistency than paint and is easily applied using a plastic "spreader". It comes in 21 colors, but here are the ones that I believe are perfect for Christmas DIY projects.
Love Is ~ a soft rosy red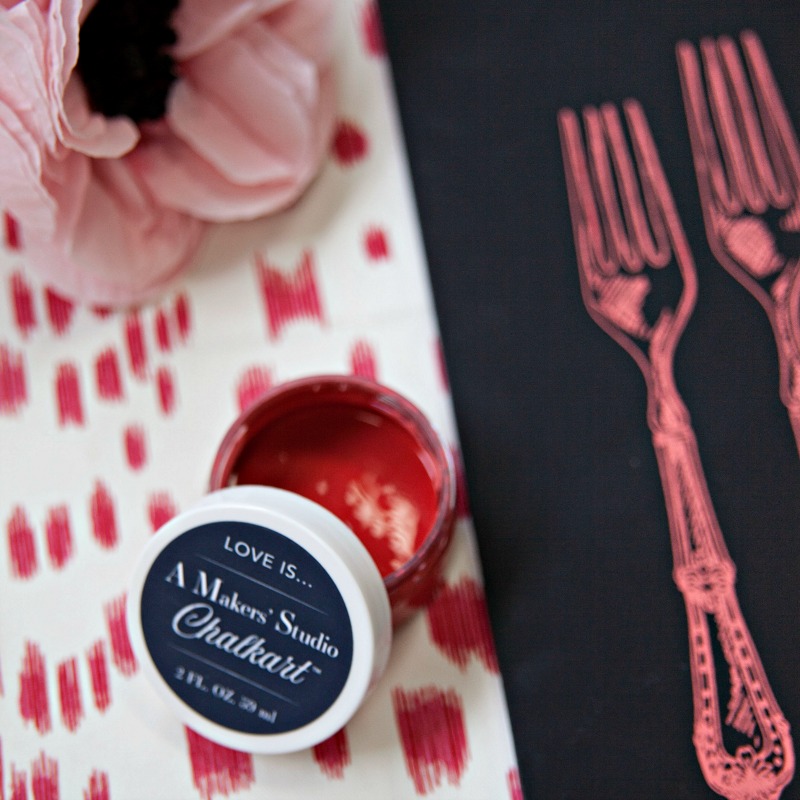 Together Forever ~ a soft Christmas green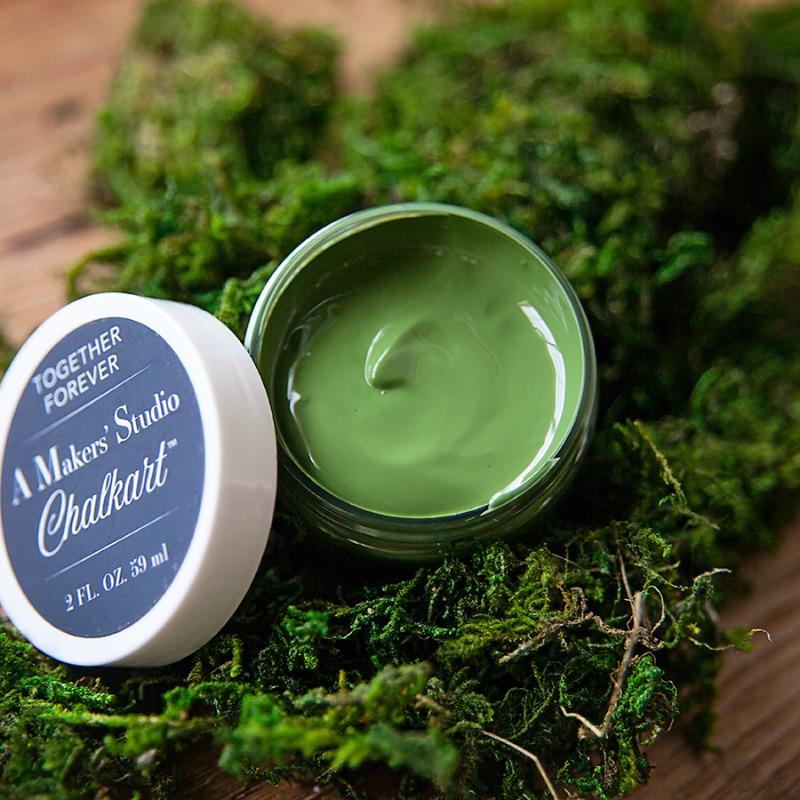 Metallic Gold  and Metallic Silver ~ what can I say?; use metallics to give shine and sparkle to the holidays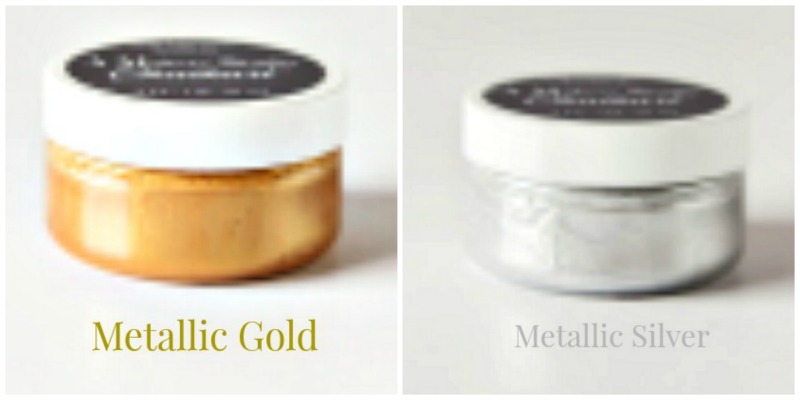 And don't forget ~ if you want to keep your stencil and ChalkArt creations for future holidays, you just seal them with our Matte Sealer. But if you want to reuse the surface, you can just use a damp paper towels to remove the ChalkArt. How easy is that?
Do you need the perfect gift for the DIYer in your life? This fun gift of creativity just keeps on giving! The A Makers' Studio ChalkArt Subscription is perfect for everyone from a busy mom who wants to recapture a bit of her own creative spirit to the DIY maven who's always on the lookout for the latest and greatest crafting projects.
The ChalkArt Subscription makes DIY décor easy and fun month after month! When you give this unique gift of creativity, your friend or loved one will automatically get a new stencil, a ChalkArt color, and a surprise freebie each month.
They don't need any prior experience to DIY glassware, wall art, pillows, and more with our reusable mesh stencils and vibrant ChalkArt.
Want to make your own Christmas sign and have all the supplies you need? This is a great deal because you can make this sign and still have plenty of ChalkArt left over for other Christmas DIY projects.
I used this stencil to make a sign for my chalkboard for the holidays. I could never have made this sign without ChalkArt and our stencils. I used Peace & Joy.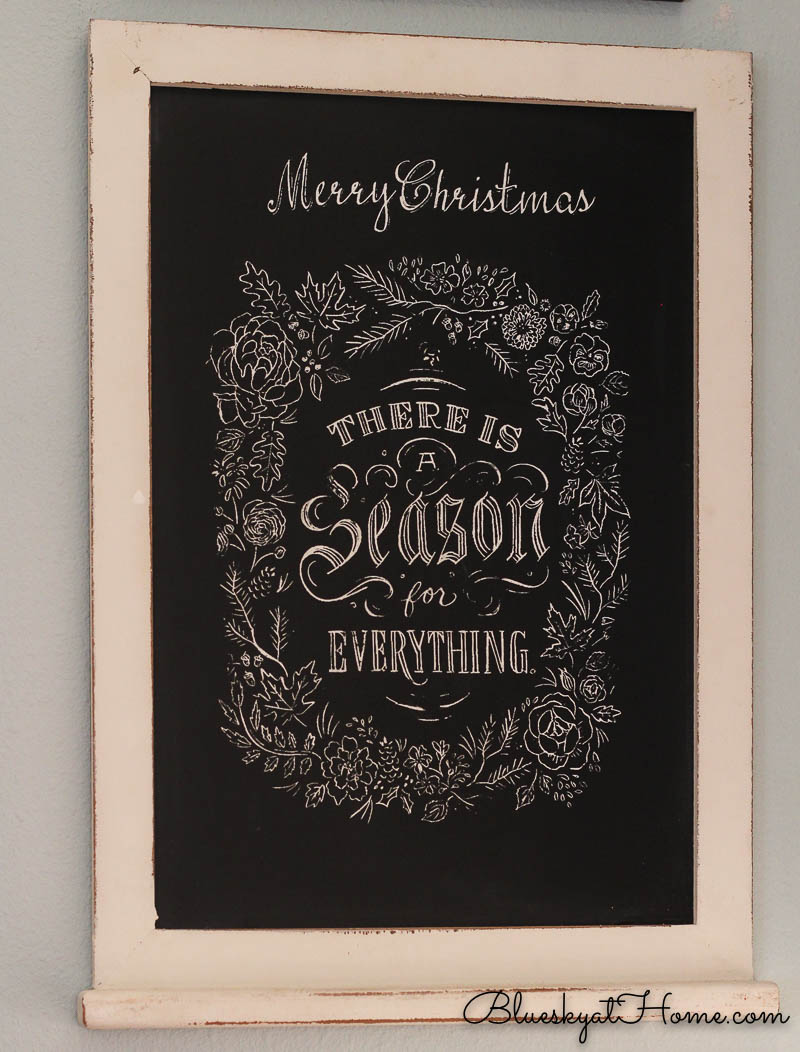 Using either stamps or stencils, you can make decorative bags and tags or wrapping paper. White butcher paper or brown craft paper makes wonderful wrapping paper that is all your own.
Gilding in Gold and Silver
I've already shared how I made gilded wine glasses and candle votive holders with our Gold Leaf. These would all make awesome Christmas decorations and gifts. Vases, mirrors, plates, platters, pillow covers, napkins ~ all could get the gilding treatment. Think of anything that doesn't move can be gilded.
Other than the Gold Leaf or Silver Leaf, all you need is a jar of Gilding Size ~ the "glue" that makes the leaf stick to the surface and a foam dome brush.
These projects are so pretty that you would be proud to have them in your Christmas decor or give them as gifts ~ that's what I'm doing.
Stamps
Have you ever used stamps for DIY projects? I tried with ones I picked up at the craft store, but didn't have much luck with getting satisfactory results. The stamps from A Maker's Studio are made from and come on plastic sheets which make application so easy. Each sheet of stamps includes from 4 to over a dozen stamps. All you do is cut around them to use a particular stamp.
For the holidays, I think these 2 stamp designs would lend themselves to great Christmas DIY projects.
Wreath Sections Clear Stamp ~ make a pretty wreath motif for a sign.
Anter & Branches Clear Stamp ~ with deer antlers so popular, this is a must-have stamp.
Rescue Restore Paint
Not only can the Rescue Restore paints be used with the stamps; but also as backdrops for stencil projects. I would definitely order:
Blessed (White) | Little Black Dress | Pick a Pepper (Red)
Using Pick A Pepper Rescue Restore as my background color, Peace & Joy as my ChalkArt color, and the Happy Holiday stencil which includes 4 different snowflake designs.
GelArt Ink
GelArt inks are the newest product from A Maker's Studio. Literally, just released on November 26th, but now available to order.
This unique product is made to use on fabric (but can be used on cardstock for a finish that looks like it's been printed) ~ and it's washable. That means napkins, dish towels, clothes, upholstery or placemats can have the same creative and personal touch as other surfaces. 
Packaged in tubes and only taking a small amount for a project, these 13 vibrant Gel Art Ink colors are applied in the same way as ChalkArt and are to be used with our stencils.
For Christmas DIY projects, I've ordered Bless His Heart (red), Grass is Always Greener (green), Well, I Declare (white) and Can't Never Could (black). I have some flour sack dish towels that will get the Gel Art Ink treatment. And maybe a pillow cover and some napkins.
Allow to dry 3 hours, cover with cotton fabric and heat with a warm iron. You've got a permanent gorgeous silk screened look!
I hope you can see that with these products ~ stencils, ChalkArt, stamps, Gold and Silver leaf gild, Rescue Restore paint, Gel Ink ~ you can make dozens of amazing Christmas DIY projects for home decor and gifts.
You'll be able to enjoy the process of creating, be proud to display the items you make in your home and give them as gifts to friends and family. I'm so excited about all the possibilities, and I hope that you see the creative potential in these Christmas DIY project must~have supplies.
If you have any questions, please leave me a comment or drop me a message. I'd love to hear what your creative plans are.