Do you need just one more easy Christmas decoration to finish off your decor this year? If so , I have the perfect one. Let me show you how to make Christmas tiles with stencils.
It takes just a few hours and just a few supplies to make these Christmas tiles. And they take minimal DIY skills.
P.S. If all your Christmas decorations are set for this year, don't worry. Just PIN this Christmas tile project for next year.
How to Make Christmas Tiles with Stencils
This post contains links to products used in this project. If you should order any product from this site, I may receive compensation, but you will not pay a penny more.
Even better than one Christmas project is a group of Christmas craft projects. It's Craft Blog Hop day ~ the last one of 2020. My thanks to Andrea of Design Morsels for organizing this group of crafty creatives.
If you are coming over from Andrea's chandelier project, then welcome.
Have you ever used tiles in DIY decor? Let me give you a quick peek at an earlier tile project.
Last spring, I was ready to give the stove hood in our kitchen an easy style update. For several years, I had used some ceramic tiles that we bought on Martha's Vinyard on the flat part of the hood.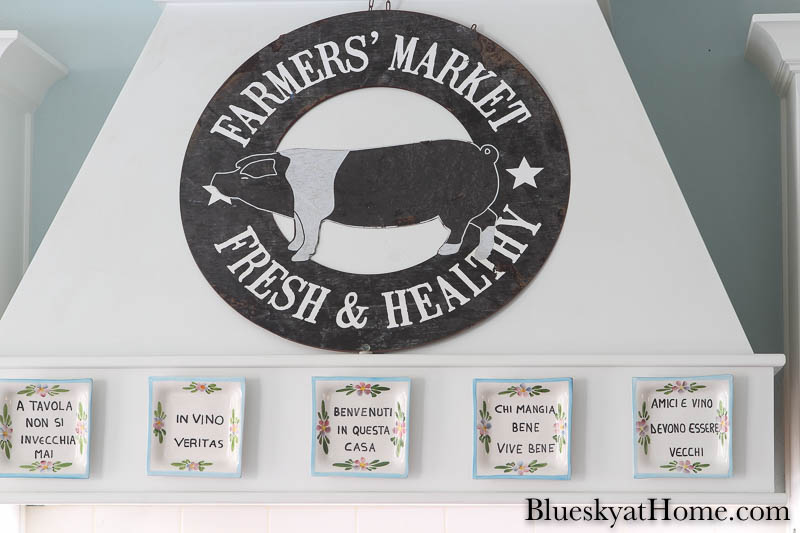 I wanted to infuse a little farmhouse style into our kitchen. An easy way was to make tiles with farmhouse animal stencils.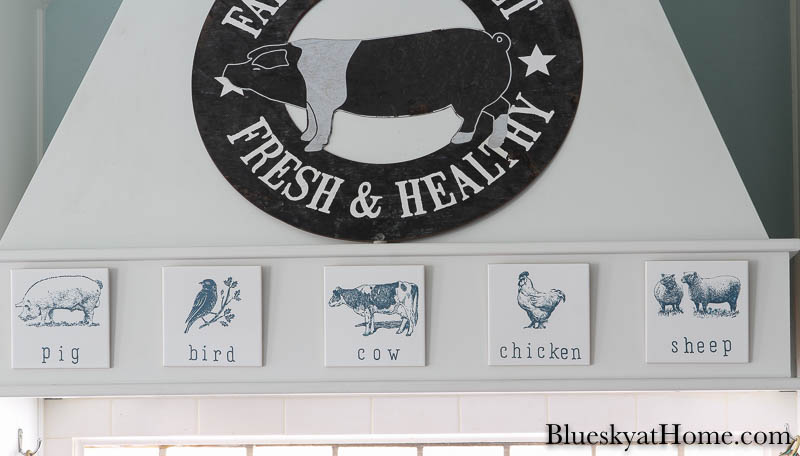 So are you ready to get started? Good.
Supplies for your Decorative Christmas Tiles
I said you just need a few supplies for this Christmas tile project.
6 X 6~inch white tiles ~ I sent Sweet Shark up to Lowe's with a shopping list; I needed 5 white inexpensive tiles. He bought these for .99 each. With our 5% discount, they were .94.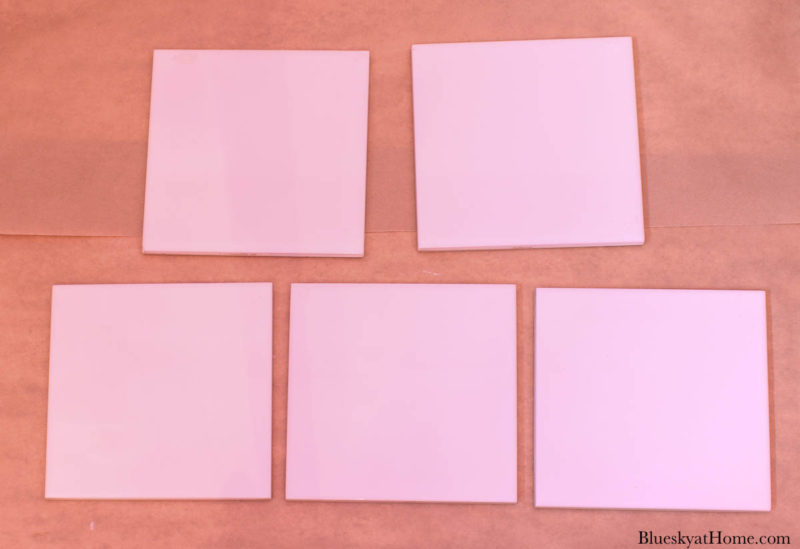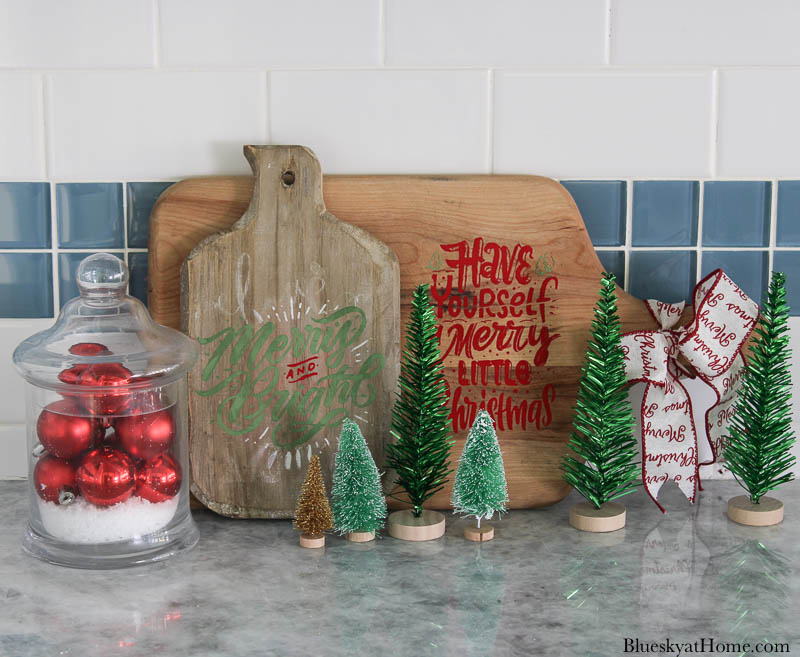 For the vintage cutting board project, I used ChalkArt. For this new project, I would use the new no~bake Ceramic Paint from A Makers' Studio. The color I used is Tally Ho, a bright Christmas red. (It will also be perfect for Valentine's Day projects.)
For hangers, I used D~hangers and Super Glue like I did for the farmhouse animal tiles.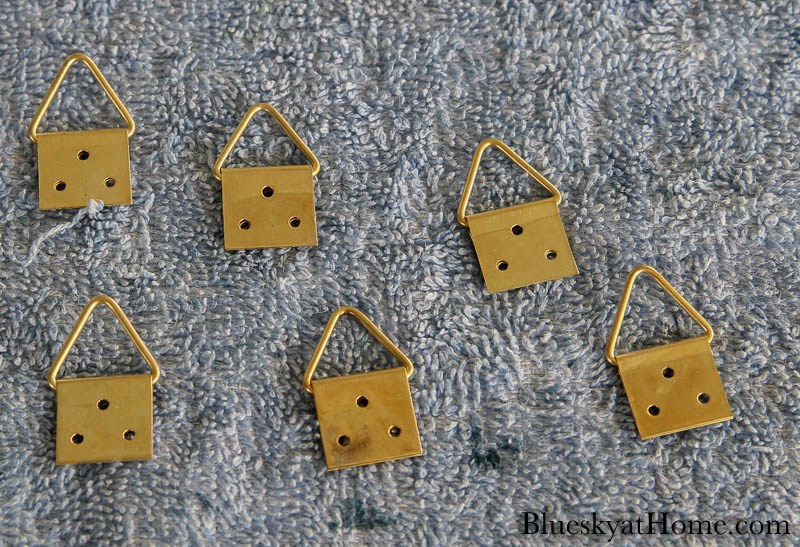 Step~by~Step How to Make Ceramic Christmas Tiles
Step 1 ~ Wipe down you tiles to make sure there is no dust.
Step 2 ~ Choose your stencils and cut them to fit your tiles, if necessary.
Step 3 ~ Remove the tri~mesh adhesive stencil from its paper backing. Center on your tile and smooth down.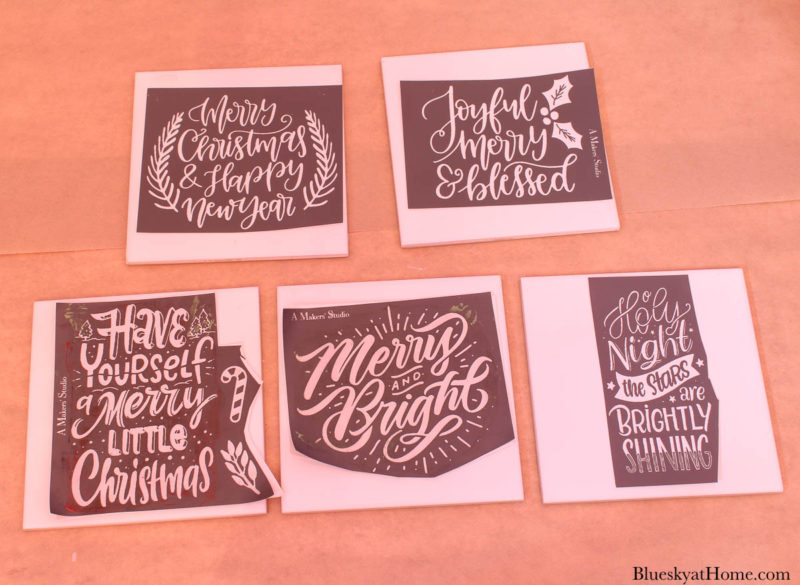 Step 4 ~ If any part of your design is close to the edge of the stencil, use a piece of painter's tape next to the edge of the stencil.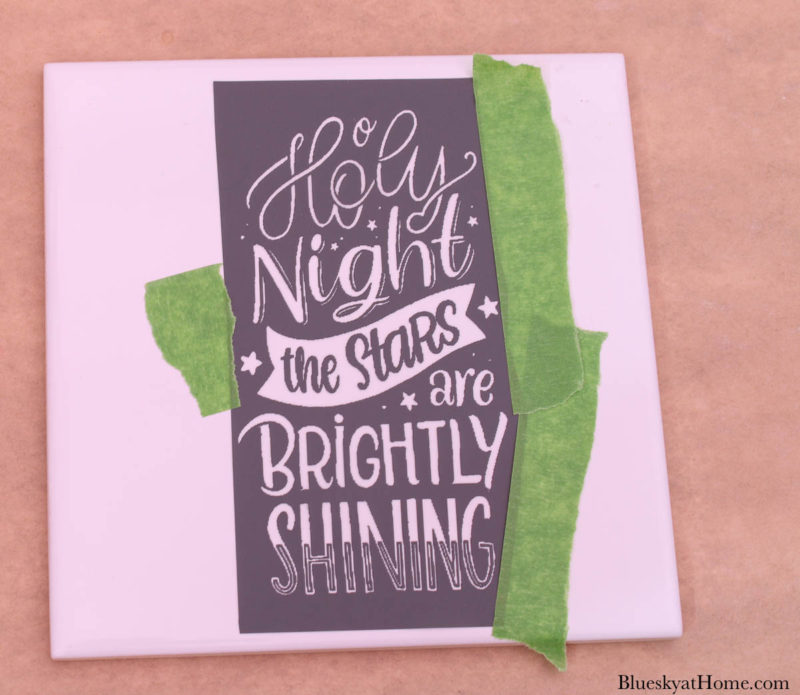 Step 5~ Using a plastic scraper, apply a small amount of the Ceramic Paint to the stencil, pressing down and scraping the paint across the stencil. Cover all the surfaces of the design.
If there is any part of the design you don't want to paint, just cover it with painter's tape.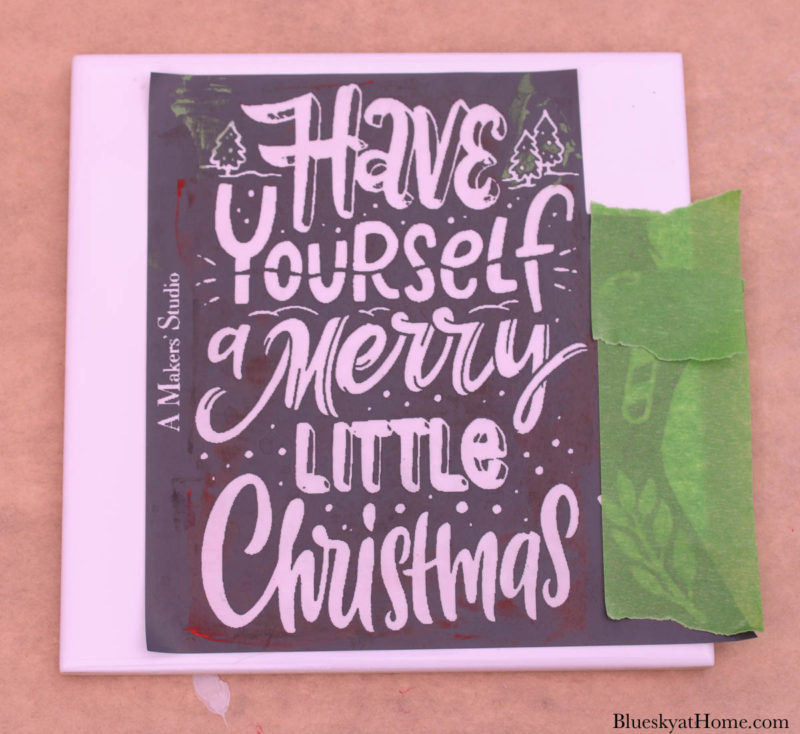 TIP: If there is any Ceramic paint on the tile that needs to be removed, use a dampened short bristle little paintbrush or Q~tip to rub it away.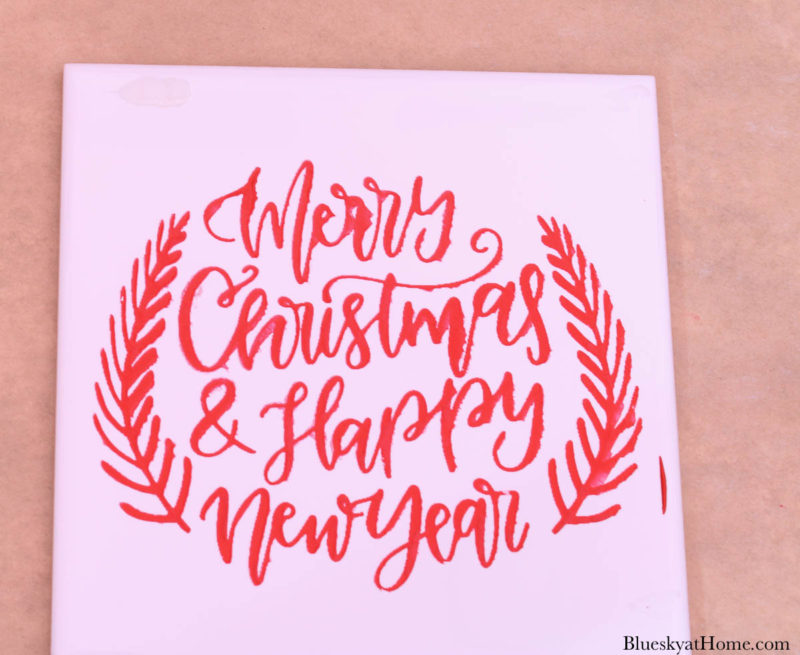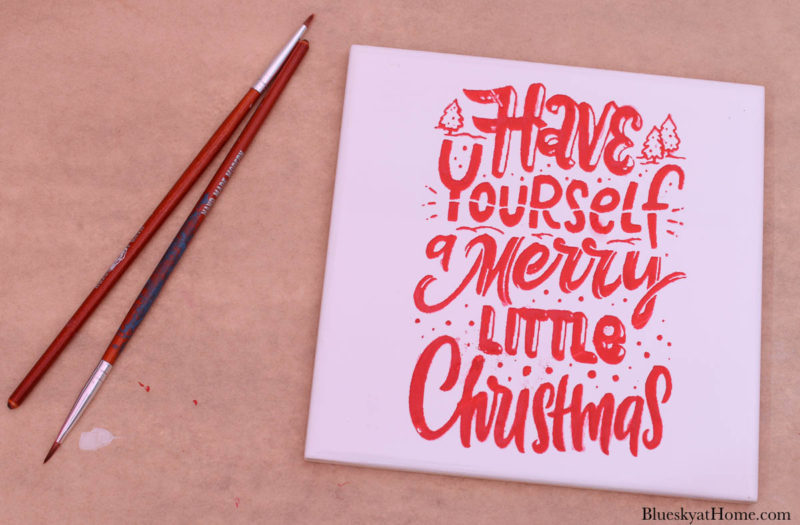 Step 6 ~ Gently remove the stencil from the tile. Place it in a bowl of water until you are ready to wash all the stencils.
Step 7 ~ Once all your stencils are done, set them aside to dry overnight.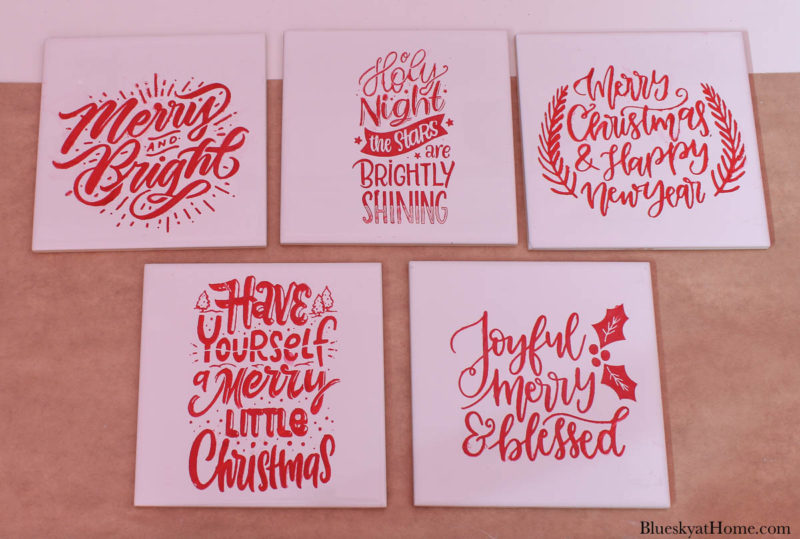 Step 8 ~ Measure where your D~hangers should go on the back of the tile and mark with pencil.
Step 9 ~ Use your choice of super glue to glue the D~hanger and let dry.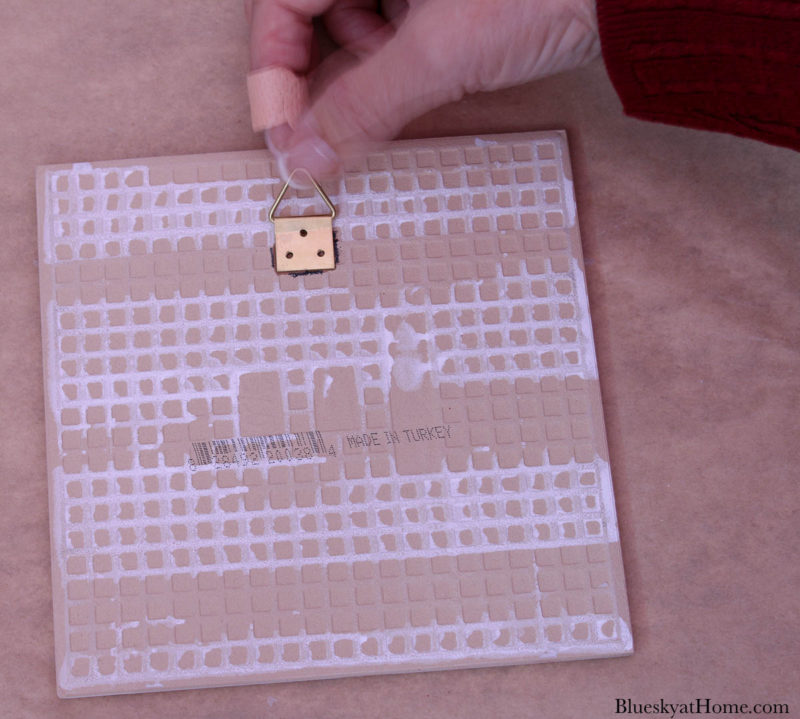 Hanging Your Christmas Tiles
Here's the fun part ~ getting to see your pretty Christmas tiles displayed. I hung the tiles on the little nails on the flat part of our stove hood. I love the bright red designs against the white background.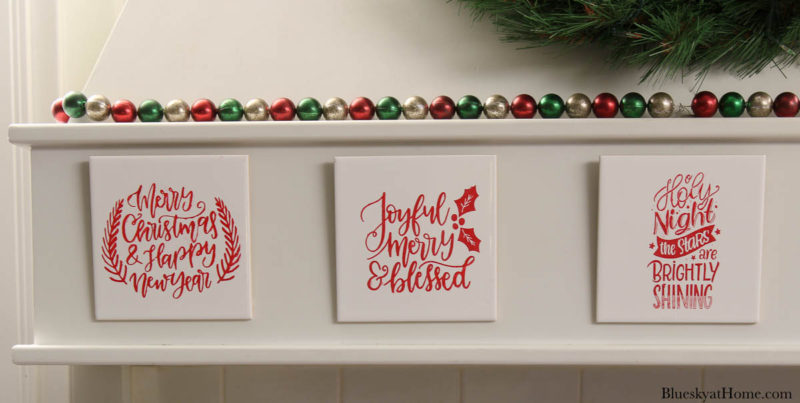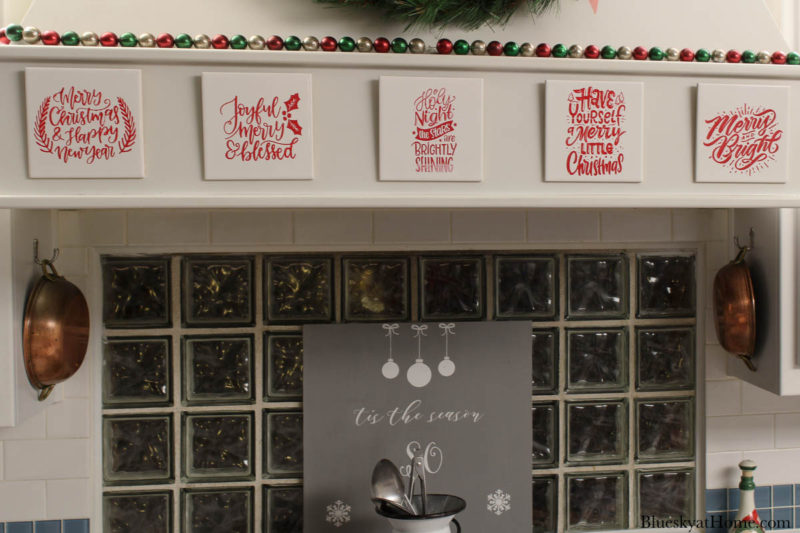 I added a repurposed a bow for the wreath on the top of the stove hood. The Christmas tiles look awesome with the wreath.
It's even better when the wreath lights come on.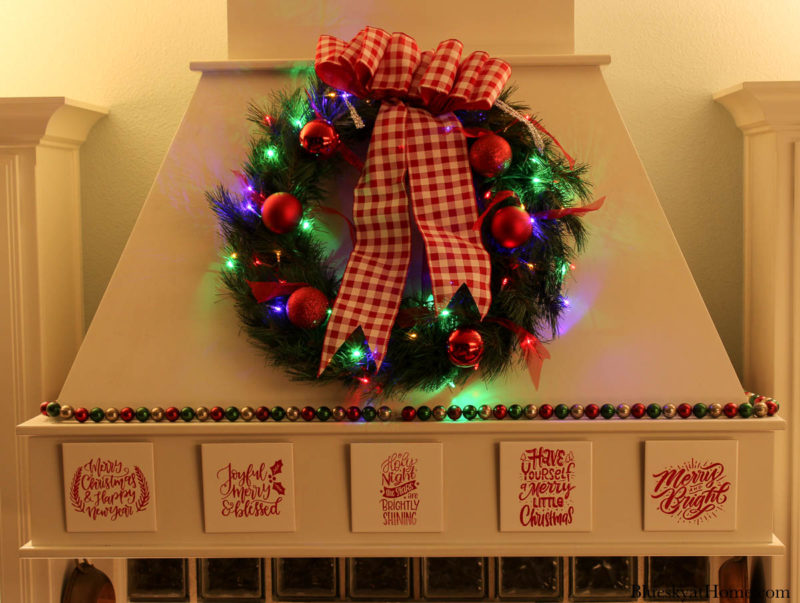 This is my last Christmas decoration for this year. The Christmas tiles give the stove hood the pop of color and focal point it needed.
Are you ready for more Christmas crafts, Please head over to Mary at Home is Where the Boat Is.
As I said, if you are done with Christmas projects for the year, please PIN this project for next year. You can get an early start.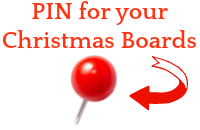 Holiday Decor with a Sign
Personalized Scrabble Tile Christmas Place Cards
Creations Snowy Winter Wreath
Beautiful and Easy Wine Glass Candle Holder
Easy Christmas Stair Bunting
DIY Rose Wreath
How to Make a Cozy Neutral Pom Pom Pillow Cover
Adorable Crochet Zebra Makes A Sweet Homemade Gift
Wooden Sled Decor
Silent Night Wood Art
Fluffy Chenille Edged Poinsettia Stem
Simple Chandelier DIY Decoration
How to Make Christmas Tiles with Stencils
Easy and Festive Gift Card Ornaments
Upcycle a Cupboard Door into this Surprising Thing
DIY Wine Gift Bag