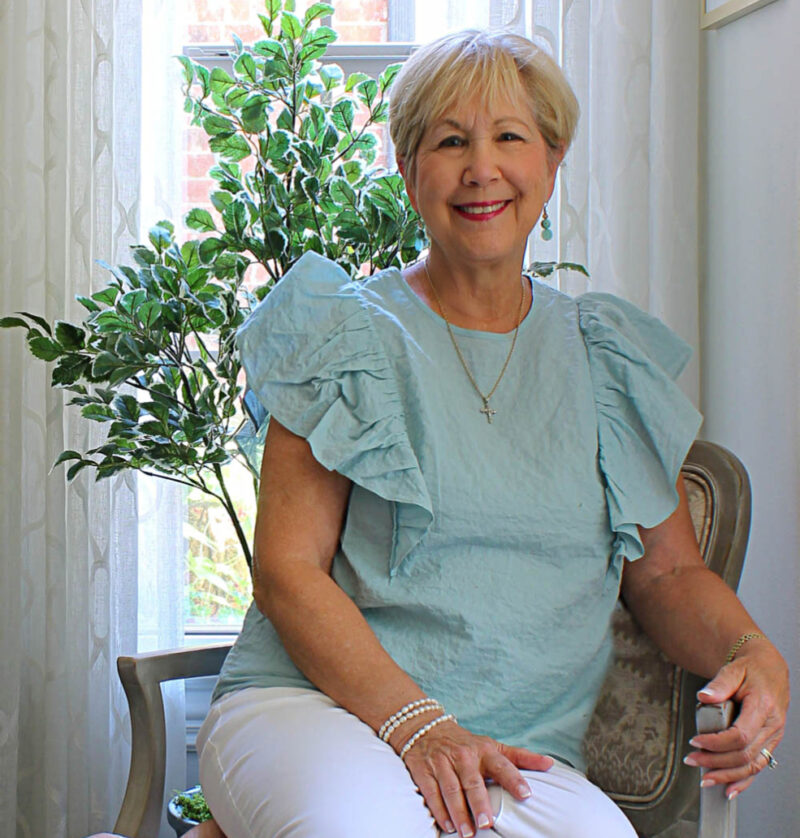 Hi there and Welcome to Bluesky at Home. I'm so glad you dropped by. Let's get to know each other. I'll share a little about me and I hope to learn about you, too. Let's see what we have in common.
I'm Carol.
Wife, mom, grandmother (Cici). Creating a beautiful home and celebrating my family and friends is so important to me. I love transforming old stuff (old furniture, mirrors, planters, anything) into new with paint.
I love DIY projects and using my Cricut to create home decor, party decorations, and organizational items. I love having girlfriends over for lunch and decorating my table to make them feel special. As a former cooking instructor, I love to cook and share recipes and how~to cooking tips. As a lifetime reader, I always have a book with me.
I love sharing the creative projects I make at home with you. Creating is more fun when you tell a friend and share.
I love to travel (New Orleans, Charleston, the South, Italy, France, California, the beach), dine at restaurants, and share creative ideas about cooking, decorating, and entertaining.
I formerly taught cooking classes primarily out of my home for 15 years, focusing on techniques and kitchen tips. (I do have a culinary degree to prove it.) Love anything French and Italian – food, wine, and language.
I'm a born and raised Texas girl who loves almost everything about the South (food, hospitality, sweet tea, margaritas, front porches (even though I don't have one), hot summers, hugs from girlfriends and kisses from kids). I love to dance in the kitchen on Saturday night with my sweet husband (Sweet Shark) while sipping a cocktail and cooking.
If you would like the read a very romantic story about how we met and the challenges of blending two families (with teenagers, to boot!), then here's your chance.
By the way, wonder where does "bluesky" come from? When Sweet Shark and I first started dating, that's the nickname he gave me; it's from an Allman Brothers song: "You're my bluesky, you're my sunny day." I hope that says something about me.
Things I love:
Christ, Sweet Shark, my kids and grandkids, my church, Texas, vintage furniture, country music, reading, painting, rearranging my house, playing tennis.
My favorite sweet things:
brownies, chocolate chip cookies, French macarons, creme brûlée, tiramisu.
My favorite savory things:
soft~shell crabs, fried chicken wings, roasted vegetables, smashed potatoes, bone-in rib-eye almost mooing, pasta, chips and salsa, popcorn.
My favorite cities (besides Dallas):
Charleston and Savannah, Atlanta, San Diego, Scottsdale, New Orleans, Martha's Vineyard. Florence and Venice, Italy; Barcelona, Provence, Amsterdam, Montreal, and Budapest.
Bucket list:
Nashville, Vancouver ~ as of this summer, we've been to both of those places, and loved them both. Do you have some new suggestions for our bucket list?
Favorite music:
Josh Groban, Zac Brown, Rod Stewart, Garth Brooks, Carrie Underwood, just about any country singer, music to dance to.
Favorite cuisine:
Italian, French bistro, anything Mediterranean, Tex-Mex, Southern.
Favorite home decor:
clean lines, Southern-French- anything vintage; farmhouse accessories; whites, aqua, pink, green, yellow, fabric, pillows, monograms, flowers, old mirrors, picture frames.
I hope we share some favorites and you'll join me in a Bluesky journey.
If you want to receive posts first and get extra resources, please sign~up to receive my weekly newsletter. Every week I share home decor tips to help you celebrate the home you create.
I would love to hear from you: What things do you love? What are your home decor or DIY struggles? What are your favorite things?
Please email me at [email protected] or Message me at Instagram.