Privacy and Disclosure Policies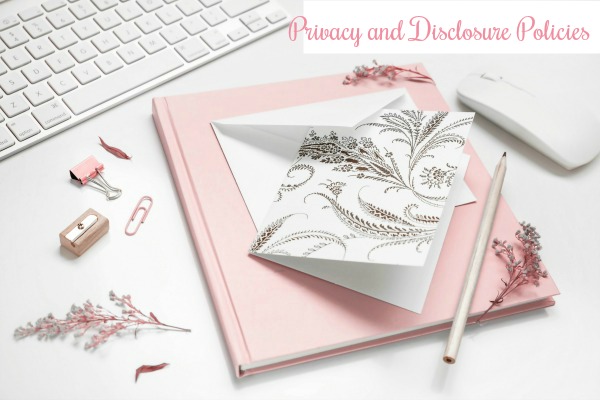 Privacy Policy
Disclaimer: I am not an attorney and this information should not be construed as legal advice.
This blog is BlueskyatHome.com and my URL is https://blueskyathome.com. This domain uses HTTPS security encryption.  This keeps information safe for the website and those who visit it. I also have an SSL (secure sockets layer) certificate to protect this site.
This site collects data from the following sources:
Blog post comments data (name, email, IP)
Traffic stats plugins/tools
3rd party hosted services
Email signup forms
Contact forms
Issues relating to the location of your web host.
This is information that you voluntarily submit when you leave a comment, subscribe to my newsletter, promotions, printables or giveaways. If you link any social media information to this site, it may be included.
This blog automatically collects certain information about you and the device with which you access the website. For example, when you use this website, we will log your IP address, operating system type, browser type, referring website, pages you viewed, and the dates/times when you accessed the website. We may also collect information about actions you take when using the website, such as links clicked.
My blog does not share personal information with third parties nor do I store any information about your visit to this blog other than to analyze and optimize your content and reading experience through the use of cookies. You can turn off the use of cookies at any time by changing your specific browser settings.
The information that you submit may be used to:
To operate and maintain the website.
To send you promotional information, such as newsletters, blog post updates, and special offers. Each email promotion will provide information on how to opt out of future mailings.
To send you administrative communications, such as administrative emails, confirmation emails, technical notices, updates on policies, or security alerts
To respond to your comments or inquiries
To provide you with user support
To track and measure advertising on the Website
To protect, investigate, and deter unauthorized or illegal activity.
Your email is never shared or displayed publicly..
If you leave a comment on this website, certain information may be publicly visible.  At your option, you may also add an avatar and a link to your website.
Users may see your username, avatar, profile description and website information.
This website does not knowingly collect any personally identifiable information from children under the age of 16. If a parent or guardian believes that this website has personally identifiable information of a child under the age of 16 in its database, please contact me immediately at blueskyathome@yahoo.com and I will use my best efforts to promptly remove such information from my records.
Email Subscriptions
You may opt out of future email communications by following the unsubscribe links in our emails. You may also notify me at carol@blueskskyathome.com to be removed from our mailing list.
You may access the personal information I have about you by submitting a request to blueskyathome@yahoo.com
You may contact me at blueskyathome@yahoo.com to amend or update your personal information.
In certain situations, you may request that I erase or forget your personal data. To do so, please submit a request to blueskyathome@yahoo.com.
Please note that this website may need to retain certain information for record-keeping purposes or to complete transactions, or when required by law.
Bluesky at Home allows third-party companies to serve ads and/or collect certain information when you visit our website. These companies may use non-personally identifiable information during your visits to this and other websites in order to provide advertisements about goods and services likely to be of greater interest to you. These companies typically use cookies to collect this information.
Copyright Policy
Thank you for sharing my projects and photos. Please remember that all images and text on this site are the property of Bluesky at Home. You are welcome to use one or two photos (for link party features, roundups) provided credit is given to Bluesky at Home and a link is provided back to my original post. Please do not remove any watermarks, crop, or edit any of my images without first obtaining written permission. Thank you for agreeing to this policy.
If you have any questions feel free to contact me directly at carol@blueskyathome.com.
Advertising Disclosure
Mediavine Programmatic Advertising (Ver 1.1)
The Website works with Mediavine to manage third-party interest-based advertising appearing on the Website. Mediavine serves content and advertisements when you visit the Website, which may use first and third-party cookies. A cookie is a small text file which is sent to your computer or mobile device (referred to in this policy as a "device") by the web server so that a website can remember some information about your browsing activity on the Website.
First party cookies are created by the website that you are visiting. A third-party cookie is frequently used in behavioral advertising and analytics and is created by a domain other than the website you are visiting. Third-party cookies, tags, pixels, beacons and other similar technologies (collectively, "Tags") may be placed on the Website to monitor interaction with advertising content and to target and optimize advertising. Each internet browser has functionality so that you can block both first and third-party cookies and clear your browser's cache. The "help" feature of the menu bar on most browsers will tell you how to stop accepting new cookies, how to receive notification of new cookies, how to disable existing cookies and how to clear your browser's cache. For more information about cookies and how to disable them, you can consult the information at All About Cookies.
Without cookies you may not be able to take full advantage of the Website content and features. Please note that rejecting cookies does not mean that you will no longer see ads when you visit our Site. In the event you opt-out, you will still see non-personalized advertisements on the Website.
The Website collects the following data using a cookie when serving personalized ads:
IP Address
Operating System type
Operating System version
Device Type
Language of the website
Web browser type
Email (in hashed form)
Mediavine Partners (companies listed below with whom Mediavine shares data) may also use this data to link to other end user information the partner has independently collected to deliver targeted advertisements. Mediavine Partners may also separately collect data about end users from other sources, such as advertising IDs or pixels, and link that data to data collected from Mediavine publishers in order to provide interest-based advertising across your online experience, including devices, browsers and apps. This data includes usage data, cookie information, device information, information about interactions between users and advertisements and websites, geolocation data, traffic data, and information about a visitor's referral source to a particular website. Mediavine Partners may also create unique IDs to create audience segments, which are used to provide targeted advertising.
If you would like more information about this practice and to know your choices to opt-in or opt-out of this data collection, please visit National Advertising Initiative opt out page. You may also visit Digital Advertising Alliance website and Network Advertising Initiative website to learn more information about interest-based advertising. You may download the AppChoices app at Digital Advertising Alliance's AppChoices app to opt out in connection with mobile apps, or use the platform controls on your mobile device to opt out.
For specific information about Mediavine Partners, the data each collects and their data collection and privacy policies, please visit Mediavine Partners.
Disclosure Policy
This blog is a personal blog written and edited by me. All content is original to me. This blog accepts forms of cash advertising, sponsorship, paid insertions, or other forms of compensation.
Any compensation received will never influence the content, topics, or posts made in this blog.
I may be compensated to provide opinions on products, services, websites, and various other topics. Even though I receive compensation for my posts or advertisements, I always give my honest opinions, findings, beliefs, or experiences on those topics or products. The views and opinions expressed on this blog are purely my own. Any product claim, statistic, quote or other representation about a product or service should be verified with the manufacturer, provider or party in question.
This blog does not contain any content which might present a conflict of interest.
Bluesky at Home is a source of income and I may occasionally incorporate endorsements, testimonials and affiliate links. I only choose to promote products, services, and businesses that I personally have used or can endorse without reservation, and that I believe will be beneficial to my readers.
In addition, I carefully screen all advertising or sponsored opportunities to be sure that they will be of interest to my readers, and I select only products or services that I would normally choose to use myself.  I will always give you my honest opinion and will not endorse a product or service that I do not believe in. You, my readers, do not pay one cent more for purchasing an item through this blog.  Any income received on this blog helps to offset the cost of production.
I'd love to hear from you.