How to Make Pretty Jeweled Christmas Ornaments
Do you look for creative ways to make your Christmas tree shine for the holidays? Would you like a quick and easy DIY project? I'm showing you how to make pretty jeweled Christmas ornaments.
This easy DIY project uses adhesive jewels and styrofoam balls to create shiny ornaments. Your Christmas decorations will glow with the addition of these quick and simple jeweled Christmas ornaments.
Scrolling through Amazon, I discovered these jewels by chance. I was looking for a way to decorate the styrofoam balls I already had.

I was so excited when I found these adhesive jewel decorations.
This a great project to make while watching a Hallmark Channel movie, sitting by the fire listening to Christmas music, or watching a football game.
I've planned to design a new Christmas tree for several weeks for our bedroom. We've had a 4-foot tall faux green tree in our bedroom for several years. This year, I wanted to change to a white tree.
My plan is to use mainly pink and blue decorations on the tree. I would then add to the Christmas tree with other pink and blue decorated small bottle brush trees.
I was thrilled when our Pinterest Challenge hostess, Cindy of County Road 407, suggested DIY Christmas ornaments as our last PC Challenge of the year. Timing is everything and I was ready to make the ornaments for the new white tree.
Are you visiting Bluesky at Home from Barb of French Ethereal? What a cute snowman craft Barb made.
If this is your first time visiting here, please hop over and read My Story so you know who I am. Let's see what we have in common.
Jeweled Christmas Ornaments: Simple, Easy, and Quick
This post contains affiliate links to products used in the creation of this project. If you should order any item from this site, I may receive compensation, but you do not pay a penny more. Your purchase is greatly appreciated as it helps support the continued publication of this site.
These DIY Christmas ornaments are so easy. You don't even need a glue gun for making them.

The Christmas ornaments turned out even better than I thought they would.
What do you need? Just a few supplies.
Supplies for these Jeweled Christmas Ornaments
styrofoam balls in your size of choice. I already had eight 3-inch styrofoam balls on hand that I didn't use last year.
jeweled adhesive stickers. I ordered 2 packages and had leftover jewels.
U-hook hangers. The styrofoam balls don't have hangers. I found these hangers which you push into the styrofoam ball.
skinny ribbon to hang the ornaments. I already had skinny pink ribbon.
scissors to cut ribbon
NOTE: The number of packages of jewel stickers you will need depends on three things:
the size of your styrofoam balls
the number of balls you are decorating
the design you use for your ornaments
To be honest, I don't remember if I have ever made handmade Christmas ornaments. I actually have a couple more ideas for other styles of Christmas ornaments.
Making the Jeweled Christmas Ornaments
This may be the easiest Christmas ornament you'll ever make. It would be great for kids.
The jewels come in a nice gift bag that you can keep.
All the jewel ornaments can be the same or each one can look different. I went for a different look for each ornament.
Spread the plastic sheets of jewel stickers out and pick the individual one you want. I think it's best to start with the bigger jewels.
As you can see, each style of jewel comes in a plastic bag.
Remove the jewels you want to use from the bag.
Pull the jewel away from the plastic backing, Make sure that the adhesive backing comes with the jewel and doesn't stay on the plastic. That only happened to me a couple of times.
Stick the jewel on the styrofoam ball and gently press down. That's it.
You can cover the entire styrofoam ball like I did for my first one. That style will take more jewels. I used three different styles of jewels on this first ball.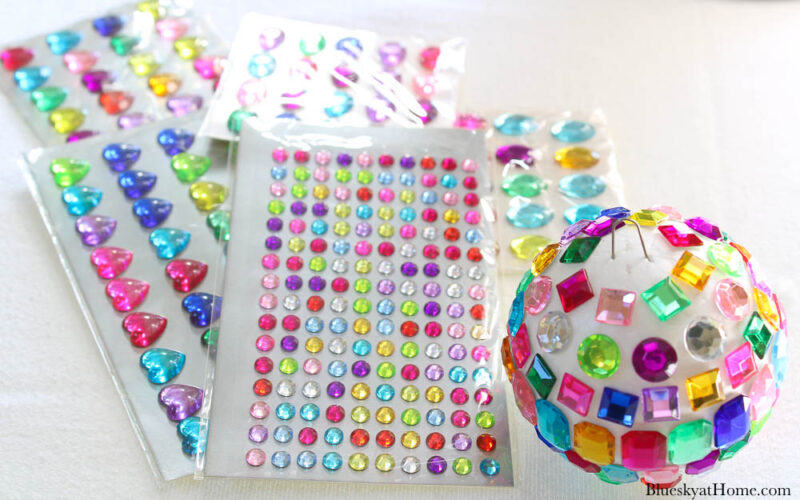 I realized that that design would take up a lot of jewels. For the other seven balls, I spread out the design.
I mixed up the shape – round, square, heart, diamond – of the jewels as much as possible. I mostly went for a random design.
You can fill in the larger jewels with the small round ones.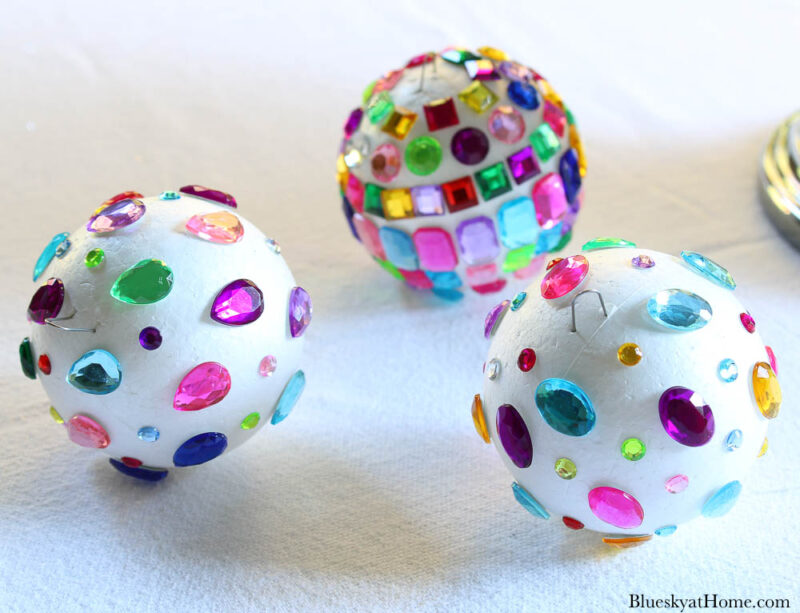 I guess you could paint the styrofoam balls first, but I didn't see the need for it.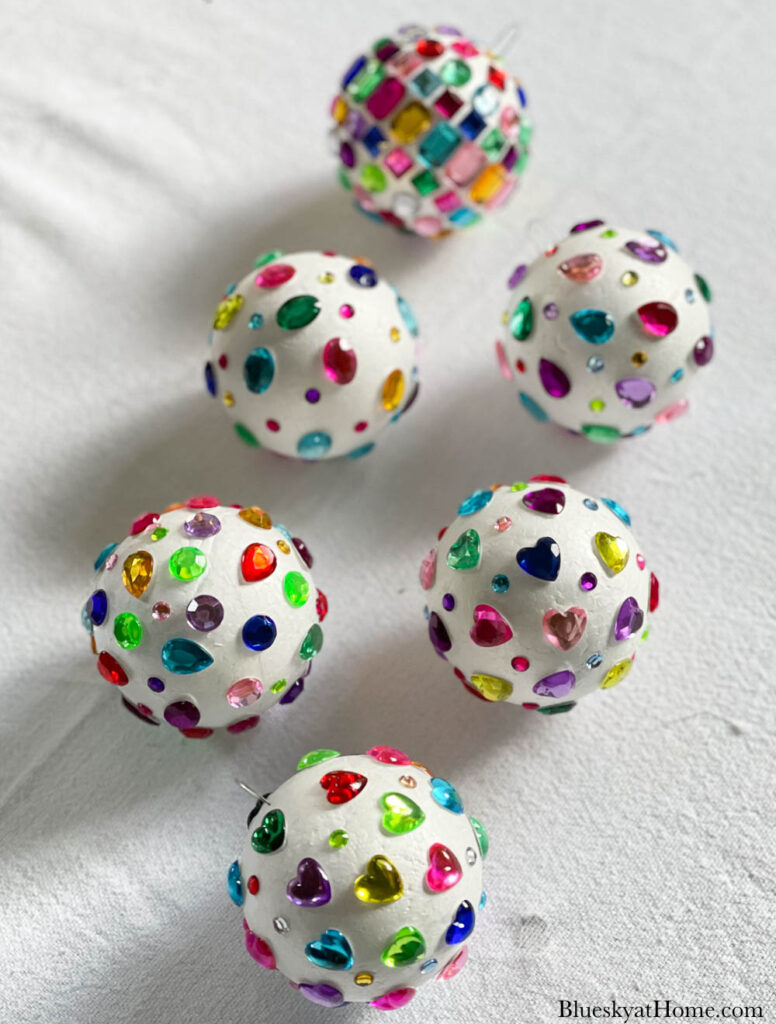 After you have placed all your jewel stickers on the balls, you add the hangers. Be sure to push them into the styrofoam with some pressure.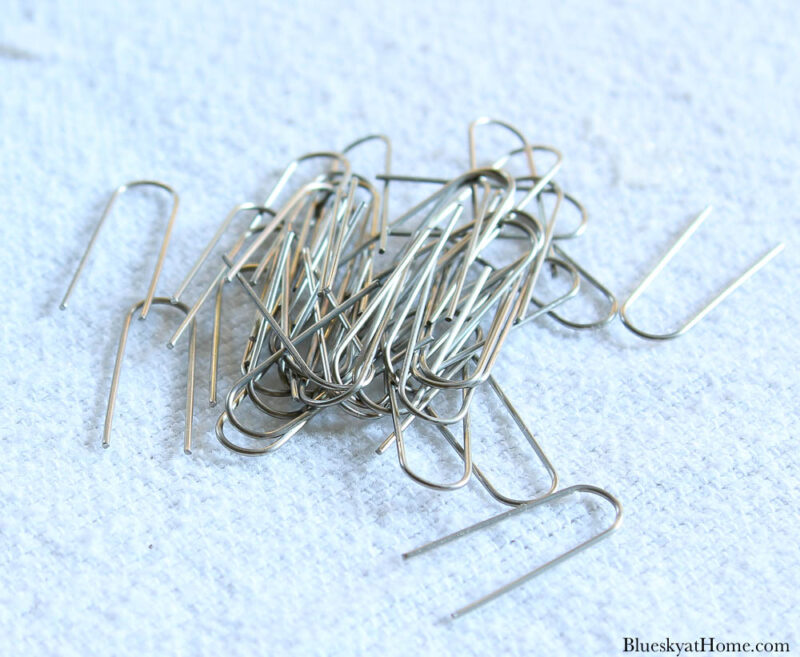 Displaying Your Jewel Ornaments
First, I set up the 4-foot-lighted white tree that I ordered online. For an inexpensive tree, it was just the right choice. It looks better than I thought it would.
I put the two parts together and added batteries to the battery-pack. This tree has four different lighting options.
Rather than use the plastic stand that comes with the tree, I used one of our silver champagne buckets, but first I had to polish it.
Of course, I used my favorite silver wipes. These wipes are so easy to use – no muss, no fuss.
Now I placed the tree in the IG silver champagne bucket and filled the bucket with crushed newspaper to keep it straight and secure.
Then I added a piece of cream fabric from my stash to cover the paper.
Next, I added the felt ball garland that I made. (I'll share the how-to and complete tree in a later post.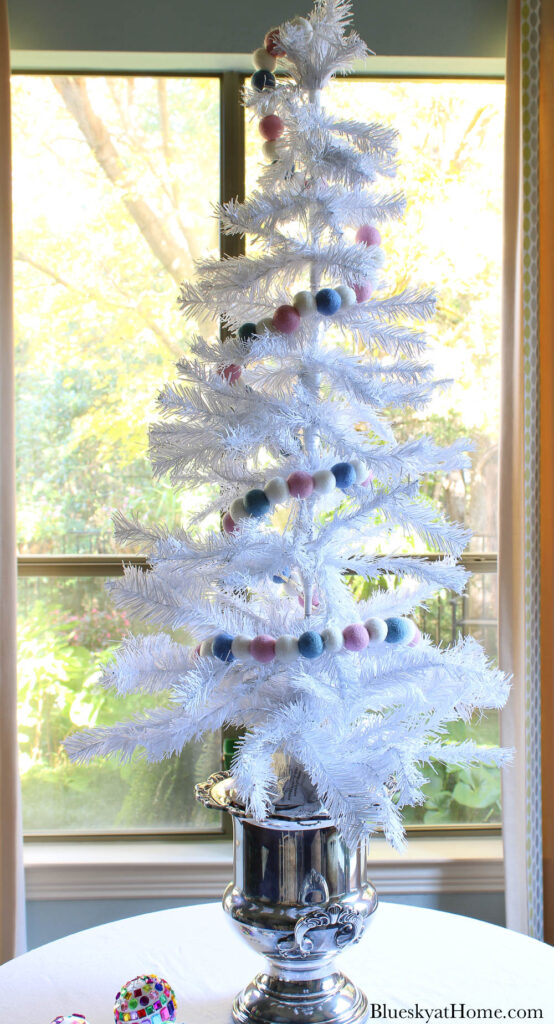 Now you can add your jewel ornaments.
Use your skinny ribbon to tie the jeweled ornament to the tree branches. You can either tie a bow or make a loop. After hanging seven jeweled Christmas ornaments with a bow, I found making a loop is an easier method.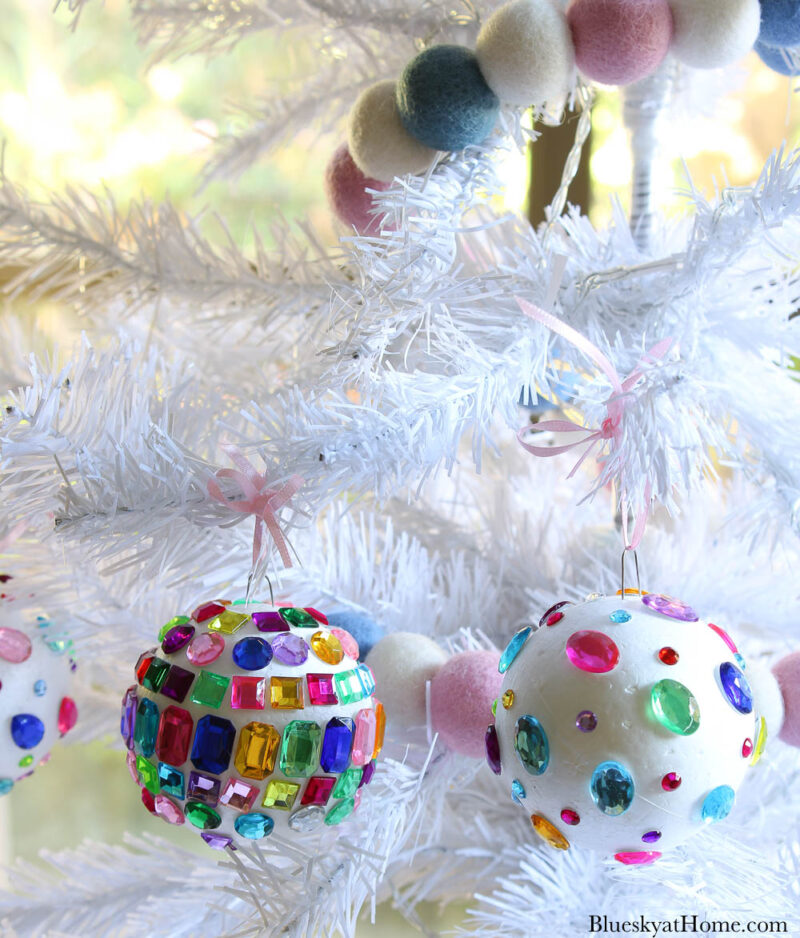 I added all eight ornaments around the tree.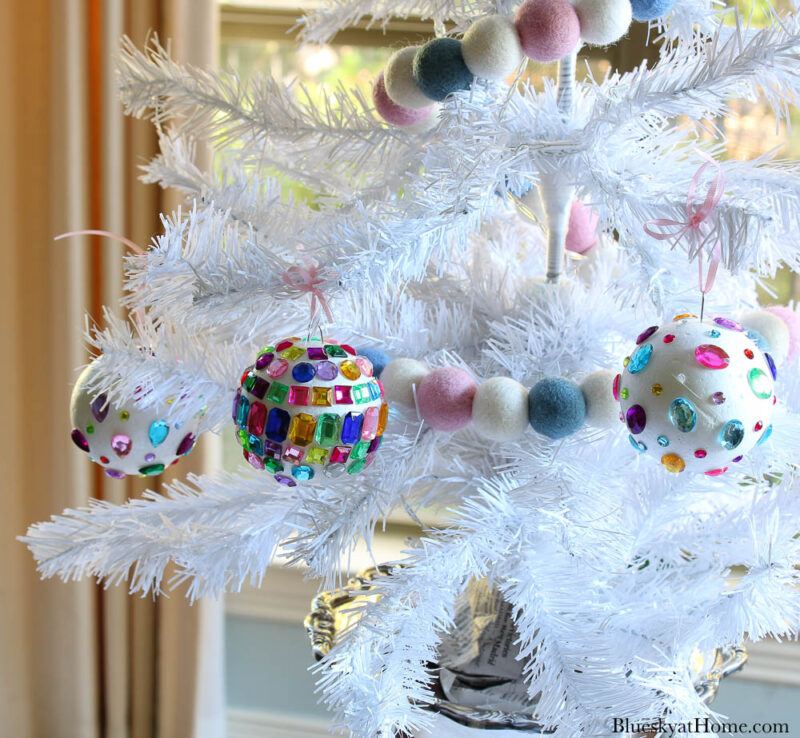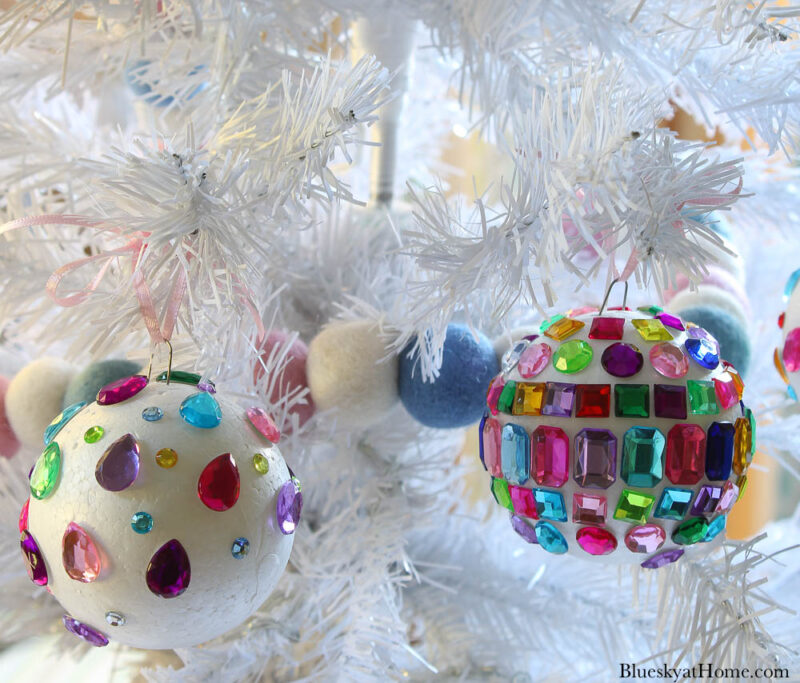 A few weeks ago, I found 10 vintage pink ornaments at a local antique mall. They were 25 cents each.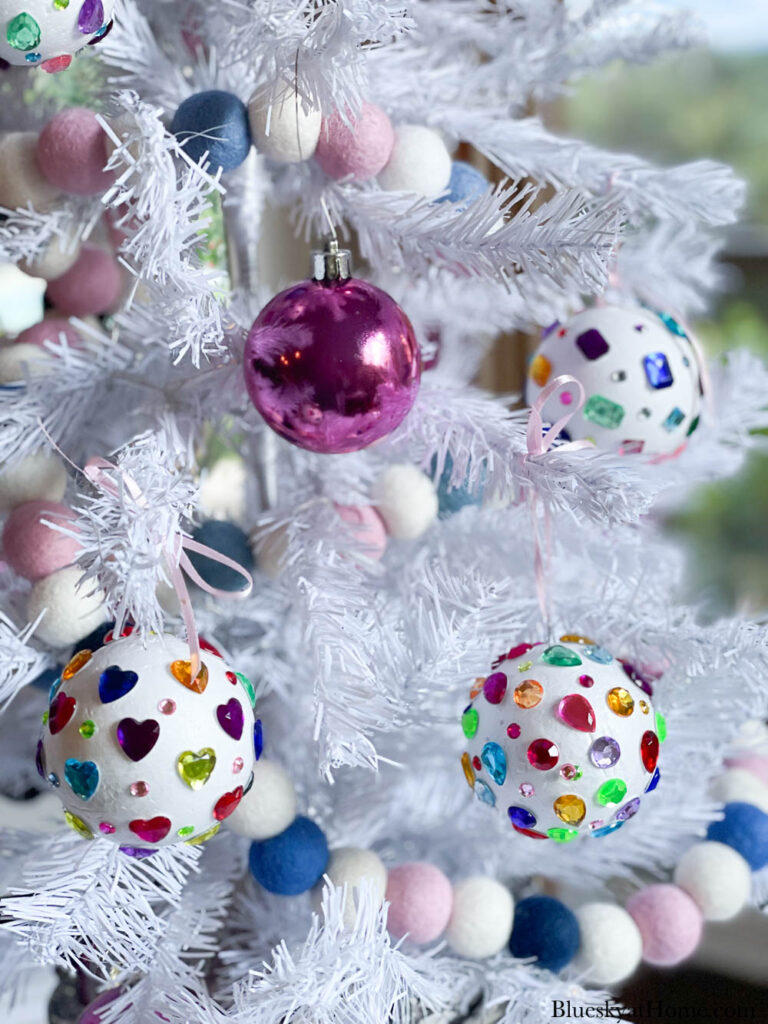 Am I done with the tree for our bedroom? No, I made another wool felt garland (You can see a bit of it in the picture below.) and added it to the tree.
I still have another type of DIY Christmas ornament to add (One of them is poking out in the picture below.) and a topper for the tree. For now, the tree is sitting in our breakfast room, waiting to be finished after Thanksgiving.
I hope that you liked this super easy jeweled Christmas ornament. I think it will be so pretty in our bedroom for the holidays.
Here are some of my Christmas Boards where you'll find more great Christmas ideas. (Follow me to see more awesome inspiration):
If you don't want to forget this project, then please PIN it to your Christmas Boards.
The complete list of Pinterest Challenge participants is below. My friend Lynne of My Family Thyme is next up. She has a cute jingle-bell ornament for you.
Have fun discovering all these fun Christmas ornaments.