How to Make the Prettiest DIY Yarn Christmas Trees
Do you like to make DIY Christmas decorations for your home? The Christmas season is the best time for fun DIY projects.  My first project of the season is the prettiest DIY yarn Christmas trees.
These DIY yarn Christmas trees are the perfect decoration idea for your home.
You'll love how to decorate your home for Christmas with this quick and simple DIY yarn Christmas tree project.
You can make these trees in a few minutes. They are also inexpensive, easy to store after the holidays, and reuse.
These adorable yarn Christmas trees are easy to customize with your favorite Christmas colors.
Today is our Creative Crafty Blog Hop – the Christmas edition. I know you'll love all these fun Christmas ideas. Thank you to our hostess Sara of Birdz of a Feather.
If you are coming from Gail of Purple Hue, thabk you for coming. Gail is an awesome DIYer.
If this is your first time visiting Bluesky at Home, I'm so glad you're here. Visit my story and see what we have in common.
The Idea for these DIY Yarn Christmas Trees
Although I've seen yarn Christmas trees in the past, I was reminded of them last week when I gathered 10 DIY Christmas Tree Projects. I shared three variations of yarn tree DIY projects.
It was time to try this pretty idea myself. It looked like a fun DIY Christmas decoration.
NOTE: Before you buy your supplies, you will want to decide on the size you want for your Christmas trees. You will also want to decide what color(s) you want.
Supplies for DIY Yarn Christmas Trees
This post contains affiliate links to products used in the creation of this project. If you should order any item from this site, I may receive compensation, but you do not pay a penny more. Your purchase is greatly appreciated as it helps support the continued publication of this site.
You only need a few supplies for the DIY Christmas trees.
styrofoam cones in the size of your choice.
chunky yarn in colors of your choice
sewing scissors
embellishments for decorating your Christmas trees (optional)
That's it. I already had my glue gun and glue sticks and scissors on hand.
NOTE: You can also use cardboard cones or make your own.
The styrofoam cones I used are almost 12 inches tall and come in a package of four. I would use three of them for my yarn trees.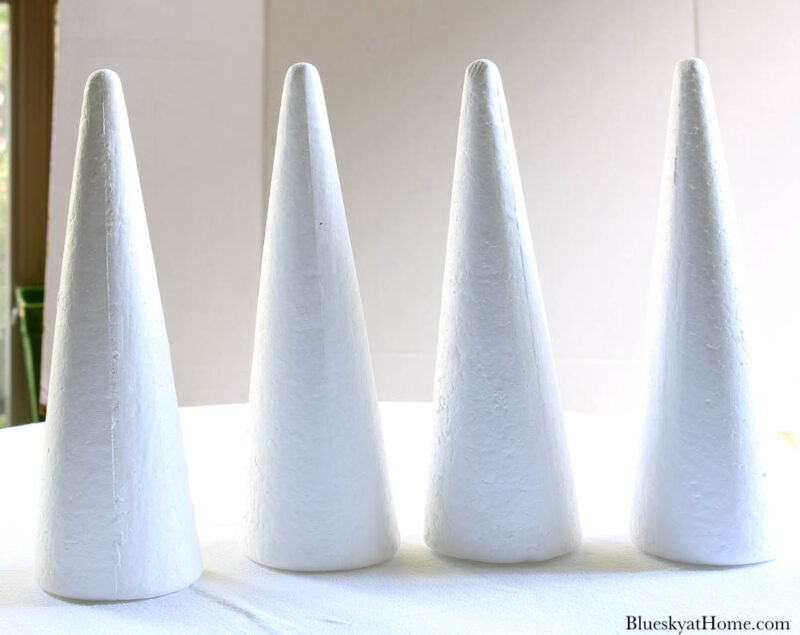 TIP: Styrofoam cones come in white and green. I would use the white ones unless you are using green yarn.
For variation, you can use different sizes.
The colors I wanted for my yarn trees are blue, white, and pink. I wanted the yarn to be as thick as possible. I found the pink and white yarn in a nice chunky style. The blue is a little smaller.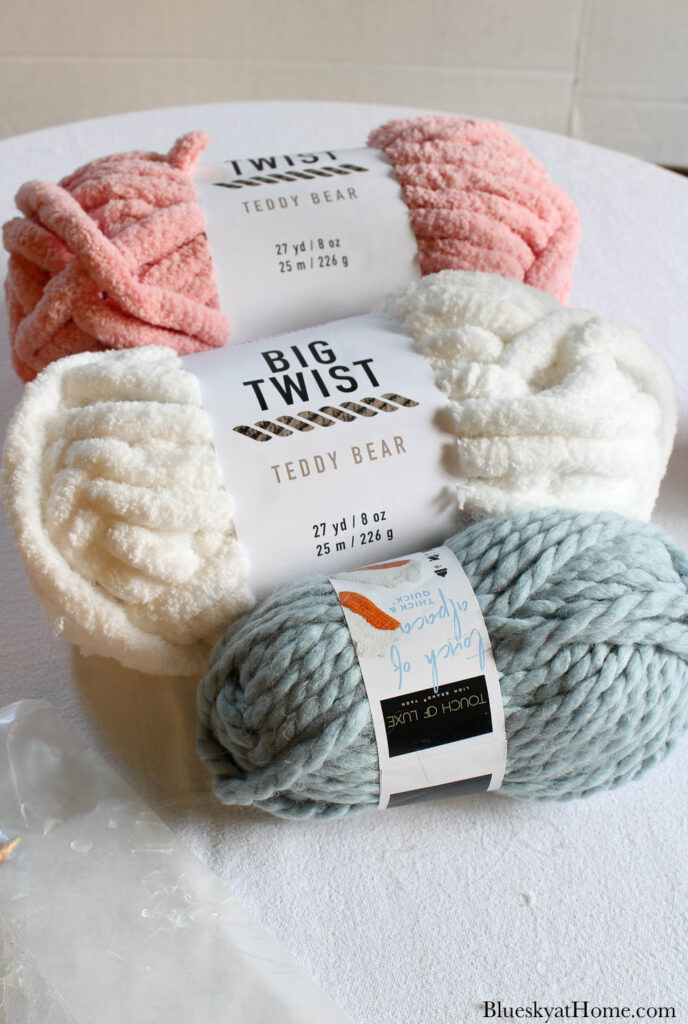 Keep in mind that the larger and chunkier your yarn, the less you will need. Obviously, the size of your styrofoam cone also determines how much yarn you will use.
Steps for Making Your Yarn Christmas Trees
Before beginning your project, I recommend placing a large piece of wax paper down on your work surface. You want to protect it from the hot glue and glue strings.
The steps for all the Christmas trees are the same.
Step 1 – Heat your glue gun.
Step 2 – While the glue gun is heating, gather your other supplies.
Step 3 – Starting at the base of the styrofoam cones, lay down a line of hot glue several inches long.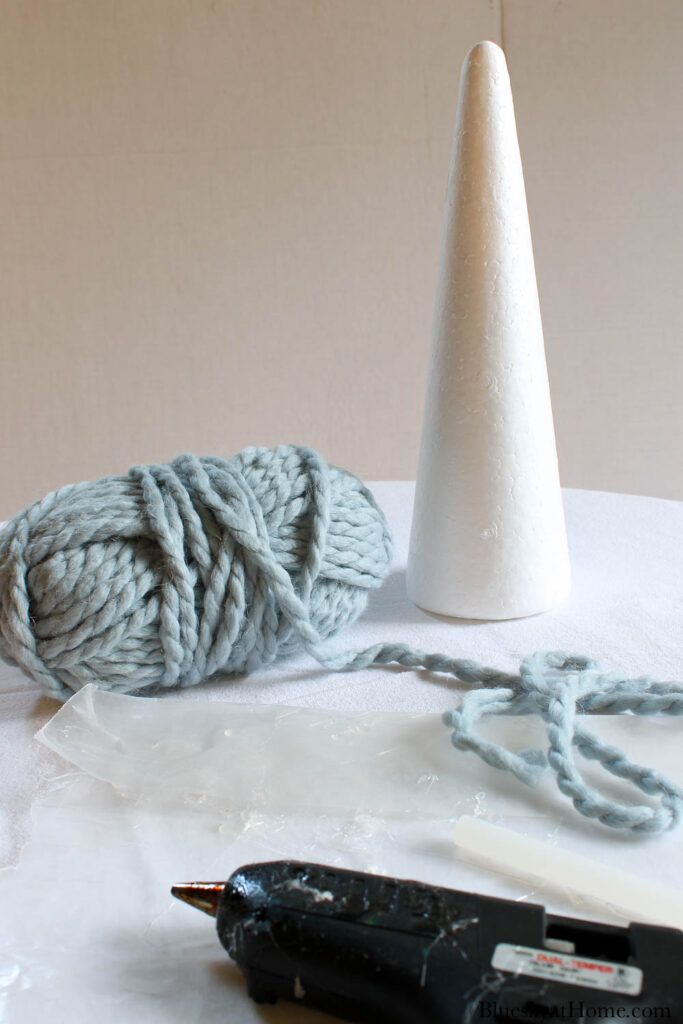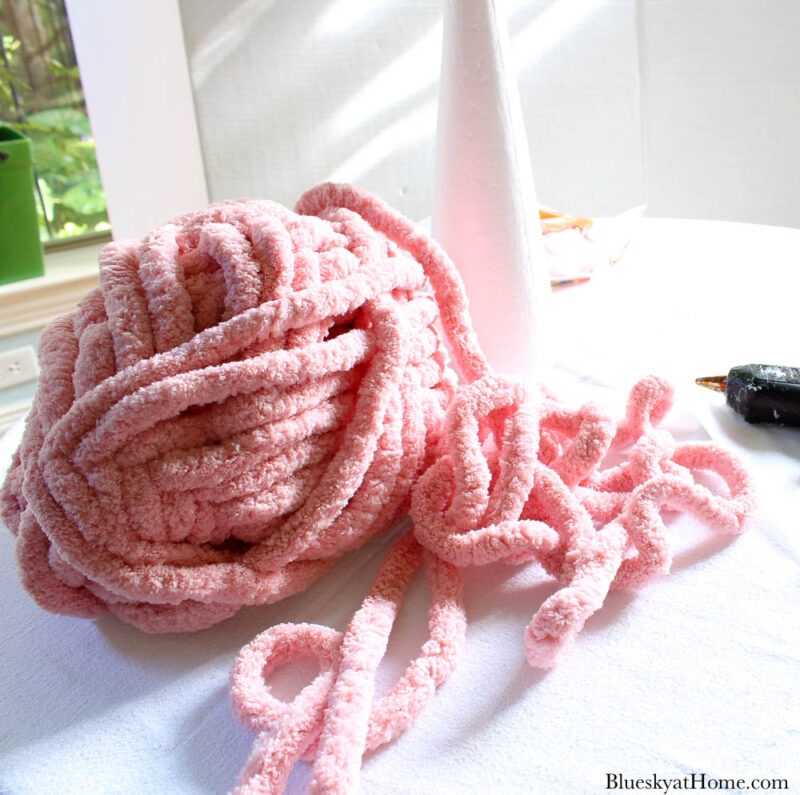 Step 4 – Place the yarn on the glue and gently press down. Continue adding more hot glue around the bottom edge of the cone.
Step 5 – When you complete the first "circle" of yarn, place the next row of yarn above the first one.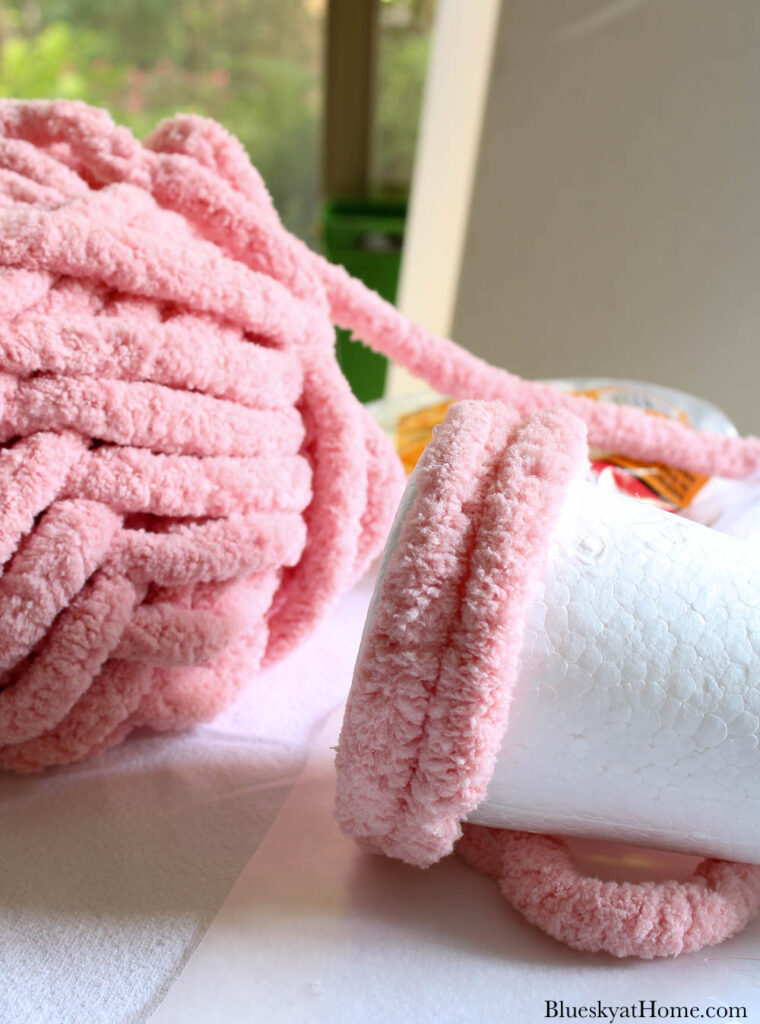 Step 6 – As you place a row of yarn on the cone, gently "roll" it down to meet the row below. This little action will ensure that your yarn covers the styrofoam and make your yarn tree look full.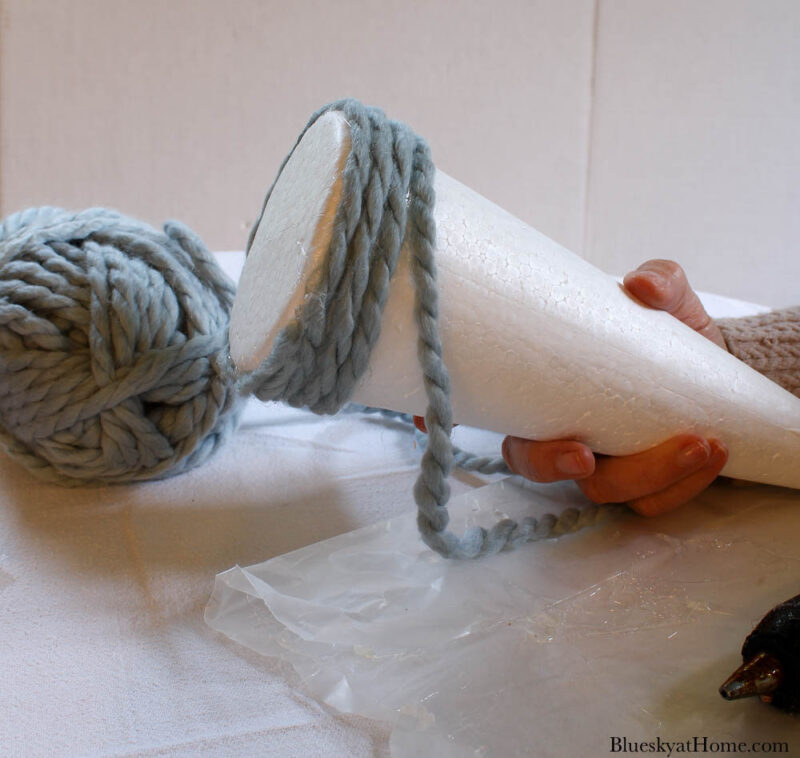 Step 7 – As you get to the top of your tree, wrap the yarn until you can't wind it anymore. Cut off the yarn with an extra couple of inches. Add a drop of glue to the top of the cone. Press the end of the yarn to the cone.
You're done! Wasn't that easy!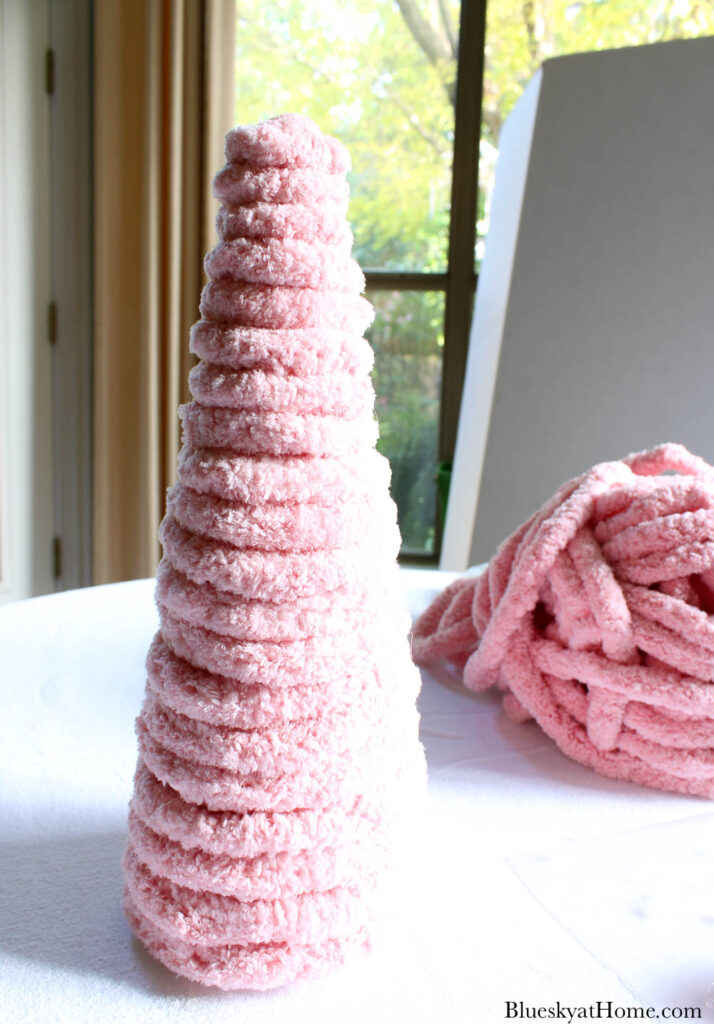 This project is so easy. It's the perfect project to do while you are watching TV. Bring on the Hallmark Channel!
Using your hands, press around the yarn to make sure that every part is attached to the cone.
Also, check the tree for glue strings, Either pull or cut them off the yarn.
Embellishing Your DIY Yarn Christmas Trees
This is the fun part of the project. How do you want to decorate the trees?
You can leave the yarn Christmas trees as is. They are pretty with just yarn.
I wanted to add a topper to my trees.
OPTION 1
First, I gathered some of my mom's vintage rhinestone jewelry. I also had several stones that had fallen off some earrings and two very nice necklaces.
I began by picking three pieces, one a circle pin, one a star pin, and one earring. Since I did not want to glue the jewelry to the tree, I placed the stick pin into the top of the tree.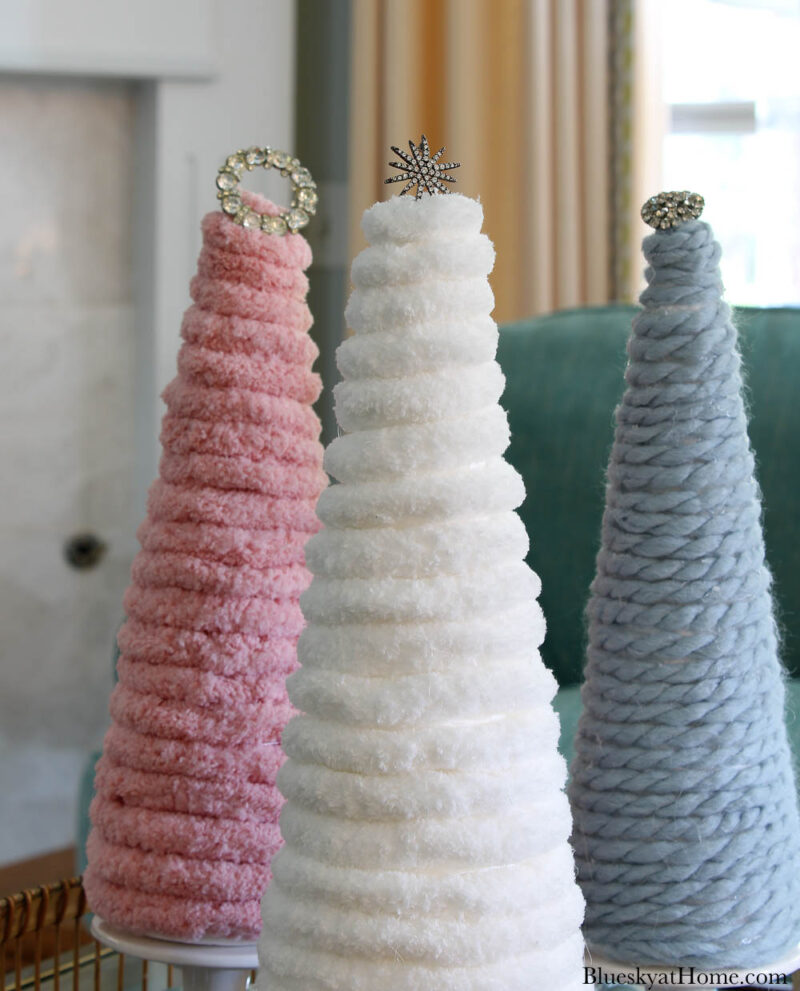 This gave the trees a sparkling dressy look.
OPTION 2
I decided to try a more casual look.
Looking through my stash of wood pieces, I found several 2-inch wood stars.
I used my hot glue gun to glue a toothpick to three stars.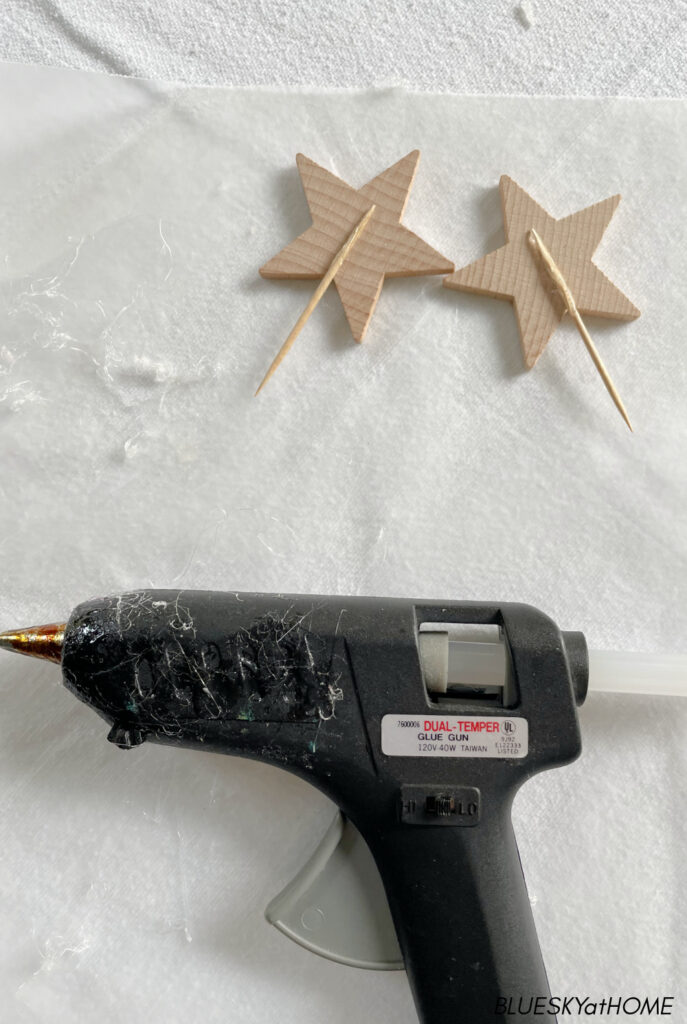 That was a nice look, but I wanted something just a little bit dressier.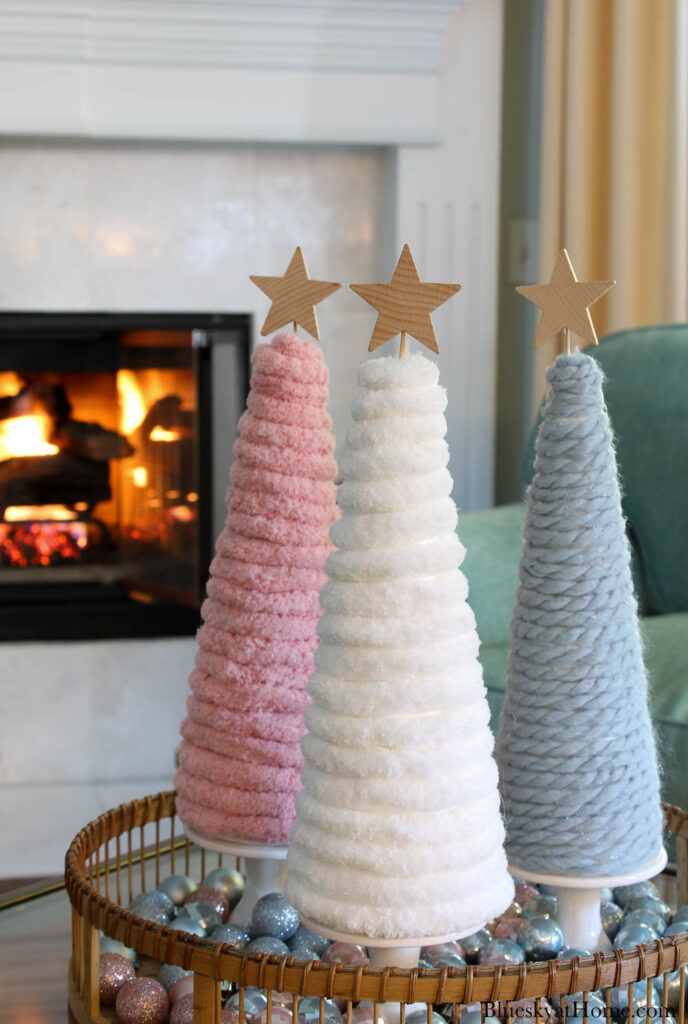 OPTION 3

Of course, I had glitter on hand – in gold, silver, red, and green. I decided to use silver glitter.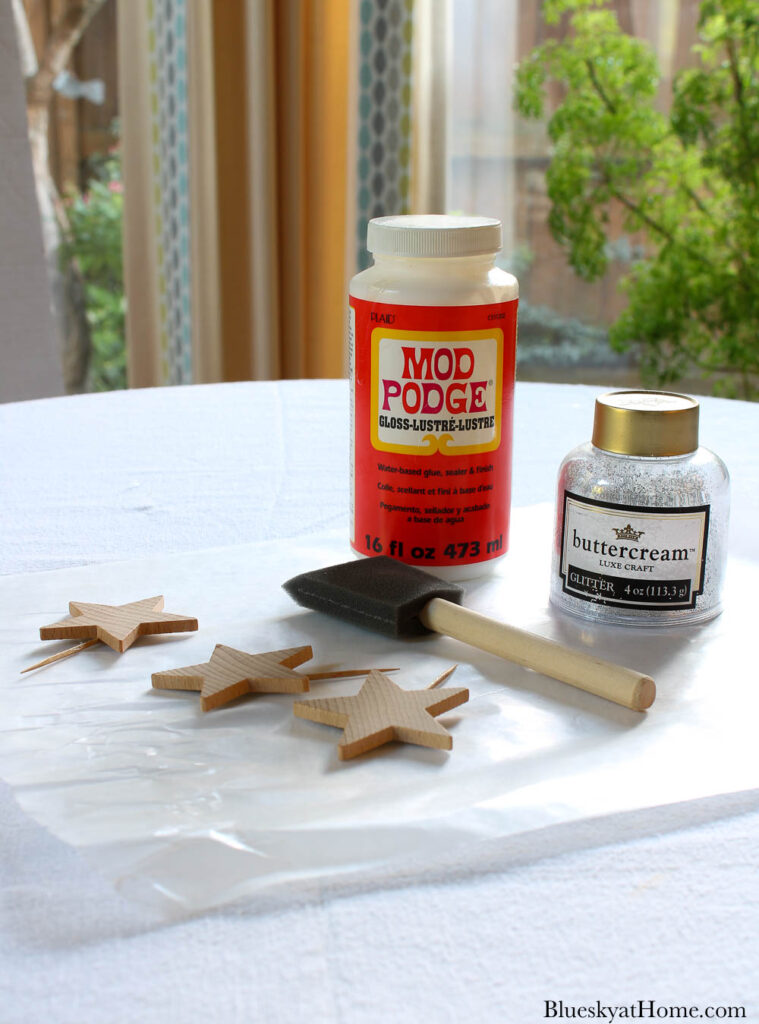 With a foam brush, I applied Mod Podge to the stars.
TIP: Reuse your piece of wax paper.
The last step was to sprinkle the glitter on the stars and shake off the excess.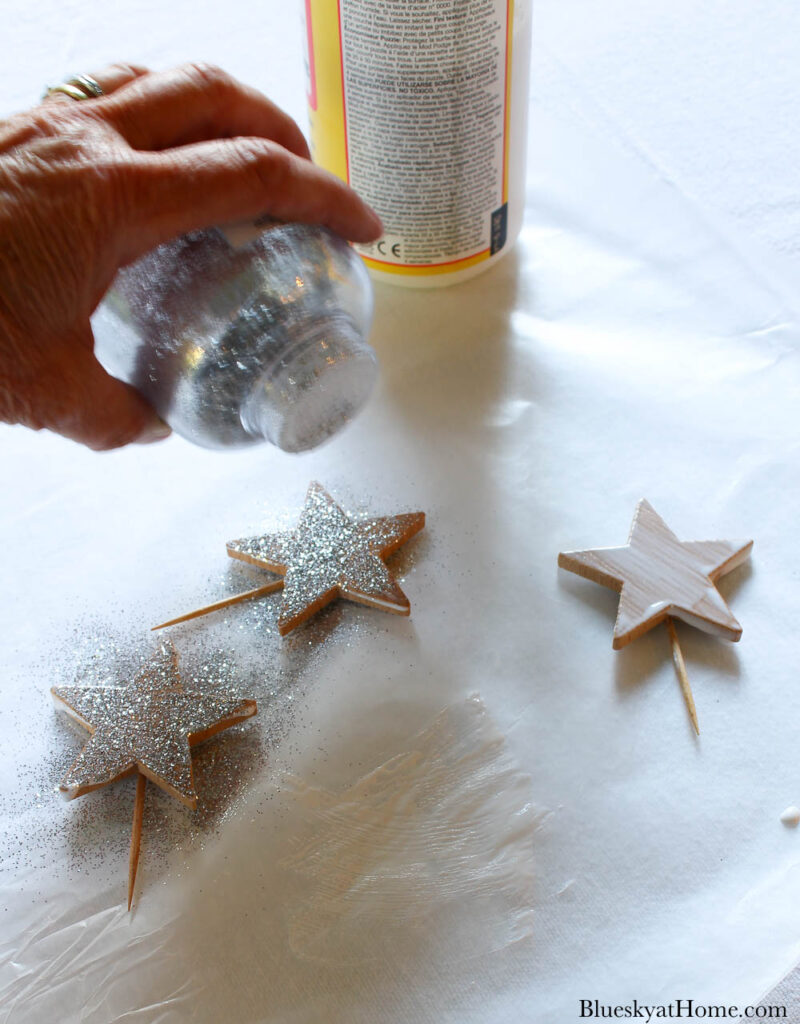 Stick the toothpick star into the top of your tree.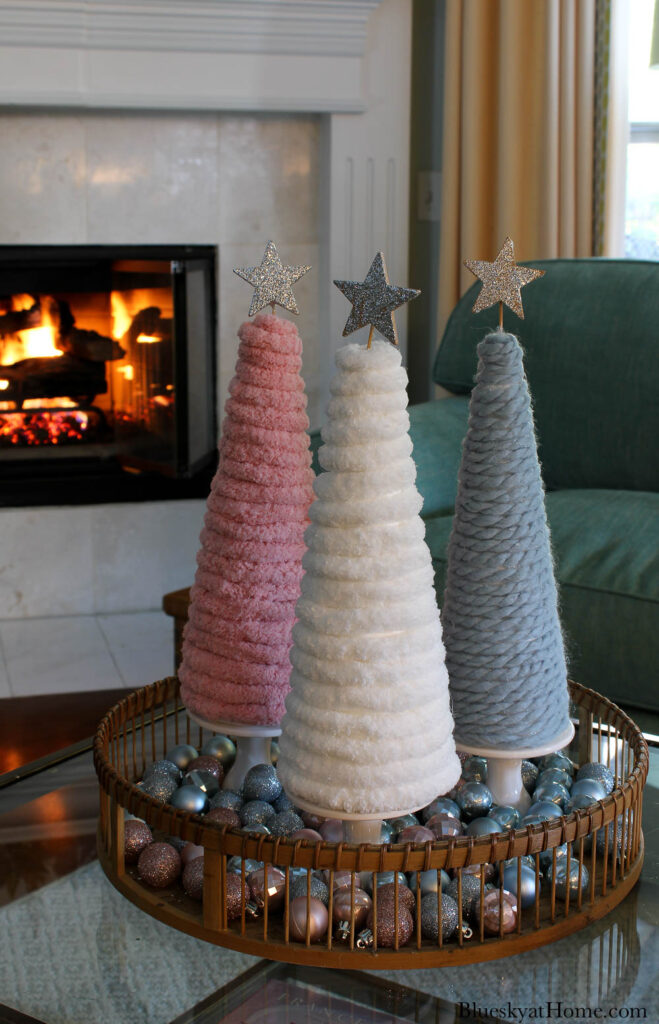 One more addition.
How about adding fairy lights? Fortunately, our batter-operated fairy lights were in a labeled box in the garage and easy to access.
Wrap each tree with a string of fairy lights. The lights give a little sparkle to your Christmas trees.

Displaying the Yarn Christmas Trees
For now, I decided to use the yarn Christmas trees on our living room coffee table.
I placed the trees in a round basket. For a little more height, I placed them on cupcake stands.
Then I covered the bottom of the basket with blue and pink mini ornaments. I actually bought these little ornaments for another Christmas tree project (standby).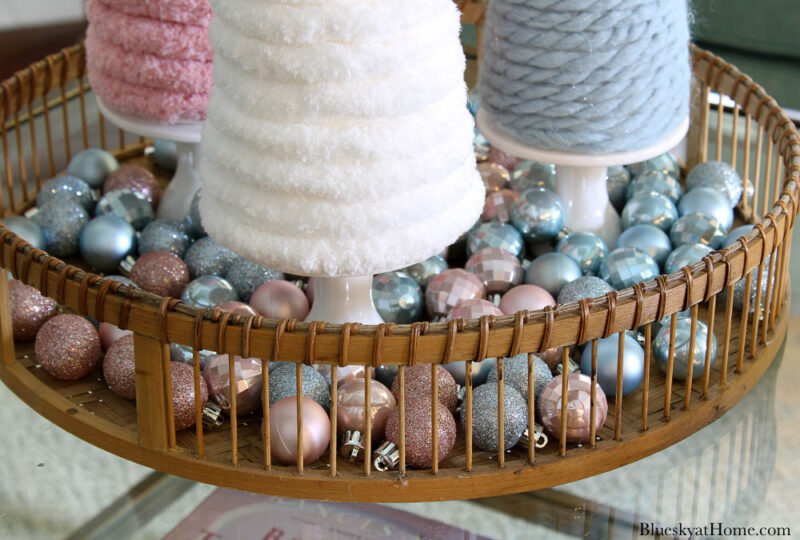 I will probably move these DIY yarn Christmas trees to our bedroom. (Hint, hint – I'm going pink and blue this year.)
I think this is a great project for your holiday decor. It's easy, inexpensive, and very pretty. I love projects that I can do while watching a movie or TV show.

Here is another easy DIY Christmas tree project – Glitter Christmas Trees.
Other Options for your Yarn Trees
Make your trees all one color.
Vary the size of your trees.
Use different colors of yarn on one tree for an ombre look.
Glue faux gems around the trees. I had some that I ordered for another project.
Glue mini-ornaments on the trees
Glue wool felt balls around the tree in a random pattern.
Wrap a small-bead garland around the tree.
Drape a piece of green yarn around the tree to look like garland.
Insert a skewer in the base of your tree. Attach the skewer to a wood block or wood slice to make a tree stand.
Place the skewer into a small decorative votive holder. Secure in a small piece of florist foam.
I hope you love the easy, pretty and fun DIY yarn Christmas tree project. This is a great craft for the holidays. I love the look of the trees.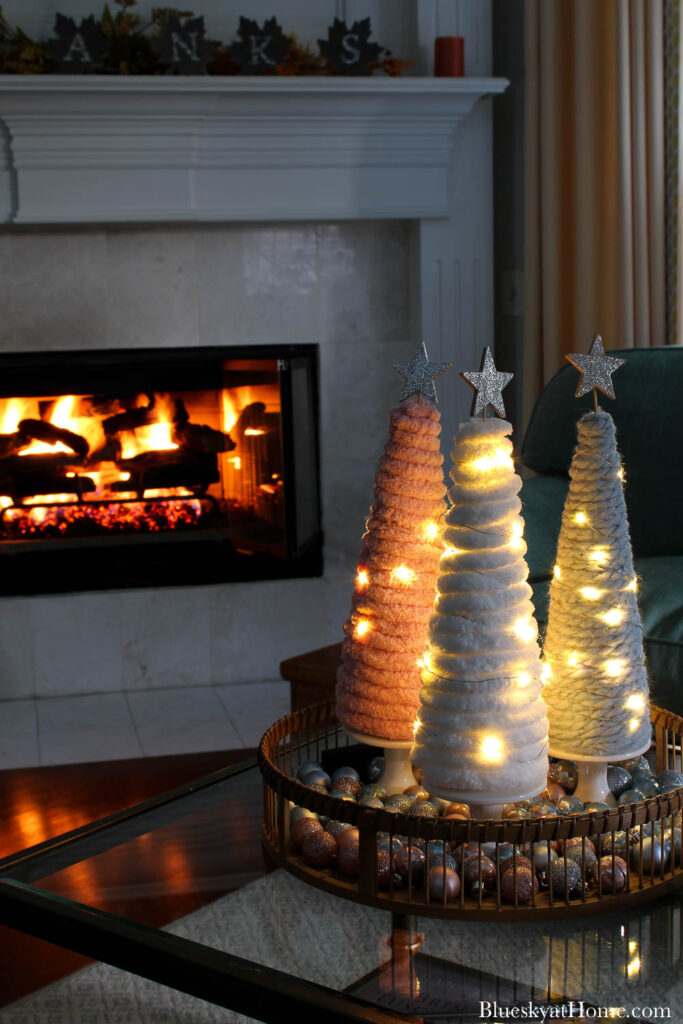 I bet you'll want to PIN this DIY yarn Christmas tree project.
Now you can visit all the other projects on our Creative Crafty Blog Hop. Enjoy the awesome projects, starting with Tammy of Patina and Paint.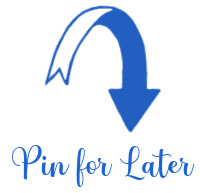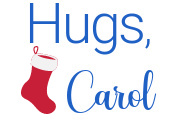 DIY Wood Bead Wired Christmas Tree
Wreath Wall Decor DIY
Double Wood Craft Rings Wreath
How to Make the Prettiest DIY Yarn Christmas Trees
Salt and Pepper Snowmen
Vintage Ornament Christmas Tree Wall Hanging
Holiday Gift Buckets
Crochet Phone Pouch
Christmas Deco Mesh Wreath