9 Ideas for Christmas Trees in your Home
A Christmas tree is the center of our Christmas decorations. It is always the center of any holiday decor. You don't have to have just one. I have nine ideas for Christmas trees in your home.
Christmas trees come in all shapes and sizes. They can be real or faux. They can be green, white or even pink. You can have Christmas trees in more than one room in your home. That's what I'm going to show you ~ several rooms and 9 ideas for Christmas trees in your home.
Walking through our home, you will find trees in several rooms.
Our trees are up. They are decorated. The lights are sparkling. Let's take a tour.
Christmas Trees in your Home: 9 Pretty Places
These days, we can buy Christmas trees for decorating in all sizes, all colors, and materials. Bottlebrush trees are all the rage. You can find trees at every craft store, all the Dollar stores, and online. You can even make trees.
We have trees in seven different rooms in our home, from the entry to our bedroom. So let's start in our entry.
Trees in the Entry
We have two trees in our entry, both small, but lighted, of course.
On our entry dresser, we have 1 green tree and 2 small white bottle brush trees. Small trees are perfect for tucking in small vignettes.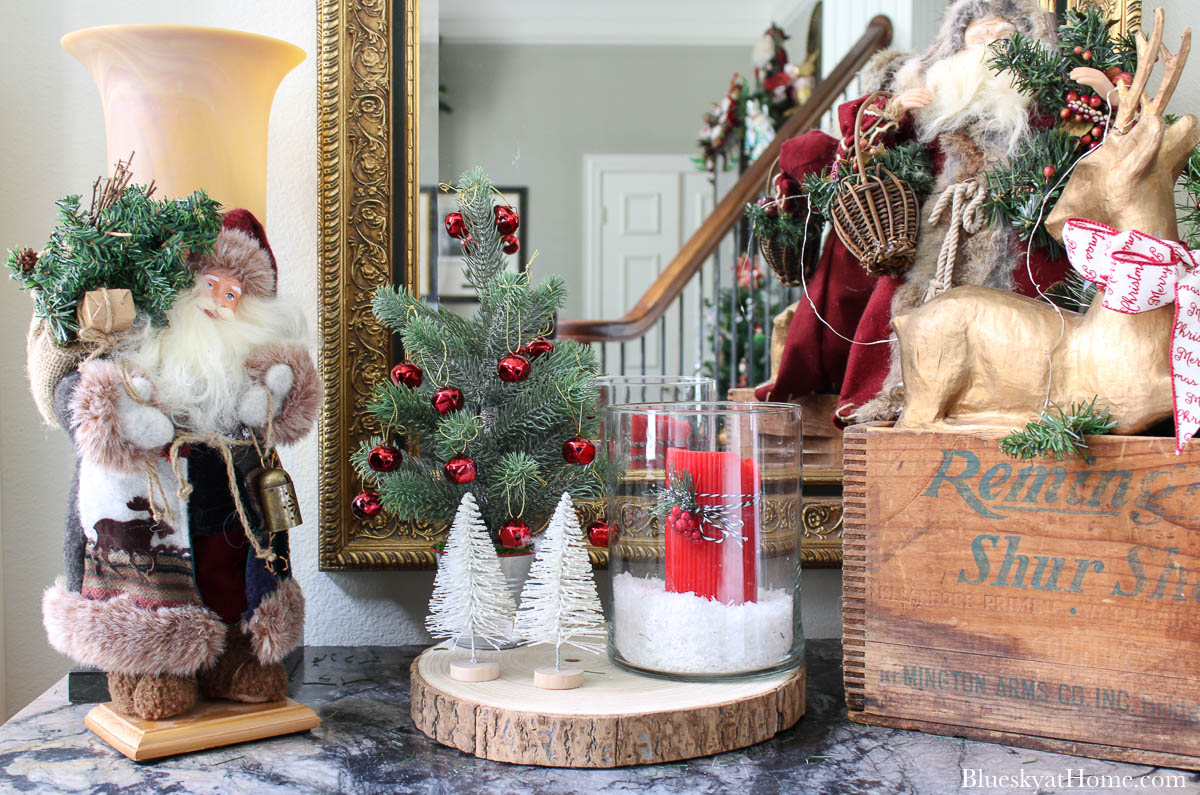 Christmas Trees by the Stairs
Next to our staircase is another small tree ~ part of a Christmas vignette. A snowman and a small vintage red truck add to the ambiance of this sweet arrangement.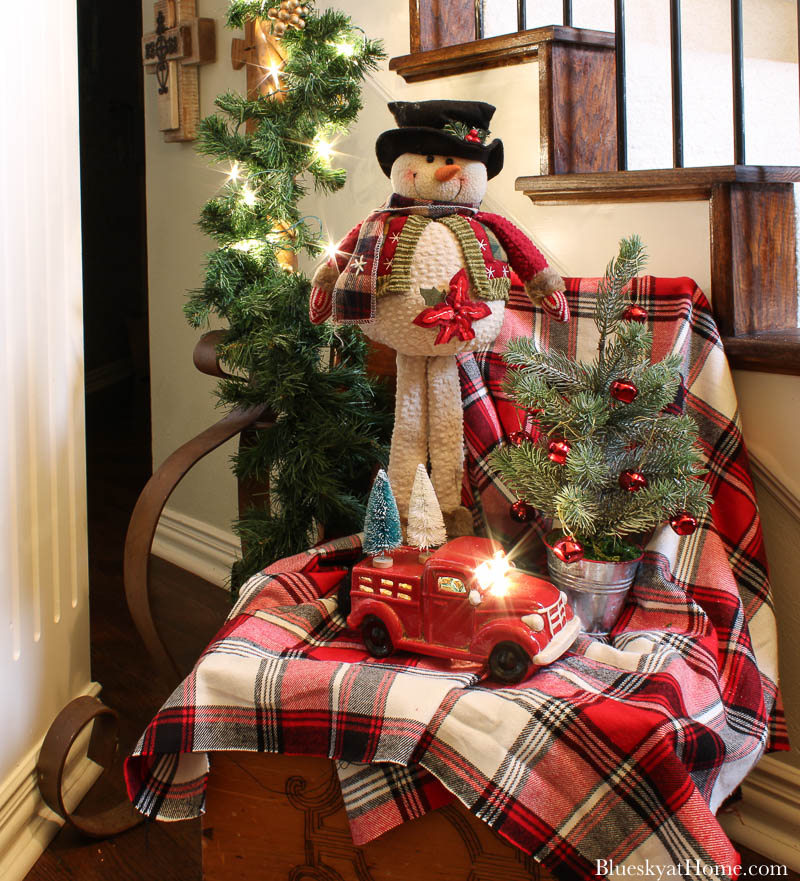 Tree in Sweet Shark's Bar
Sweet Shark loves to decorate his bar for Christmas with garland and all our Mark Robert's Elves.
A few years ago I suggested adding a tree to the scene and he loves it. We bring in a side table from our bedroom to give the 4-foot Tree more height.
For the Christmas tree (from Hobby Lobby) this year, I wanted a different tree skirt but couldn't find one and I'd used all the Christmas throws in other places.
I happened to be wearing a red sweater poncho, so I took it off and used it around the tree. Small white balls create the idea of snow. I think it works really well.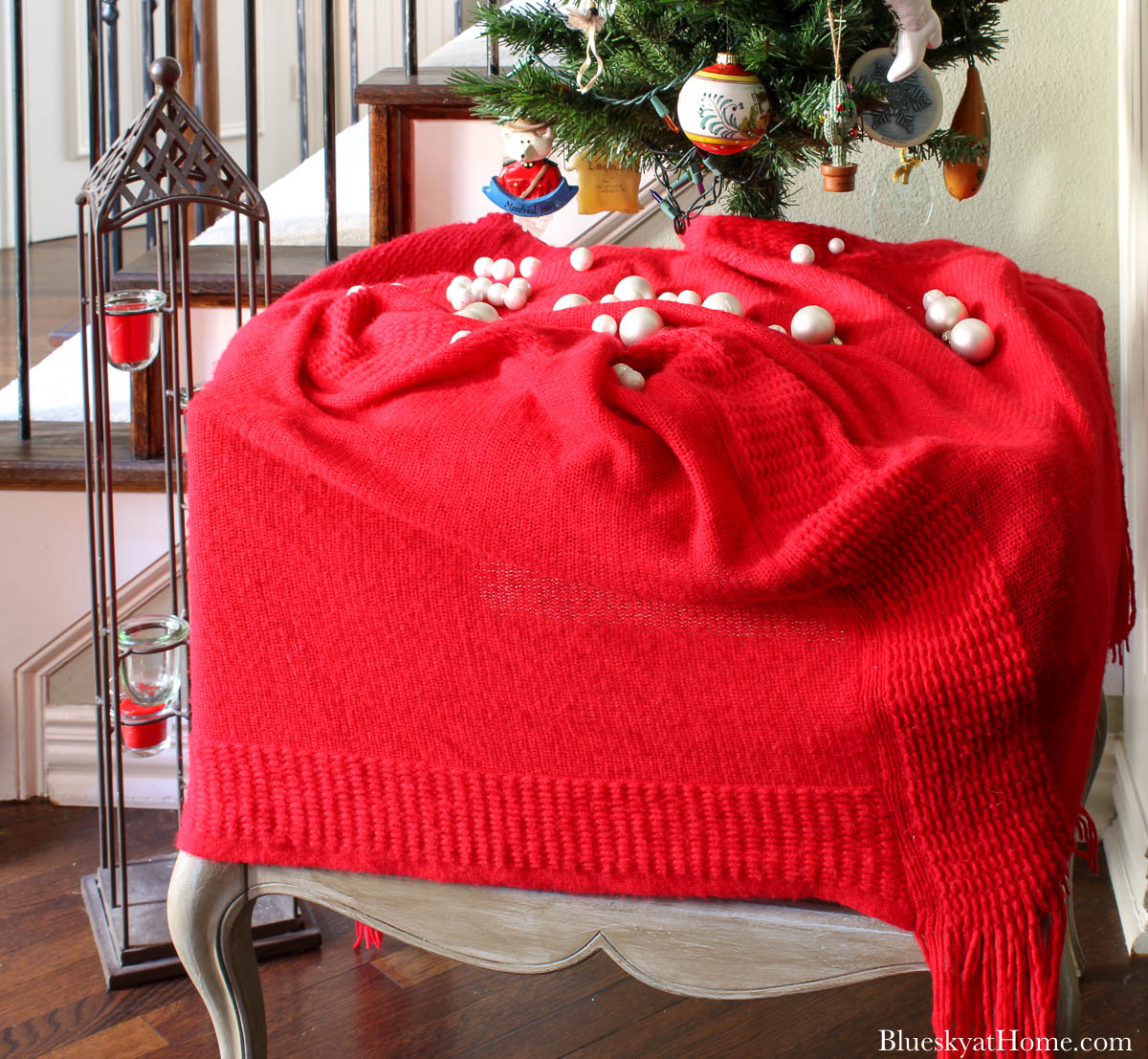 A couple of our Christmas stuffed animals adds to the scene.
The theme for this tree is travel. On every trip we take, we buy an ornament, so we have a few dozen, from different states and different countries. Adding the ornaments to the tree is like a trip down memory lane of our travels.
The ornaments that you can see here are from Park City, Sedona, Florence, New Orleans, Chatham (Cape Cod), Scottsdale, La Jolla, New Orleans, Jackson Hole, and Prague.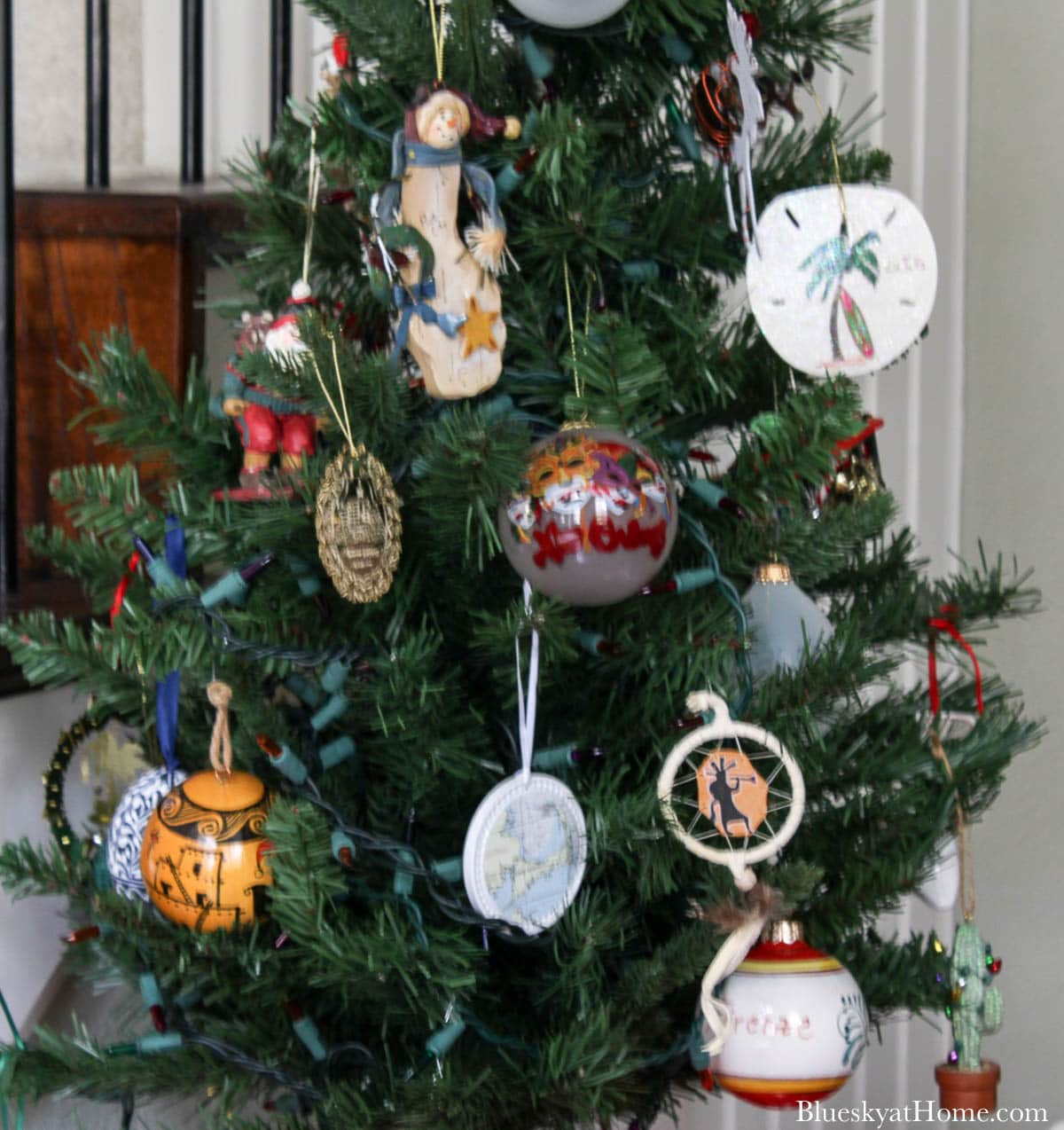 IDEA FOR CHRISTMAS TREES TIP: Pick a theme for different trees, such as travel, hobbies, kids, grandkids, or handmade items.
With the lights on, the tree lights up the entry and the bar. Sweet Shark likes colored lights and this tree came with them.
Trees in our Dining Room
Here is where I used small bottle brush trees in white, gold, and green on our Christmas tablescape. Some are inside lanterns and jars, and some are on the bar cart and around the centerpiece.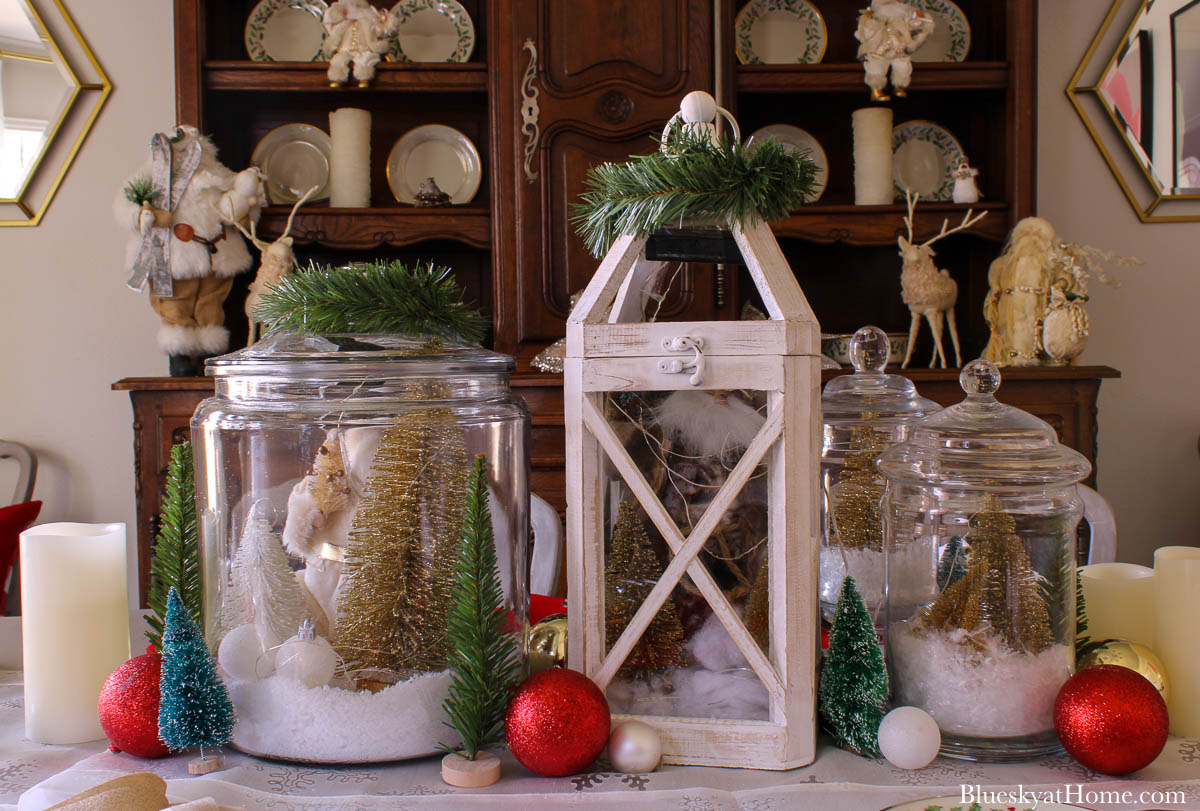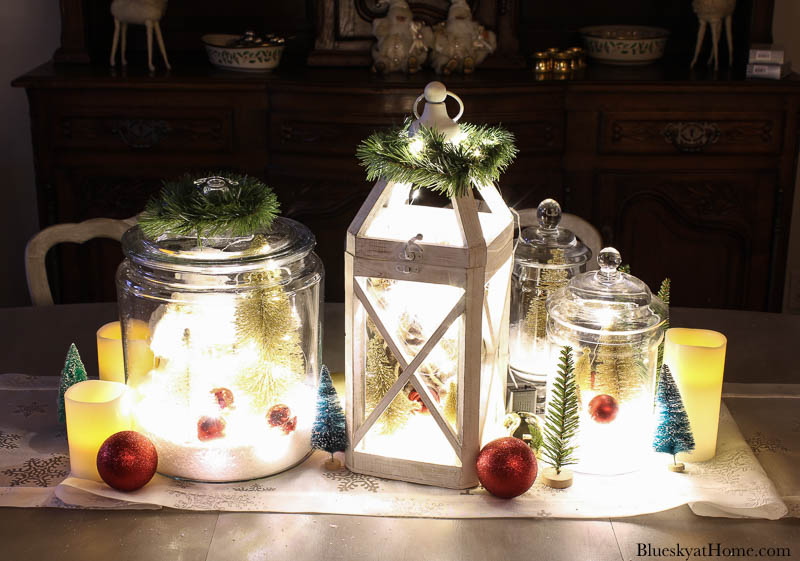 Kitchen and Breakfast Room Trees
On our kitchen counter, I have a tree in a burlap bag paired with a snowman and the Christmas mugs that I made for last year's hot chocolate bar.
A couple of trees light up at night on our kitchen island.
We may be the only people you know who have their Christmas tree in the breakfast room. The first year we were in our home, we looked around for a place for the tree and the only place we could find was our breakfast room.
We move the breakfast room table into our bedroom to make room for the tree. Three years ago, we decided it was time for a faux tree and picked this one from Balsam Hill, bought after Christmas on sale.
We roll the tree in from the garage, remove the 2 pieces from their canvas bags, and attach them together. It's called a flip tree and we love that it has a million lights (remote~control). You do need to spread and fluff the branches (gloves are included to do this).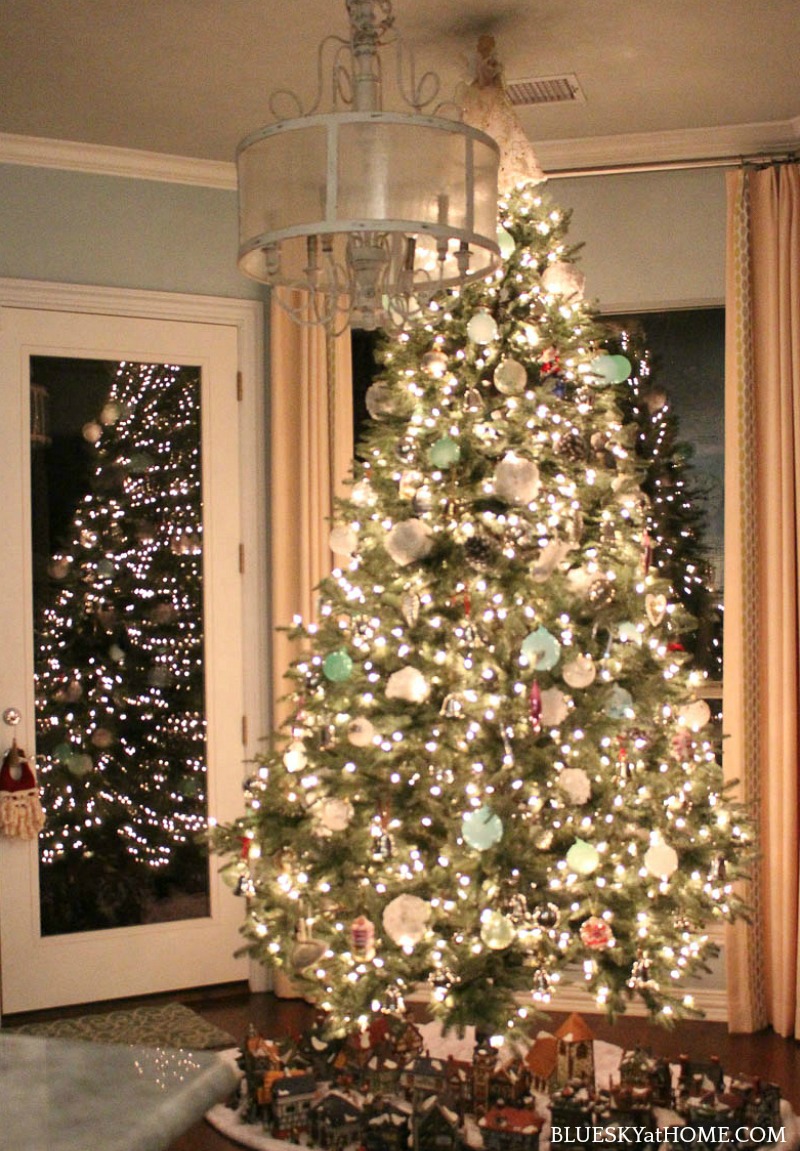 Once all our ornaments are arranged, I turn on the lights and our tree lights up the entire kitchen and living room. Because of all the windows, the tree reflects and it looks like we have 5 trees.
Christmas Trees in the Living Room
I have 2 vignettes with Christmas trees, one on the sofa table. Every red Christmas truck needs a Christmas tree.
Who says that a Christmas tree has to be standing up? For our coffee table, Santa and his reindeer are pulling a lighted tree back to the North Pole.
A large red throw that I bought last year at Target provides color and softness.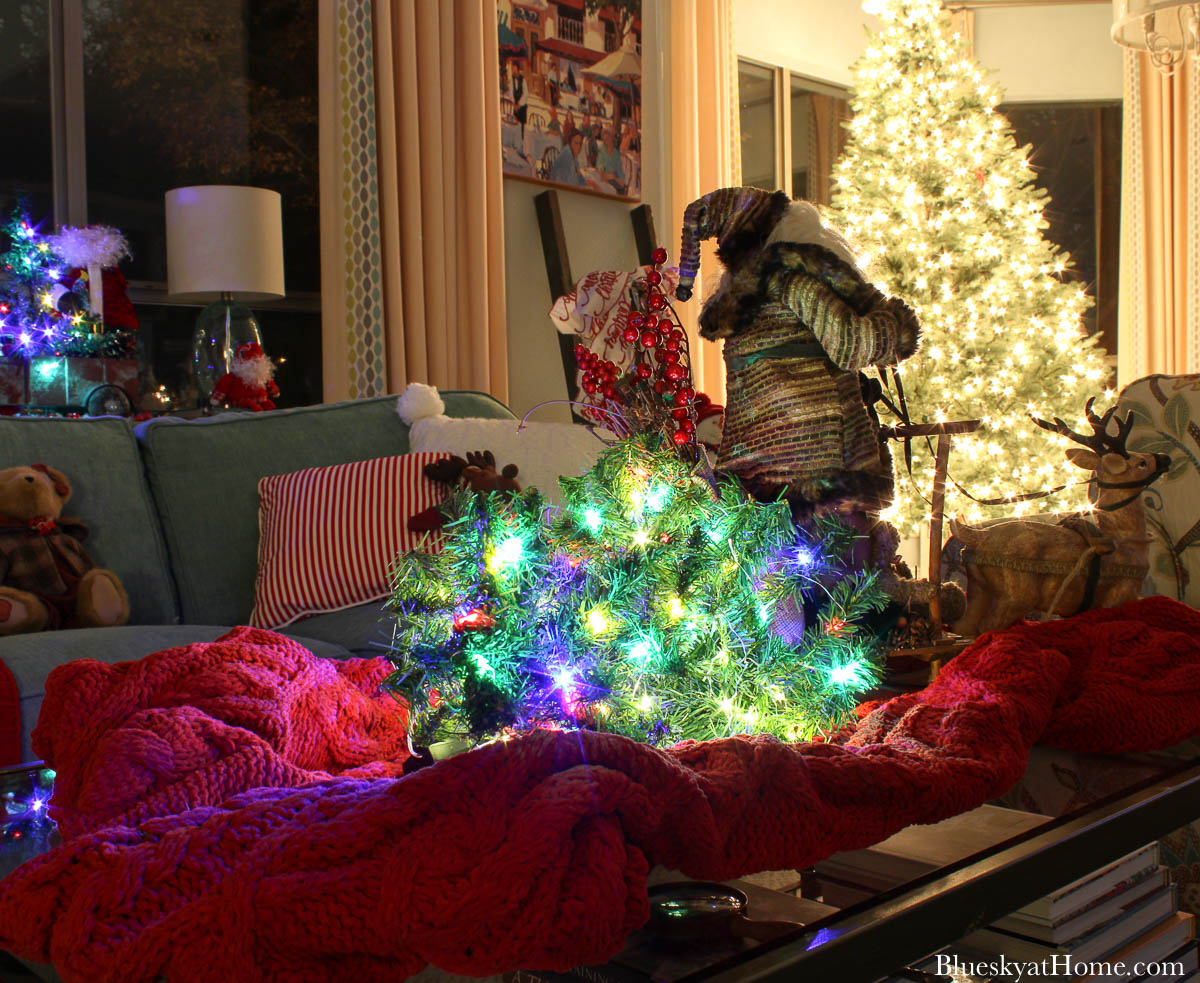 Christmas Tree in the Master Bedroom
The bay window in our bedroom seemed like a perfect place to add a tree. I bought this 5-foot lighted tree at Hobby Lobby last year on sale to replace the original one we used. This one has white lights – my favorite.
I start by placing a large white chenille blanket on the glass-top table. I set a few book stacks on the table to give height, and then top them with a piece of "snowy" fabric I bought a few years ago.
My idea for this Christmas tree was to use all the soft little animal ornaments from Target that I have. The swan ornament came from the historic Swan House in Atlanta.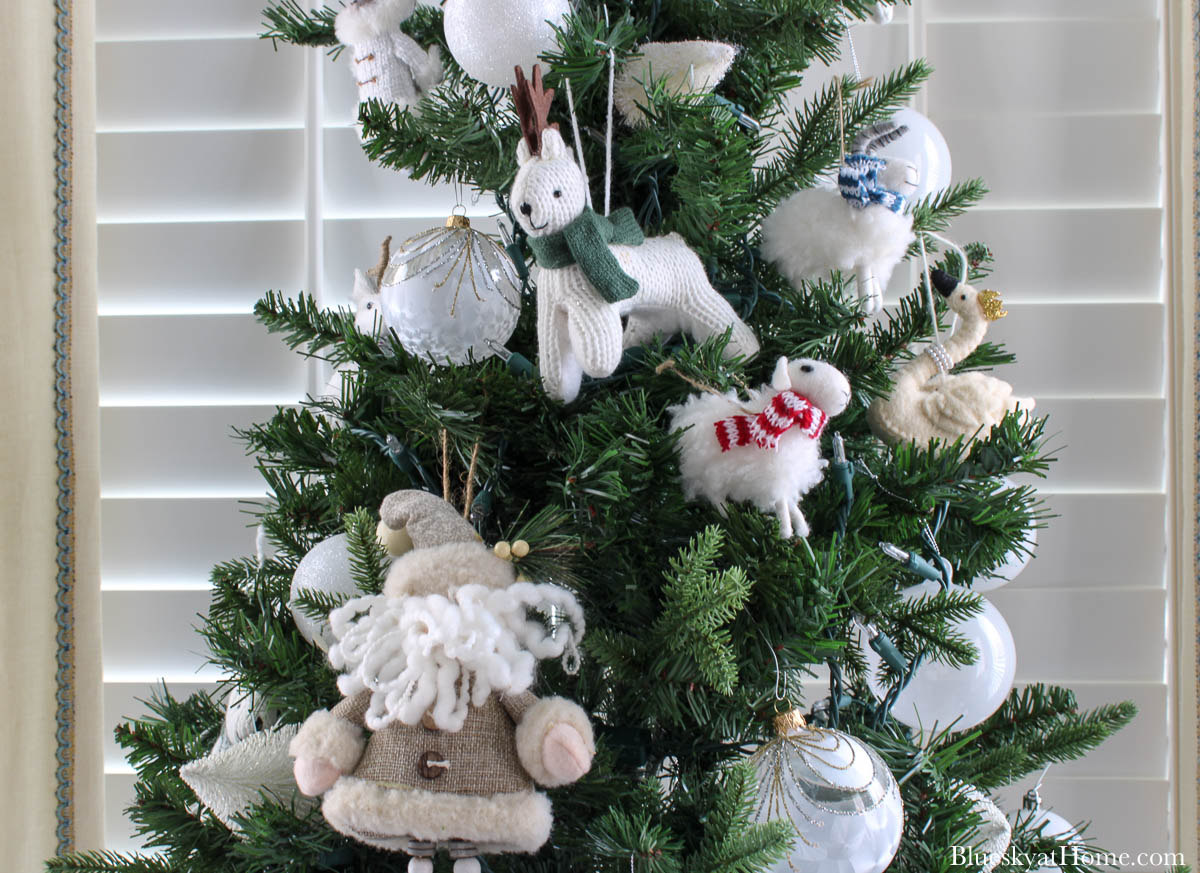 For an all-white theme, I added white balls and the gorgeous ornaments that we bought in New Orleans a few years ago.
We bought the little white bird in Granbury, Texas in October.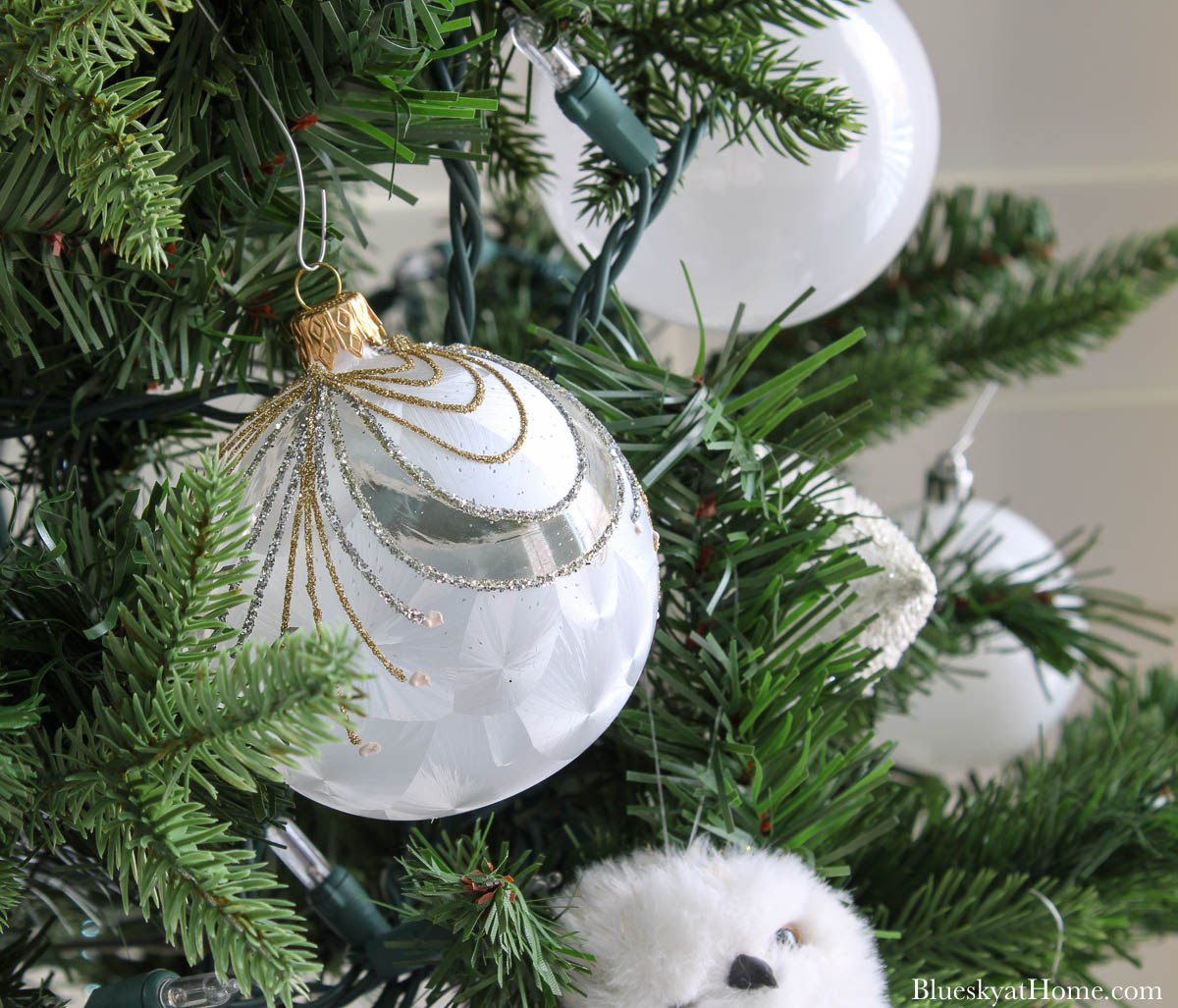 Below the tree, I arrange our collection of Waterford and Baccarat trees, angels, Santas, and polar bears. Do you like our sweet little owl?
The tree takes on a magical look at night. Of course, it's more beautiful at night.
Here are my ideas for Christmas trees in your home.
vary the sizes and materials of your trees
pick a theme or color scheme for some trees
when possible, use battery~operated lights on timers
vary white lights and colored lights
I hope that you've liked these ideas for Christmas trees and enjoyed my Christmas tree tour.
Then be sure to PIN these Christmas tree ideas to your Christmas boards.