Fabulous Fall Living Room Decorating Ideas
Have you started decorating your home for fall? Need some ideas? I have some fabulous fall living room decorating ideas for you.
The great thing about decorating your home for fall is that fall lasts until Thanksgiving. You can build from simple accessories and gradually add more. I've got some fabulous fall living room decorating ideas you can begin to use now.
Since our living room is the center of our home, that's where I focus most of my fall decorating. These fall living room decorating ideas should be helpful to you.
Fall color schemes can range from neutrals in all shades from cream to beige to taupe and brown. Traditional orange and rusts. Metallics in gold, copper or bronze are popular. Shades of green from light to deep dark are always in style.
And then there is blue!
Remember, these fall living room decorating ideas are an inspiration. You can change the colors and items based on what you already have on hand – don't you love shopping in your own home?
Fabulous Fall Living Room Decorating Ideas
Seasonal decorating can start at your front door with a beautiful wreath, such as the one I made last year. Last week I shared how to reuse and restyle your fall decor – don't you love reusing accessories that you already have? (I already asked that.)
Then your decorating can continue into your entry like my black and white fall entry, which was a real departure for me. The different rooms in your home – if separate from other rooms – can have different themes and colors.
I love to combine both retail and DIY creations in my home decor. I recently shared 3 spray paint DIY projects. All are included in our living room fall decor.
white mini-pumpkins with blue leaves
copper pumpkins
copper magnolia leaves
For most of us, our living room or family room is the center of our home. It's where we spend the most time and gather with family or friends. A living room has so many areas to decorate:
mantel
coffee table
side tables
console table or dresser
sofa table
I'm sharing fall living decorating ideas for the mantel, the coffee table, the sofa table, and side tables.
TIP: Gather all the accessories you might want to add to your different areas in one place. Then try to work on one area at a time so you don't get overwhelmed.
Living Room Decorating Ideas
You don't have to totally change an area. Arrangements that you already have in place can be added to. These same living room decorating ideas will work for you.
groups of items
use baskets, boxes or trays to gather items
use odd numbers
leave space around your accessories – think of negative space
vary the height of your elements
arrange items in odd-number groups
use cloches, apothecary jars, or other large glass containers to hold other items
vary textures of items
mix in natural textures: rattan, burlap, glass, metal, wood, jute, twine
combine fresh and faux flowers or greenery, faux or real pumpkins
use a combination of colors for interest
add candles with seasonal color and scent
use throws for color, pattern, and texture
if your table is small, add just one new fall item
remember balance, choosing either a symmetrical or asymmetrical arrangement
Fall Mantel
TIP: If something doesn't look right, try it somewhere else. Try it on a stack of books. Turn it around, turn it on its side.
For several months, our mantel has had blue containers with topiaries, chinoiserie vases, and a wood tray with blue candles.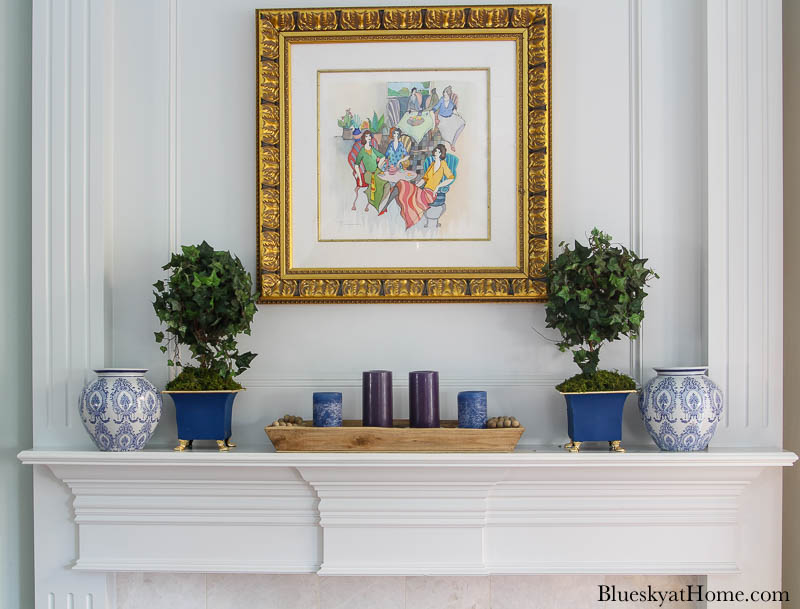 For our fall mantel, I added/or replaced a few items, but the mantel remained balanced and symmetrical.
These additions gave the mantel a definite fall glow and mood.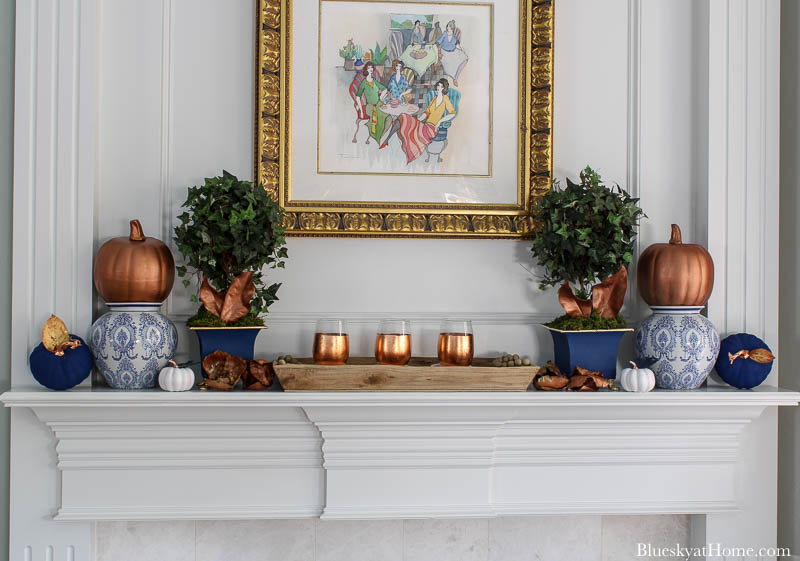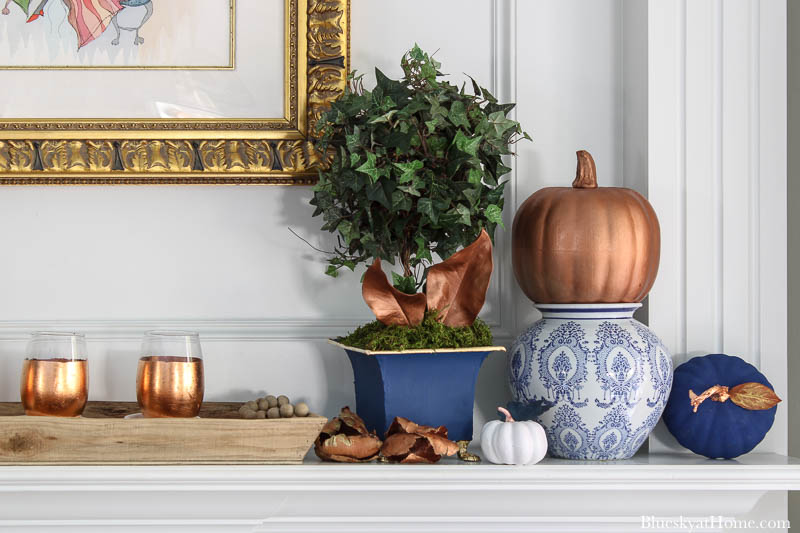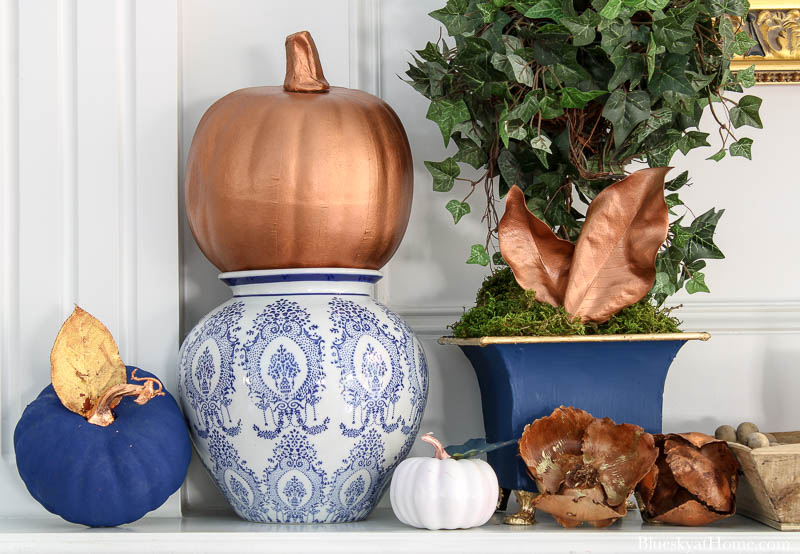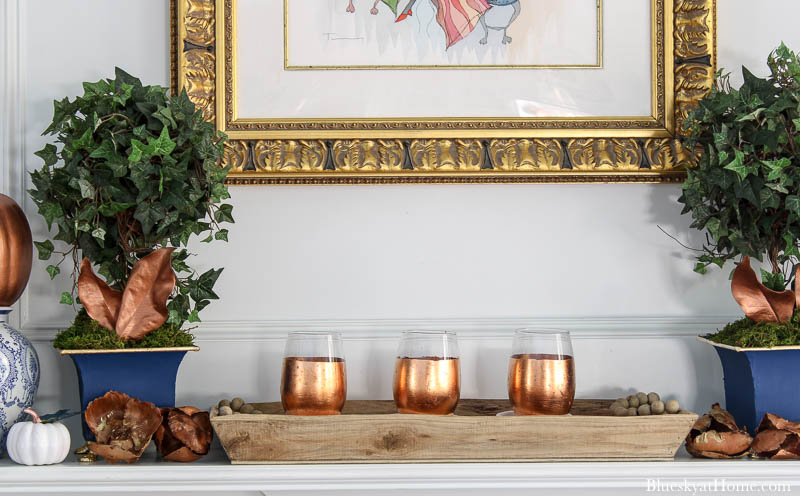 Fall Coffee Table
The coffee table has these fall decorating ideas:
a round rattan tray to gather my items. The tray provided shape for the table, a natural material, and texture.
a favorite vintage copper pitcher for a metallic finish filled with faux greenery and copper–painted magnolia leaves
burlap-covered books for a natural texture
blue and copper pumpkin for color and shape
setting the pitcher on the books for added height
glass apothecary jar filled with metallic pumpkins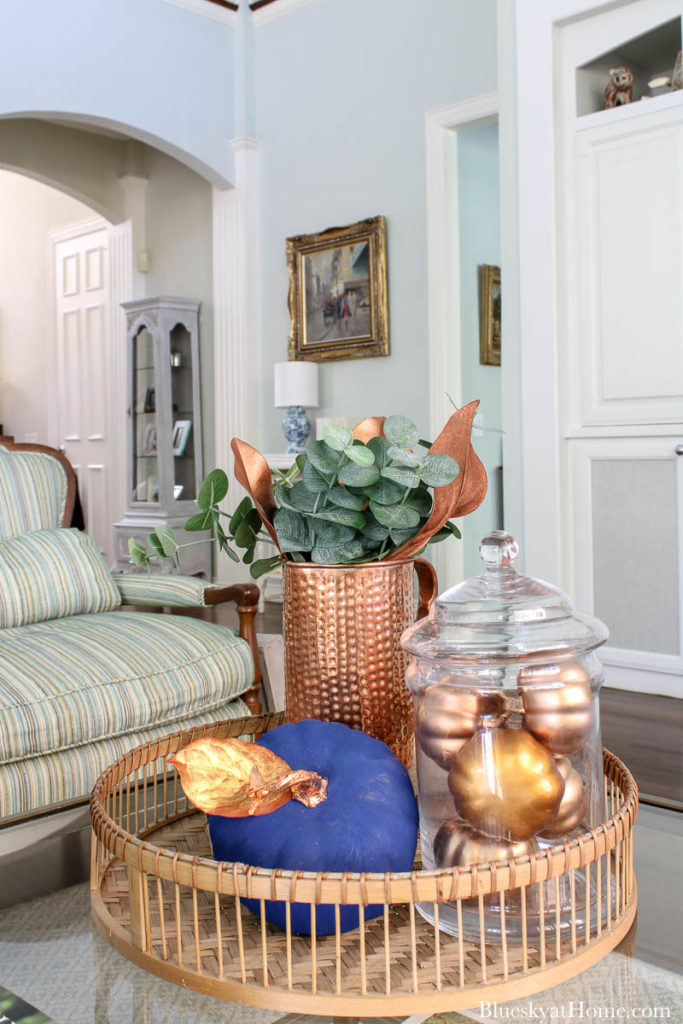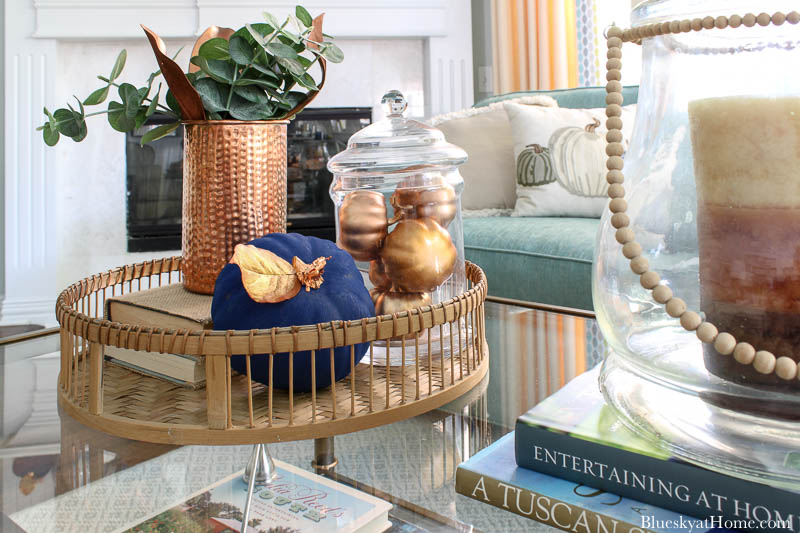 a large glass jar with a beaded handle set on a stack of coffee table books
books chosen for their dark blue covers
a large candle (Target) in fall colors (the scent is Vanilla Caramel)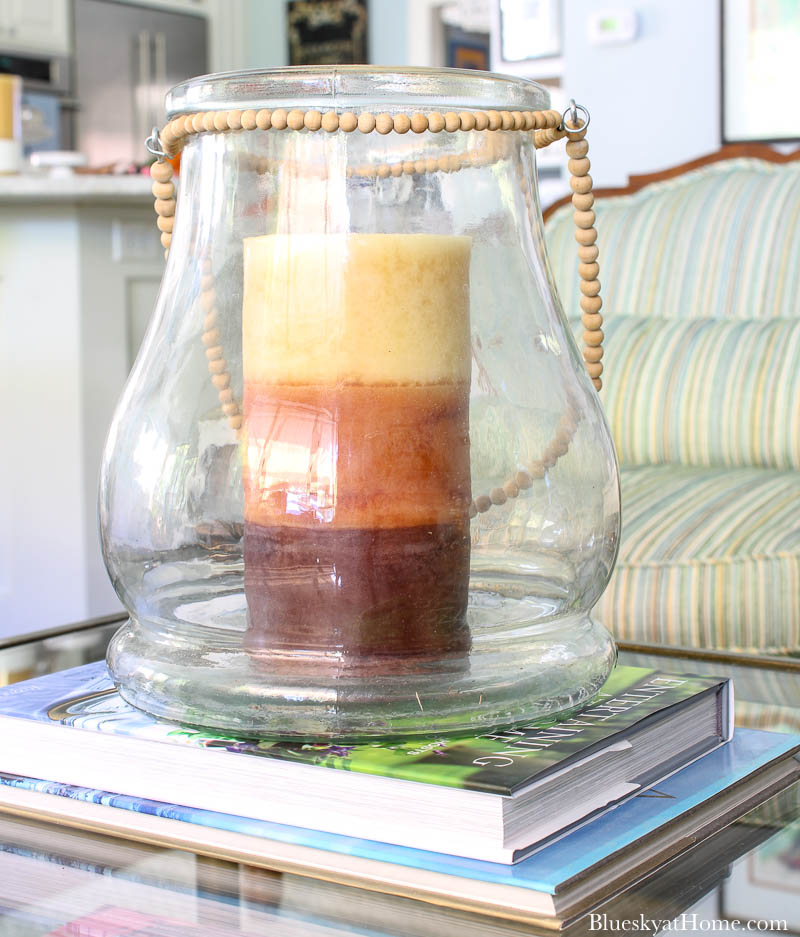 Sofa or Console Table
A console or sofa table is a wonderful place to add decorative accessories for every season. These tables are usually long and narrow. Take advantage of the rectangle shape.
To continue our living room fall decorating, I kept the balanced arrangement. The lamps "frame" the setting. I also kept the brass tray to ground my fall accessories:

added a large apothecary jar with twig balls in natural colors
changed out white books for dark blue books
kept the grain scoop (with natural color and texture) fill with faux hydrangeas
set the grain scoop on the books for added height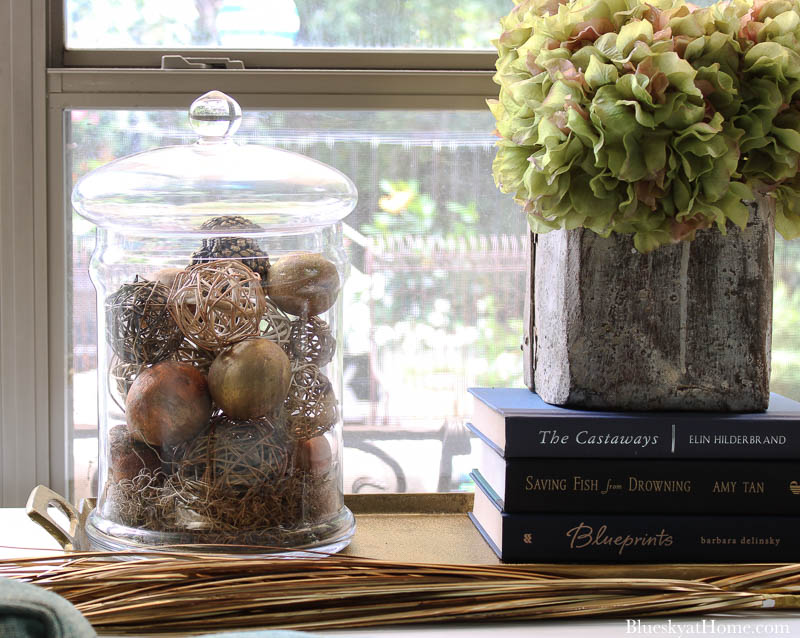 added a large round orange candle for color and shape (Target in Pumpkin Spice)
added copper metallic "wheat" for color, shape and texture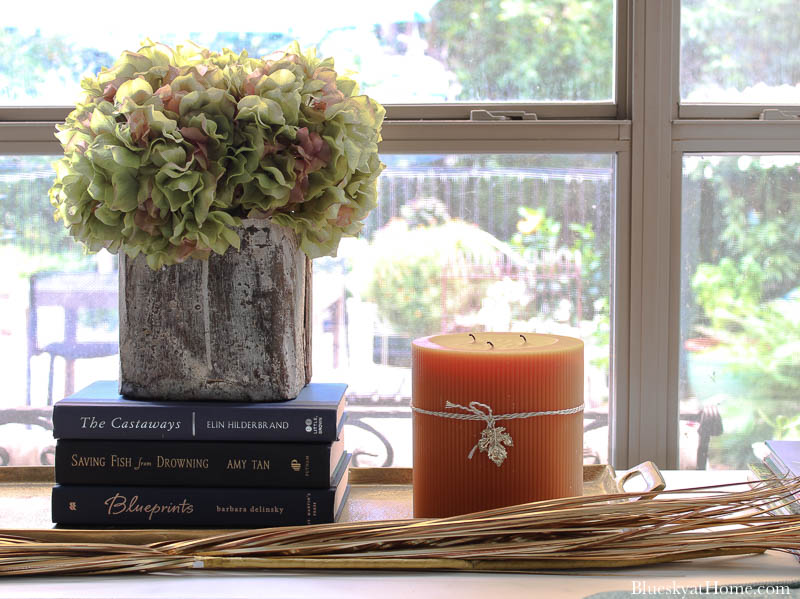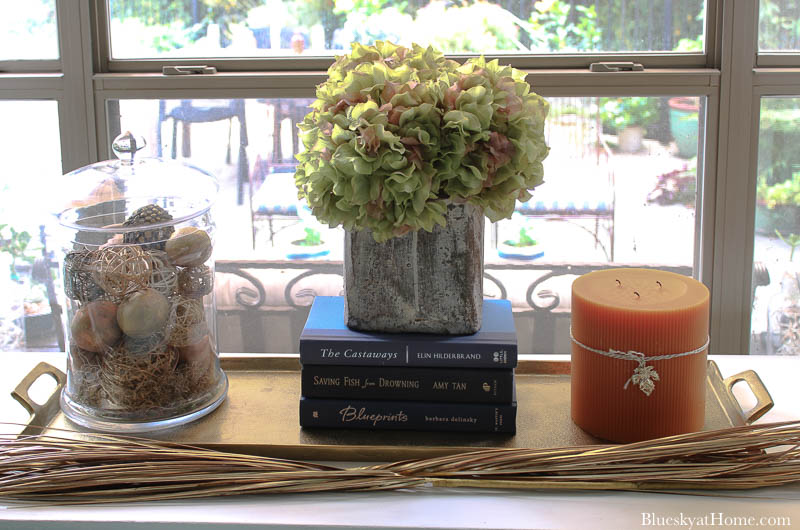 Fall Side Tables
Side tables usually have a smaller surface on which to decorate. Just a few items can have a big impact.
For the side table between our Bergere chairs, we always have this white container with a green pothos plant. I already had a small chinoiserie ginger jar. To add a fall feel to our living room, I added:
2 apothecary jars filled with metallic pumpkins and fall balls
1 small white-painted pumpkin with a blue-painted leaf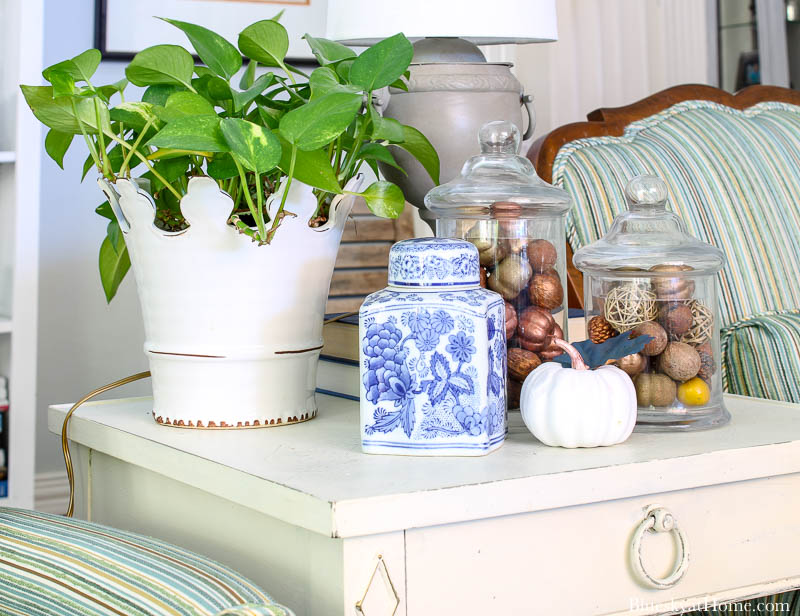 Yes, I know there are 4 objects in my vignette. Visually, the 2 apothecary jars act as one object.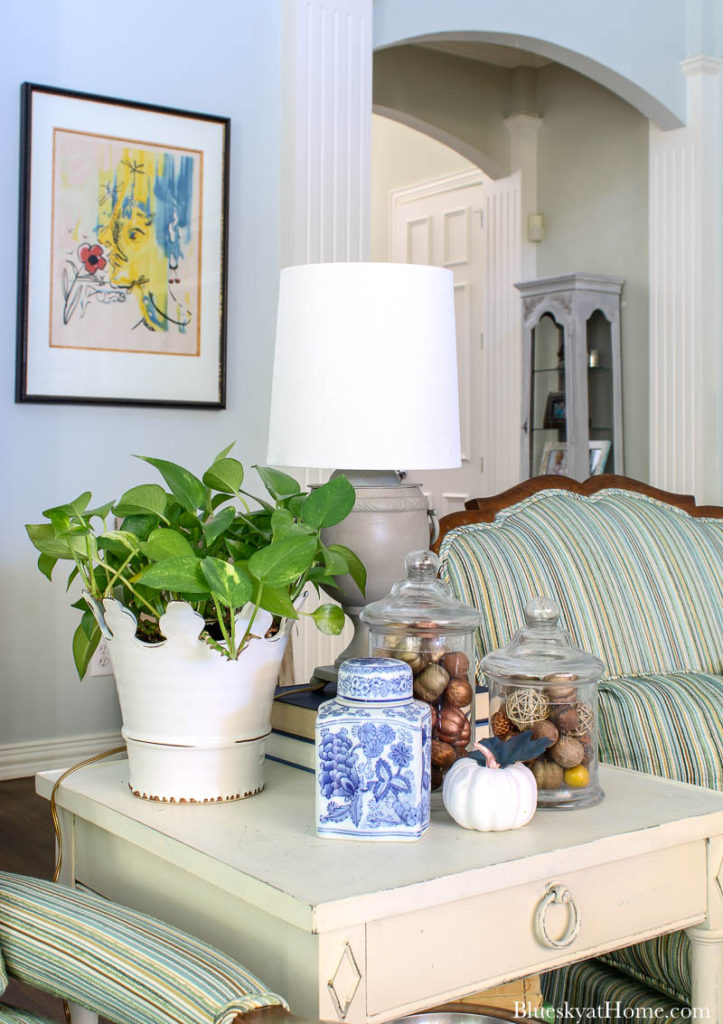 On the small shelf table in our living room, existing accessories (lamp base, blue container, group of white books, blue cup and saucer, blue beads) already provided color, pattern, and interest.
Not wanting to overwhelm the table, all I did was add one white pumpkin with a blue leaf.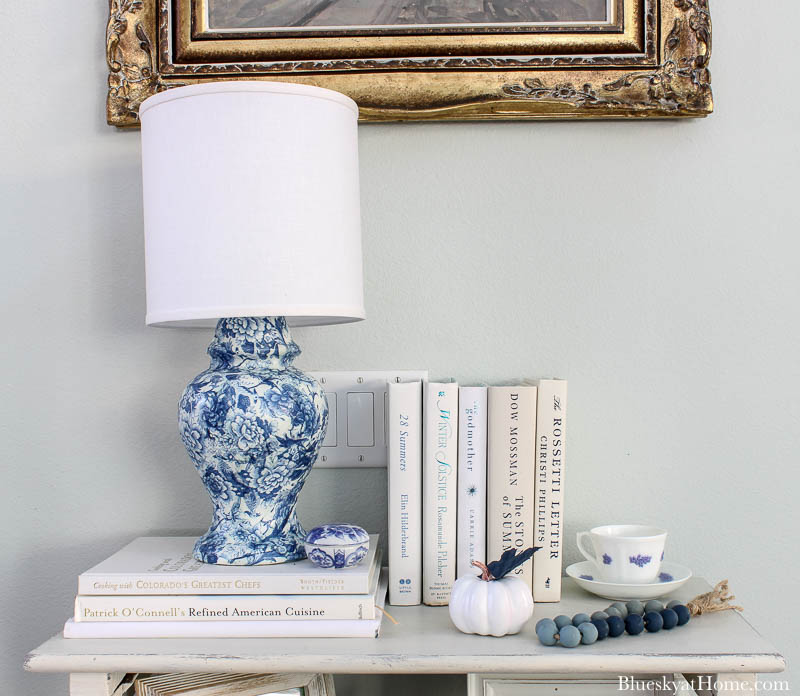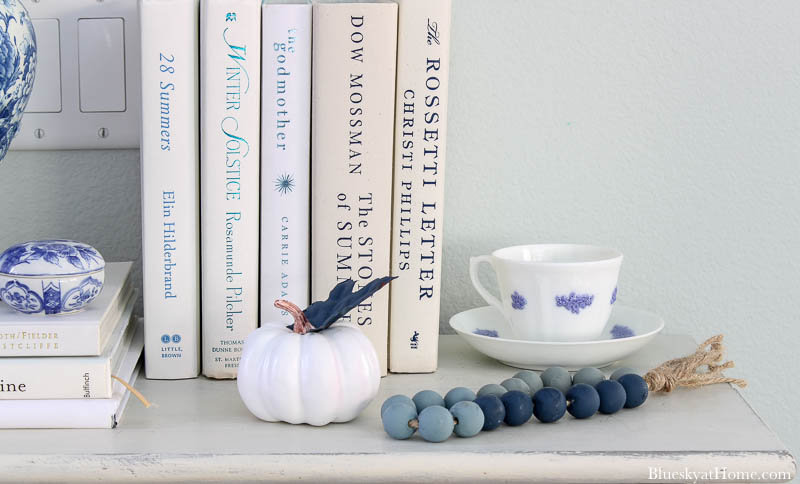 For the table next to our sofa, I made these simple changes to add to the fall living room decor:
replaced a stack of white books with blue books
replaced a large white container with faux greenery with a metallic brass and glass lantern
filled the glass container with faux fall leaves and copper painted leaves
topped the lantern with real hydrangeas from our backyard
added another blue pumpkin and two white pumpkins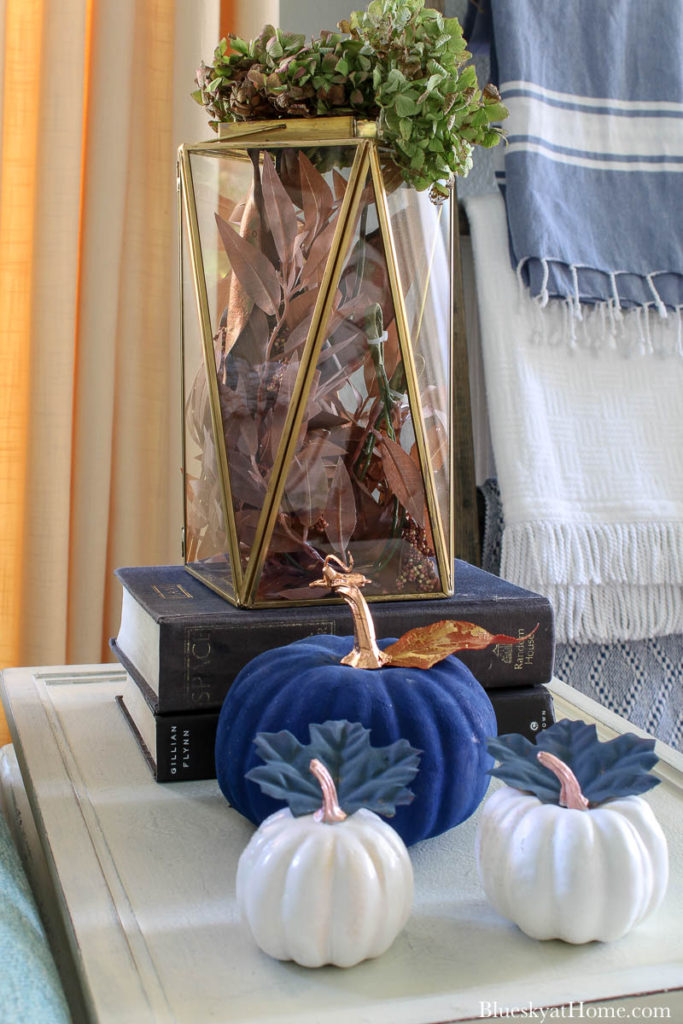 Leaning on the living room wall is my vintage ladder with throws for pattern and texture. I will be changing out the throws for a more fall look soon.
Final Decorating Ideas for Fall
What ideas did I use for decorating my living room for fall?
carried the blue and copper color theme throughout the room
several glass containers filled with fall items
balance in arrangements
both symmetrical and asymmetrical arrangements
odd numbers
natural objects
books, candles and faux florals
pumpkins in all the areas
pattern and texture
both groups of items and single items to existing spaces
Fall Living Room by Night
Fall decorating for the daytime is lovely. But candles make the warmth of your living room come to its full beauty at night.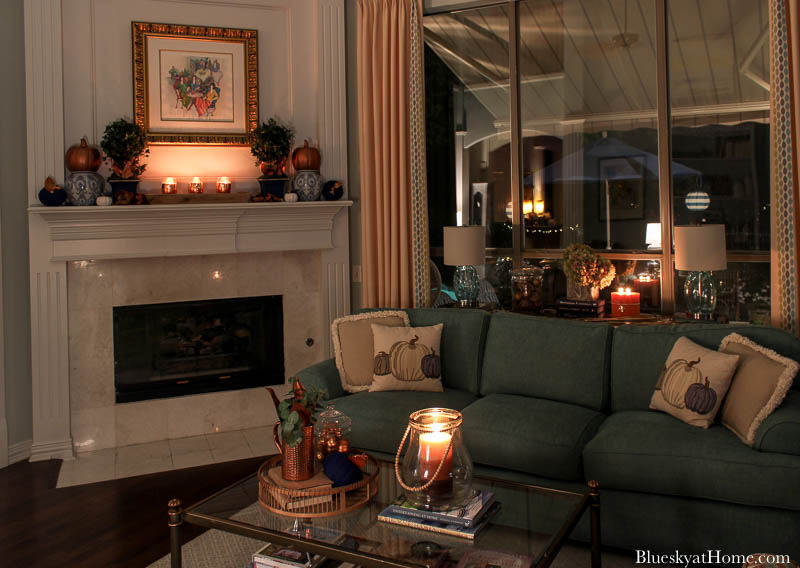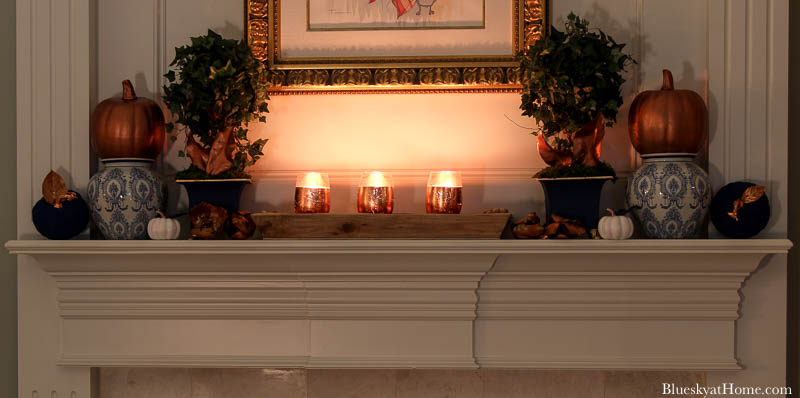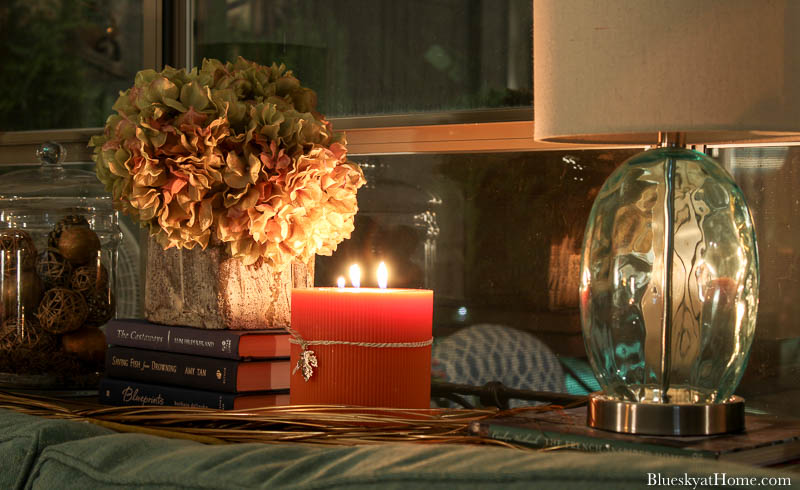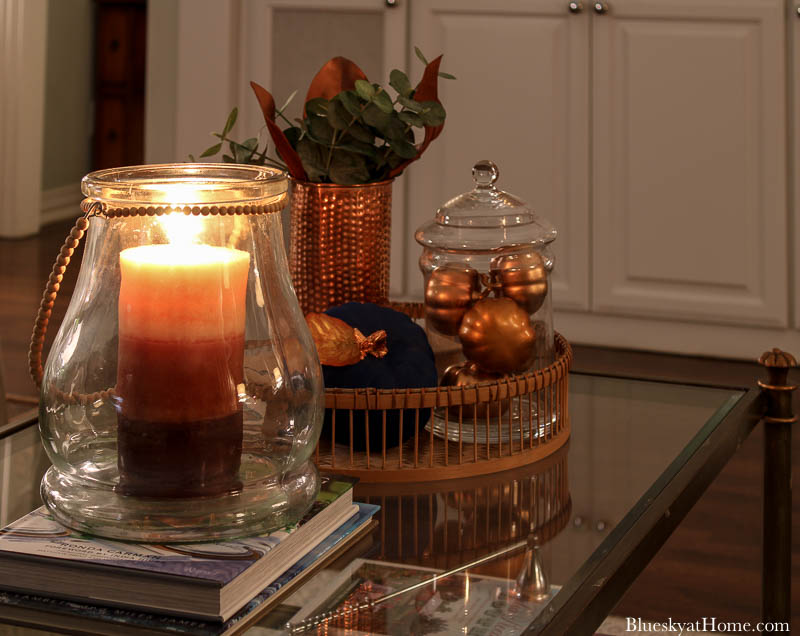 I hope that you have gained many new fall living room decorating ideas. We are so pleased with how our living room looks. It's warm, and inviting and creates a sense of the fall season.
I would love for you PIN our fall living room tour.