How to Style a Fall Entry in Black and White
Do you decorate your entry to welcome guests? Here's how to style a fall entry in black and white to give your seasonal home decor a dramatic look.
After your front door or porch, your entry is the next place to start your fall decorations. Here's a black and white color scheme to style a fall entry for your home fall decor.
The idea for a black and white fall entry actually began in our breakfast room. I moved a couple of DIY projects onto our entry console table to get the fall entryway decor off to a great start.
If you have a table, dresser, bench or comode in your entry, you have the perfect space for a seasonal setting. Use it for styling a fall entry in your favorite fall colors.
Styling a Black and White Fall Entry
This post contains affiliate links to products used in this project. If you should order any project from this site, I may receive compensation, but you will not pay a penny more.
The inspiration for my black and white fall tablescape was black and white gingham ribbon.
I created a couple of DIY fall decorations in black and white. I liked them so much that I wanted to use them again.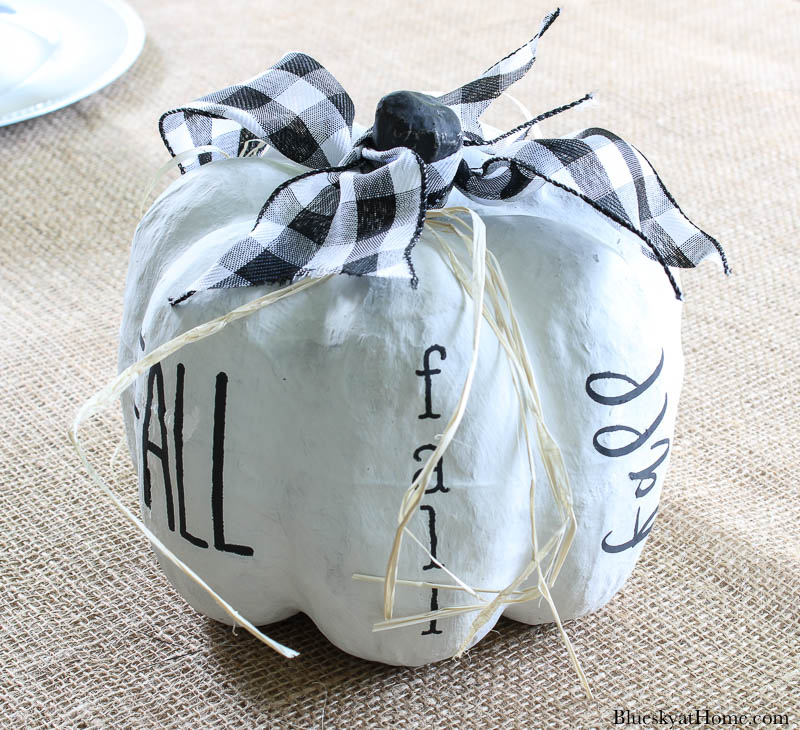 I had also made a super cute pumpkin front yard sign. We decided it would last longer if we brought it inside. I used this darling fall stencil to make it.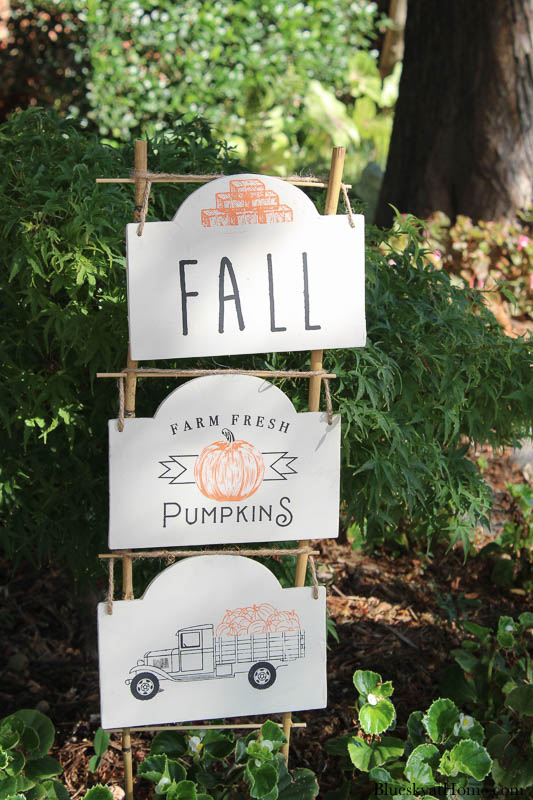 Was I done with making DIY projects for our fall decor? Not at all. Before I could begin designing our black and white fall entry, I had a couple more black and white design elements to complete
Fall Sign for our Fall Entry Styling
This sign idea was inspired by a free sign in our sway bag from Haven Conference. I loved the black and white stripe edge. I knew it would be a great addition to style our fall entry.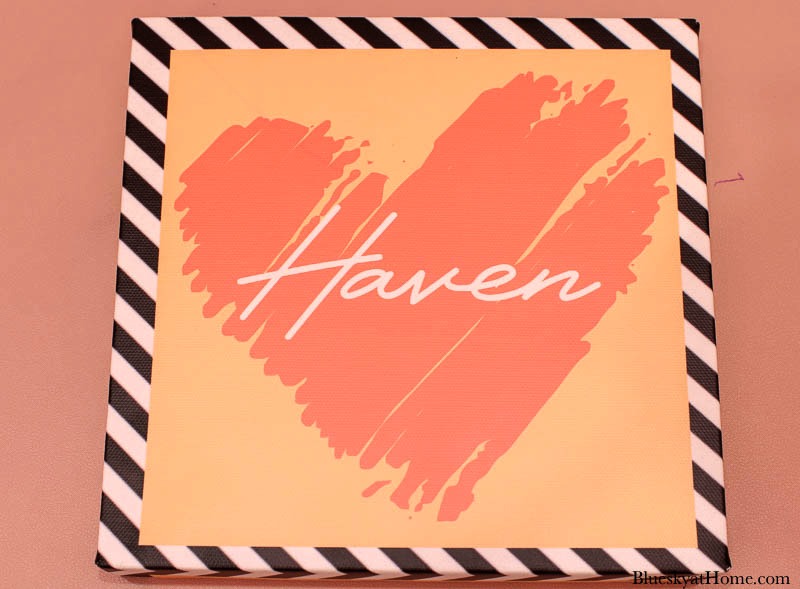 As cute as the sign was with the black and white stripe edge, it needed some adjustments to make it work for my fall entry decor.
I used Frog Tape to tape off the stripe edge.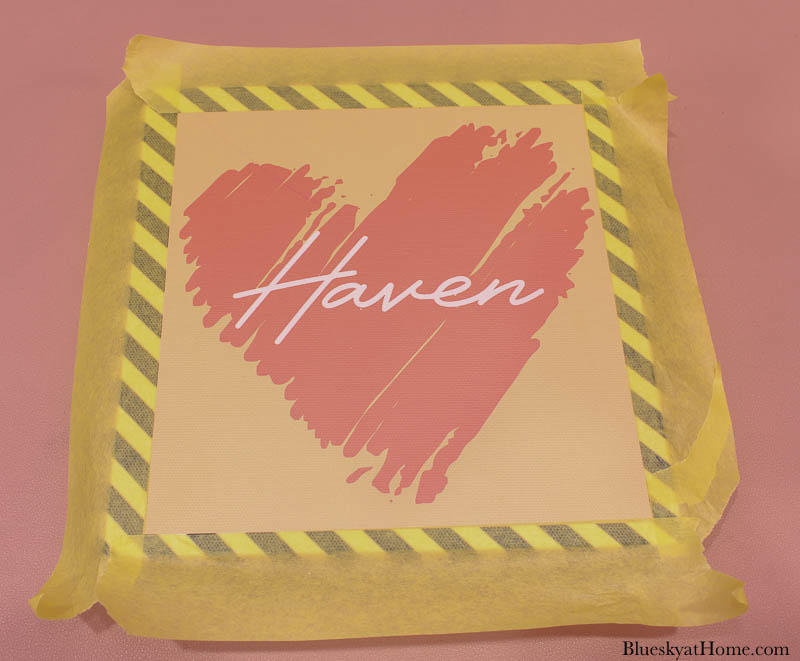 The first step was to paint the center black. Next I used 2 coats of Rescue Restore paint from A Makers' Studio in Little Black Dress.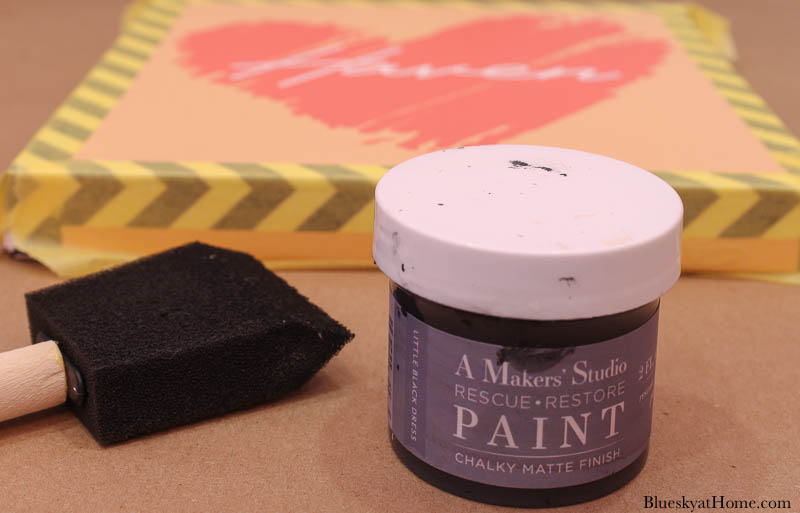 Now, with a black background, I could add a fall stencil design. I used a new fall stencil from A Makers' Studio. Which one do you think I used?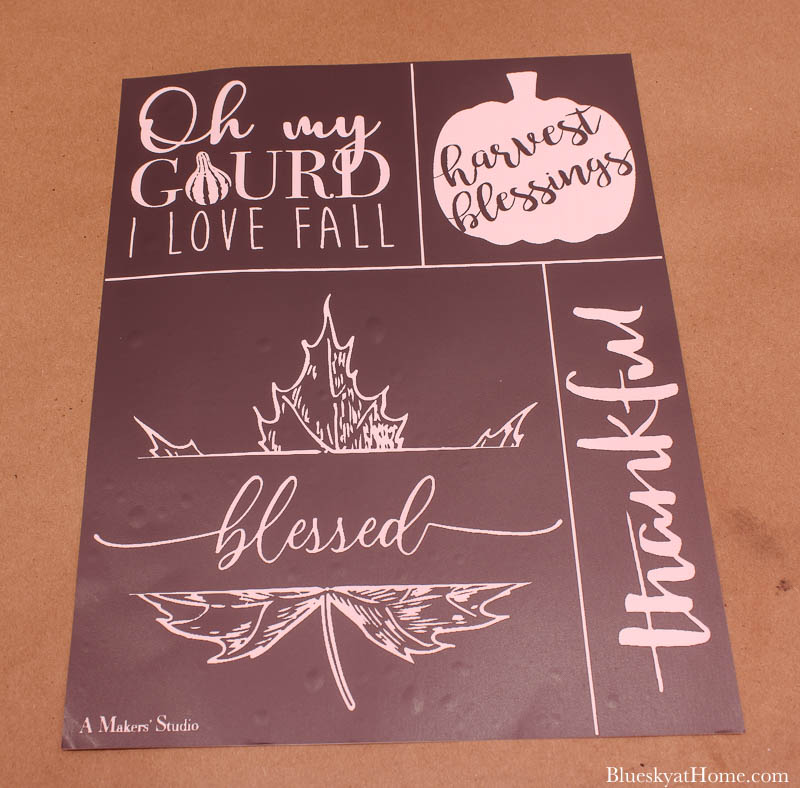 The "Oh My Gourd" stencil is so cute and fit just right in my space. I used ChalkArt in Peace & Joy.
Isn't that the cutest fall stencil?
Now I was ready for my last DIY fall entry project.
Black and White Pumpkins
I needed more black and white pumpkins to style our fall entry. Since I had plenty of small gold ones, I just needed to paint them white with black stems.
I used One Step Paint from Amy Howard at Home in Bauhas Buff on the body of the pumpkins. Little Black Dress in ChalkArt turned the stems black.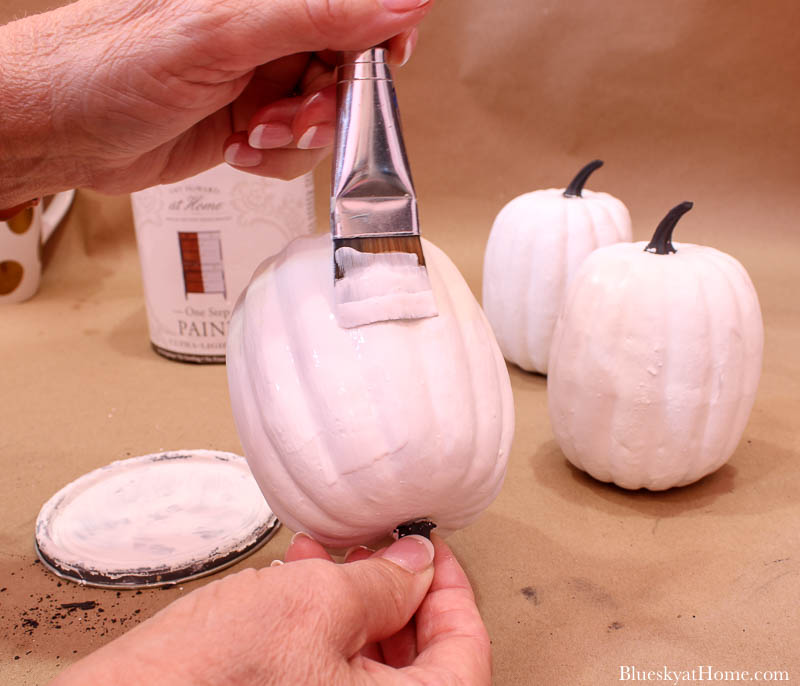 For the larger pumpkins, I used Rustoleum Spray Paint in Satin Blossom White.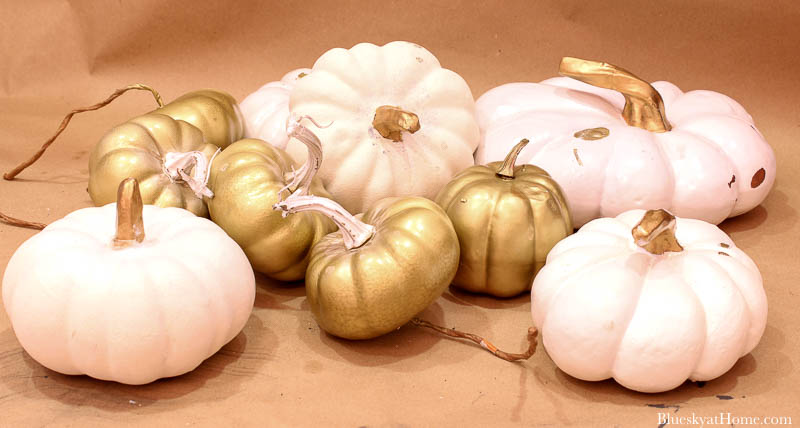 Now I was ready to assemble my black and white fall entry decor.
Styling the Entry for Fall in Black and White
First I put the black stenciled charger on a plate stand and added a bit of the gingham ribbon that had been on the wine glasses.
The large white pumpkin with "fall" stenciled in black joined the charger on one side of our entry commode.
On the other side, the new stencil sign combined with the white and black little painted pumpkins. The vase covered with a black bag and filled with the white baby's breath from the fall tablescape became the third element of this vignette.
One other element that received the black and white gingham treatment: the wood slice wreath that I made several weeks ago. I found another large bolt of black and white gingham ribbon in my ribbon box. I think I bought it last Christmas at Joann.
With this ribbon, I made a new bow for the wood slice wreath and hung it on our entry mirror.
Now the main area of our entry was almost complete.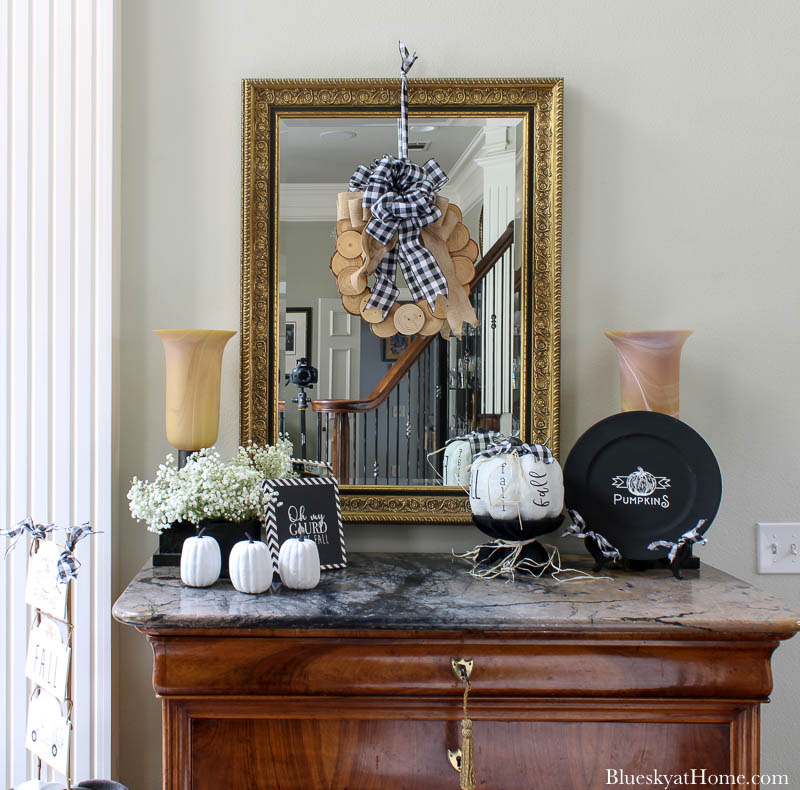 Yard Art Sign Moves Inside
The fall yard art sign would be perfect to add to our autumn decorations in the entry. Two large hay bales from Joann (on sale 2 for $12.99) provide the base.
I bought this black and white buffalo check shawl last winter (I don't remember where.) that was hanging in our guest closet. What a wonderful addition. It adds color, pattern, and texture.
Then came the newly painted black and white pumpkins. Styling this fall decor was on a roll.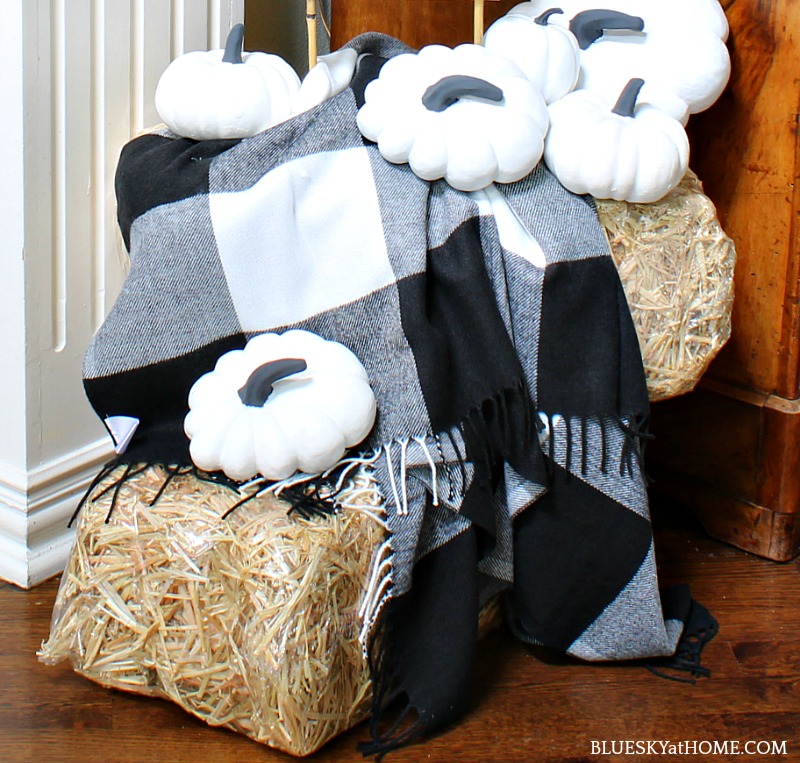 It was easy to use the hay bales to support the fall yard sign. The pumpkin stencil designs add just a hint of orange. Finally, this completes my styling a fall entry with black and white.
This is what you see when you come in our front door.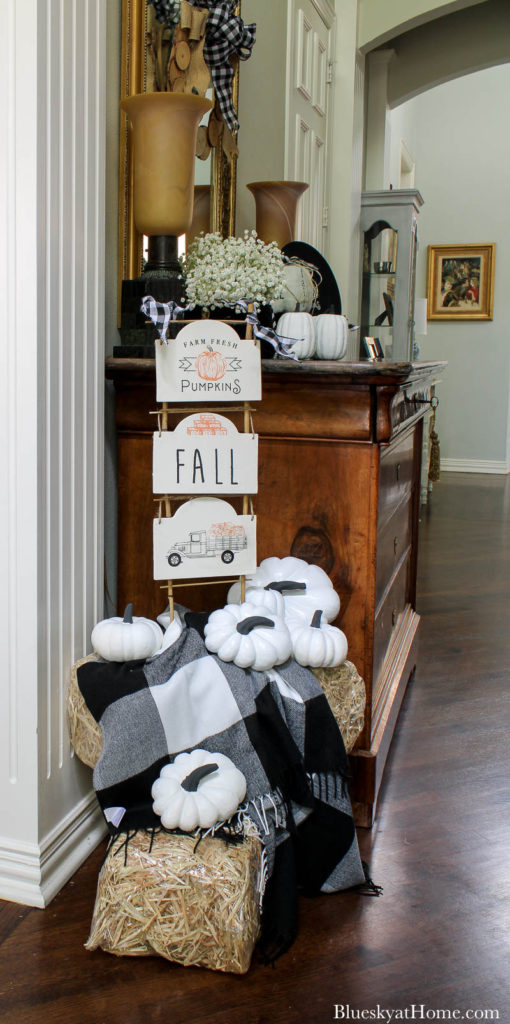 Now, you don't have to use black and white in styling a fall decor. You could pick any color combination that appeals to you.
Elements to Use to Style Your Fall Entry
Here are some elements that I think will help in styling any fall decor for an entry:
pumpkins in different colors and textures
signs with fall images and words
hay bales
flowers, faux or fresh, that fit your fall color scheme
shawls or blankets
wreaths
bows incorporating burlap
jute, twine, wood
fall leaves, acorns, pinecones
baskets
Styling our fall entry was so fun. I'm very excited about our fall entry in black and white this year. It was a totally different look for me.
I hope that my interpretation of how to style a fall entry with black and white delights and inspires you. Please PIN it to keep this idea for ow or the future.