9 Awesome Wall Treatment Ideas for your Home
Do you have a boring wall in your home? Do you want something more exciting than just painting your walls? I have 9 awesome wall treatment ideas that will give you lots of inspiration for that special wall in your home.
I like to keep a list of home decor ideas in my back pocket for when I am ready to make changes in our home. That's why I searched for some amazing wall treatment ideas.
Yes, we can paint our walls ~ nothing is more impactful than a coat of paint. But, sometimes, we want something that is more dramatic. A wall that speaks to us and really changes the look of a room.
Is changing the look of a wall expensive? It can be. But if you do the work yourself, you'll find that expensive is only in how your wall treatment looks.
You can make a wall treatment that looks like champagne but only costs you a beer.
9 Awesome Wall Treatment Ideas for your Home
The idea for this wall treatment research started a few weeks ago. I read an article in our local paper entitled "If these walls could talk". The subject was how adding a special treatment to your walls can really update and give new life to your home.
Remember when dark wood paneling was all the rage? Adding a wall treatment dates back thousands of years. What are some examples of wall treatments you can use?
moldings ~ base and crown
floor to~ceiling paneling
wainscotting, paneling that covers 1/2 to 2/3 of a wall
board and batten
shiplap
painted murals
wallpaper
fabric
vinyl decals
Venetian plaster
super thin stone veneers
wood veneers
I pretended that I was ready to change the look of some walls in our home. I let my fingers do the searching. I found 9 ideas for wall treatments that I knew I could do ~ and that you can do, too.
I love to find ideas from other creators, bloggers, or DIY lovers. They are just like you and me. They want great style, reasonable costs, and the satisfaction of doing a job themselves.
TRADITIONAL DIY BOARD AND BATTEN DINING ROOM WALL
I dream about having a board and batten wall in our home. So what is board and batten?
At its most basic, board and batten describes a type of interior paneling that has alternating wide boards and narrow wooden strips, called battens. The width and size of the board and batten can change depending on the size of the wall and the design you want.
Sara of Sincerely Sarah and her husband created this stunning focal point in their dining room. The attention to detail makes this wall treatment look so expensive. They chose a square design that gives depth to their wall.
Since they finished the wall in the dark grey, it has been repainted a couple of times.
Be sure to see the process and the final look.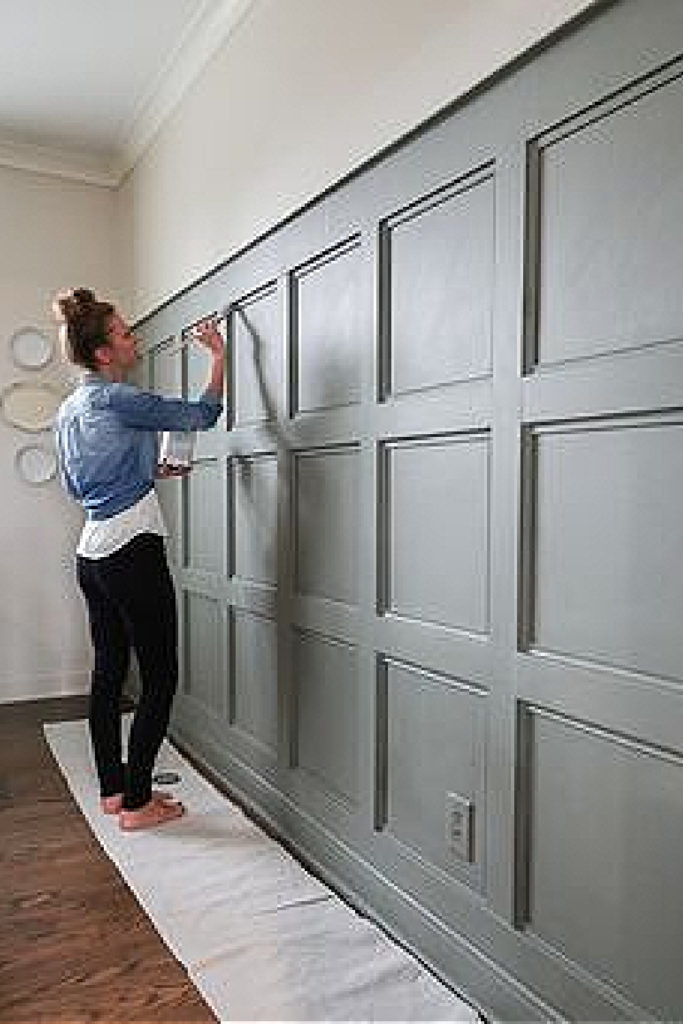 MID~CENTURY WALL TREATMENT
You may think of wood wall treatments as traditional, but a free~form design can evoke a more modern design.
The design created in this dining room by Mysha of Remington Avenue definitely has a modern vibe to compliment the mid~century furniture. The process also is easier to install than a traditional board and batten pattern.
Mysha gives a great step~by~step explanation of how to create this look. It can be the inspiration for your own design vision.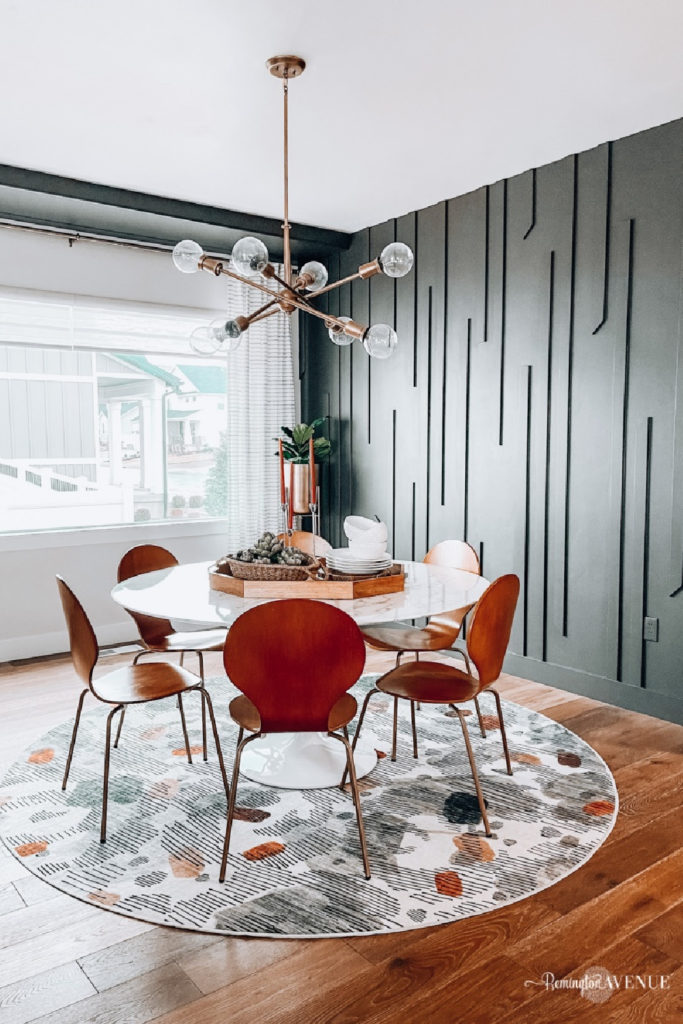 THE SIMPLEST WOOD WALL TREATMENT
This wall treatment made with wood trim may be simple, but it packs a big design punch in an upstairs hall. If you want a clean design, this approach from DecorKate is your ticket.
Just as great as the finished wall treatment is the cost ~ $40!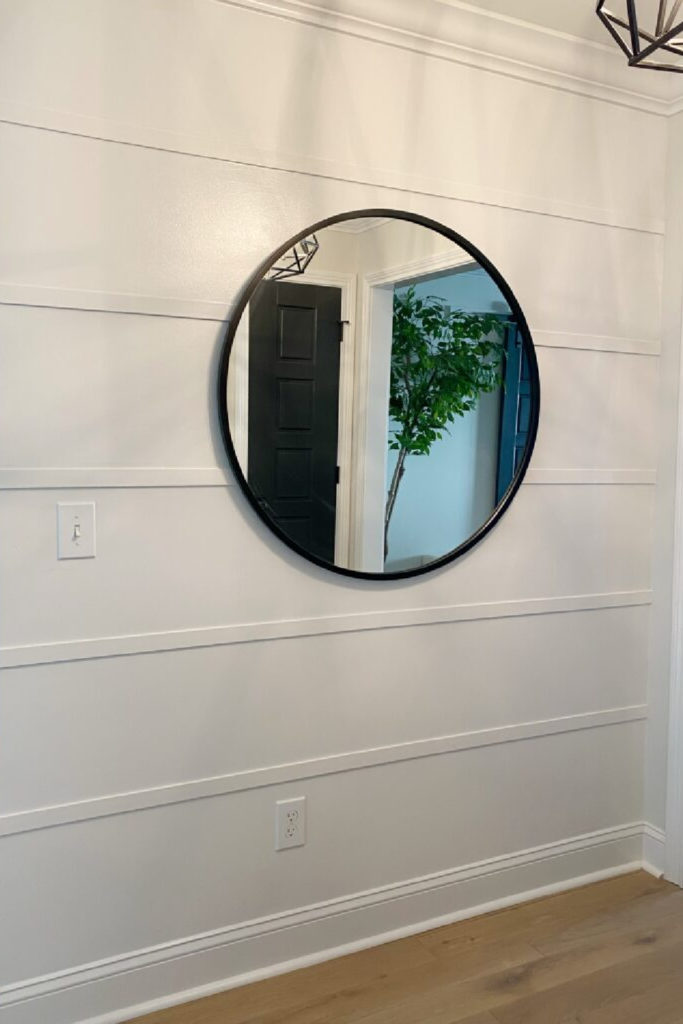 Did you notice that in all these board and batten variations that both the wall and the wood are painted the same color? That's what gives this type of wall treatment such a finished look.

OMBRE PASTEL WALL TREATMENT
Does this kid's room pastel wall treatment look like painted strips? The kind made with painter's tape? Well, it is, and it's not.
Yes, paint is involved in this pretty wall treatment, but it's not on the wall. The entire wall is made of lattice trim, each painted a different color. When placed in order, the ombre effect is created.
This little boy's room now has a cozier feel with the warmth of wood and the subtle color. John of Young House Love explains precisely how to cut the lattice trim and out to figure out the color placement.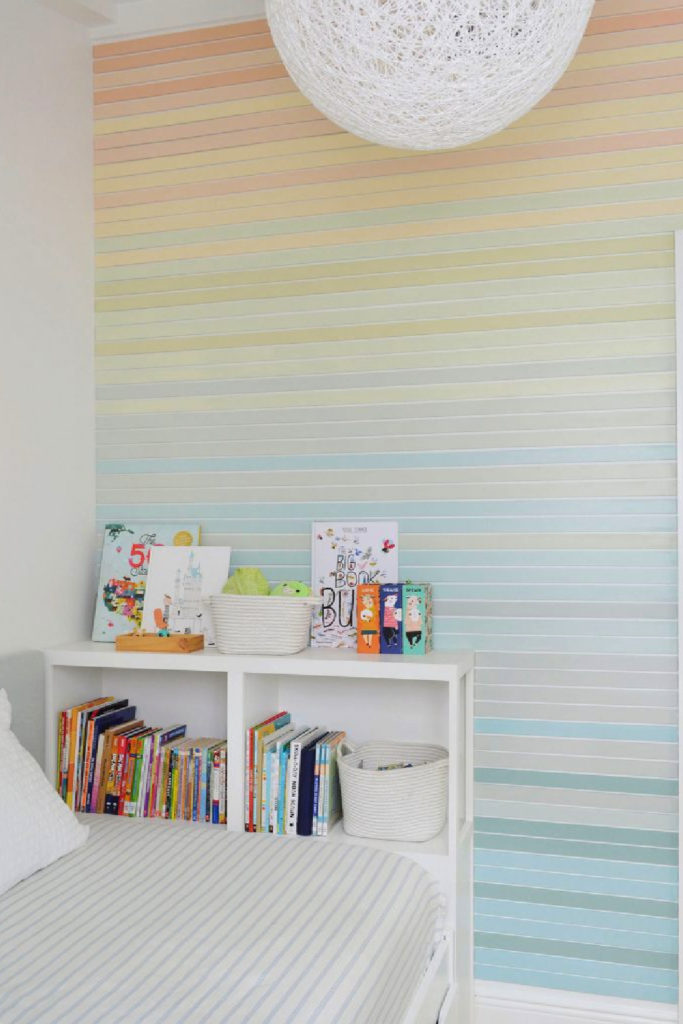 I can see this wall treatment in kids' rooms, playrooms, and powder baths ~ anywhere you want to add a fun punch of color.
WEATHERED WHITE RUSTIC WALL TREATMENT
If your style is more "rustic, farmhouse, vintage, and weathered", then I think you will love this wall treatment from Debbie of Restyle, Relove.
Applying wood slats to the wall of this dining room and giving them a special paint treatment created this beautiful style.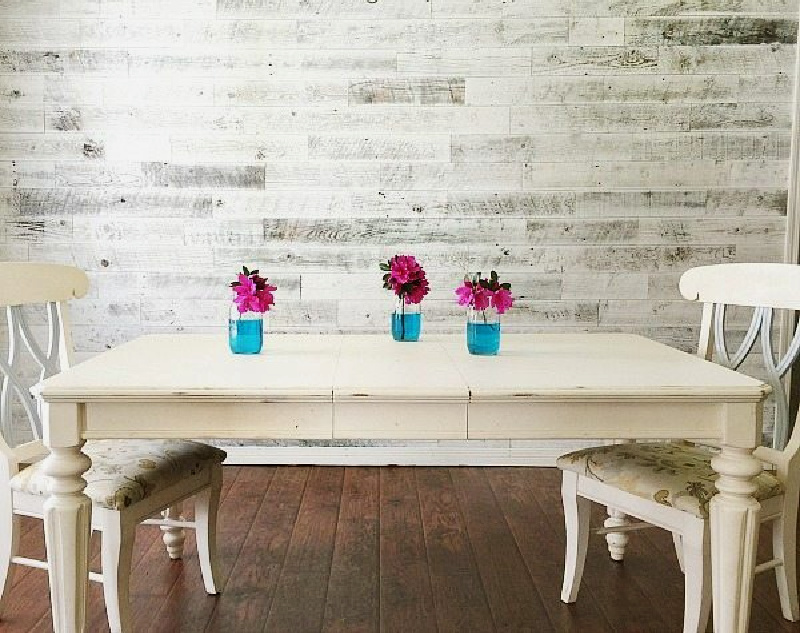 This is very similar to the wall treatment that we gave our laundry room backsplash for the makeover a few years ago. I loved the rustic feel of the wood slats and the grey/whitewash treatment I applied.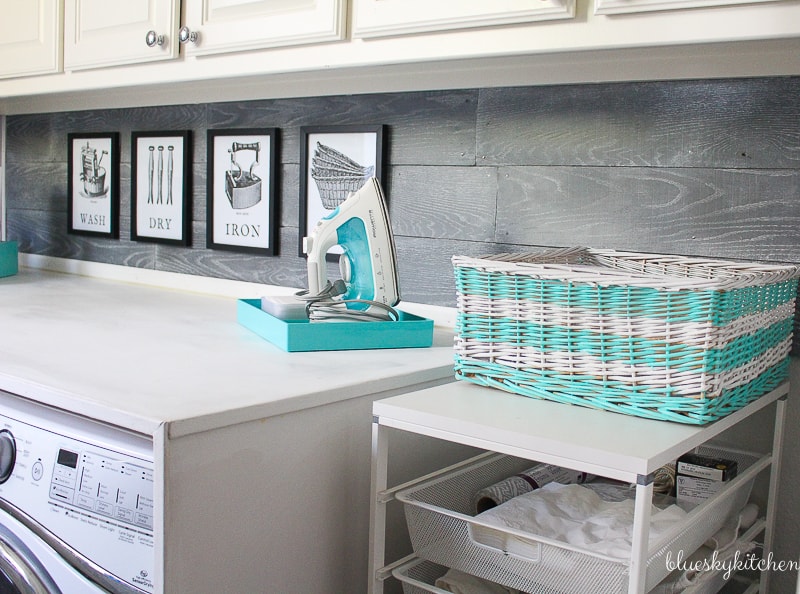 HOW TO USE FABRIC AS WALLPAPER
You might remember years ago that fabric~backed walls were popular. I applied batting and Laura Ashley fabric to my older daughter's room when she turned two. Then I used the same treatment in our dining room and made matching drapes.
I wish I had a picture of that darling room.
Today fabric is used without the batting. Ariel of PMQ for Two shared how to use fabric as wallpaper in her laundry room. I love this idea since I'm a fabric hoarder. This wall treatment is permanent.
Depending on the amount of space you need to cover, you might be able to use a large fabric swatch or buy fabric on sale.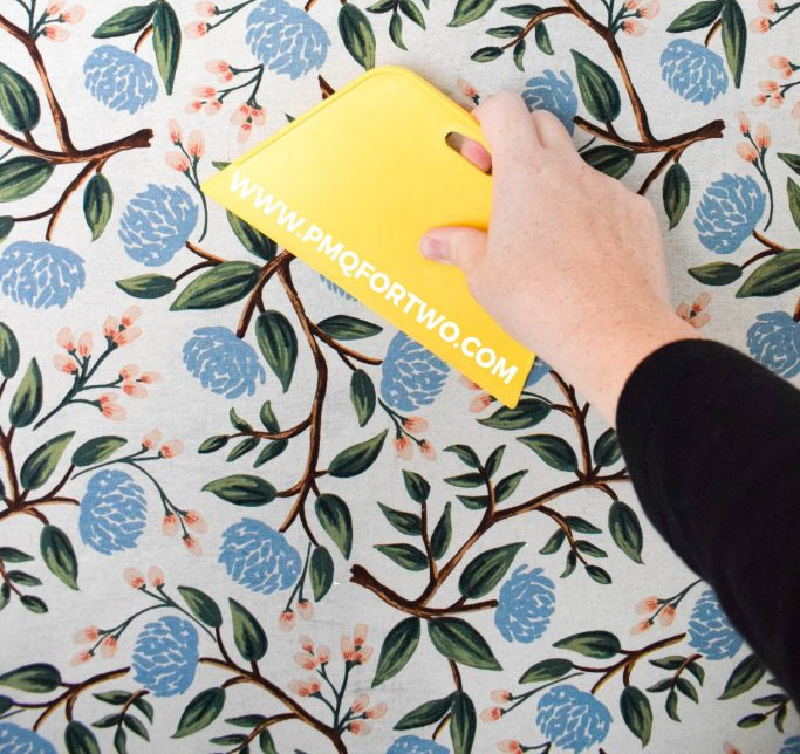 CAN YOU MAKE REMOVABLE FABRIC FOR WALLS?
The answer is YES! Who woulda thunk! Ashley of Apartment Therapy shows a twist on using fabric as a wall treatment.
Applying the fabric is similar, but the supplies used are a bit different.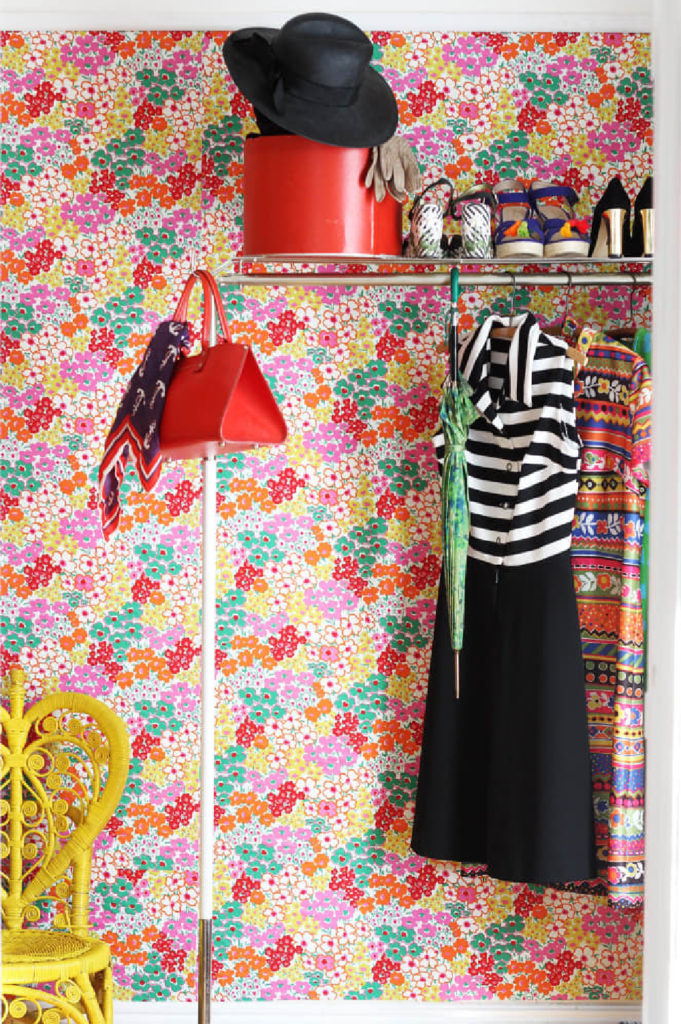 MAKE DIY VINYL DECALS FOR YOUR WALLS
If you search vinyl decals or decals on walls on Pinterest, most of your results will come from hundreds of companies selling vinyl decals. They come in all sizes, designs and colors. This is a very popular way to add style, color, or pattern to your walls, but it can get expensive.
Some vinyl decals are repositionable, which is a great option. This allows you to adjust the placement of the vinyl decal.
This is a really cute way to dress up any space. Instead of buying decals online, you can make them yourself.

In her office, Maddie of Lovely Planner used repositionable adhesive vinyl and her Cricut to make this fun "Dalmation" decal. The total cost? $10. That's not much for a big result. Oh, and she is sharing the SVG file with you.
You could use another color or mix up colors. Imagine this treatment for a kid's room or a playroom.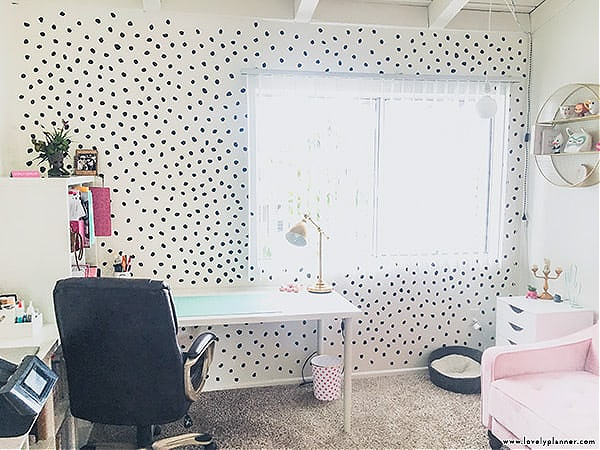 VINYL AS WALLPAPER
Vinyl can be more than dots on a wall. For more of a real wallpaper look, create a pattern that looks like wallpaper.

Beth of Avenue Laurel fell in love with a pink pineapple wallpaper for her powder room. Unfortunately, the price of the wallpaper was prohibitive. (Be sure to check out her post to see the wallpaper inspiration.)
What did Beth do? She created her own wallpaper pattern on her Cricut. What a beautiful little powder room. Well, worth the effort and well below the price of the real thing.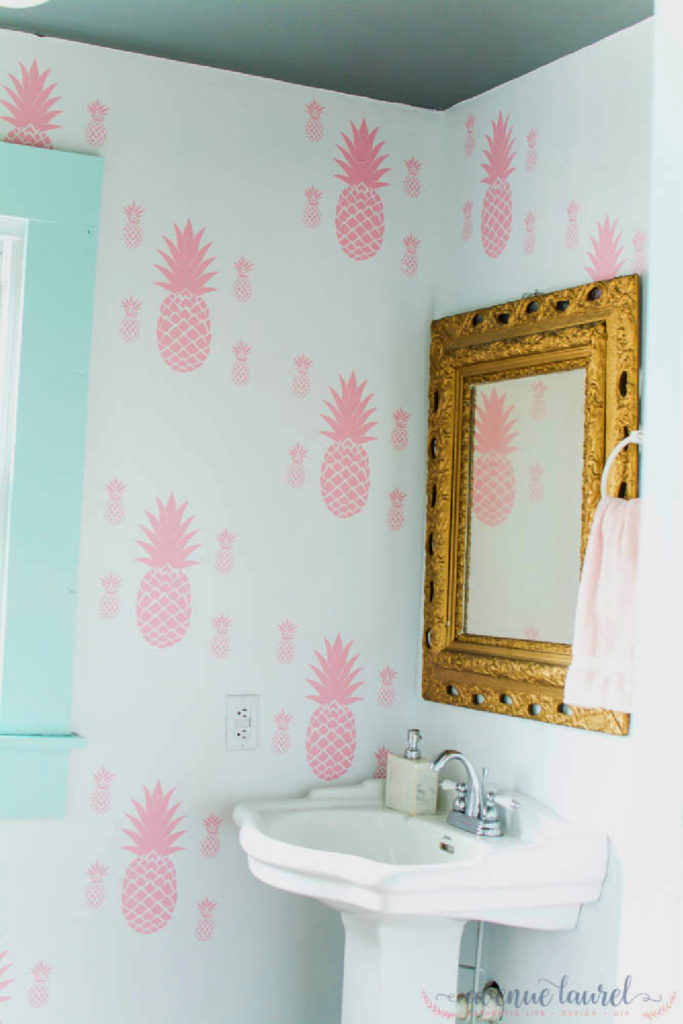 WALL TREATMENT RECAP
So, we've seen several different wall treatments:
traditional board and batten
mid~century modern wood treatment
simple horizontal wood treatment
ombre painted wood slat wall
rustic wood planks
fabric as wallpaper
easy vinyl dots
vinyl wallpaper
Did you get some new ideas for your walls? Find something you've never seen? Need to save them for later? Then be sure to PIN this post.