Two Little Ways to Update Your Living Room
When you think of updating a room, do you think of buying a new sofa or a new bookcase? I recently used just two little ways to update our living room.
Although I would love a new white sofa, that wasn't in the cards right now. But two smaller items would update our living room with minimal cost.
With a new season upon us and more entertaining coming in the next few months, now was the time to give our living room a bit more modern flair.
Fortunately, Wayfair was gracious enough to let me pick out a few things to update our living room for looks and functionality.
This post is sponsored by Wayfair, but all the opinions are my own.
As usual, the fun began with a shopping trip ~ online, of course.
THE LIVING ROOM BEFORE THE UPDATE
Honestly, there were two things I had been thinking about (not counting the sofa) that would give our living room a traditional, but more modern vibe.
But first, let me share a little show and tell about our living room.
Eight and a half years ago, when we moved into our present home, we brought almost all our furniture from our previous home. The sofa and two Bergere chairs were reupholstered. We found a carpet pattern that we liked binded to make a new rug.
Everything else ~ side tables and the sofa table were brought from our other home. The sofa table had originally been my breakfast room table.
The sofa table, originally pine, has been repainted twice, most recently last summer. It is barely visible behind the sofa, but it is very functional ~ for display and hiding unused baskets.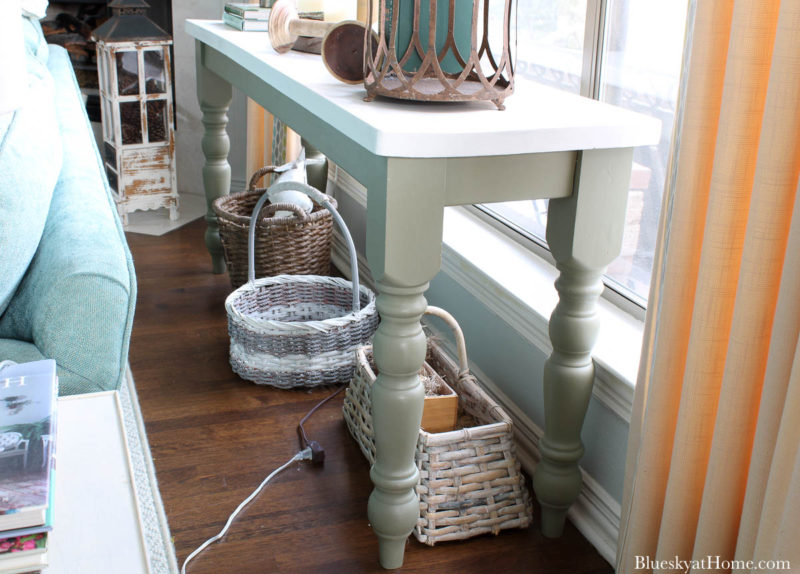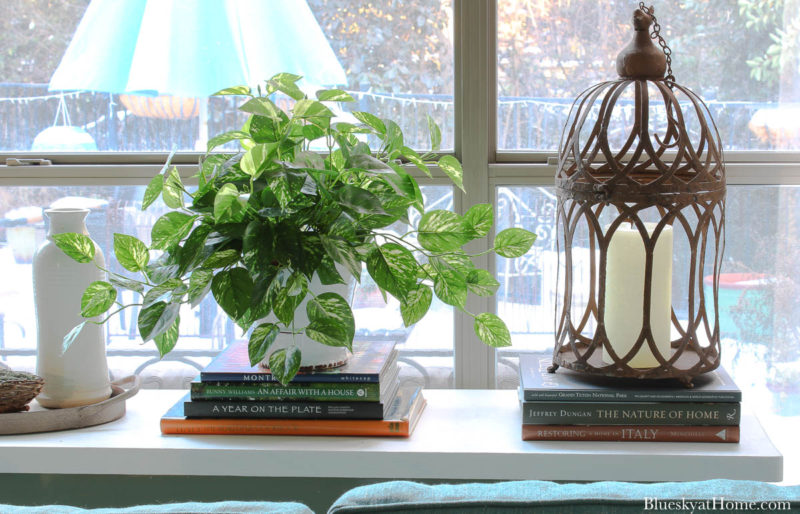 One end table belonged to Sweet Shark's mom. It originally was that walnut stain color that we all love to hate. It was very functional, so I painted it with white chalk paint.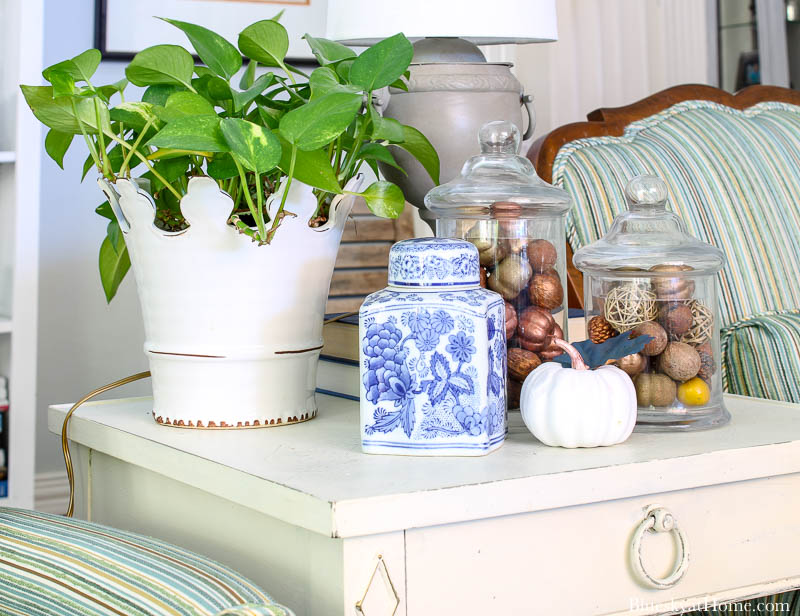 I found the other stacking end table at an estate sale. I honestly don't remember what color it was. I also painted it with white chalk paint.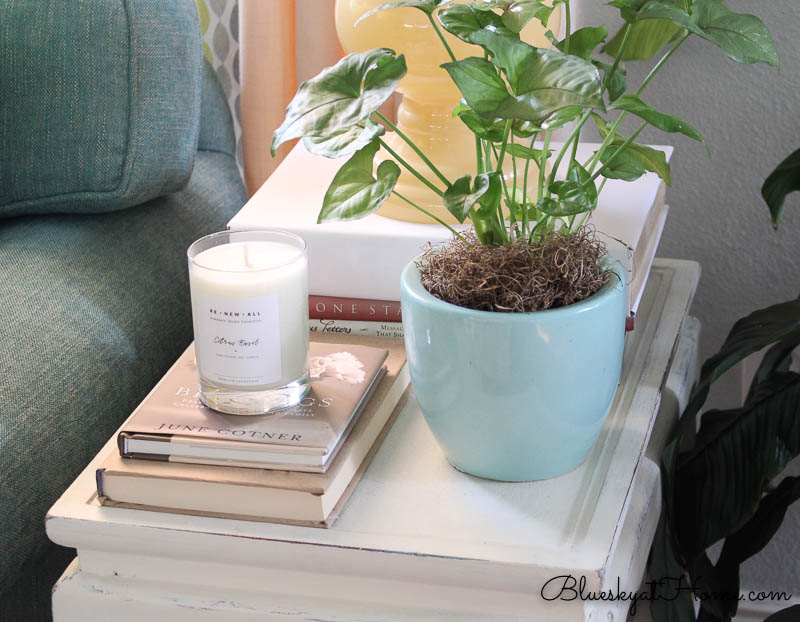 The one brand new piece of furniture we bought when we moved into our home was a coffee table. I love this one. It has a traditional, but modern look. I love the combination of glass with the metallic frame.
It's very functional with two shelves for displaying seasonal decor and my collection of coffee table books.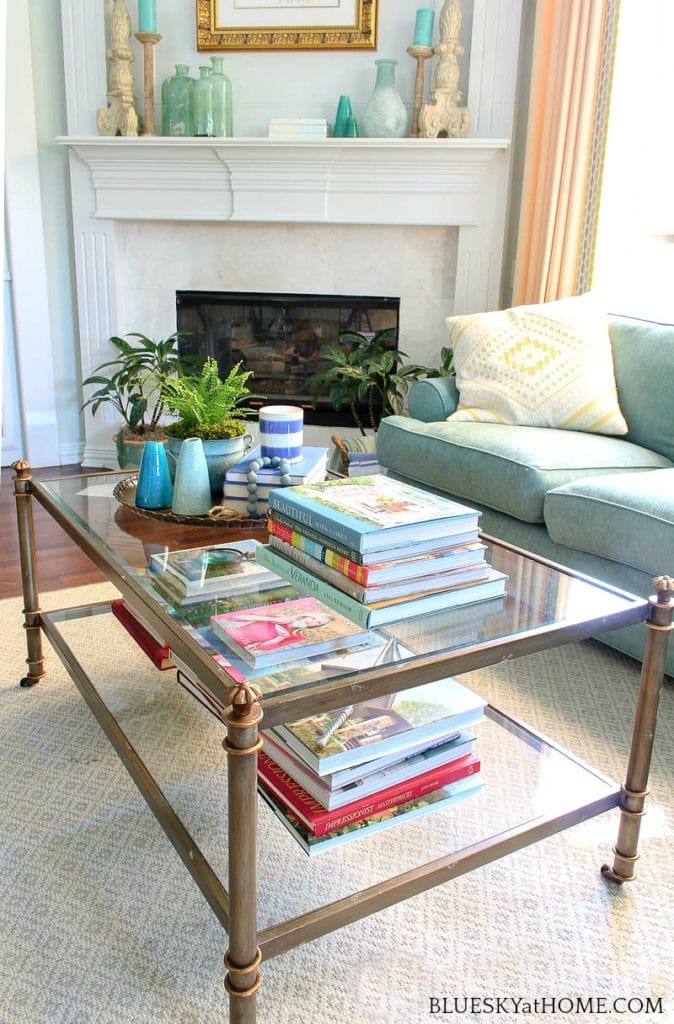 It definitely is one of the focal points of the living room. I change out the vignettes seasonally and for holidays.
So what items did I want to replace for an easy living room update? Can you guess?
First, I wanted to replace the two end tables. I was just plain tired of the chippy white finish. They just felt tired to me. I wanted more cohesion with the coffee table.
Since I loved the glass and metal look of the coffee table, I wanted two new tables that would echo that same modern look.
Secondly, I needed a new modern lamp to go between the two Bergere chairs.
This is the chair I use for watching TV and reading. The lamp had a single setting. I needed a lamp with a 3~way setting for reading, TV watching and ambiance.
This lamp was originally brass and I painted it grey. It was just a little too old~style in shape and style.
NOTE: This is a very old picture.
So now it was time to go shopping. Yippee!!
SHOPPING ON WAYFAIR
As you can imagine, shopping on Wayfair is so fun. Although I love to visit our local home decor stores, which are fabulous, sometimes I just don't have the time or energy to drive from store to store, hoping I'll find the perfect thing I'm looking for.
Wayfair makes shopping for home decor a breeze. I've shared before how much I love shopping for our home on Wayfair.
I started by searching for end tables, using the filter option to include:
end table
glass
metal
shelves
So many choices come up in my search for end tables.
Then, the magic started to happen and up popped dozens of possibilities. I added each new end table to my Living Room Wish List.
CHOOSING AN END TABLE
Here were my top three picks. They all had the glass and metallic look I wanted and were the right size.
Can you guess which one I picked? I felt like Goldilocks. Behind Door Number?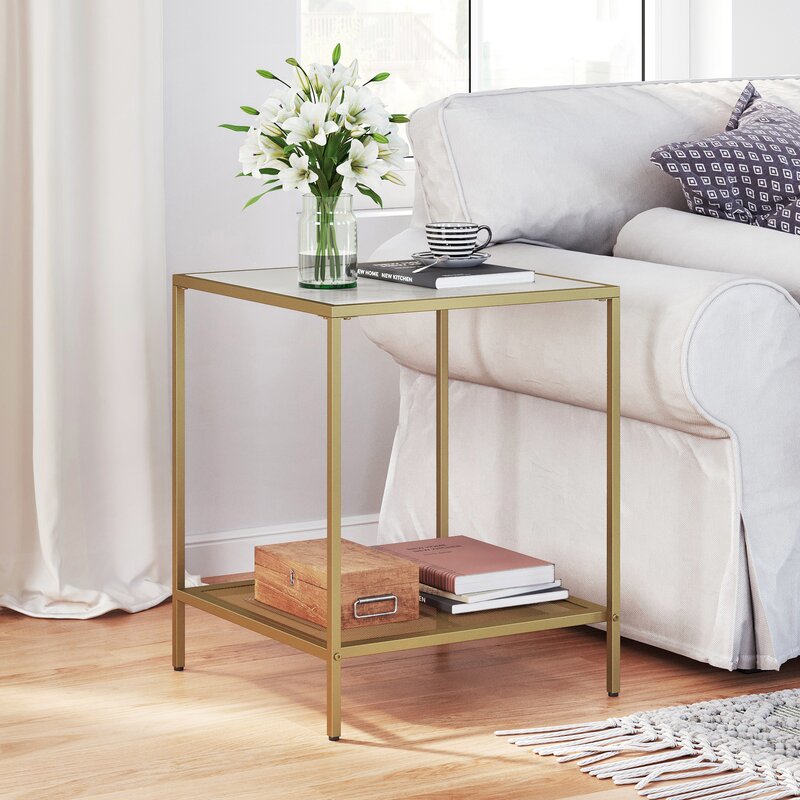 I really liked them all. On closer inspection, I eliminated the one on the right because it did not have a bottom shelf.
Down to two choices: I X'd the one of the left; I thought the space between shelves was more than I wanted.
Finally, I knew I found the right end table with the one in the middle. This table is the Jordyn Glass Top Metal Table.
The metallic finish was just right. The size was perfect. It didn't match our existing coffee table, which was fine. The brushed metal finish would complement our coffee table. I liked that it wasn't too bright.
I loved the three shelves which would give me plenty of space for display.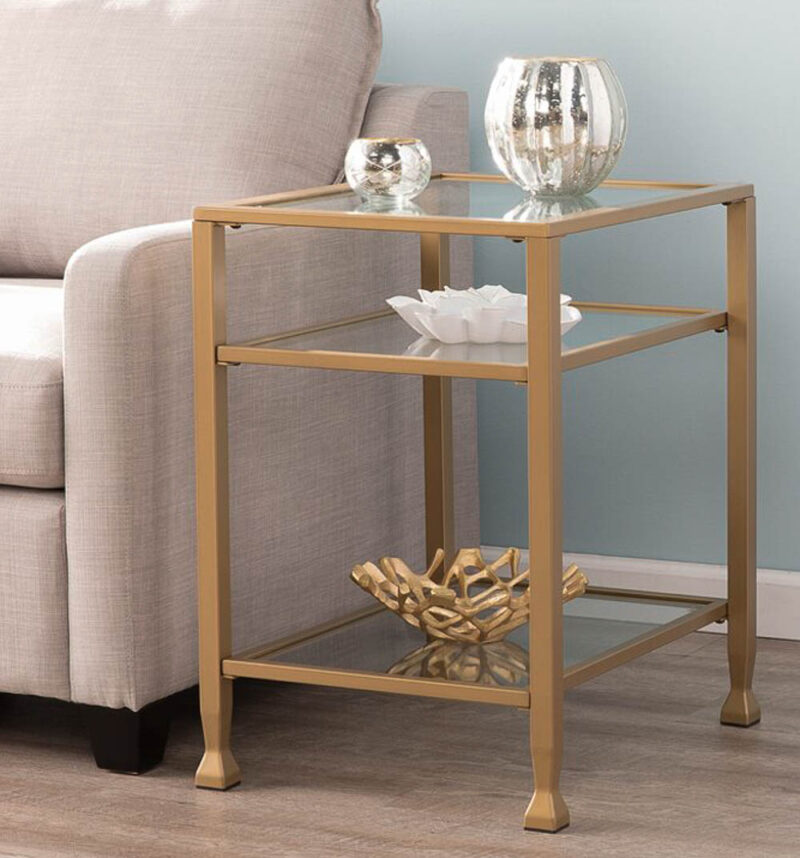 Our new end tables for the living room update arrived in early August. I knew that they needed to be assembled. I'm sorry that I didn't take any pictures.
Sweet Shark and I assembled one of the new end tables together. Fortunately, the process was really easy.
TIP #1: Always make sure all your bolts, screws, and tools are in the packaging before beginning assembly.
TIP #2: I would recommend having glass cleaner handy to clean the glass before and after assembly.
TIP #3: We assembled the table on our kitchen island. First, we set an old beach towel on the counter to protect the metal frame and the glass shelf inserts.
Sweet Shark left for a trip with his brother~in~law the next day. He said he would help me put the second table together when he got home five days later. Do you think I could wait 5 days?
I assembled the second end table all by myself. Sweet Shark was really impressed.
DECORATING THE NEW END TABLES
Now that fall is here, I just finished giving this table a little fall accent.
I love that I have plenty of room for decorative accents and my coffee table books.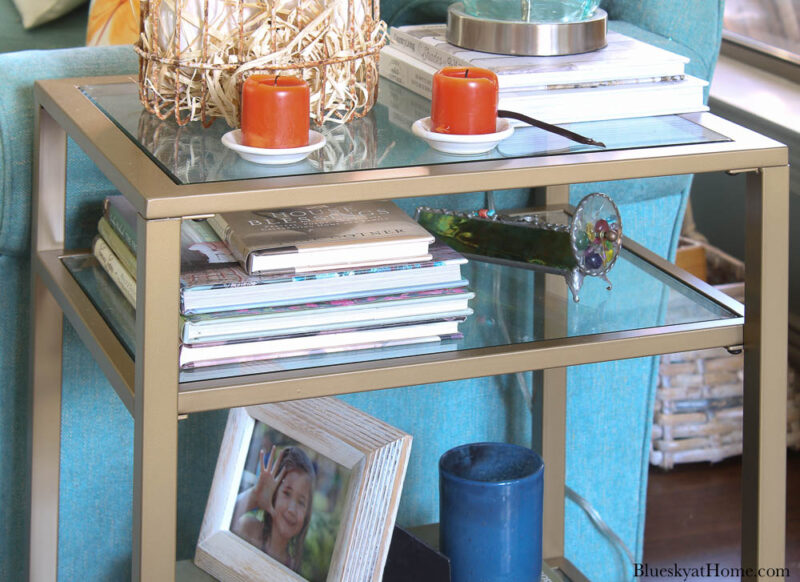 I'm really pleased how solid and sturdy the table is.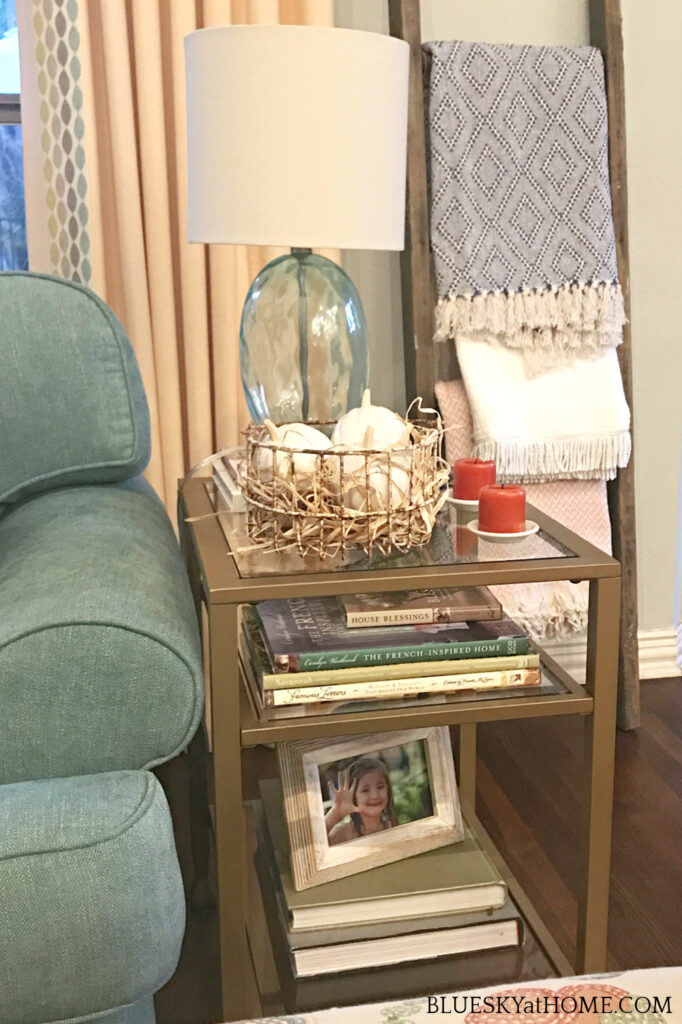 CHOOSING A NEW ACCENT LAMP
Before I show you the second end table, I'll share shopping for the new accent lamp.
We all know how important accent lighting is. It adds ambiance, style, color, and design to our homes. I love lamps.
I really thought finding the right lamp for the end table between the Bergere chairs would be hard. I was looking for something with simple lines, but a modern touch. It couldn't be too big or tall.
And, it had to have 3~way lights.
I found a few lamps I liked, but when I checked the specifications, most did not have 3~way lights. Instant elimination!
Then I found the perfect lamp; the right size and shape. It came in a very light soft blue (which would work with the Bergere chairs). And then the cherry on top! It had a 3~way light.
Now I could set the beautiful new lamp on the new end table between the Bergere chairs.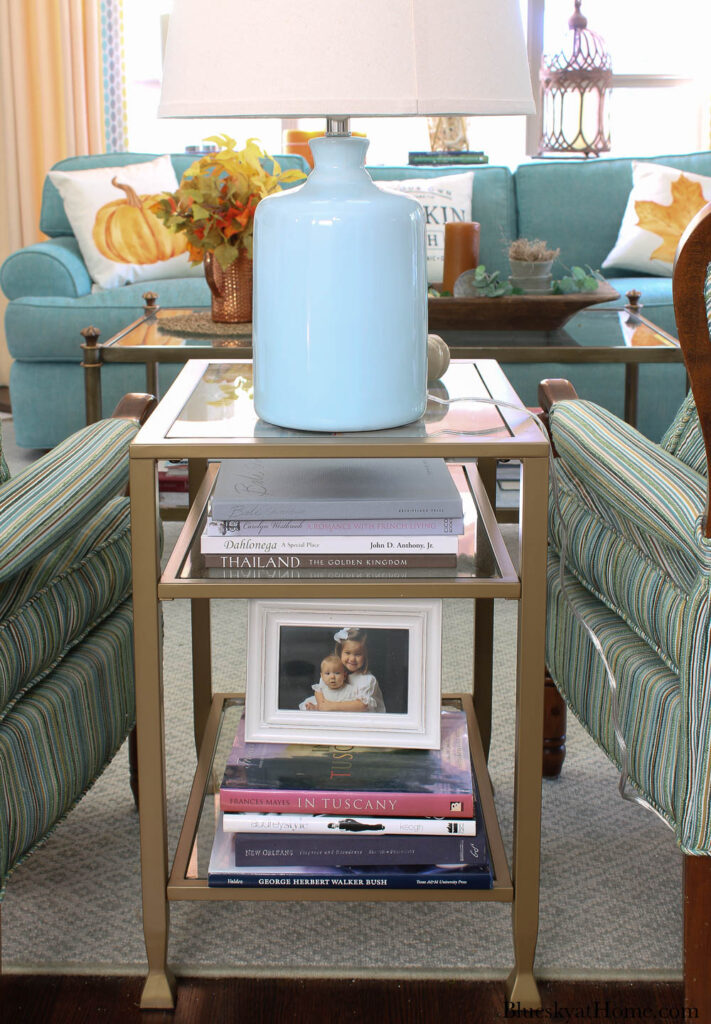 The light barely blue color of the lamp base worked so well with our chairs. It also comes in a cream color if you want a more neutral tone.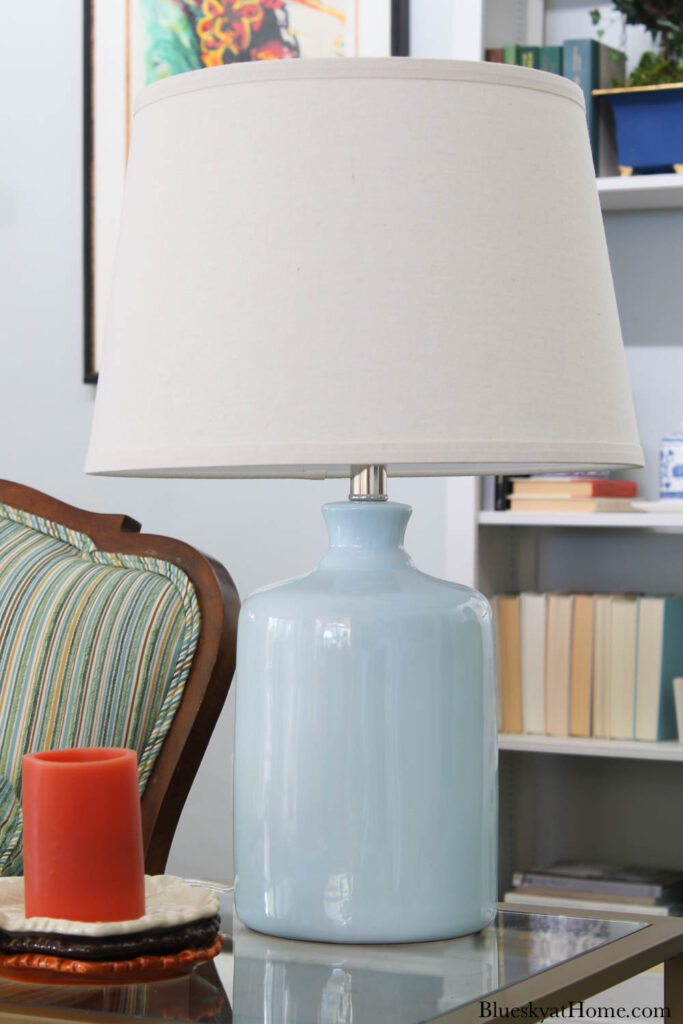 Having the 3~way light was important for reading, ambiance, and setting a mood.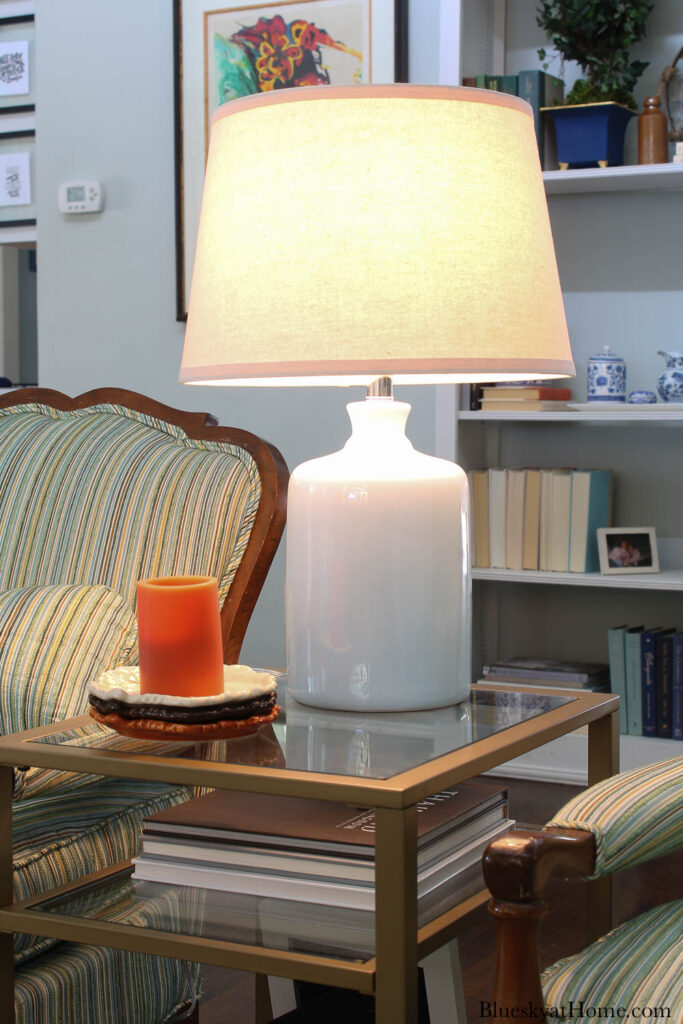 To say that I am so happy with these 2 little ways to update our living room is an understatement.
I think the glass and metal end tables gave the living room the more cohesive and modern look I wanted. The new lamp is more stylish and adds a little bit of color to the room.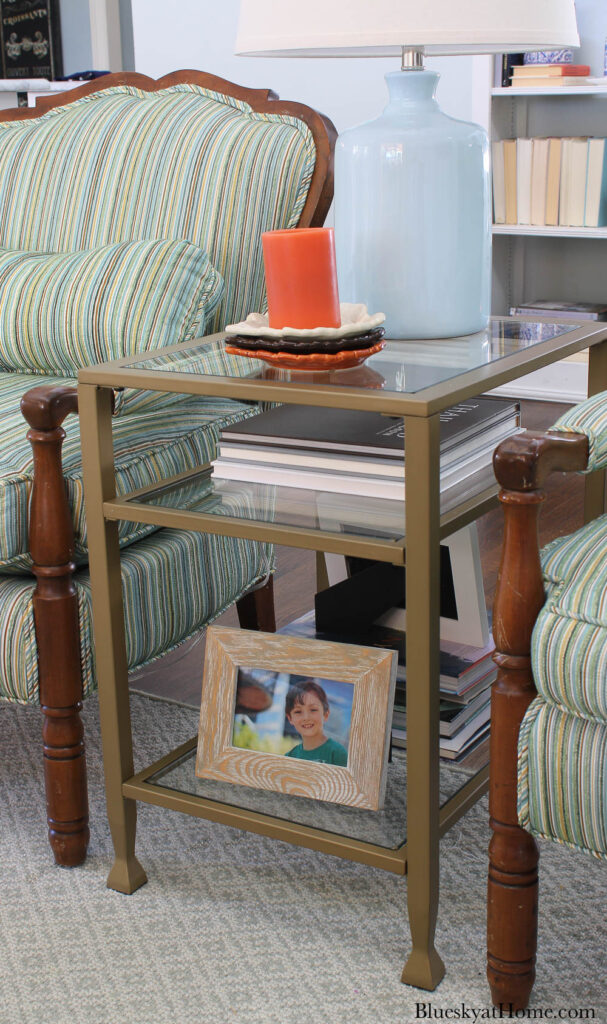 I hope that you can see what a big impact just 2 little items can do to update your living room.
Don't forget to PIN this living room update.