How to Easily Decorate Your Mantel for Early Fall
I love decorating my mantel for the seasons. Let me show you how you can easily decorate your mantel for early fall. This mantel idea can even transition into your Thanksgiving mantel.
Do you struggle with decorating your mantel for different seasons and holidays during the year? Let me share with you just how easy it is to decorate your mantel.
If you need ideas to help you transition at this time of year to fall, let's start with my ideas to decorate your mantle for early fall. Since we are in the early stages of transitioning for fall, I like to use a softer palette and simple accessories.
How to Transition the Mantel to Early Fall Decor
I've been sharing a few fall decorating ideas the past week. I'm just barely getting into the idea of fall, so for now, these ideas are from last year. Because these ideas are what we call "evergreen", I think they are as good today as they were last year.
I had already shown our summer to early fall transitional coffee table. (There is a printable of tips you will like.) This is what our coffee table looked like last year before I began to change it to an early fall look.  It was very coastal, all pastels and aqua and sea glass.
With the changing of the seasons, it is now time to change the mantel to be more in keeping with the style of the coffee table and feel of early fall.
TIP: Although I don't show it here, I recommend taking everything off the mantel to start with a clean slate.
I removed everything except our tall (and heavy) carved vintage candlesticks. I bought those several years ago at a resale shop for $50 for the pair. We had just moved into our home and I knew that they would be perfect in size and style for our mantle.
I also wanted to try the leftover table leaf from our estate sale teak table restoration. For a few weeks,  it sat on the console table in our breakfast room.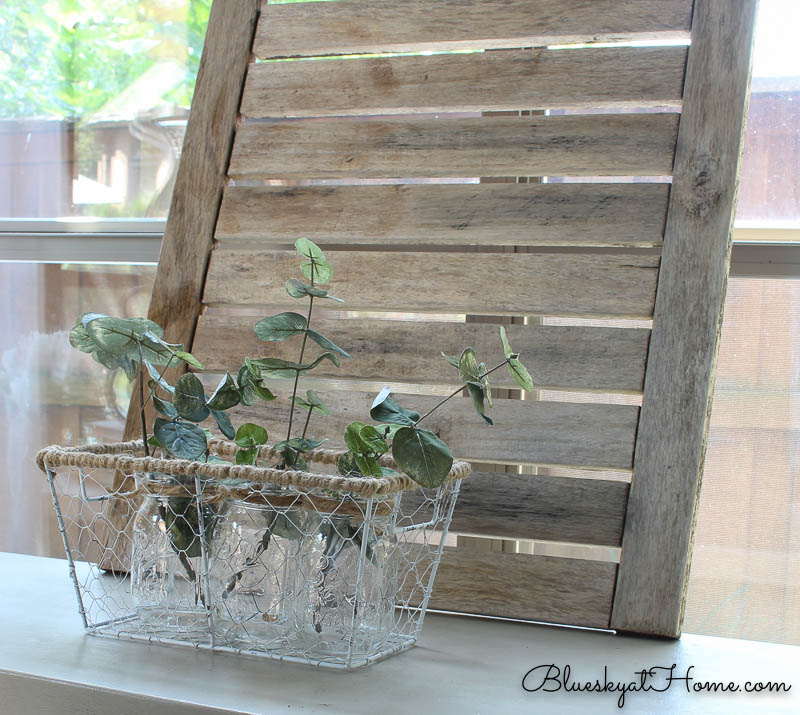 I love this piece and wanted to give it a prominent place on the mantel.
How to Start Decorating Your Mantel
First, bring in all the decorations that you will need for decorating your mantel.
We keep our holiday and seasonal decorations stored in clear plastic bins and bags. Why?
They are lightweight
They are see~through
They are inexpensive ~ find them at Target, Lowe's, or Joann
They are mostly airtight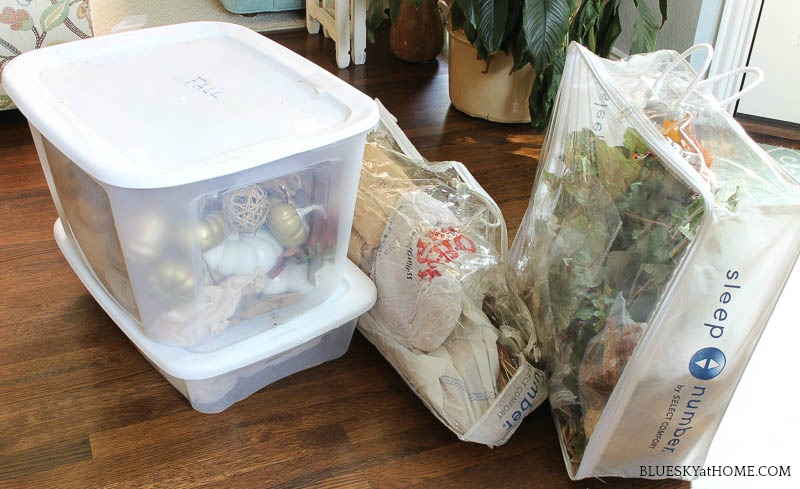 In decorating any area, starting with your largest item first is the easiest way to arrange a room or a tabletop vignette or a mantel.
Placing your largest item, whether it be a sofa, table or tray, helps you focus on the area you have to work with.
It is easier to move smaller items than larger items.
Your larger items are the ones that catch the eye first ~ your focal point.
Since the table leaf (Should I now call it a shutter?) is my largest item, I set it first on the mantel. For now, it is leaning against the Tarkay painting that we bought on a cruise in 2005.  That wasn't the best option but Sweet Shark wasn't at home, and I cannot take the picture down on my own. I would just decorate around it for now.
Filling in Your Mantel for Color, Texture, Symmetry and Balance
Once your largest items are in place, start adding smaller (which is relative) items. What items should you add? Your smaller decorative pieces should add at least one of these elements.
Within the space of the mantel, your items may either be asymmetrical or symmetrical. With a symmetrical arrangement, each side of the mantel would have an equal number of items. Each side would be a mirror image of the other.
In an asymmetrical arrangement, the mantel would have an odd number of items. They would be arranged differently on each end of the mantel.
Whichever arrangement you use, the combination of your large and small items should create balance over the entire mantel.
How I Arranged My Fall Mantel
Back came two stacks of books, but this time they had more texture. One stack I covered with burlap several months ago and one stack I tied with jute. Both of those materials have the colors and textures of fall.
Next, I added back the vintage spindle candlesticks, a purchase on sale two years ago. The natural wood finish transitions easily from summer to fall. Obviously, there is a big contrast in style and color from the large carved candlesticks, but the natural neutral tones work well together. With so much natural wood, I needed to add a little shine.
From the boxes of fall decorations, I found 5 gold~painted pumpkins (originally orange) that have long wires attached. I stuck the wires through the slats of the shutter.
These pumpkins contrast nicely with the matte wood finish of the candlesticks.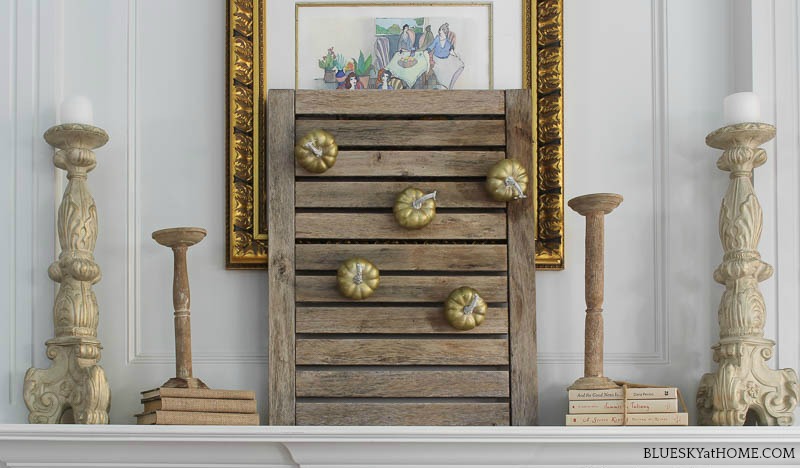 Then I cut some faux leaf vine garland into 2 pieces and wrapped them around the spindle candlesticks. I'm not sure I love that look, but for now, it will work.
Remember my wire basket update? I filled that basket with a bunch of metallic pumpkins that I had spray painted a few years ago.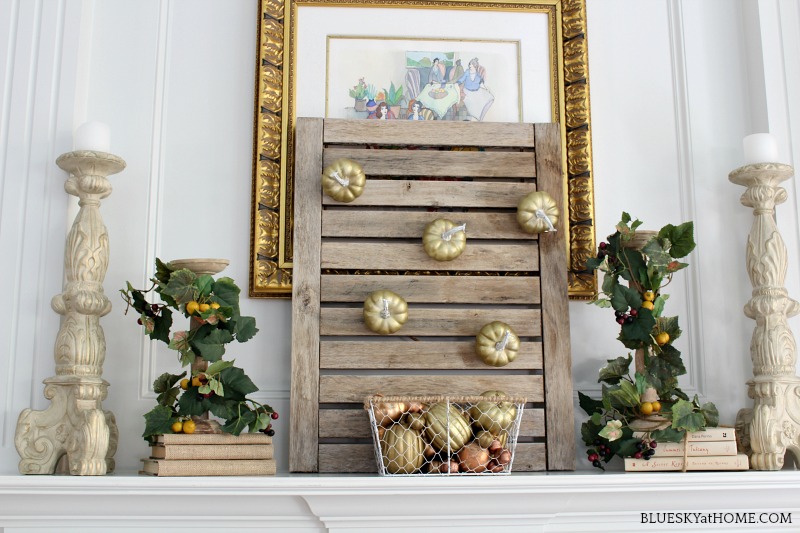 Was I finished decorating my mantel for early fall? Not quite. Also in my fall box was a banner that I made last fall, using burlap, wood, jute cord,  stencils and ChalkArt from A Makers' Studio. I love banners and this is one of my very favorites. It will never go out of style.
Can you see the balance in my fall mantel? It is has a symmetrical arrangement.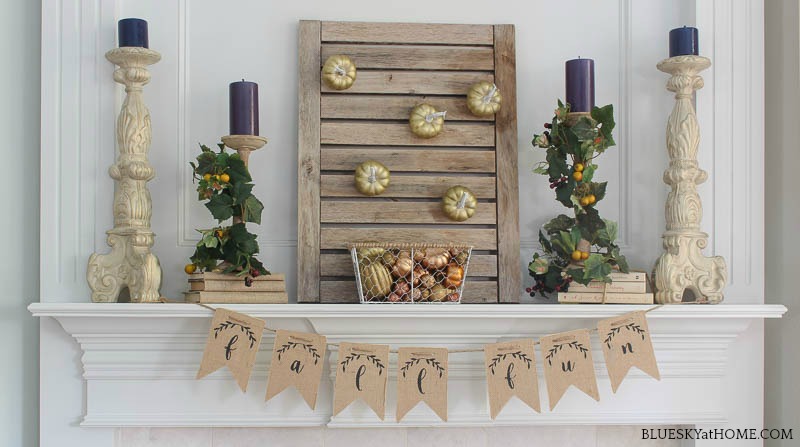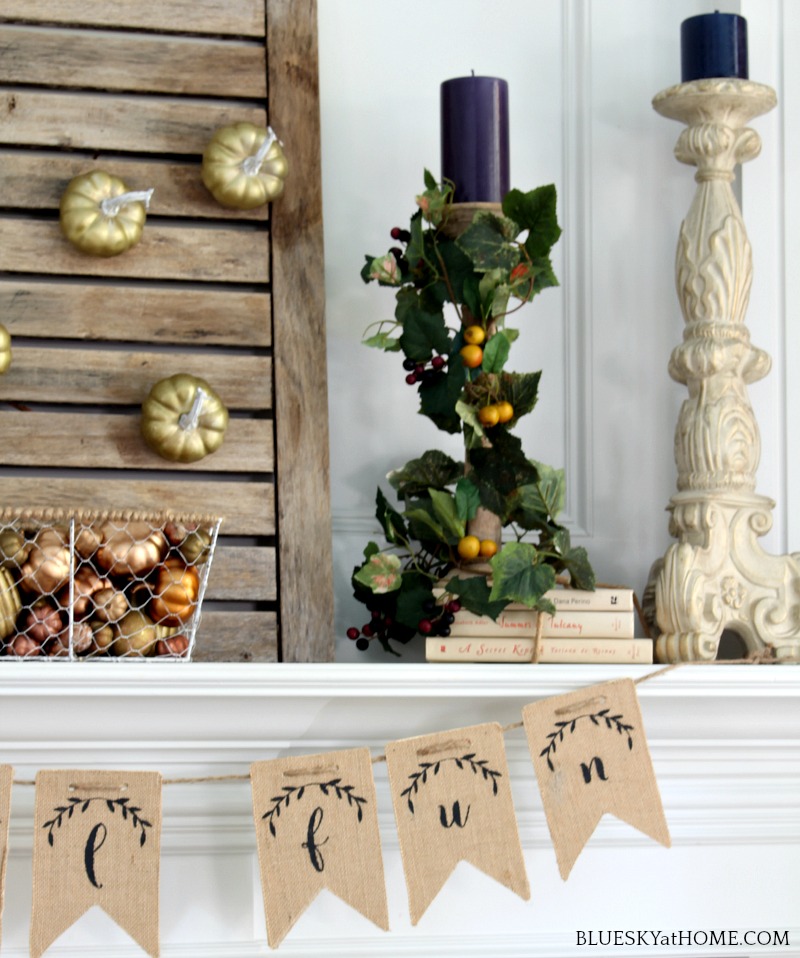 Add a Pop of Color to the Early Fall Mantel
Every arrangement needs a pop of color for interest and to draw the eye in.
For our early fall coffee table last year, I used darker shades of blue. I wanted to do the same for this fall mantel.
A quick trip to Target (It's dangerous because Target is 4 minutes from my house.) yielded navy blue candles in 2 sizes. The mantel really needed that pop of blue. I may be adding more blue to the mantel as I find the right elements.
I have reused those navy blue candles several times since last fall. They are actually on my mantel right now. You just can't burn them or the blue will melt away!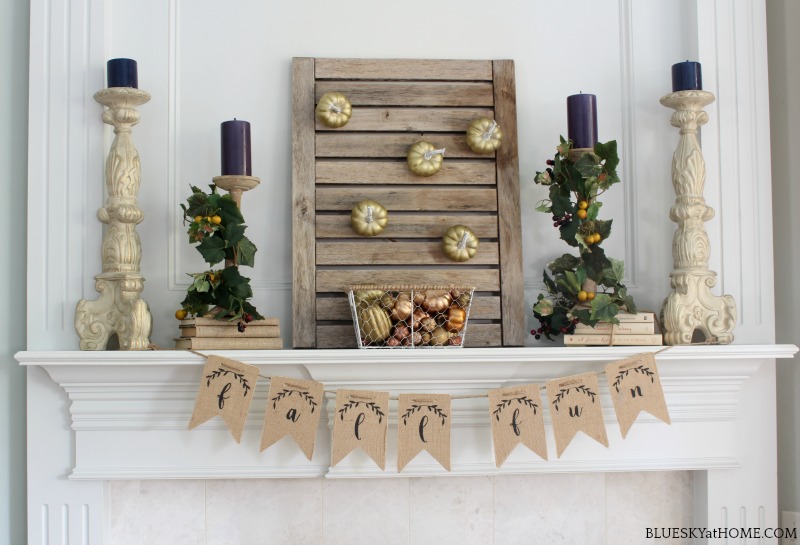 Decorating Below the Mantel
Because our entire fireplace is so tall, I wanted to add some interest and color below the mantel. When I searched through Pinterest for fall ideas (See my 15 fall decorating ideas.), I found a couple of posts that used chairs in front of the fireplace. I had the perfect chair.
We have 2 of these vintage rush~seat chairs. They have been in different places in our homes.
I have thought about painting them, but a good friend in the antique business told me not to. I took off the custom seat cushion and added one of a pair of pumpkin pillows in soft neutral colors that I bought at Tuesday Morning.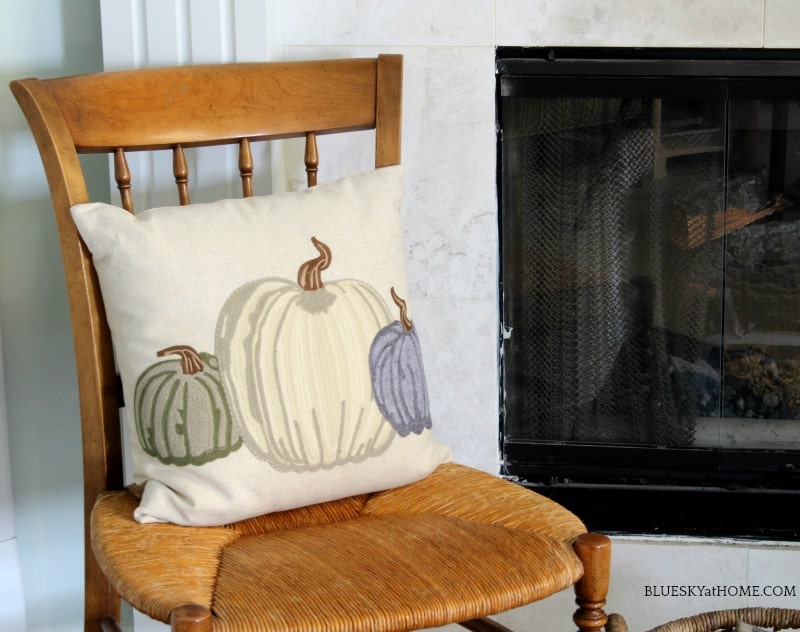 Also on my Target shopping trip, I found 2 blue plaid shawls in the Dollar Spot. I have never seen shawls in the Dollar Spot and they were $7 each. I get cold watching TV in the evening so I love having a shawl to wrap around my shoulders.
The colors and the patterns were perfect to decorate my early fall mantel. Their wooly fabric also brought in more texture.
I bought the woven basket last June at the same estate sale where I bought the teak table for our patio. The tan and white shawl came from Scot's Antique Show in Atlanta a few years ago. The patterns and colors work very well together.
One green potted plant stayed and I moved the other one into the breakfast room. I actually have a large blue pot that I painted early in the summer that I may bring inside. We'll see.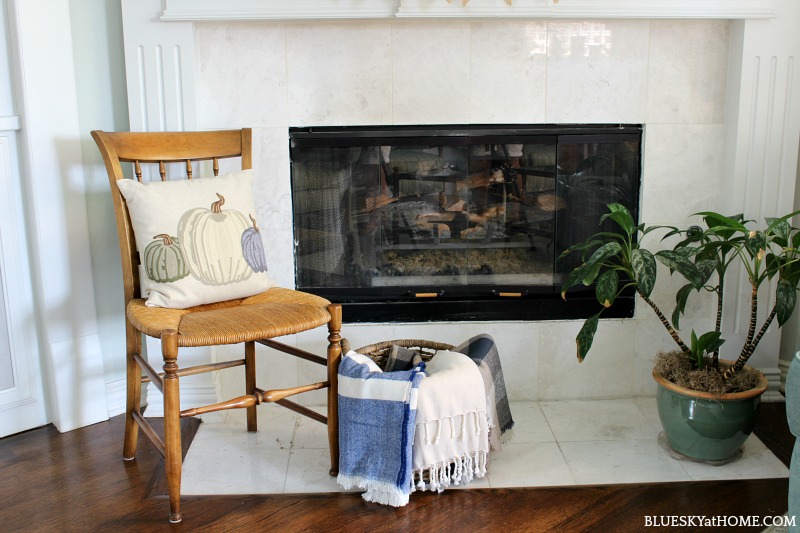 That's how to easily decorate your mantel for early fall. I kept the color pallet soft and natural and brought in the pop of blue for interest. My small items were a sprinkling of pumpkins in muted metallics, stacks of books, soft green from the faux vines and a potted plant.
At this point, I had not taken down the picture hook! I thought I would ask Sweet Shark to take it down. It's easy to see how tall our mantel is and there is a ton of white space. As it turned out, we hung the teak shutter on the same picture hook.
Ideas from My Early Fall Mantel that You Can Use
use fall decorations you already have on hand
balance on the mantel
soft muted colors with one dominant color pop
metallics for interest and shine
natural textures in wood, burlap, woven basket, fabric, jute and rush seat
book stacks
a potted plant
a vintage chair
candlesticks for height
softness in the shawls
asymmetrical design on the hearth
I won't get too comfortable with my mantel for early fall. There will be spiffing up and tweaking. After all, fall has hardly just begun.
I hope you got some good ideas for how to decorate your mantel for fall. Will you will love decorating your fall mantel with these ideas? I'll be sharing more in the coming weeks.
After you PIN this fall mantel home tour, I encourage you to see what my other Autumn Blog Hop friends are sharing. See the list of participants below. Start by visiting Shelley of Calypso in the Country.