Festive 4th of July Vignette Inspired by Pinterest
Yes, I know it's almost Memorial Day and I'm talking about the 4th of July. Here's how to reuse your red, whtie and blue decorations to create a festive 4th of July vignette.
With summer vacations, summer camp, and summer by the neighborhood pool, we can still think about creating a festive 4th of July vignette. It will be here before we know it. We are getting ready early to have something to look forward to.
Isn't that what we all love Pinterest for? Ideas and inspiration. They say that imitation is the highest form of flattery and we love to flatter.
Since the 4th of July is just over 6 weeks away, you have plenty of time to recreate this festive 4th of July vignette. Stretch your decorating skills. Use what you already have on hand. Come up with something new. It's a fun exercise in creativity and you can share and brag about your Pinterest~inspired creation.
Festive 4th of July Vignette Inspired by Pinterest
This Pinterest inspiration is from Mary at Home is Where the Boat Is. I often collaborate with Mary on tablescape blog hops. She is so talented and funny and lives in the most amazing spot ~ on a boat on a lake. Check out Home is Where the Boat Is. You will love her story and her projects.
I love this scene. What an inviting "chair~sit" (Mary's phrase), a relaxing spot to have a glass of sweet iced tea during the day or a refreshing cocktail in the evening. A perfect place to enjoy the 4th of July, watch a neighborhood parade or, as Mary says, "Read a Little. Have a Drink. Listen to Music. Discuss Life, Liberty and the Pursuit of Happiness and just Sloooow Down."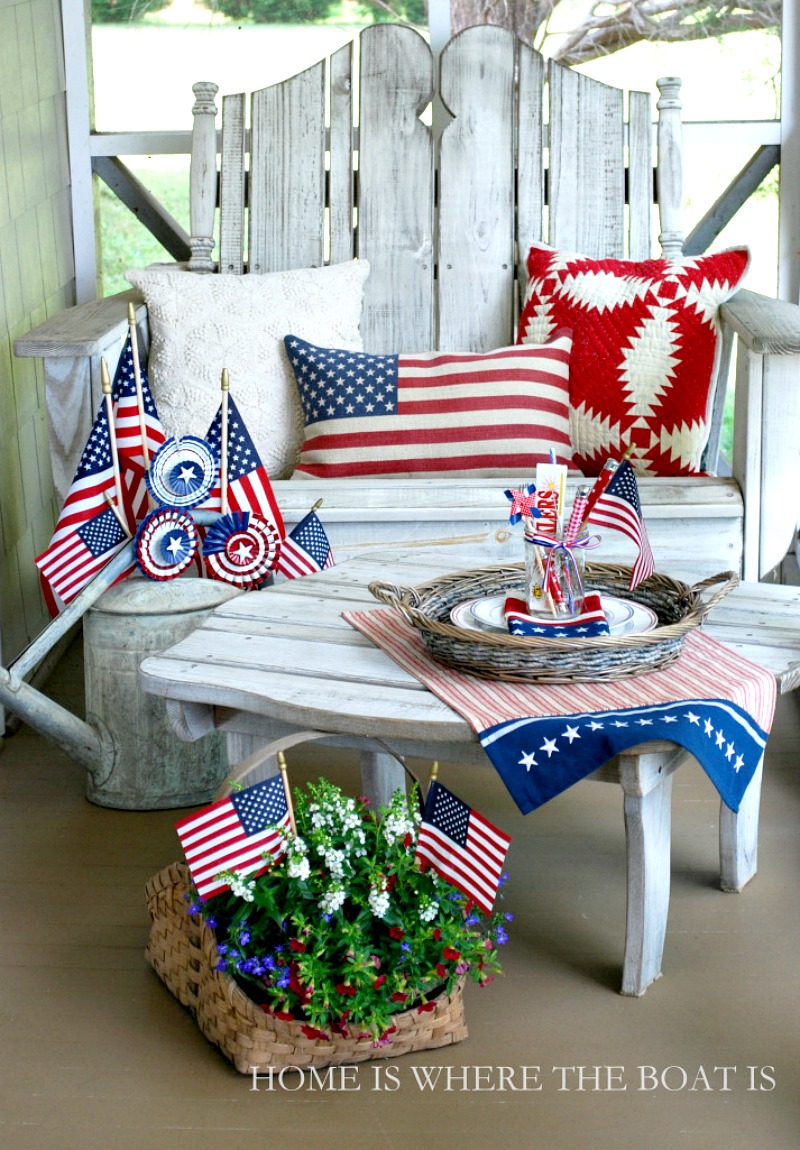 WAHT YOU WILL NEED FOR THIS PINTEREST~INSPIRED VIGNETTE
This post contains links for your convenience to products used in this project. If you should purchase any product through this site, I may receive compensation, but you will not pay a penny more.
When I looked at Mary's pretty setting, I made a list of all the elements she included. Lists are always good.
bench
pillows
flags
galvanized watering pail
table
dish towels
round basket with dishes
pinwheels
basket  with flowers
ribbon
So I took inventory and I found that I had 99% of the ingredients on hand.
THE BENCH AND PILLOWS
I bought this bench so long ago that I don't even remember where ~ either a flea market or an estate sale. It was painted beige. At the time, I was in a rusty metal phase so I gave it a rusty metal treatment.
When I got over that phase, I spray painted it white. I think it's had 4 or 5 different cushions. I made this blue cushion with Sunbrella fabric. It's much bluer in real life than in this photo. The sun was very bright when I took this photo and even adjusting my camera settings didn't quite fix that issue.
Here's a newer cushion using a no~sew method that I made for it.
The small wicker~topped table was a flea market find 2 years ago. It also received a coat of white paint. I have other plans for it too. I have since updated it and all the other tables on our patio.
Actually, our entire backyard has been updated, but the ideas for the festive 4th of July vignette will be the same.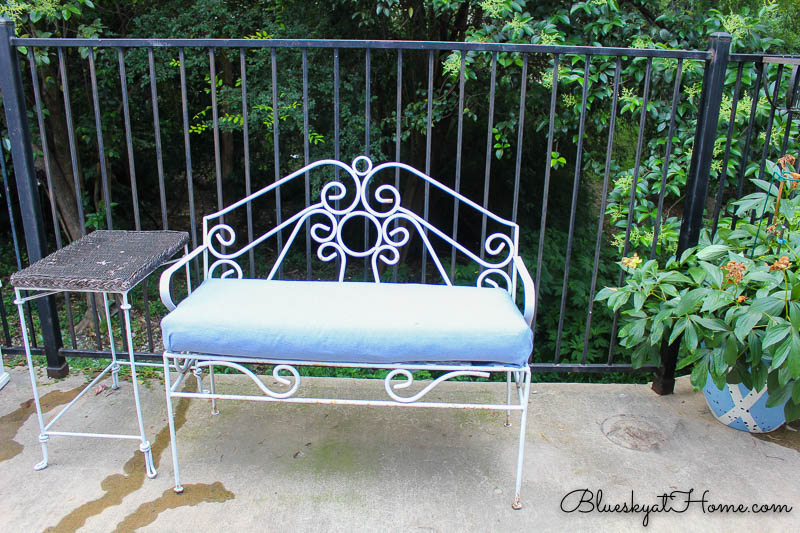 As a backdrop, I hung one of our American flags on the fence. I used 3M double~stick tape. I love that stuff.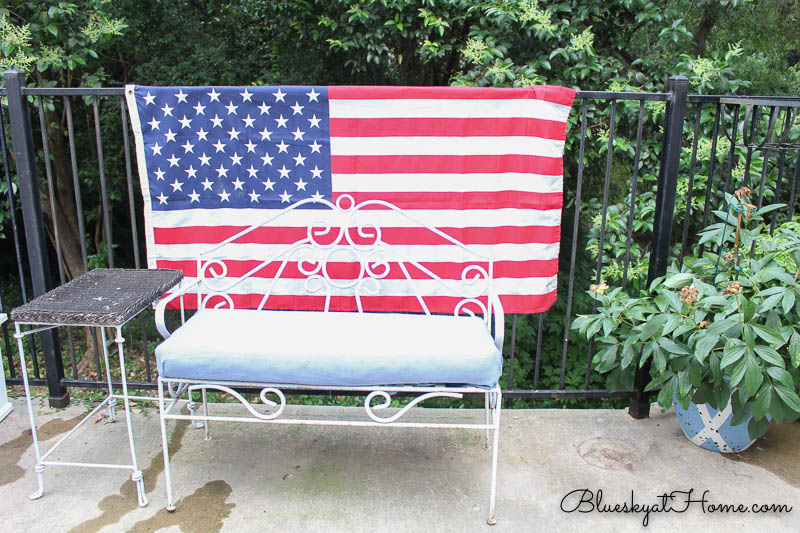 I made these DIY pillows from dishtowels last week and I'm really excited about them.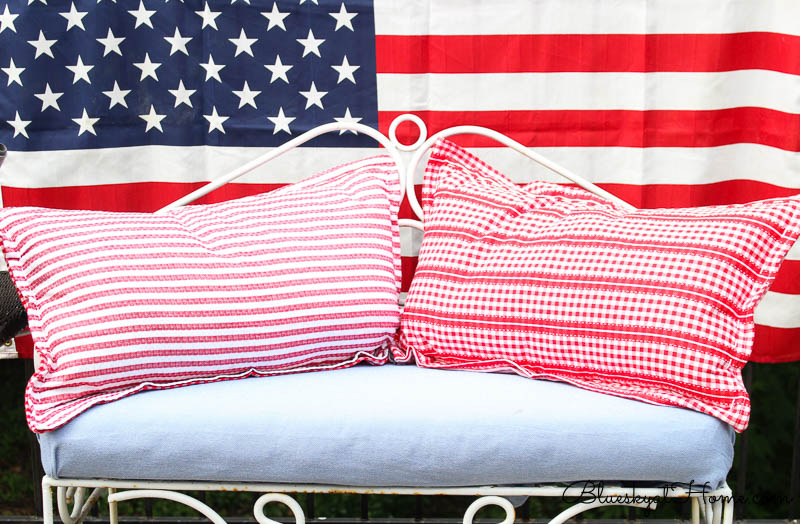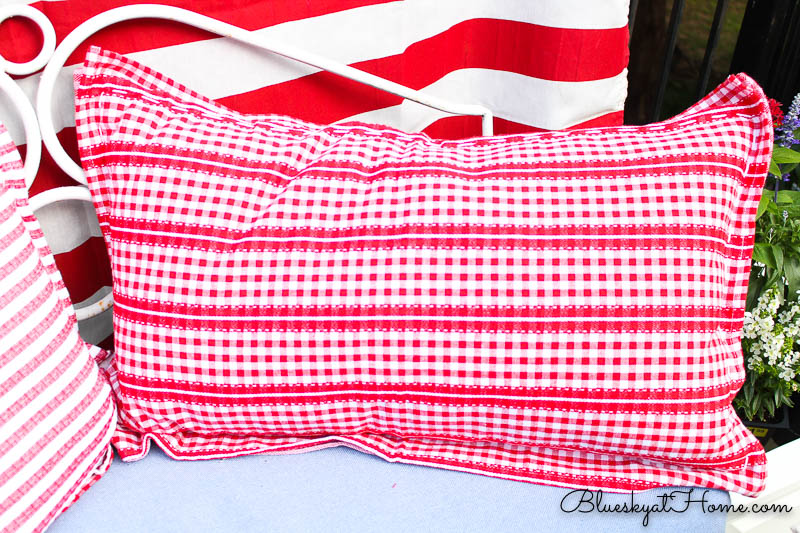 GALVANIZED WATER PAIL, PINWHEELS AND STARTS
On the wicker table, I added my galvanized watering pail, another flea market find. I filled it with flags, a blue and white pinwheel and a wooden star. Then, I added a red bow made of netting.
The rest of the table was a good place to add some glasses and bowls for any 4th of July treats.
The cups were freebies from our trip to Sea Island a few years ago and the red bowls are from World Market.
At the last minute, I added 3 votives for a little candlelight.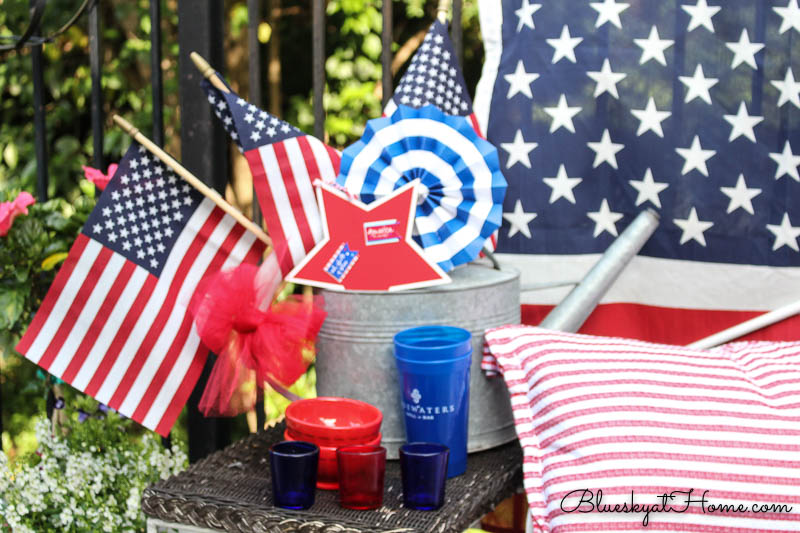 TABLE WITH DISHES
The table next to the bench had a smaller companion (part of a pair of stacking tables) and I used it as a small coffee table. Two new (I bought them last year, but didn't use them.) dishtowels act as small tablecloths. I did not have a round woven basket like Mary used (I did look for one at Hobby Lobby.), but I did have large white chargers from Dollar Tree. One of them could act as a tray.
Next, I added red napkins and blue plastic plates for serving. A large mason jar holds red (courtesy of McAlisters whose tea I love) and blue (IKEA) straws and small American flags.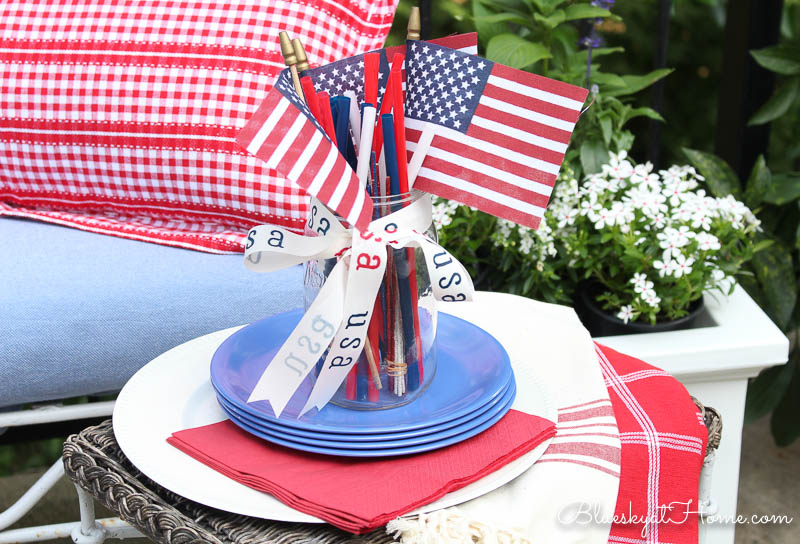 For an extra patriotic touch, I added a white grosgrain ribbon that I painted with Gel Ink in Bless His Heart (red) and Hush Your Mouth (navy). I spelled u~s~a using Alphabet 4 stencil. (This stencil is being retired, so grad it now.)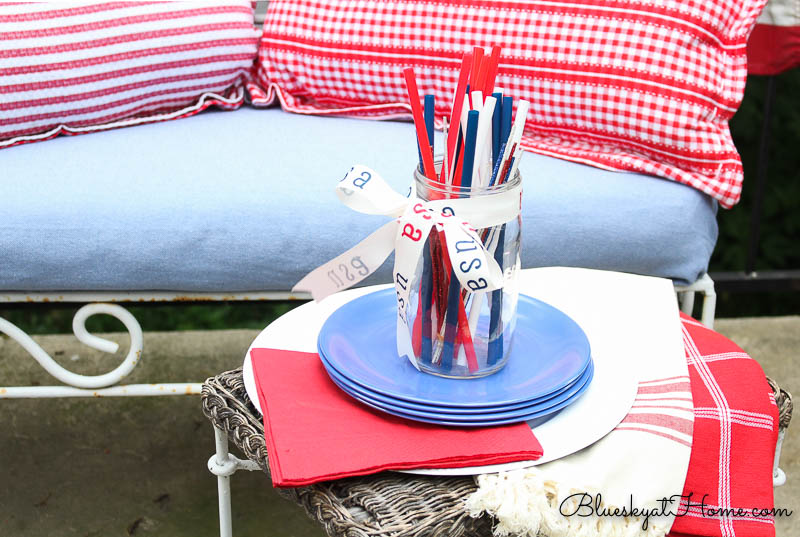 FLOWER BASKET
Baskets full of flowers is so attractive and you can change the style so easily with different basket materials (wicker, rattan, jute, metal, wood).
I decided to use a basket that has been around for years. I've used this milk~wash painted basket for every holiday and season. (I most recently used in for a spring coffee table centerpiece.)
Sweet Shark had bought some Angelonia ~ that's the white flowers  ~ over a week ago to put in half barrel pots. I "borrowed" a few for my basket.
Now, the ONLY things I did not have on hand were red and blue flowers. A trip to the garden center was in order.
I purchased 5 red vinca and 4 larkspur. I stuffed a mix of the red, white, and blue flowers in the basket.
Then I used more netting, this time in blue, to make another bow. I'll plant the flowers permanently in our new white planters.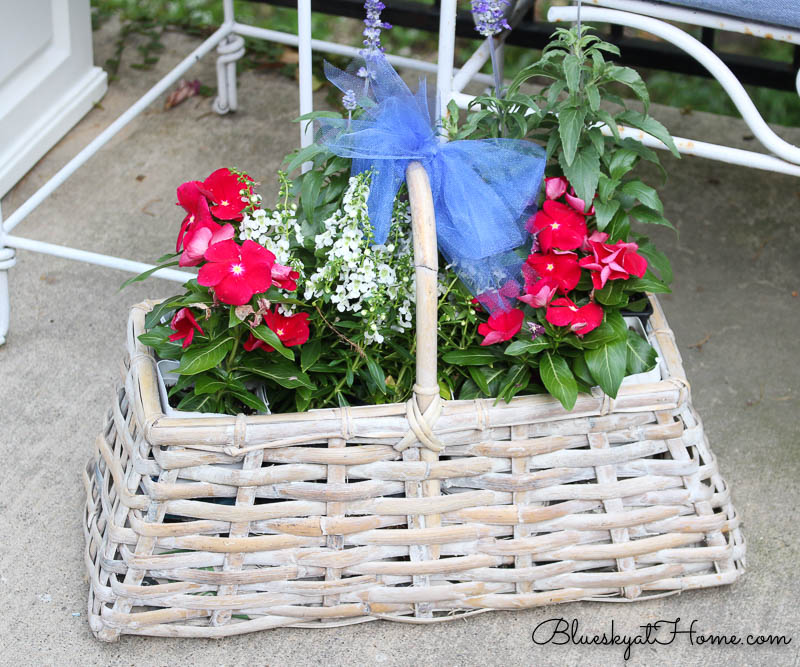 That completes my 4th of July vignette inspired by Pinterest.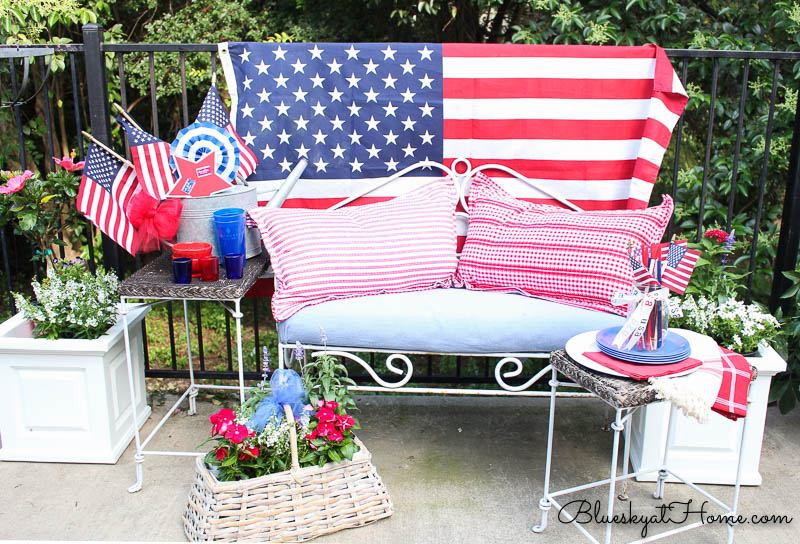 I love the look of this 4th of July vignette. It is definitely a bright, happy spot on our patio.
I'm so happy to have shared my red, white and blue, bench~seating, flag~waving, flower~filled basket with you.  It will look even better when I use the parts again in our new backyard.
Hopefully, you made a list of some ideas for your own vignette, or better yet, see if you can recreate Mary's vignette. PIN it so you have it handy.
Here are some 10 more decorating ideas for your 4th of July celebrations.