Spring Decorating with Lanterns and Bunnies
Is it too early to start decorating for spring? One of the best items to use for any season is a lantern. Let's kick off some spring decorating with lanterns and other springtime accessories.
Spring unofficially begins when March comes to town tomorrow. You may have snow on the ground, but rolling out some spring decor is OK.
This time of year, spring teases us with a few days of warmer weather and clear skies. We can already see some green leaves on our hydrangea bushes poking up through the dirt in our flower bed.
On days like this, I want to go to the nursery and fill a cart with spring annuals. I know it's too early for spring planting outside, but I can bring the feeling of spring inside with touches of spring decor.
Our dining room is usually the first room guests see when they enter our home through the front door. It's the perfect place to start seasonal decorating with spring and Easter in mind.
Doesn't a new season energize you to get things done?
Spring Lantern Inspiration
We are at the very end of the month – which means it's Pinterest Challenge day. Our lovely host, Cindy of County Road 407, has chosen an ideal inspiration setting from one of my favorite bloggers, Ann of On Sutton Place. Ann truly has a talent for home decor.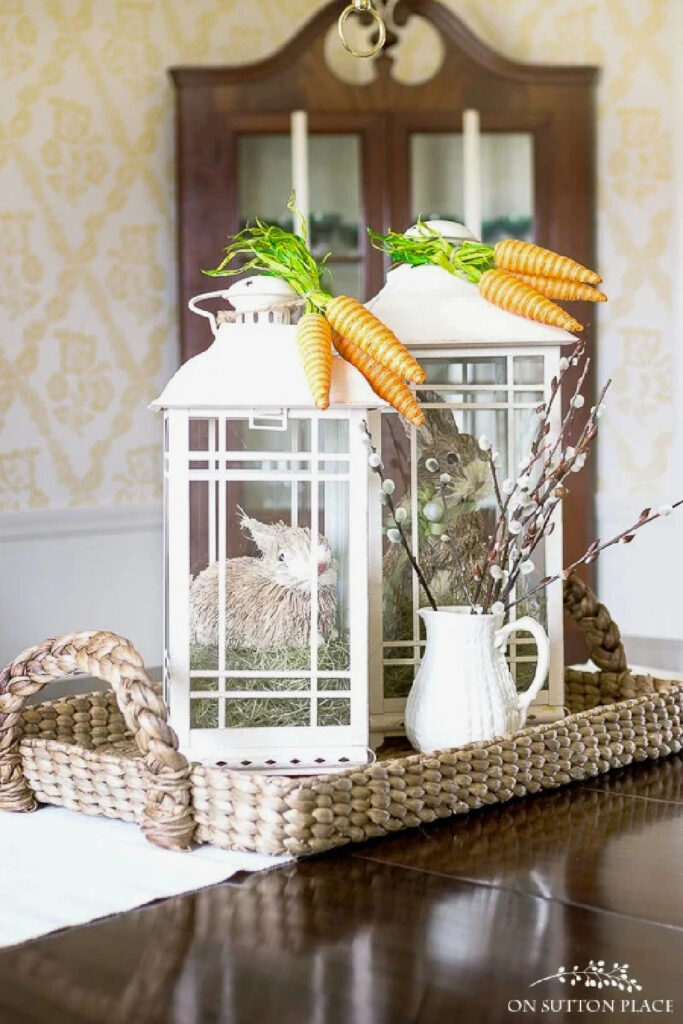 The focus of this month's Pinterest Challenge is lanterns. Lantern decor is so easy to incorporate into our decorating in just about any room in any season or holiday.
If you are hopping over from Lynne at My Family Thyme, then welcome. I know you enjoyed her lantern display for Easter.
As you can see in the image above, Ann used two white lanterns filled with bunnies as her focal point. Here's what you need if you would like to use this setting in your own home:
lanterns, preferably white
bunnies to fit inside or outside the lantern
tray
table runner
white vase with spring flowers
When I saw Ann's spring lantern arrangement, I was ecstatic – I had everything I needed for spring decorating with lanterns and bunnies.
Spring Style in the Dining Room
This post contains affiliate links to products used in the creation of this project. If you should order any item from this site, I may receive compensation, but you do not pay a penny more. Your purchase is greatly appreciated as it helps support the continued publication of this site.
Our dining room is the setting for this spring lantern decor. Our vaisselier was already decorated with many of my blue and white decorative pieces.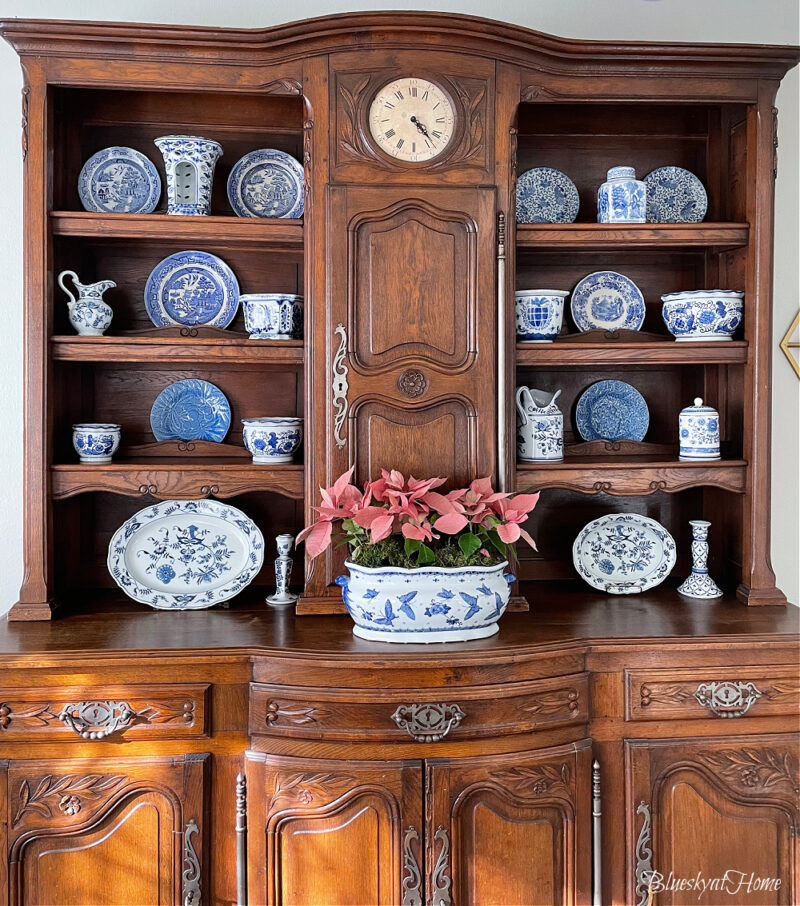 I love blue and white and collect pieces wherever I find them – estate sales, antique malls, Wayfair, and Amazon. I even brought back two pieces from Atlanta last week.
The pink poinsettias in our foot bath are still doing well, so I left them.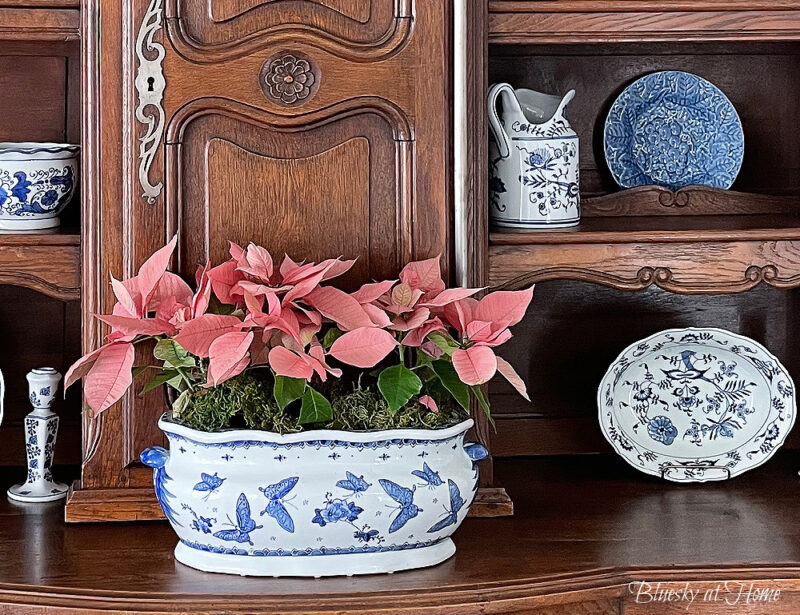 Creating the Spring Lantern Arrangement
I had a white table runner I could use. But last weekend I visited one of our local antique malls and found this blue and white runner with a rabbit motif. I couldn't pass it up. It was $42, but I knew if I didn't buy it, I would regret it.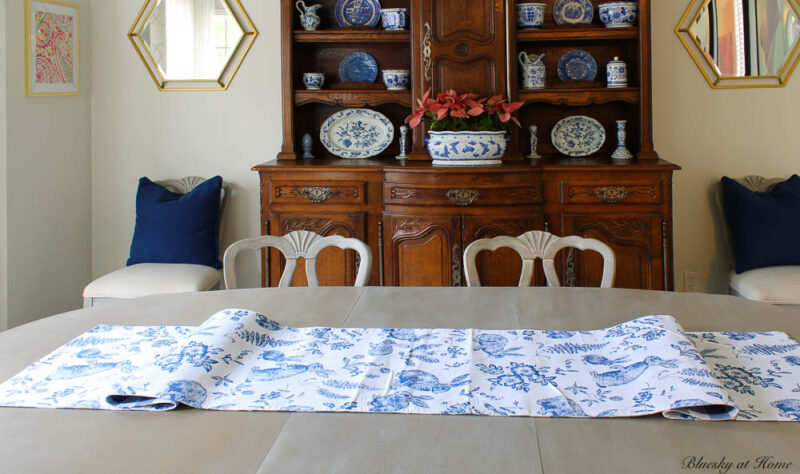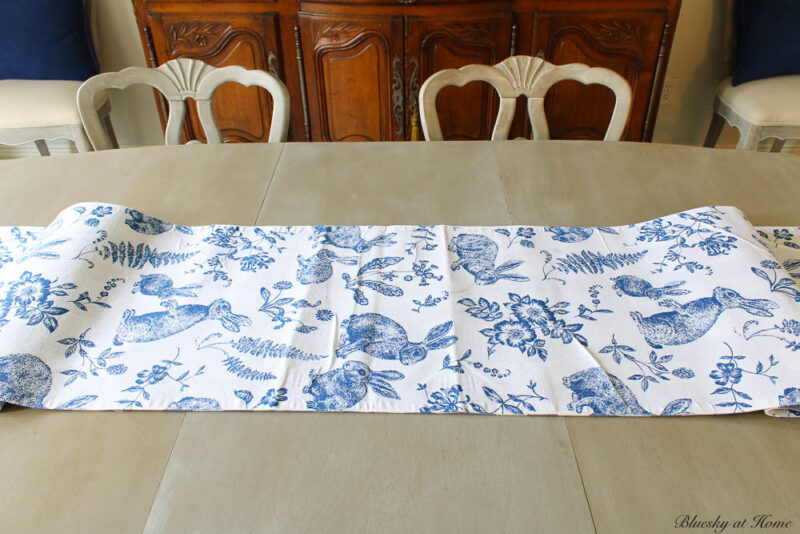 This table runner is long – 88 inches and a little stiff. I think it must have a stiff interfacing inside. I tried to iron it, but there are still some wrinkles on the rabbit side. Don't tell!
I love the whimsical, almost folk art style of the design.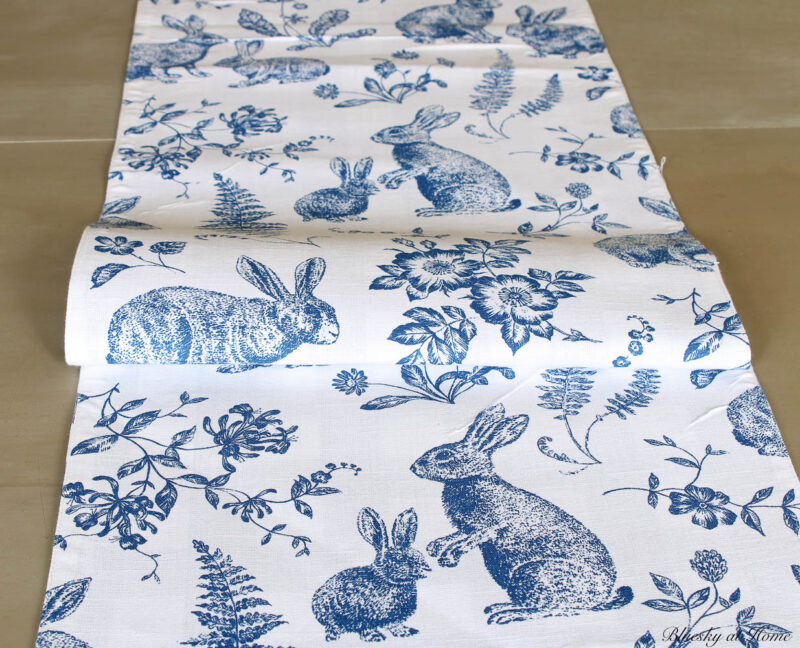 The back side is another favorite design – blue gingham. How perfect could that be!
Next came the decorative tray. Ann used a large woven basket (I have to shop for one of those.), but I chose one of my flea market trays from years ago. I painted the tray white and the feet and handles silver. It certainly has gotten a lot of use.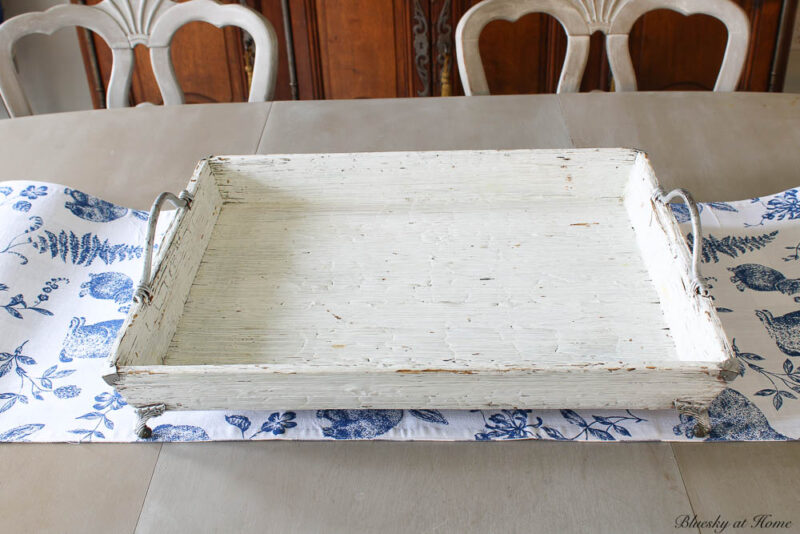 Now to the star of the show – lanterns. They have become a home decor staple. I have several styles and sizes of lanterns that I have decorated with over the years.
Whether you have small or large lanterns or even over-sized lanterns, wood lanterns or a metal lanterns, a fancy or rustic lantern, all lanterns have a place in our home decor.
For this arrangement, I decided to follow Ann's lead and use two white wood lanterns (similar style) I got from Wayfair a few years ago. They have served me really well for seasonal and holiday decor. At Christmas, I even put them by the front door filled with ornaments and fairy lights.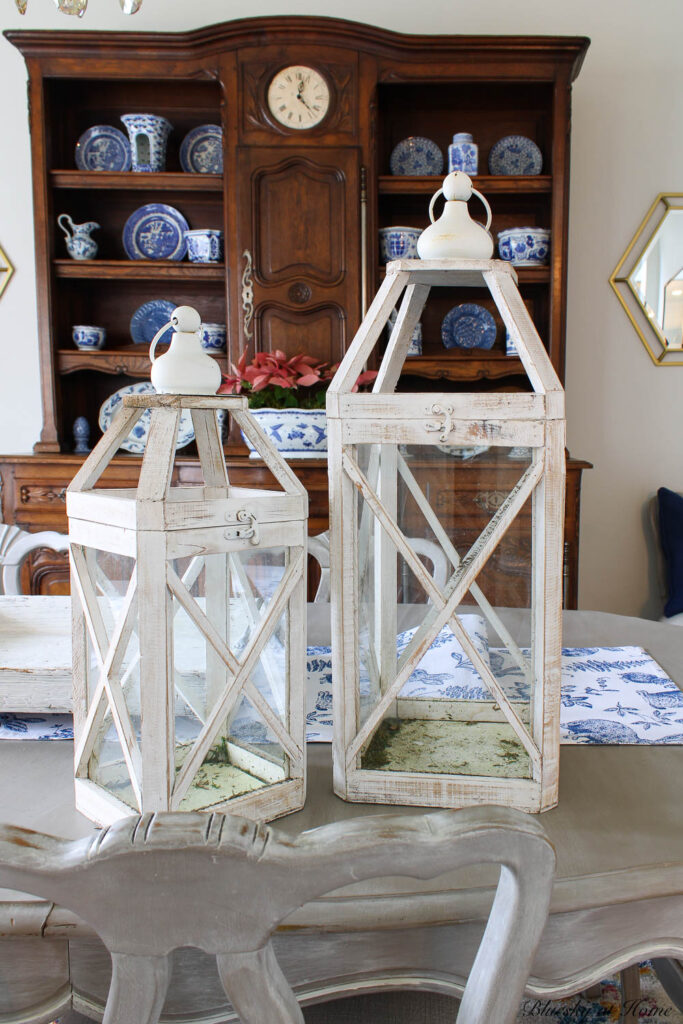 I used one of these lanterns in a Christmas arrangement a few years ago.
I'll call one the large lantern and the other the small lantern.
The tops of the lanterns lift up and the sides are thick clear plastic.
For a bit of greenery, I filled the bottoms of the lanterns with green moss – another of my must-always-have decor staples. This super moss is my favorite for the money.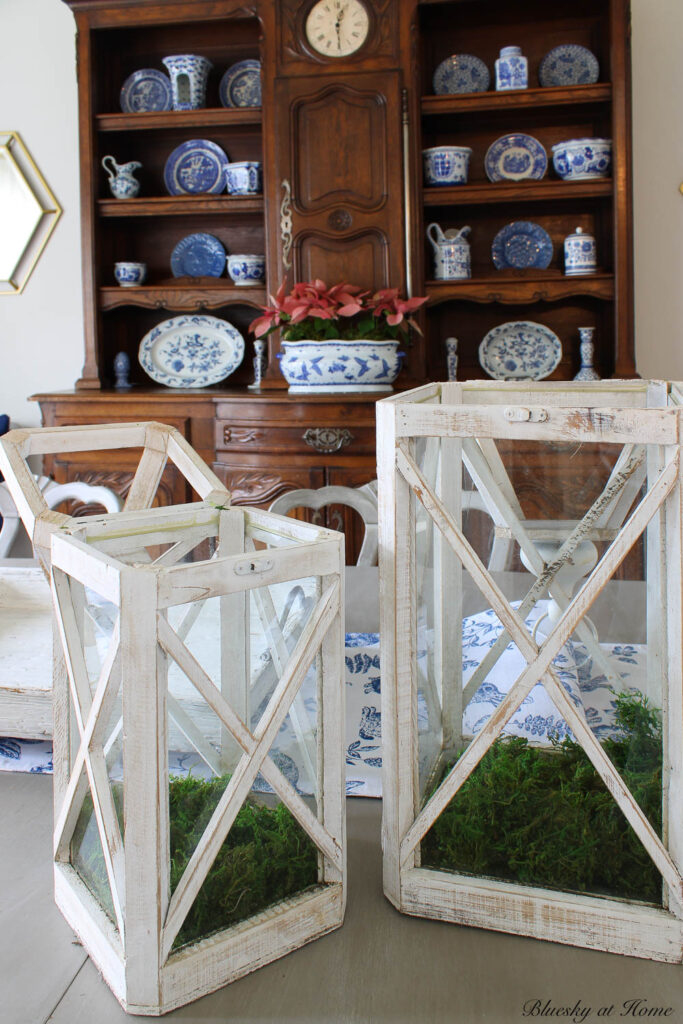 As we get closer to Easter, you could use Easter grass in your lanterns.
Bunnies and Carrots, Oh My
Our Christmas and Thanksgiving decorations are in the garage. Guess where we keep the Easter decorations? In the attic above the garage.
I think Sweet Shark and I get extra points. It was freezing up there last week when we climbed up the ladder and went through a few boxes to find what I needed for this arrangement.
I was looking for my bunnies and carrots. Fortunately, I found five bunnies in boxes 2 and 3.
Then, I tested which bunnies fit inside the large and small lanterns. These two were the only ones so they were chosen.
First, a taller boy bunny dressed in green.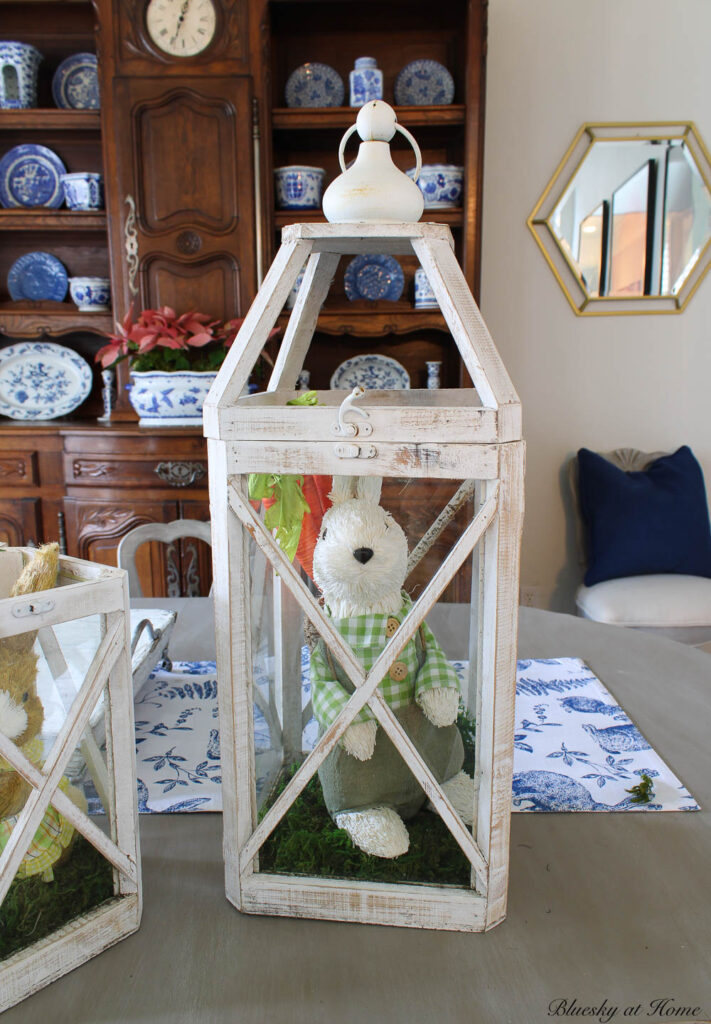 Then a shorter girl bunny dressed in yellow.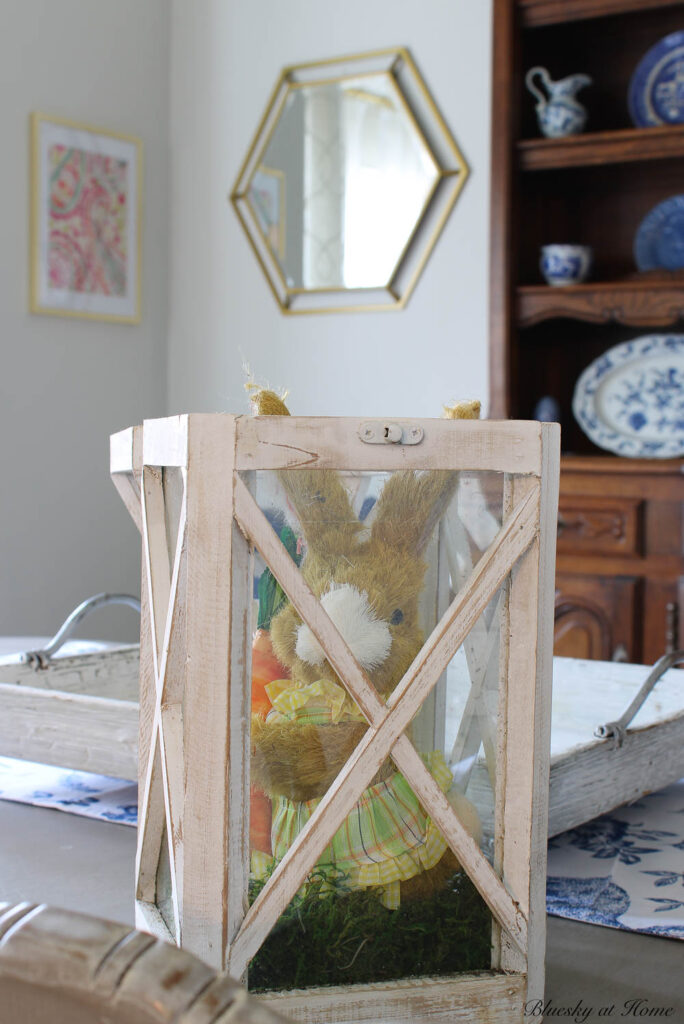 They definitely make a cute pair.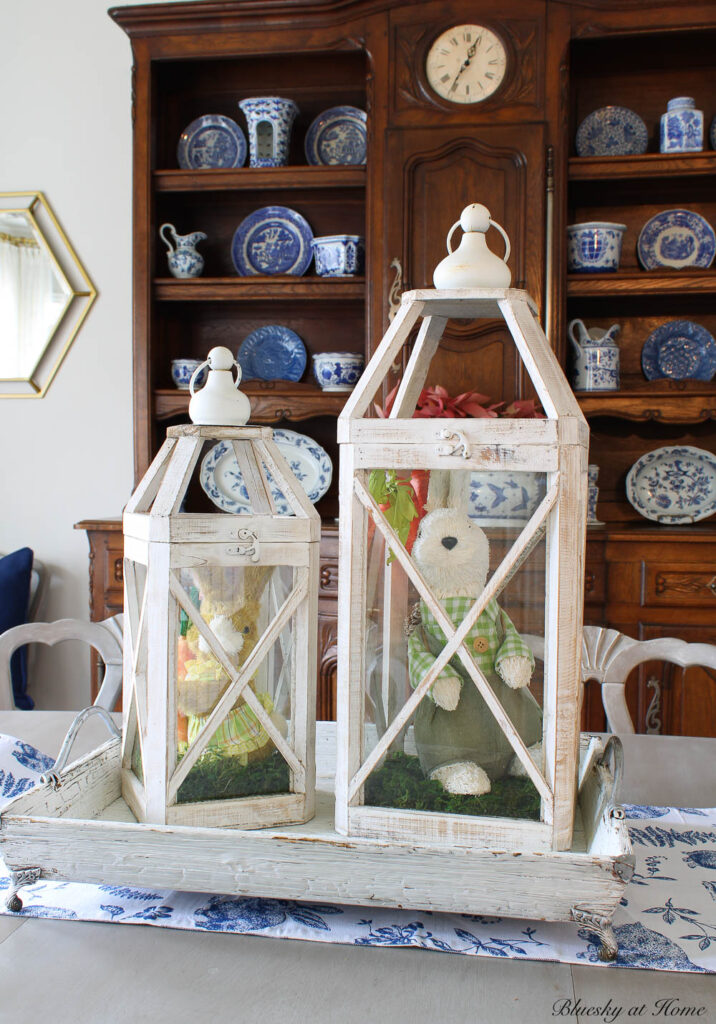 Vase for the Spring Lantern Vignette
For the next step, I had just the right vase to use in this spring decorating with lanterns vignette.
This vase was free at Joann early last summer. On a visit to Joann, I discovered that the store was giving away 6 items free on certain aisles. I made a beeline to the aisles and found 3 vases, a wreath, a basket with flowers, and an unfinished sign.
The delicate white flowers came from a spring grapevine wreath I made last year. Don't you love recycling your decor? I added a little more moss for stability and color.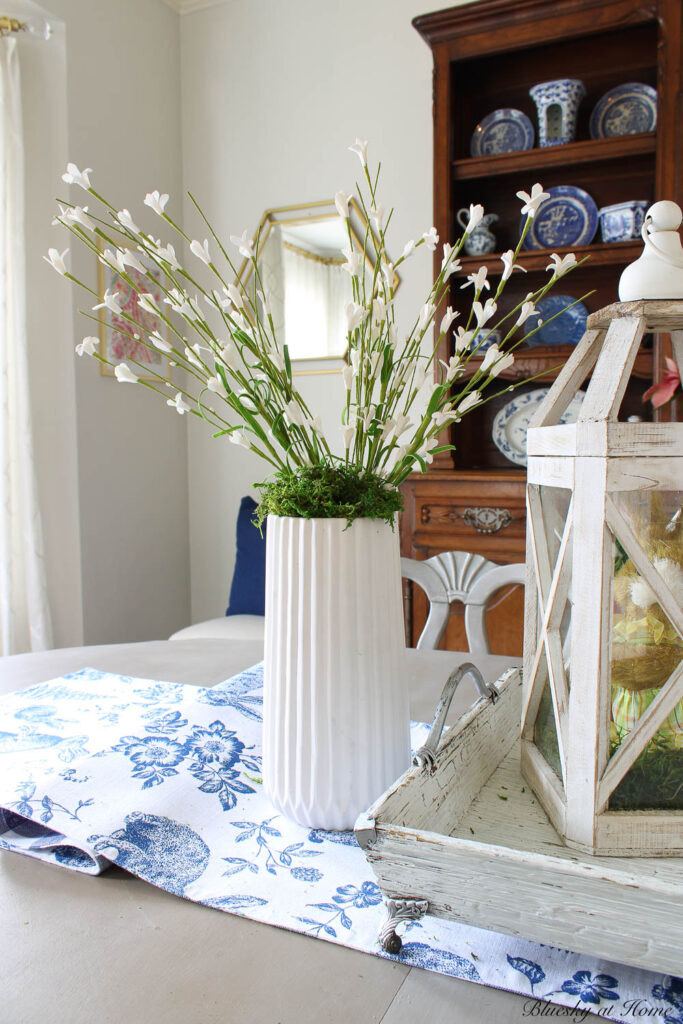 I placed the vase to the left of the smaller lantern for balance.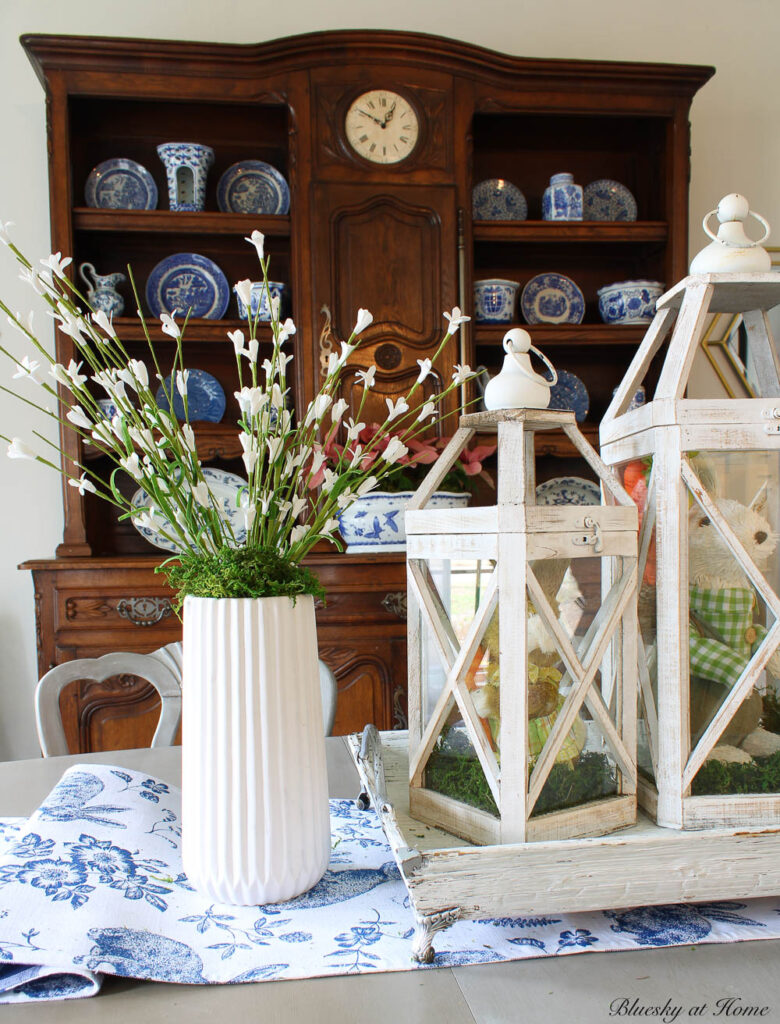 Embellishments for Decorating the Spring Arrangement
I didn't have to look far to find a few items to finish out this spring arrangement.
On the vasselier I spied my blue egg in an egg cup – an estate sale find. For a little contrast in shape, I added a blue chinoiserie candle stick, also from an estate sale.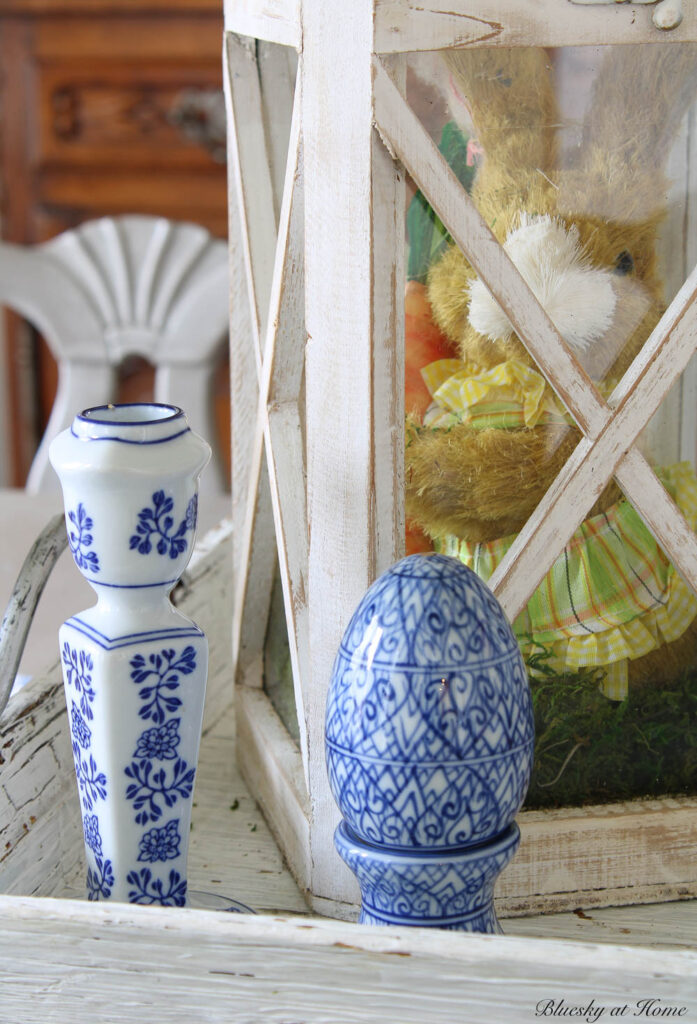 For the final touch, I tied two carrots with twine to the top of the taller lantern.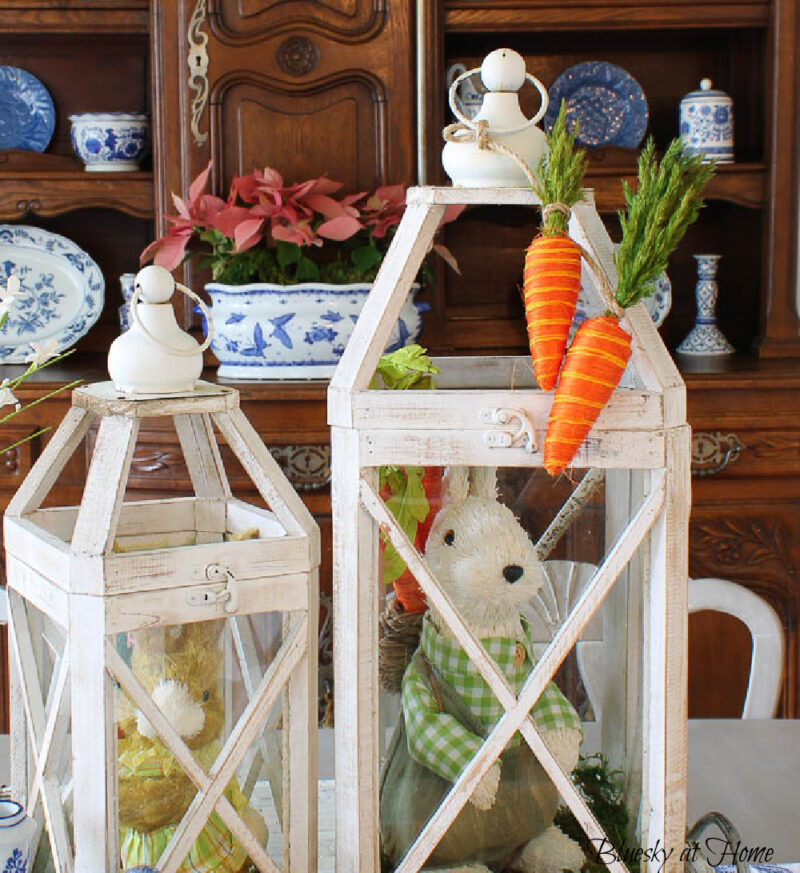 Another combo of carrots sits at the base of the larger lantern. They add a nice contrasting pop of color.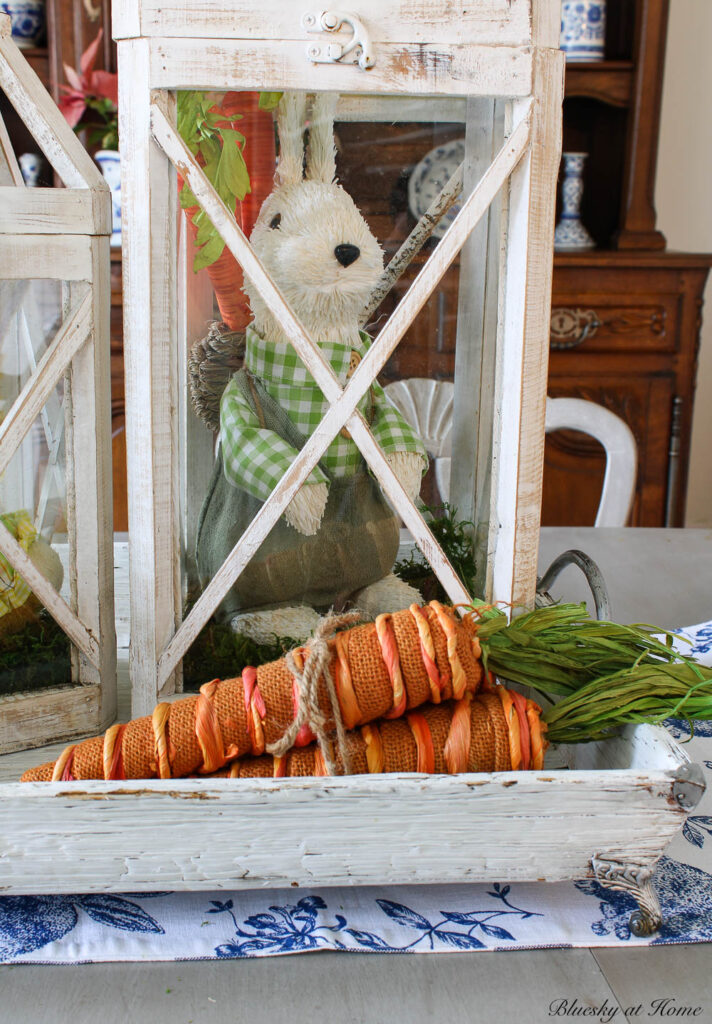 I stepped back and decided that was enough. I didn't want to "overcrowd" the tray and lantern.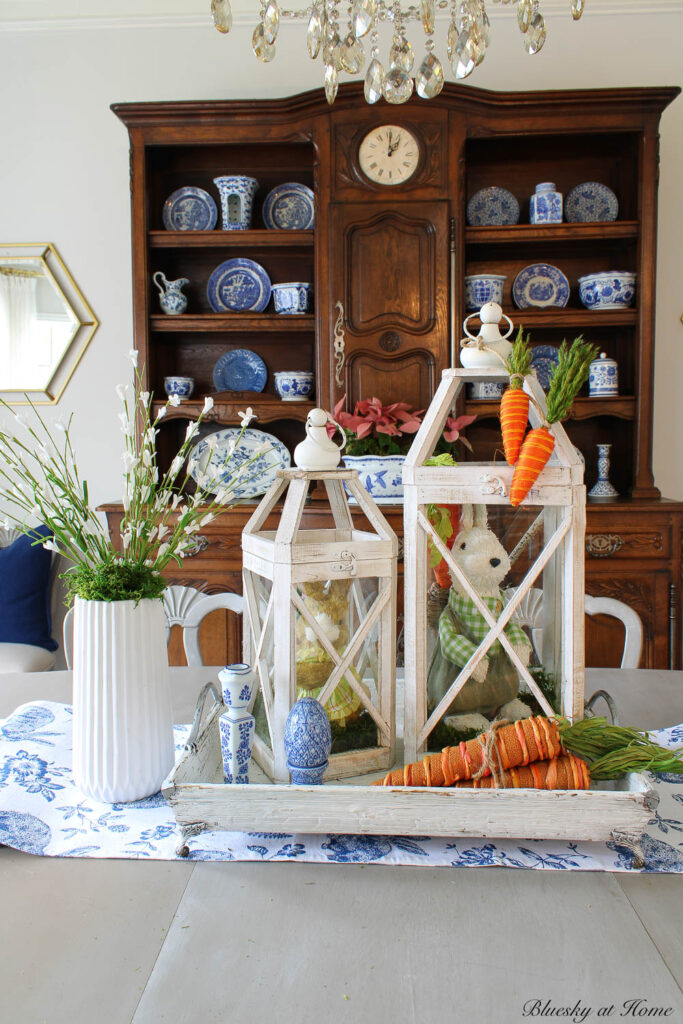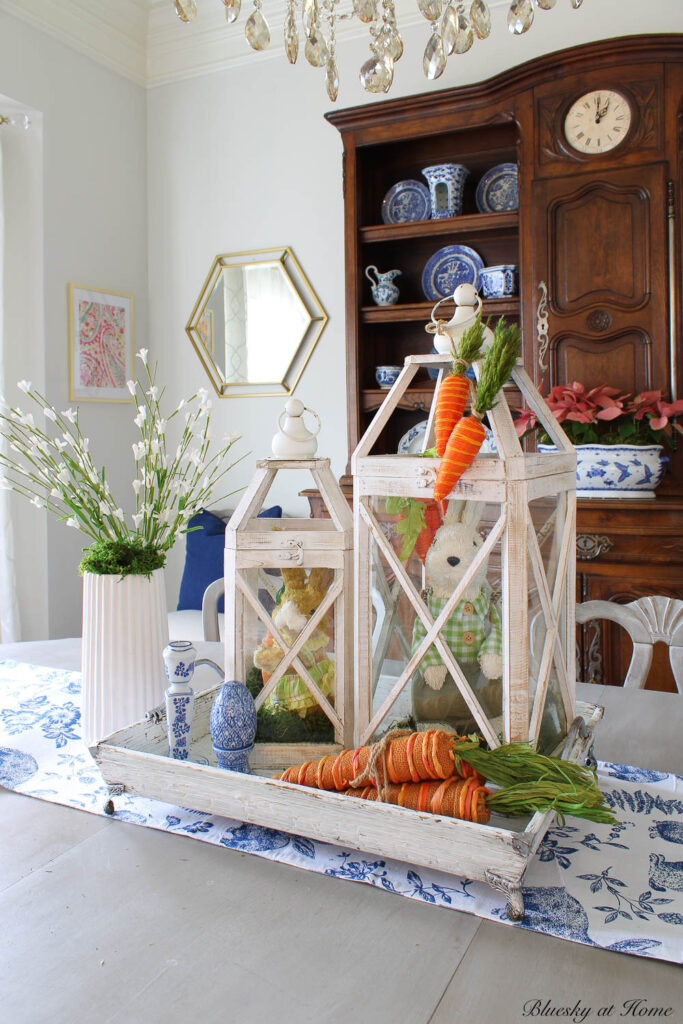 Now, we have a nice seasonal arrangement for the coming weeks. I can add to it as we get closer to Easter. Or maybe I'll take it apart and reuse parts in other areas of the house.
Isn't that the great thing about spring decorating with lanterns? They can be used in so many ways.
Items You Need for Spring Decorating with Lanterns
Hopefully, you already have items in your home for spring decorating. If not, here are some things to look at.
I know you will love visiting all the lovely spring decorating with lantern ideas shared today. Start with my friend Barbara of French Ethereal and go from there.
Please be sure to PIN this post and all the others to add to your spring and Easter ideas.