10 Fabulous Finds at Bluesky Browsing #25
Welcome to Bluesky Browsing #25. Every Saturday you get 10 fabulous finds. You will find great ideas for your home, awesome crafts to make, and resources to inform and entertain you.
Think of it as a DIY/Craft/home decor/recipe/blogger Readers' Digest.
Can you believe we are deep into February? Valentine's Day is almost here. This makes me itch for spring. Is it too early to think that spring is on the horizon?
I'm leaning toward finding new projects, resources, tips, new ideas, and inspiration for early spring.
In case you are new to Bluesky at Home, what fabulous finds do I share at Bluesky Browsing?
ideas to help you in your home decor efforts
a yummy recipe or cocktail
a fun DIY project
I'm constantly discovering fabulous finds to inspire us. My goal is to help you find ideas for your home decor, your crafting, your home organization, and anything about home.
Ready to see this week's fab finds?
10 Fabulous Finds at Bluesky Browsing #25
This post contains affiliate links to products and resources you may love to have. If you should purchase anything from this site, I may be compensated, but you don't pay a penny more.
In case you missed last week's 10 Fabulous Finds, here is Bluesky Browsing #24.
Are you a new or intermediate blogger? Every week I share valuable blogging resources and tips. If you would like to receive The Blogger Bulletin, please join the Blogger Bulletin. It's just once a week and is a quick read.
Last week at Bluesky at Home was busy organizing the kitchen:
ON THE HOME FRONT
Starting last Saturday, I began my kitchen drawer decluttering project (Perfect project for a cold, icy, snowy weekend.) I finished on Monday and I'm so happy with the neat, organized drawers. Here are the results of my suggestions for decluttering drawers.
After making it through three+ days of ice, snow, and downright cold weather, starting Tuesday, the temperatures starting warming up. Believe it or not, there are still areas in total shade that have mounds of solid ice.
Tuesday was another gorgeous day and our tennis team had regular drills. League play starts in two weeks so we need some serious practice.
After cleaning the inside of my kitchen drawers, I was so ready to put away all things Valentine's and red (at least until Kentucky Derby, Memorial Day and 4th of July). I brought out bins of my blue and white accessories, some new natural wood candlesticks and white candles in the living room. It feels fresh and new; spring is on its way.
I went back through some of my spring posts from 2021 and 2020 to see what how I decorated the house. Part of me wants to recreate the things I loved and part of me wants completely new. Do you feel that way?
10 FABULOUS FINDS FOR THE HOME AND RESOURCES TO SHARE
This post contains links to products that I love and recommend. If you should order any product through this site, I may receive compensation, but you don't pay a penny more.
Here we go with Bluesky Browsing #25.
Have I mentioned that I really want to redo several things in our living room? Well, I found some great inspiration at the Pottery Barn Spring Collections.
2. We love roasted vegetables and carrots are one of our favorites. You can roast carrots alone or mix them with parsnips, rutabaga or turnips for a root medley. Holly of Spend with Pennies shared a really good method ~ it's exactly how I roast carrots.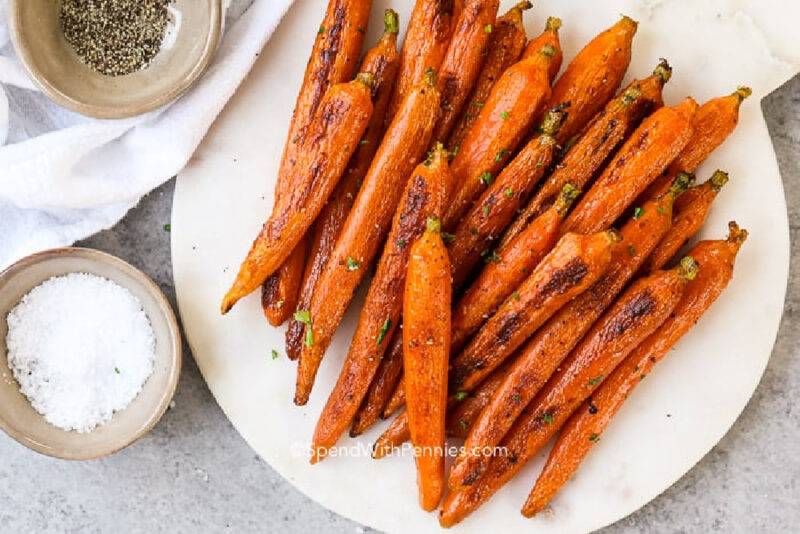 If you ponder the "peel or not to peel" question, I do peel my carrots just because I like the look of the brighter color. Here is my bar~none, very favorite vegetable peeler in the whole wide world.
,center>
3. Color is what spring decorating is all about, inspired by flowers, sun, and sky. Can't have too many ideas, right? I love this color mix of glassware as decorative art.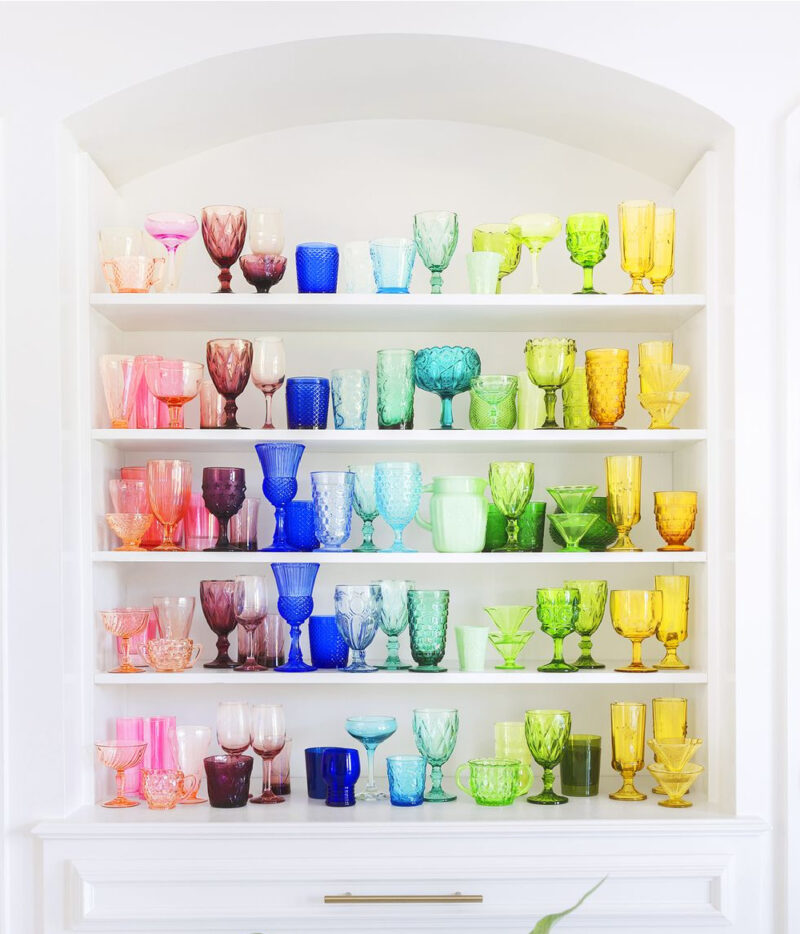 If you are lucky enough to have collected some vintage colored glasses (I have some in pink and green.), yippee for you. If not, I found some options in different sizes, shapes, and colors.

4. How many "colors of the year" can there be? Every paint company has its choice. So here are some more colors for 2022 to choose from. My favorites were Aleutian and Breezeway. You can take a quiz at the end of the article to discover your colors and your signature style. I couldn't believe that it nailed my style as "Creative"!
5. Do you dream of a cottage by the sea? How romantic. This seaside cottage is a gem and if nautical is your jam, explore the lovely curated style.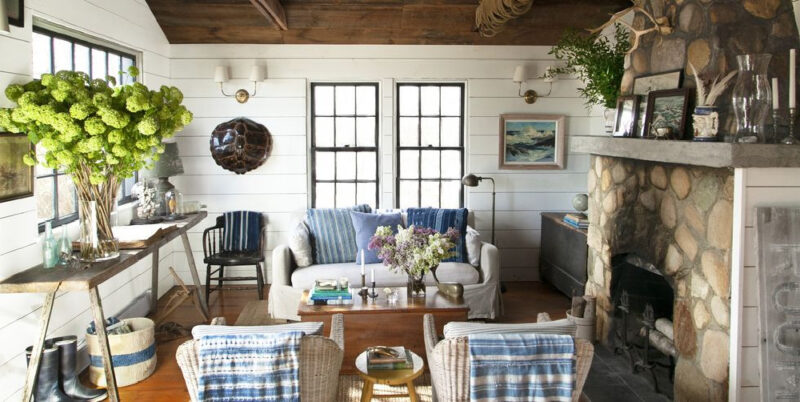 6. One thing that I started in 2020 was practicing hand~lettering. Every day, I practiced for at least 30 minutes, slowly "perfecting" my skills. I really enjoyed the relaxing, stress~relieving focus on a single task.
Sad to say that in 2021, as life got back to a more normal routine, I let my daily hand ~lettering time go by the wayside. I want to get back to that practice. I just came across an article about hand~lettering plus PDF practice sheets. If you want a simple explanation of hand~lettering, check out this article and print out the practice sheets.
7. Need some more easy spring inspiration? Here are 25 Spring Decorating Ideas curated by Parade. My favorites are 1,2,3, 5, 7,8, and 17. What are yours? Hint: #3 on the list is using colored glassware (See the image in #3 above to understand what I'm talking about).
8. In just a few weeks, it will be time to prepare our gardens for spring; that means cleaning out the flower beds, preparing the soil, and deciding what type of plants to plant. Our go~to resource here is Jackson's Home and Garden, which fortunately is about 5 minutes from our home. Their gift and outdoor furnishings shop is gorgeous.
Jackson's is known for its expertise in all things garden. They recently had a great article: What's the difference between annuals and perennials. It's a great read, even if you are already an expert gardener.
9. Do you like to try new cocktails? I found a collection of 18 Spring Cocktails. The one below is called Garden Rose ~ doesn't that sound like the perfect springtime libation?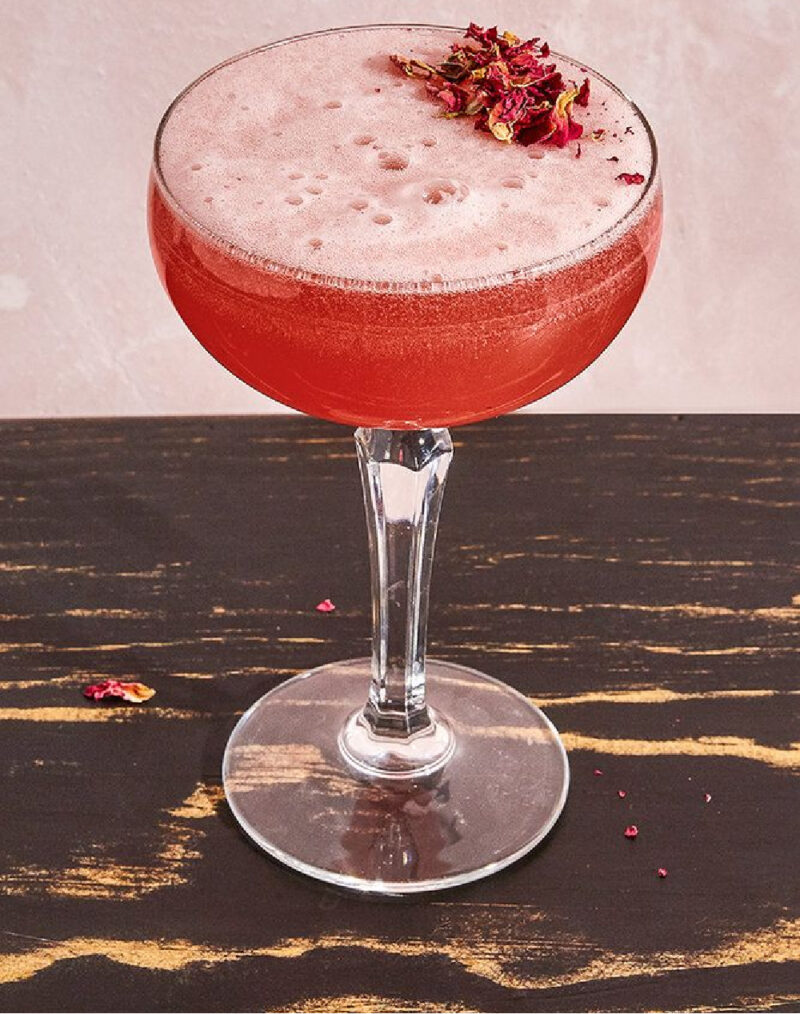 10. BOOK OF THE WEEK: The Pieces We Keep
I just finished this novel yesterday. It took me a couple of weeks ~ it's longer than my most recent reads. It's also a deep dive into two stories that seem totally disconnected, but you know there is a connection. Part of the suspense is waiting for the connection and then seeing how it plays out.
Kristina McMorris is the author. I previously read Sold on a Monday (That one will grab your heart and not let go.) She has a talent for getting into the soul of her characters. The Pieces We Keep was inspired by two articles she read: one involved an account of a very young boy who knew far too many things about WWII~era warfare; the other had to do with the real~life account of eight German spies infiltrating American soil.
Spring, 2012, Portland, Oregon: Audra is a young widow with a 7~year son who suddenly starts having night terrors and draws horrifying images of Nazis. It's been two years since the death of her husband to a brain tumor. Audra is a veterinarian who struggles to understand and help her son Jack overcome the frightening accounts of a burning plane crash that haunts his dreams. A seemingly chance meeting with a soldier accepting an award for bravery after serving in Afghanistan answers some questions about Jack's situation, but also creates more problems for Audra.
London in 1939, just as Britain enters into war with Germany: Vivian is a young American girl living with her diplomat father and mother. During an air raid, she is rescued by Isaak, a German student who was raised in America. After returning with his mother to Germany, he is provided a university education in England. They fall in love. When Vivian has to return to America with her mother, Issak doesn't show up at the train to go with them.
Two years later in New York, Vivian is working at the military switchboard at Fort Hamilton. She is rooming with her friend from high school when she reunites with Luanne's brother, Gene, who is in military intelligence. Vivian and Gene begin dating and it's clear they are falling in love.
I can't tell you anymore or I'd give away some of the crucial information of the story. Suffice it to say that the book alternates between Audra and Vivian's stories. You will be drawn into both. I would be reading a chapter about Audra and wonder what was happening with Vivian.
There are lots of secrets revealed throughout the course of the book. Characters grow and change. You'll weep at certain times and want to encourage both Audra and Vivian to weather the storms in their lives.
Enjoy this story. I certainly did.
That wraps up Bluesky Browsing #25. What were your favorites from this week's 10 Fabulous Finds?
What are your favorite topics? I'd love to know what topics you are curious about. Let me know in the comments and I'll search browse for them. Be sure to PIN to keep these ideas handy.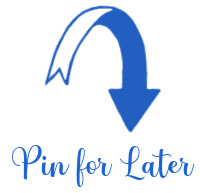 In between writing posts, listening to podcasts, reading, doing various blogging tasks, walking Nola, and playing tennis, I'll be browsing away.