21 Awesome Mardi Gras Party Ideas
Are you planning a Mardi Gras party? Here are 21 awesome Mardi Gras party ideas including great dishes, drinks, and decorations for your next event.
Mardi Gras is March 1st this year, just two weeks away. It's not too late to have a get-together with friends to celebrate. Although iconic to New Orleans, Mardi Gras is celebrated in cities across America.
I have been to Mardi Gras a couple of times and visited New Orleans more times than I can count. We even named our new puppy NOLA.
The spirit of partying is part of New Orleans culture. Throwing a Mardi Gras party isn't hard. Just to give you a nudge and a reason for a party, I'm sharing 21 awesome Mardi Gras party ideas for decorations, dishes, and drinks.
Any party that celebrates a special event needs some theme~oriented decorations, party food, and cocktails. I found some great ideas for you.
And, in case you didn't know: Mardi Gras decors are purple, green and gold ~ think of the New Orlean's Saints colors.
Beads, masks, feathers are iconic Mardi Gras decorations.
MARDI GRAS DECORATIONS
This post contains affiliate links related to ideas in this post. If you should order any product from this site I may recevie compensation, but you don't pay a penny more.
I searched for decorations that were fairly easy to make and that would have a big impact. All of the ones that I chose are DIY projects you can make yourself.
DOOR HANGER
Let's start at your front door. You want to let your guests know that the party is on with a Mardi Gras~theme door hanger. Julie of Southern Charm Wreaths created this gorgeous party~is~on door hanger.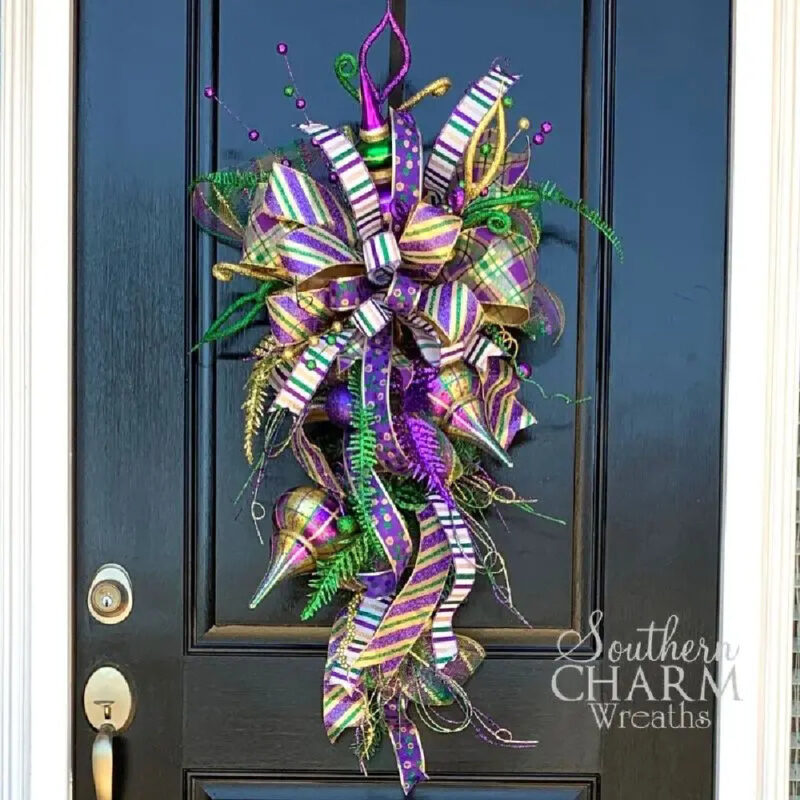 BEAD WREATH
Want a smaller wreath or one for inside during the party? I love this bead DIY wreath from Brittany of Sew~in Love Blogspot.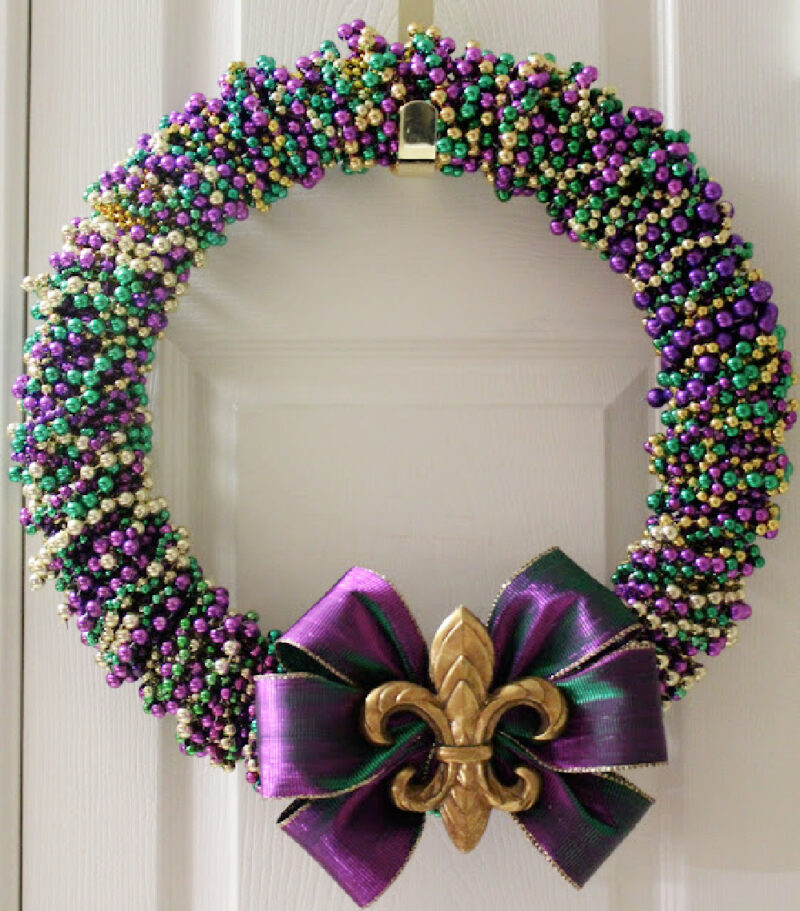 FRESH FLOWER AND BEAD CENTERPIECE
Regardless of what type of party you are having (buffet, sit~down meal, or just hang out), you will need a pretty centerpiece for your table. This pretty one from Sarah of Saving with Sarah used fresh flowers in gold tones with beads. You can make one or three of these for a table.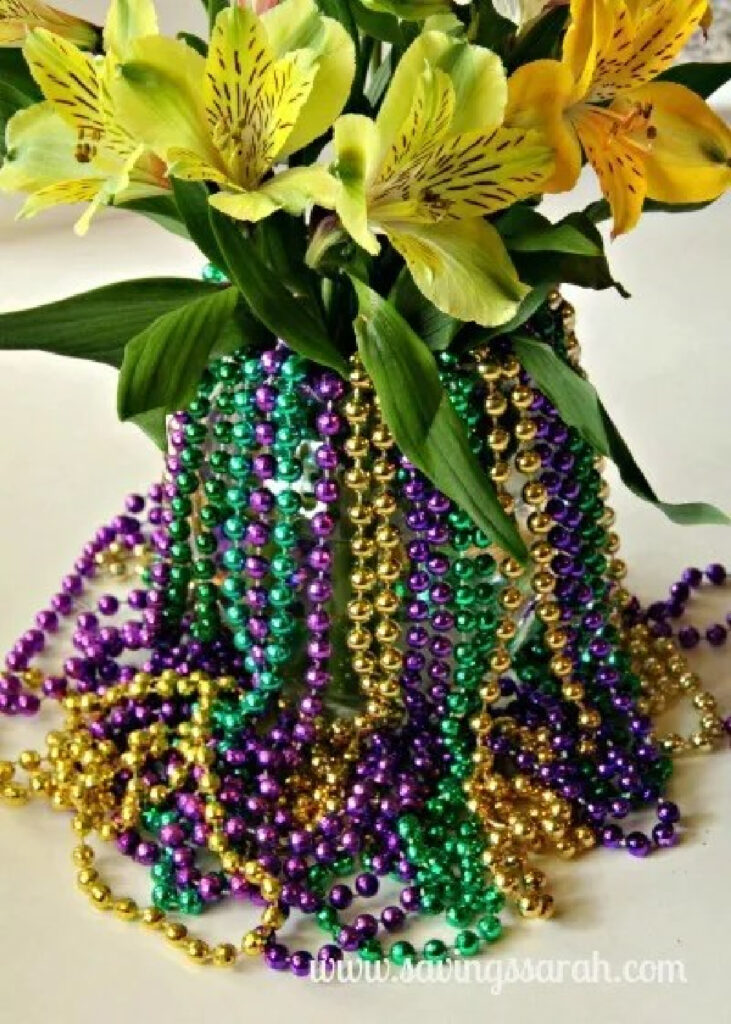 MARDI GRAS TABLESCAPE
Do you want to host a sit~down Mardi Gras party? This lovely tablescape party idea from Claudia of Ciao! Newport Beach would be a wonderful spot to enjoy a Mardi Grass dinner.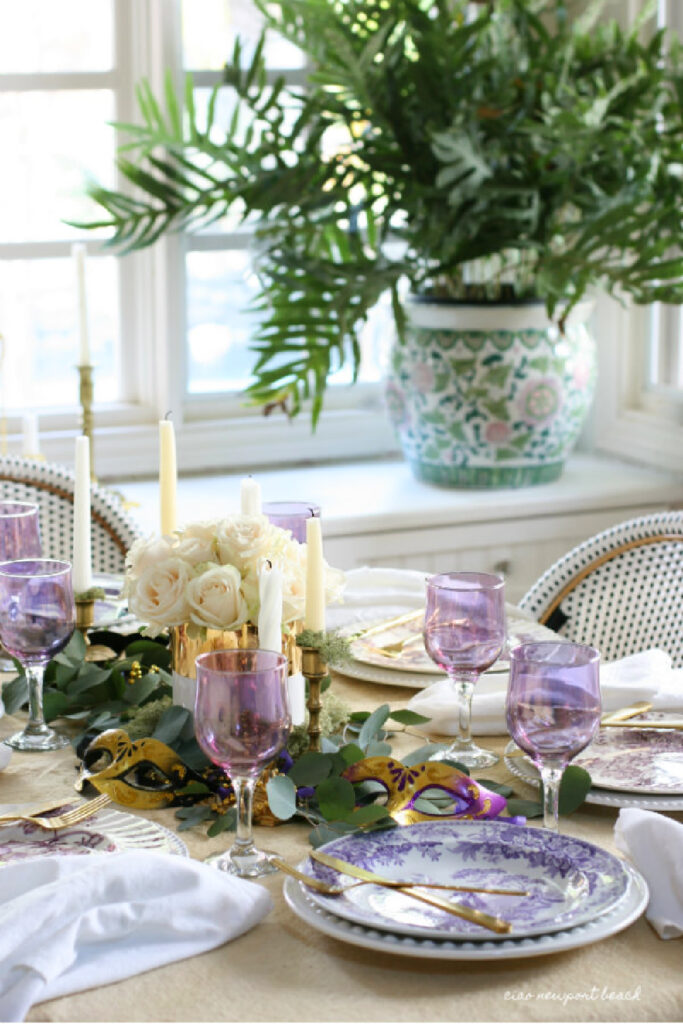 MARDI GRAS BEAD CHARGER
Another version of a sit-down table uses the cutest bead DIY charger. Mardi Gras Outlet shares a great Mardi Gras party idea with this table decoration.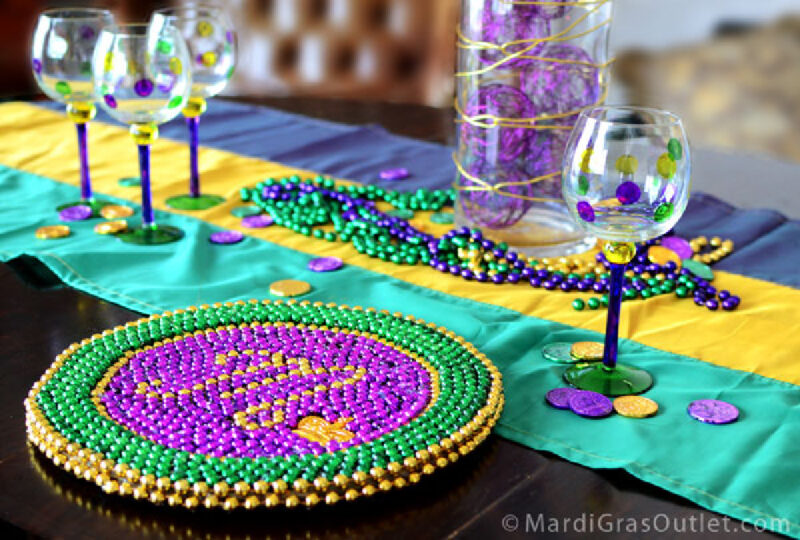 BEAD CONE DECORATION
This super easy DIY project makes a great Mardi Gras party idea. These bead cones can be used anywhere you need a pop of Mardi Gras colors. Fun365 for Oriental Trading Company shares the tutorial.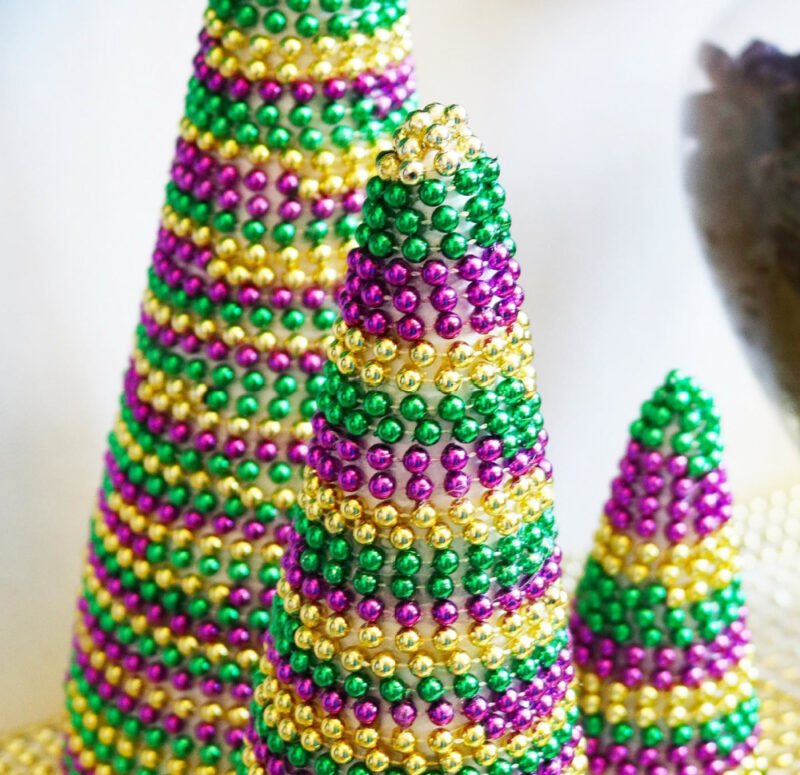 DIY PARTY MASKS
Finally, we can't forget masks. This simple DIY mask Mardi Gras party idea could be a kid project or let the adults make their own masks as part of a party activity. Cheryl of That's What Che Said shows you what an easy project this is.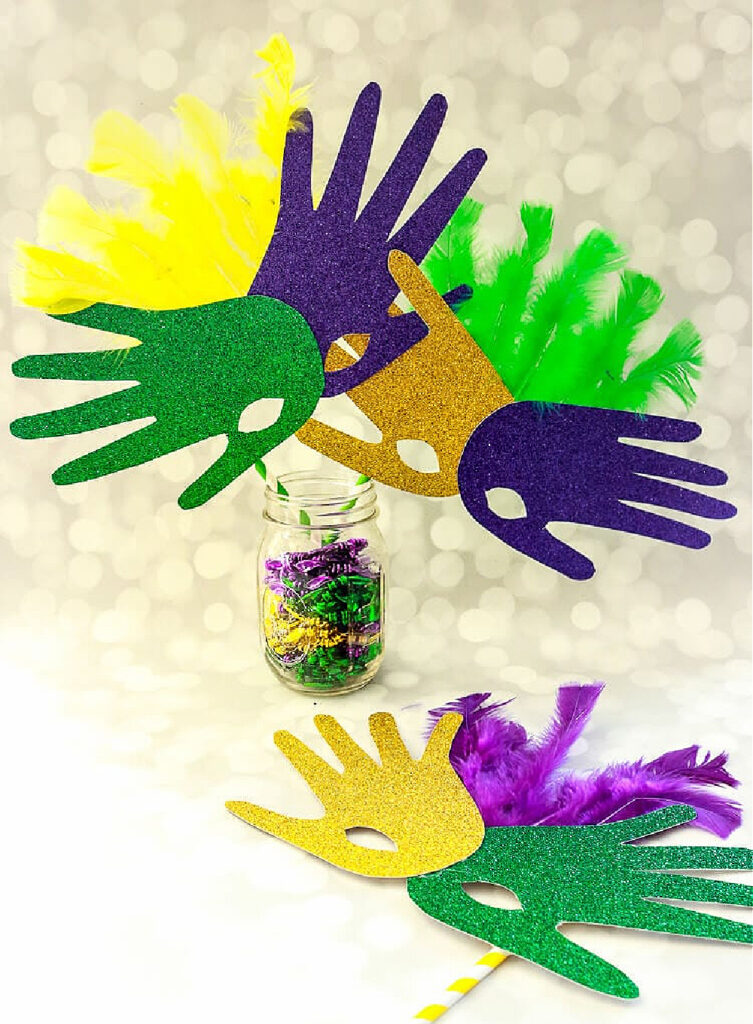 If you want to make these DIY projects or create your own decorations, here are some items you will need:
MARDI GRAS PARTY IDEAS FOR SAVORY DISHES
New Orleans is one of the great food cities in the country. Eating in New Orleans is a food lover's version of heaven. Louisiana has one of the strongest food cultures anywhere.
I can't think of anywhere else ( maybe Texas?) that has more iconic dishes than New Orleans. That makes it easy to find great recipes to serve at a Mardi Gras party.
These recipes are a mix of sweet and savory ~ a perfect party combination. We'll start on the savory side.
CRAWFISH BEIGNETS
Beignets are an iconic food in New Orleans. Have you heard of Cafe de Monde? It's a must~go destination by the river off Jackson Square in the French Quarter.
Beignets are traditionally sweet, but they can be savory, too. I can imagine how delicious these crawfish beignets from Lisa of Cooking Bride are ~ because I've had them. Your guests will love them and they won't last long.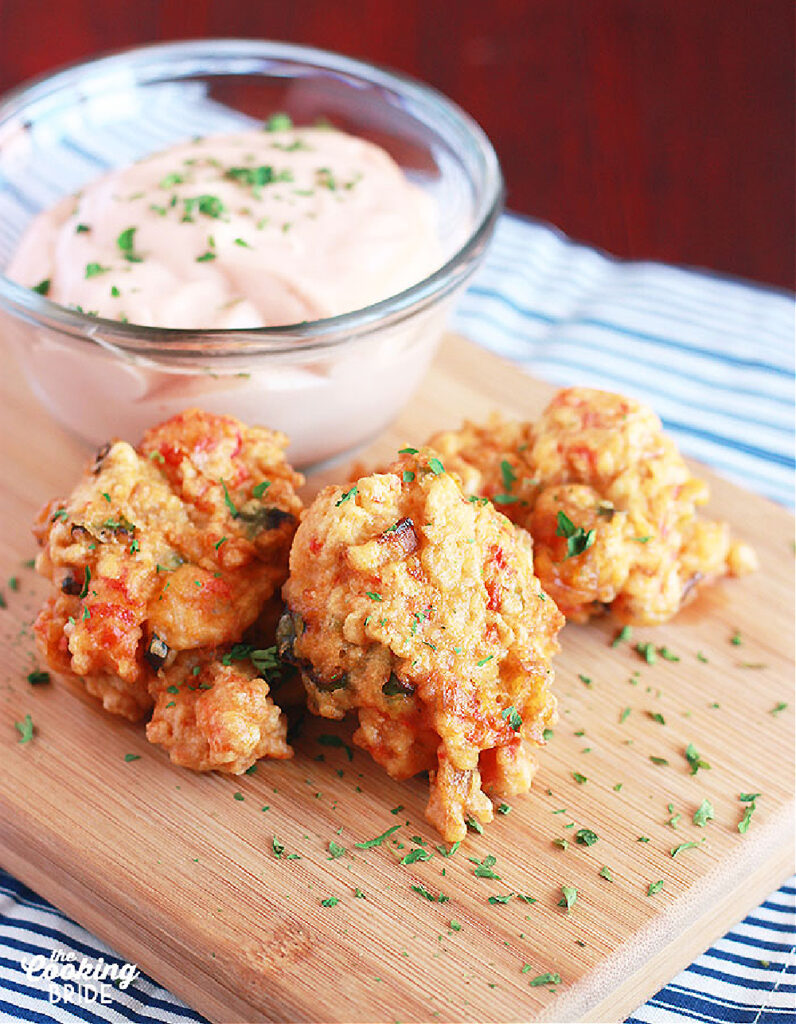 SHRIMP PO'BOYS
Fried shrimp on a bread roll with tangy mayo is a sandwish delight. Nothing is more New Orelans than a po'boy. For a Mardi Gras party idea, I would cut these into small bites, about 2~inches wide. This version is from Louisiana Cookin'.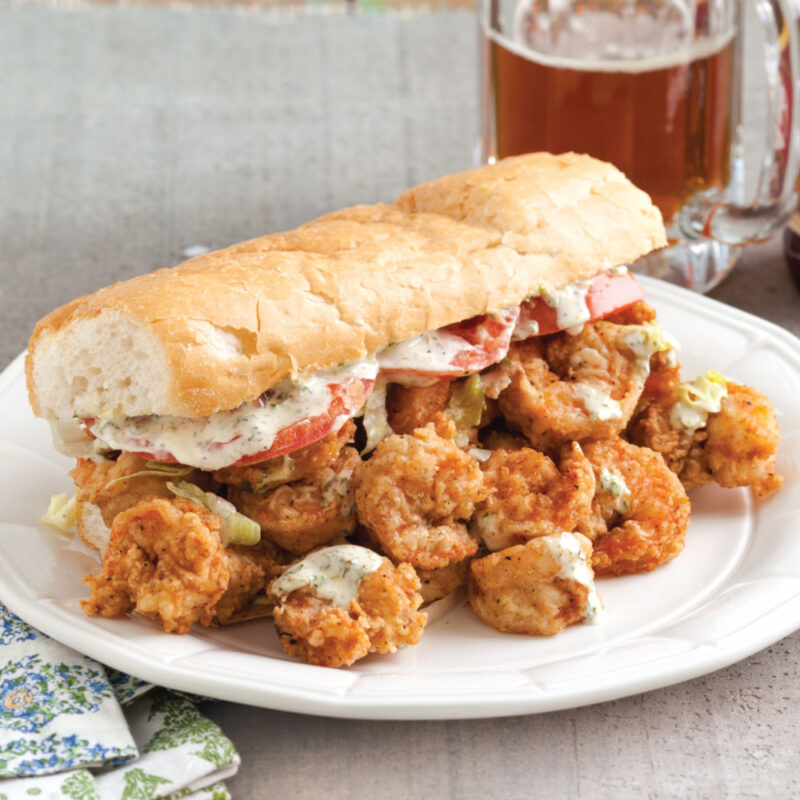 MUFFALETTA DEVILED EGGS
What is muffaletta? It's another iconic sandwich that is perfect for a Mardi Grass party. The best place (which, of course, is up for discussion) is at Central Grocery on Decatur Street. Unless you are a huge eater, order a half or share it with a friend.
A muffaletta sandwich is made up of three different types of salami and cheeses. The must~have ingredient is olive salad, a mixture of garlic, olives, peppers.
Jennifer of Take Two Tapas had the creative idea to incorporate muffaletta ingredients into deviled eggs ~ always a party favorite.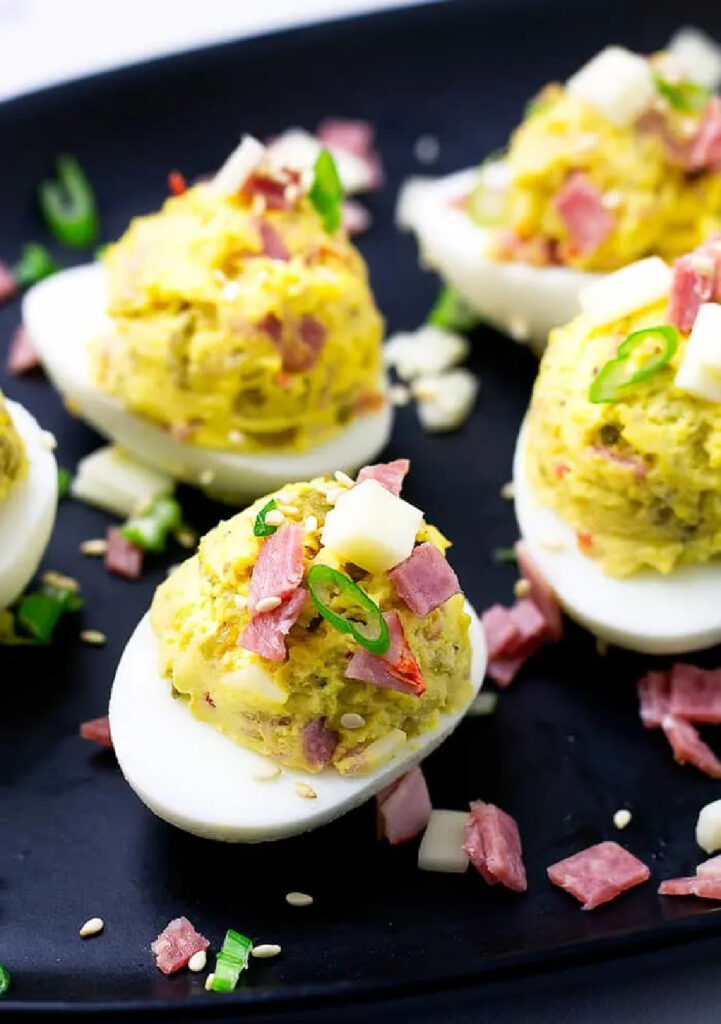 MUFFALETTA PASTA SALAD
If you can incorporate muffaletta into deviled eggs, then why not a pasta salad? The seasoning and ingredients are still Mardi Gras worthy.
What fun to serve this Muffaletta Pasta Salad in individual martini glasses. What a great Mardi Gras party idea. That's what Mary of Home is Where the Boat Is did.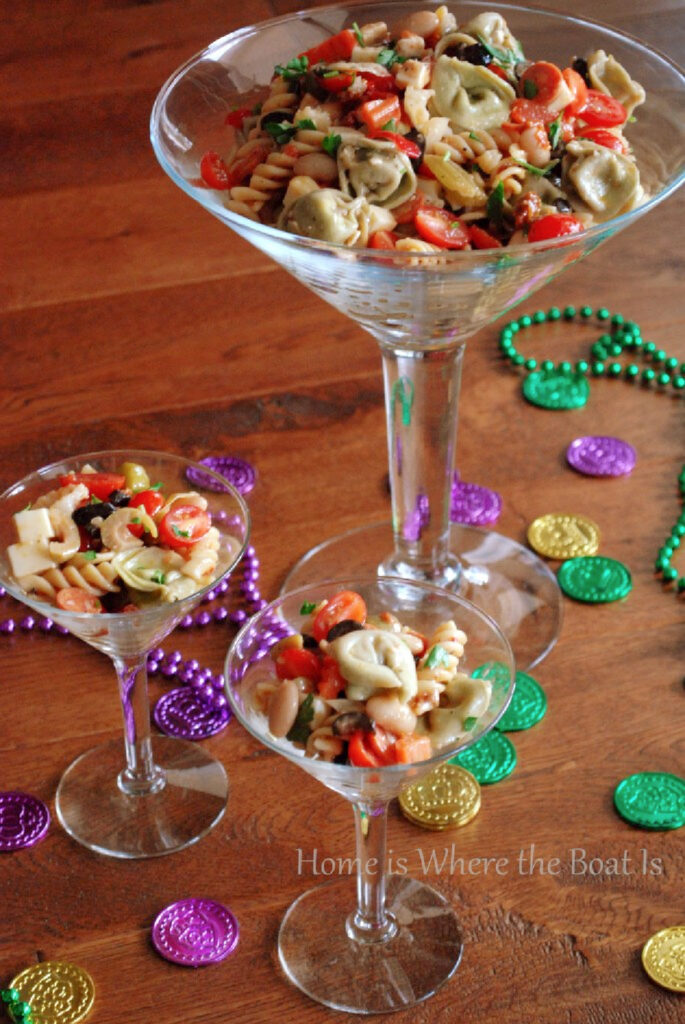 Now let's get over to the sweet stuff.
MARDI GRAS SWEETS
HURRICANE RUM BALLS
Aren't these the prettiest little morsels of Mardi Gras fun? Stef at the Cupcake Project must know her sweets and her rum. These Hurricane Rum Balls sound like the perfect Mardi Grass party food.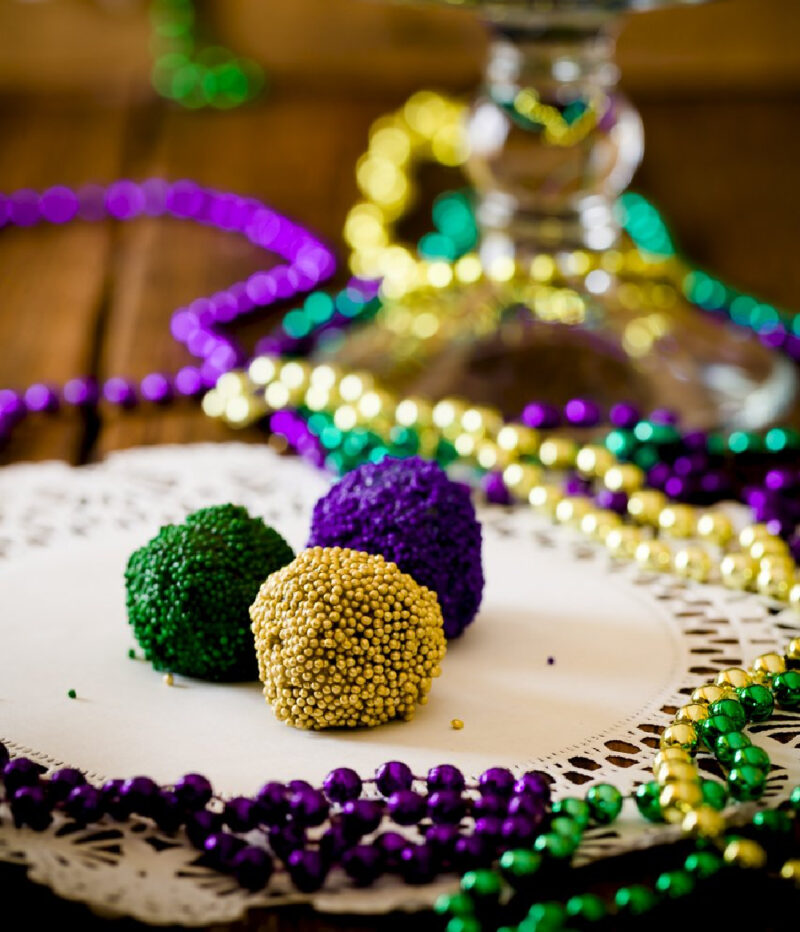 CLASSIC BEIGNETS
Here is the real thing ~ traditional bites of fried doughy goodness sprinkled with powdered sugar. Have plenty on hand because people will pop these like candy. Christin of Spicy Southern Kitchen shows you how.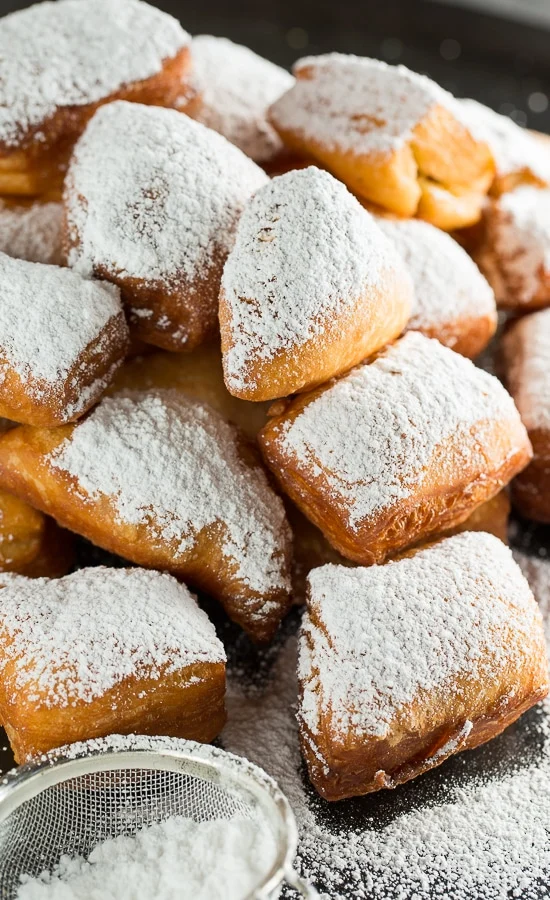 MARDI GRAS PARTY CAKE
If cake is your sweet spot, then this pretty cake should be on your party table. Victoria of Layer Cake Parade shares this delicious looking cake.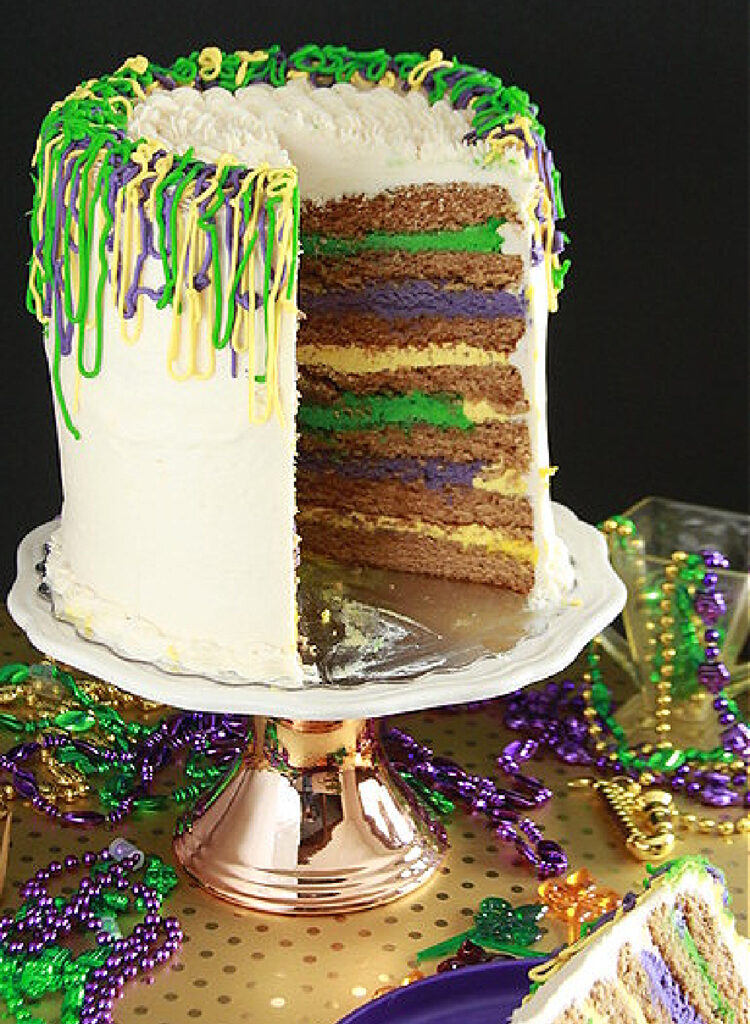 Check out these other Mardi Gras Ideas: 11 Fun Ideas for Celebrating Mardi Gras
MARDI GRASS PARTY DRINKS
You can't have a Mardi Gras party without libations. These party drink ideas are as pretty as they are yummy.
GREEN BLOODY MARY
If you want to start the party early, then try this Spicy Green Bloody Mary from Heather Cristo.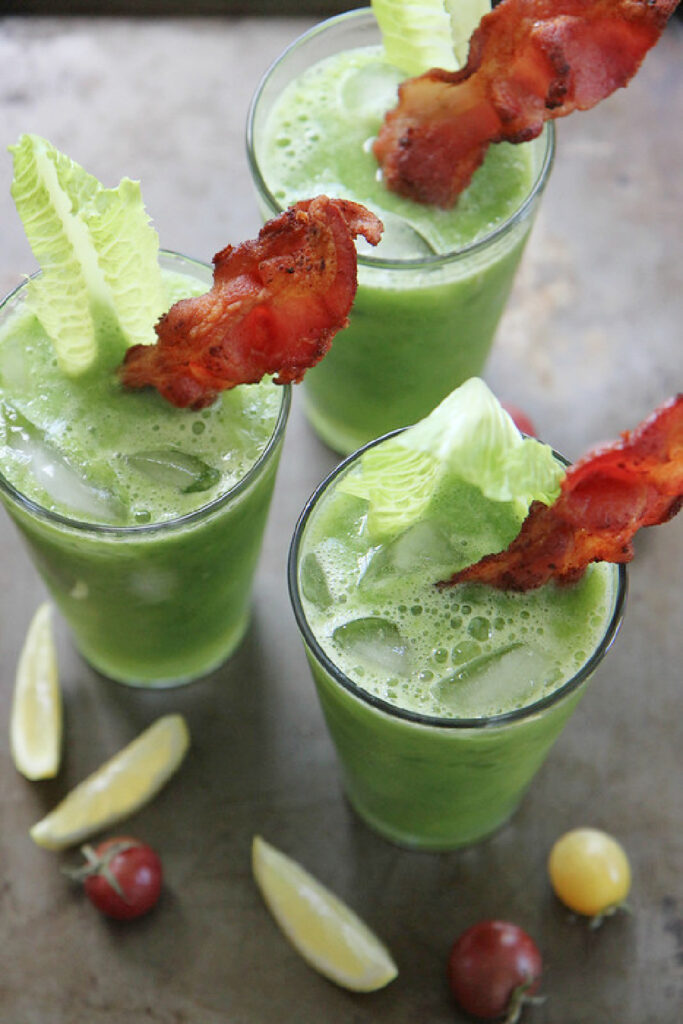 BLUEBERRY MARGARITA
This fruity version of a margarita will definitely attract attention with its pretty Mardi Gras sugar rim, thanks to Memeimage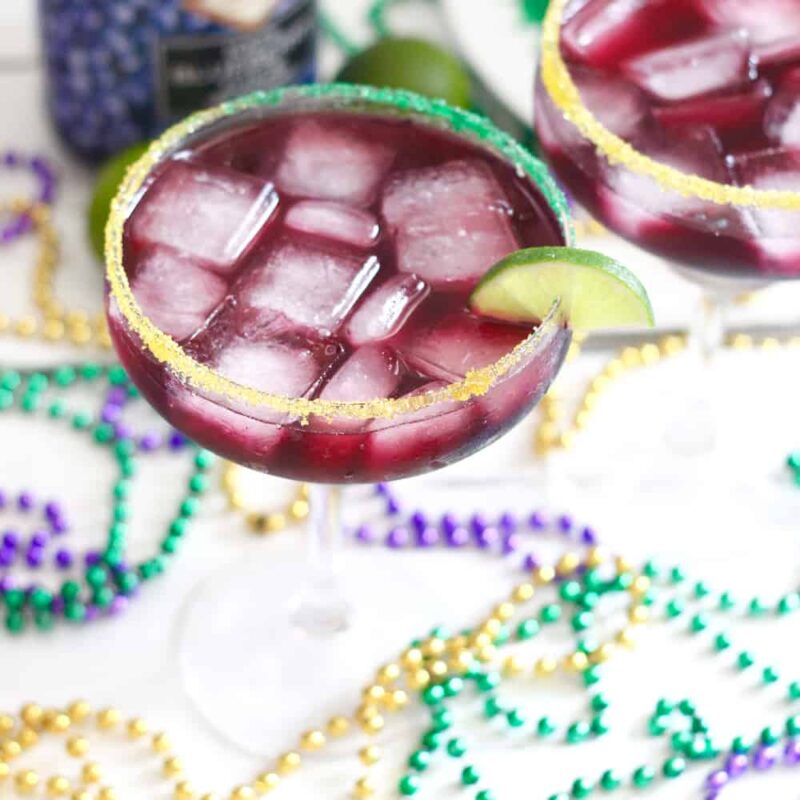 KING CAKE MARTINI
In keeping with another Mardi Gras standby, this King Cakeatini from Erin of The Speckled Palette, is another pretty cocktail with Mardi Gras colors.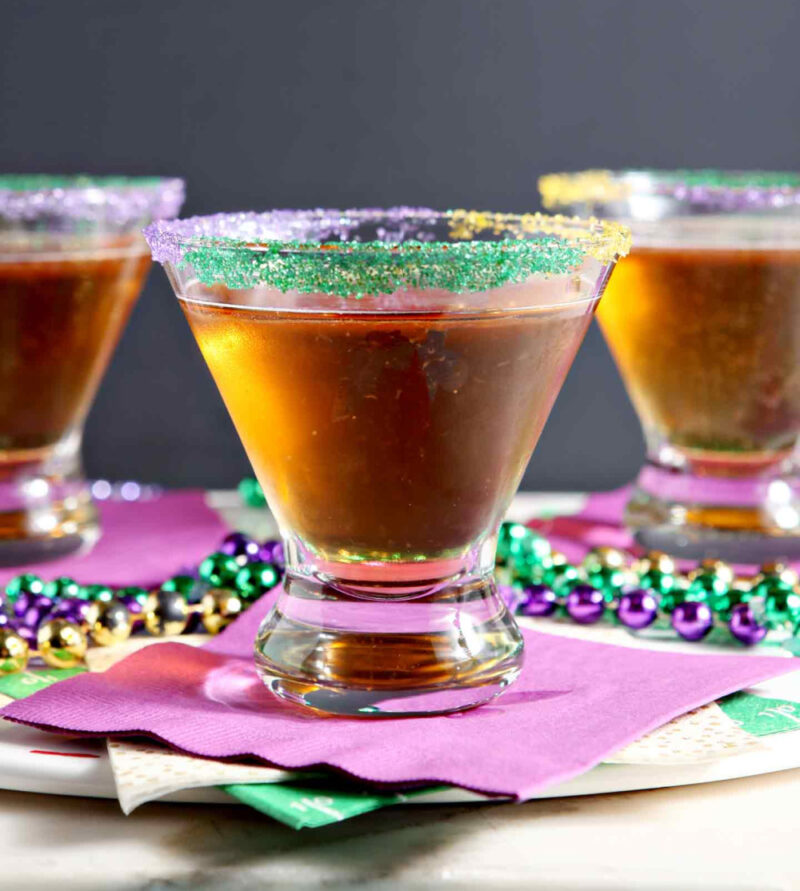 KING CAKE COCKTAIL
Yum ~ yum. Another cocktail that bows to the King Cake. Aspiring Winos uses vanilla vodka as the base for this King Cake Cocktail with a cherry on top.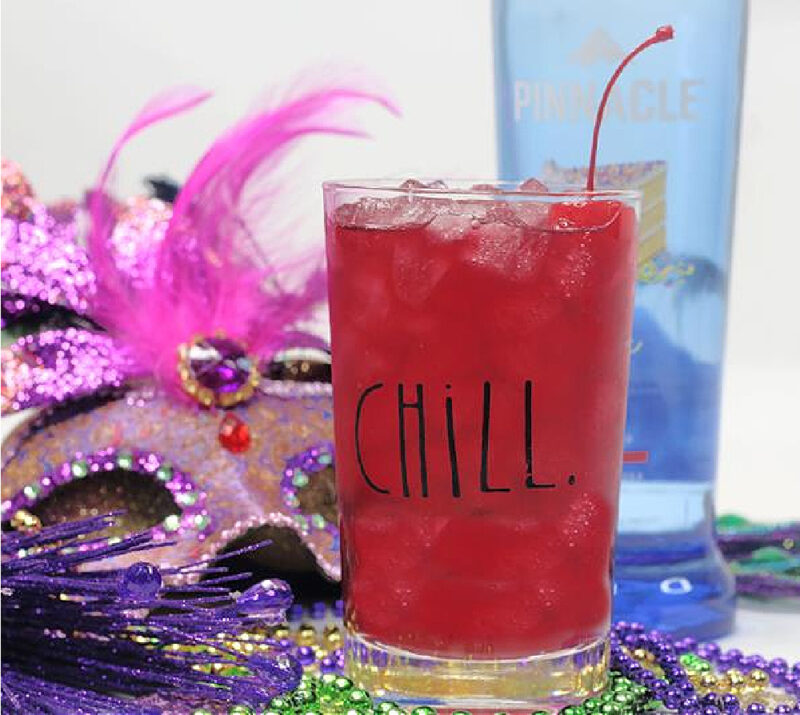 MARDI GRAS HURRICANE
Surely you've heard of the Hurricane? Been to Pat O'Brien's on Bourbon Street? The Hurricane is as popular as ever in New Orleans for tourists. Sharon of Grits and Pinecones shares her version.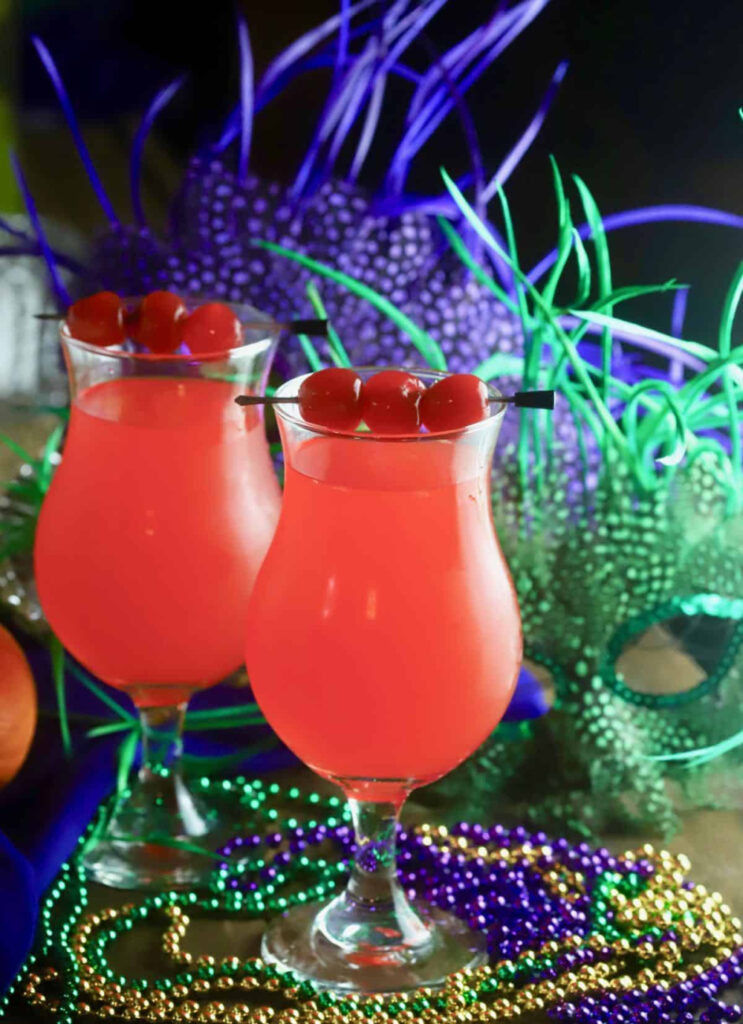 RAMOS GIN FIZZ
This frothy drink is one of my favorite New Orleans cocktails. It's one of the most popular drinks at the Sazarac Bar inside the Roosevelt Hotel. The bartenders do a little performance when they make it. Susan of A Lush Life Manual shares the recipe for the Ramos Gin Fizz.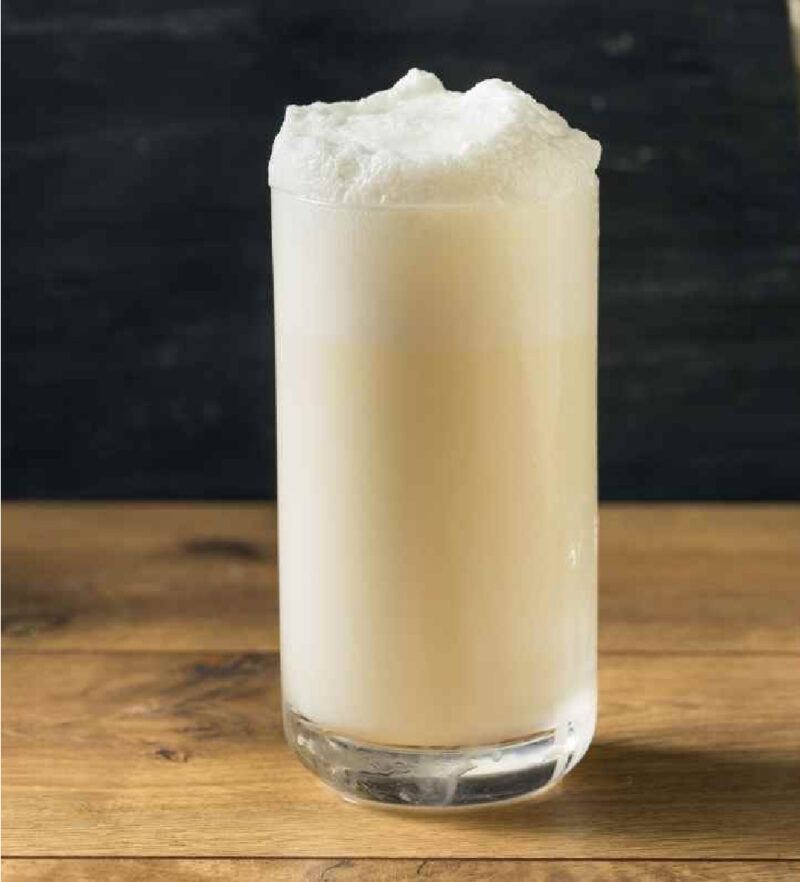 MARDI GRAS LIME SWAMP PUNCH
I love a good punch. Since there are swamps in Louisiana, this green Lime Swamp Punch from Ali of Jam Hands is a funny play on words.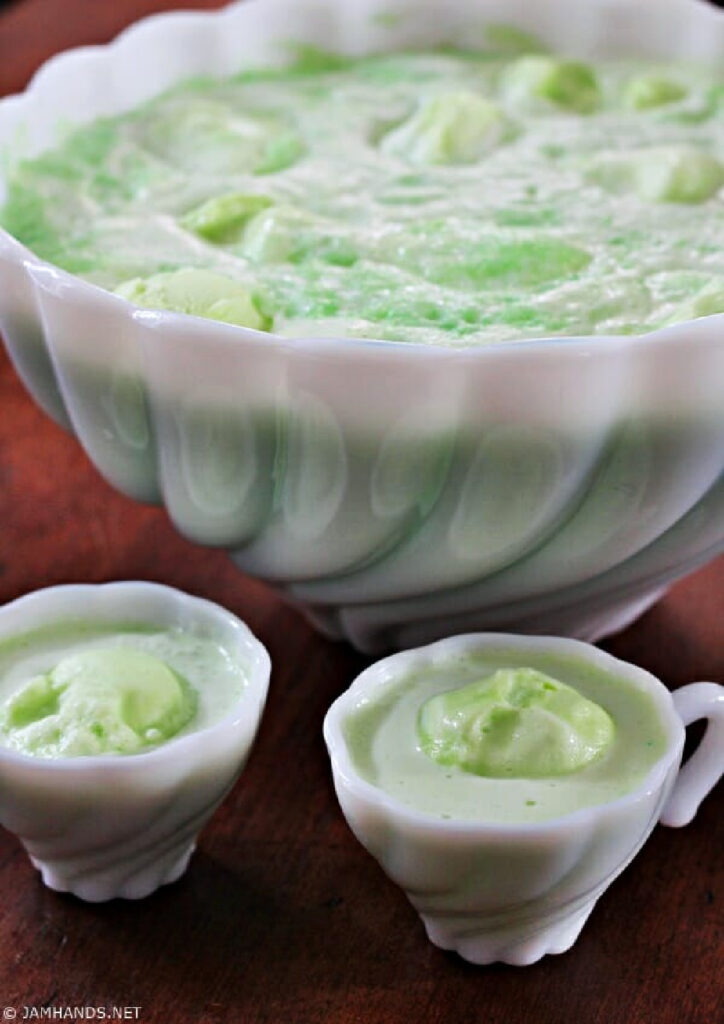 With all these Mardi Gras party ideas, you should be ready for your own party, big or small. Toast to Mardi Gras, to tradition and to celebrating.
Be sure to PIN THIS POST so you have all the decorations, dishes and drinks at your fingertips.
Cheers!