MAMMA MIA! Inspired Mediterranean Lunch Menu
Do you like to host a get-together for your girlfriends? How about lunch with a Mamma Mia! inspired Mediterranean lunch menu and a delicious Piña Colada? Let's host our friends and enjoy friendship.
Sometimes hosting a small lunch or dinner at home is more conducive to visiting and good conversation than going out to a restaurant: no distractions, no noise, no loud music, no waiters asking if you want more water right in the middle of a great story a friend is sharing. Just girl talk and yummy food.
Earlier this week I shared my  MAMMA MIA! tablescape. I had invited three dear friends for lunch. Since MAMMA MIA! is set in Greece, I decided on a Mamma Mia! inspired Mediterranean lunch menu.
I have a super recipe for you that was part of my menu. Yummy.
I'm excited to share with you a little bit of the great lunch I hosted and my MAMMA MIA! inspired Mediterranean lunch menu.
MAMMA MIA! Inspired Mediterranean Lunch Menu
Just to jog your memory, for this tablescape, I created personalized "Dancing Queen" crown place cards, beach umbrellas, shells, and a "sandy" beach centerpiece. These items set the mood and the color scheme.
The tablescape was the backdrop for the food and the drink that I served. I wanted the meal to be simple, not fussy, but with a Mediterranean beach vibe. You have to have a good welcoming drink and a delicious meal to celebrate the occasion.
To welcome everyone, I served one of my favorite warm weather, beachy cocktails, the Piña Colada. Before he left the house, Sweet Shark measured and combined the ingredients in our blender. Then I put the blender jar in the refrigerator until my guests arrived and it was time to serve the drinks.
Mediterranean Lunch Starts with a Piña Colada
A Piña Colada is so simple to make: combine rum, Coco Lopez, and pineapple juice in the blender, add ice and process until smooth and pour into your glass. Here's the Piña Colada Recipe that we use for our summer enjoyment.
For a special garnish that reflected the blue of water and sky in my tablescape, I added a drizzle of Blue Curacao, which is an orange liqueur. Add a blue straw and you are ready to toast and sip.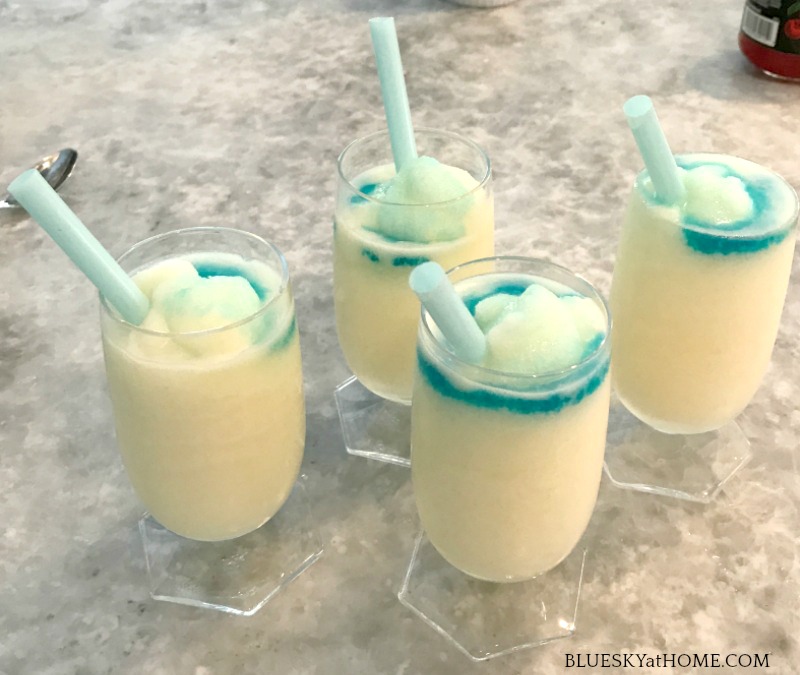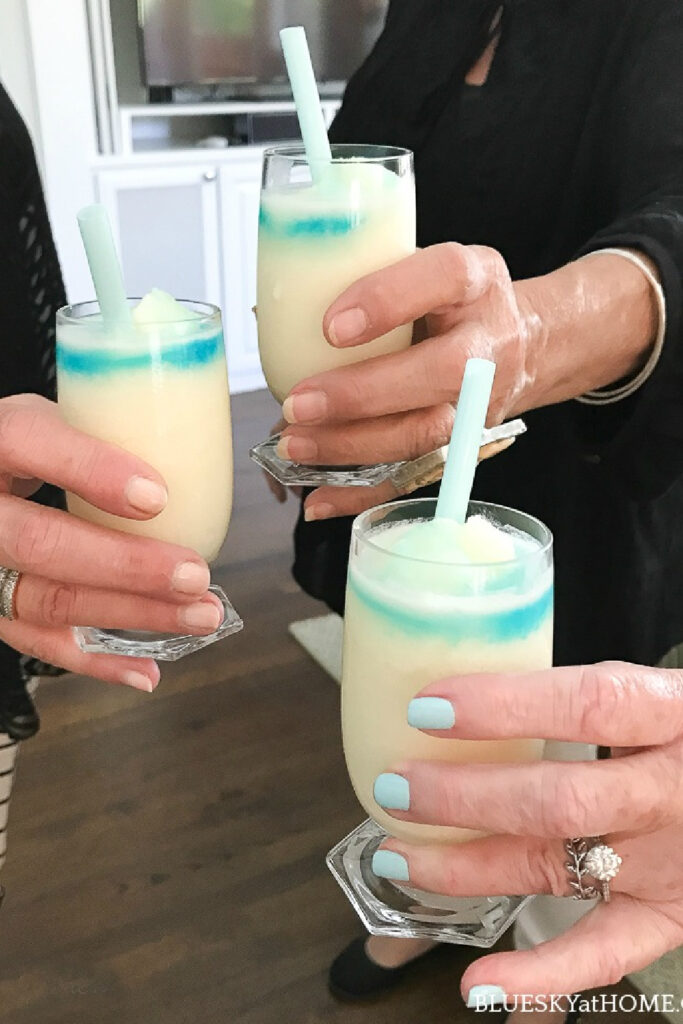 Mediterranean Lunch Menu Appetizer – Hummus
For an appetizer, I made hummus to reflect the feel of the eastern Mediterranean. I love to make hummus. It's easy, quick, inexpensive, and can be made ahead of time. If you have a big crowd, you can easily double this recipe.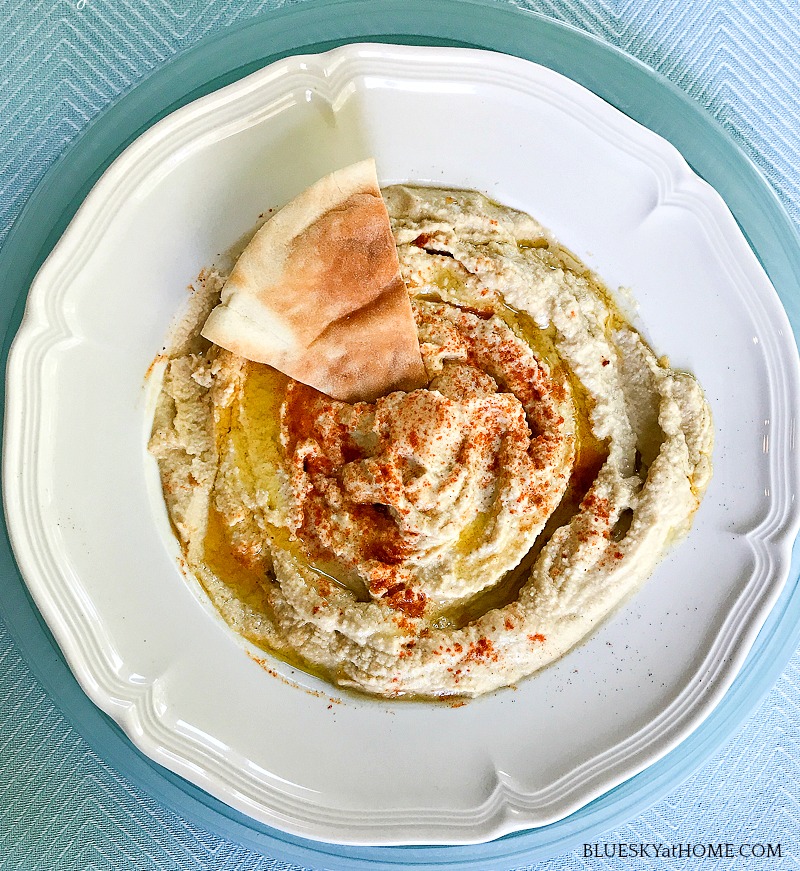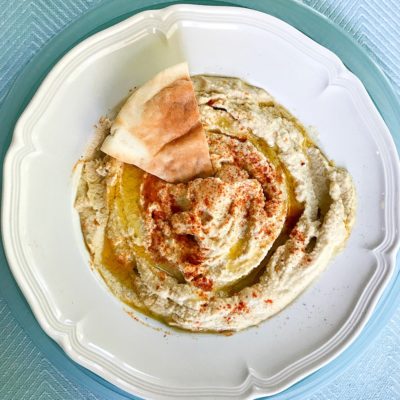 Hummus
Easy and healthy Mediterranean inspired dip
Ingredients  
1

can

garbanzo or chickpeas

drained and rinsed, juice reserved

1

clove

garlic

peeled and roughly chopped

1/4

cup

tahini paste

2

tablespoons

freshly squeezed

lemon juice

2

tablespoons

extra virgin olive oil

kosher salt

to taste

paprika

for garnish

1

package

pita bread pockets
Instructions 
Drain the garbanzo beans and rinse, reserve the juice.

With the food processor running, drop the garlic through the feed tube and finely chop for a few seconds. Turn off the food processor.

Add the garbanzo beans, the tahini paste, and a tablespoon of the reserved juice to the food processor. Run the food processor until the beans are completely smooth. Add more juice by tablespoons and process until the mixture is very smooth and creamy.

Add the lemon juice and a pinch or two of kosher salt and process until blended. Taste and add more lemon juice or salt, as needed.

Place the hummus in a shallow serving bowl and cover with plastic wrap and refrigerate until ready to serve.

Heat the oven to 375˚F. Split the pita pockets into 2 separate rounds. Cut each round into 8 wedges.

Place the pita wedges on a baking sheet lined with foil. Drizzle with extra virgin olive oil, and sprinkle with salt and pepper. Bake until the pita wedges are crisp, tossing occasionally, about 10 minutes.

Remove the hummus from the refrigerator about 15 minutes before serving. Remove plastic wrap. With the back of a spoon, make a well in the center of the hummus. Drizzle hummus with extra virgin olive oil and sprinkle with paprika.

Serve the hummus with the pita chips.
Notes
This traditional Mediterranean dip is a healthy alternative to dairy~based dips. Tahini is made from ground toasted sesame seeds and is an essential ingredient in hummus and other Eastern Mediterranean dishes. You can buy it at the grocery store and store it in the refrigerator.
Hummus can be made a day ahead. Keep covered and refrigerated.
This recipe should yield about 2 cups of hummus. 
NOTE: if you don't like as much garlic, remove 1/2 of the finely chopped garlic after processing it. Taste the hummus and if you want more garlic, add it back in. The taste of hummus varies depending on the amount of tahini paste, garlic, and lemon juice.
Mediterranean Lunch Menu – The Main Course
I wanted a one-course meal – the perfect choice for ladies. I included some Mediterranean ingredients to continue the lunch theme. There really isn't a recipe for this salad. I prepared all the salad ingredients the day before and just assembled the salad right before serving.
mixed greens
sun~dried tomatoes
slivered red onion
sliced baby roasted potatoes
feta cheese
lemon vinaigrette
grilled shrimp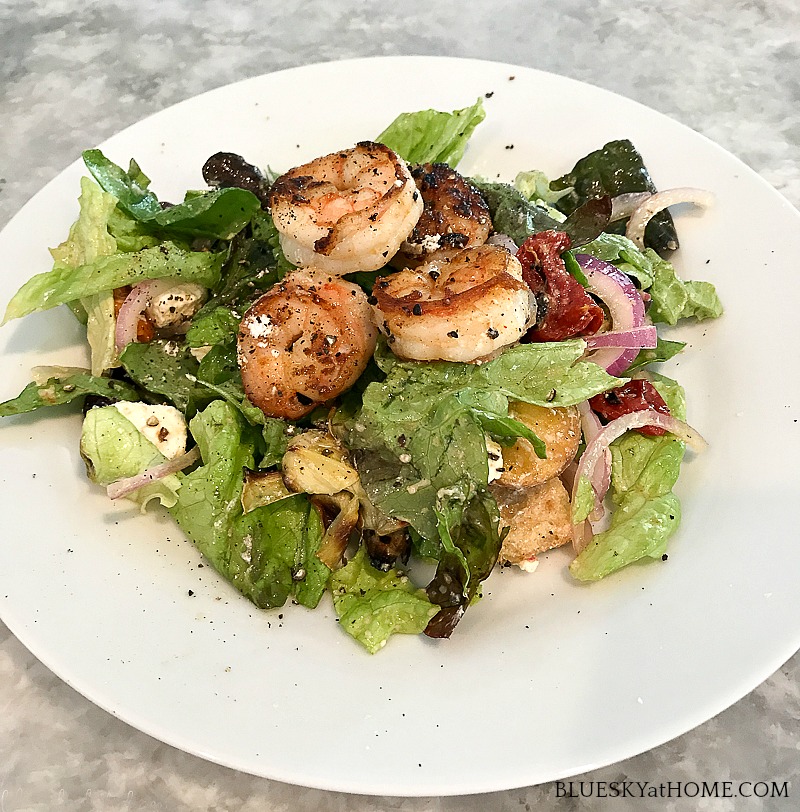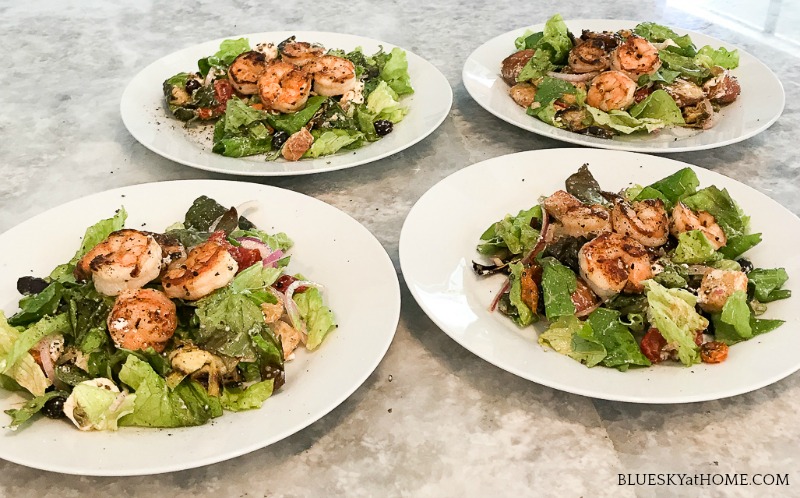 Let's toast to great friends (Dancing Queens) and great food.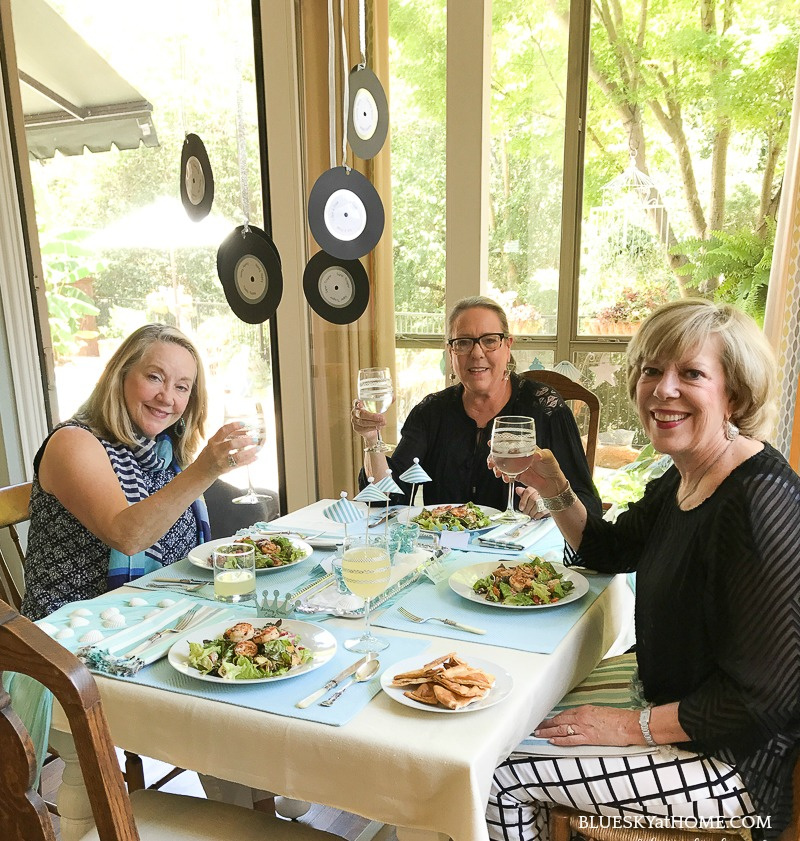 Mediterranean Lunch Menu – Dessert
I wanted a simple and light dessert. That meant a no-prep dessert. I bought a container of lemon sorbet and lemon cookies at the store. Garnished with a sprig of mint leaves from our garden, it was the perfect ending to my MAMMA MIA~inspired Mediterranean lunch menu for my girlfriends.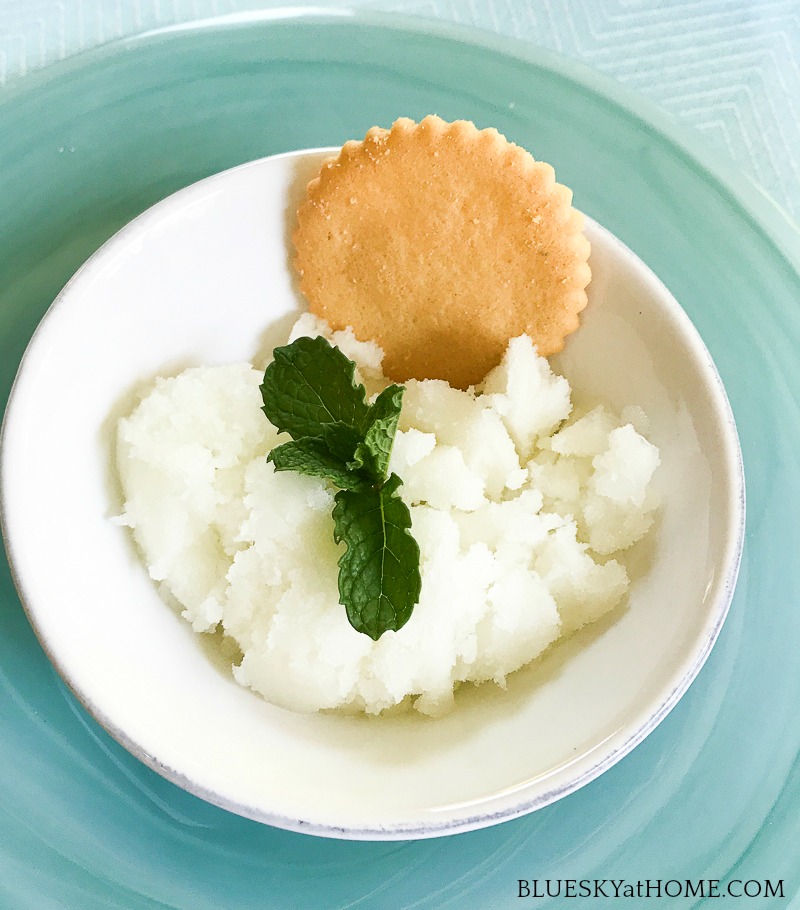 I hope this simple MAMMA MIA! inspired Mediterranean lunch menu gives you an idea or two for the next time that you want to host some girlfriends.
Be sure to PIN it so you don't forget the party ideas.