Add Some Heat to Your Drink with a Clementina Cocktail
Do you like a little heat in a summer cocktail? Not a hot drink, but one with a little spice to it. You can add some heat to your drink with a Clementina Cocktail.
Never heard of a Clementina cocktail? Now you have. It's pretty and perfect for sipping on a hot summer day.
This summer cocktail is another of Sweet Shark's finds. He enjoys finding new cocktails to test ~ sometimes I'm the guinea pig, sometimes other friends. This one was declared a winner and has been made many times over the years.
if you like to add a little heat to your drink, the Clementina is just the thing for you.
Add Some Heat to Your Drink with a Clementina Cocktail
If you've been visiting Bluesky at Home for any length of time, you know that Sweet Shark loves to make drinks. He finds recipes in magazines and in the newspaper. When he finds one he thinks sounds good, he makes it (remember, I'm his court jester).
He keeps a file with copies or originals of "keepers" and writes notes on each one, adjusted ingredient amounts, substitutions or suggestions. He found the Clementina Cocktail in our local newspaper in June, 2013.
The title of the article is "Cocktails with an herbal edge" (the use of herbs in cocktails is really a big thing right now); on it is written the date, 6/23/13 and the note: "co~best new drink of 2013". I don't know what the other "co~best new drink of 2013" is, but I know he makes this one often.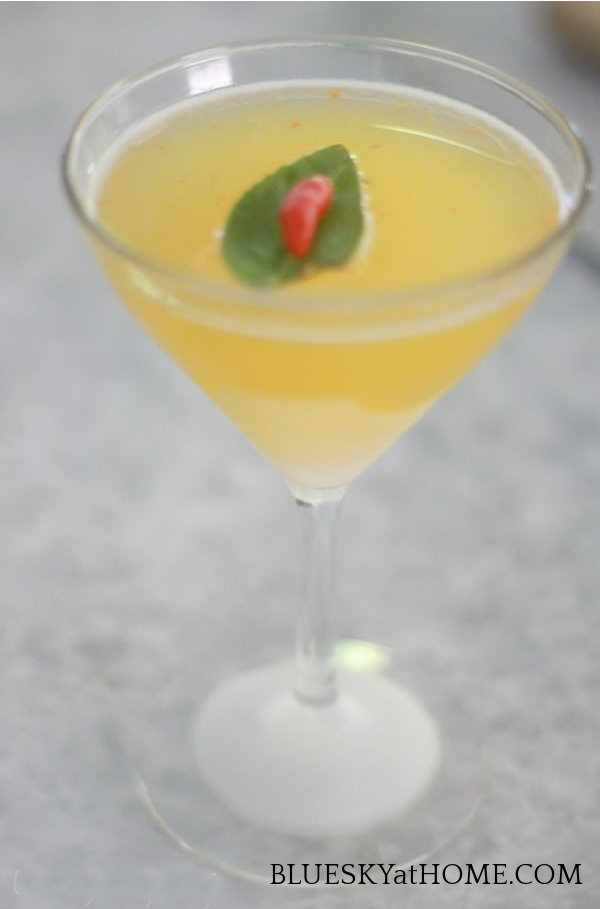 Since we always have basil in the summer, he decided it was time to pull out the recipe again.
TIP #1:  This recipe calls for Tito's Vodka, which is made here in Texas and has gained a national reputation. Any vodka will do (Sweet Shark used Grey Goose), but you might want to step out and get a bottle of Tito's.
TIP #2: So many cocktails call for simple syrup that we keep a batch in a plastic squeeze bottle in the fridge.
MAKING SIMPLE SYRUP
It's easy to make simple syrup:
Equal parts of granulated sugar and water stirred in a small saucepan.
Bring to a boil, reduce and stir until the sugar is dissolved.
Remove from heat and cool completely.
Using a funnel, pour into a plastic squeeze bottle.
Refrigerate. It will keep for months.
The recipe calls for a couple of slices of serrano or jalapeño, one to muddle in the drink and one for garnish. Since we have a large tabasco bush full of peppers, Sweet Shark wanted to use those. They are hotter than the serrano or jalapeño, so he got quite a kick. He didn't slice the tabasco pepper, but put it whole in the making of the drink and as a garnish.
Depending on your heat tolerance, select the pepper that fits your taste preference.
In all transparency, I have no heat tolerance. The Clementine Cocktail is one that I've never tried.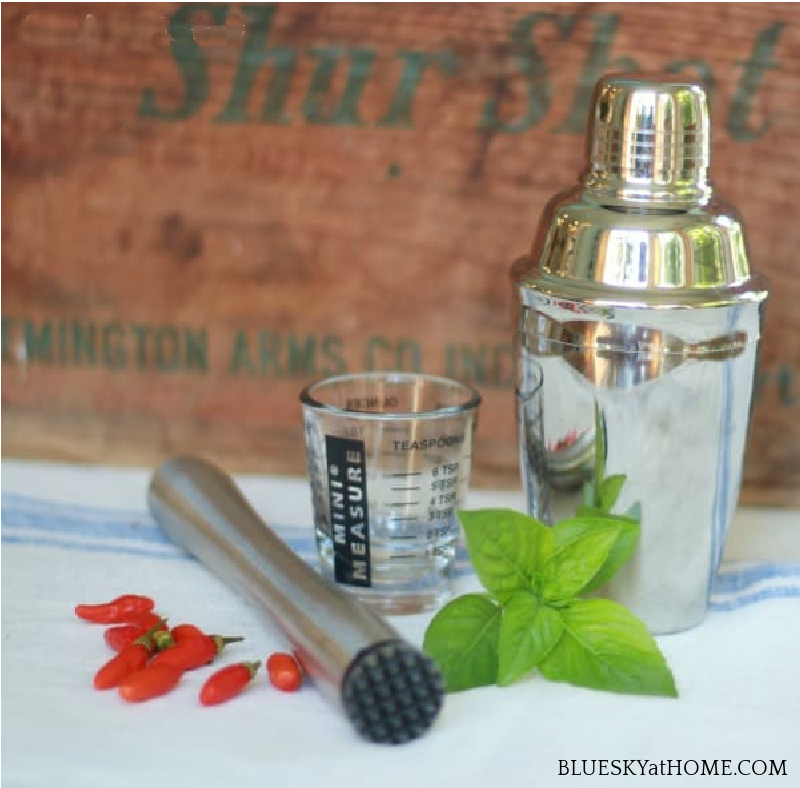 THE CLEMENTINA RECIPE
Print Recipe
The Clementina
Summer Cocktail with some heat from summer peppers.
Equipment
cocktail shaker

small liquid measuring cup

cocktail muddler
Ingredients
3

fresh

basil leaves

2

slices

serrano chile or jalapeño pepper

1 ¼

ounces

Tito's Vodka

1

ounce

fresh orange juice

½

ounce

fresh lemon juice

¼

ounce

simple syrup

ice
Instructions
In a cocktail shaker, muddle 2 basil leaves and 1 of the chile peppers.

Add vodka, orange juice, lemon juice, simple syrup, and ice to the shaker.

Shake until the drink is cold. Strain the mixture into a cocktail glass.

Garnish the cocktail with a chile slice placed on a basil leaf floating on the drink.
Here are a couple more summer cocktails: