Celebrate the Marvelous Margarita
Are you one of the millions that have made the margarita the most popular cocktail in America? We are. Lucky for me, Sweet Shark makes an amazing, marvelous margarita.
If it is Sunday around 5:30 or so, you can find Sweet Shark and me at his bar, enjoying one of America's very favorite cocktails, the marvelous Margarita.
Then, for years, we would head to our favorite Mexican restaurant for dinner. We didn't order a margarita there, but we may just share a beer.

During Covid, we started ordering online, picking dinner up, and bringing it home. With our brutal heat this summer, we are still doing that.
I hate to brag, but Sweet Shark makes one of the best margaritas you will ever have. Ever. He's had lots of practice if you figure maybe 40 Sundays out of the year making 2 margaritas plus other occasions, such as Memorial Day, 4th of July or Labor Day.  
It's hard for me to even order a margarita out because they are either too sweet or too tart.
July 24 was National Tequila Day. July 14 was National Grand Marnier Day. And, although I don't quite understand this, February 22 is National Margarita Day.
It's summertime and it's the perfect time to celebrate the marvelous margarita ~ whatever the date.
This post contains affiliate links to products that we use (every Sunday), love, and recommend. If you purchase any product through this site, I may receive compensation to continue my blogging habit, but you don't pay one cent more.
What is a Margarita?
Unless you've been living on Mars (where a margarita would definitely be appreciated), you probably know that a margarita is a cocktail, consisting of tequila, an orange liqueur, and fresh lime or lemon juice.

Usually, salt rims the glass and it is served on the rocks or frozen. (The frozen margarita was invented at Mariano's Restaurant here in Dallas back in the '70s.)
The margarita is consistently rated as one of the most popular cocktails in America ~ that's why we celebrate the marvelous margarita. With good reason:
It's refreshing.
It has a slight sweetness.
The light and bright flavor of a good~quality orange liqueur.
The tangy taste of a good-quality silver or gold tequila.
The acidity of fresh lime juice to balance out all the flavors to create a super satisfying drink.
I was a grown adult when I first drank a margarita. I mean, this is Texas. It's like the state cocktail.
Why? The salt. As much as I love what salt does for food, I just couldn't get over putting a salt~rimmed glass to my lips.
Then one evening, someone said to me, "you can order it without salt". Really? O.K., I'll try it. I was sold, and I've loved margaritas ever since.
The Marvelous Margarita: A Cocktail to Celebrate
I have to tell you, it wasn't until I met Sweet Shark and he made me a margarita for the first time that I knew what a really good, clean~tasting margarita tastes like.
No, bottled lime juice, no added sugar, no cheap tequila, no funky colors (My first saltless margarita was blue! and I regretted it the next morning!!) I rarely order a margarita out at a restaurant because I'm spoiled.
Sweet Shark and I are saltless, on~the~rocks~people.
So, let's pretend it's Sunday, happy hour time, and let's have one together.
THE GLASS FOR THE MARVELOUS MARGARITA
Here's what a margarita glass typically looks like.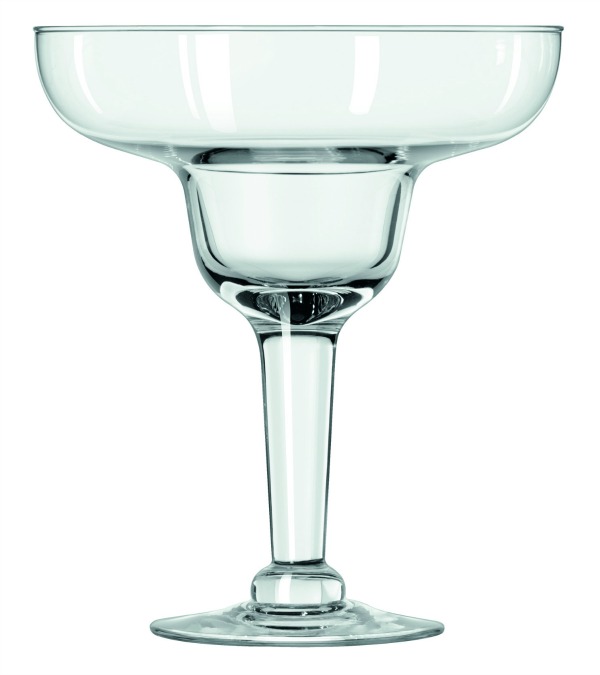 You will probably find this unusual, but although we have some margarita glasses, we usually don't drink our margaritas in them. They are shallow and I don't want to spill one bit of good stuff out of the glass.
On Sunday, while Sweet Shark is gathering his ingredients, he asks me, "which glasses do you want to use?"
Here are a few of our choices:
The glass on the left was a wedding present (started with 6 and now we are down to 3); the glass in the center was part of a set of Fiesta glasses and a pitcher that I bought at an antique mall (We started with only 7 glasses and now have 6.) that I love ~ exactly my colors.
The glass on the right I bought online from Williams~Sonoma (set of 6), which, unfortunately, I can't find online anymore. They have our monogram, which is easy since Sweet Shark and I have the same initials.
THE EQUIPMENT
This is our favorite juicer ~ it's easy to use. The pressing action really gets out a lot of juice. It can go in the dishwasher, but most of the time we just run it under the faucet with hot water.
This juicer also comes in a smaller size for limes and a bigger size for oranges. We use the lemon one for both lemons and limes. Sweet Shark keeps one in his bar and I keep one in the kitchen. His and Hers juicers.
For other essential bar equipment, you can check out this list.
The Margarita Ingredients
Margaritas have 3 basic ingredients
tequila ~ make sure it's a good quality 100% agave tequila
orange liqueur ~ most margaritas are made with Triple Sec or Cointreau. If you really want to get fancy, you can make it with Grand Marnier, an orange~flavored Cognac; order a "top~shelf" margarita in a restaurant and this is what you get ~ it's also more expensive.
Sweet Shark uses a splash of Mr. and Mrs. T Sweet & Sour to balance the sweetness of the orange liqueur.
fresh lime juice or if you like, lemon. Fresh is the key here. No bottled lime juice. And not just fresh juice, but fresh limes. No limes that have been hiding in the crisper for a week. If your margarita tastes off, old limes are probably the culprit. Slice the limes in half with a paring knife. Sweet shark keeps a small cutting board in his bar just for this task.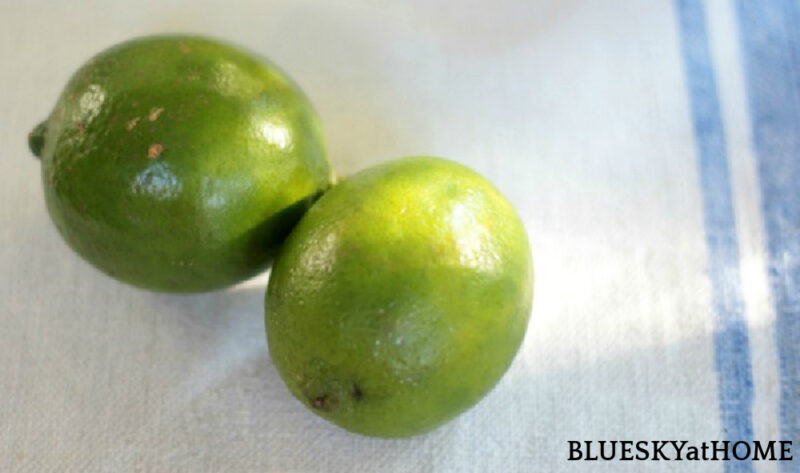 The Margarita Recipe
There are dozens of versions of margaritas and this one is Sweet Shark's special one.  I can guarantee that it's one of the best. I hope you enjoy it.
Print Recipe
The Marvelous Margarita
The best margarita ever. Perfectly balanced between sweet and sour and the flavor of tequila.
Equipment
small measuring cup

paring knife

lime juicer

cocktail shaker
Ingredients
4

ounces

good quality 100% tequila

1½

ounces

Cointreau

1½

ounces

Grand Manier

2

limes

halved and juiced

splash

Mr. and Mrs. T Sweet and Sour
Instructions
Combine all the liquid ingredients in a cocktail shaker and fill with ice.

Shake the cocktail shaker until the shaker becomes cold, about 30 seconds.

Fill glasses with ice and strain margarita into glasses. Garnish with a slice of lime.
Everything You Need to Make a Margarita

BE SURE TO PIN this recipe. You do not want to forget it when you are needing a delicious marvelous margarita out by the pool.