A Beautiful, Simple Salad Made with Tomatoes and Lemons
I want to share with you a beautiful, simple salad made with tomatoes and lemons that will satisfy your family and impress your friends.
All you need are just 7 ingredients and 1 tool.
Although the capers add brininess and the basil adds flavor and color and the croutons add crunch, it's the tomatoes and lemons that shine in this beautiful, simple salad.
Salad of Tomatoes, Lemons, Capers, Croutons, and Basil
What's the tool?
A mandoline is a French tool used for slicing fruits and vegetables and making julienne cuts. Sometimes also called a V-slicer, no other tools can slice zucchini, cucumber, lemons, onions, or potatoes more thinly.
A traditional mandoline is made of stainless steel and can be expensive. The plastic versions are dishwasher safe, lighter, easier to use and much less expensive.
Most versions come with 3 or 4 blades and a height adjuster to perfectly slice or julienne fruits and veggies. It also comes with a slicing guard to protect your fingers – a smart thing to use; I once took off a corner of my pinkie while making French fries. It's a great "extra" tool to have.
I've had my slicer for about 20 years and the blade is still super sharp.
This original salad also comes from Patricia Wells, who I've mentioned before. I've added some additional ingredient options for you.
You may think that you can't eat lemons in this way, but I promise you can. The lemons are sliced so thinly and the oil and vinegar soften the lemons and make them not only edible, but almost sweet. The juice from the lemons adds to the citrus-y flavor and soak into the toasted croutons.
How to Serve
You can arrange the lemons among 4 different plates as a first course or place all the ingredients on a pretty platter as I did and serve as part of a buffet or passed dish.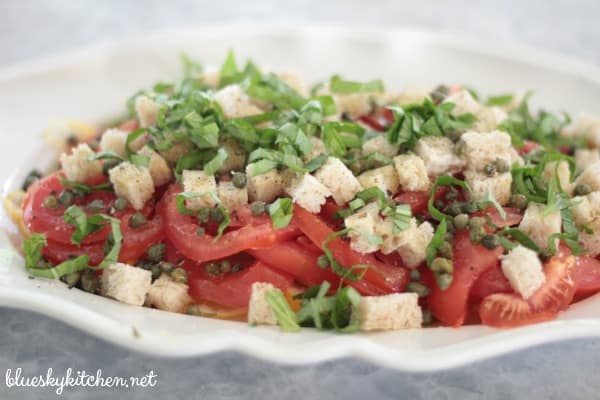 Additional Ingredients
I have added crumbled feta and cubes of goat cheese to this salad which adds a creamy texture. Cubed mozzarella would also be a nice addition. Minced garlic adds a punch of flavor and halved kalamata olives add extra brininess and color.
I used vine-ripened tomatoes here, but in a few months, when summer tomatoes appear at the farmer's market, this salad will be even better. Hopefully, in another month, our basil will have grown enough to use the home-grown rather than store~bought.
Share the Recipe
I hope you'll try it, love it, and share this recipe with your friends ~ feel free to forward it, add it to your Pinterest board, your Instagram account. Tweet it out or share on Facebook.