How to Decorate a Buffet Table for a Casual Fall Party
Buffets can be one of the best ways to host a casual party.  Buffet tables can be fun to style. Let me show you how to decorate a buffet table for a casual fall party.
Do you like a buffet party? When you want to have a casual, easy party, a buffet is the best way to go. You want your buffet table to be attractive and inviting. I have some tips to show you how to decorate a buffet table.
We don't always have our guests sit around a table for a sit~down meal. Sometimes, a buffet~style party is more appropriate for the occasion. Maybe the party is for a large number of people or you really want people to mingle.
Your choice of a menu may be causal and doesn't require utensils. Whatever the reason, you still want your buffet table to be pretty and efficient for serving.
Keeping that in mind, I have some great ideas how to decorate a buffet table for a casual fall party that you will be proud to show off and your guests will love.
How to Decorate a Buffet Table for a Casual Fall Party
You know that I love setting tables for parties and certain tablescapes hold fond memories for me. This fall party tablescape has been one of my favorites and knowing how to decorate a buffet table for a casual fall party will be helpful to you because these tips never go out of use.
Don't let a lack of resources, ideas or time stop you from hosting a party. Since I'm showing you how to decorate a buffet table for a casual fall party, half the work is done. If you don't want to prepare the food, order out or make it a potluck. It's all about gathering friends.
This little get~together was very casual, starting at 5:30 in the afternoon so I used our breakfast room table as a buffet, pushing it up against one of our breakfast room windows that overlook the back garden.
At the time of this party, we were still using our pub table in the breakfast room (Now we have a round table.). It is normally a square but has 2 leaves that make it a rectangle which is what I did.
For my tablecloth, I used one of my pieces of remnant fabric that I keep on hand. I thought this soft blue and cream pattern would provide the perfect backdrop.
TIP: I think the tablecloth should be a subtle foundation for your serving dishes and food. It shouldn't overwhelm the table.
TIP:  Using large pieces of fabric as tablecloths give you more options as far as pattern and texture and can cost less than a tablecloth. I buy at least 2 yards, but if the price is good, 2 1/2 yards will definitely give you plenty of fabric to work with on just about any table.
TIP: If the fabric has wrinkles, be sure to iron it first.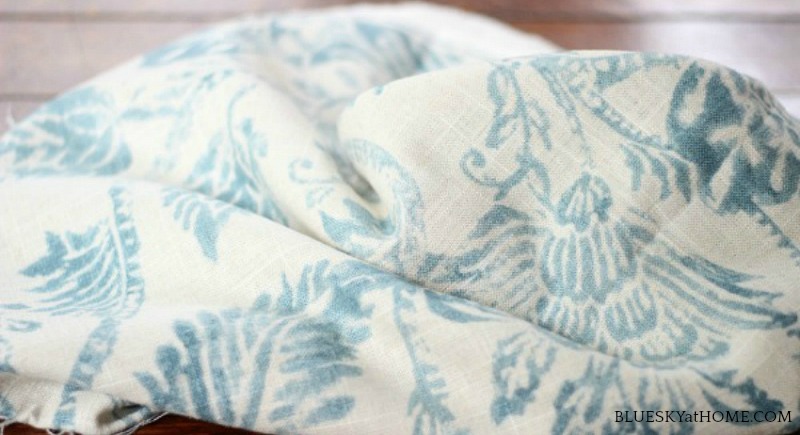 Before spreading out the tablecloth, I set some boxes and a cake stand on the table to add height and interest. As long as they are sturdy, any box or container will work. I've used shoeboxes, packing boxes, and upside~down bowls. Move and adjust until you get the look you like.
TIP: Platters, plates, and decorative items should not all be at the same height. It's much more interesting to vary heights.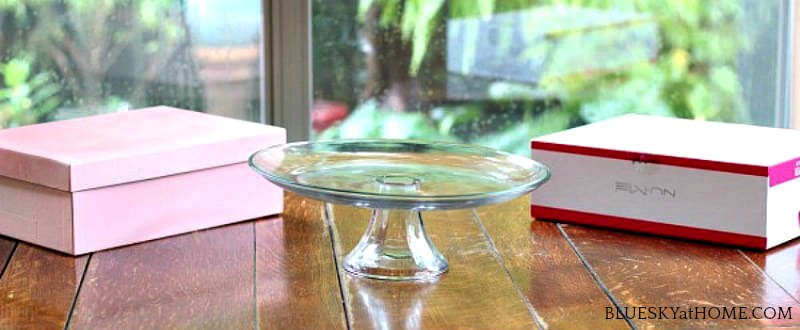 Place your tablecloth over the boxes, tucking in the edges to hide any raw edges and giving some slack between boxes. For safety, I prefer not to let the cloth drape over the table. I also like a bit of my table to show.
TIP: If you need to cover the entire table, use a flat sheet or another tablecloth first, laying it flat on the table and then proceeding with your boxes and overlay fabric or tablecloth.
This is also a good time to bring out the serving platters that you will use.
Since this was a casual event, I used one of my medium~sized cutting boards as an organic base to serve the charcuterie. The gold platter will serve as my fruit tray. I also added the Remington Sure Shot box that I bought at an estate sale. It will hold my flowers.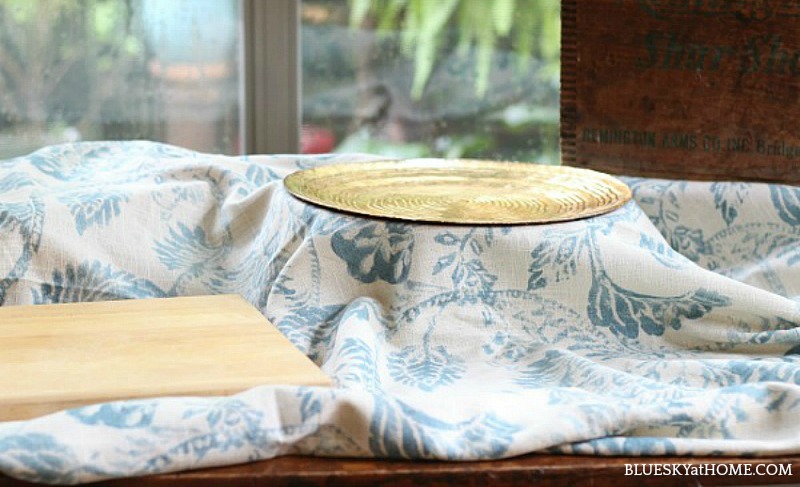 TIP: Try to vary the color and texture of your serving dishes, but remember that solid is always best for serving food. Light is better than dark. Think about the color and texture of the food you will be serving.
White hydrangeas were still available at the grocery store and I couldn't resist. I filled in with a little baby's breath.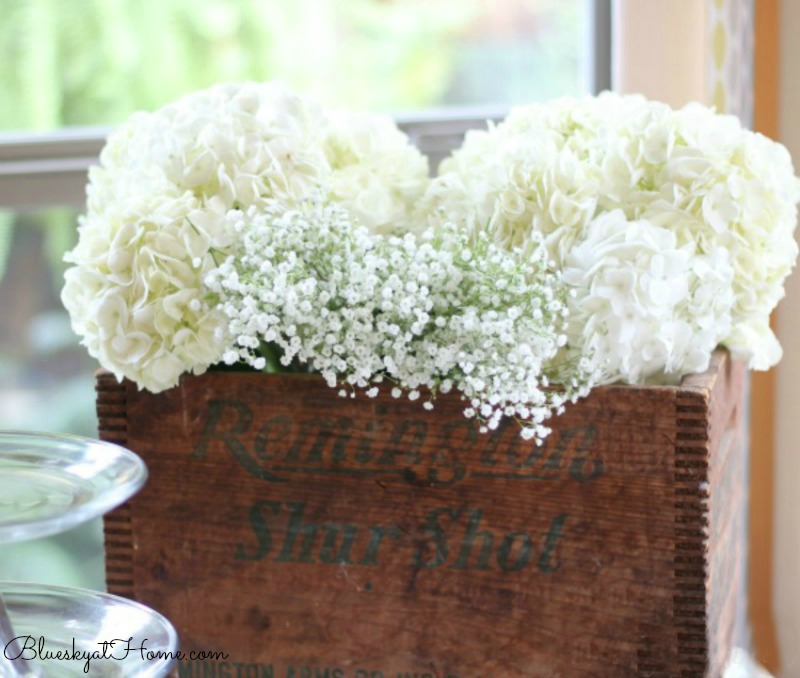 I moved things around and added three layers of cake stands for my cupcakes. As you can see, I also started adding some white pumpkins "randomly" on the table. I love the white pumpkins against the cream of the fabric.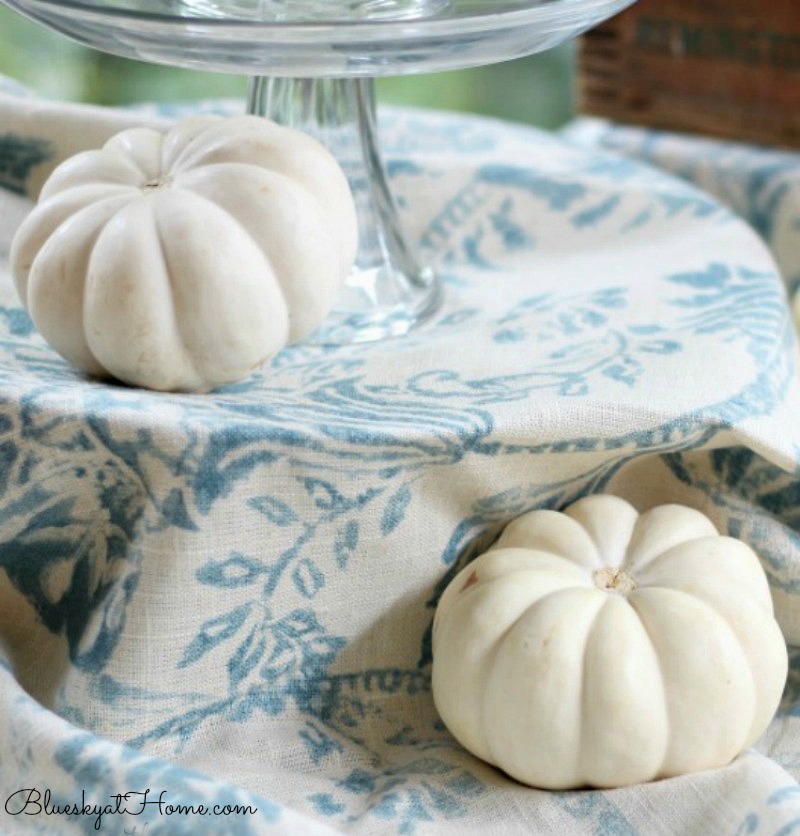 After all your serving dishes are in place, now you can add your plates and napkins. Since this fall party was very casual, I wanted food that didn't require any silverware.
TIP: Always place plates at the beginning of the table and the napkins and silverware at the end of the table. It's very awkward for guests to hold a plate, napkin and silverware while they are serving themselves from a buffet.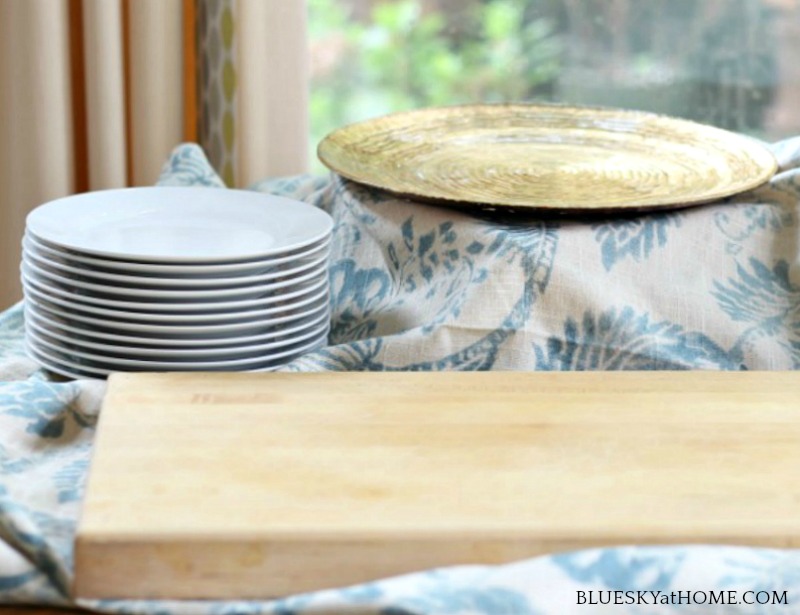 I added this small lantern with an orange candle for ambiance and a little pop of fall color.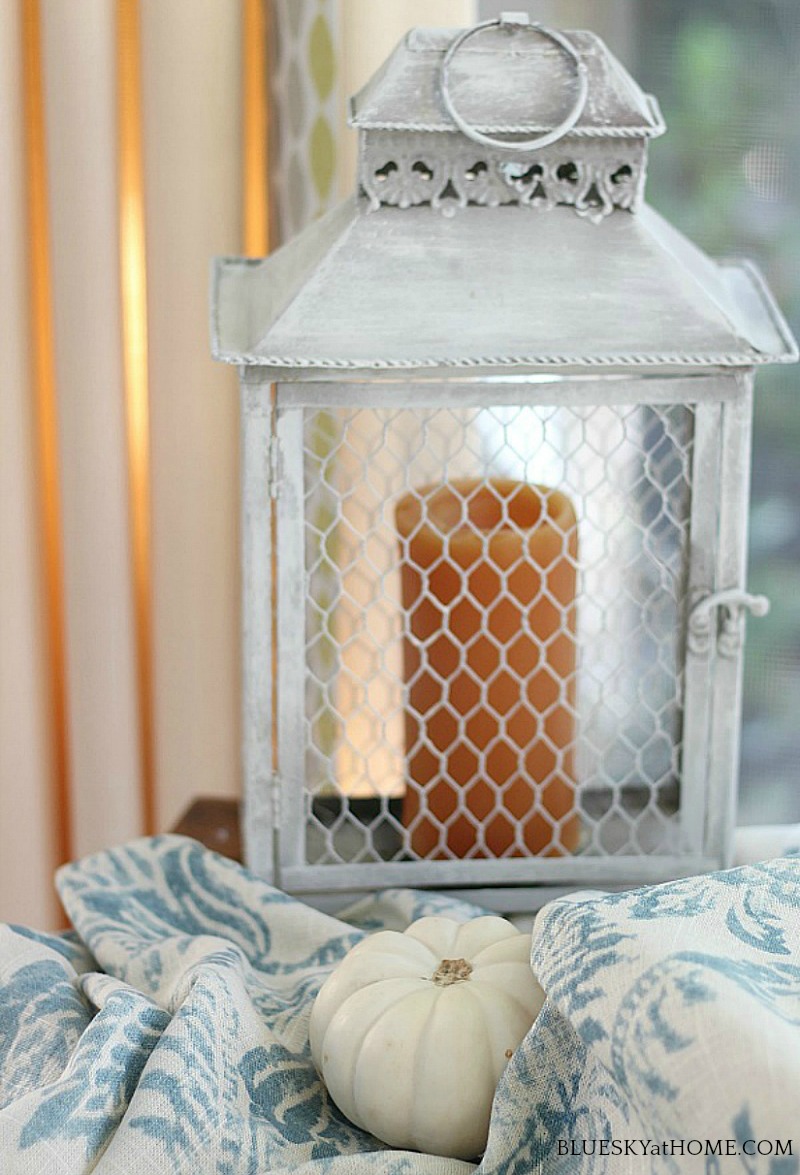 I couldn't resist using this little chalkboard with a fall message.
TIP: Don't hesitate to use decorative items to the table that add to the theme of your event.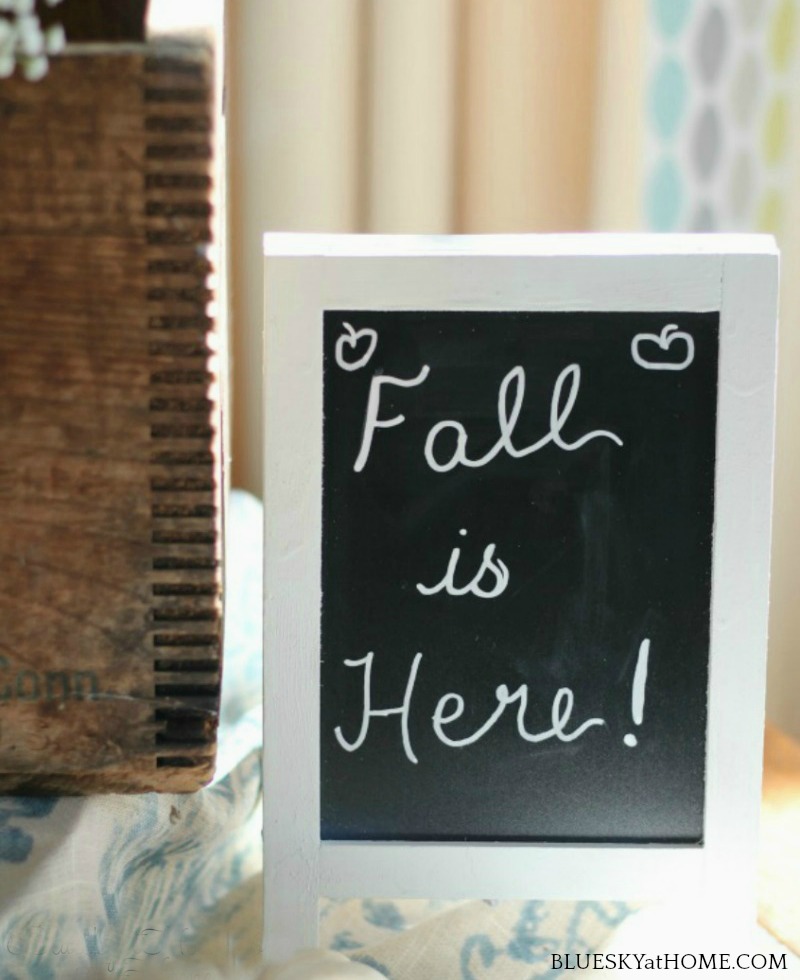 The table was set and ready to go the day before the party.
TIP: I find that setting the table as early as possible helps you "see" the finished table. Now you can concentrate on the food preparation and other details.
PREPARING THE FOOD
Early in the day, I made the cupcakes, diced and sliced the fruit and cheese, and prepared the charcuterie platter. Everything (except the cupcakes) went into the refrigerator. Since everything could be served at room temperature, about 30 minutes before the party started, I started setting out the food.
TIP: Stop whatever you are doing at least 1 1/2 hours before the party and get yourself ready. That way even if everything isn't 100% ready for your guests, you are. You can ask the first guests to help with any last minute ~ here in Texas, as guests always offer and we accept!
PLATTER 1 ~ CHEESE AND FRUIT PLATTER
Fruit and Cheese is always a welcome addition to any buffet ~ red seedless grapes, sliced figs, sliced apples (This is a variety called Sweet Tango and they are absolutely the sweetest apples you've ever had.) served with slices of smoked Gouda ~ one of my favorites.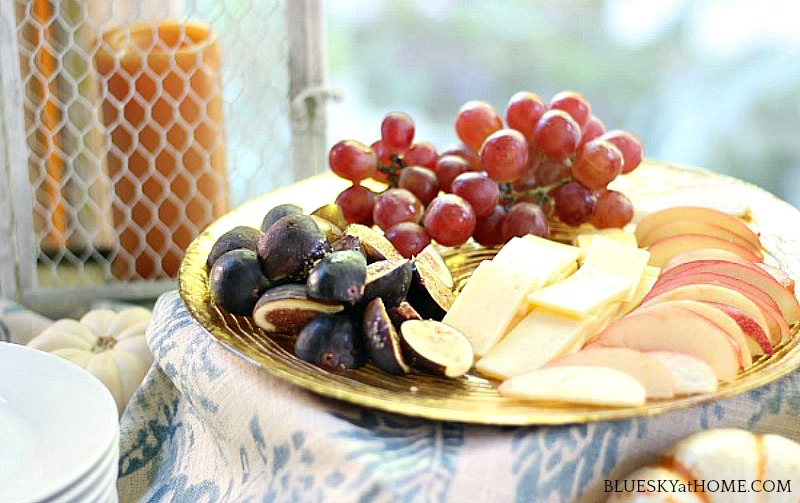 PLATTER 2 ~ CHARCUTERIE PLATTER
I love charcuterie. Combinations of meats and cheeses not only are delicious but also add a variety of color, shape, and texture to your table.
I love to use a large Boos cutting board for my offerings:
thinly sliced Genoa salami
cubed sharp cheddar,
thinly sliced Havarti cheese
rolled and stacked prosciutto
a wedge of Brie
a small bowl of fig preserves.
(You can see that I added a few striped pumpkins to the table ~ that was Sweet Shark's idea.)
TIP: Vary how you serve cheeses: slices, cubes, a wedge. Cheese should be served at room temperature to bring out the flavors. I love stacking the rolls of prosciutto: again, more interest to contrast with the slices of salami.
PLATTER 2 ~ PUMPKIN RISOTTO BALLS
In the fall, this little bite of goodness has been one of my go~to appetizers for years. This was the only food item that actually required preparation and cooking. But the best thing? You can make them ahead!
They can be made ahead, frozen, and then pan~fried a few hours before serving since they can be served at room temperature. I can always count on them to wow guests.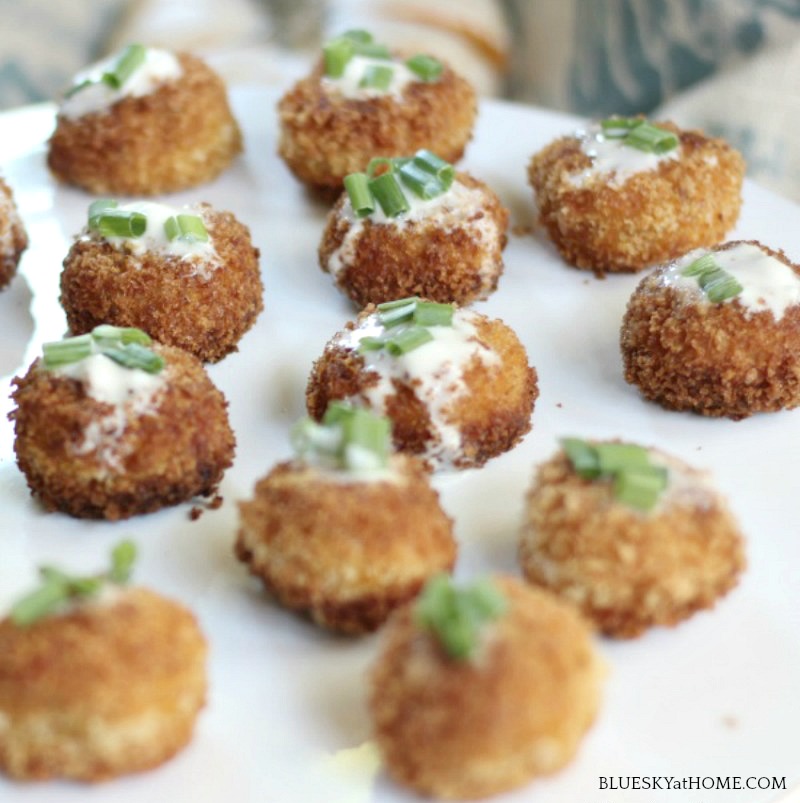 P

LATTER 4 ~ CHOCOLATE PUMPKIN CUPCAKES WITH NUTELLA BUTTERCREAM

FROSTING

I found this cupcake recipe at Lolly Jane when she shared it at a link party. I was dying to try them. They were easy to make (The base is a boxed Devil's Food Cake.), delicious, and very pretty. You can get the recipe when I made them and decorated them with cupcake toppers.

So now my fall buffet table was set and ready to go. Thanks to my friend Claudia Coker who took the photography for this party. She took this final shot of the table right before our guests arrived.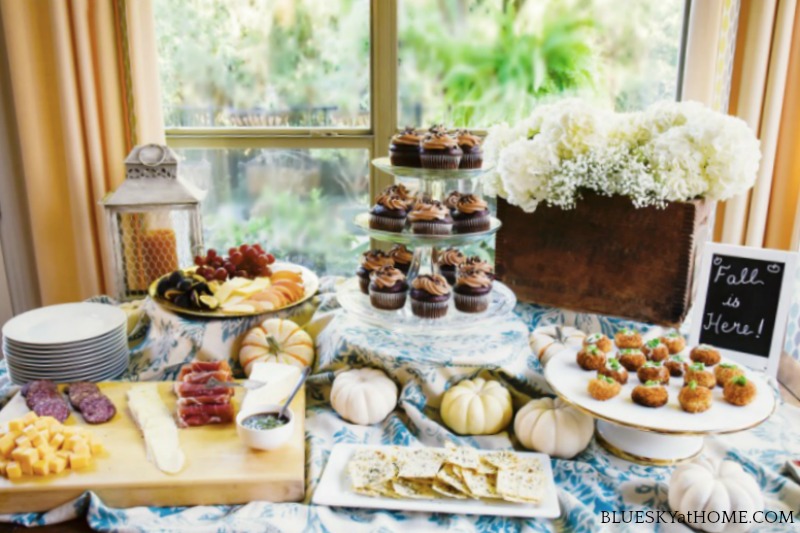 Well, that was how the table looked for our party. The food may be long gone now, but the buffet table for the casual fall party decorations stayed for a while. I hope that showing you how to decorate a buffet table for a casual fall party will encourage you to have more parties!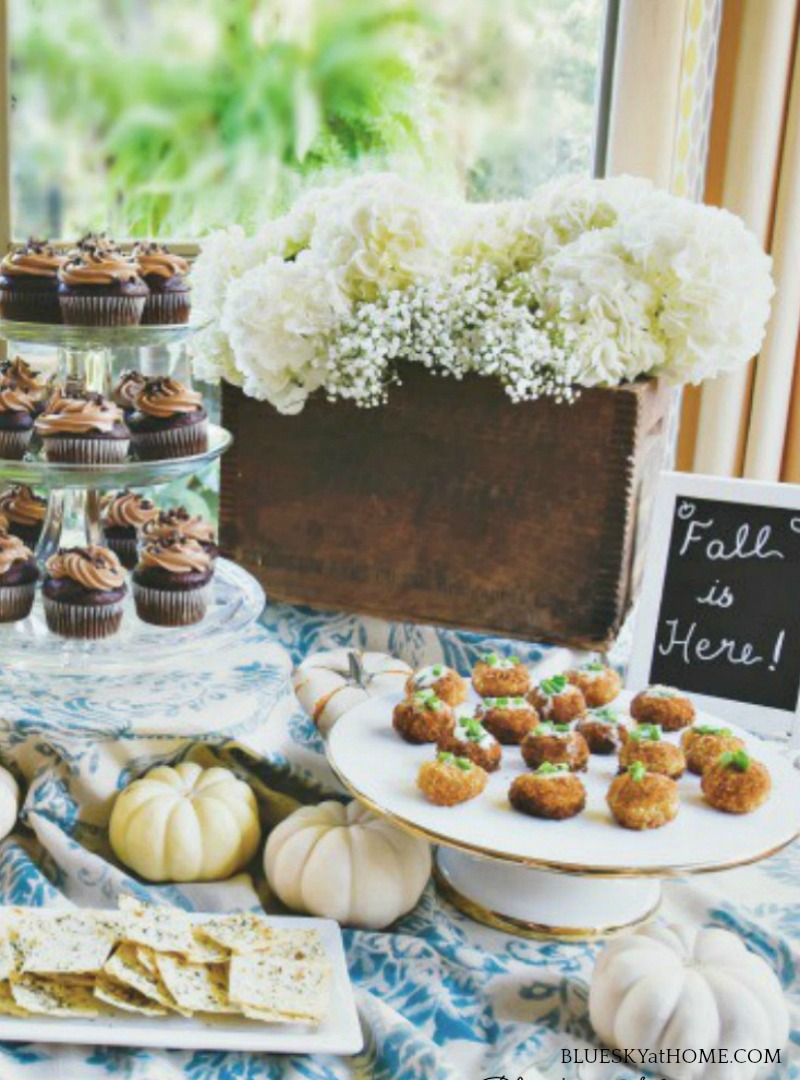 Here are some more fall tablescape ideas:
Casual Navy and Copper Fall Tablescape
How to Style a Fall Patio Tablescape
Autumn Tablescape for a Dinner Party
New Fall Tablescape with Color and Texture