Delicious Pumpkin Risotto Appetizer Bites
There is no ingredient that shouts fall more than the flavor of pumpkin. For a fabulous seasonal appetizer that is always a hit, I'm sharing delicious Pumpkin Risotto Appetizer Bites.
Do you like the flavor of pumpkin in the fall? Would you like an awesome appetizer that you can make ahead and tastes delicious? I have the perfect appetizer for you.
It's almost pumpkin season. This fabulous pumpkin risotto appetizer is one that Sweet Shark always requests for a dinner party.
They are just so delicious and so pretty. You need to have them at your next party.  And, even better, they can be made ahead and frozen. I love that kind of recipe that makes entertaining easier.
I've been making this crispy little pumpkin risotto appetizer for years and it's always on my fall party menu. And yes, you really can taste the pumpkin flavor.
This post includes affiliate links to products used in this post or products that I love and highly recommend. If you should order any item from this site, I may receive compensation, but you don't pay a penny more.
Pumpkin Risotto Appetizer Ingredients
Arborio rice, the preferred rice for risotto, is an Italian short-grain rice.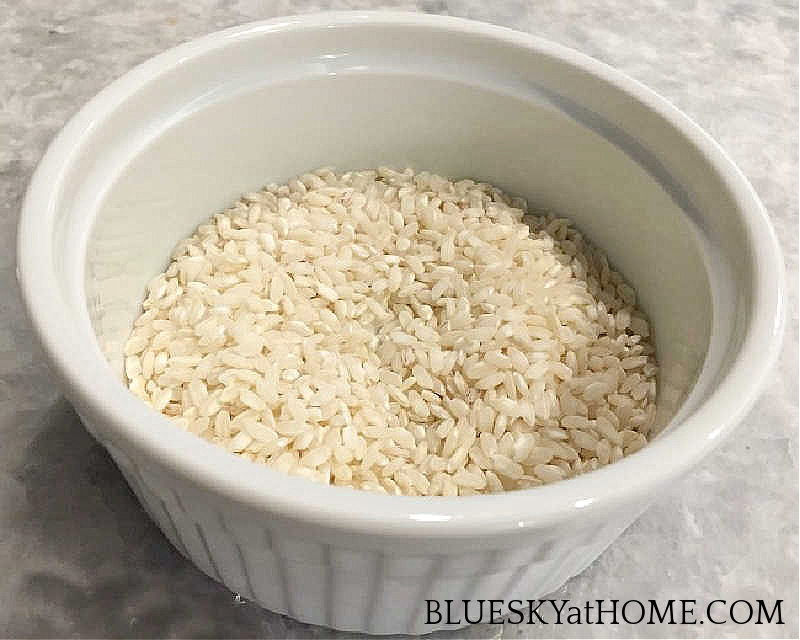 Chicken broth for making the risotto
White wine for the risotto
Pumpkin purée
Panko bread crumbs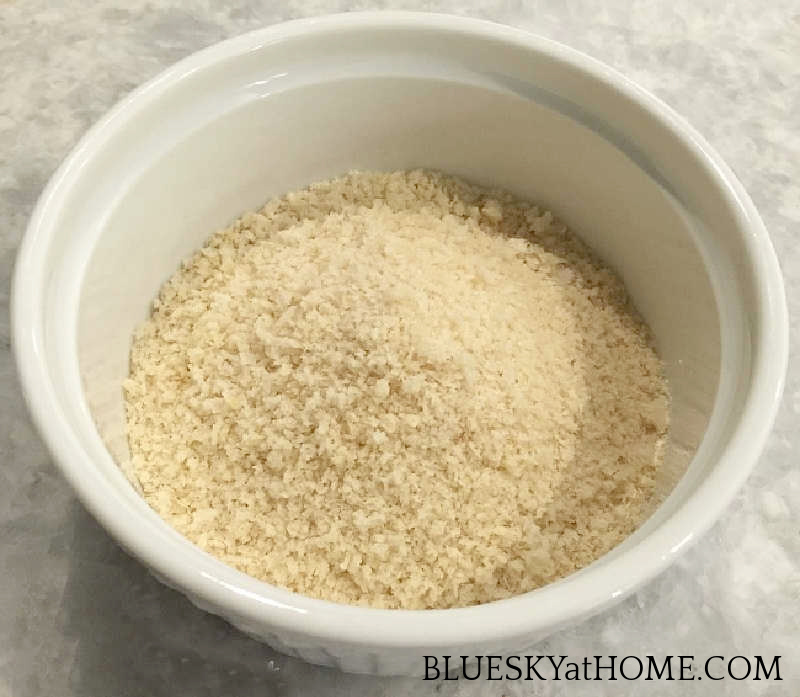 Crème fraîche is similar to sour cream.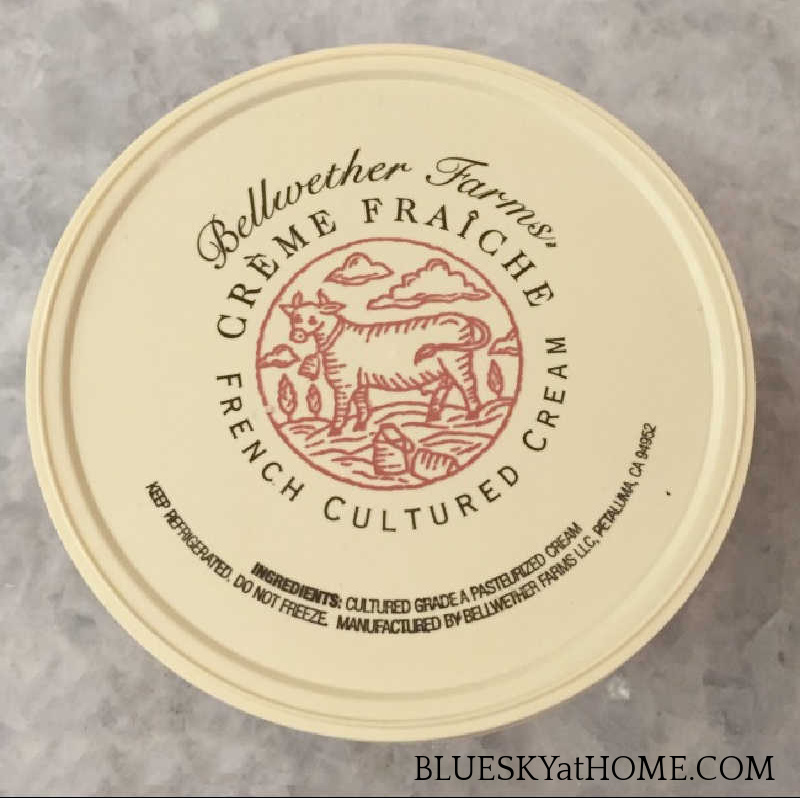 You can find all the ingredients at your grocery store. Why are these particular ingredients important to making Pumpkin Risotto Bites?
The high starch content of Arborio rice contributes to the creaminess of the risotto. You'll notice a little white dot at the center of each grain of rice which becomes more prominent as the rice cooks.
Panko is a Japanese-style breadcrumb traditionally used as a coating for deep-fried foods. The biggest difference between panko and standard breadcrumbs is that panko is made from bread without crusts. Panko is crustless bread that is coarsely ground into large, airy flakes to give fried foods a light, crunchy coating. The flakes tend to stay crispier longer than standard breadcrumbs because they don't absorb as much grease.  It really does make a difference.
Crème fraîche (think French sour cream) but has a fat content of about 30% and does not contain any added thickeners. It is thicker, has a richer flavor, and is less tangy than sour cream. I love the texture and the flavor.
NOTE: Don't forget to measure out all your ingredients before your begin cooking ~ that's called mise en place
Making Risotto ~ The Technique
A few important things to remember when making risotto:
 Use a large Dutch oven to cook your risotto. My favorite Dutch ovens, without a doubt, are from Le Creuset. They hold heat, can go from stove top to oven, are easy to clean, and will last forever. Oh, and they come in pretty colors. This size is a great all~purpose one. I have it in red, but I love it in blue.
Place your broth in a small saucepan. It should be almost hot when you add it to the rice.
Add the broth in 1/2-cup increments to allow the rice to absorb the broth. I use a 1/2-cup ladle.
Stir the risotto in a figure "8" with a wooden spoon.
Keep adding broth and stirring until the rice starts to get soft, but not mushy, and creamy.  It should never be dry.
Taste the risotto for texture.  It should be al dente, to the tooth.
Making the Pumpkin Risotto
Add the pumpkin puree to the finished risotto. Stir until it is thoroughly combined.
Spread the risotto/pumpkin mixture in a shallow Pyrex or half-sheet pan. You'll notice how orange it turns.
Let cool the mixture cool. Lightly cover it with plastic wrap. Then place it in the refrigerator for at least 2 hours and up to overnight.

MAKE~AHEAD MOMENT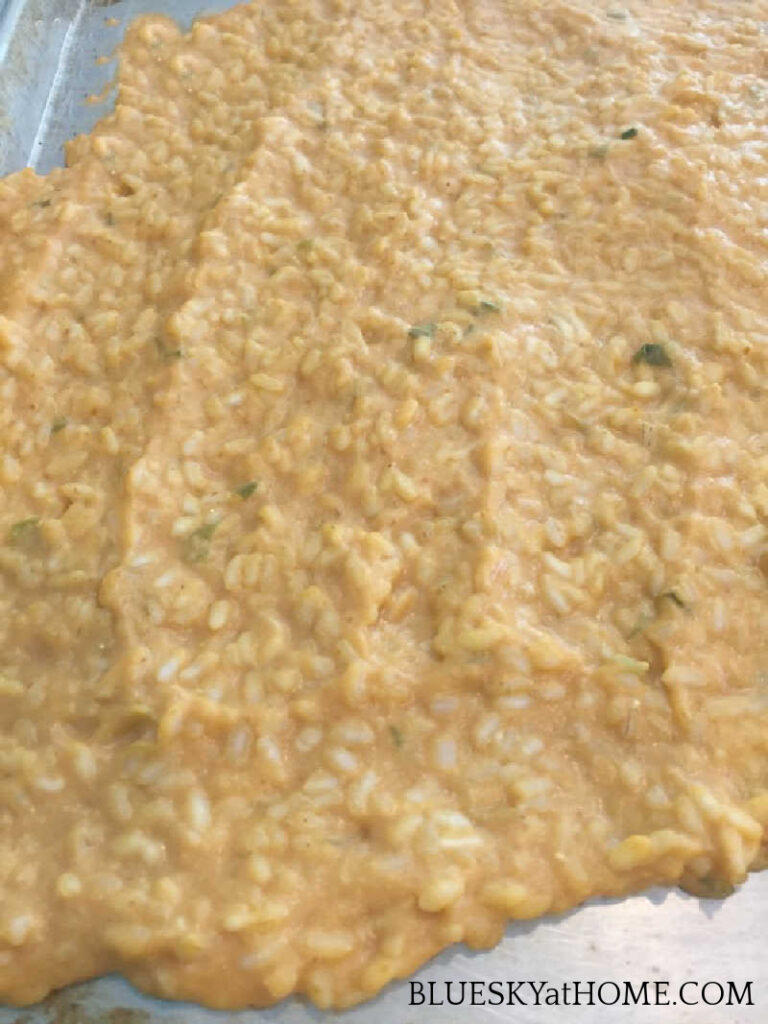 Speaking of rimmed half sheet pans. You cannot have enough of these kitchen workhorses. I think I have a dozen. I use one every day for roasting vegetables, heating up leftovers, and of course, baking. I use a half-sheet pan for this pumpkin risotto recipe because it is easy to spread it and it doesn't take up space in the fridge.
Preparing the Pumpkin Risotto Appetizers
Using a small spoon or small ice cream scoop, roll enough risotto/pumpkin mixture to make a small ball, about 1~inch in diameter. It's like making small meatballs. Place on a half~sheet lined with parchment paper.
Repeat until you have used up all the risotto/pumpkin mixture. Place on a rimmed half sheet pan and place in the fridge. MAKE~AHEAD MOMENT ~ you can quick~freeze the risotto balls on a parchment-lined half~sheet.
TIP: Use food-safe gloves. They really help to keep your hands clean. IF you have to stop during the process, you can just take them off without having to wash you hands.
Breading the Pumpkin Risotto Bites
Use 2 pie plates  ~ 1 for the egg wash and 1 for the panko bread crumbs. Keep one hand dry to transfer the bites from one plate to the other.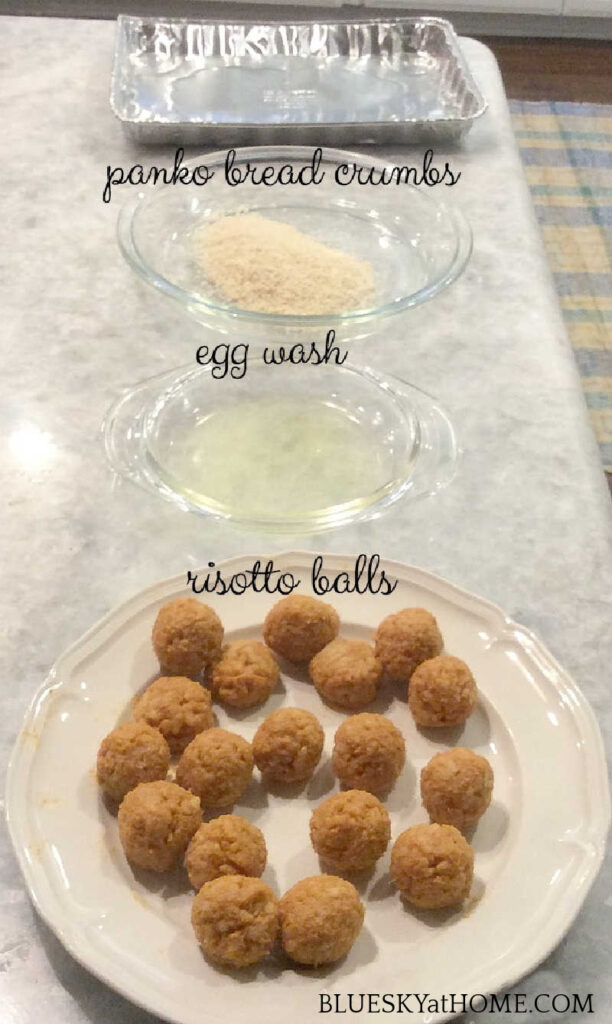 2. Place a risotto ball into the egg wash to coat. Let any excess egg wash fall back into the pie plate.
3.  Roll the risotto balls in the panko bread crumbs, shaking off any excess.
4. Using a wet finger, gently press down on the ball to make them more like a disc.
5. Place the risotto balls back on the sheet pan and place them in the fridge until you are ready to fry. MAKE~AHEAD MOMENT
NOTE: You can quick-freeze them on a half-sheet pan after they are breaded. Once frozen, place in zip~lock baggies. You can take them out and let them thaw in the fridge while the oil is heating in the skillet.
Cooking the Pumpkin Risotto Appetizers
In a large shallow skillet (I use either my cast iron skillet or my All-Clad deep skillet.), add the oil and heat over medium.
Line a sheet pan or plate with paper towels.
Once the oil is hot, carefully place risotto balls in the skillet, being careful not to crowd the skillet. Fry on one side until brown, about 2 minutes. Using a slotted spoon flip over and fry on the second side. When done, place the risotto balls on the paper towels
Repeat until all the balls are cooked. They should be golden brown.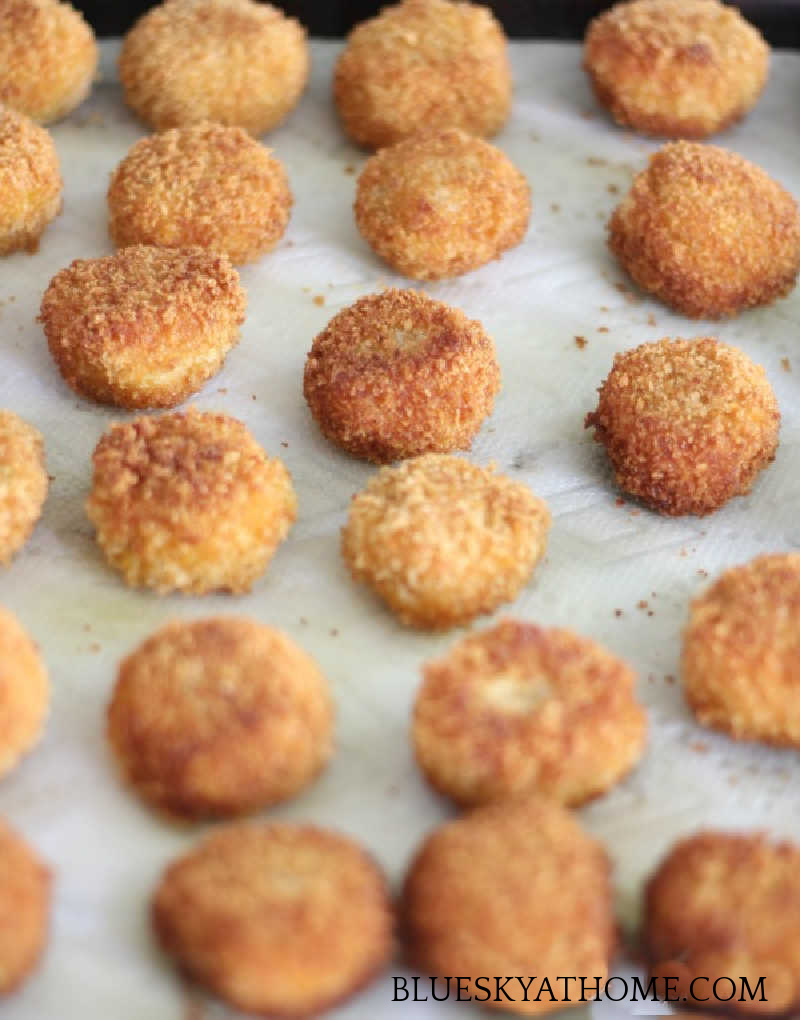 Another MAKE~AHEAD MOMENT: Allow the cooked risotto bites to cool completely, and then place them in the freezer. When completely frozen, place in a zip~lock baggie. When ready to serve, place them on a half-sheet pan and heat in a 300 F. oven.
TIP: Allow the risotto bites to cool before spooning on the crème fraîche or it will melt. See what I mean?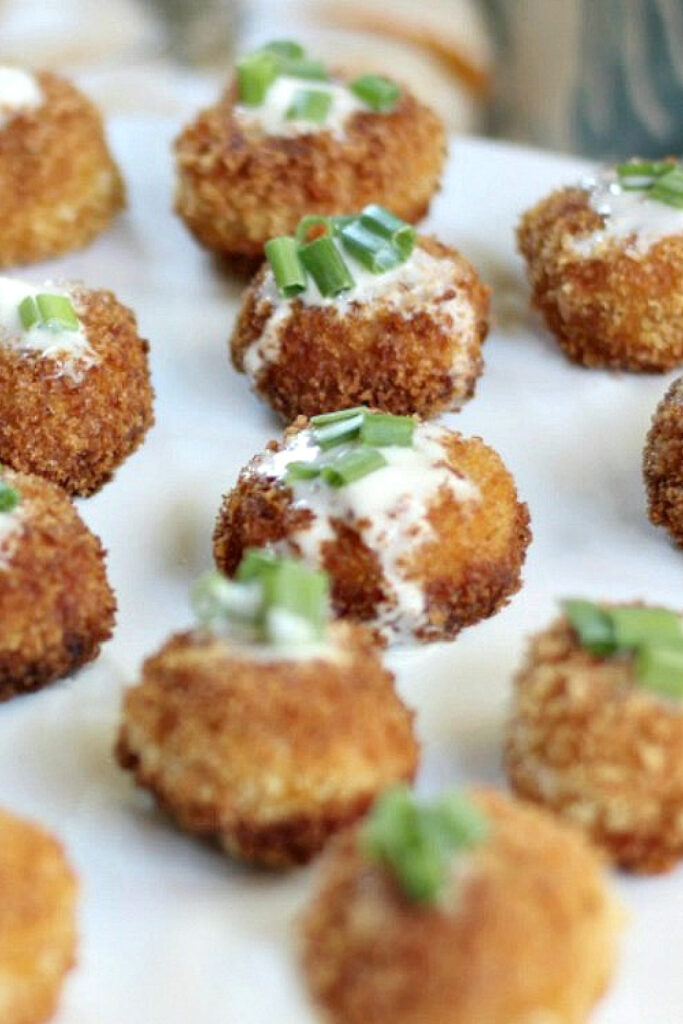 Garnish the risotto bites with thinly sliced green onion.
Cooking Essentials for Making Pumpkin Risotto Appetizers
Pumpkin Risotto Appetizer Bites Recipe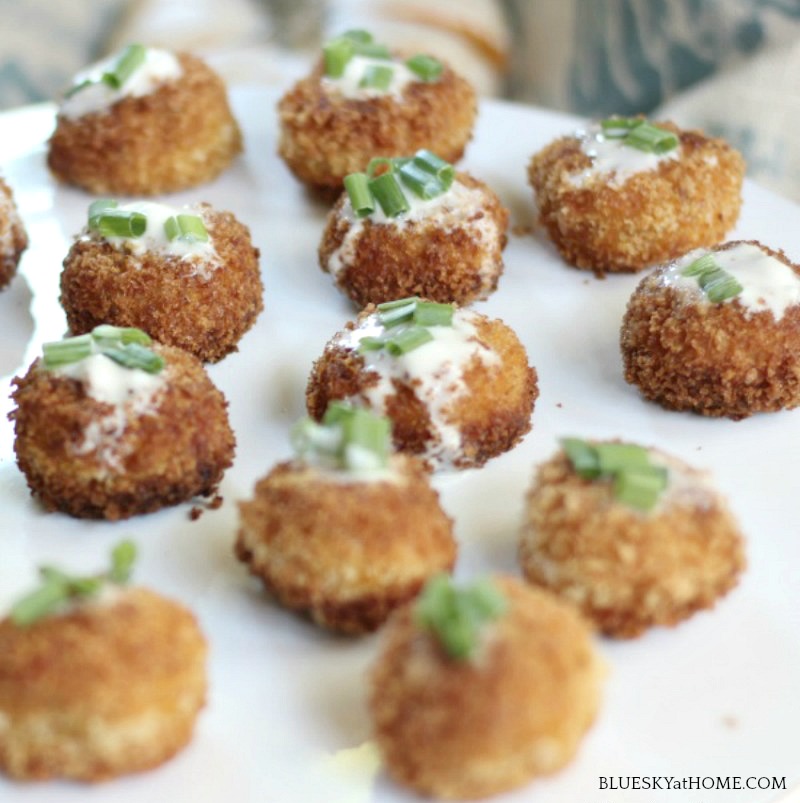 Pumpkin Risotto Appetizer Bites
Delicious make~ahead pibte~size appetizer with the flavor of pumpkin for fall flavor.
Equipment
medium Dutch oven

large stirring spoon

½ cup ladle

rectangle Pyrex dish

large skillet

rubber spatula

meauring spoons and cups
Ingredients  
For the Risotto:
2

tablespoons

unsalted butter

¼

cup

chopped green onion plus 24 thin slices for garnish

1

cup

Arborio rice

2 ½

cups

good quality chicken broth or vegetable broth

1

cup

pumpkin puree

½

cup

grated Gruyére cheese
For the Risotto Bites:
2

large

egg whites

¼

cup

water

2 ½

cups

panko bread crumbs

½

teaspoon

kosher salt

½

teaspoon

freshly ground black pepper

vegetable oil for frying

½

cup

crème fraîche or sour cream
Instructions 
For Making the Pumpkin Risotto:
In a medium Dutch oven over medium~low heat, melt the butter. Add the chopped green onion and sauté for 2 to 3 minutes.

Add the rice and cook, stirring frequently, until rice grains are transparent, about 4 to 5 minutes.

In a medium saucepan, on medium heat, heat the chicken broth until barely simmering.

Use the ladle to add 1/2~cup of warm broth to the rice, stirring until most of the broth is absorbed. Repeat. Each time the rice begins to look dry, add more broth in 1/2 cup amounts, stirring well. Allow each addition of broth to be absorbed. Continue using all the broth and stirring the rice until the rice is creamy and thick, about 30-45 minutes.

Add the pumpkin puree and Gruyère cheese to the risotto and stir until the cheese melts.

Spread the pumpkin risotto mixture in a medium Pyrex dish or half-sheet pan, smoothing it with a rubber spatula. Set aside to cool. Cover lightly with plastic wrap and refrigerate for at least two hours or overnight until cold.
Making the Pumpkin Risotto Bites
Use an ice cream scoop to scoop the risotto into 1 to 1½~inch balls. Set aside on a parchment-lined half sheet pan. (You can refrigerate or quick~freeze the risotto balls at this point.)

Place the egg whites in one pie plate. Combine the panko crumbs, salt and pepper in another pie plate.

Dip the risotto bites first into the egg wash and then into the panko bread crumbs, coating all sides. Shake off excess panko. Place back on the half sheet.

Dip your finger in water and press into the top of the risotto balls to make more of a disk. (At this point, you can refrigerate or freeze the pumpkin risotto bites.

In a large skillet, add oil to a depth of 1/2 inch. Heat the oil over medium~high heat until it reaches 375˚F.

Fry the risotto bites, 3 to 4 at a time, until golden brown on both sides, about 2 minutes per side. Remove with a metal spatula. Drain on a sheet pan lined with paper towels. (After frying, you can keep them warm in a 200˚F. oven until time to garnish and serve.)

Le the risotto bites cool. Top each with 1 teaspoon crème fraîche and a green onion slice. serve immediately.
Want more pumpkin recipes? Try these:
I hope you love this appetizer. Because it is just one bite. Requires no silverware, so it's perfect for a cocktail party  It's delicious and always a big hit. Be sure to PIN it to make it for your next party.