Creamy Southwestern Pumpkin Soup Recipe
It's now the time of year when pumpkin is king. I'm excited to share with you an awesome Creamy Southwestern Pumpkin Soup recipe – not just for how delicious and easy this soup is, but because of the story behind this soup.
I love sharing my favorite recipes. Creamy Southwestern Pumpkin Soup is a perfectly wonderful soup for the fall and winter months. It's flavorful, easy-to-make, and tummy-warming.
The flavor of pumpkin is not just for sweets. This creamy pumpkin soup has a rich texture that is a warming choice for a cool fall or winter meal.
What years ago was an ingredient reserved for pie at Thanksgiving is now found in bread, casseroles, various desserts, cakes, and appetizers. And soup.
Some of you may not know that when I started this blog, I intended for it to be a food blog. As a cooking instructor for many years, I have tested and taught recipes to last for the next decade. Although I rarely teach cooking classes anymore, my love for home decor and DIY projects won out and the blog morphed from Bluesky Kitchen to Bluesky at home.
My love of cooking is still strong. I cook four or five nights every week. I've always been a fan of cooking seasonally, so this pumpkin soup is perfect this time of year.
The Story of Creamy Southwestern Pumpkin Soup
A few years ago, I wrote a recipe column as part of my (unpaid) "job" writing for a local neighborhood magazine. My job was to interview neighbors who shared a favorite family recipe. I loved meeting these neighbors and hearing their recipe stories.
One lovely lady I met was very active in the Dallas County Master Gardener Association. This 400-member strong group is a non-profit, educational, and volunteer service organization. It benefits Dallas County through educational programs and supports over 30 community and school gardening projects. You may have similar organizations in your community.
I've known other ladies who are members of DCMGA, but Linda was certainly one of the most active and busy: she was chairman of the group's multi-year effort to write, produce and market a brand-new cookbook.
Well, finally, after months of gathering, testing, editing, and photographing hundreds of recipes, this beautiful cookbook was published.  Of course, I dropped by Linda's home to pick up my copy.
I was immediately impressed with the beautiful cover. Flipping through the pages, I could see how the gorgeous photography enhanced the recipes. A Year on the Plate is a coffee table-sized book organized by seasons and very food and garden-focused.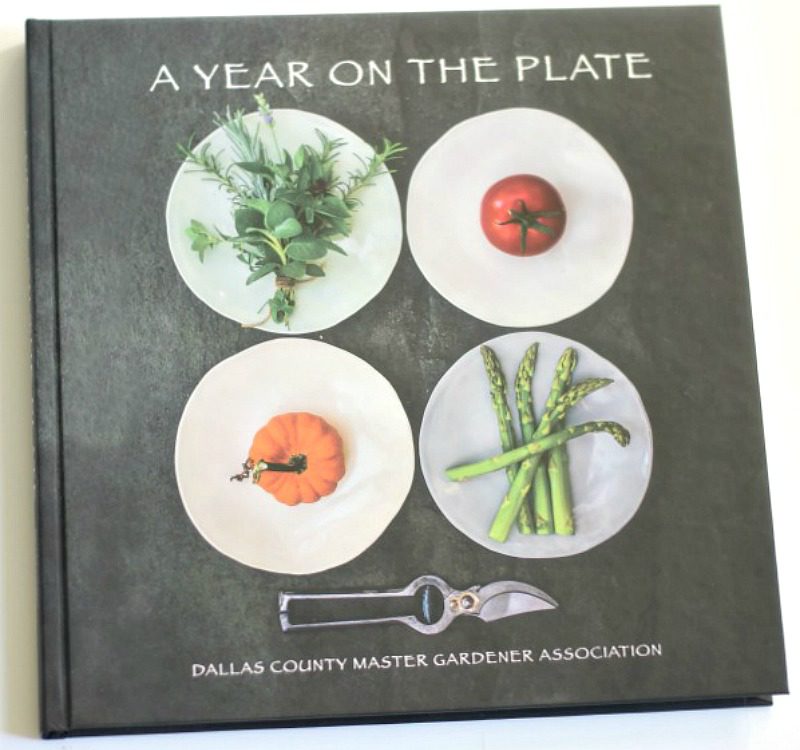 At the time, Linda knew I was a cooking instructor: in fact, she had attended one of my cooking classes. She knew that I wrote a blog that featured both recipes and lifestyle topics.  She asked me to look through the cookbook, pick a few recipes, prepare them and share them with my readers – you, which I was happy to do. The timing was perfect.
For a scheduled cooking class at the time, my theme was fall-focused recipes. I knew I wanted a seasonal soup and I found the Creamy Southwestern Pumpkin Soup, which I thought sounded delicious. I made it for Sweet Shark (He's often been my recipe taster over the years.) and we both thought it was really good, so into the cooking class menu it went.
Here's the picture of the soup in the cookbook.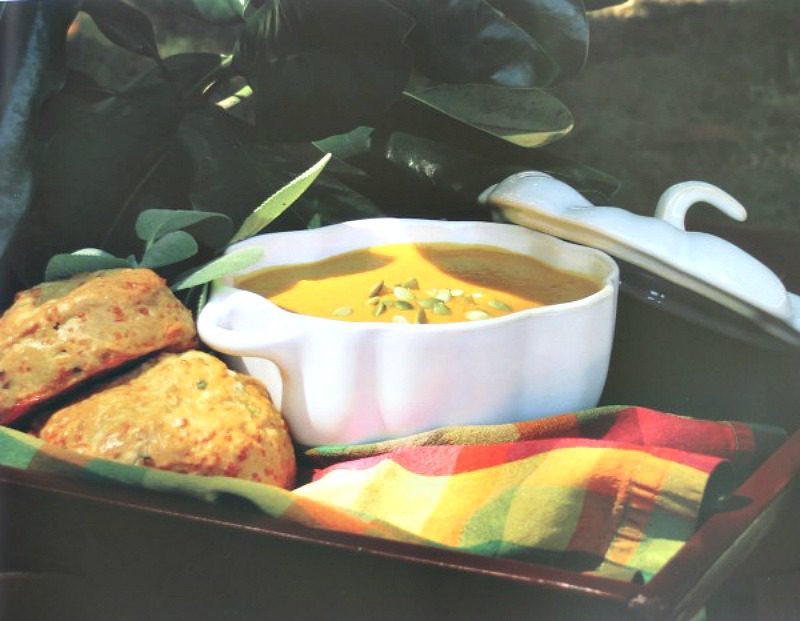 As a cooking instructor, I was always tweaking recipes. I made a couple of changes to the recipe, not in the ingredients or basic directions, but just a few improvements (I thought) to clarify the directions.
Creamy Southwestern Pumpkin Soup Ingredients
Remember to always gather all your ingredients, measuring as many things as possible before you begin cooking or baking.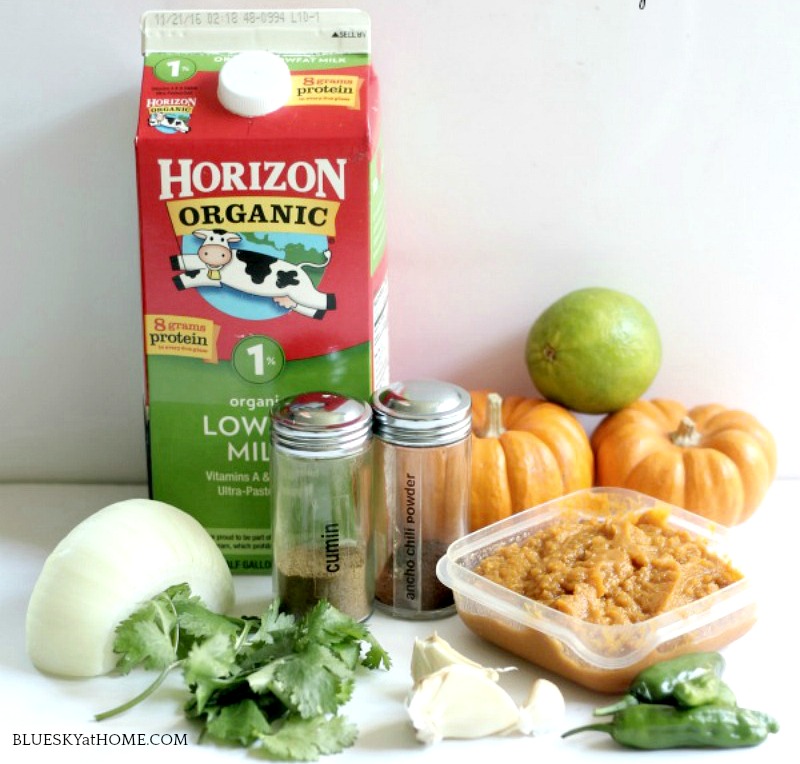 Creamy Southwestern Pumpkin Soup is ready, start to finish in about 1 hour. It can be made ahead, chilled and then reheated.
TIP #1: Soups thicken when chilled; you may need to add more broth to dilute it to a pourable consistency.
TIP #2: Creamy Southwestern Pumpkin Soup calls for jalapeño, which isn't very hot. If you want more heat, switch to a serrano or, if you are really brave, a scotch bonnet or habanero.
I used roasted and salted pumpkin seeds ~ also called pepitas ~ as my garnish. I thought the crunchy texture would be nice with the creaminess of the soup.
These bowls were perfect to serve the soup in ~ a perfect 1 cup amount.
The soup says it yields 10 cups, but mine made about 12 cups.
Enjoy the soup and let me know what you think about it.
Creamy Southwestern Pumpkin Soup
Yummy, hearty fall soup to enjoy as a main dish or a first course.
Equipment
large Dutch oven

large stirring spoon
Ingredients
2

tablespoons

unsalted butter

1

large

onion

medium diced

1

jalapeno

seeded and chopped

2

cloves

garlic

peeled and minced

5

cups

chicken broth

1

large

baking potato

peeled and medium dice

1 1/2

teaspoons

kosher salt

1/2

teaspoon

chili powder

1/2

teaspoon

cumin

1 (15-ounce)

can

pumpkin puree

1/2

cup

chopped fresh cilantro

2

cup

milk

3

tablespoons

fresh lime juice

sour cream, cilantro leaves, pumpkin seeds

for garnish
Instructions
Melt butter in a large Dutch oven over medium~heat. Add the onion, jalapeno, and garlic. Saute for 15 minutes until soft.

Add the chicken broth and next 4 ingredients; cook, stirring often, for 30 minutes or until potatoes are tender.

Process the potato/pumpkin mixture with the cilantro in batches in a blender until smooth, scraping down sides of blender jar.

Return the soup to the Dutch oven. Stir in the milk and simmer for 10 minutes or until thoroughly heated. Stir in the lime juice.

Garnish with sour cream, cilantro leaves or pumpkin seeds.
Butternut Squash Soup with Cumin is another awesome soup for fall.
Here are some more delicious recipes with pumpkin flavor:
I hope that you will save this delicious Creamy Southwestern Pumpkin Soup for your fall enjoyment. PIN it for now or Later.