Pumpkin Bacon Bars with Caramel Frosting
Who doesn't like bacon? (I respectfully decline to acknowledge any "official" who says bacon is bad for you.) Have you ever thought of combining pumpkin and bacon? I just had to share this recipe for Pumpkin Bacon Bars with Caramel Frosting.
Like salt, bacon's smokey flavor can bring out the best in sweet dishes.  It's that combination of sweet and salty that makes desserts like this one so delicious. It's an unexpected yumminess (Is that a word? If not, it should be.)
These pumpkin bacon bars smell heavenly of pumpkin and fall spices as they bake.  And the caramel frosting, a variation of Italian buttercream, is so good that you will want to lick it off your fingers.
Like salt, bacon's smokey flavor can bring out the best in sweet dishes.  It's that combination of sweet and salty that makes desserts like this one so delicious. It's an unexpected yumminess (Is that a word? If not, it should be.)
Fall Dessert: Pumpkin Bacon Bars with Caramel Frosting
With the Thanksgiving season definitely upon us, I couldn't resist giving you one more wonderful pumpkin recipe. I've shared a fabulous pumpkin soup, an awesome pumpkin appetizer and now it's time for a wonderful pumpkin dessert  ~ just in case you don't like pecan pie or you want another option for Thanksgiving dessert.
As a cooking instructor for 15 years, I always taught that it's not just about the recipe: it's about the techniques and tips that you learn. So I always include tips to enhance each recipe experience.
So grab a cup of latte or if you were me, a glass of sweet iced tea, and join me for a cooking class. Let's pretend you are sitting at my kitchen island and we're talking about how to make Pumpkin Bacon Bars with Caramel Frosting.
The Process ~ The Cake
TIP #1: Always gather all your ingredients first. Then measure, chop, toast, dice, shred, whatever the instructions indicate. This is called mise en place; it means everything in its place in French.  
We do not argue with the French when it comes to kitchen organization; they invented it. Mise en place will make your cooking/baking go more smoothly and efficiently.
TIP #2: Measure your dry ingredients together in one bowl, if appropriate. As you measure spices, you can combine them into one bowl.
TIP #3: Do not walk away from the cooktop when you are toasting nuts.  They burn easily. (Don't ask me how many times I've burned pine nuts and those little babies are expensive.)
I always use a non-stick skillet. You don't add oil to toast nuts. They have their own. Toast until you start to smell the aroma of the nuts, then immediately remove from the skillet or they will keep cooking.
TIP #4: Before you dice the bacon, place the amount you need in the freezer for 15 ~ 30 minutes.  Dicing will be so much easier.  Then you can cook the bacon in a skillet until just crisp (I use my Le Creuset skillets as often as I can.).  Drain on paper towels and set aside. Save the drippings; you'll need them for the batter.
TIP #5: I always line bar or brownie recipe pans with foil.  Obviously, that keeps your pan a bit cleaner, but it is so much easier to lift the bars/brownies out of the pan and you don't lose any corners.
Combine all your wet ingredients.
After whisking the dry ingredients, add the toasted pecans. Add the dry ingredients to the wet ingredients and fold with a spatula until combined. Pour into your prepared pan and spread evenly.
Bake at 350˚F. for 22 ~ 25 minutes or until a toothpick comes out clean. Remove the baking pan to a wire rack to cool.
When the cake is cool, you can easily lift it out of the pan using the extra foil. Pull the foil away from the pumpkin bars. Let the cake continue to cool while you make the caramel frosting.
The Process ~ Caramel Frosting
TIP #6: Gently whisk or swirl the pan with the sugar, water, and salt.  Be careful. Cooking sugar gets very hot.
Add the heavy cream in slowly. Then add the diced butter.
TIP #7: Before dicing the butter and cream cheese, place it in the freezer for 15 minutes. It will make the dicing so much easier.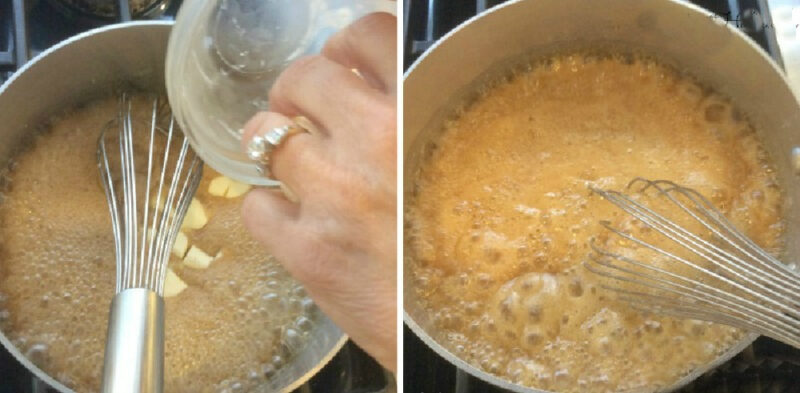 TIP #8: The mixture is very hot and will bubble up.  No kids are allowed anywhere near the stove!
Remove the caramel mixture to a stand mixer. (I have had a Kitchen-Aid mixer for years and I absolutely love it.)
The mixer bowl will become hot. Whisk on high until the bowl cools and the caramel looks like the picture below on the left. Now add your diced cream cheese, one cube at a time.
You can now take a little lick.  I was right, wasn't I? Heavenly.
Your pumpkin bars should be cool by now.
TIP #9: Use a large offset spatula to spread the frosting evenly on top of the bars.  Some will drip over the edges, but I try to just frost the top.
You will have about a cup of frosting left over. Save it in the fridge for spreading on muffins, toast, pumpkin bread, or bribe your kids with it.
The Process ~ Garnishing the Pumpkin Cake
Finely dice the cooked bacon.  You'll also need some sea salt.
Sprinkle the bacon and sea salt all over the top of the pumpkin bars ~ which is technically, still a cake.
TIP #10: Place the pumpkin bars on an upside-down sheet pan or flat surface and place in the refrigerator for about 15 minutes to set the bars and frosting.
I use a very sharp knife to cut them into 24 bars, 3 across and 8 down.
The Pumpkin Bacon Bar Recipe
There you have it.  Absolutely delicious. Serve for dessert or sneak a piece for breakfast. Enjoy Pumpkin Bacon Bars with Caramel Frosting. Make it for a party or a potluck dinner. Have it with coffee or tea. Sneak a piece before bedtime. I won't tell.
Pumpkin Bacon Bars with Caramel Frosting
A delicious sheet cake that combines the earthiness of pumpkin flavor with the saltiness of bacon. An easy dessert perfect for fall.
Equipment
measuring cups and spoons

mixing bowls

9 X 13 baking dish

aluminum foil

whisk

rubber spatula

small non-stick skillet

stand mixer

saucepan

cake spatula
Ingredients  
Pumpkin Bar Ingredients
8

ounces

(6 slices)

chilled and diced

1

large egg

2

cups

all-purpose flour

1

teaspoon

baking soda

2 ½

cups

packed brown sugar

1

teaspoon

ground cinnamon

½

cup

granulated sugar

½

teaspoon

salt

1½

cups

pumpkin puree

2

tablespoons

unsalted butter

melted

1

teaspoon

vanilla extract

2

tablespoons

unsalted butter

¼

cup

chopped, toasted pecans
Frosting Ingredients
2

cups

packed brown sugar

⅓

cup

water

1

pinch

salt

½

cup

heavy cream

1

stick

unsalted butter

cubed

4

ounces

cream cheese

cubed

sea salt
Instructions 
Pumpkin Bacon Cake
Preheat the oven to 350˚F. Coat a 9 X 13-inch baking pan with nonstick spray, if desired. OR cover the bottom and sides of the baking pan with aluminum foil.

Cooked the diced bacon in a small non-stick skillet over medium heat until crisp; drain on a paper towel-lined plate and set aside. Reserve 2 tablespoons drippings.

Whisk together flour, baking soda, cinnamon, and salt for the bars in a medium bowl; set aside.

Whisk together pumpkin puree, granulated sugar, 1/2 cup brown sugar, the egg, melted butter, bacon drippings and vanilla in a large until well blended. Stir in the flour mixture and pecans and blend thoroughly with the wet ingredients.

Spread the pumpkin batter evenly into the prepared pan. bake until a toothpick inserted into the center comes out clean, about 20-25 minutes. Let cool completely before frosting.

Boil 2 cups brown sugar, water and a pinch of salt for the frosting in a large saucepan over high heat, 5 minutes, swirling occasionally to prevent scorching. Whisk in the cream and butter pieces. (NOTE: Mixture will bubble furiously.) Keep whisking. Boil 2 minutes more.

Transfer caramel frosting to the bowl of a stand mixer. Whip on high speed until the sides of the bowl are cool to the touch and the caramel is thick, about 10 -minutes, scraping down the sides of the bowl with a rubber spatula. Add the cream cheese, 1 cube at a time, until the frosting is smooth.

Carefully pull back the foil from the sides of the pumpkin cake. Using a cake spatula, spread the frosting over the cooled cake.

Sprinkle the reserved cooked bacon over the frosted cake. If desired, sprinkle with additional chopped pecans. prinkle with sea salt.

With a sharp knife, cut the cake into 24 bars and serve.
Do you want more pumpkin recipes?
Could you share it? Please PIN this dessert to one of your Pinterest Boards.