The Perfect Pumpkin Martini Recipe for Thanksgiving
Are you planning your Thanksgiving celebration? What one item you don't want to forget? A celebratory cocktail. I have the perfect pumpkin martini recipe for Thanksgiving.
For years, Sweet Shark has been making a Pumpkin Martini to toast the turkey before we sit down to our Thanksgiving meal. I think he has created the perfect Pumpkin Martini Recipe. I should know because I'm the cocktail taste tester.
Sweet Shark had another Pumpkin Martini recipe that he used for several years. Then he made one that he thought was easier to make and would taste even better. He was right. This version is the perfect Pumpkin Martini for 3 reasons.
Getting your friends or family with a fun pumpkin~flavored cocktail sets the tone for a holiday we love to celebrate.
This post contains affiliate links to products used in the creation of this project. If you should order any item from this site, I may receive compensation, but you do not pay a penny more. Your purchase is greatly appreciated as it helps support the continued publication of this site.
Why is This the Perfect Pumpkin Martini?
Let me share what we love about this Thanksgiving cocktail.
Reason #1
The first reason that this is the perfect Pumpkin Martini recipe is that it has just 3 ingredients.
Vanilla Vodka ~ Sweet Shark used SKYE vodka.
Bailey's Irish Creme ~ something that should be in every bartender's tool box.
Hiram Walker Pumpkin Spice Liqueur ~ the must have ingredient to make a Pumpkin Martini
TIP: Keep your vodka in the refrigerator or freezer for extra good drinks.
NOTE: Hiram Walker Pumpkin Spice Liqueur is not always easy to find. Call your liqueur store and ask first. We have had them order it for us.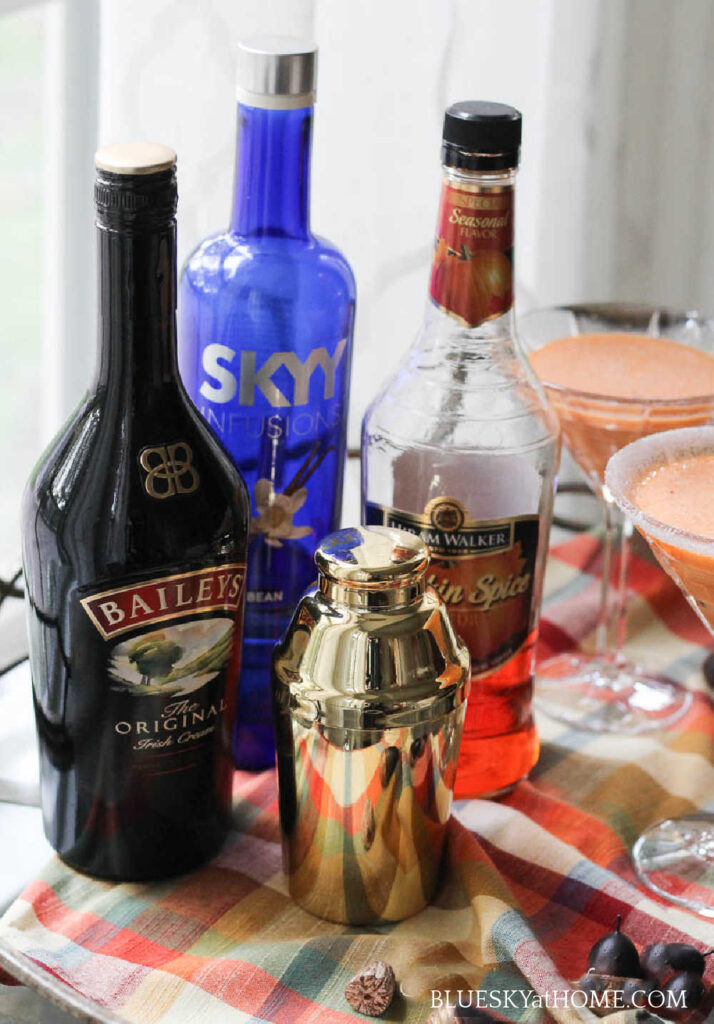 Reason #2
The second reason that makes this the perfect Pumpkin Martini Recipe? The ingredients are in equal portions ~ no remembering how much of which ingredient ~ they are all the same. 1 serving uses 1 1/2 ounces of each ingredient. Just double to make 2.
Reason #3
The third reason that this is the perfect Pumpkin Martini?
To serve this Pumpkin Martini, use your prettiest martini glasses. This is the plain version.
We received these cut crystal glasses as a wedding present.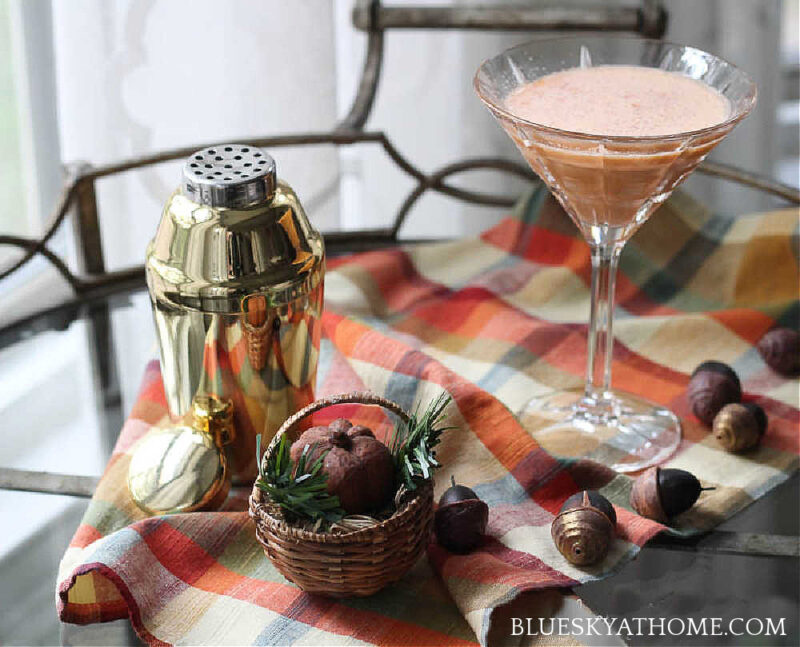 If you like to make your Pumpkin Martini extra special, you can rim the glass with sugar – I love this. The cocktail looks extra festive and that little taste of sugar is so yummy as you taste that first delicious sip of Pumpkin Martini. These are HIS and HERS Pumpkin Martinis. Guess which one is mine?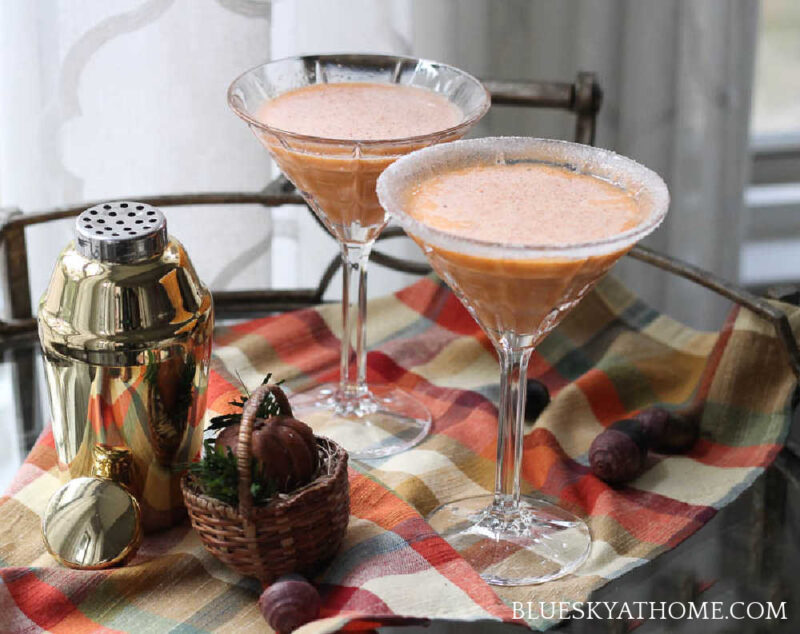 For even more fall flavor, a bit of freshly grated nutmeg adds a delicious fall aroma to the cocktail just before you take that first sip.
Sweet Shark keeps a teeny tiny box grater in his bar just for this task. You can usually find whole nutmeg in the spice aisle of your grocery store. The flavor of freshly grated nutmeg is much better for drinks than ground nutmeg that you use for baking.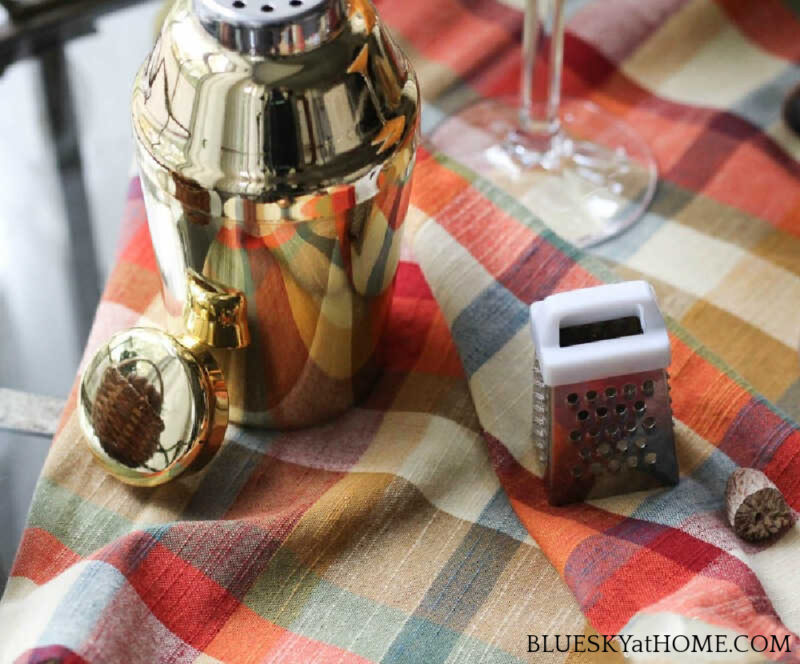 If you are wondering, we bought the gold cocktail shaker at Paris Market in Savannah, Georgia, one of my favorite stores in the world. It is a 1~drink size shaker. If you want to make 2 Pumpkin Martinis (You do want to share with your guests, right?), double the recipe and use a standard-size cocktail shaker.
Here's an idea: give your favorite bartender a pretty package with the gold cocktail shaker, the mini~box grater, and a bottle of the Pumpkin Spice Liqueur as a Christmas present. I bet he would make you a Pumpkin Martini as a "thank you".
Bar Tools for Making This Pumpkin Martini
Pumpkin Martini Recipe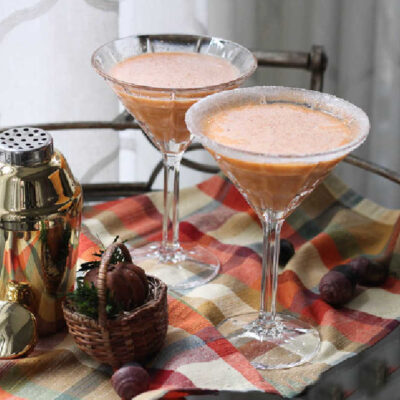 Pumpkin Martini
Delicious pumpkin~flavored cocktail perfect for fall celebrating.
Equipment
cocktail shaker

bar measuring cup

mini box grater

martini glass
Ingredients  
1½

ounce

vanilla vodka

1½

ounce

pumpkin~flavored liqueur

1½

ounce

Bailey's liqueur

nutmeg seed
Instructions 
Add all the ingredients to the cocktail shaker. Add ice.

Shake the cocktail shaker until ingredients until cold.

Strain the ingredients into a martini glass.

Grate nutmeg on top of martini and serve.
Notes
Optional: rim the edge of the martini glass with granulated sugar. Use a lemon slice to rim the glass first.
Hope you enjoy making and sipping this Perfect Pumpkin Martini Recipe. Lift a glass and toast Sweet Shark.
If you want something a bit lighter, try the Apple Cider Martini
You don't want to forget this perfect Pumpkin Martini recipe so be sure to PIN it.
Cheers! And Happy Thanksgiving.