It's not too early to start thinking about some festive libations for the holidays. Holiday refreshments always make a party ~ well, more of a party. After a week of decorating the house and sharing our Christmas home tour here and here, I'm ready for a little relaxation. (That will last about one minute.) Every year Sweet Shark  comes up with another holiday drink and he now has quite a collection. (I'm trying to convince him to write a cookbook with me.) Usually he finds inspiration from a magazine, a restaurant we've been to or the newspaper. I've even found a couple for him on Pinterest. Then he plays around until the proportions are just to his liking. So today I'm sharing with you 5 Great Christmas Cocktails for party entertaining that are perfect for sharing with friends this holiday season. I have sampled all of them ~ not all at once, trust me ~ and I can attest to their yumminess. As they say, someone has to do it.
5 Great Christmas Cocktails for Party Entertaining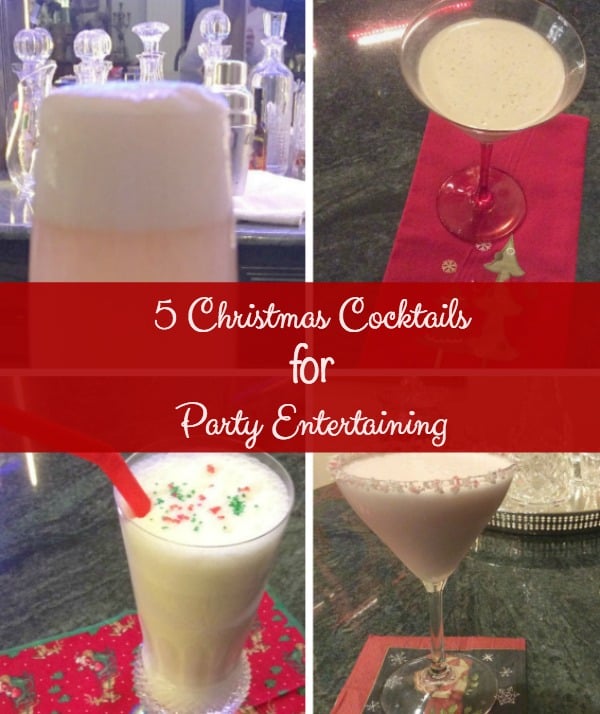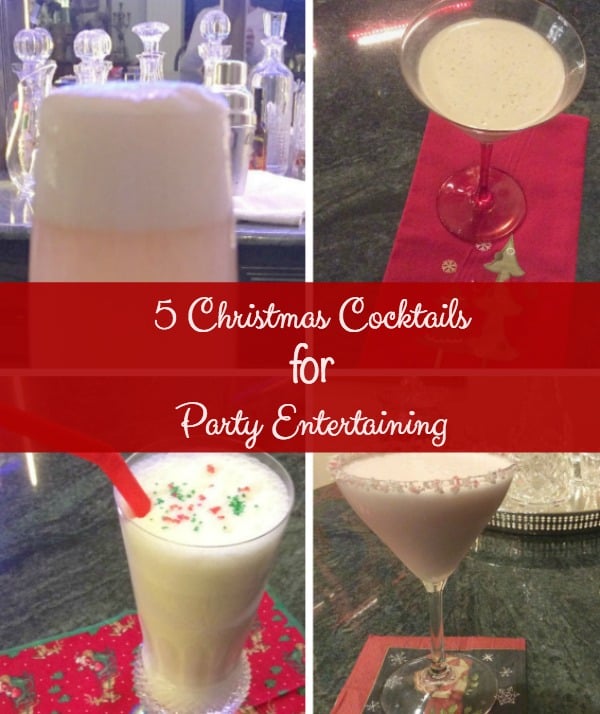 TIP: chilled glasses really make these cocktails taste better. We keep martini, champagne and margarita glasses in the freezer ~ just in case someone wants a drink!
Brandy Milk Punch
This cocktail is quintessential New Orleans and you will find variations everywhere from Brennan's to Commander's Palace.  Right now, our favorite is served at the Court of Two Sisters, a NOLA institution.  We first had this version by Chris McMillan, well-known in the bartending world as a cocktail historian, at the Ritz-Carleton. We think this is the perfect Christmas morning by the fire or Christmas brunch drink.
Poinsettia
Need a sparkling drink to kick off your holiday evening? This pretty cocktail is perfect for welcoming company.  I think it's just the ticket for a holiday girls' night out. This is a specialty of one of our favorite bartenders, Jason, at our local Sevy's Restaurant.
Cable Car
Sweet Shark found this drink in Bon Appetit magazine in 2003. It's from Nob Hill restaurant in San Francisco.  A year later in Las Vegas we went to the Nob Hill at the MGM.  Lined up on the bar were a dozen chilled glasses prepped for the Cable Car. It's a delicious, warming drink. and pretty too.
St. Nick
Sweet Shark's sister shared this drink from The Tavern restaurant in Ft. Worth. Perfect for Christmas Eve caroling this simple eggnog drink will have you toasting the season. Sweet Shark has used Pumpkin Spiced Kahlua for extra seasonal flavor.
Candy Cane Martini
This pretty martini is perfect as an after drink or even as a dessert.  You can finely crush a peppermint candy cane stick or purchase crushed peppermint sprinkles.
Use any or all of these 5 great Christmas cocktails for party entertaining and you are all set for holiday celebrating.  Sweet Shark and I hope you'll enjoy them. Pass them on, share with friends and think of us when you say a toast. Have a wonderful weekend. It's a good time to catch~up on the wonderful holiday decorations from this week.
Monday
 Everyday Living | Bluesky Kitchen | Rustic-Refined
Tuesday
Rattlebridge Farm | Starfish Cottage | My Kentucky Living | B.Lovely
Wednesday
Cozinest | Belle Bleu Interiors | A Toile Tale | Dining Delight
Thursday
The Painted Apron | Worthing Court | Ramblings of a Southern Girl | Rosemary & Thyme
Friday
 Panoply | FarmHouse 40 | Celebrate & Decorate | Major Hoff Takes A Wife  | Twelve on Main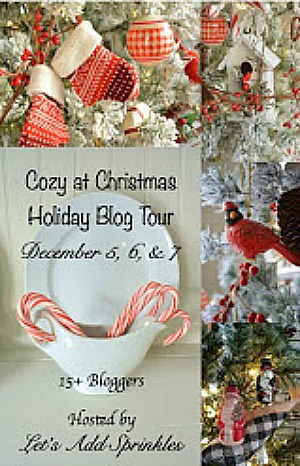 Monday
Let's Add Sprinkles/ Hyacinths for the Soul/ Southern DayDreams/ White Spray Paint/ Garden Up Green/
Have a Daily Cup of Mrs. Olson/ Ellie and Elizabeth  
Tuesday
Brookhollow Lane/ At Home With Jemma/ My Heart Lives Here/ The B Farm/ Botanic Bleu/ Kitty's Kozy Kitchen/
Art and Sand/ Ash Tree Cottage
Wednesday
Sweet Nothings/ At Rivercrest Cottage/ Opulent Cottage/ Decor to Adore/ Fern Creek Cottage/
The Dedicated House/ Bluesky Kitchen
Thanks to Antonella of White House Crafts for selecting me as one of her features last week.
Parties where I linked up this week:
Celebrate Your Story  Create It Thursday  Creativity Unleashed   Dishing It and Digging It
Make It Pretty MondayPin Junkie Pin Party    Share Your Style  Social Monday  The Crafty Corner  The Scoop
This is How We Roll  Thursday Favorite Things  Wonderful Wednesdays
Wow Us Wednesdays  Your Inspired Design