How to Make Christmas Marshmallow Pops
With Christmas a few weeks away, you may be looking for some fun party dessert ideas. I have a sweet option to fill that need: let me show you how to make Christmas marshmallow pops.
These cute little sweet treats are a great option as part of a dessert platter or to take to a Christmas party ("I'll bring the dessert!")
What if you would like to have a sweet treat as a party favor? These pops for easy for guests to pick up on their way out.
And best of all? These Christmas marshmallow pops are yummy and impressive.
These marshmallow pops are not just a little bite of sweet heaven, they are also so cute and versatile for any occasion. Grown~ups and kids alike love them.
I want to show you how to make marshmallow pops, how easy they are, and how you can make them for a variety of occasions throughout the year so I have created a video for you.
How to Make Marshmallow Pops for Christmas Treats
This post contains affiliate links to products used in the creation of this project. If you should order any item from this site, I may receive compensation, but you do not pay a penny more. Your purchase is greatly appreciated as it helps support the continued publication of this site.
Ideas for Using These Marshmallow Pops
When can you use these marshmallow pops? Here are actual events when I've used them. See more ideas at the end of the post.
I first made marshmallow pops on Valentine's Day for a girlfriends' luncheon.
Party favors for a friend's birthday party.
Gifts for my Bible study group
Part of dessert offerings at a Christmas party
An annual sorority Christmas party
They never fail to delight both in presentation and taste.
Ingredients for the Christmas Marshmallow Pops
This is so easy. Just 2 ingredients ~ marshmallows and candy melts.
The Wilton candy melts are available at your craft store in the baking section and online. I like the Bright White for a cleaner, brighter look. The marshmallows ~ the standard size ~ are available at your local grocery store.
Supplies You Need to Make the Pops
After trial and more trial, I discovered that these supplies help you make marshmallow pops most easily. I'll tell you why each one is important as we go through how to make marshmallow pops.
a sheet pan l

ined with a sheet of

parchment paper ~ keeps all your sprinkles contained and easily put back in the jar when you are through
a small (1~inch)

rubber spatula

~ for smoothing the candy melt around the marshmallow and removing the excess
a block (or 2) of

florist foam

(trust me on this one)
paper straws in your chosen color ~ for holding your marshmallow pops and adding to the cute factor; the selection online is extensive

sprinkles

or non-pareils in a coordinating/contrasting color with the straws
Why Do You Need Florist Foam?
The florist foam is used to hold the marshmallow pops as you add the garnish, like sprinkles or melted chocolate.
The pops need to set for a few hours until the chocolate forms a seal around the marshmallow. When you bite into the marshmallow, the crunch of the "stiffened" chocolate is a nice contrast to the softness and creaminess of the marshmallow.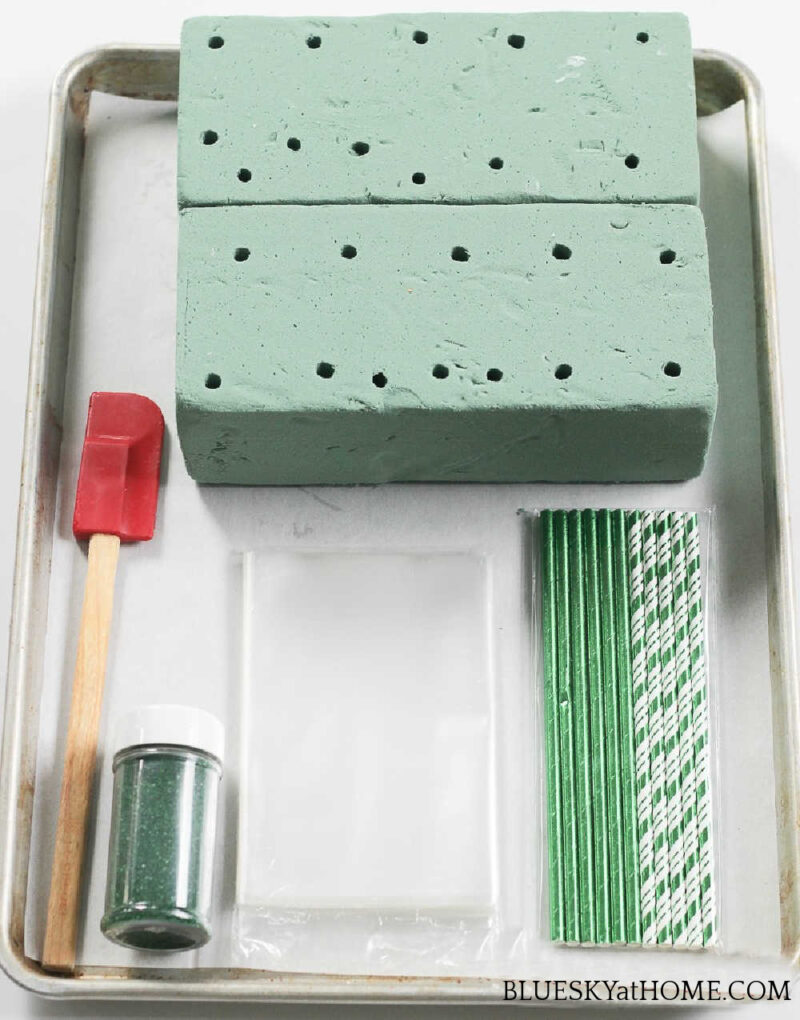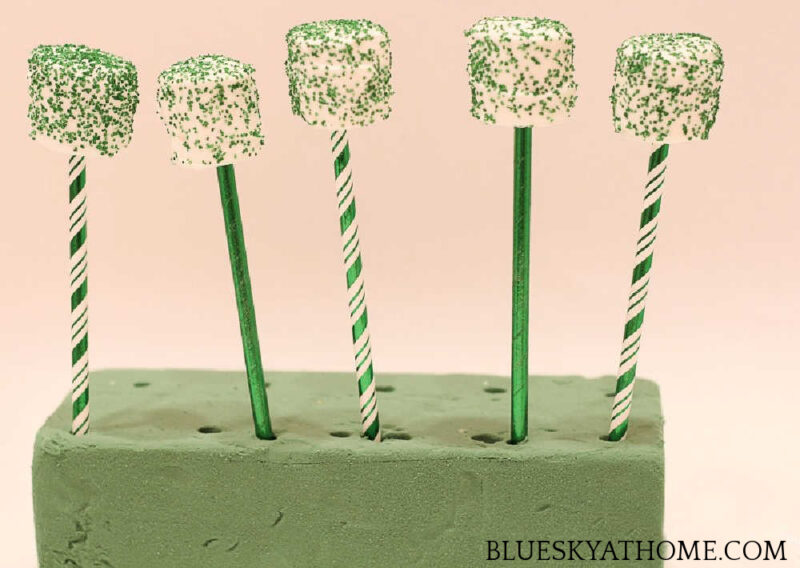 How to Make the Marshmallow Pops as Gifts or Party Flavors
To see more how to make edible party favor marshmallow pops, see the process for the Valentine pops I made.
If you are going to use the marshmallow pops as gifts or party favors, you will need:
I use Avery Print~to~the~Edge 2 1/2~inch round labels ~ #22830 to make my stickers. There are hundreds of templates for all occasions at Averey.com that you can customize with color, font, and size. You could also make stickers on vinyl with a Cricut (I'll be trying that soon.) or make tags and handwrite them.
For these marshmallow pops in a green theme, I selected a template with red ornaments. Since I wanted a gift tag, I cut out 2 1/2-inch circles with my Cricut in green cardstock and placed the stickers on the green circles.
Next, I punched holes in the tags. I already bought skinny green ribbon. Curly ribbon works great, too.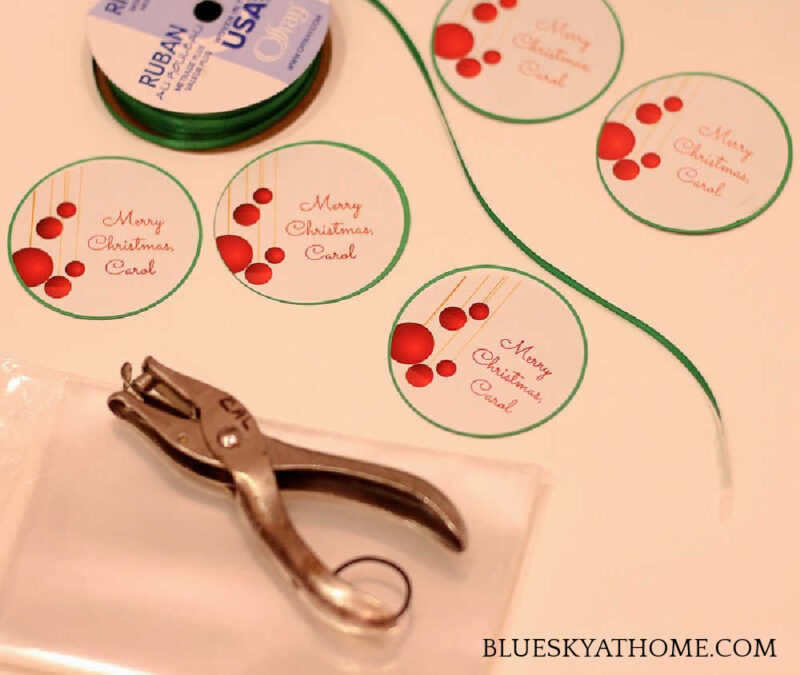 Place 1 marshmallow pop in a bag, tie it with a piece of ribbon (bow is optional), and attach the tag.
You can re-use the florist foam to hold the marshmallow pops until you are ready to display them.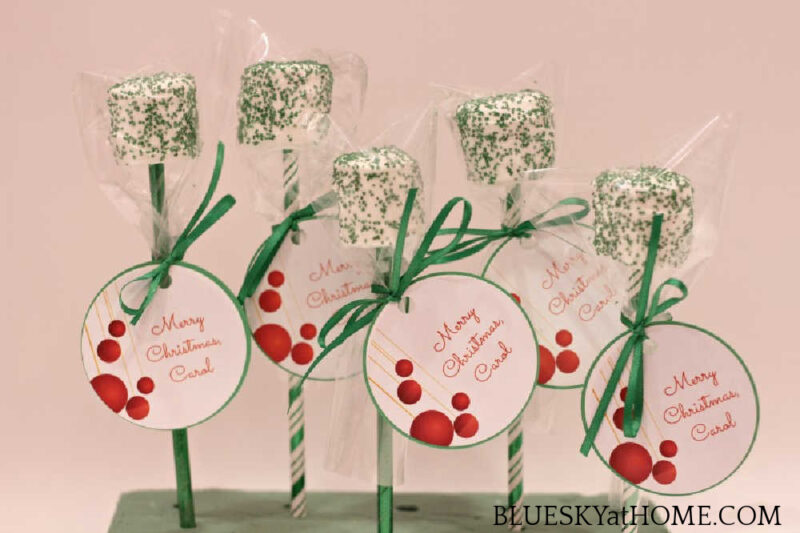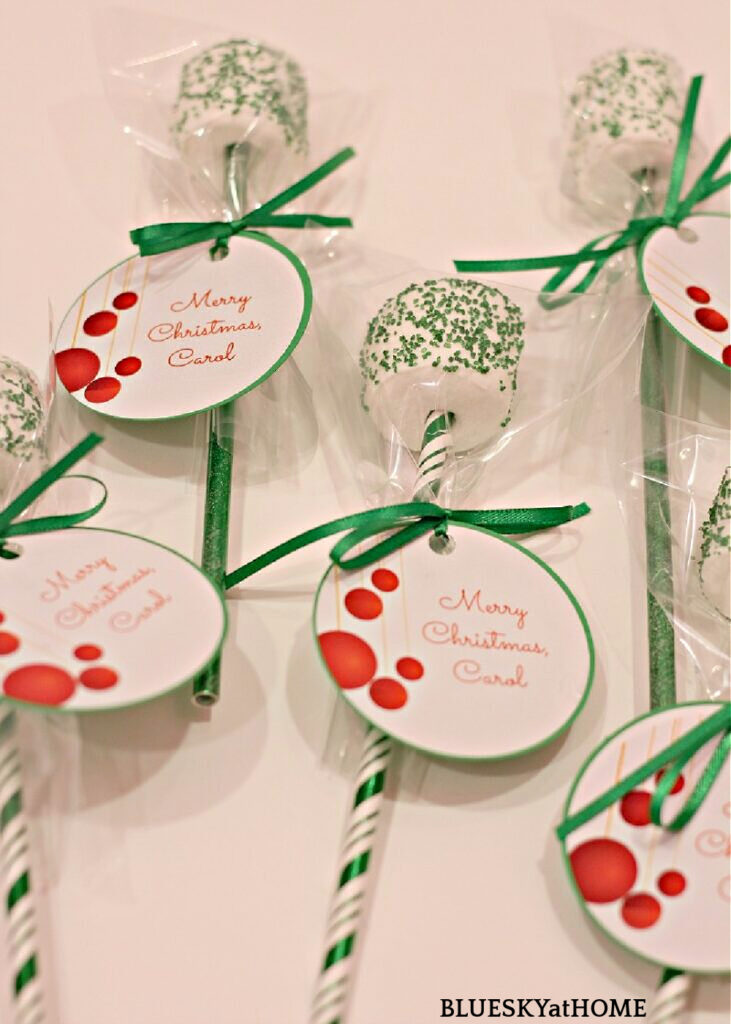 Here's the last batch of Christmas marshmallow pops with a gold theme.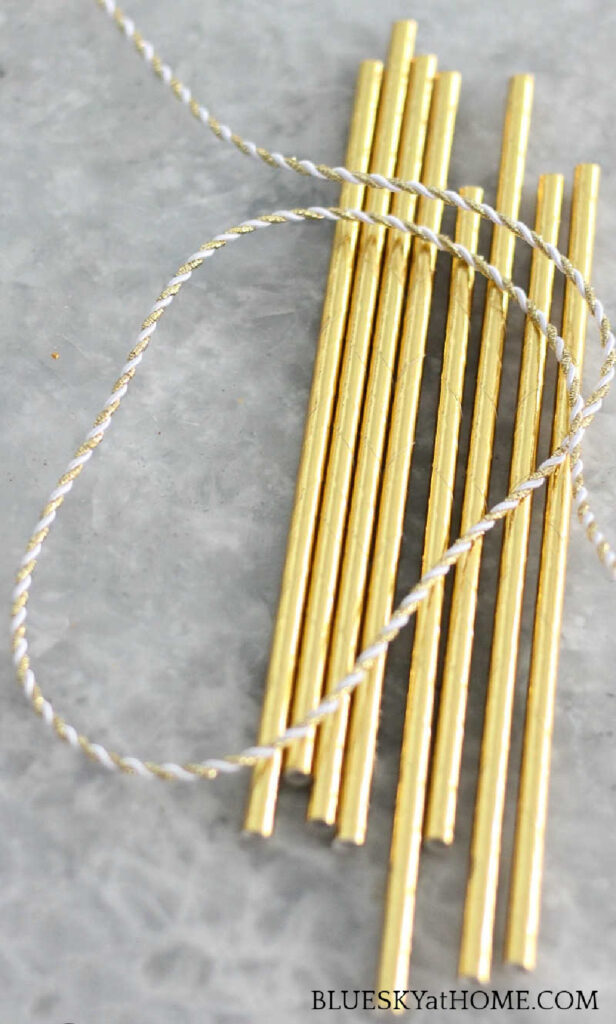 I chose a different template, one to go with my gold theme. This time I just used the sticker without a tag and attached it to the plastic bag.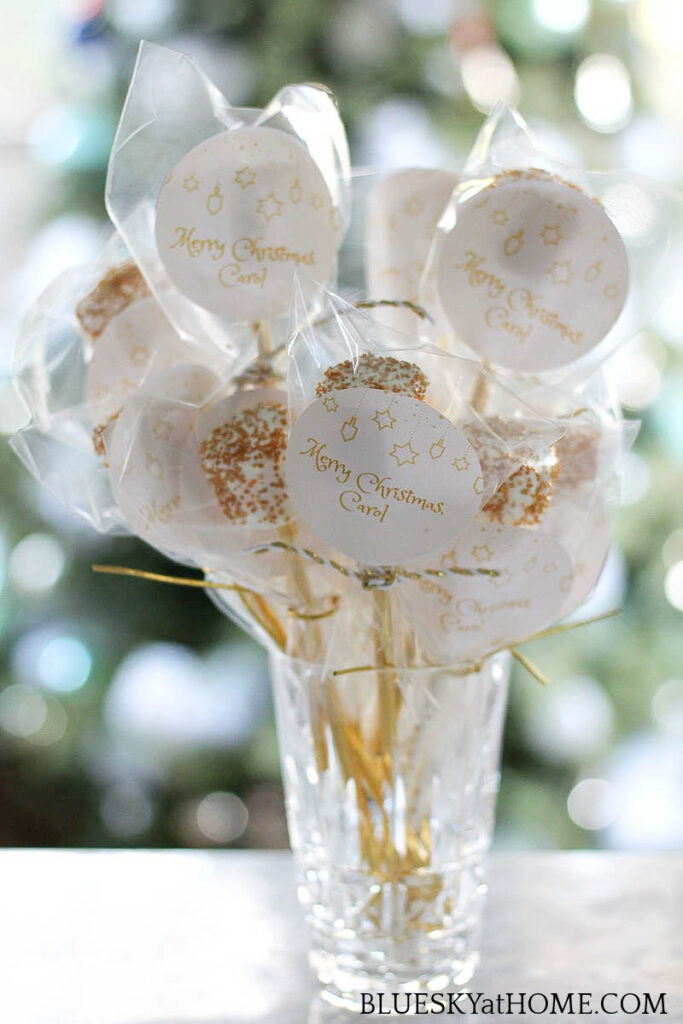 Ideas for the Marshmallow Pops
Although I'm sure you can think of other occasions to make the Christmas marshmallow pops, here are a few to spike your imagination:
any kid's (young or old) birthday party
Valentine's Day (pink or red)
St. Patrick's Day (green)
MardiGras (green, gold, and purple)
a graduation party
4th of July or other patriotic occasions (red and blue sprinkles and straws, how cute!)
Halloween (black and orange)
football party in team colors
bridal shower
wedding favors (I had a friend ask me about making them for her daughter's wedding, but she needed 150 and I just wasn't up to making that many. But now that I have the process down, I think I would do it.)
Christmas desserts, party favors or stocking stuffers
New Year's Eve
any time you want to give a little treat to friends
Any other ideas you have? Please share.
This is one sweet post to PIN.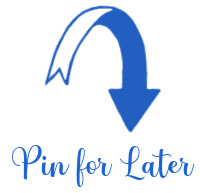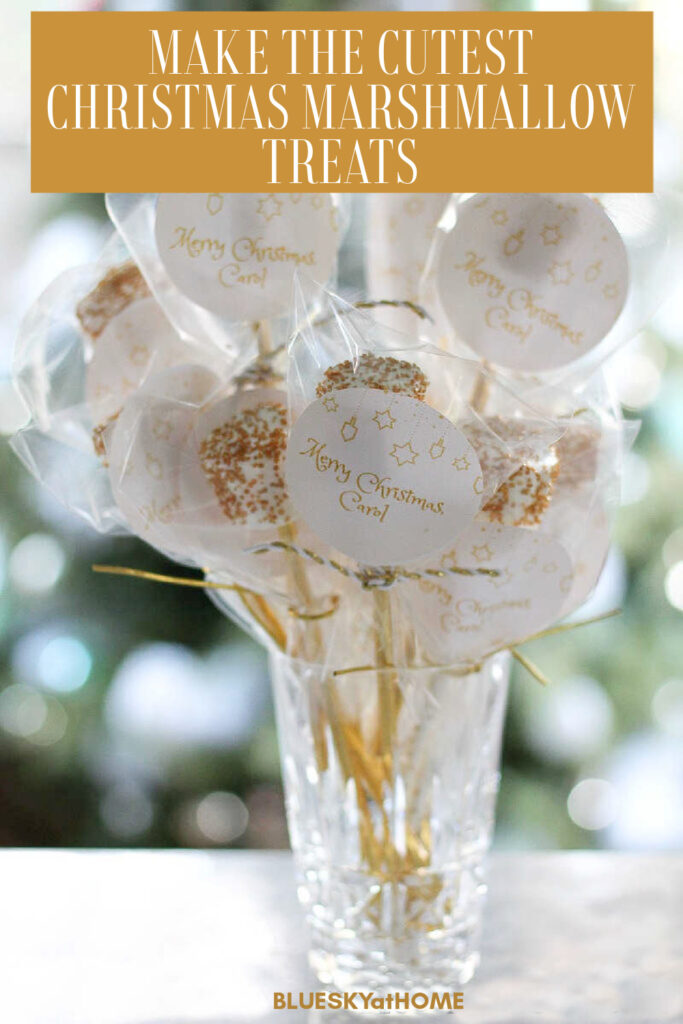 I hope that you are getting in the Christmas mood.