A Delicious Pan-Roasted Salmon Dish from A Moveable Feast
We love salmon at our house. It's so good for you ~ and so delicious prepared using the pan-roasting technique. I first prepared this recipe as part of a cooking class I taught featuring several recipes from A Moveable Feast, the show on PBS from Fine Cooking Magazine.  Check out the original post for a very special Baby Carrot Salad with Yogurt and Thai Chili Vinaigrette.
Pan-Roasted Salmon with Pea Crema, Asparagus Crudo, and Roasted Morels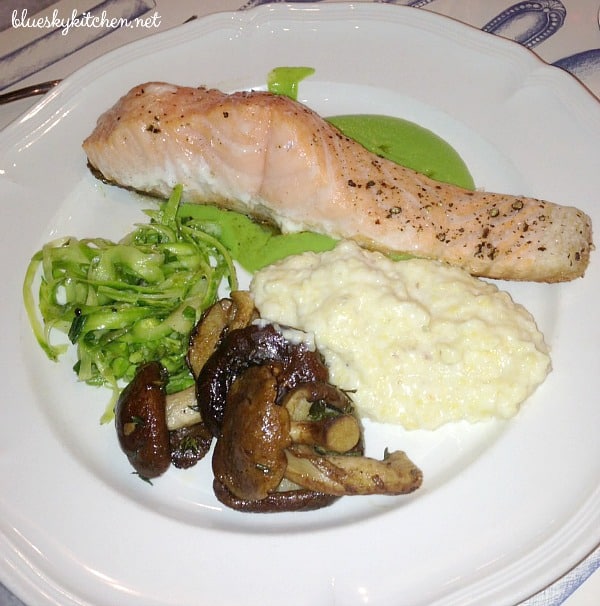 This recipe looks complicated, but it's not. It's a multi-layered dish that will make you so proud to present to guests. In addition to the salmon, a "slaw" of asparagus takes care of the vegetable on the plate. The sauce made from peas will fool even the most anti-vegetable person at the table. The risotto was baked and I'll share that recipe in a future post.
Stay with me in Bluesky Kitchen for some cooking lessons I promise you will love.
The original recipe was very "chefy", so I've simplified it and made it more "home~cook friendly". Instead of shelled peas, use frozen peas. If you can't find morels, use shitakes, creminis, or even button mushrooms.
If you can't find wild salmon, use Atlantic farm-raised. I promise you that the dish will still be delicious. Tell the fish monger that you want center-cut to get the thickest portion.
I've also included the estimated amount of time for each step. You'll see that even though the ingredient list seems long, the actual recipe can be made in about 30 minutes.
NOTE: throughout the recipe, exact amounts of salt and pepper are given, in most cases, 1/4 ~ 1/2 teaspoon or tablespoon. I encourage you when it comes to anything less than a teaspoon (or 2) of salt to use pinches between your thumb and forefinger and estimate. Instead of measuring pepper, think of "grinds" of your pepper mill. Season and taste, season and taste. Your cooking will improve when you step away from so much measuring of small amounts of salt and pepper and rely on your own sense of taste.
Here's the cooking plan:
Make the Pea Crema and set aside ~ add enough liquid to create a smooth, very pourable sauce. Be sure to taste and season. You can warm the sauce in the microwave if you like.
2. Make the Asparagus Crudo and set aside. Be sure to select medium size asparagus spears ~ they have more flavor. Lay the spear flat on the cutting to peel, turning the spear around as you go.
3. Pan sear the salmon and place the skillet in the oven to finish cooking. Preparing salmon using this technique will give you maximum flavor and versatility. You can add so many different sauces or none at all.
4. While the salmon is roasting, cook the mushrooms.
TO SERVE:  Divide the pea crema among four plates.
Place a piece of salmon on top and spoon the Mushrooms and the Asparagus Crudo on either side of the fish.
If you've never made a dish with 4 different components, step out of your comfort zone.  The key is to have all your ingredients prepped, measured and ready to go ~ that's called mise en place ~ everything in its place.
Be a rock star in the kitchen!