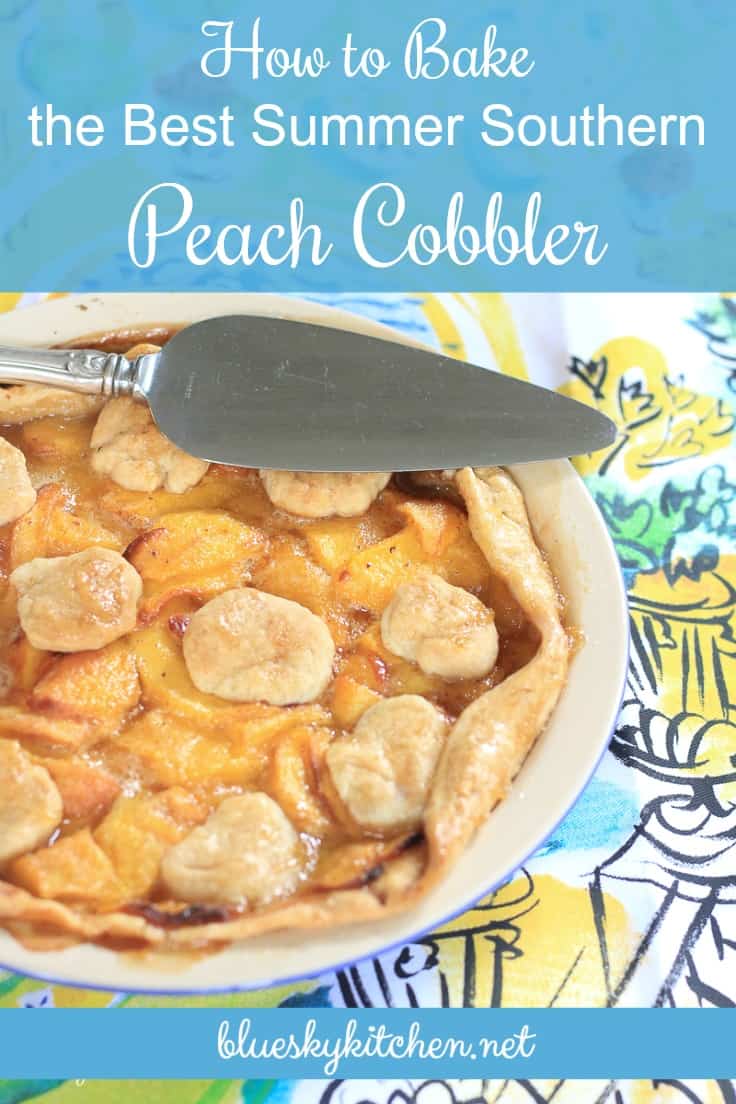 It's summer, it's the South and it's peach season. I love southern desserts that speak of warm days sitting on the porch while kids play in the sprinkler. Cold ice cream dripping down your chin. It's melting because it's on top of a warm cobbler that mom or grandma made from the fruit of a tree or bush out in the back yard. So what is more southern than a cobbler? And this time of year what is more southern and seasonal than a peach cobbler? And if it's simple to make, that's even better.
We did have a front porch growing up and I did play in the sprinkler and my mom did make peach cobbler and it always had a scoop of vanilla ice cream on top. But, sorry to say, we did not have a peach tree or any fruit that grew in our yard. I don't where my mom got her peaches, but I do remember how good that peach cobbler tasted on a hot summer Texas night. I wish I had her recipe, but I don't know if she had one. I don't remember her cooking or baking with a cookbook or a recipe card. And, unfortunately, as a kid, I wasn't interest in the cooking or the baking. (Although the eating side was always a topic of great interest. Did anyone else's parents accuse them of having a tapeworm?) I was happier being outside riding my bike or being at the stables riding my horse than inside watching my mom cook. Now I wish I'd spent more time hanging on to her apron strings.
How to Bake the Best Simple Summer Southern Peach Cobbler
Today peaches and peach cobbler will lure me to the kitchen, not just to eat, but to bake. Last week when a friend of my son's brought me a big bag of peaches from East Texas, I was thrilled. I could see Sweet Shark's eyes light up with thoughts of peach cobbler. So Saturday afternoon, I got out the butter and flour and sugar and measured and chilled the dough. And on Sunday afternoon I peeled and sliced and rolled out dough and make the best peach cobbler. And like any good neighbor, I'm sharing the dish with you. Come in from running through the sprinkler and let me show you how.
First of all, if you've followed any of my food posts, you might have figured out that I show you a tons of photos and give a lot of instruction. That's because I've been teaching cooking classes for 13 years, and before that I worked in the culinary school at Sur la Table. I can't just give you a recipe. Anyone can just give you a recipe. I have to teach you a few technique and share some tips, just like you were sitting in my kitchen at a cooking class. I want you to learn something when you are visiting here.
Just for fun, let's talk about cobbler. What exactly is it? Well, depending on where you are from or where your grandma was from, a cobbler can be made different ways. But for sure, it has fruit and some kind of pastry. But let's just think of cobbler as fruit baked in a deep~dish pie between 2 layers of pastry. Or not. There might be only 1 layer of pastry, either on the top or the bottom of the fruit. The top layer of pastry may completely cover the fruit or just parts of the fruit (In which case, it may be called dumplings.). The pastry may be pie dough or biscuits or crumbled cake. Confused? The point is cobbler can have many variations. And they are all good,it's just a matter of personal preference. Personally, I prefer a cobbler that is not completely covered in pastry ~ that's a pie in my book. I like the pastry "dotted" over the top. I like to see the fruit and have it bubbly and oozing and slightly brown. Having said that, I've got my apron on and so let's bake a peach cobbler.
How to Make the Peach Cobbler Dough
A good dough starts with cold, cold butter or a combination of butter and lard (Crisco). Dice your butter first and then place it in the freezer for 10~15 minutes.
While your butter is chilling in the freezer, combine your flour, salt and sugar.
TIP: a small whisk is a great tool for fully combining dry ingredients.
Besides your flour mixture and butter/lard mixture, you will need ice water ~ not cold water, but ice water ~ that's very important.
You want to make the dough on a large surface; that could be your kitchen counter top or a large wooden cutting board. Pour out the flour mixture onto the surface.
Pile the chilled butter on top. Using a pastry scraper, start pulling the flour over and into the butter. You can use the scraper to cut the butter into the flour. You want about half the butter pieces to be like coarse meal and the other half still large pieces of 1/2~inch.
TIP: You can use your hands at this stage, but the warmth from your hands may soften the butter too quickly. A pastry scraper or pastry cutter works better. (I tell Sweet Shark that's one of those techniques I learned in culinary school and cost him about $300 for me to learn. You're getting it for free.)
Keep gathering the dough together with the pastry scraper and your other hand until you can form it into a mound. It will not yet be fully incorporated.
Make a trench down the middle of the mound of dough. Here's where the magic of the ice water comes in. Add 1 tablespoon of ice water at a time, fluffing the flour so that it absorbs the water. Redraw a trench until all the ice water has been absorbed into the flour/butter mixture .
After you've added about 4 tablespoons of ice water, gather the dough into 1 mass. Now here's a secret step. Using the palm of your hand, smear (push) the dough away from you. Then pull it back together. Do this 5 or 6 times. This step really flattens the butter and helps it to blend into the flour. Afterward you will have a fully made dough.
Gather all the dough together with your pastry scraper and form it into a flat disk.
Wrap your disk in plastic wrap and refrigerate for at least 2 hours or overnight.
When you take the dough out of the refrigerator, it will be very hard. Let it sit for 10 minutes to soften before rolling it out. It's not a sticky dough so you don't need to flour your work surface. Roll it out about 1 1/2 inches larger than your pie dish. Trim off the excess dough and reserve it for the topping.
How to Make the Peach Cobbler Filling
The filling is a combination of your fruit, sugar, a little flour or cornstarch, seasoning, and butter. You can use blackberries, blueberries, cherries, boysenberries, and, of course, peaches. For peaches, you will need to peel and slice.
NOTE ABOUT THESE PEACHES: remember I told you that one of my son's friends brought me these peaches from East Texas? You never turn away free peaches. I always ask the grower if the peaches are freestone. You always want freestone if you can find them. With freestone, you just cut around the peach, twist, and the pit comes right off. Then it's easy to slice the peaches. These peaches were the cling kind, which makes them harder to remove from the pit. I actually just slice around the pit. You'll lose some of the meat of the peach. But they were really sweet.
Combine the sugar, flour, and seasoning. I used freshly grated nutmeg, but ground nutmeg or cinnamon works great, too.
Fill the pie dish with the fruit and sprinkle liberally with the sugar mixture. Dot the fruit with the thin slices of butter. As the cobbler bakes, the sugar and butter along with the natural liquid from the fruit combine to make the sweet juicy filling.
For the topping, pinch off pieces of dough, roll into 1~inch balls and flatten with your fingers. Place randomly on the top of the peaches.
Pop in the 425˚F. oven for 20 minutes. Lower the temperature to 375˚F. and bake for about 30 minutes until the crust is golden brown and the filling is bubbling. Cool on a rack until it is just warm.
TIP: place a sheet pan on the rack below the oven in case the filling bubbles over.
TIP: You know how pretty and shiny fruit desserts are at your bakery? That's a French culinary trick. Spoon a couple of tablespoons of apricot, fig, or orange preserves into a microwave~safe dish and heat until melted, about 10 seconds. Using a pastry brush, paint the tops of all the pastry crusts with the melted preserves. You'll have a cobbler that's extra pretty. At this point you can sprinkle sugar on top to really increase the pretty factor.
TIP: I keep the cobbler in the refrigerator, but to warm it up, place your cobbler in a serving bowl or on a plate and microwave for 10 ~15 seconds. Then top with vanilla ice cream or sweetened whipped cream.
This is sooo good. Remember that the flavor of the fruit depends to some extent on the type of peach, the ripeness of the peach and the sweetness of the peach. You can adjust the amount of sugar topping based on the sweetness of the peaches.
Peach Cobbler Recipe
This recipe is adapted from The Gift of Southern Cooking by Scott Peacock, one of my all time favorite Southern cookbooks.
Print
Summer Southern Peach Cobbler
A delicious, yet simple cobbler featuring fresh summer peaches.
Author:

adapted from Edna Lewis

Yield:

serves 8

Category:

Dessert~Pie

Cuisine:

Southern
Ingredients
FOR THE PASTRY DOUGH:
1 1/2 cups unbleached all-purpose flour
1 teaspoon kosher salt
8 tablespoons (1 stick) unsalted butter, cut into 1/2~dice and frozen for 10 minutes
2 tablespoons lard (Crisco), cut into 1/2~dice and frozen for 10 minutes
4 ~ 6 tablespoons ice water
FOR THE PEACH FILLING:
6 ~ 8 cups peeled, sliced fresh peaches
1/2 cup granulated sugar
2 tablespoons all-purpose flour
1/4 teaspoon salt
1/2 teaspoon freshly grated nutmeg (or 1/4 teaspoon ground nutmeg)
2 tablespoons unsalted butter, thinly sliced
2 tablespoons apricot, fig, or orange preserves, melted
Instructions
FOR THE PASTRY DOUGH:
Combine the flour, salt and sugar and place on a large cutting board.
Put the frozen butter and lard on top of the flour mixture and use a pastry scraper or pastry cutter to cut the fats quickly into the flour until some pieces are small and some are still large (1/2~inch).
Working quickly, gather the flour mixture into a mound and make a trench lengthwise through the center. Sprinkle 1 tablespoon of ice water down the length of the trench and fluff the flour with your fingers so that it absorbs the water. Repeat until all the water is absorbed into the flour. The dough should clump together into large pieces.
Gather the dough into a mass with a pastry scraper and use the heel of your hand to smear a hunk of dough away from you. Continue with pieces of dough until the entire mass has ben processed this way, about 6 times.
When finished, gather all the dough together with the pastry scraper into a flat dish. Wrap in plastic wrap and refrigerate for at least 2 hours overnight.
Roll out the chilled dough into a circle 1 1/2 inches larger than your pie plate. Line the pie plate with the dough and trim it to the edge of the pie plate. Set the excess dough aside.
Preheat the oven to 425˚F.
FOR THE FILLING:
Fill the dough~lined pie plate with the peaches.
Mix together the sugar, flour, nutmeg and salt in a small bowl and sprinkle all over the peaches.
Add the sliced butter and tuck in around the peaches.
Roll pieces of the reserved dough into small balls (1~inch) and flatten with your fingers. Randomly place on top of the peaches.
Place in the oven and bake for 20 minutes. Lower the oven temperature to 375˚F. and bake for 30 minutes until the dough is a deep golden brown and the filling is bubbling.
Remove the cobbler from the oven and place on a cooling rack.
Brush the melted preserves over all the pastry. Sprinkle with additional sugar, if desired.
Serve the cobbler with sweetened whipped cream or ice cream.
For another version of a cobbler, try my Blackberry Cobbler.  Now you can head off to your Farmers' Market and pick up a bunch of peaches or blackberries. Say hi to the farmers for me.
I have something really exciting, I think, to share. You may notice over on the sidebar of Bluesky Kitchen ~yes, look over there right now ~ an icon for Food Blogger Pro. I know it says for food bloggers, but Food Blogger Pro is not just for food bloggers. I've been a member for a little over a year, and I have learned so much from Bjork and Lindsay about photography, SEO, Google Analytics, Social Media, branding, affiliate marketing and I could go on and on. Their resources on every topic related to blogging is so vast. They offer webinars, podcasts. forums, printables, Q & A's on any topic. They will answer you by e~mail directly to questions you pose. If you'll been looking for a comprehensive blogging resource, this is it. Enrollment in Food Blogger Pro is only open a few times a year, so, if you are a blogger, or thinking about starting a blog, check out what they offer. (Yes, I am an affiliate and I may receive compensation if you join, but you will thank me, I promise.)
JUST A NOTE: this week I'll be sharing a post on Saturday ~ it's Ten on the 10th, projects under $10.