Beef Short Ribs with Chocolate Rosemary Wine Sauce
Beef short ribs. Makes me imagine warm, comforting, belly-filling food. And easy and elegant. Perfect for a dinner party.
How do you entertain during the holidays? We love to mix it up ~  sometimes it's a large group for cocktails and appetizers and other times it's a small group for a cozy Christmas dinner. If that is the case for you, what to prepare as the main course of a special holiday meal?  Beef short ribs are a perfect choice.
You can opt for beef tenderloin ~ impressive and elegant, but let's face it, it's expensive and you have to make sure it's cooked a perfect medium~rare.  
Chicken doesn't have quite the wow factor. Seafood is iffy for different palates.  Crown pork loin is impressive for sure, but a little harder to maneuver at serving time.
For us, braising is always the way to go. And this dish, Beef Short Ribs with Chocolate Rosemary Wine Sauce strikes the right balance between easy, make ahead and elegant and impressive.
Perfect Holiday Main Course: Beef Short Ribs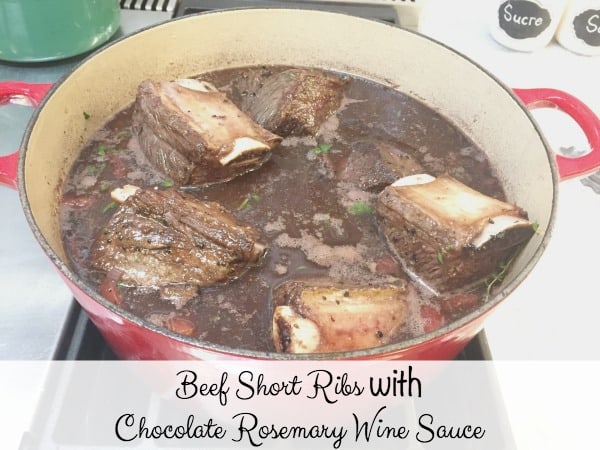 Braising is the perfect cooking technique for special meals in the winter.  First, what is braising? Less tender cuts of meat are first browned (seared) in fat (oil or butter), covered in a small amount of liquid and cooked low and slow for several hours.  You can braise on the stove-top or in the oven. The meat becomes full of flavor and melting tender. Once the meat starts cooking, you can almost leave it completely alone for 2 – 4 hours, depending on the size and amount of meat.  Another plus: the searing and initial cooking can be done a day ahead, then cooked a final hour or two before serving.
Sweet Shark loves to braise in the winter and he was in charge of the main dish for this meal. He chose this melt-in-your-mouth, full-of-rich-flavor, beef short ribs with chocolate rosemary wine sauce that he found several years ago in Bon Appètit and has made on several occasions.  Beef short ribs are always a good choice because one really, meaty large rib is one serving.  If it falls off the bone, it's even easier for guests to eat.  The sauce that is created will make your mouth water and short ribs are very affordable.

This post links to products that I love, use and highly recommend. If you purchase any product from this site, I may receive a small compensation, but you don't pay one penny more.
TIP #1: Plan on 1 large, meaty bone-in short rib per person; 6 pounds will probably yield 8 ~ 10 short ribs.
First, prepare your mise place; that means chopping, dicing and measuring your ingredients.
After cooking your pancetta, salt and pepper the short ribs and add to the pot to sear. It's O.K. to add a little extra oil if you need it.
TIP #2: Use a large Dutch oven, one that will comfortable hold all the short ribs and deep enough to hold the sauce. My Le Creuset Dutch ovens are my go~to pot for any braising dish.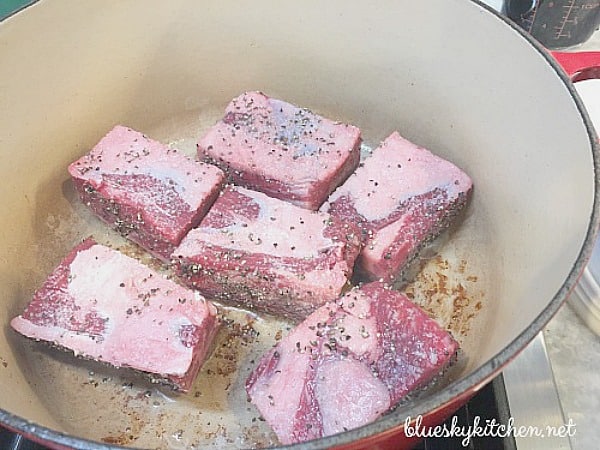 Remove the short ribs from the pot and set aside in a bowl.
Cook your mire poix: onions, celery and carrots. This step adds to the foundation of flavor you started with the cooking of the pancetta and the searing of the short ribs.
After adding the tomatoes, broth, wine, and chocolate, you are home free.  Let the short ribs simmer for a few hours to tender deliciousness.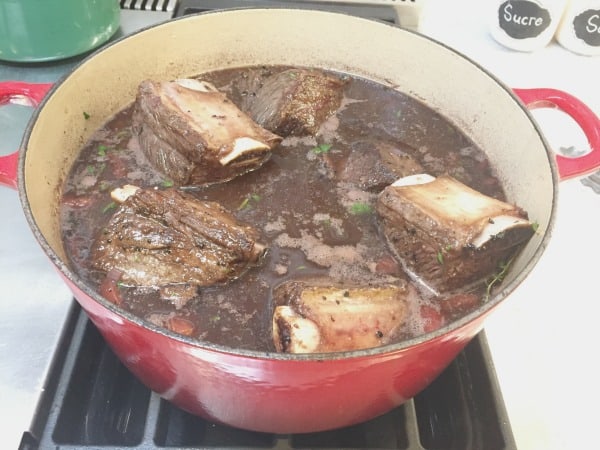 TIP #3: You can prepare the recipe through Step 4 the day before serving. When you remove ribs from the refrigerator, the fat will have risen to the surface.  Use a large spoon to skim off the fat cap and discard.
TIP #4: If you like a smoother sauce, you can strain the sauce through a fine~mesh sieve and discard the vegetables and herbs. You can also puree the sauce in a blender.
Serving Ideas: the short ribs are wonderful served with Garlic Mashed Potatoes or Polenta. For a green vegetable, Roasted Brussels Sprouts, Broccoli, and Broccolini are good choices. See How to Properly Roast Vegetables for ideas and the proper technique.
Put this dish on your "have~to~make" list. Do you have a favorite holiday main dish for company? Please share. have a great weekend. Stay warm and cook good stuff.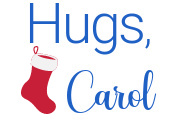 Parties where I have linked up this week: