How to Make Perfect Mashed Potatoes for the Holidays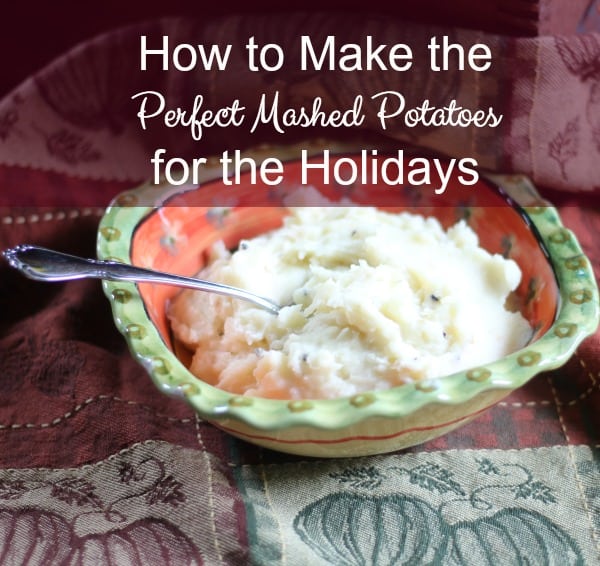 I don't know about your kids, but mine demand mashed potatoes for Thanksgiving. We love mashed potatoes and I enjoy adding other ingredients to up the flavor profile and cool factor. But before you can add anything to mashed potatoes, you have to make the perfect mashed potatoes. If you've ever had gummy or heavy mashed potatoes, you know that there is more to making mashed potatoes than throwing potatoes in a boiling water ~ actually, don't do that! So today I am going to show you how to make perfect mashed potatoes for the holidays to please any Thanksgiving guest ~ or picky kids.
In The Bulletin on Friday, I'll share a few variations that add extra flavor and cool factor. Be sure to sign~up to receive them.
The Potato
Although you can mash any type of potato, the variety you choose can make a difference in the end result. Without getting too technical, potatoes are mostly starch and water. The higher the starch content, the higher the fluffy, full texture. The lower the water content, the more the potato can absorb milk, cream or butter without becoming wet or gummy. Bottom line: high starch, low moisture potatoes. Russets or Yukon Golds are your best bet.
The Method
TIP #1: After peeling and cutting your potatoes into large chunks, always start your potatoes in plenty of cold water in a large saucepan or Dutch oven if you are making a large quantity.  Bring to a boil, add a good pinch of salt, then turn the heat down to medium ~ aim for solid, steady bubbles.
TIP#2: Be careful not to overcook your potatoes. Starch cells can break down and create a sticky mash. Cook the potatoes just until a thin~bladed knife meets a little resistance when inserted into the potato.
TIP #3: Be sure to drain the potatoes after cooking to prevent gumminess. Don't allow them to cool; just return to the cooking pot and over low heat, allow them to dry for a minute, shaking the pot and stirring with a wooden spoon.
This post contains affiliate links. If you order any product through this site, I may receive a small compensation, but you do not pay one penny more.
The Right Tool
I don't know when I first learned about a ricer, but I've had one for years and nothing results in fluffier, smoother, lump~free mashed potatoes better than a ricer. There are variations, but the basic premise is a container with small holes in the bottom and/or sides and a "masher" that presses down on the chunks of cooked potato, forcing the potato through the holes, turning the potatoes into fine, thin shreds.
This is mine. As you can see, all 3 models have a container for the potatoes, holes, and a plunger to press down, forcing the potato out in thin strings.
TIP #4: After you have drained and dried your potatoes (Tip #3 above), place them in a large bowl and "rice" them back into the cooking pot.
TIP#5: Never use an electric mixer to whip potatoes. You'll end up with gummy potatoes.
Your other needed tool is a sturdy, large wooden spoon for stirring in the add~ons.
Adding the Good Stuff
Potatoes are good on their own with a little salt and pepper, but it's adding butter and liquid that take mashed potatoes to ethereal goodness.
TIP#6: Use unsalted butter only ~ you want to control the level of salt.
TIP#7: Butter should be soft, but still hold its shape.
TIP#8: Any liquids, milk, half~and~half, cream or potato water, should be HOT. Heat the liquid in a small saucepan before adding to the potatoes. You can also heat in a microwave.
TIP #9: Add the liquid in small amounts ~ about 1/4 cup at a time ~ stirring with your wooden spoon until the liquid has been absorbed. Beat the potatoes with some muscle before adding more liquid.
Seasoning the Mashed Potatoes
Potatoes must be seasoned to taste really good. Add kosher or sea salt, pinches at a time, until the mashed  potatoes are seasoned to your taste. Stir between each addition of salt.
Oh, pepper. You can use freshly ground black pepper; however, when I was in culinary school, black pepper was frowned upon by our instructors. One instructor was adamant that we did not add anything that looked like "little black bugs" to any white food, especially potatoes or white sauces. Use your own discretion. I won't tell. Don't tell on me, either.  Or, use white pepper for a "cleaner" look.
Master Recipe for Mashed Potatoes
If you are serving mashed potatoes with sauce or gravy ~ of course, you are! ~ here is the recipe you want to use. You will have wonderfully smooth, fluffy potatoes, but not too rich. I think this recipe originally came from Cook's Illustrated, but I can't swear to it. I just know it works.
Making Ahead
When entertaining, it's always great when dishes can be made ahead and kept warm. You can make your mashed potatoes ahead, place them in a heat~proof bowl (glass or stainless steel), and set the bowl over a saucepan of simmering water. Cover with foil and let sit until serving time. I always put a pat or 2 of butter on the potatoes and keep a small amount of warm liquid on hand to add if the potatoes need a little more liquid. Give the potatoes a good stir before serving.
Remember: mashed potatoes aren't just for Thanksgiving.
And don't forget to subscribe to my newsletter to get more mashed potato variations.
One more thing. I'm excited to announce that next week, November 14 ~ 18th, I will be hosting a Holiday Recipe Blog Hop with 18 other bloggers. We'll be bringing you a week of wonderful recipes for your holiday entertaining and enjoyment. Put it on your calendar!