How to Make Perfect Mashed Potatoes for the Holidays
I don't know about your kids, but my kids demand mashed potatoes for Thanksgiving. So mine have to be really good. I'm going to show you how to make perfect mashed potatoes for the holidays.
This year we are hosting our entire family for Thanksgiving. The last time we were all together, our youngest granddaughter wasn't even born.
With so many people coming, it's crucial that I prepare ahead.

I'm already thinking about our Thanksgiving menu. I started browsing through Pinterest to collect some new side dish ideas (check out tomorrow's 10 Fabulous Thanksgiving Side Dishes.)
That's when I remembered that I should share my perfect mashed potatoes.
One side dish that I know will be on our Thanksgiving menu will be these perfect mashed potatoes. I don't want a riot on my hands.
We love mashed potatoes and I enjoy adding other ingredients to up the flavor profile and cool factor. Before you can add anything to mashed potatoes, you have to make the perfect mashed potatoes.
Did you know that mashed potatoes are the most popular side dish at Thanksgiving?
Mashed potatoes are a staple side for many families throughout the year, but Thanksgiving is really time for these creamy, fluffy, pillowy piles of heaven to shine.
Mashed potatoes may sound like the easiest dish to make.

BUT . . If you've ever had gummy, lumpy, or heavy mashed potatoes, you know that there is more to making mashed potatoes than throwing potatoes in boiling water ~ actually, don't do that!
There are some tried-and-true culinary steps to follow for smooth, creamy, delicious mashed potatoes.
So today I am going to show you how to make the best mashed potatoes for the holidays to please any Thanksgiving guest – or picky kids.
What Kind of Potato to Use?
Although you can mash any type of potato, the variety you choose can make a difference in the end result.
Without getting too technical, potatoes are mostly starch and water. The higher the starch content, the higher the fluffy, full texture. The lower the water content, the more the potato can absorb milk, cream or butter without becoming wet or gummy.

Bottom line: high starch, low moisture potatoes.
Russets or Yukon Golds are your best bet.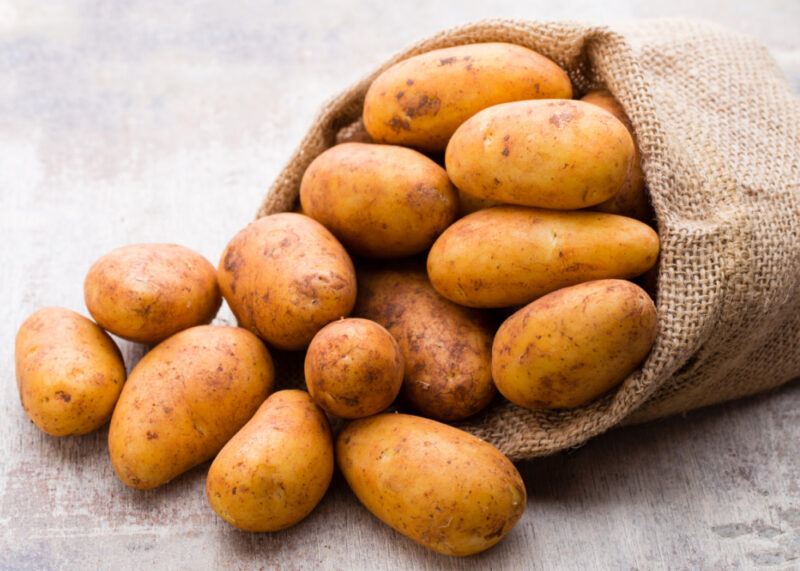 The Method
 Step 1 – First, peel and cut your potatoes into large chunks.
For peeling, I love the Rikon Y-peeler. It feels great in your hand. For chopping the potatoes, use your chef's knife. My Wüfstof is always my favorite.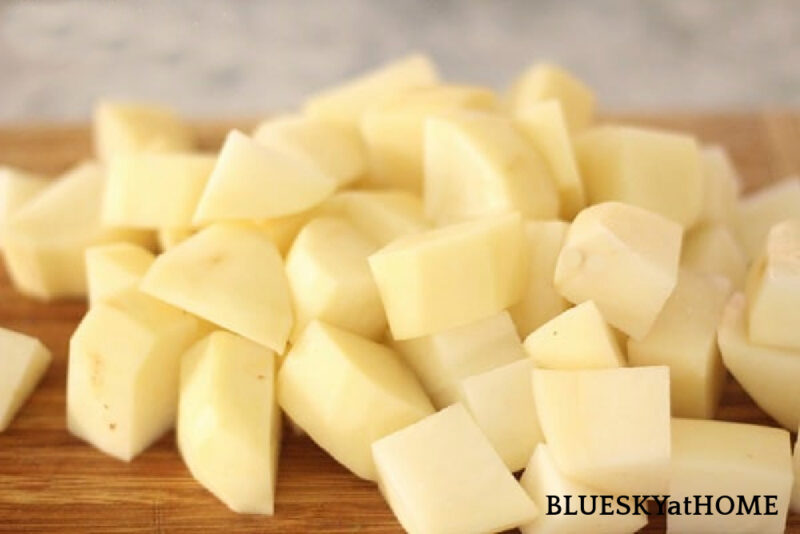 Step 2 – Place your potatoes in a large pot. I love to use my large Le Creuset Dutch oven.
Step 3 – Add enough cold water to the saucepan or Dutch oven to cover the potatoes by at least 1 inch.  Bring to a boil, add a good-size pinch of salt, then turn the heat down to medium – aim for small, steady bubbles.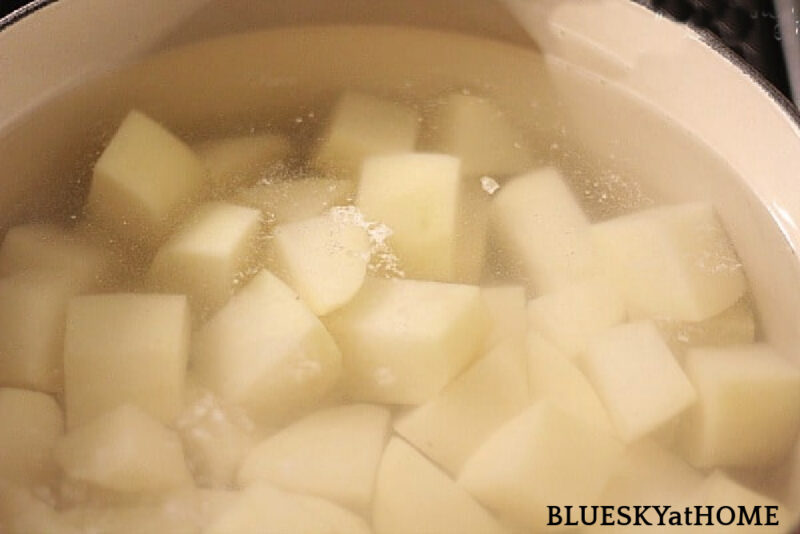 TIP 1: You want to simmer your potatoes, not boil them.
TIP 2: Be careful not to overcook your potatoes. Starch cells can break down and create a sticky mash.

Cook the potatoes just until a thin~bladed knife meets a little resistance when inserted into the potato.
Step 4 –  Drain the potatoes in a colander after cooking to prevent gumminess.
TIP 3: Don't allow the potatoes to cool. Just return them to the cooking pot over low heat, allow them to dry for a minute, shaking the pot and gently stirring with a wooden spoon.
The potatoes should have a dry look.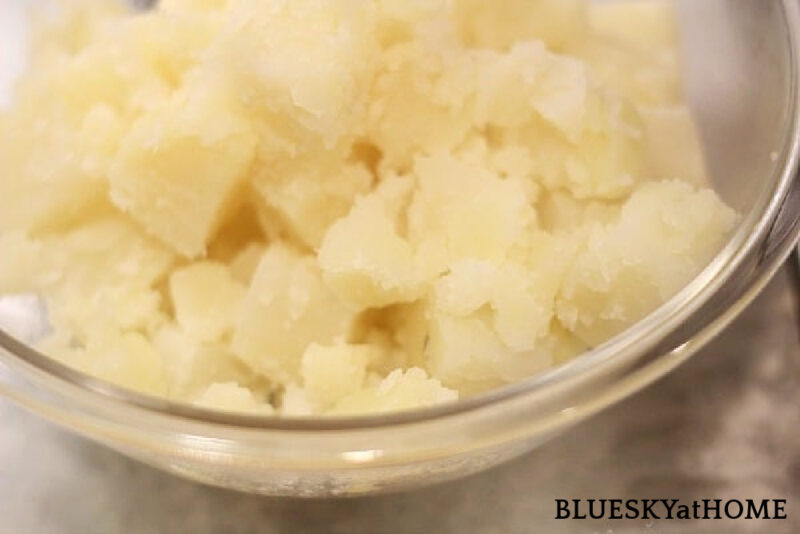 What is the Right Tool?
I don't know when I first learned about a ricer, but I've had one for years and nothing results in fluffier, smoother, lump~free mashed potatoes better than a ricer. Using a potato masher results in chunky mashed potatoes.
There are variations, but the basic premise is a container with small holes in the bottom and/or sides and a "masher" that presses down on the chunks of cooked potato. This action forces the potato through the holes, turning the potatoes into fine, thin shreds.
This is my ricer. As you can see, all three models have a container for the potatoes, holes, and a plunger to press down.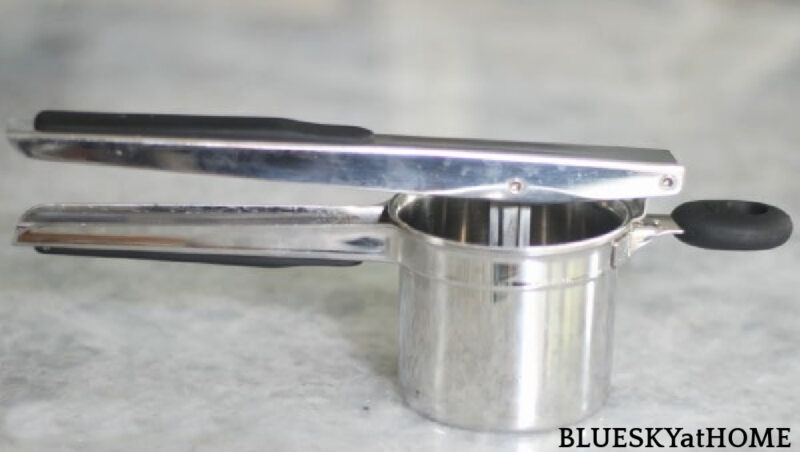 Step 5: After you have drained and dried your potatoes (TIP 3 above), place them in a large bowl and "rice" them back into the cooking pot.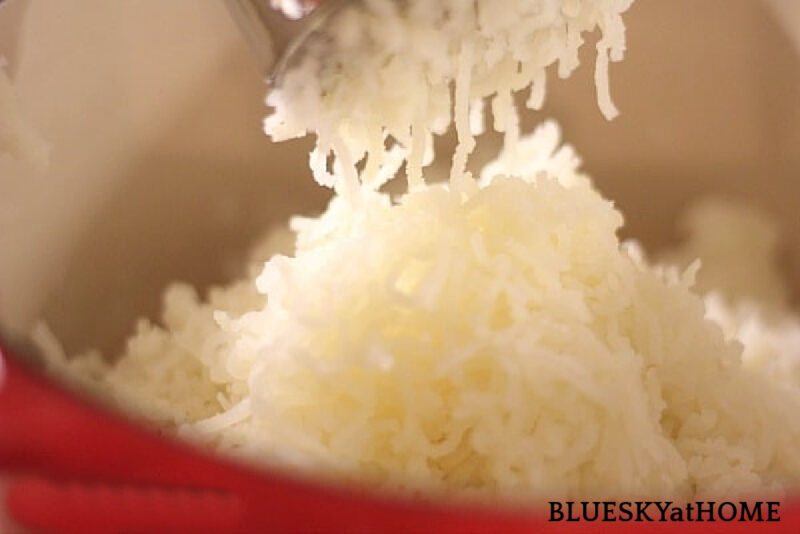 TIP 5: Never use an electric mixer to whip potatoes. You'll end up with gummy potatoes.
Your other needed tool is a sturdy, large wooden spoon for stirring in the add~ons.
Adding the Good Stuff
Potatoes are good on their own with just a little salt and pepper. It's adding butter and liquid that take mashed potatoes to ethereal goodness.
TIP 6: Use unsalted butter only – you want to control the level of salt.
TIP 7: Butter should be soft, but still hold its shape. Let it sit out on the counter while the potatoes are cooking and drying.
TIP 8: Any liquids, milk, half~and~half, cream or potato water, should be very WARM. Heat the liquid in a small saucepan before adding it to the potatoes. You can also heat it in the microwave.
TIP 9: Add the liquid in small amounts ~ about 1/4 cup at a time ~ stirring with your wooden spoon until the liquid has been absorbed. Beat the potatoes with some muscle before adding more liquid.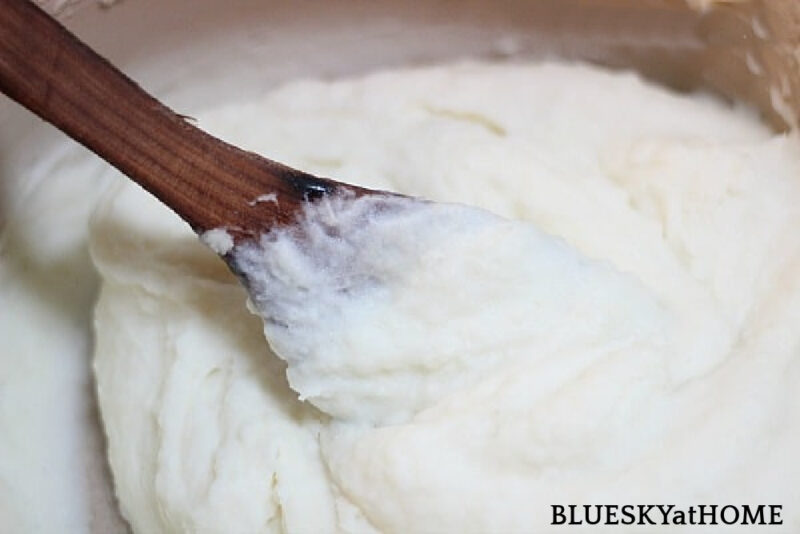 Seasoning the Mashed Potatoes
Salt – Potatoes must be seasoned to taste really good. Add kosher or sea salt, pinches at a time until the mashed potatoes are seasoned to your taste. Stir between each addition of salt.
Pepper – Oh, pepper. You can use freshly ground black pepper.
When I was in culinary school, black pepper was frowned upon by our instructors. One instructor was adamant that we did not add anything that looked like "little black bugs" to any white food, especially potatoes or white sauces.

Use your own discretion. I won't tell. Don't tell on me, either.  Or, use white pepper for a "cleaner" look.
Master Recipe for Mashed Potatoes
If you are serving mashed potatoes with sauce or gravy ~ of course, you are! ~ here is the recipe you want to use. You will have wonderfully smooth, fluffy potatoes, but not too rich. I think this recipe originally came from Cook's Illustrated, but I can't swear to it. I just know it works.
Perfect Mashed Potatoes
Flavorful mashed potatoes with a smooth texture for the best side dish for holiday meals.
Equipment
Dutch oven or large stockpot

ricer

wooden spoon

stainless bowl
Ingredients  
2

pounds

russet potatoes

washed, peeled and cut into large chunks

8

tablespoons

unsalted butter (1 stick)

room temperature

1

cup

half-and-half

warmed

kosher salt

to taste

1/2

teaspoon

ground white pepper

to taste
Instructions 
Place potatoes in a large Dutch oven and cover with 1-inch cold water.

Bring to a boil over high heat. Add a large pinch of salt.

Reduce heat to medium-low and simmer until potatoes are tender. Test by inserting a paring knife into the potatoes. There should be very little resistance. Should take about 20 minutes.

Drain the potatoes in a colander. Return the potatoes to the Dutch oven and allow to dry for a few minutes.

Over a large bowl, spoon a small amount of potatoes into the hopper of a ricer. Press them through the ricer. Add potatoes back into Dutch oven. Repeat until all the potatoes have been riced.

Stir unsalted butter into potatoes, tablespoon by tablespoon, with a wooden spoon, until smooth.

Gently stir in warmed half-and-half until fully incorporated.

Add salt and pepper to taste.
Making Ahead
When entertaining, it's always great when dishes can be made ahead and kept warm.
To Keep your Mashed Potatoes Warm until Serving:
Place the potatoes in a heat~proof bowl (glass or stainless steel).
Set the bowl over a saucepan of simmering water. Don't let the water touch the bottom of the bowl.
Cover the bowl with foil and let sit until serving time. If necessary, turn on the heat just before serving time. I always put a pat or two of butter on the potatoes and keep a small amount of warm liquid on hand to add if the potatoes need a little more liquid.
TIP 10: Give the potatoes a good stir before serving.
Variations on the Perfect Mashed Potatoes
If you like to add extra flavor to your perfect mashed potatoes, try one of these additions at the end of the preparation process:
Add 2-3 roasted and mashed garlic cloves to your mashed potatoes.
Caramelize onions and add them to the mashed potatoes.
1/4 cup goat cheese or Boursin cheese
Herbs, such as thyme, chives, or rosemary
Shredded Cheddar cheese
Chopped cooked bacon
Remember: Mashed potatoes aren't just for Thanksgiving.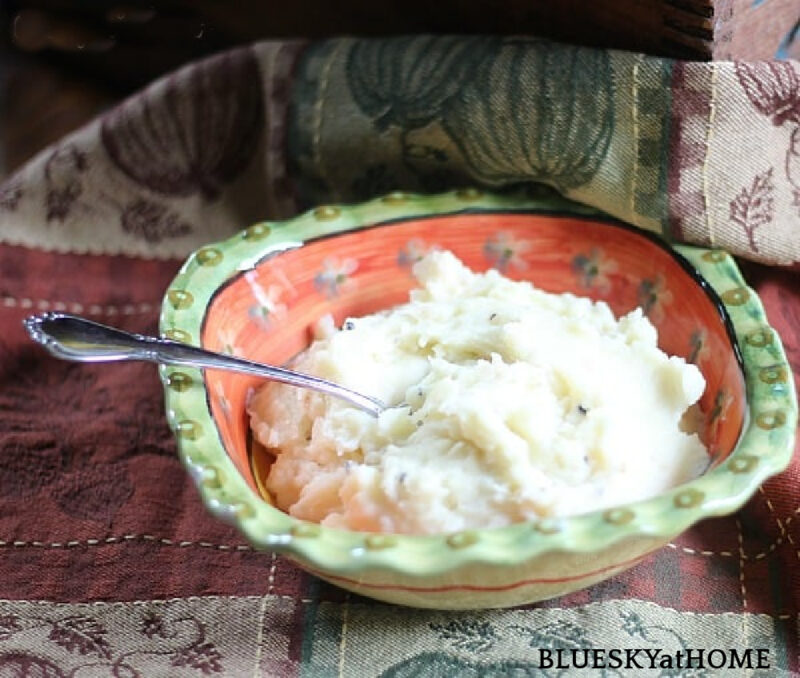 If you want to serve the perfect mashed potatoes, PIN this recipe to have it ready for Thanksgiving – or any occasion.