How to Make Delicious Hummingbird Mini~Cakes
If you have grown~up in the South, then you may very well be familiar with Hummingbird Cake. If you have never had a piece of Hummingbird Cake, then you have been missing one of the best American cakes ever. If you haven't enjoyed this cake, I'm here to show you how to make this Southern favorite in a smaller version ~  delicious Hummingbird Mini~Cakes.
Since 1978 when a reader first contributed the recipe, it has been the number 1 requested cake recipe at Southern Living magazine. My first mother~in~law, who was a fantastic cook and homemaker, introduced me to this iconic cake. I made it often for many years, but then as sometimes happens, sort of forgot about it. When Southern Living featured it on the cover of their January issue, I remembered how delicious the cake was. If you would like to read more about the history of Hummingbird Cake and its evolution, check out 
this article
.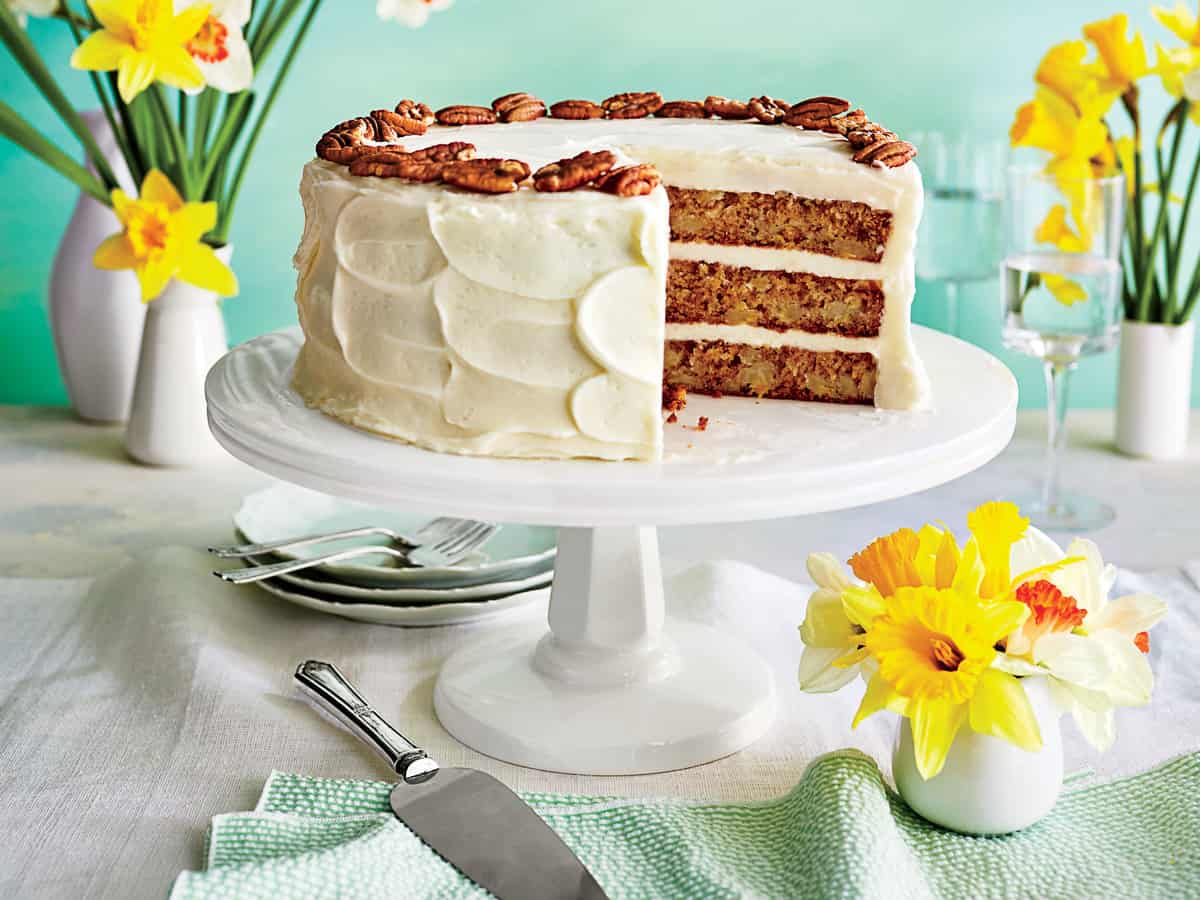 For a recent cooking class, whose theme was traditional Southern recipes, I knew I wanted to make a Hummingbird Cake, but with a little twist. Rather than a traditional 3 ~layer cake (and because I love anything with "mini" in front of it), I wanted to try a smaller, individual portion, so the delicious Hummingbird Mini~Cakes were born.
How to Make Delicious Hummingbird Mini~Cakes
What makes Hummingbird Cake so moist are 3 of its ingredients: vegetable oil instead of butter, crushed pineapples and juice, and mashed bananas. Add chopped toasted pecans and you have a moist, but slightly dense cake. The cream cheese frosting just adds more flavor and creaminess to the cake.
Ironically, after I read about the Hummingbird Cake in my January issue of Southern Living and decided to make it again, I was cleaning out files in my office and found a recipe for Hummingbird mini~cakes, using half the original recipe. This recipe yielded 48 mini~mini~cakes. I didn't want 48 mini~minis, but 12 larger minis would be just right. And as it turns out, this recipe makes exactly 12 cakes baked in a standard muffin tin. I lined the tin with cupcake liners, but then peeled the liners off. I didn't want cupcakes, just small cakes.
They were as delicious as I remembered. I also remembered that my mother~in~law made her cake in a rectangle baking pan and spread the icing on top without any decorative swirls. If you want to make the original 3~layer cake or a 1~layer rectangle cake, just double the ingredients.
Preparing the Hummingbird Mini~Cakes
As usual, start with your mise place.
NOTE 1: DO NOT drain the crushed pineapple. That extra juice contributes to the moistness of the cake.
NOTE 2: Your banana should be ripe, but not to the point of turning brown. You should be able to easily mash it with a fork.
NOTE 3: Toast your pecans in a small skillet over low heat. DO NOT add any oil. Watch closely so they don't burn. When you start to smell the aroma of the nuts, remove them from the pan to a small bowl until ready to add them to the batter.
NOTE 4: For the Cream Cheese Frosting, be sure that your butter and cream cheese are at room temperature for easy blending.
The Hummingbird Mini~Cakes do not require an electric mixer. Combine your dry ingredients in a large mixing bowl and then add the rest of the ingredients in the order given in the recipe.
Be sure to only fill the cupcake liners 2/3 full. You might have a little bit of batter left over, but don't be tempted to overfill your liners. After cooling on a rack, remove from the muffin tin. At that point, I peeled off the liners.
Either spread the frosting on with a spatula or place in a piping bag and use a start tip to decorate the mini~cakes. I garnished mine with a bit of mint.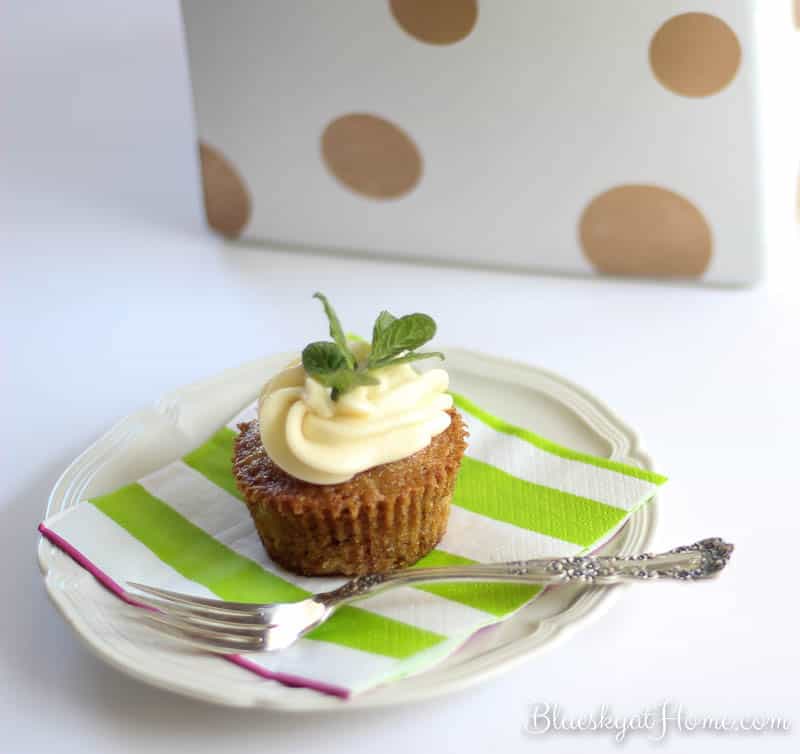 I love the size of these delicious Hummingbird Mini~Cakes. Just enough ~ 4 bites ~ to savor the natural sweetness of the pineapple, the creaminess of the banana, and the crunchiness of the pecans. It's a win~win in cake heaven.
And now drum roll, please, you are in for a treat! Not 1, but 2, fabulous blog hops this week. First, I'm joining a group of creative ladies for a Spring Tablescape Blog Hop hosted by the lovely and talented Chloe of Celebrate and Decorate.
Monday
Red Cottage Chronicles | Everyday Living | Belle Blue Interiors  | Home is Where The Boat Is | |From My Carolina Home  
Tuesday
Life and Linda | Our Crafty Mom | Corner of Plaid and Paisley | The Little Yellow Corner Store
Wednesday
Bluesky at Home | A casa di Bianca | The Painted Apron | At Home with Jemma | Knock it Off Kim
Thursday
Panoply | My French Twist | Around my Table | Loveland Lodge
 Friday
 Rustic & Refined | Celebrate & Decorate | Living With Thanksgiving |  Me and My Captain
And not to be outdone, Jenna of Wife in Progress is hosting a Spring Home Tour Blog Hop. I'll be sharing my Pretty Pastel Spring Tablescape with you on Wednesday, March 21st. Friday, March 23rd I'll be showcasing how I am using 10 Awesome Accessories in our living room spring decor. Below are the links for today's fabulous (I know they are fabulous!) posts, so pretty please visit and PIN them.
Have a great time.
Styled For Spring
Home Tour Participants
Monday
Wife in Progress // Postcards From The Ridge
Sand Dollar Lane// Lovely Etc. // Noting Grace// Farmhouse For Five
Tuesday
Green With Decor // My Life From Home //Bisozozo
One Mile Home & Style // Create & Babble // My Thrift Store Addiction
Paint Yourself a Smile
Wednesday
Saw Nail and Paint
The Tattered Pew // Brown Dog Vintage // Red Cottage Chronicles
Savvy Apron
Thursday
Aratari At Home // Home Made Lovely
Atta Girl Says // Inspiration for Moms // The Happy Housie
Friday
A Blue Nest // Hashtag Blessed Blog
Bluesky at Home // The Frugal Homemaker // A Purdy Little House