10 Pretty Ways to Use Green Plants in Your Home
Do you need some ideas for how and where and what and when it comes to green plants? Let me share 10 pretty ways to use green plants in your home.
Spring is definitely here. Our tulips have come and gone, but the pansies are still blooming. We're at least another month away from the profusion of color that spring flowers bring to our yards and our homes. Inside, I use green plants a natural look. These ways to use green plants will give your home a natural and organic feel.
Just to be clear, these are all live plants, so yes, you have to water and nurture them. (Thank goodness Sweet Shark is in charge of that job.) These ideas for using green plants will show you where and how to bring nature into your home.
My job is to make sure that our home is brightened with beautiful green plants that bring color, life, and interest throughout our home. Until the peonies, hydrangeas and other flowers give color outside, green will work inside. You can do this too ~ with just a few ideas for inspiration.
These 10 pretty ways to use green plants in your home cover different types of plants, different sizes, different shapes and textures, and different containers ~ all in different areas of your home.
I'll also share some information about why having green plants in our homes benefits us in ways that don't have anything to do decorating.
10 Pretty Ways to Use Green Plants in Your Home
First, I like to think of green plants as accessories. Like art, books, or decorative items, green plants add color, texture, and interest. They fill an empty space.
The containers they are in also add color, texture, and pattern. They provide a living, organic presence in our environment. Living green plants make us feel good ~ a part of nature inside our homes.
Research suggests that indoor plants not only purify the air, but have calming effects on your mood, stress levels and blood pressure.
GREEN PLANTS IN THE ENTRY
Let's start with your entry. Most of us have a table, a console, a dresser of some sort in our entry hall. This is a great place to include a green plant.
The size of your green plant just depends on the size and shape of the furniture. The type of green plant depends on the amount of light in your entry.
In our entry we have an antique commode ~ think of a chest of drawers. (It holds our Christmas china, placemats, napkin rings, and other tabletop accessories.) If the commode is not decorated for a holiday, it loves just a pretty green plant.
Since the commode is stained and topped with a grey~green piece of marble, a green plant provides color, texture, and pattern.
Usually I have the commode decorated for spring or a holiday. Otherwise, Sweet Shark keeps one of his favorite bonsai plants here. This is about as easy as it gets for using one large green plant.
This one is a Schefflera, which has pretty bright green leaves. As a bonsai, it definitely has an interesting shape. Since the mirror always reflects the back of whatever is placed in front of it, it's nice that the plant looks good from all sides.
Although our front door is partially glass and there is a large Palladian window above it, the light in the entry (which faces west) can range from dark in the morning on a cloudy day to very bright in the afternoon on a sunny day. And it depends on the time of year also.
The bonsai seems to adapt to the changing light. Sweet Shark babies his bonsais and knows where they will do best. This one seems happy here.
Extensive research by NASA has revealed that houseplants can remove up to 87 per cent of air toxin in 24 hours. Studies have also proven that indoor plants improve concentration and productivity (by up to 15 percent!), reduce stress levels and boost your mood — making them perfect for not just your home but your work space, too.
GREENERY IN THE DINING ROOM
If you peek into our dining room, you will see a mid-size dracaena Janet Craig plant in the corner.
When I was redoing our dining room in the spring of 2018, I knew that it would need something tall in this one corner and that a green plant would be the best option. Since the room is mostly grey and white, the color comes from art and this green plant.
I asked Sweet Shark to select a plant that was 3 ~ 4 feet tall and on the slim side. The dining room gets a lot of sun in the afternoon so that light needed to be considered. I didn't want anything big or bushy, but with smooth and shiny leaves.
He found the perfect green plant. This 4~foot tall Janet Craig dracaena plant fits the tall, skinny, shiny, and smooth requirements.
It would take the bright sun, but be fine in the morning when the light is low.
It provides a great pop of natural green color.
It fills up that corner of the dining room quite nicely.
The container originally was an ugly green plastic one that I spray painted gold.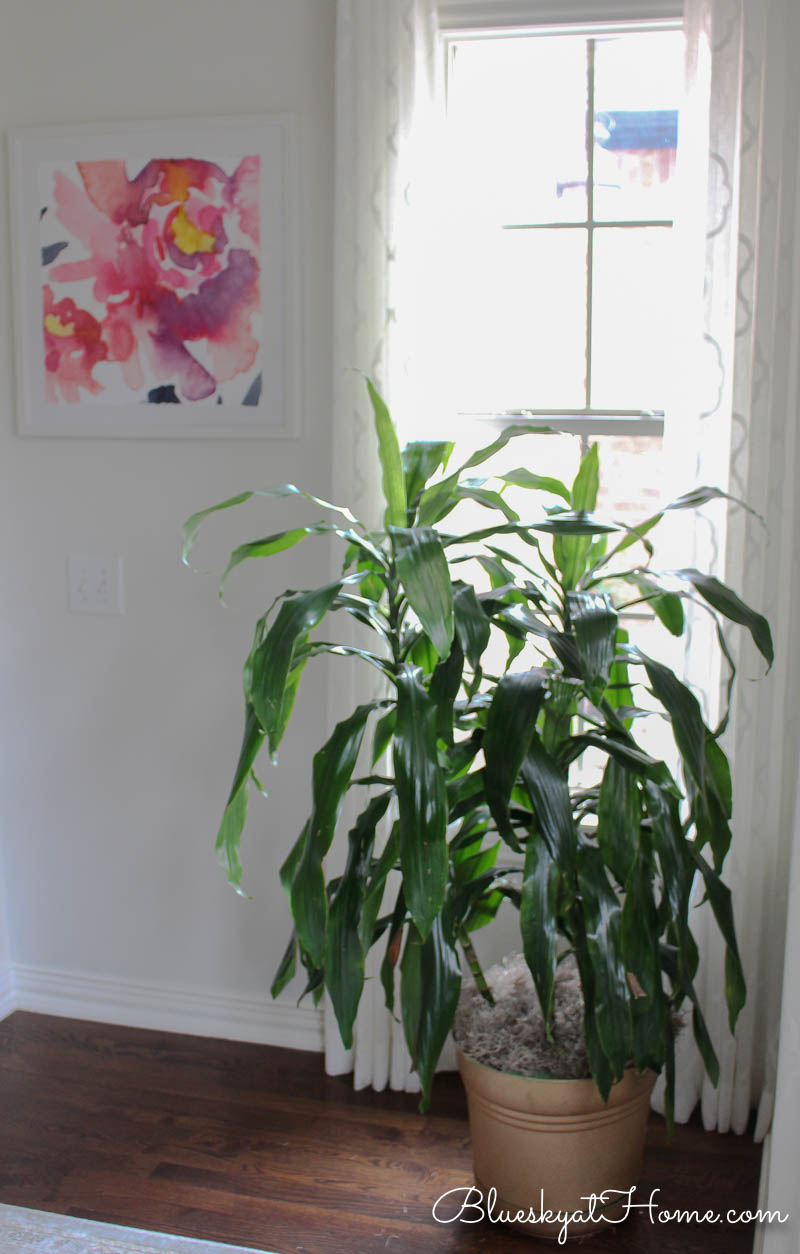 PLANTS IN THE LIVING ROOM
Our living room has several places for live green plants and I bet yours does too. With coffee tables, end tables, bookshelves, and mantels, plenty of places provide a landing spot for a pretty green plant. And, just like in our dining room, you can have large plants that sit on the floor.
On each side of our bookcase, we have a mid~size plant sitting on the floor. These sansevieria tropicals have an interesting shape, stay compact, and are slow~growing.
My mom always called them "mother~in~law's tongue". I recently heard someone call them snake plants. Their tall, slim leaves make them a great plant for narrow spaces.
The sansevieria provides some height and also softens the hard lines of the bookcase. With the white of the bookcase and the pale blue walls, the green and yellow leaves offer contrast and interest.
I picked matching ceramic containers in a neutral color, but with some design motif around the top edge. Spanish moss finishes the look.
From Better Today: "As well as enhancing your mood and creating a living space that is soothing to be in, plants can also help with loneliness and depression: caring for a living thing gives us a purpose and is rewarding — especially when you see that living thing bloom and thrive."
NOTE: Sweet Shark wanted me to tell you that right now the sansevieria are not looking their best; they have lost a few leaves and normally are much fuller. They need some tender loving care.
On a table between our two Bergere chairs, I have a white ceramic planter full of pothos ivy. This is about the easiest indoor plant to grow. (I have even grown them outside in the shade in the Texas summer.)
This prolific grower has bright green leaves and can be solid green or variegated. If any of the leaves turn yellow, you can just pinch them off. If the vines get too long, you can cut them back.
Pothos looks great in just about any container. I also love them in blue and white or floral design planters.
Coffee tables are prime real estate in any living room. Besides books, trays, candles, and pictures, green plants are at the top of my list for coffee table must~haves.
I often have seasonal or holiday arrangements on the coffee table. For in-between time, I use trays, baskets or stacks of large coffee table books (rectangle in shape). A green plant always is appropriate.
Currently, it is decorated with a pretty spring vignette.
Since our coffee table is glass and metal, I like to use containers in materials that are solid, natural, and organic. Changing the containers occasionally keeps the look interesting.
I find containers in all different places. Searching through my kitchen drawers, I found a wooden teak salad bowl that I have had forever. I don't use it too much for that purpose, but I thought it was the right size, shape, and color for the coffee table. I just had to find the right plants to fit inside.
A trip to the indoor plant section of Lowe's yielded the right plants. I wanted to group at least 3 plants that would have contrasting textures, colors, height, and shape. To be honest, I'm not exactly sure what these plants are, but they will take medium light which is what I needed.
I placed a piece of foil in the bottom of the salad bowl, just to make sure no dirt or any water would damage it.
Then I grouped my three plants, filled in with wadded~up packing paper to hold them secure, and covered everything with Spanish moss to finish off the arrangement and give it a professional look.
I made a video of the process and it's on my Facebook Page.
Sometimes you need a plant to fill a space. Next to our backdoor by an end table was just a big blank space. A green plant would be the ideal filler. Fortunately, this spathiphyllum was perfect. Its large leaves definitely fill up space and give a beautiful pop of green color.
A 2007 study showed that people with more plants in their workspace took fewer sick days and were more productive on the job.
I like that the large pale yellow ceramic container echos the yellow of our lamp and drapes.
You can see the pretty white single flower that the plant sprouts. I know that soon this green plant will probably be too big for this spot (It obviously loves where it is ~ just the right amount of light.) and we will have to move it.
USING PLANTS IN YOUR KITCHEN/BREAKFAST ROOM
Since we spend so much time in our kitchens, this is another great place to add greenery. I can't think of a better choice than herbs ~ especially if they come straight from your garden.
In our backyard, we grow all our herbs in pots. Although several herbs, such as basil, cilantro, and dill are seasonal, Mexican mint marigold, thyme, oregano, rosemary, and mint are perennial. Unfortunately, we lost all our herbs in the deep freeze we had in February.
I did add some herbs to the kitchen counter in some really cute containers. We'll move these outside in a couple of weeks.
We always have pots of rosemary, thyme, lavender, chives, and parsley that come back every year~except this year. I love to cook with herbs and like to bring cuttings into the kitchen. It's nice to have them ready for cooking, but also to provide a natural green organic presence in the kitchen.
The Le Parfait mason jars that I found in Atlanta and shipped home a few years ago are perfect for holding herbs. I really like to use them as accessories in the kitchen.
One afternoon, I cut some rosemary, chives, and lavender. I didn't wash the herbs ~ that is done just before I snip some off for cooking. They do get a good shake before I bring them in the house, just so little critters wouldn't stick around.
The fragrance of the rosemary and lavender when I brush my hand across them is one of my favorite things.
There was one more container I wanted to use in the kitchen. After Christmas, I bought a wooden box of paperwhites at Trader Joe's and placed it on the toolbox on the console table in our breakfast room. I loved this vignette as part of my winter decor. Obviously, this vignette did not stay for spring.
Sad to say, the leaves grew but never produced flowers. (There was a plastic liner, but it had no holes in the bottom for drainage and we think the bulbs just rotted.) I finally threw the bulbs away, but I liked the wooden rectangle box.
So what was small that would fit in the narrow box and take bright sunlight? On my aforementioned trip to Lowe's, I also found some succulents to try. I bought 3 small ones ~ 1 jade plant and 2 others I have no idea what they are.
First I wanted to embellish the plain wood~stained box. Using two designs from A Maker's Studio stencils and some ChalkArt in I Reckon, an off~white color, I gave the wooden box a little more personality and pizazz.
I used a bit of rolled~up newspaper on the bottom of the box to raise the containers, placed the succulents in the box, and filled in around them with wadded~up packing paper. Once again I covered the paper and the containers with Spanish moss to finish the arrangement.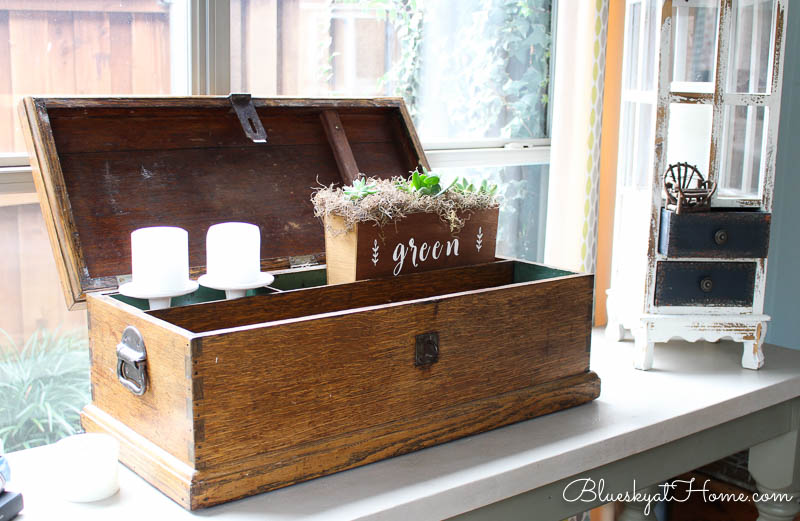 I also included this process in the video on my Facebook Page.
I'm not that big a fan of succulents, but I do like how this green plant grouping came off. The bright green of the softly rounded jade leaves contrasts nicely with the sage green pointed leaves of the other plants.
GREENERY IN THE MASTER BEDROOM
Since most of us have nightstands and sometimes a table by a chair ~ a little reading nook ~  bedrooms can also be great places for green plants.
We have a table between two chairs in our bedroom in front of a bay window which gets morning light. I showed you how it was set it up for winter decor.
I decided that this spot could use more greenery.
Out in our garage, I have a collection of planters that I recycle and reuse. I found a small white container with a pretty scroll design that would fit nicely on a stack of books.
Then I looked for a plant with an interesting shape and texture at Lowe's and found just the thing ~ a small variegated Schefflera that fit perfectly in my container. Green moss tucked on top finishes the arrangement.
Since we can control the light coming into our bedroom with the shutters, I didn't need to be so concerned about the light requirements of the plant, just the size, color, and texture.
MASTER BATHROOM GETS POP OF GREEN
Finally, we come to the master bathroom.
With a vanity to set a plant on and a higher level of humidity, bathrooms are great places for plants.
We usually have an orchid here (one of Sweet Shark's passions), but they are just beginning to bloom right now. This small corn plant was in the laundry room (That's where the orchids stay when they are dormant and waiting to bloom.) to this spot.
The mercury glass planter is a favorite and I like the metallic contrast with the green leaves. The planter also reflects the metallic finish of the frame.
Our bathroom has a very large window, which is on the north side of our home. It can be very bright or very dark, depending on the season and time of day. The corn plant is doing well so far. I'll move it somewhere else as soon as one of the orchids come to life again.
See this post for more ideas on how to use green and white in your home decor.
BEST HOUSEPLANTS FOR STRESS AND ANXIETY
Mindful Searching compiled a list of favorite in-home plants for anxiety, stress, and overall well-being. The plants were selected based on their calming scent, ability to boost mood, and for their anti-anxiety effects.
Aloe Vera
Jasmine
Lavender
Peppermint
Gerbera
Snake Plant
Rosemary
Chrysanthemum
Chamomile
English Ivy Plant
Well, that's my 10 pretty ways to use green plants in your home decor: places, types, light, containers.
I hope that you enjoyed my little plant tour and learned something that you can use in your home. If you like and want to save for reference, please PIN it.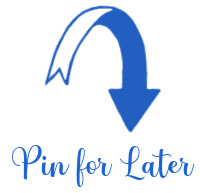 Let's make the world a prettier place by using green plants in our homes.