Our Light and Airy Dining Room Makeover Reveal
It's hard to believe that what started as just an idea in my head is now a reality, thanks to Linda Weinstein and the One Room Challenge. Having to focus on completing the transformation of just one room was the original purpose of the One Room Challenge and I can truly say that sharing this challenge with over 200 other bloggers and designers is the best motivator in the world. It's time for the dining room makeover reveal.
If you are a blogger, thank you so much for your support and encouragement. Honestly, the best thing, next to having a dining room that I absolutely love now, has been meeting so many bloggers and being blown away by the wealth of talent out there. Believe me, HGTV has nothing on these people. And to readers of Bluesky at Home, thank you so much for following along on this design journey and giving me some very appreciated comments and suggestions for our dining room makeover. I love you all to death. I wish I could hug everyone of you.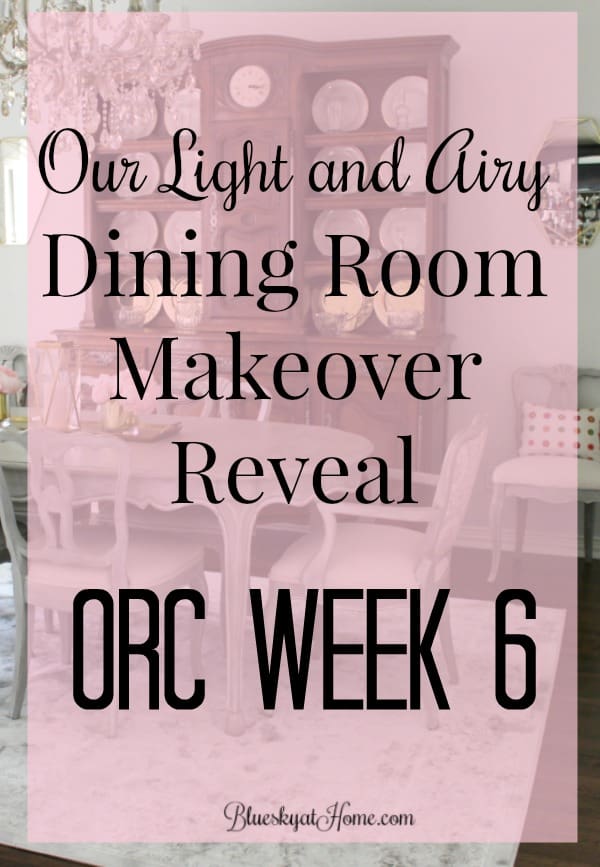 So let's get going. As my much more famous fellow Texans down in Waco say, Are you ready to see my dining room makeover reveal?
Our Light and Airy Dining Room Makeover Reveal ~ ORC Week 6
Before the Dining Room Makeover Reveal
Just to take you back to the very beginning, way before Week 1: this dining room makeover actually started right before Thanksgiving when I, totally on the spur of the moment, removed the shutters from the bay window (and one side window) of our dining room. The amount of light that flooded in the windows was a revelation. (I thought I heard harps and trumpets playing.) I talked Sweet Shark into leaving the shutters off through the holidays. But after the New Year, we both realized that some kind of window treatment was needed. Sweet Shark thought that would be the end of the story. Oh no, said I. If we are going to need new window treatments, this dining room is going to get a whole new look.
The first step in transforming the dining room was new paint on the woodwork in Week 2 and painting the walls in Week 4. In Week 3 I shared the design decisions I had made for the dining room makeover, from a new rug, new art, and new accessories. And in Week 5, I showed you accessories that had been installed and what was still to come.
Dining Room Makeover Reveal Challenges
This time last week, I thought everything was smooth sailing. The paint color was just as I had envisioned. The new window treatments had been installed, (Love at first sight.)
The art work had been hung (including the surprise art that Sweet Shark remembered that had been in storage for 20 years and fortunately fit the dining room vision.)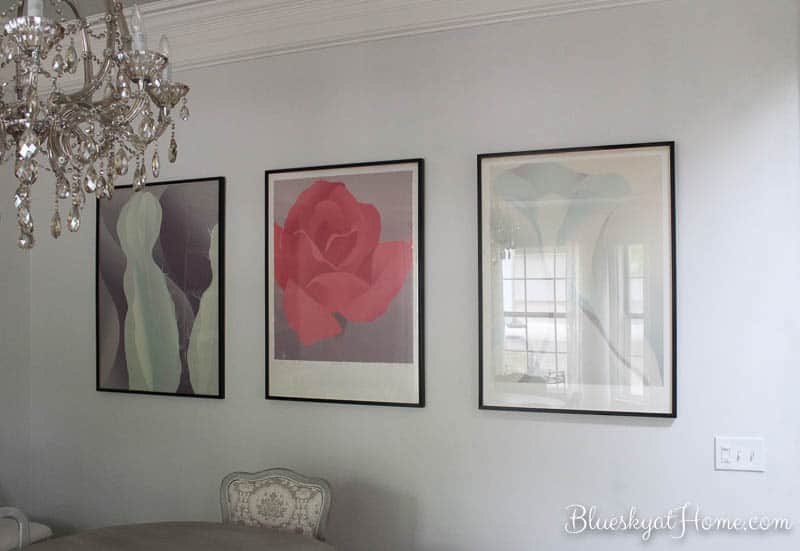 Yes, we did send back the first rug we chose. All we were waiting on was the second rug choice, which I was sure would be perfect, the mirrors, and choosing a new centerpiece for the dining room table. Well, as I know many other ORC participants have faced, a snag, a roadblock and a big oops hit me in the face last week.
The second rug  ~ the Becontree ~ was delivered Wednesday morning and when I opened the package ~ just enough to see the pattern and color, my heart sank. I could tell that the gray color was way too dark and there were "splatters" ~ not real, just my description ~ of lavender in the pattern. That would definitely not work in the room.
Then as I sat down to call my Wayfair account manager, who I must point out, has been absolutely wonderful to deal with, I received an email from Joss and Main (part of the Wayfair family) that the mirrors that I ordered and were to be delivered that day were on backorder until the following week.  I freaked out. I frantically started searching through the site looking at other rugs (the 2 I thought would work were out of stock) and mirrors (nothing was as good was the first ones I ordered). We agreed to return the rug (again!) and cancel the order for the mirrors. I really loved those mirrors.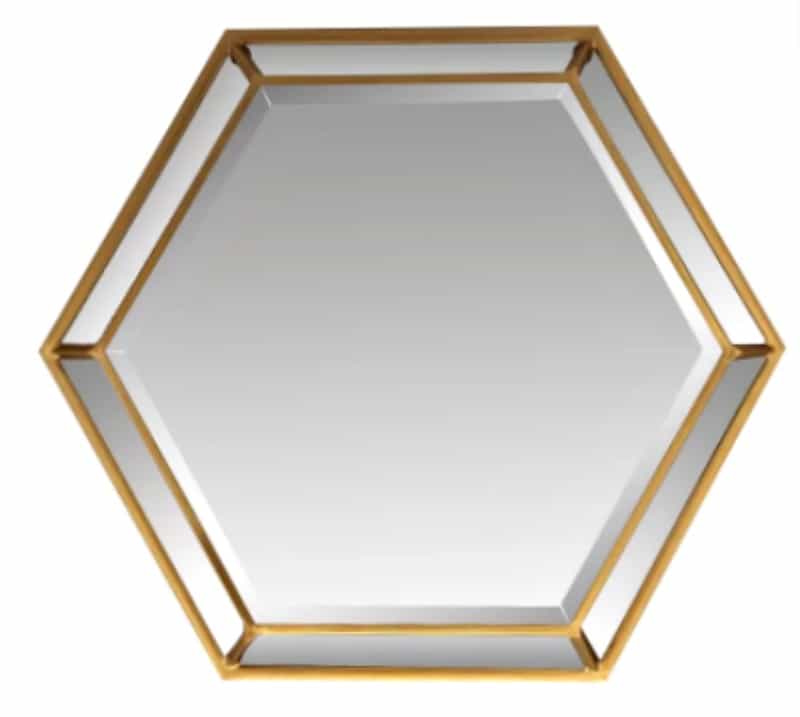 Solving the Dining Room Makeover Rug Challenge
What to do when you have less than a week to find another rug, 2 mirrors, a centerpiece, a plant and planter and make pillows (my special~order fabric had not arrived yet)? And start decorating and cooking for hosting a Kentucky Derby party on Saturday for 40 people? You go shopping.
Fortunately, in Dallas, I have a ton of resources and I had been to several home decor stores over the past few months. I headed first to my closest HomeGoods store. As I walked into the rug section, I just crossed my fingers and said a little prayer to the rug gods. As I looked through the large rugs hanging on the moveable displays, I went through 1, 2, 3 and then 4. The fourth rug stopped me cold. It was shades of gray with a bit of white.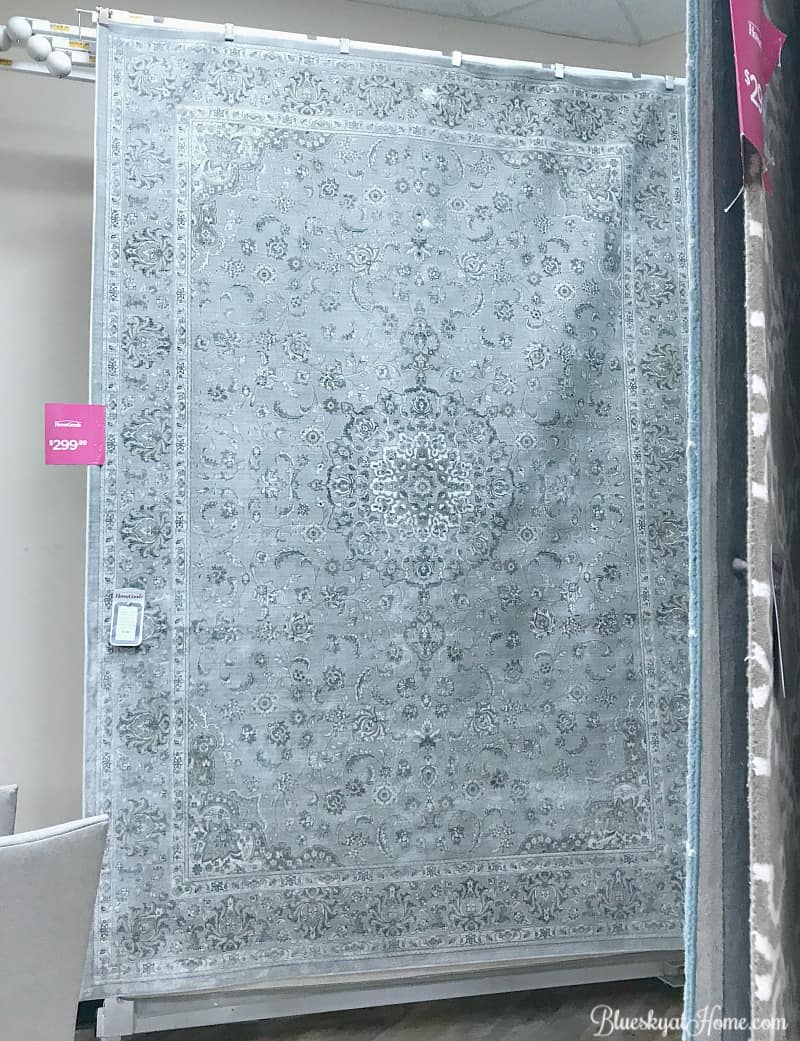 The pattern was traditional but fresh with a border and a medallion in the center. It just had a richness to it. I tried not to scream for joy, but kept looking through the rest of the rugs, but came back to #4. It had me at hello! And the size, 7.10″ X 10.10″ was perfect. And it was on sale at a great price. I was afraid to walk away to find a salesperson (What if someone else wanted MY rug?) A nice lady was also looking at rugs and I told her my dilemma and she was nice enough to watch MY rug while I went to find a salesperson. I handed over my credit card faster than you can say, "I'll take it". I threw in a new rug pad and the rug was rolled up in the back of my car. Thank goodness for SUV's.
When Sweet Shark got home from work, We moved out the dining room table and chairs and laid down the rug. Even Sweet Shark got excited about how perfectly it looked in the room. I breathed a big sigh of relief. It's funny how things work out for the best.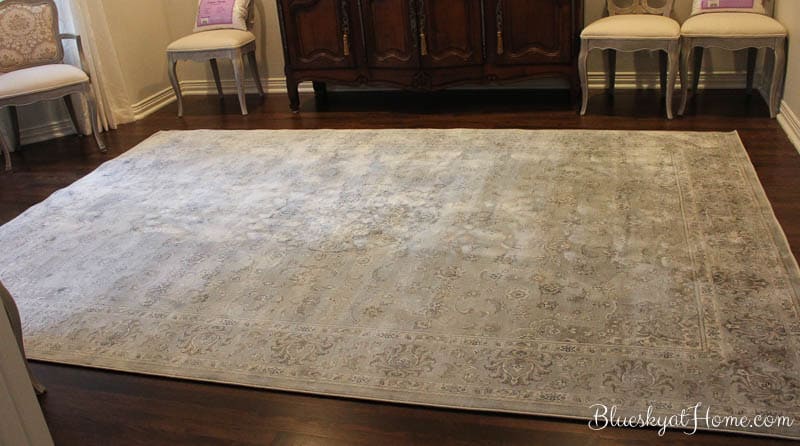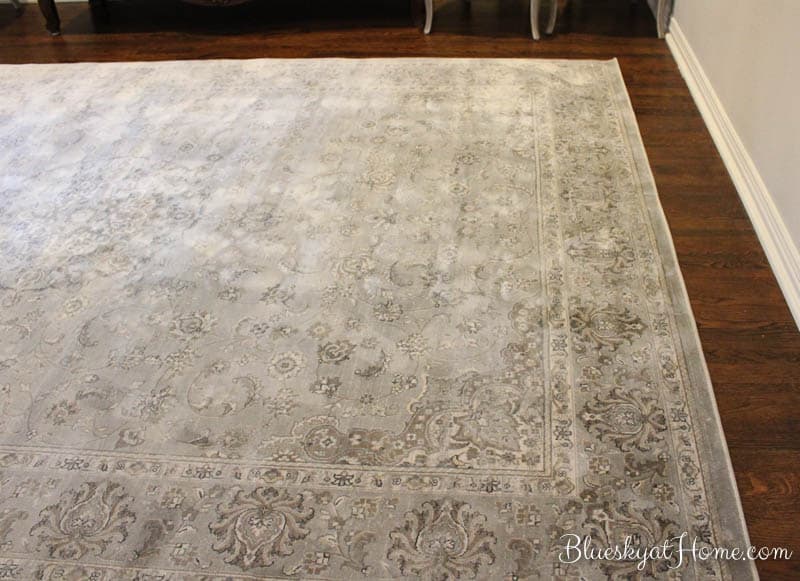 Mirror, Mirror, On the Wall
HomeGoods didn't have any mirrors, but Bed, Bath and Beyond was right across the street. Armed with my 20% off coupons, I beelined it for the mirror department. Nothing displayed on the walls, but on the shelves was a box with a mirror that looked promising. It was sort of diamond shaped with gold trim. I took it out of the box for a closer look and decided that it might work. Since I couldn't be too choosy, I put 2 in my cart and headed home. Honestly, I had to start getting ready for our Kentucky Derby party.
Then we hung the mirrors. They were smaller than our original choice, but they would be fine for now and I certainly wanted the room as complete as possible for our party so we decided to leave them up and make a final decision later.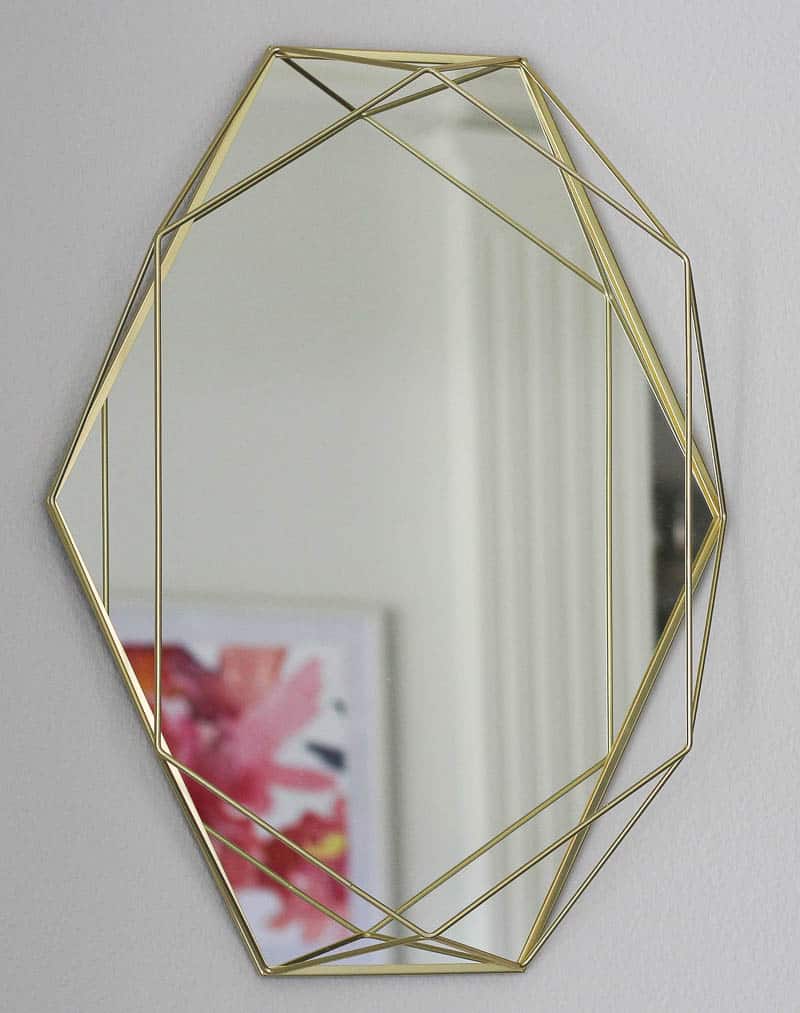 Centerpiece Search
Fast forward to Monday morning. Yes, friends, just 2 days ago. Kentucky Derby party was over, the decorations were down and packed up and it was time to get moving on finishing the dining room makeover. Fortunately, the fabric for my pillows had arrived last Friday and I did cut out the fabric and they were ready to sew. It was time for power shopping for a centerpiece.
In my mind, I wanted metallic gold on the dining room table to use as an everyday centerpiece. Since the hardware on the new drapes is a brushed gold, I wanted to reinforce the gold on the table. The week before (as in last Tuesday) I had attended a designers event at our beautiful local Wisteria store and I had seen a gorgeous hammered metal gold bowl. I decided to head back and look at it again. I loved the bowl, but decided the table needed a bigger piece.
Two doors down from Wisteria is Mary Cates, another fabulous home decor store (remember my blue, green and white glass balls?) What if they had pink glass balls? No go, but they did have some awesome gold trays with a bit of a pounded look which I liked and came in several different sizes. The price was reasonable and I picked a long rectangle one.
Obviously, something needed to go on the tray and I remembered the gold and brass lantern that I had bought at Pier 1 last fall. A pretty pink candle might look nice in it. Since Pier 1 is across the street from Mary Cates, I dropped in and there was 1 blush pink candle. It's mine now. I put the gold tray on the dining room table and decided I really liked the look and the shape. The blush pink candle looked great in the brass lantern.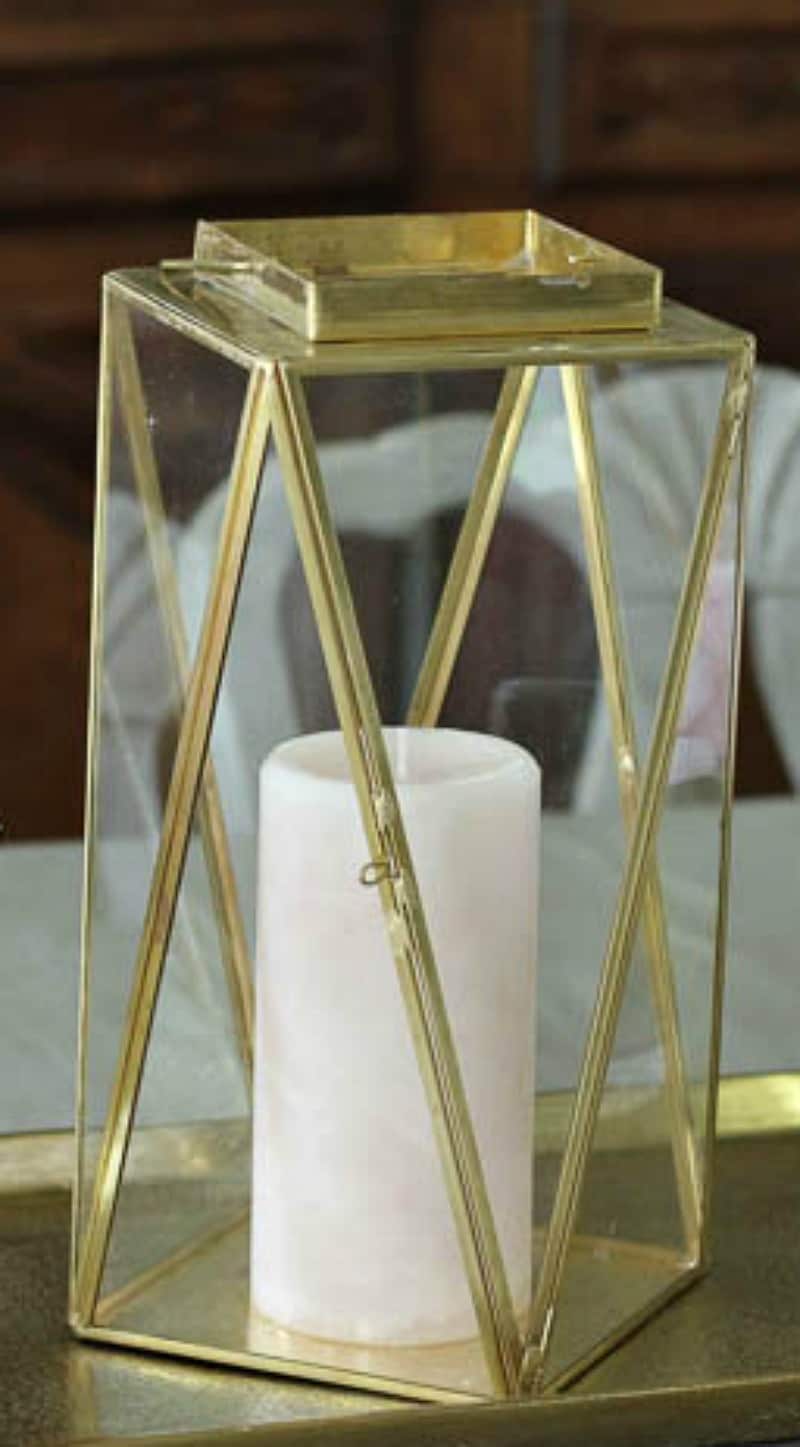 Then how about some gold containers to hold flowers?  I decided to head to Hobby Lobby. I didn't find any gold containers. But then I thought, what if I find the right size and shape and just paint it gold? Great idea. 2 round glass containers and a can of Krylon gold spray paint went in my cart.
I had some beautiful faux pink peonies that I bought last spring at Pier 1 and I cut them down to size for the glass containers. I decided not to spray paint the glass in case I wanted to use them for something else later. But I needed something to hide the flower stems. I found a roll of gold Cricut adhesive foil  and cut it to fit inside the glass containers. It covered the stems and brings more gold to the centerpiece. And I love the peonies, which tie in with the peony in the art print on the wall.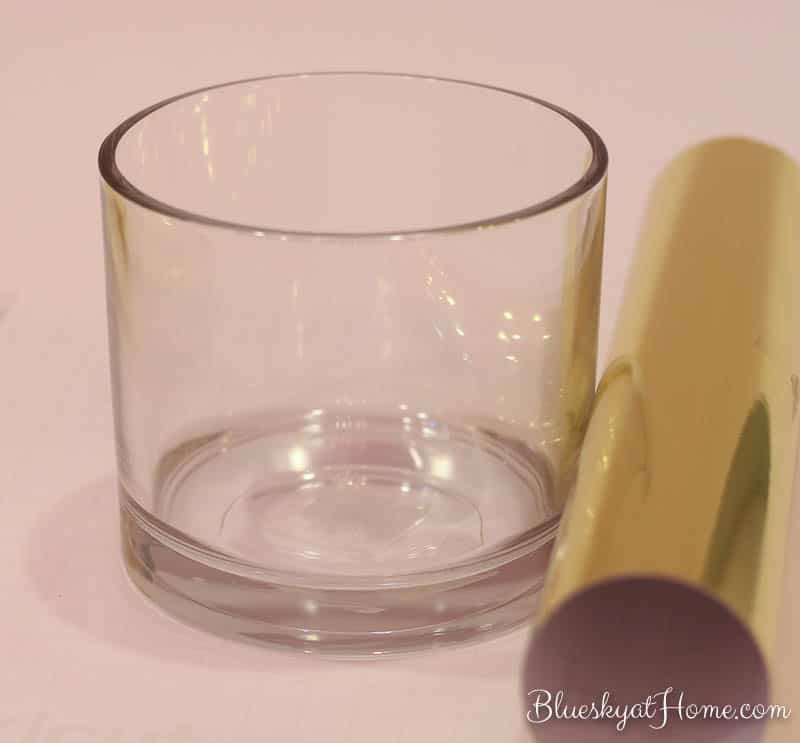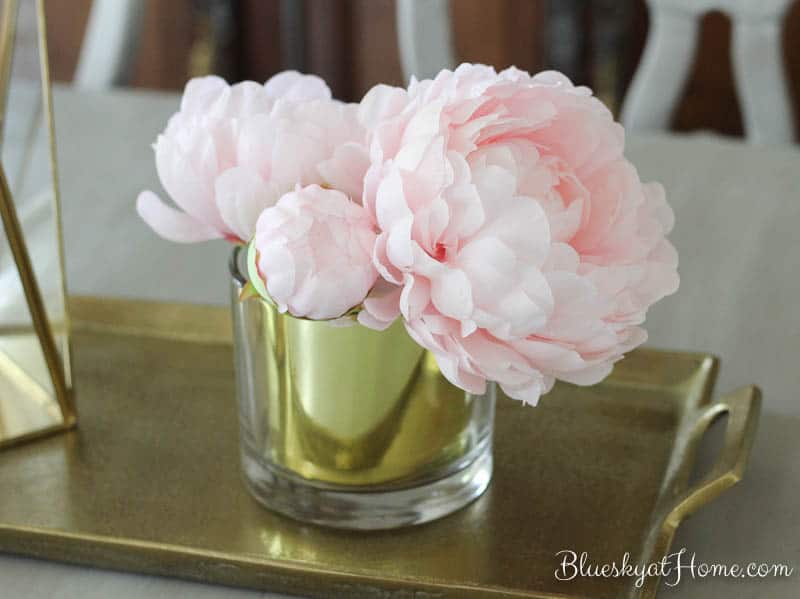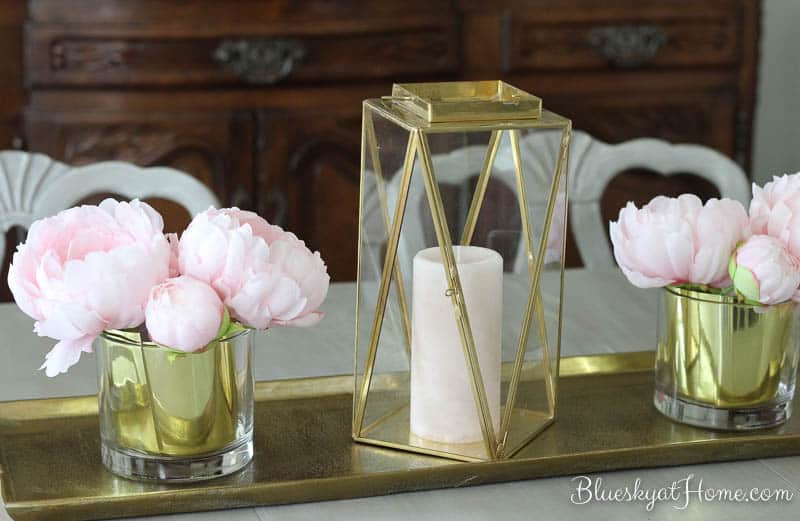 A Plant for the Dining Room Makeover
Anything green always adds a pop of color and a natural touch to any room. I mentioned to Sweet Shark a couple of weeks ago that I thought that a tall green plant would look nice in the corner of the dining room where the bar cart used to be and he agreed. Sweet Shark is the plant man in our house (He takes care of all the house plants, including orchids and African violets and anything that needs watering. I'm in charge of anything faux.) so I put him in charge of finding just the right plant for the space.
While I was shopping for centerpieces, he texted me pictures of 3 plants from his favorite indoor plant store, Sunshine Trees. I picked the one I liked and he sent me the dimensions of the pot. Now I needed a pot, preferably gold. Since I was still at Hobby Lobby, I quickly looked for a container for our new plant, but couldn't find anything. I decided to head home and get busy with my centerpiece and pillows.
On the way home, I remembered a container that I had bought last summer and never used; it was an ugly green plastic one that I always intended to paint. I pulled it out of a pile in the backyard, cleaned it off, set up my HomeRight Small Spray Shelter, grabbed my Rust~oleum spray handle and in about 30 minutes, I spray painted that green container gold.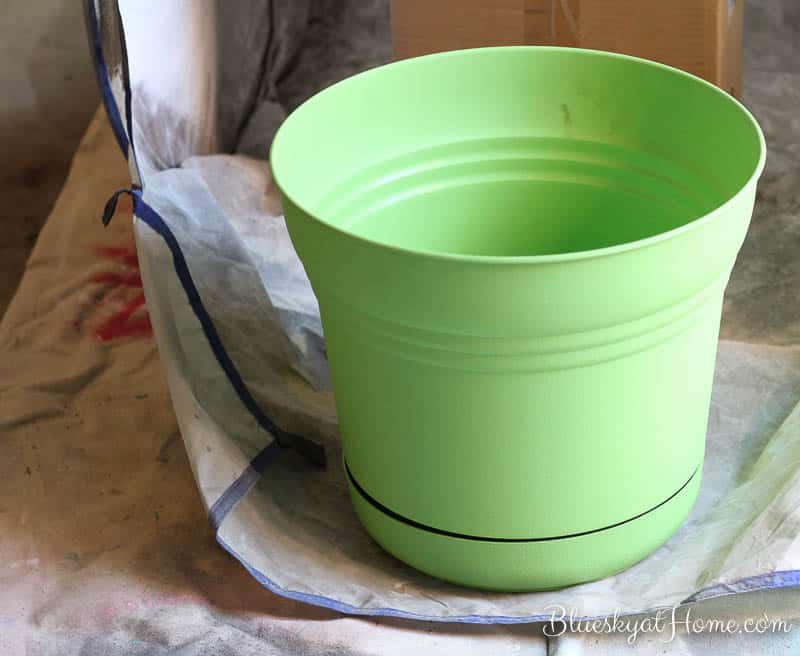 When Sweet Shark got home, I had the container in the corner of the dining room waiting for the plant ~ a Janet Craig dracaena. It was a perfect fit.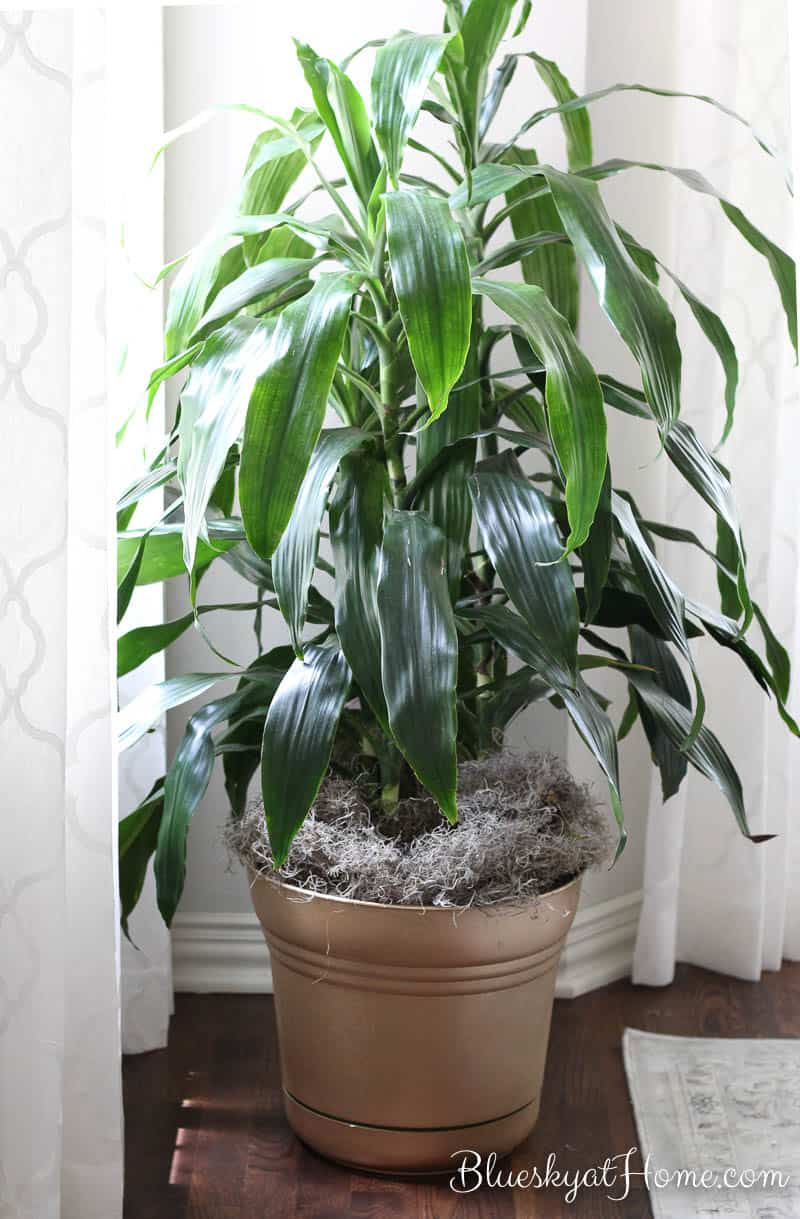 Down to the Wire Dining Room Makeover Tasks
In addition to spray painting the container and arranging the centerpiece, I finished the pillows for the extra chairs in the dining room. I love the playful, colorful pattern of the fabric.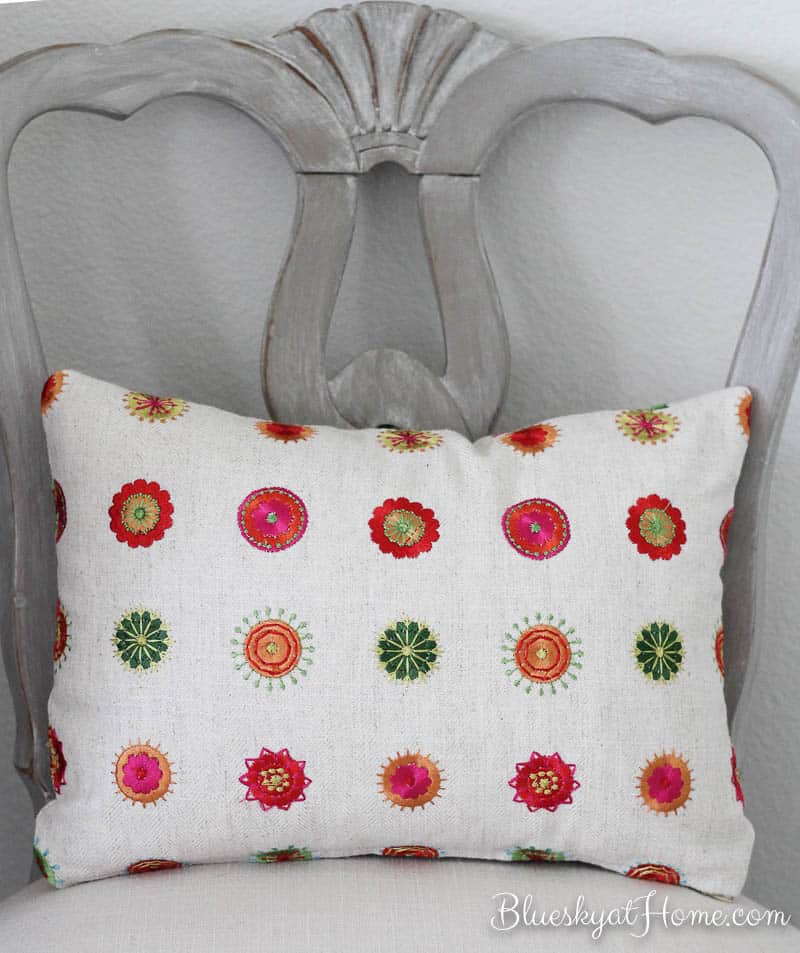 The Complete Dining Room Makeover Reveal
I've shown you the bits and pieces so here is how the whole room looks together. I hope you love it and I've given you some design ideas and inspiration.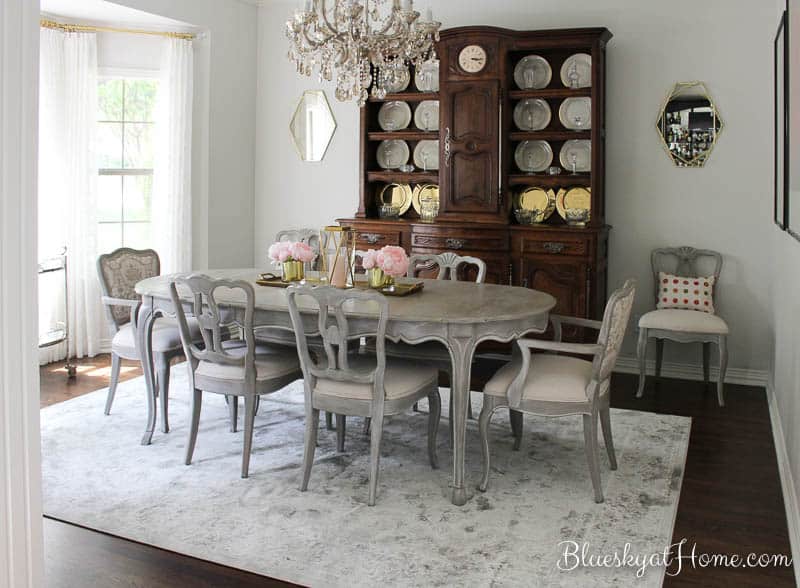 Finding the 3 prints that have been in storage for 20 years was a very pleasant surprise.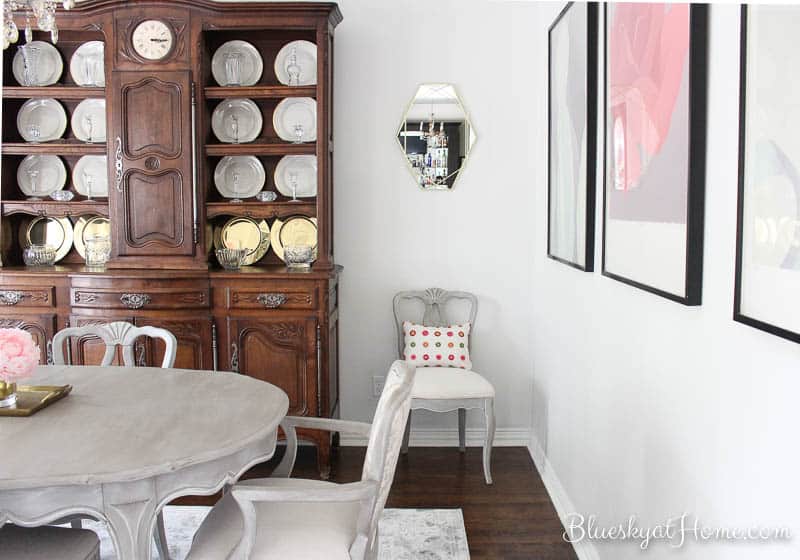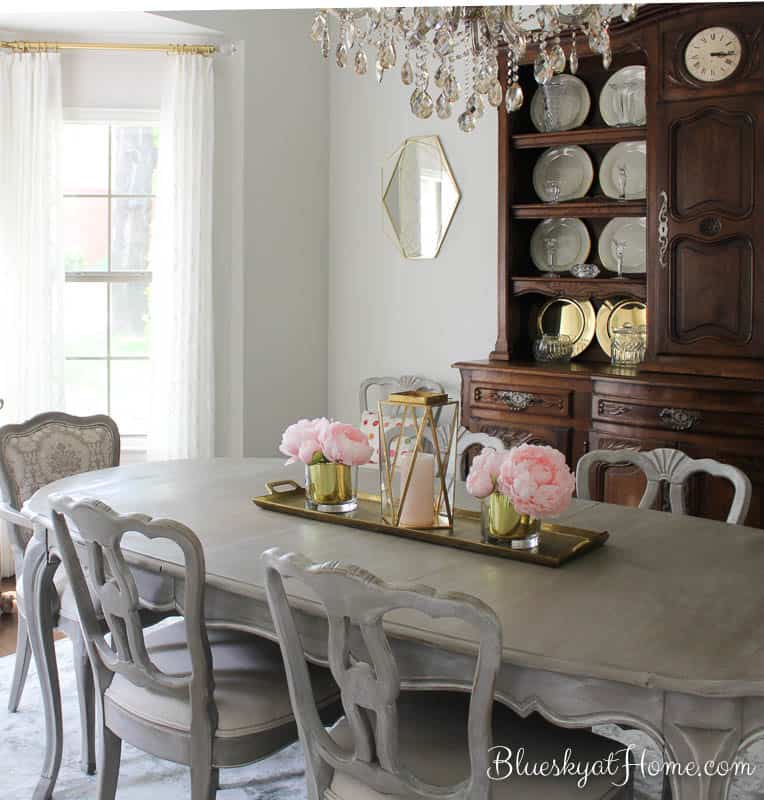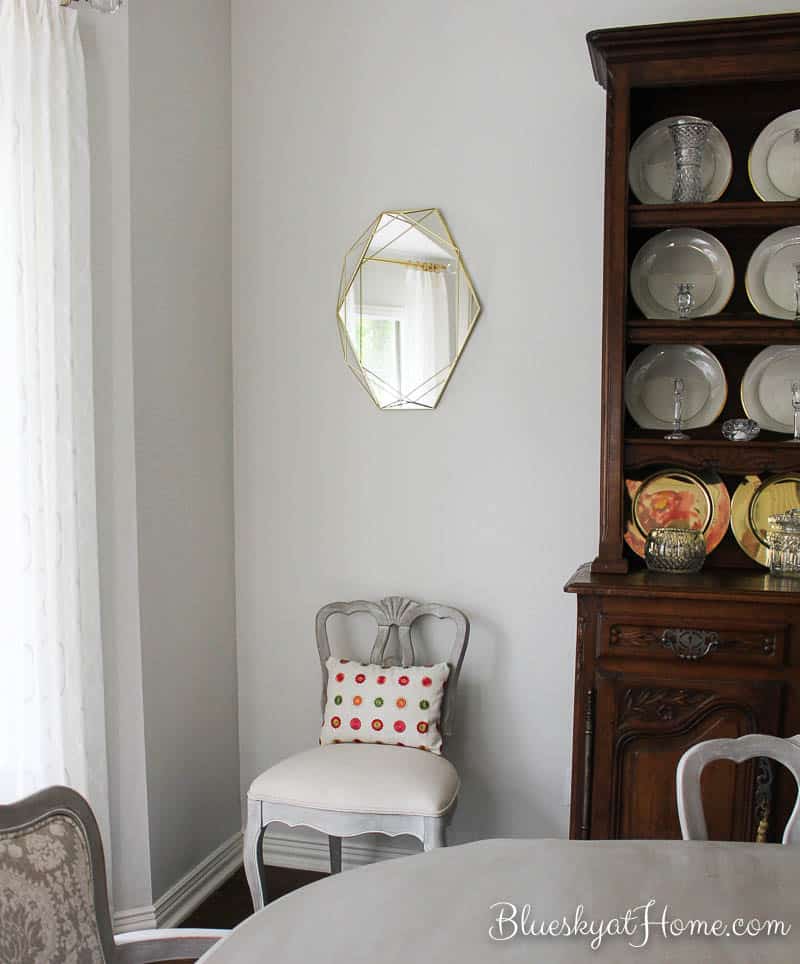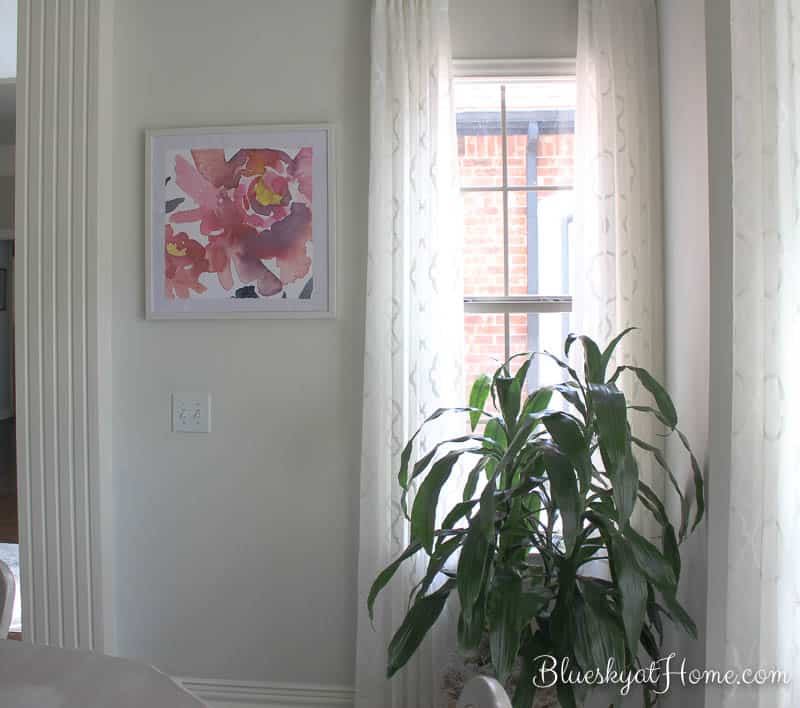 I do have to say that 2 of favorite things about the dining room makeover are the added space in front of the windows and the beautiful new drapes.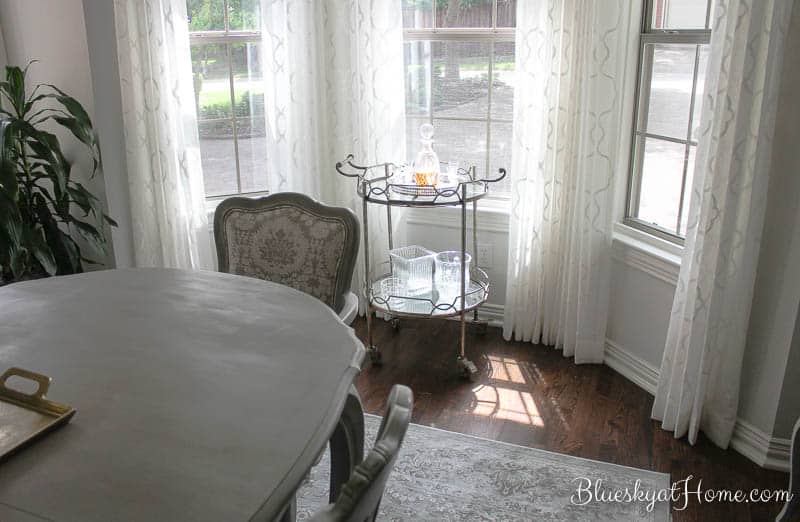 Thanks again so much for sharing this One Room Challenge with me. This dining room makeover reveal has been such fun and I consider it an honor to have been in the company of so many talented people. I'll be sharing more about the few DIY projects that I made for the dining room makeover soon.
Be sure to visit as many as the other ORC participants as you can. Thanks to the folks at HomeRight for providing the Paint Sticks and to the team at Wayfair for working with me on this dining room makeover. (BTW, we reordered our original mirror choice from Joss and Main.)