Blue and White Fall Vignette with a Cloche
With fall is only a few weeks away, our minds are definitely tuning to fall decorating. Let's start with a blue and white fall vignette with a cloche.
Does blue and white and fall go together? Yes, I say. Blue and white is perfect for every season. This blue and white fall vignette with a cloche is easy to create for your home.
I have used shades of blue and gold and blue and copper in previous fall vignettes. You can bet I will continue that trend this year.
Blue and white or blue and other neutral shades can usher in fall without going all orange and rust and brown. For this fall vignette, I'm including a cloche as the central element.
Blue and White Fall Vignette with a Cloche
Why am I decorating with a cloche as a central element in this fall vignette? It's the central accessory for this month's Pinterest Challenge. Once again, our hostess, Cindy of County Road 407 has picked a wonderful image as our vision. If you are visiting from Eye Love Knots, then welcome.
This lovely table vignette is from Beth of Home Stories A to Z. I love the neutral, natural elements of this table centerpiece.
What are the Elements of this Fall Vignette?
round tray
pumpkins
hydrangeas
cloche
rope
acorns
First, let's talk about the cloche. What is a cloche? It's a bell~shaped glass cover that can be placed on a surface. It's used to display endless possible items. Originally used to keep plants, today they are used for decorative display.
My Cloche Fall Vignette Vision
For my fall vignette with a cloche, I knew that I wanted to use some of the blue and white items that I've recently found at estate sales.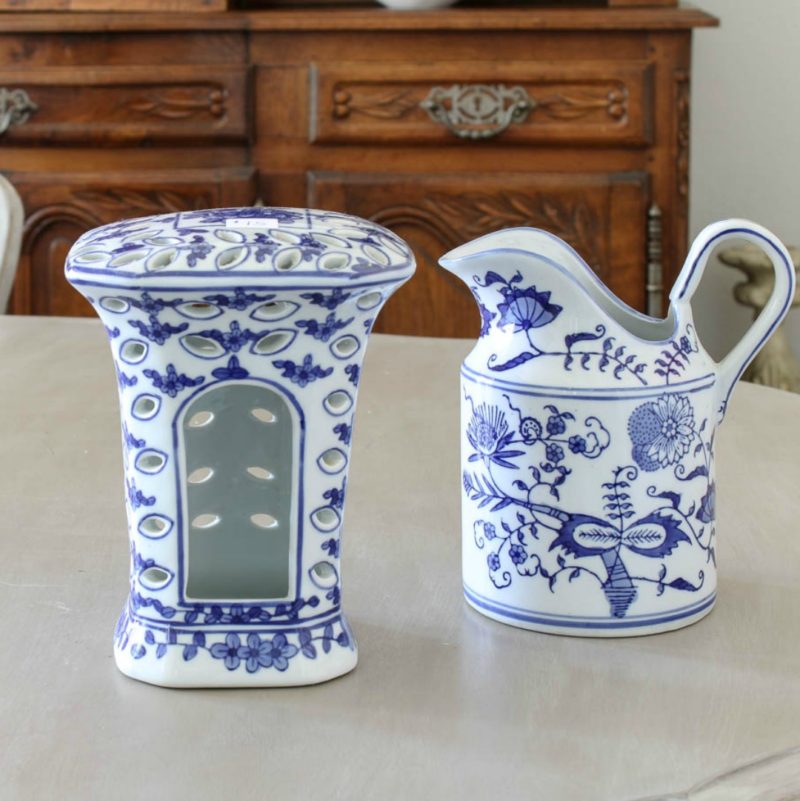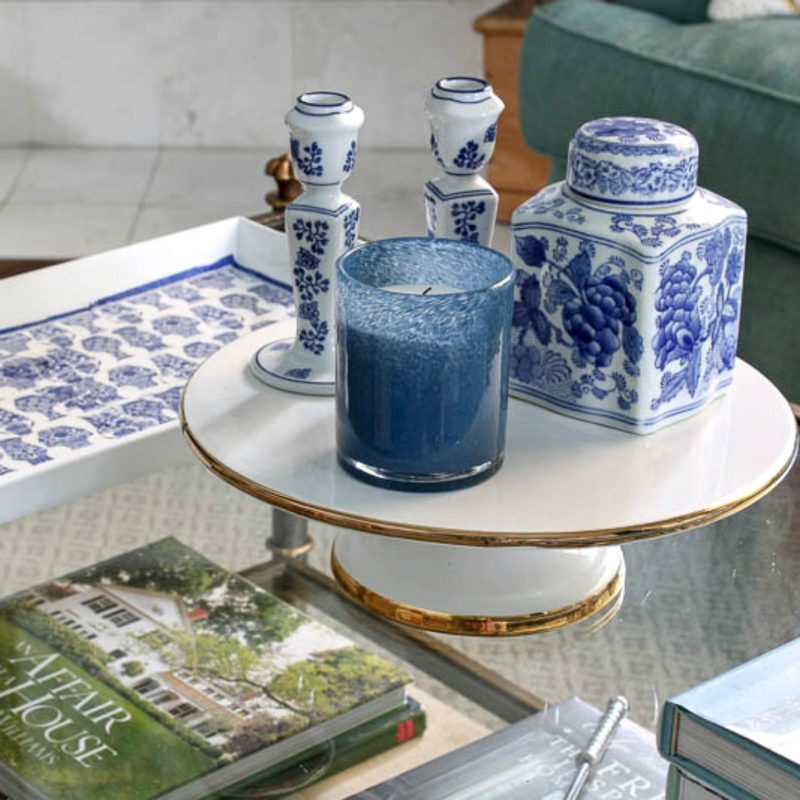 Setting Up the Base of my Blue and White Fall Vignette
Like Beth, I would use my dining room table as the setting for my fall vignette with a cloche. I would also start with a tray, but mine would be a large woven tray. I bought it at a flea market for about $5 several years ago.
It was originally brown so I spray painted it white.
Now I could use my large round wood slice to bring in a natural feel.
The vignette needed more softness, so I surrounded the wood slice with Spanish moss. This material always provides a natural, organic base.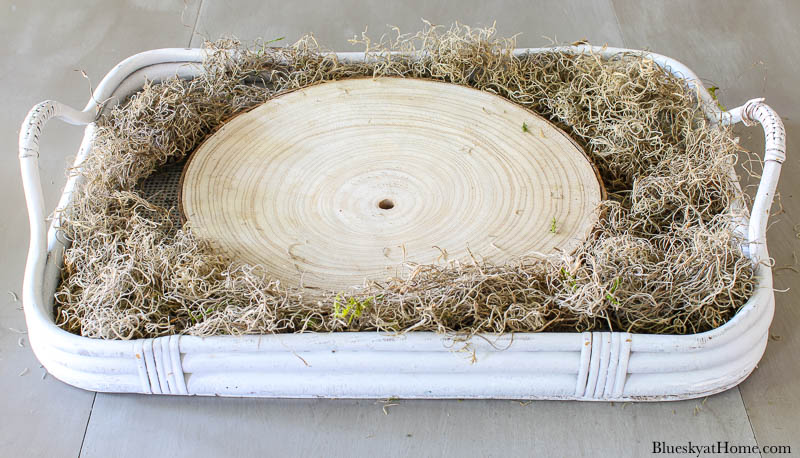 Styling my First Blue and White Fall Vignette
With my base set, I was ready to add the other elements of my fall vignette.
The first element was, of course, the cloche. I have a cloche, but I knew it would not be big enough for the vignette. Instead, I used a large apothecary jar ~ an estate purchase back in March.
I placed my new vintage chinoiserie ginger jar inside the jar on a bed of Spanish moss. Like Beth, I used faux hydrangeas, but mine are white.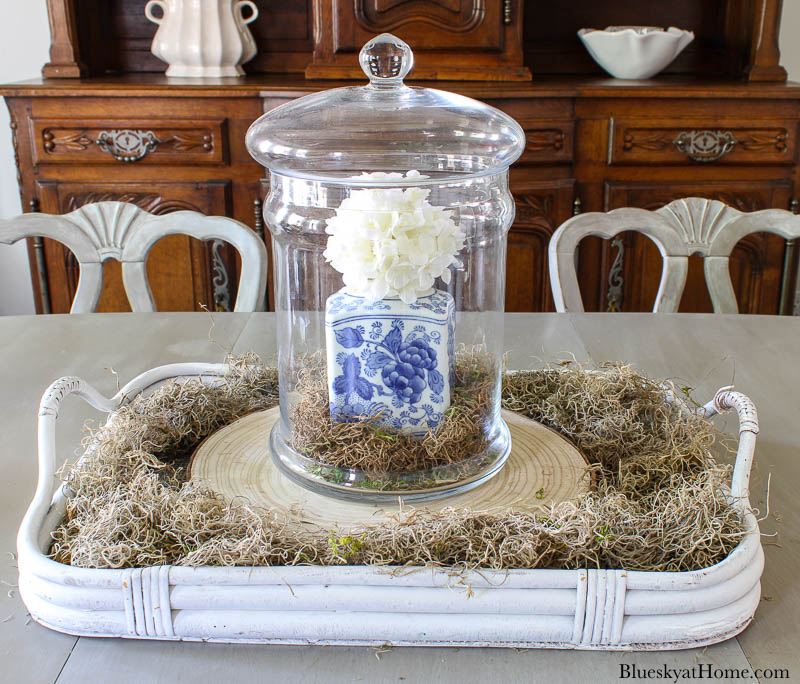 Next, I added 3 vintage blue and white plates on the back side of the cloche. Two candle holders hold faux white hydrangeas. Two small chinoiserie pieces ~ one, the top of the ginger jar and the other a ring holder ~ fill in the corners of the tray.
On the top of the apothecary jar, I hung the blue wood beads that I made.
Obviously, this blue and white fall vignette needs a shot of fall. I added 3 small white ceramic pumpkins to finish this fall vignette with a cloche.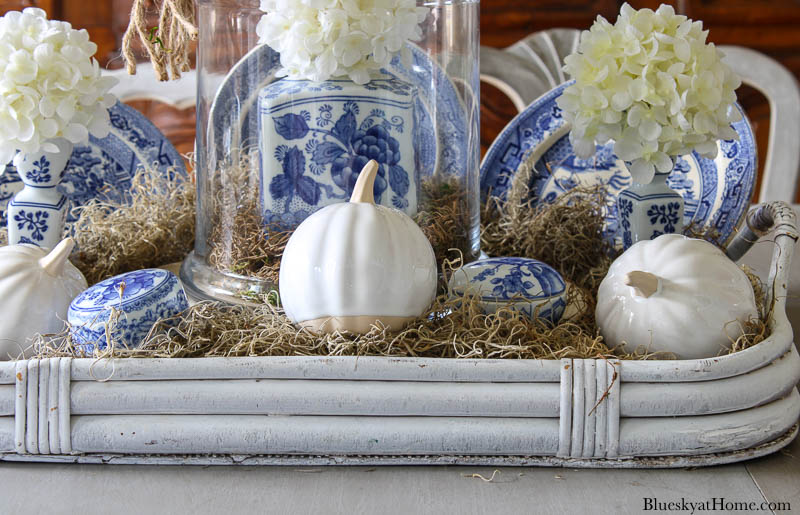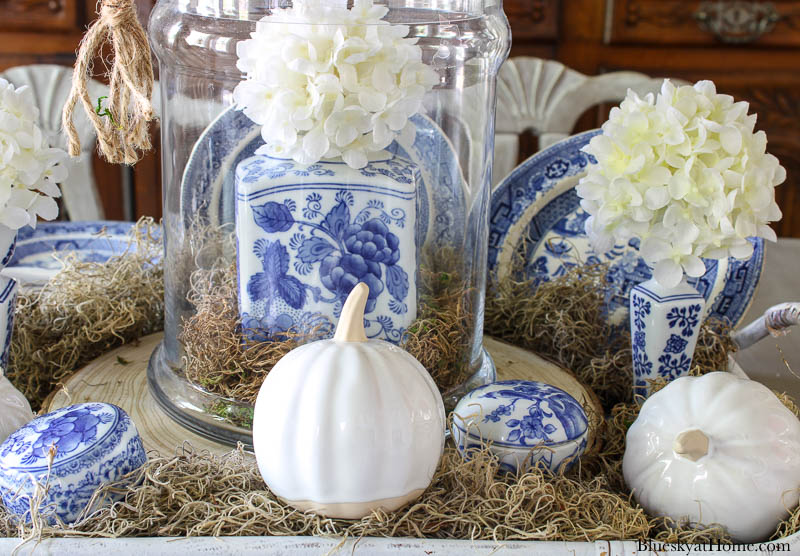 My 2nd Blue and White Fall Vignette
For another version, I used the candle holders to hold 2 white candles ~ perfect for a nighttime dinner.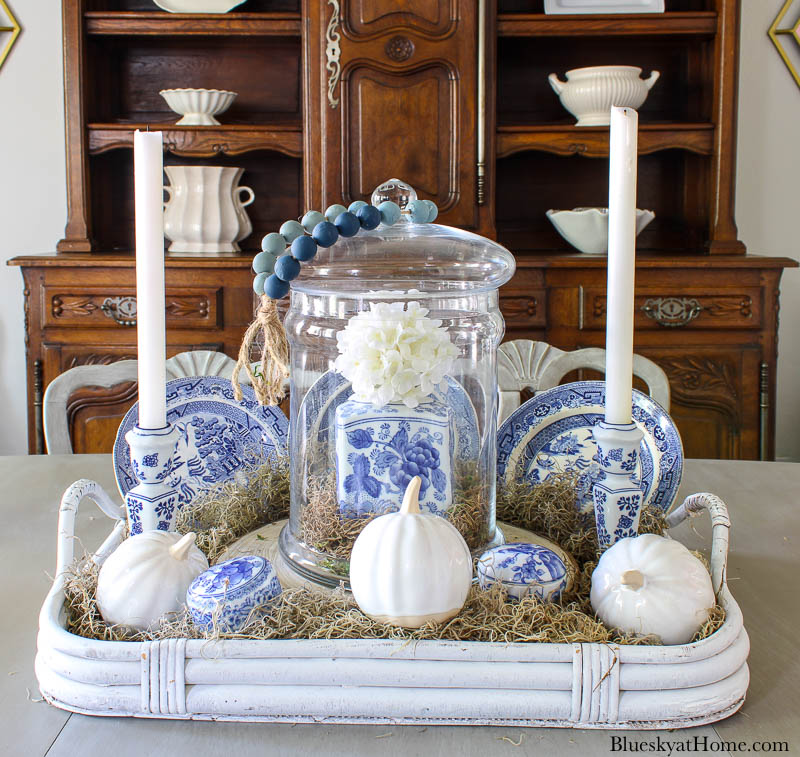 Using a Cake Stand as Cloche
Although my glass cake stand cover is not bell~shaped, I think it fits the intent of a cloche ~ to protect what's inside.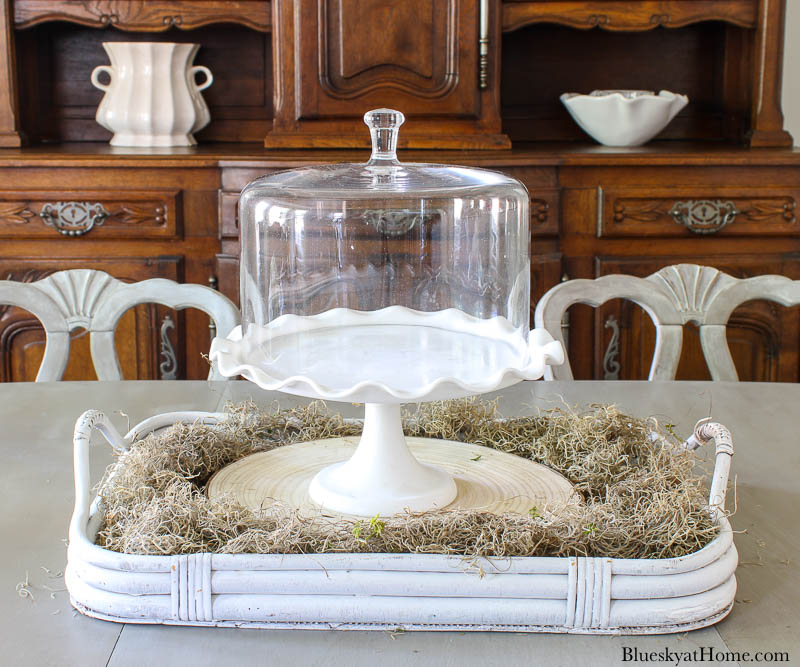 I don't have cake, but I used my 3 pretty blue and white plates. The 3 white pumpkins add the touch of fall.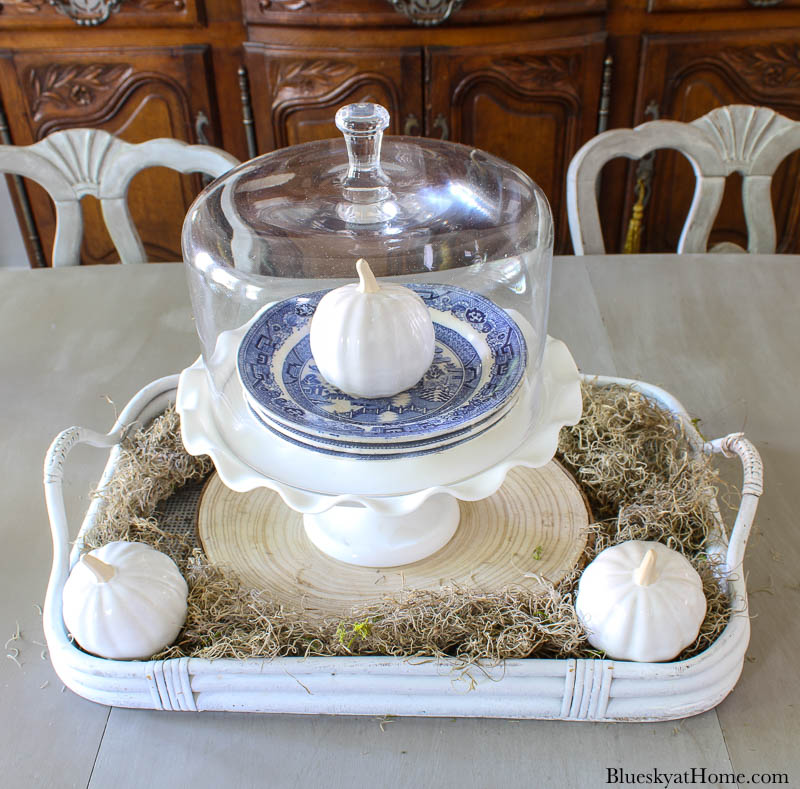 Next, the candles come back to my blue and white fall vignette with a cloche.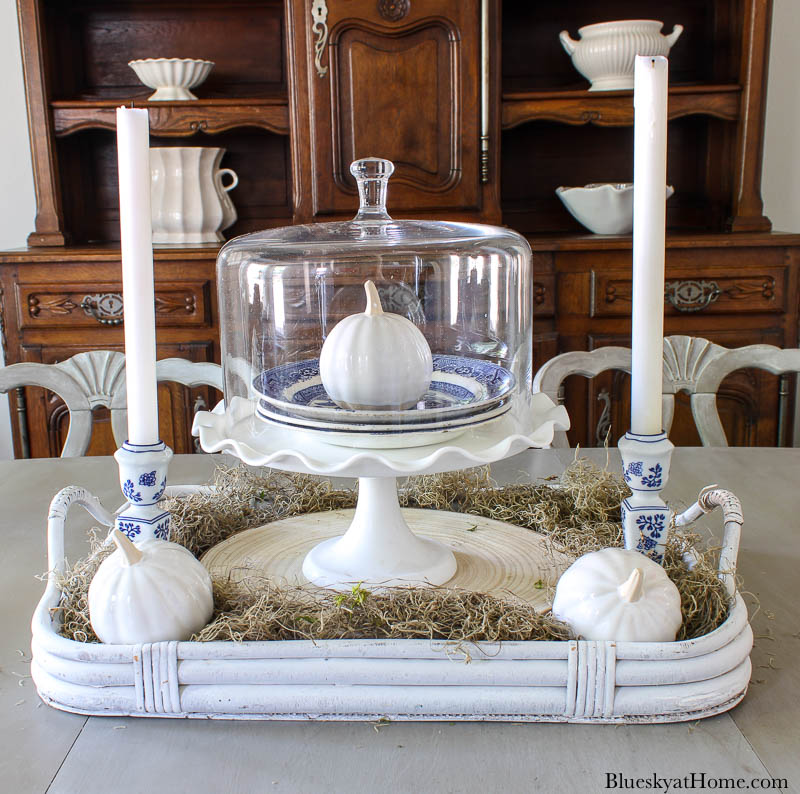 As a final touch, I added my fall burlap banner. Last year it was on the mirror in our entry. Now, it's no doubt that it's almost fall.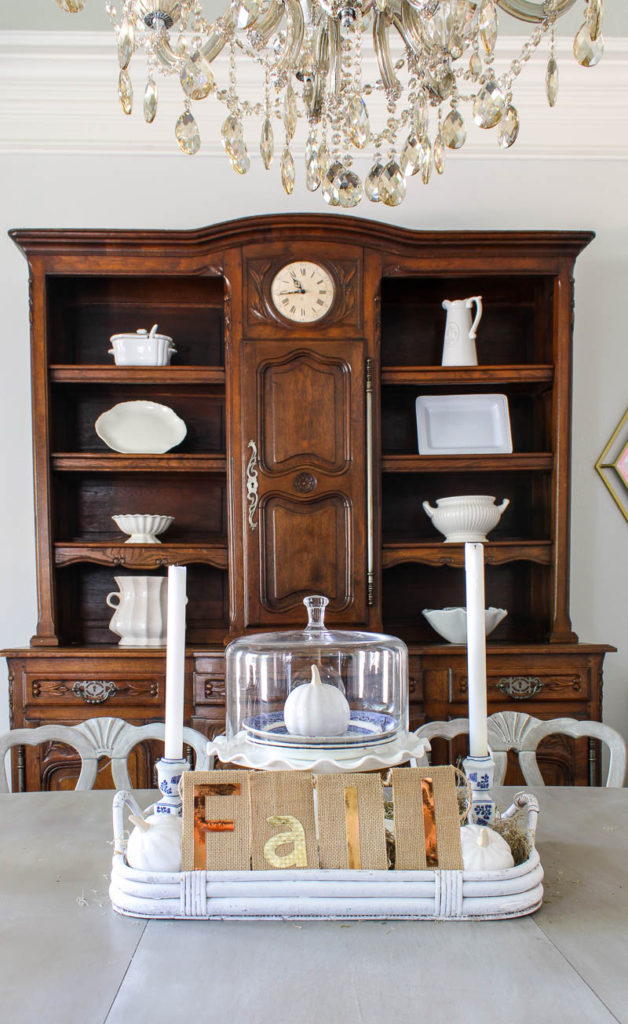 This blue and white fall vignette with a cloche is just the beginning of this year's fall decorations. After visiting all the ideas in this Pinterest Challenge, you will have tons of ideas to PIN and SAVE.
Ready to check out the rest of these cloche~inspired fall vignettes? Take a look at what we have for you. Have fun. Head on over to my friend Cindy's project.
Link Parties August 17 ~ August 23
All About Home   Anything Goes Pink Saturday  Beautifully Made  Busy Monday  Celebrate Your Story  Charming Homes and Gardens* Creative Crafts Creative Muster  Creatively Crafty   Grace at Home*  Farmhouse Friday Handmade Monday  Happiness is Homemade The Happy Now*  Home Matters  Inspire Me Monday  Keep in Touch   Love Your Creativity  Party in Your PJ's  Saturday Sparks  Share Your Style  Silver Pennies Sundays  Thursday Favorite Things   Vintage Charm Party   Waste Not Wednesday *  Wednesday Link Party Wednesday Centerpiece Link Party  Welcome Wednesday  Wonderful Wednesday  Wow Me Wednesday