How to Make an Easy Burlap Banner
Burlap is a material that we see used in home decor all over the place. How about making a cute burlap banner?
This burlap banner is just right for fall and the changing season. I'm going to show you how to make an easy burlap banner. One inspired by fall, for fall.
Have you ever made a burlap banner? I have made burlap placemats and a burlap runner. Curtains, tablecloths and pillows are made of burlap. Can clothes and sheets and napkins be far behind? Well, that may be going a bit too far.
I love making banners and using them for seasonal decor and party decorations. Banners make parties special.
Once I made a banner from a painter's drop cloth (I still have it.) But I have never made a banner from burlap. I found how to make an easy burlap banner for fall ~ and it's just so darn cute that you will want to make it too.
By the way, I did make a dozen huge burlap tablecloths for a charity auction once. Word of warning: don't do that inside your house; you'll be sweeping up burlap fuzz for weeks.
How to Make an Easy Burlap Banner
This post contains links to products used in this project. If you should purchase any product through this blog, I may receive compensation, but you don't pay a penny more.
Have you ever just strolled down the aisles of the craft stores? You're looking for something in particular and you have a minute and just stalk the shelves, gazing at items you've never noticed before.
Then you stop. You stare. You pick it up. You wonder, what is this? Looks pretty interesting. Your curiosity is peaked. What could I use this "thing" for? You check the price. It's not too expensive. You think, for that price, I'll just buy it and take it home, and see what happens. Maybe I'll find a use for it.
New Burlap Product
I found this product in the floral section at Joann. I was actually looking for florist foam, the kind you soak in water and use for flower arrangements. One aisle led to another and I came to the burlap supply section.
I have burlap twine, or jute, in a few thicknesses. Also, I have burlap ribbon, fringed and plain.
But this product? This is like the burlap fairy flew down and sprinkled magic burlap dust on a roll of burlap, making it so easy to use, free of burlap fuzz, and simple to cut.
I was thinking about making a banner for the magnolia wreath I bought for our entry.
Then I remembered the adhesive burlap product I had bought a few weeks ago. It was in a drawer in my office that contains burlap stuff. (Yes, I have a drawer that contains just burlap supplies.) I pulled it out and thought, let's see if I can use it for my fall banner.
How to Prepare the Burlap for the Banner
I discovered that the burlap has a paper backing and you could peel the backing off to stick it to things ~ like the book in the picture on the packaging.
The burlap is 5 1/2 inches wide. I decided I needed a piece 3 inches wide for each letter.
I used my straight edge cutter and ruler to cut 4 pieces for my letters F ~ a ~ l ~ l.
Next, I peeled back 1 inch at the top of each piece of burlap and folded the paper backing over to make a crease.
Then I cut off the excess paper backing.
Check out this wood and burlap banner for fall.
How to Make Your Letters for the Burlap Banner
I used my Cricut Explore Air to design and make my letters. You know how much I love my Cricut.
Each piece of burlap was 4 1/2 inches tall, so I made the letters 4 inches tall. I used a simple font, with a capital "F" and lower case a ~ l ~l.
For my paper, I used gold and copper metallic cardstock from Joann that I already had on hand from my DIY letter sign on our mantle. Then I glued the letters to the burlap.
NOTE:  If you don't have a Cricut, you can use pre~made letters from the craft store.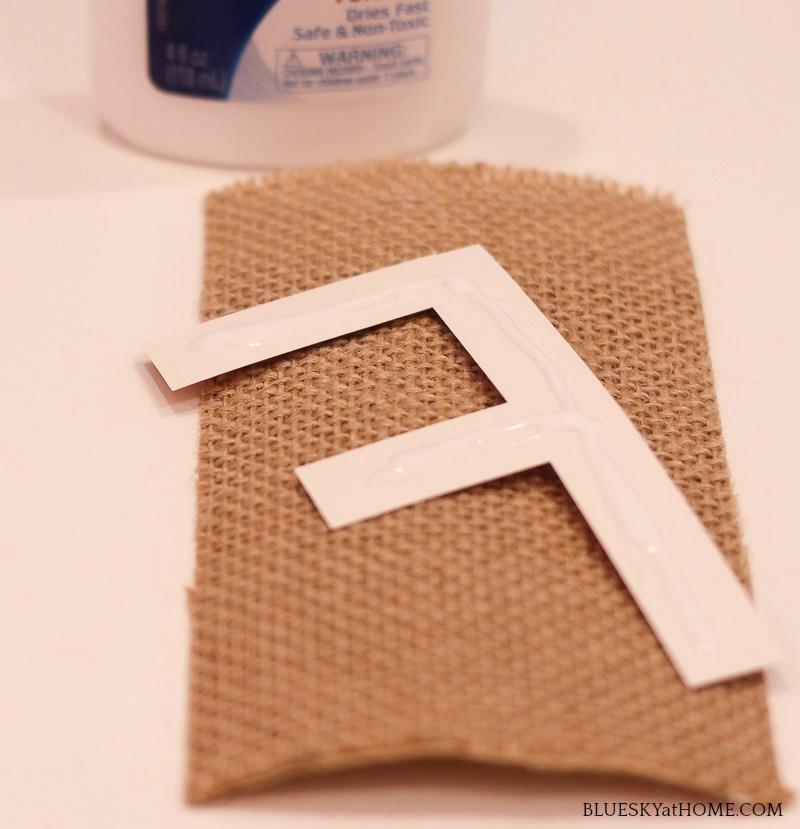 Twine was the right rustic choice to use for attaching and hanging the letters. All I had to do was pull out a long piece of twine, space out the burlap letters. Then I folded over the top of  the burlap over the twine. With the paper backing removed, the burlap was sticky and adhered to itself. Simple and no glue.
Hanging Your Burlap Banner
The final step was to center the banner on my magnolia wreath and tie the ends of the twine on the back of the wreath.
Why was this such a super fast and easy DIY burlap banner? I couldn't have done it so easily without the paper~backed burlap. It was so much easier and less messy than using regular burlap. And the paper backing gave the burlap "body".
Now our entry is complete.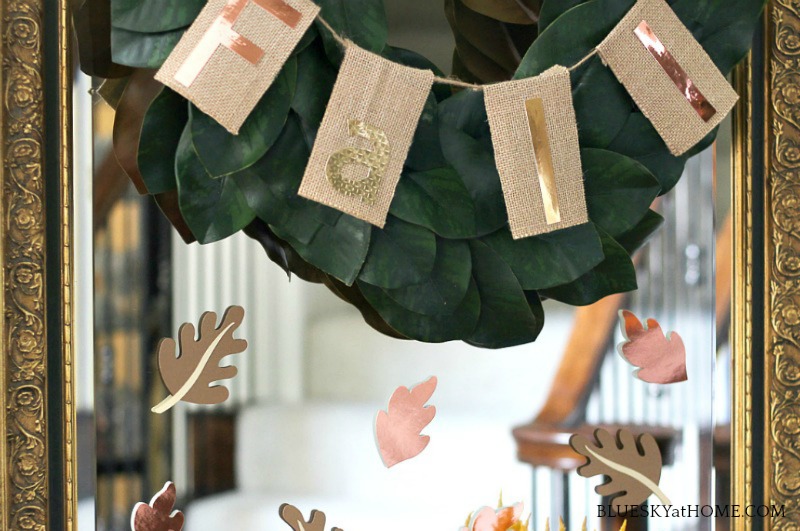 Here's what the banner and wreath looked like in our entry.
I found a few websites that have extensive burlap products:
I'm sure I'll find other uses for this burlap product. Maybe I'll actually cover a book with it. You can bet that I'll be making more banners or signs with it.
I made this one where I combined wood and burlap for a fall banner? Here's how I used that banner to decorate my fall mantel.
You will also like this easy fabric and burlap banner.
Why don't you PIN them all?