How to Decoupage a Glass Platter
Have you ever found a glass platter at a thrift store or a yard sale? Want to make it pretty for use in entertaining? Let me show you how easy it is to decoupage a glass platter.
You can use this same process to decoupage plates – maybe make a matching set. You can have a custom platter or plates in your favorite colors and design. 
Decoupage is such an easy and fun DIY craft. If you have decoupaged before, but not used a glass platter, then you'll be glad to see this new surface for decoupaging.
If you have never tried your hand at it, stick around because I will show you what you are missing.
What is Decoupage?
And, if you are wondering what decoupage is, it's a craft process that originated in France in the 17th century as a way to decorate bookcases, cabinets, and other pieces of furniture.

"Decoupage" means "cutting out" in French. The French tradition of decoupage came from the popularity of paper cutouts in China.
It's an art form that involves cutting and gluing paper cutouts onto a wood, metal, or glass surface. 
You can decoupage anything, from tables, chests, dressers, and bed frames to wastebaskets, hatboxes, lampshades, and screens – and yes, glass platters! 
The cutouts are various types of artwork, wrapping paper, tissue paper, magazines, or manufactured decoupage paper. Today, paper napkins are the most popular medium for DIY projects. 
So, basically, all you need to create decoupage projects your first time is a surface, paper, and glue. The decoupage technique is actually very straightforward. 
I didn't know it at the time but in high school, I made my first decoupage project. I cut out pictures from magazines and glued them to a piece of wood in a random manner. Then I glued over it. I'm sure the glue was regular old Elmer's glue.
I can still see that first decoupage project. I wish I still had it.
My mom, who was the first person I ever knew to do DIY projects, made decorative wood purses with leather handles. She cut out designs from beautiful paper and glued them to the wood boxes.

People would stop her in stores and ask to buy her purses. I was with her once in the grocery store when she dumped the contents of her purse into a bag and sold the purse. (As a young teen, I was so embarrassed.) 
Today, she would have been a DIY blogger and an Etsy seller. 
My Decoupage Inspiration
The glass platter was part of the inspiration for this project. The color and design look came to me when I saw this package of placemats at the party store. I couldn't resist these pretty placemats.
Here are some of my earlier decoupage projects you should see:
Supplies for the Glass Platter Decoupage Project
This post contains affiliate links to products used in the creation of this project. If you should order any item from this site, I may receive compensation, but you do not pay a penny more. Your purchase is greatly appreciated as it helps support the continued publication of this site.
You only need a few craft supplies for this decoupage glass tray.
Today, the most popular decoupage medium is Mod Podge. It is a brand designed specifically for the decoupage process. It comes in several finishes, such as a matte, gloss, outdoor, terra cotta surfaces, fabric, and one that is dishwater safe.
For this project, you also need a surface, which, for me, is the glass platter. You could use any inexpensive glass plates – glass salad plates, dinner plates, glass bowls, or a piece of glass in a frame. The best places to find inexpensive glass objects?
Dollar store
flea markets
thrift store
garage sales
estate sales
On my way home from tennis drills, I saw kids out on the street with signs advertising a youth flea market at a charity sale at a Catholic church. That's where I found my glass platter. You could fill a bag for $10. What a deal!
The glass platter had a tag for $3 and went into a large bag with a wood bowl and two glass vases. So my plain glass platter actually cost me $2.50.
The platter is a generous 13 inches. The top of the platter is smooth, but the bottom is frosted and has a bit of texture.
I bought all these decorative pieces with the intention of using them as an easy craft project. More decoupage projects coming to a "theater" near you soon.
Of course, you need some sort of paper. As I said, napkins are a very popular medium for decoupage projects. 
Blue would be my color and floral would be my design. Fortunately, I had three napkins left from earlier projects that would be perfect.
You will also need a paint brush and scissors. My favorite brushes are these Mod Podge brushes and I love these sharp scissors for cutting delicate paper and small spaces.
The Decoupage Process
Step 1 –  Remove any stickers and any sticky residue. Wash and dry your clear glass.
Step 2 – Cover your work surface with a protective material. I used a drop cloth – which obviously has been used a bunch.
Step 3 – Usually decorative paper is added to the top of the glass object. For this project, you are going to apply the paper to the backside of the plate. So that the edge of my platter would not touch the work surface, I set it on three ramekins.
Step 4 – Prepare your napkins. Whatever size your napkin (mine were cocktail size), you have to separate the back layer from the top decorative layer. Carefully separate the layers and pull back on the bottom layer. You can discard it.
Step 5 – Cut or tear your paper into pieces. The size and shape of the paper is entirely up to you. It will change for different projects depending on the size of the surface and the design on the paper. For my platter, I wanted large pieces. I didn't want to overlap them. 
I cut off the border of the napkin on all three napkins with the super sharp Fiskars scissors.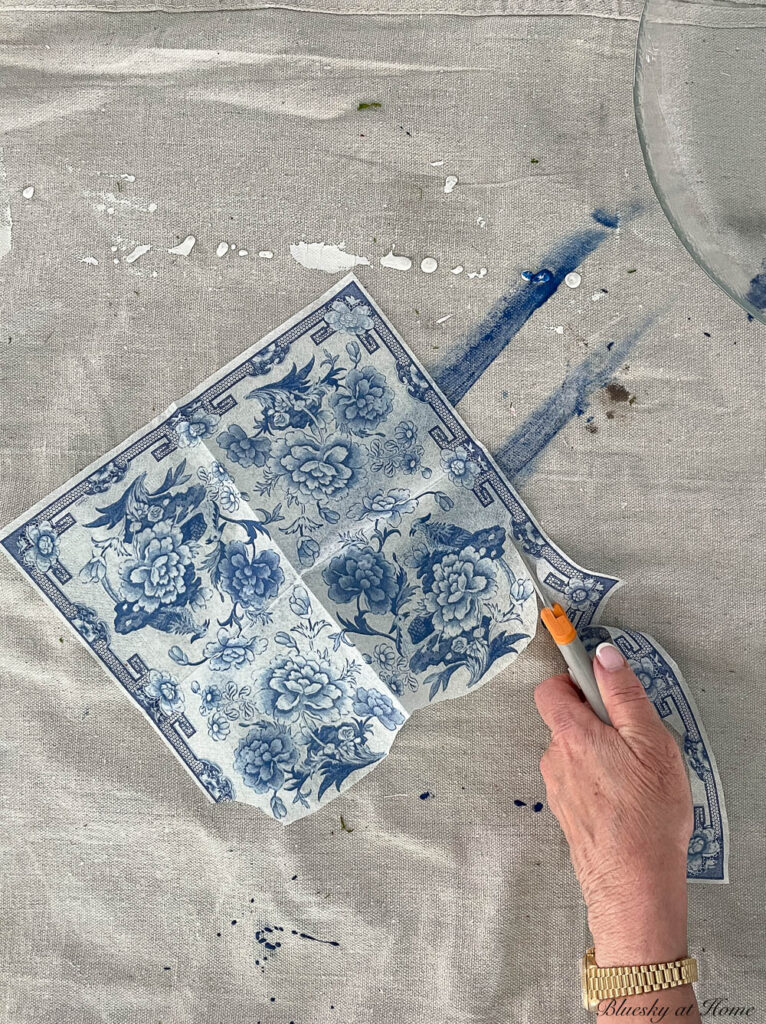 Step 6 – Turn your plate upside down. You can test the placement of the paper on the back side of the plate
I placed the large piece in the center of the platter.
Remember to turn the napkin with the design facing the glass.
Step 7 – Pour a small amount of Mod Podge into a container. I use these plastic nacho containers.
Step 8 – Spread a thin layer of Mod Podge on the center of the platter.
Step 9 – Place the large piece of napkin on top and gently smooth it down with your fingers or the brush. Make sure that all the napkin surface is glued down.
NOTE: As the Mod Podge dries, the wrinkles will smooth out.
I ended up cutting the other two pieces in half. Now I had one large piece and four small pieces.
Step 10 – Continue around the platter with Mod Podge and place the other pieces of napkin on the surface. I wanted very little overlap of the napkin. Fill in with smaller pieces of napkin as needed.
Step 11 – After the platter is completely covered with the napkin pieces, cover the entire surface with another layer of Mod Podge. Allow the platter to sit for a few hours to dry.
NOTE: You will notice that the Mod Podge is white. As the Mod Podge dries, it will become clear.
Step 12 – Turn your platter right side up. You can see the excess paper. Using your small sharp scissors, cut the excess paper napkin off from the edge of the plate.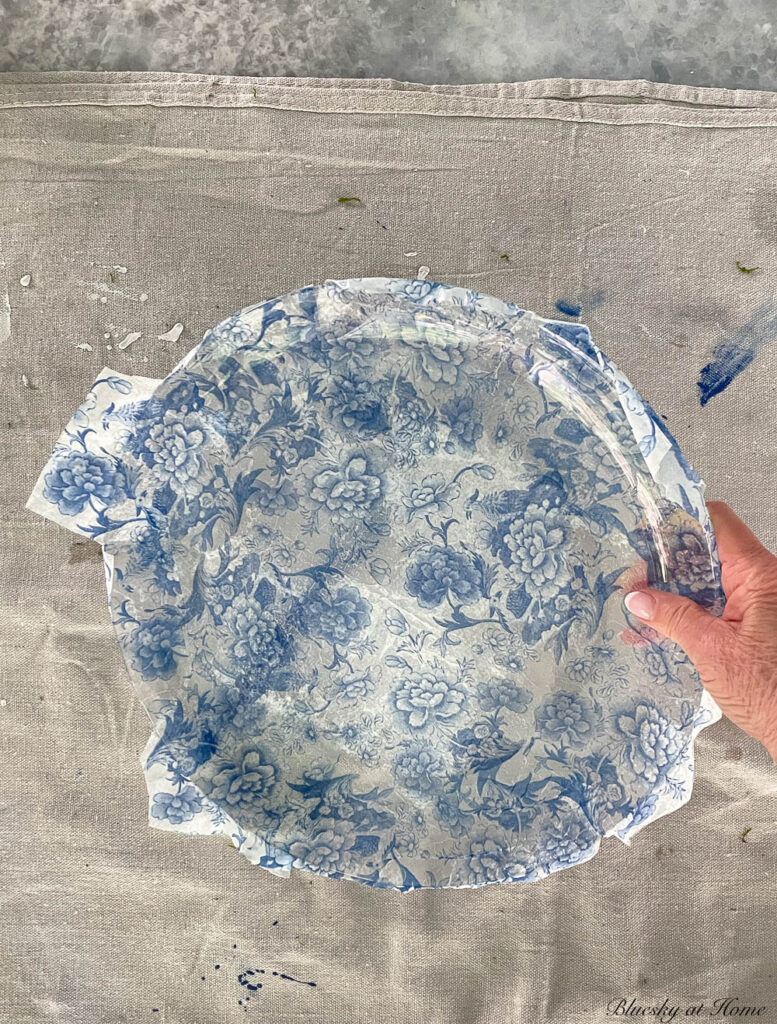 TIP: It works best if you cut from the back side of the platter.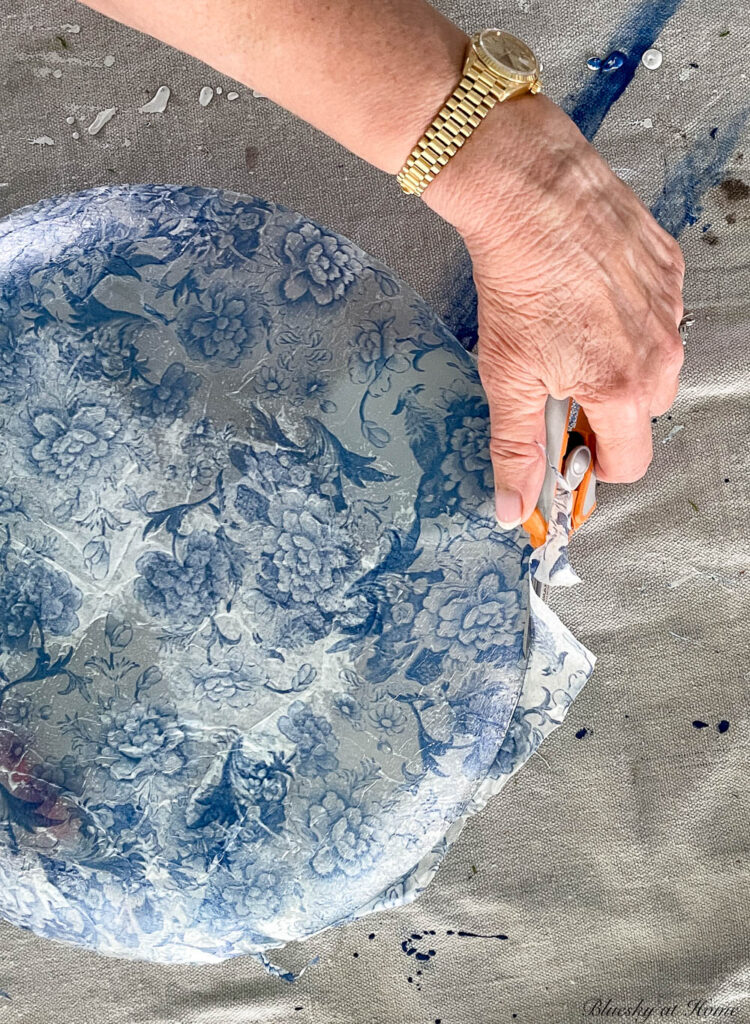 ​Step 13 – Using the small Mod Podge brush, apply a small amount of Mod Podge to the edge of the napkin.
Step 14 – For extra protection, apply another thin coat of Mod Podge to the entire back of the plate. Allow to completely dry. I let my platter dry overnight.
The background of the platter is now clearer and the design looks lovely.
Your platter is now ready to use. The platter is food safe because the napkins and Mod Podge are on the bottom of the platter.
To clean your platter, gently wash the top of the platter with soap and water. Wipe the back of the platter with a damp cloth, if needed. There is a dishwasher safe Mod Podge, but I have yet to try it.
I hope that you will try decoupage as a craft project. May you enjoy using your decoupage glass platter. It would also make a pretty tray as a decorative item.
Don't forget to PIN this project. Check out my Pinterest Decoupage Ideas Board for more ideas.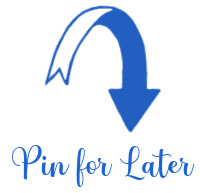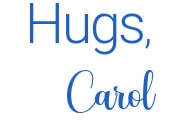 ​