How to Make DIY Charger Plates for Christmas
Are you styling a Christmas table for entertaining this holiday season? Want to add a festive item to your table? Let me show you how to make DIY charger plates for Christmas.
These DIY charger plates will add color and pattern to your Christmas table. Another good thing? Once you know how to make them, you can adjust for any holiday or event.
Chargers can add to your event theme and the style of your table. They can make your place settings more elegant and dressy or casual and festive. It all depends on the fabric that you choose.
This was the first time that I have made DIY charger plates. It had such a big impact on my Christmas table that I can tell you it will not be the last time.
This project was so easy and fun. It was also very inexpensive.
Recently, I shared this year's Christmas tablescape using my DIY charger plates. Don't you think they are the cutest?
I first saw this idea from Crissy of First Day of Home. Immediately, I knew I wanted to make some plaid DIY charger plates for my own Christmas tablescape.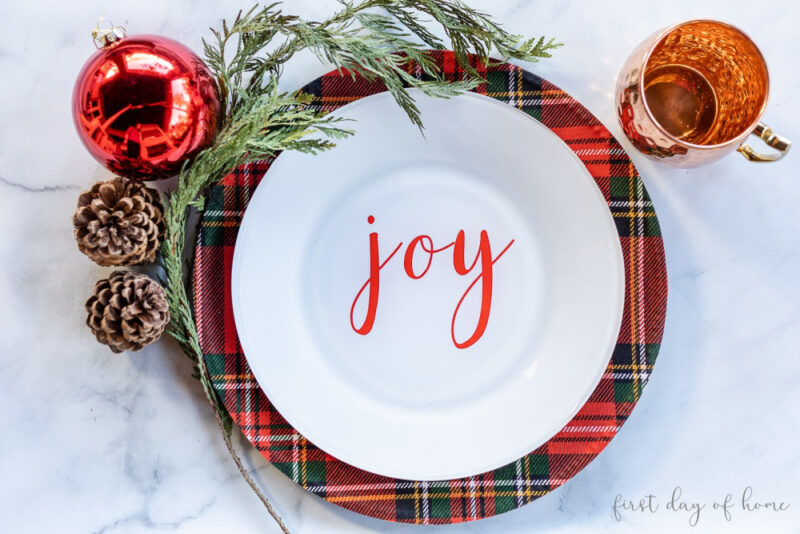 Here is how I made my DIY charger plates for Christmas.
Supplies for the Charger Plates
The list of supplies you need for this project is short. You may have some of the supplies on hand. I already had everything I needed except for the plaid fabric. I know that you could use paper napkins, but I'm going to focus on using fabric.
First, decide how many chargers you need for your event. I needed eight.
fabric of your choice of color and pattern. I knew that I wanted red plaid. I also knew that cotton would be the best fabric. Unfortunately, the pattern and color I liked best was in a flannel. It acutally worked just fine. I bought 1 1/2 yards just to be sure I had enough. I did have some leftover.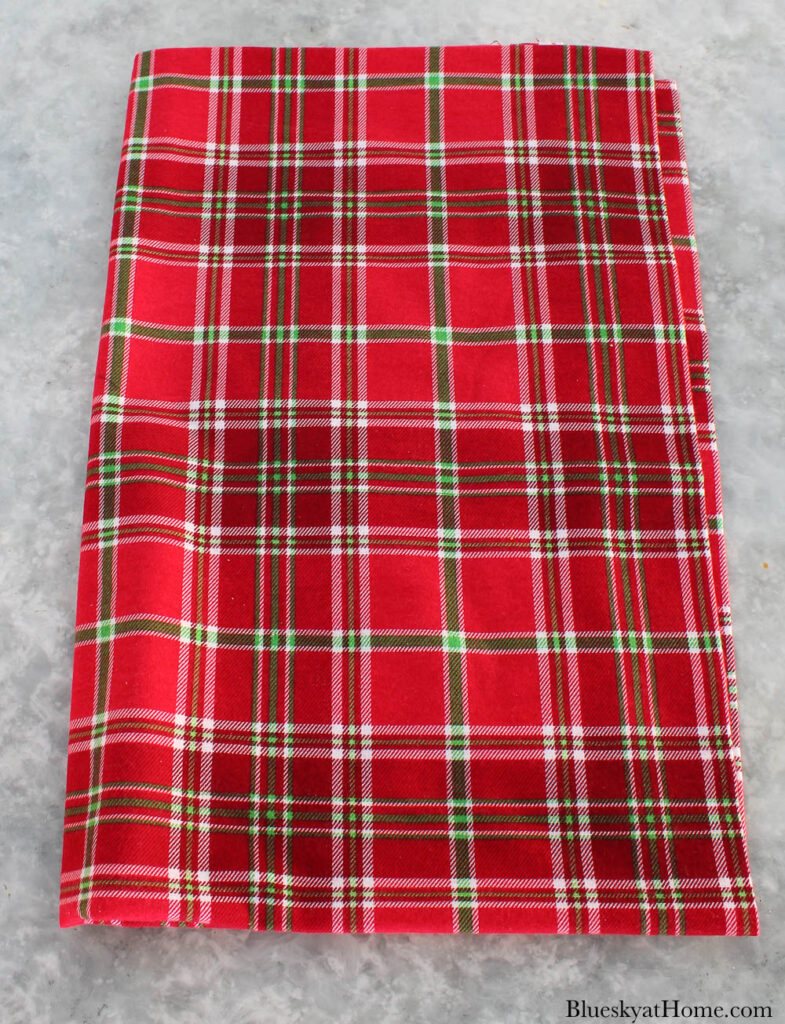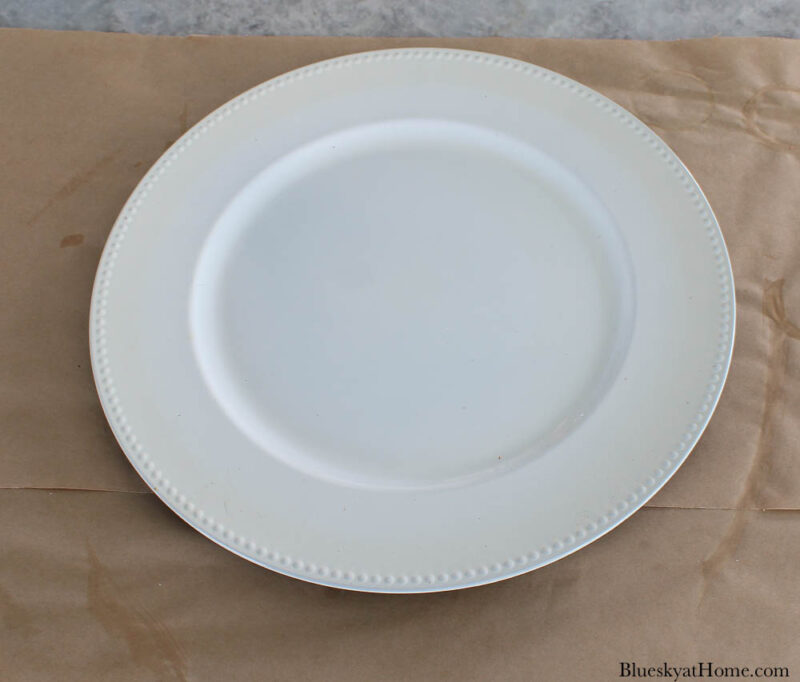 sewing scissors
a foam brush or paint brush or Mod Podge brush applicators. I had the Mod Podge brushes on hand so I used them. I really liked how easily they worked and they cleaned up better than the foam brush.
Steps to Making the DIY Charger Plates
This is the process that seemed the easiest to me. I found it quickest to complete the chargers in an assembly~style process. I've tried to break down the process as much as possible for you.
Step 1 ~ Cover your work surface.
Step 2 ~ Lay out your fabric. If there are wrinkles, iron them out.
Step 3 ~ Place a charger right side up on your work surface. The white film was coming off some of my chargers, so I pulled off as much as possible.
Step 4 ~ Lay your fabric, right side up, on the charger. Position the fabric with the edge and side is on the fabric. You want to get the most charger covers out of the fabric you have. Make note of where the fabric is on the charger, then fold it away from the charger.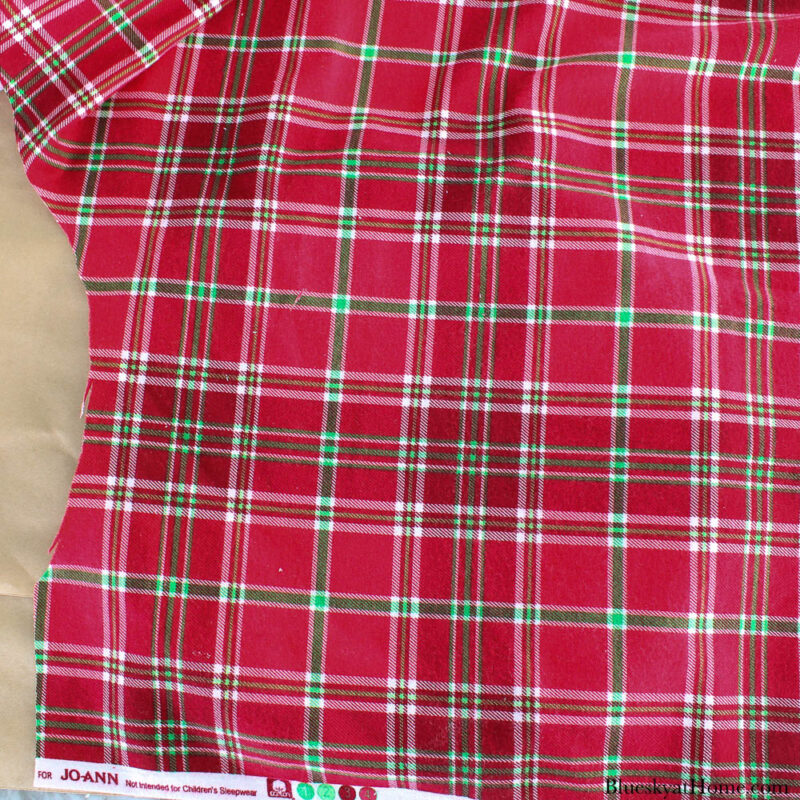 Step 5 ~ Pour some of the Fabric Mod Podge into a small plastic or glass cup. Using the brush, apply the Mod Podge in long strokes on the charger. Cover all charger surface completely.
I started out using a foam brush, but switched to the Mod Podge brush, which I liked much better.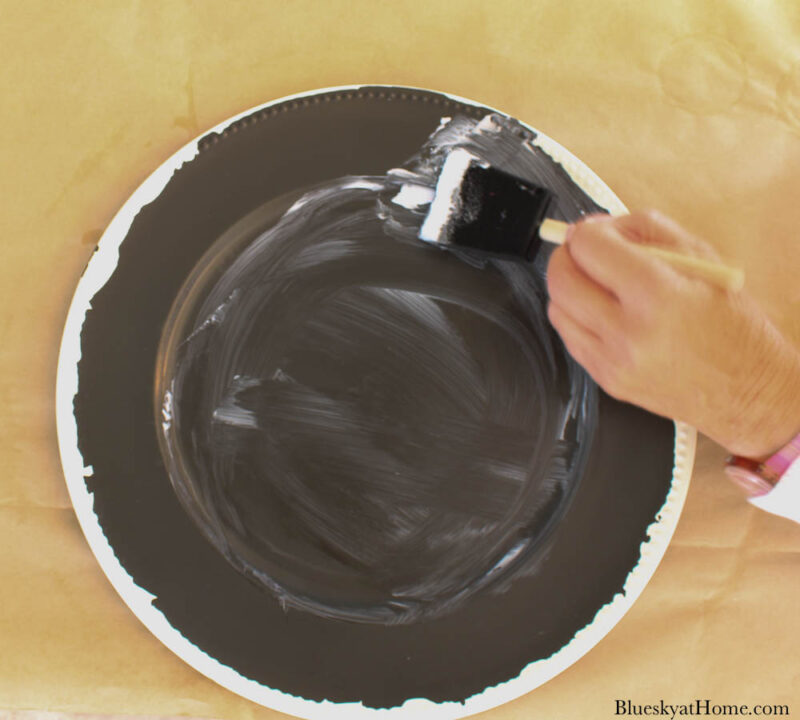 TIP: You can apply a bit more Mod Podge on the edges.
Step 6 ~ Carefully place the fabric on the charger. Use your hands to gently press the fabric down to the charger all the way to the edges. Press the fabric down the edges of the charger.
Step 7 ~ Cut the fabric around the charger with about 1/2 ~ 1~inch allowance. Set aside to dry. Repeat with all your chargers.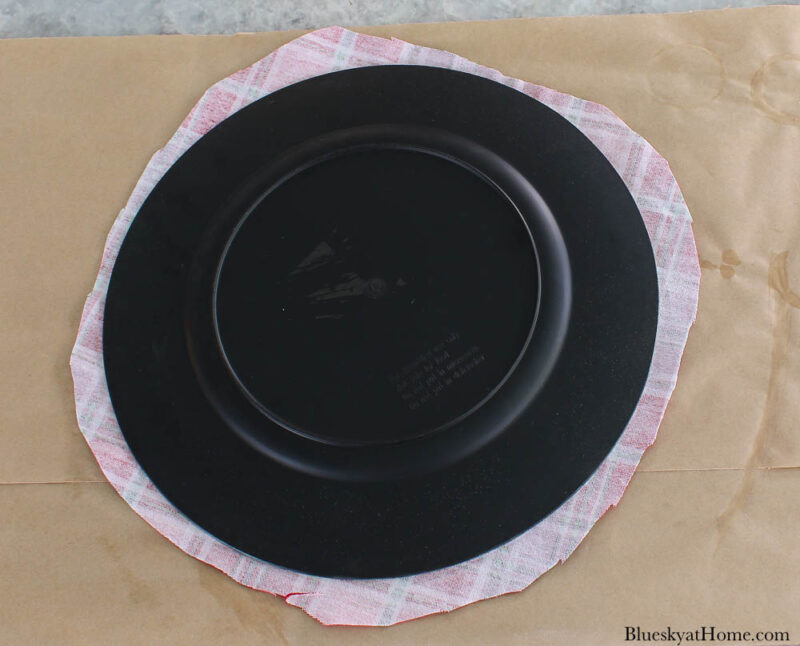 Step 8 ~ Once the Mod Podge is dry, turn the charger over. I found it easiest to cut away the excess fabric by hanging the charger over the kitchen counter. Cut the excess fabric as close to the edge of the charger as possible. Turn the charger over and trim any other excess fabric.
Step 9 ~ If you like, apply a small amount of the Mod Podge to the fabric at the rim of the charger. Set aside to dry.
TIP: Wash your Mod Podge brush in a small amount of dish soap and water. Reshape and allow to dry.
I completed this project in about 1 1/2 hours. That included drying time.
Using Your Christmas Charger Plates
In setting my Christmas tablescape, I placed the red plaid chargers on white placemats.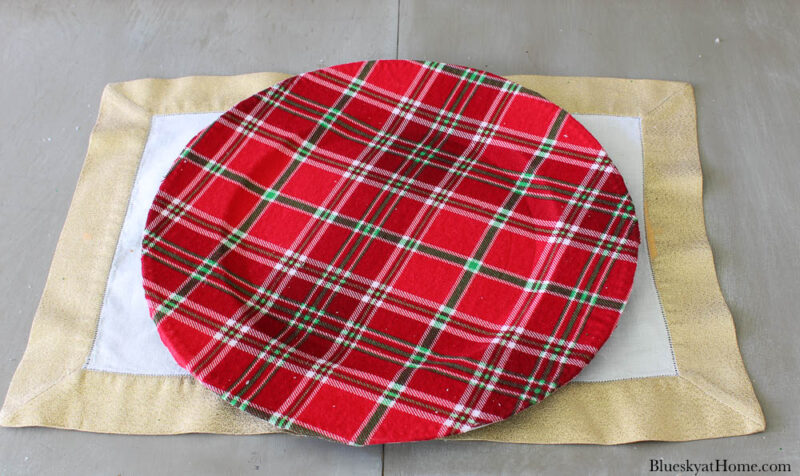 Then came the dishes, silverware, glasses, napkins, and more plaid ribbon as napkin rings.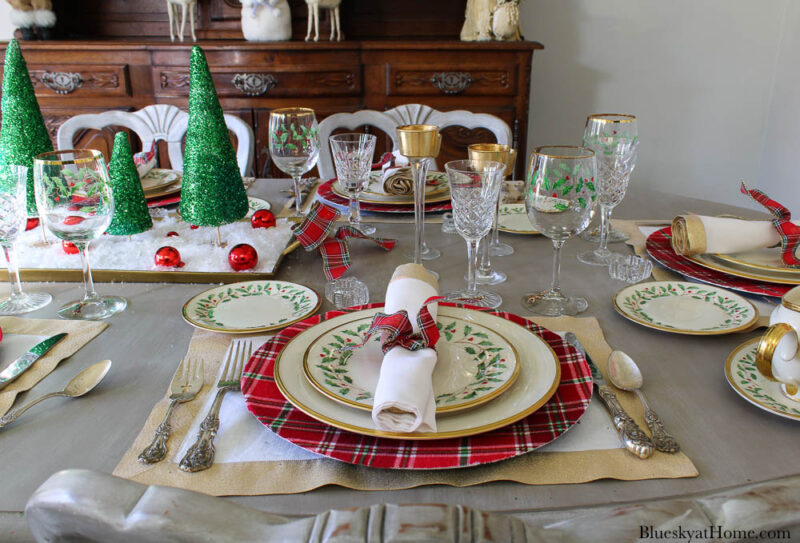 If you have never used Mod Podge for decoupage projects, then this is a time to try it. If you have never decoupaged fabric, then try it, too. I plan at some time in the spring to use this method for a springtime tablescape.
Be sure to PIN this project. I'm sure you'll want to try it.