3 Table Makeovers with Chalk Paint
This is not a trick question.
What is easier to change: the color of your sofa and chairs or the color of your tables?
Right! The tables.
Most people have neutral colors in their upholstery ~ sofas and chairs ~ anything with fabric. I love the look of white and cream sofas. Then you can accessorize with color, texture and pattern in your pillows and accessories.
Like this room from Fixer Upper
Or this one
Wish I had thought of that.
I had to do it the opposite way.
When we were planning the decor of our living room (which included re~upholstering the sofa and 3 chairs), my decorator and I choose color for the sofa and texture and pattern for the chairs. Believe me, choosing 3 coordinating fabrics is hard work and we choose and then discarded many choices. (Then there was the time I misplaced the sample fabric for the sofa and we hadn't written down the fabric information and had to pick a new fabric; that turned out O.K. because we found a less expensive fabric that I liked better. The missing sample showed up later stuck under my car seat.)
I'll show you our entire living room later.
Suffice it to say that my decorating palette is backwards. I use neutrals in my pillows and accessories to tone down the color in the sofa and chairs.
Since we moved in our house 3 years ago, I've painted 4 tables ~
a pine kitchen table that I had cut down to a sofa table ~ I used Annie Sloan Coco on top and Chateau Grey on the legs. I loved it.
an end table that was Sweet Shark's grandmother's ~ I used Chateau Grey and Dark Wax. I just sort of liked it.
a set of stacking tables I found at an estate sale ~ I used Duck Egg Blue over

Primer Red

, distressed it and used Dark Wax. I thought it looked great.
a vintage lady's "desk" I bought in Canton 30 years ago. I painted it Paris Grey.
Fast forward 3 years and I was tired of the Cocoa and Chateau Grey and even though I love Paris Grey, I wanted lighter.
I wanted WHITE! to contrast with with my colored upholstered furniture. WHITE! light and a little farmhouse. (I think Joanna has rubbed off on me.)
So I got to work.
I left the sofa table as is ~ I'll tell you why when I give you a tour of the living room.
The Method
I painted all the pieces with 1 coat of Annie Sloan Old White, full strength and then painted a second coat with a wash of Old White.
Next I used Clear Wax to seal. Although I have used the Annie Sloan Wax Brushes, I also like to use an old rag.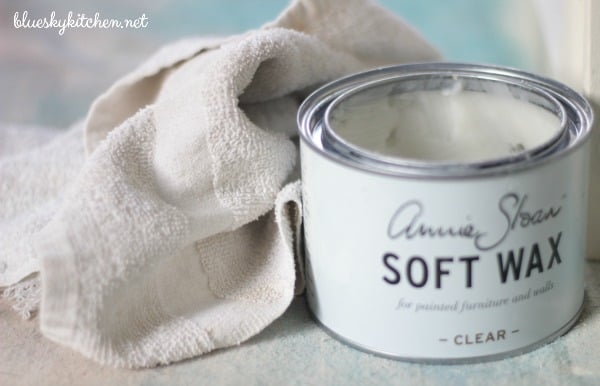 I distressed the pieces where natural wear would have occurred, not too much, but enough to give the tables character. I waited 24 hours and buffed the tables to give them that beautiful patina and sheen.
I love this buffing brush that I bought online. I bought the sanding block at Lowe's.
The End Table ~ Before
This table belonged to Sweet Shark's grandmother and we have used it for years as an end table. The original finish was a drab, worn walnut stain. It has nice lines, 3 levels and a drawer, so it's practical, too.
I used Dark Wax on the top.
Let the painting begin!
I left the inside of the drawer Chateau Grey.
And after painting, waxing, distressing and buffing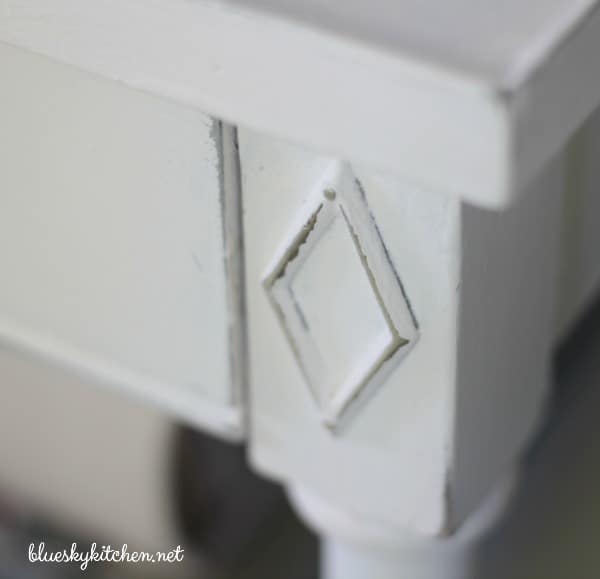 The  Stacking Table ~ Before
Just starting to paint with Old White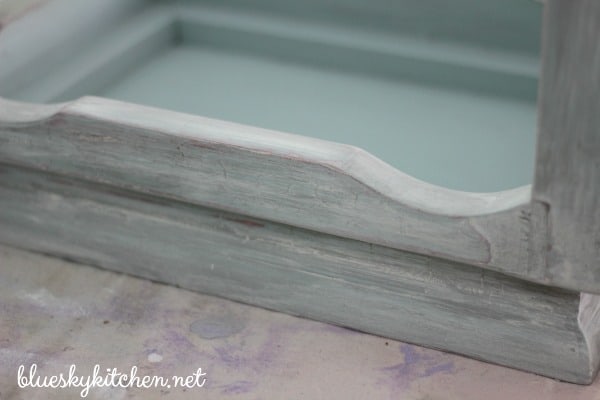 And after painting, waxing and distressing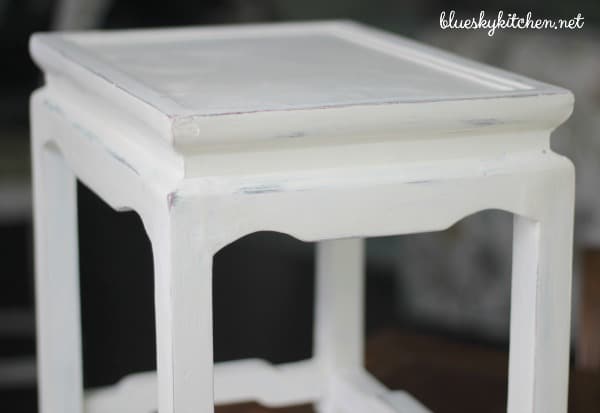 After buffing
The Lady's Desk ~ Before
This is how the lady's desk originally looked when I bought it 30 years ago with a dark stained finish.
And when I painted it last summer with Annie Sloan Paris Grey.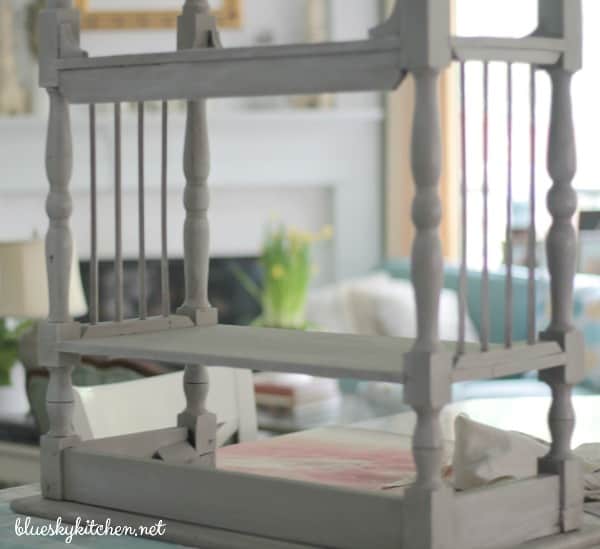 Now, after painting it with Old White
And after waxing and distressing and buffing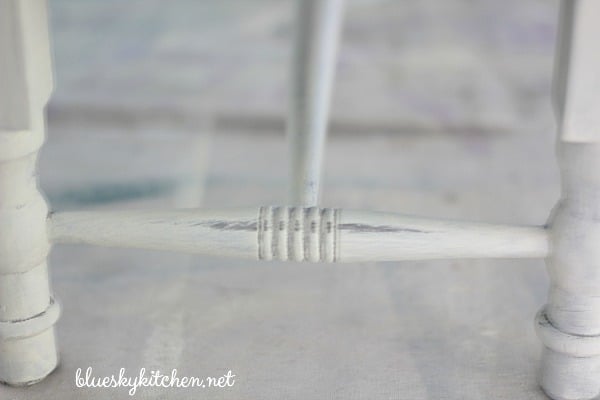 To say I love the results is an understatement. The white tables contrast with the fabric and wall color and gives a great pop. I love how the slightly distressed finish provides some farmhouse, vintage vibe.
Next time I'll show you how my older daughter and I rearranged the furniture in our living room which made a huge difference in the flow of the room.
Until then, when in doubt, go with white. You can never go wrong.