Painting Terra Cotta Pots and Planting Pretty Flowers
How do you feel about terra cotta pots? Painting terra cotta pots is something I do to get the colors that I love and to make our backyard prettier.
Sometimes I think terra cotta pots are cute and sometimes I just don't think so. But the pot (please no pun intended) you're given is not the pot you are stuck with. You can paint your terra cotta pots or your ceramic pots or even your plastic pots. I know because I've been there.
We have eight hay racks across our back iron fence, two metal urns, two metal planters, a metal baby stroller, and various pots of several colors, finishes and sizes.
We had a few extra terra-cotta pots stacked on the side of the house because (just in case you didn't hear me loud and clear) I DON'T LIKE TERRA COTTA pots. Or maybe I should say I don't like the color of terra-cotta. As you may have guessed, I'm more a blue and green girl with pops of pink and yellow for good measure. Planting season is upon us, so it's time for painting terra cotta pots and planting pretty flowers.
 If you've been reading Bluesky at Home for any length of time, you know that I love to paint and repurpose.
Chalk paint works especially well on porous terra cotta pots. It's so versatile, so easy to use, comes in so many pretty colors, and you can use it on so many surfaces – including terra cotta pots.
I've used a few brands, and I have my favorites, but last summer when I was ready to banish the terra cotta pots from our collection, I thought using up some of the leftover chalk paint I had would serve two purposes.
Painting terra cotta pots make them prettier and brighter in our landscape.
I could use up some almost empty paint jars.
Painting Terra Cotta Pots and Painting Pretty Flowers
Whatever brand of chalk paint you use, be sure to prepare your painting space first. I covered a large section of our patio with newspaper. Looking back, it would have been just as easy to put drop my drop cloth. If it's the least bit windy, secure the paper or drop cloth with weights ~ like other pots. If it's really windy, it's probably not a good idea to paint.
I had about 1/4 of a sample size (8 ounces) jar of Annie Sloan Provence, one of the prettiest colors ever. 1/4 cup is about 2 ounces or 4 tablespoons ~ not much paint. But this chalk paint goes a long way, especially when it's watered down a bit. So that's what I did: diluted the paint with 50% water, gave it a good stir and I was ready to go.
This post contains affiliate links to products used in the creation of this project. If you should order any item from this site, I may receive compensation, but you do not pay a penny more. Your purchase is greatly appreciated as it helps support the continued publication of this site.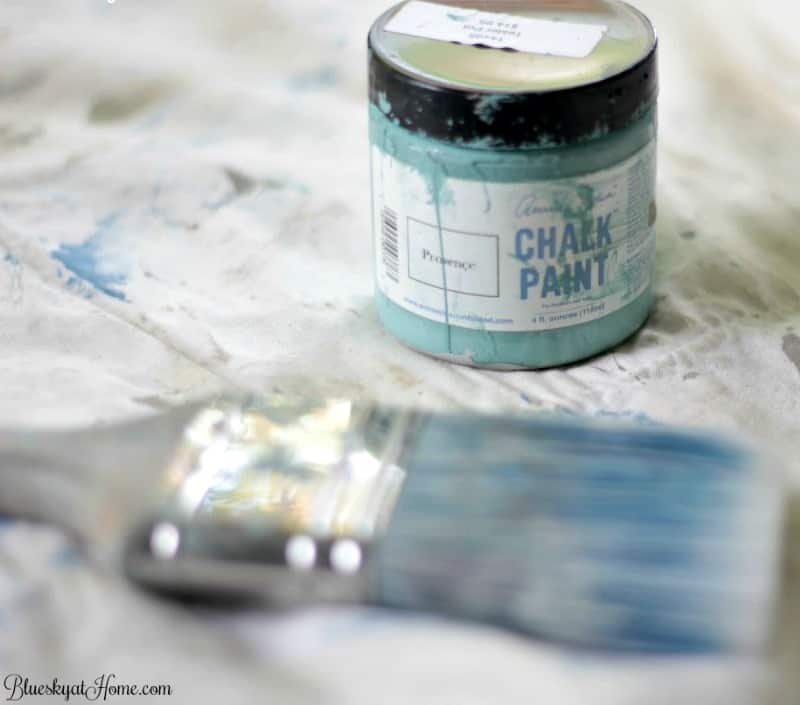 Painting Terra Cotta Pots
I laid down some newspapers on the patio. I hosed off the terra cotta pots and then set them upside down to dry in the sun.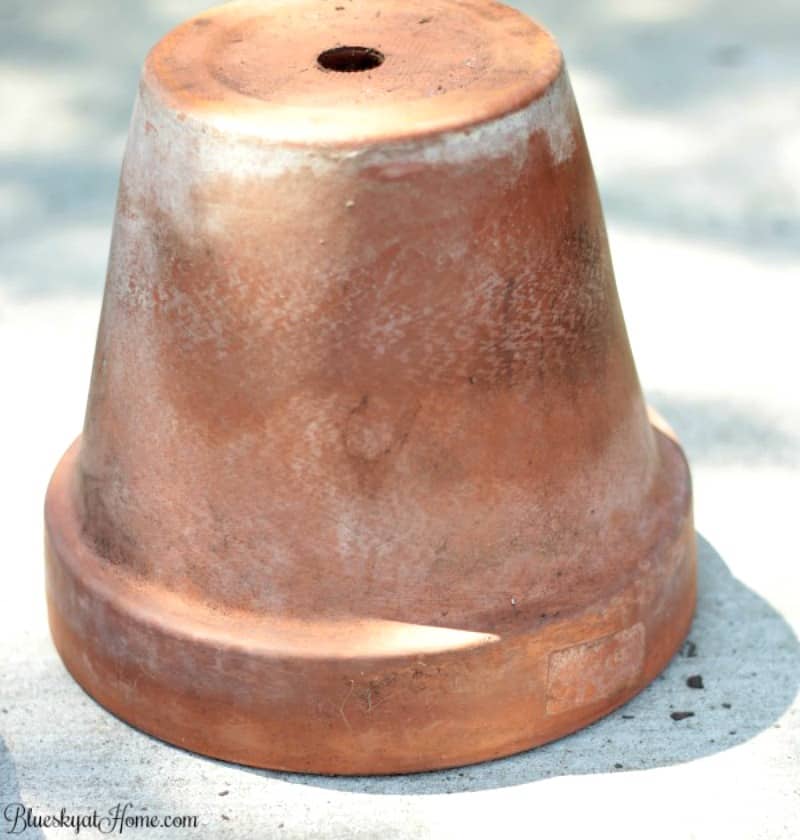 I used a plastic bristle brush to paint on two coats of paint on two matching pots.
After the paint dried I turned the pots right side up. Then I taped  Frog Tape around the bottom of the rims. Then I painted a band of Old White.
I had one more round pot that I had always liked for its shape and size, but not for its terra cotta color. So it got a couple of coats of paint too.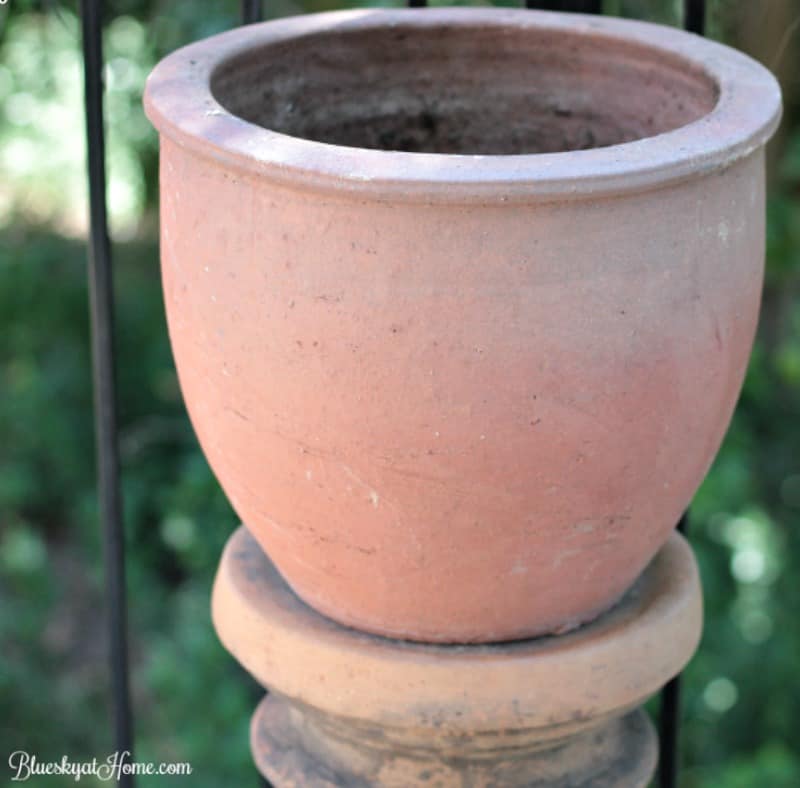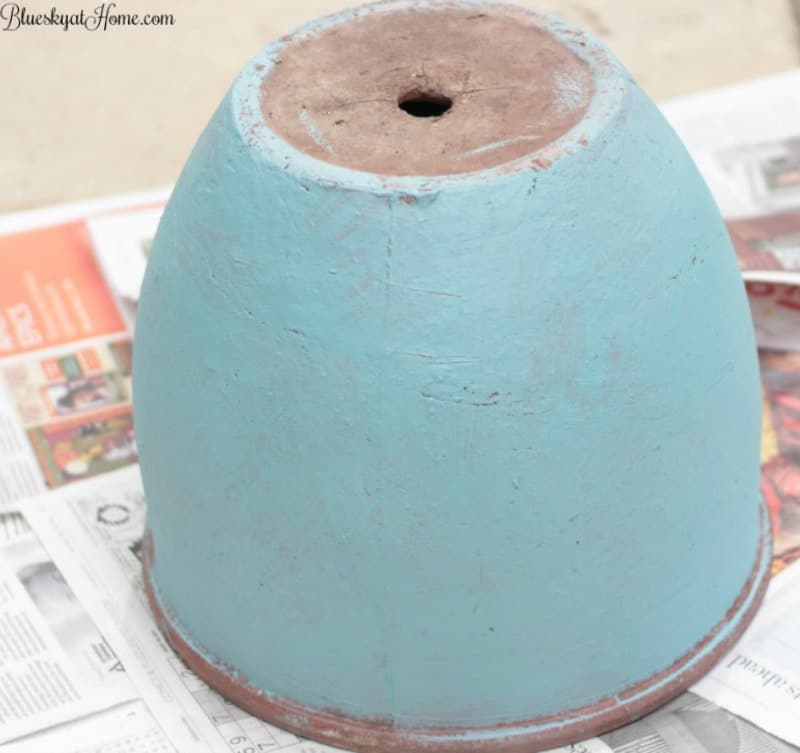 Finish Touch on the Terra Cotta Pots
As a final touch, I sprayed a coat of clear gloss sealer from Lowe's just to give the paint some extra protection from the elements.
Planting Flowers in My Painted Pots
Now that the pots were painted ~ pretty blue is much better than terra cotta, in my humble opinion. It was time to plant. First came some good potting soil.
And then came the plants.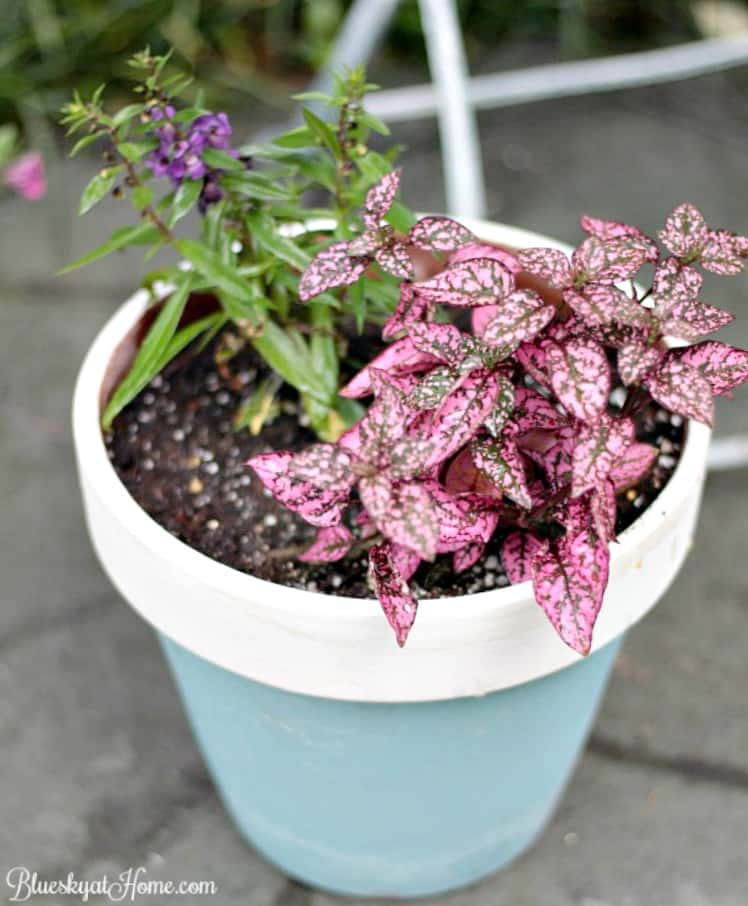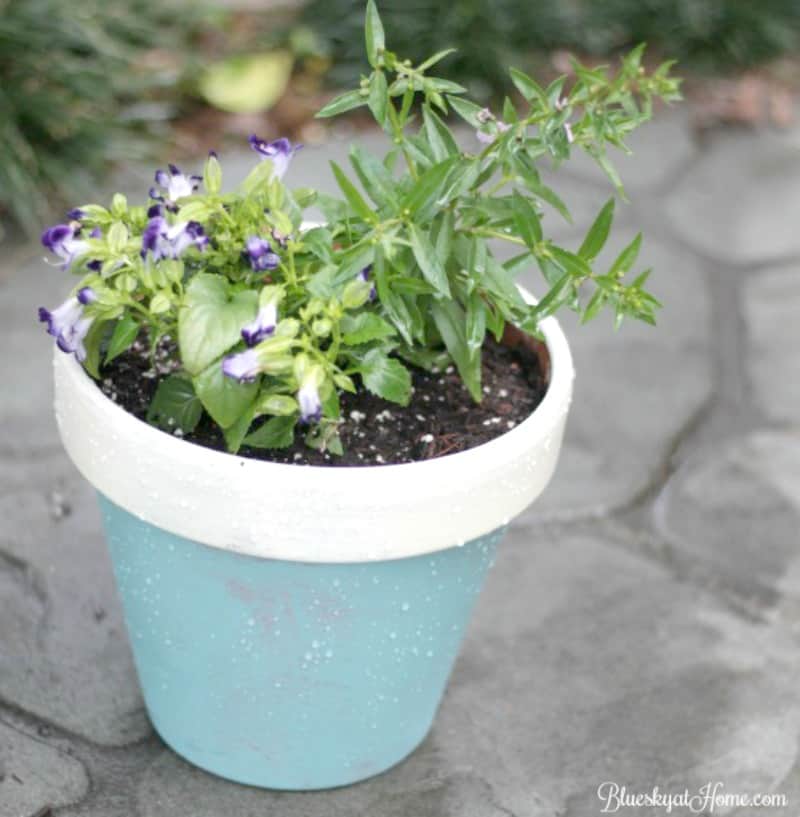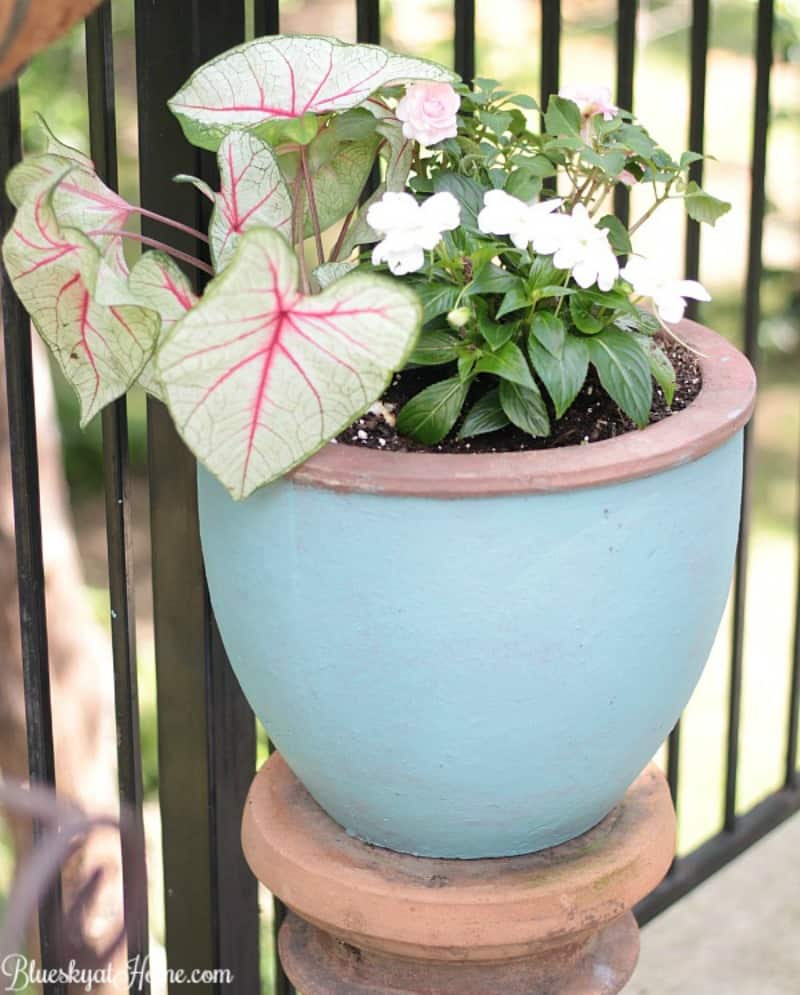 I love how plants look when they have just been planted – fresh and neat.  We have so much more to do to get our backyard ready for spring and summer. This project was just the beginning and if the weather stays warm, we'll be little worker bees. I may have some more pots to paint first.
Painting terra cotta pots and planting pretty flowers – like a horse and carriage, butter and biscuits, chips and salsa. A perfect pairing.
Happy painting and planting.