My Favorite Paint Projects of 2015
Last week I visited the new Wisteria Outlet in Dallas and had the pleasure of meeting Stephanie, one of their associates.  We started talking about home decor and painting and transforming accessories to fit one's vision and home.  Of course, I told her about my love of finding (or if you're lucky having) vintage items to update or change with chalk paint.  She asked me to send her some of my posts featuring paint projects, which I was more than happy to do.  Then, I thought, why not share them with you, too.
Here are my
My Favorite Paint Projects of 2015
The first project of the year was our dining room table.  Since I see it multiple times a day and still love it and serving dinners on it, this may be my favorite.  I absolutely love how it turned out, fulfilling my vision.
How to Transform a Vintage Dining Room Table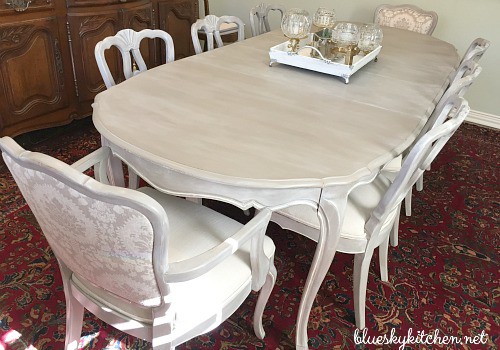 Next came the transformation of an ugly bookcase from a re-sale store to a feature that I'm proud to have as a focal point in our living room.
How I Transformed a Bookcase from Ugly to Beautiful
Here's how it looks today; I've rearranged it a few times.
Here's what it looked like at Christmas.
My older daughter's armoire in her Atlanta dining room was a fun project.  I first saw it over 30 years ago in the back room of an antique store; it was dirty and dusty and forgotten.  I bought it for a $100 and I thought it was a steal.
Old Armoire Becomes Diva of the Dining Room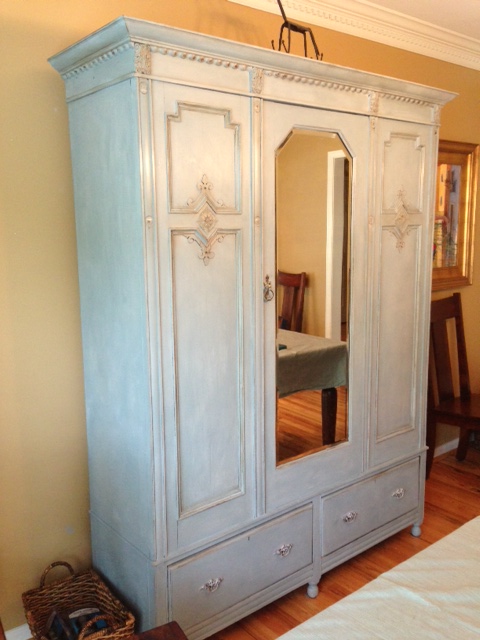 My "French" garden chairs are another favorite find.  I recently saw similar chairs in New Orleans for over $100 each.  Mine cost $12 and I think they look just as good. I love to look outside on the patio, even in winter, and see them.
French Garden Chairs Transformation
In the fall, I shared several projects in which I used Gilding Wax. This little product is very versatile.  I recently bought a jar of gold, which I haven't used yet;  I'm waiting until I have the right piece.
Which project did you like best?
I can't wait to see what 2016 holds: I have a desk, a curio cabinet and some chairs to work on.  Painting starts soon!