Easy DIY Tags for Your Fall Decor
I've been sharing all the DIY projects I made to use in my fall tablescape this year. I didn't intend to make so many, but I got on a roll and then these DIY fall projects seemed to fit in the tablescape and they just kept coming. So here is the last of my tablescape DIY projects ~ easy DIY tags for your fall decor or tablescape.
These tags were not on my list of DIY projects from the beginning. I knew I would make the vintage pots, I knew that I would need to make the gingham placemats and I knew that I would make the silverware pouches. But the DIY tags were a last minute idea. When you have an idea and you have all the supplies you need, then, of course, you have to start the project. And that's what happened with these easy DIY tags.
My
fall tablescape
was finished. It was done. I was ready to take the final photos. Then I stepped back and looked and walked around the table and knew a little something else was needed. (Sometimes, Coco, you have to add instead of take away.) And then it hit me. Signs, little signs, signs with words that meant something. Little signs became tags. Little tags with words. Easy DIY tags for your home decor.
Easy DIY Tags for Your Fall Decor
I've used little wooden tags before in tablescapes and seasonal decorations: like these coastal tags. They come in different shapes and sizes. I buy them in packages at Joann.
Supplies for Making Tags
wooden tags
paint
small paint brush
wooden skewers or twine
Gorilla Glue
Chalk Marker or Stamp
Steps to Make Your Tags
Either on a drop cloth or paper, lay out your tags. With the small brush,  paint them with your color of choice. I used Rescue Restore paint in Little Black Dress. Allow to dry for 10 ~ 15 minutes.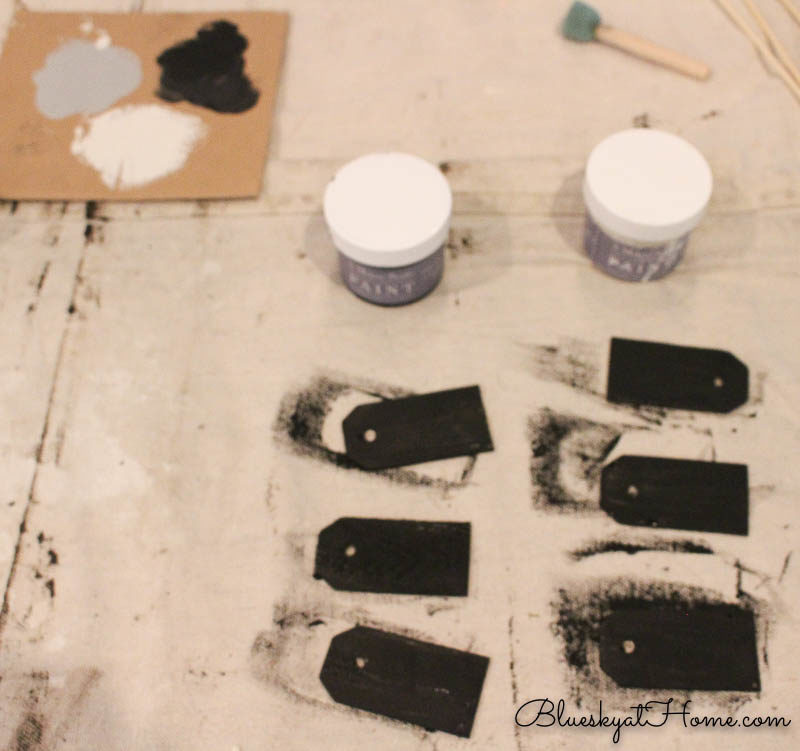 My original thought was to use a set of stamps that I bought at Joann on sale. (You can see them in the photo above.) I've never used stamps like this. I dipped the stamp in paint that I off loaded onto a piece of cardboard. I'm not sure if it was me or the stamps but when I pressed the stamp onto the painted tag, the letters were surrounded by paint. I tried several times, using less and less paint. The letters were never clear.
I decided that it was the stamp ~ it just wasn't raised enough to create a clear, solid letter. Also, the letters were really tiny. So I went to plan B.
I found a Chalk Pin in my office. Fortunately, it was still in good shape and just needed a good shaking to bring the ink into the applicator. So I just free wrote words that made me think "fall". I got carried away with the "f" theme. Glad I only needed 6 tags because I ran out of "f" words.
I knew that I wanted the signs to stick in the plants in the terra~cotta planters that I painted to look old. To do that, I cut 3 6~inch wooden skewers in half with scissors. I cut the pointed tip off also. I used Gorilla Glue to attach the sticks to the back of the wood tags.
If you want to use the wood as actual tags, you can use twine to make a loop through the little hole. Make the loop as long as you need.
NOTE: If it is hard to get the end of the twine through the hole, wrap a small piece of tape around the end of the twine and  push it through.
A few days after I completed my fall tablescape, the plants needed to be watered, so Sweet Shark took the pots outside. Then we were running out of silverware so I took the utensils back to the kitchen. I moved the wood tags from the potted plants to the silverware pouches. Still really cute.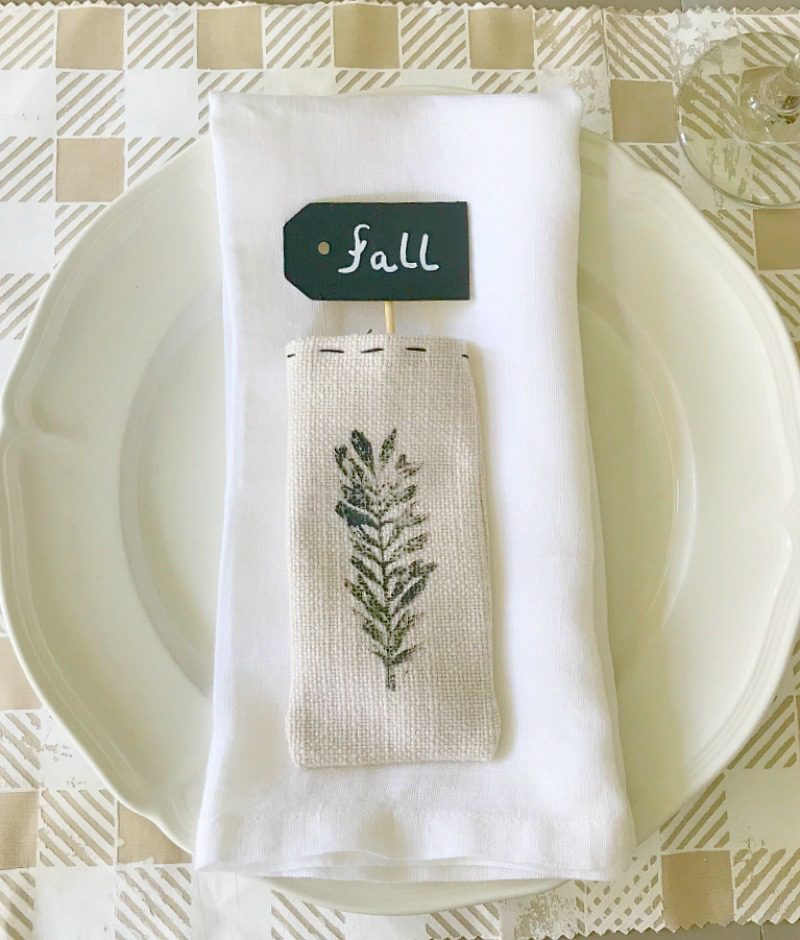 We are planning to having company over in October so I'll return the silverware to the pouches. The lavender and sage vintage terra~cotta pots will return to the dining room table and I will return the wood tags to the pots where they started.
How easy was that! These little tags can be used in so many ways:
gift tags
wine charms if the tags are small
little signs for decorative areas
placecards