Bunnies, Blooms and Bows DIY Easter Wreath
It's four weeks until Easter. Our front door needed something pretty so I've been busy creating a DIY Easter wreath. This one has bunnies, blooms and bows.
I love it when whatever supplies that I need for a new decoration I already have. That was the case with this DIY Easter wreath.
Reusing decorative items gives you more "bang for your buck" ~ always a good thing.
Sometimes you get an even better decoration that the you did in the past. That's double bang for your buck.
With this DIY Easter wreath, I think I got triple bang for my buck.
The inspiration for this DIY Easter wreath came from one item that is usually found at the craft stores or your Dollar stores. It's also not expensive and often on sale. And the possibilities are endless.
So what was the inspiration for this Easter wreath? A grapevine wreath.
This is the first time that I've used this grapevine wreath. I'm sure it won't be the last. It will be a gift that keeps on giving.
Bunnies, Blooms and Bows DIY Easter Wreath
I make new wreaths every year ~ just because. A new Easter wrath is like getting a new Easter hat, a new Easter basket, and new Mary Janes.
Since so many of our neighbors are dog walkers, I always like our front door to be pretty. This year I wanted an Easter wreath with bright colors, bows, faux flowers and bunnies.
SUPPLIES FOR THE EASTER WREATH
I found my grapevine wreath at Joann. It was regularly $6.99 on sale for $4.19.
Sometimes do you wish things wouldn't be on sale so you could use your 50% off coupon?
This wreath is 18~inches. Notice that it is not perfectly round, almost oval. The "pointy" part will be the top of my wreath.
Just like this boxwood Easter wreath, I tried to gather as many Easter decorations and supplies as I could find.
I bought and painted the wooden Easter bunnies a few years ago. I pulled off the daisy flowers that I had glued on for noses. Pop~pom trim would provide new noses.
Pipe cleaners for tying bows from Dollar Tree.
Shear pink ribbon? From my ribbon box.
Scissors and clippers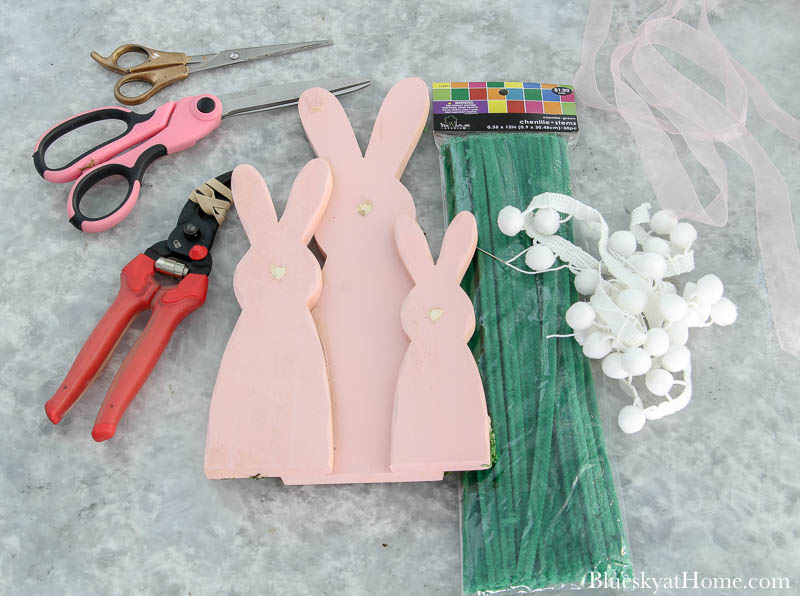 I ordered 3 bolts of wired polka~dot ribbon in pale pink, bright pink and aqua. I would use the 2 pink colors.
Markers for bunny faces.
I knew that I was going to run out of faux flowers a couple of weeks ago, so I ordered online from a new company that I found on Instagram called Afloral.com.
I ordered pink peonies, hyacinths, and cherry blossoms. They are beautiful and well~made and very reasonable. That's not an affiliate link.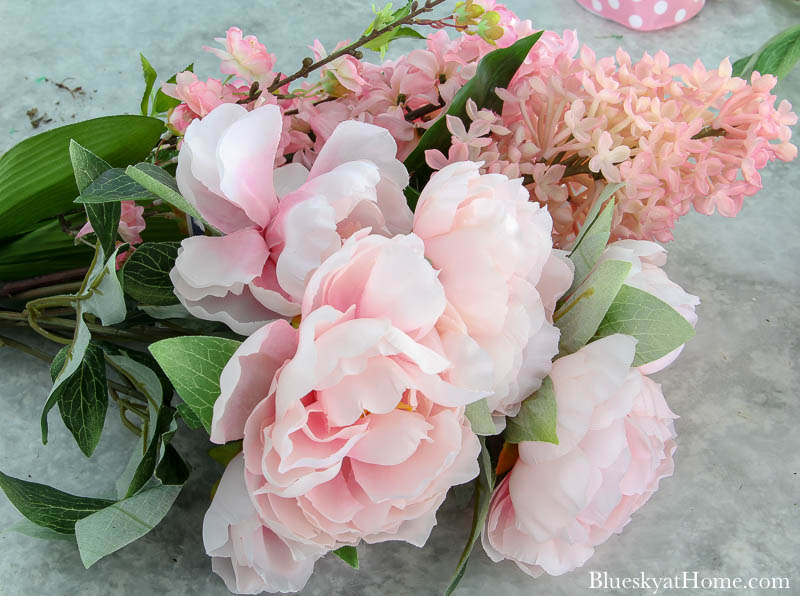 DRESSING UP THE BUNNIES FOR MY DIY EASTER WREATH
The first step was to decorate the bunny. It was a raw wood piece before I painted it pink.
You can see where I pulled off the daisy noses.
How do you make a bunny face? I Googled it.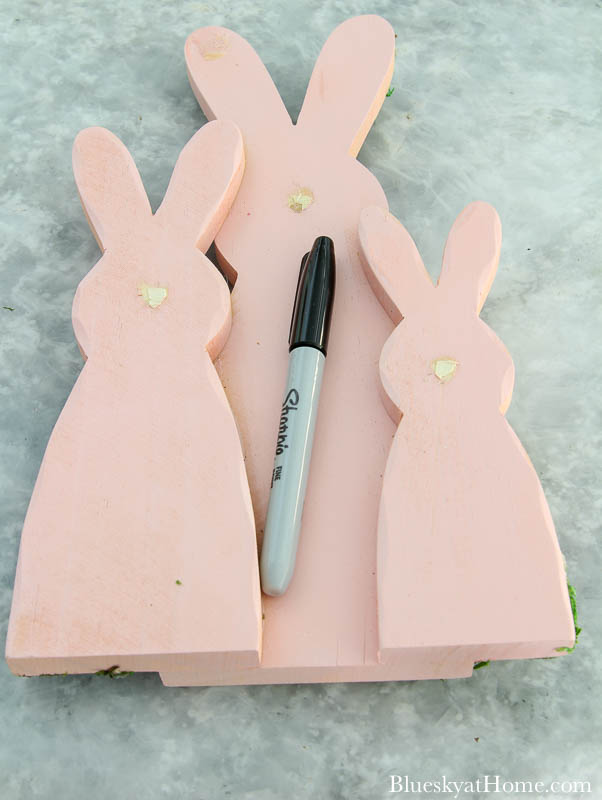 Bunny faces are actually very easy to draw with a black Sharpie.
I used a bright pink Sharpie to draw bunny ears.
Then I cut off three pom~poms for the bunny noses.
And glued them on.
BOWS FOR THE EASTER WREATH
Now it was time to make big bows, one of each pink color. Don't you love polka~dots?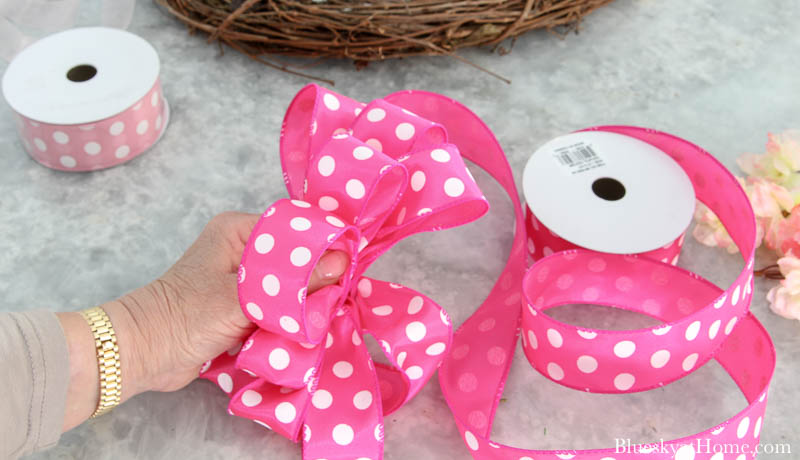 Pipe cleaners are great for tying bows. Next time, I'll buy more colors.
ASSEMBLING THE EASTER WREATH
I did not want to glue or permanently attach anything to the grapevine wreath. Remember I want to reuse it.
I used the sheer pink ribbon to attach the wooden bunnies to the grapevine wreath. It wouldn't show from a distance.
Then I attached my big bows by twisting the pipe cleaner on the back of the wreath. You may need to add in a second pipe cleaner.
Now it was time to add the peonies. I cut four blooms off the main stems. I just pushed the flower stems through the grapevine wreath to secure them. On the bottom of the wreath, I added two stems of hyacinths.
I decided that more bright pink was needed for color and filler on the bottom of the wreath. I had enough ribbon to make 2 smaller bows. To attach the bows, I made long tails to wrap around the bottom of the wreath.
DIY Easter wreath is complete.
To hang the wreath, I used an over~door hanger ~ I always keep a few around for door wreaths. I wrapped the light pink ribbon around it and just looped the ribbon through at each end to secure it.
THE FINISHED DIY EASTER WREATH
Now our front door has a bright, pretty and colorful Easter wreath to please our neighbors on their daily walks.
I love how easy grapevine wreaths are to decorate, and I'm so pleased with how this one turned out. Do you like? If so, please PIN it.
Now, it's your turn to make an Easter wreath. You have plenty of time.