Easter Tree in a Breakfast Room Easter Tablescape
I know that you are familiar with Christmas trees. But, are you familiar with an Easter tree? We have had one for years. It's decorated with lights and Easter eggs. For the first time, it's serving as the centerpiece in a breakfast room Easter tablescape.
I actually composed most of this breakfast room Easter tablescape almost a month ago when I was decorating our kitchen and breakfast room for Easter.  I just kept it a little secret. I planned to share it, but then two Easter wreaths and an Easter mantel and dining room Easter tablescapes butted in line.
Now is the perfect time to share the breakfast room Easter tree tablescape.
Beside the Easter tree, I had another couple of reasons to create a breakfast room Easter tablescape, which I'll show you in a minute.
Easter Tree in an Easter Tablescape
This post contains affiliate links to products used in the creation of this project. If you should order any item from this site, I may receive compensation, but you do not pay a penny more. Your purchase is greatly appreciated as it helps support the continued publication of this site.
I love to see the "from-beginning-to-end" process of just about everything. I feel like it is a learning process. So let's get started.
Creating this breakfast room Easter tree tablescape was relatively quick since I had my vision and my inspiration pieces ready to go.
Prepping the Easter Tablecloth
Our breakfast room table is round, and, to be honest, Sweet Shark and I rarely eat at it. But I love to have it looking pretty for special occasions.
The first thing I did was cover it with a white tablecloth. Then I used this pink and white buffalo check fabric which was my first inspiration. I ordered it from Spoonflower, but had not used it. Now was a perfect time. I didn't hem it, just ironed it well.
The Easter Tree Centerpiece
My second and main inspiration is this white branch tree that we have had for years. I don't even remember where I bought it.
At one time, I had a plug-in string of lights made of little Easter eggs. The plug-in required the Easter tree to be on a table against a wall, so I couldn't use it as a centerpiece. After several years, several of the little Easter lights broke. After Easter a few years ago, I just threw it away.
After Christmas, I bought 2 extra strands of battery-operated lights just for this Easter tree.
First, I wrapped them around the tree.
Then I placed the tree in a favorite pink and white pitcher from HomeGoods and stuffed tissue paper around to secure it.
Here you can see the battery packs.
I stuffed them under a piece of pink tissue.
Next, I hung a couple of dozen Easter eggs on it.
To finish the centerpiece, I placed some pastel crinkle-cut shred around the base of the Easter tree. I'll show you the complete tree later.
Setting the Breakfast Room Easter Table
For placemats, I used bright green woven ones from Pie 1 that I've had for a long time. I have two of each green color. Here are other options for round woven placemats in multiple colors.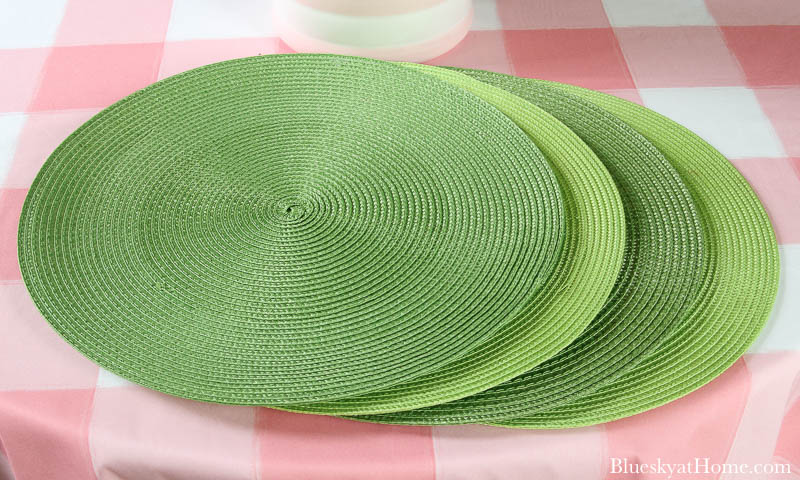 Here is my third inspiration element. In February at an estate sale, I hit the jackpot with this set of lunch plates and cups. Do you recognize the pattern?
I did immediately. It's a classic Laura Ashley pattern from years ago. When my older daughter had her first big girl bedroom, I fabric-backed her walls with this pattern and bought the sheets and comforter.
I haven't seen it in years, but I knew I had to have the set.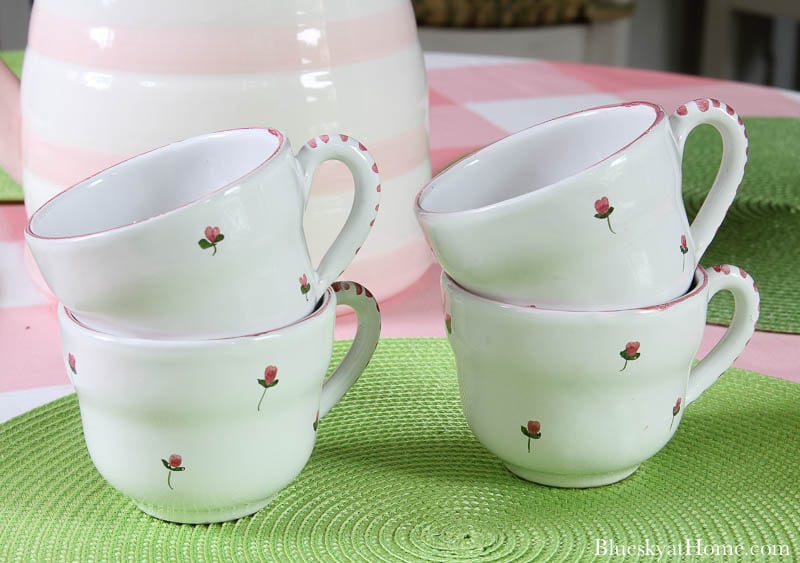 In addition to the four plates and cups were four egg cups. The entire set was under $20. I absolutely love it and knew in February that I would use it for Easter.
Around the base of the centerpiece, I used the 4 bunny acrobats that belonged to my son when he was a little boy. He said years ago that I could keep them. Typical grown-up boy man.
For napkins, I used the green and white gingham ones that I made for last year's spring tablescape. Since this would be a casual Easter tablescape, I thought pink plastic forks and spoons would do just fine.
One more special addition was the floral decoupage Easter eggs I made. I've been dying to try my hand at this project since I saw my friend Yvonne at Stone Gable make them.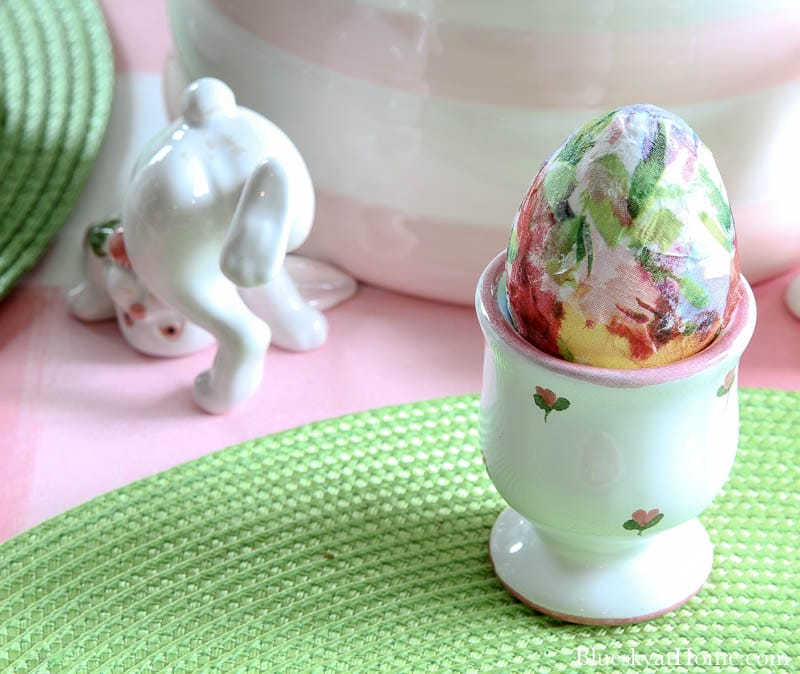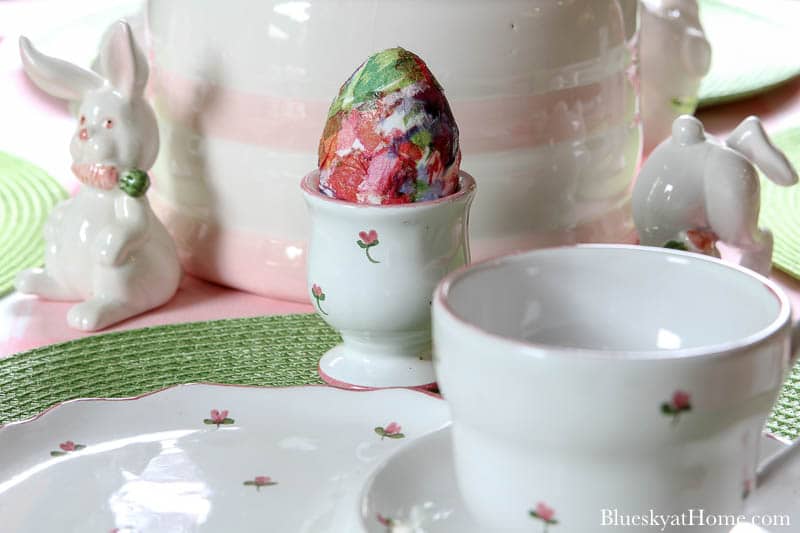 For glassware, I added the pretty pink glasses that I found at an antique mall a few years ago. I think they are the sweetest glasses.
Easter Goodies to Eat
You can't have an Easter table without Easter candy.
How about some cranberry and orange scones? Fresh strawberries and blueberries? This would be a light breakfast.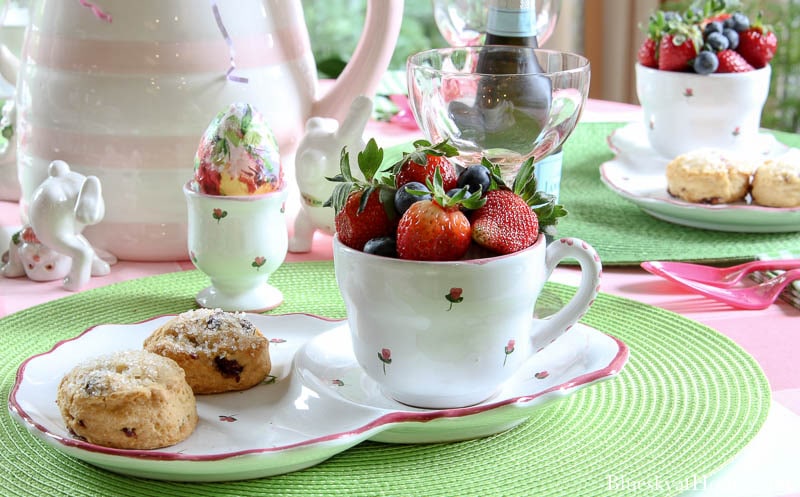 Another pink sherbet glass holds yogurt to pair with the fresh fruit.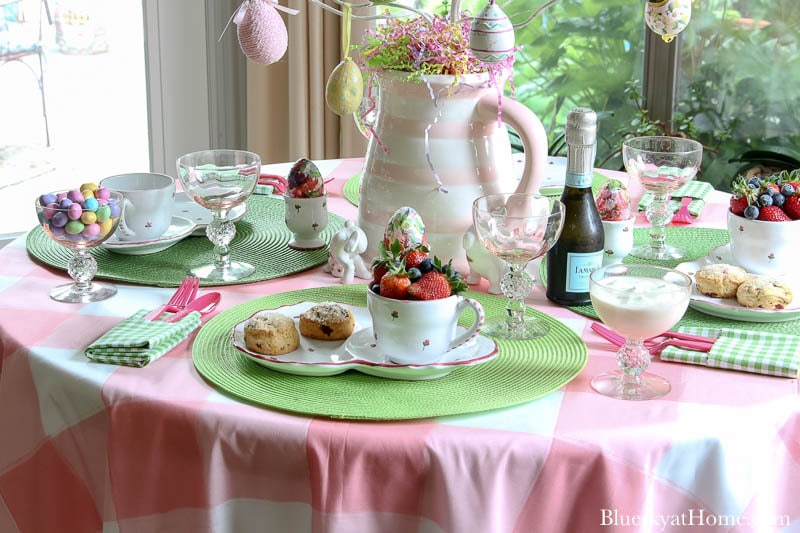 For an Easter toast, a little glass of prosecco would be perfect. We need a little bubbly at this time of our lives.
And now, let me show you the entire table with our Easter tree. The eggs are from several places and have been collected over the years.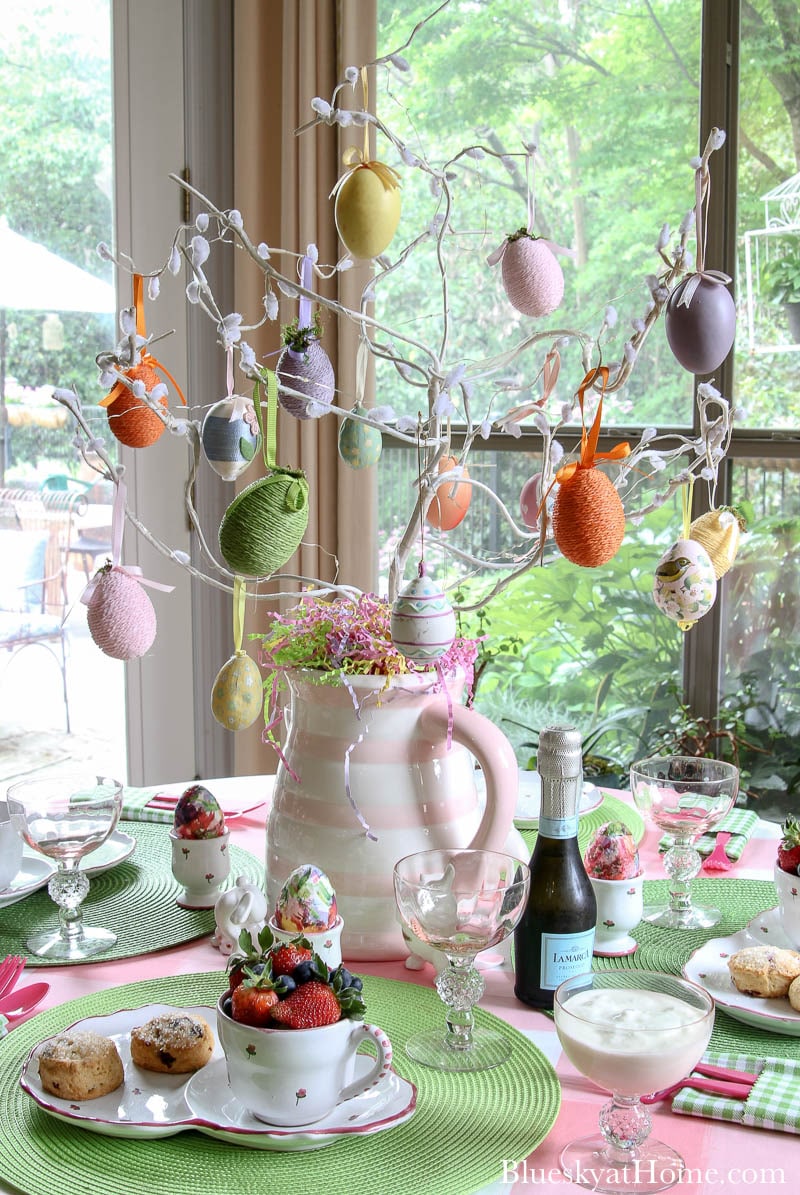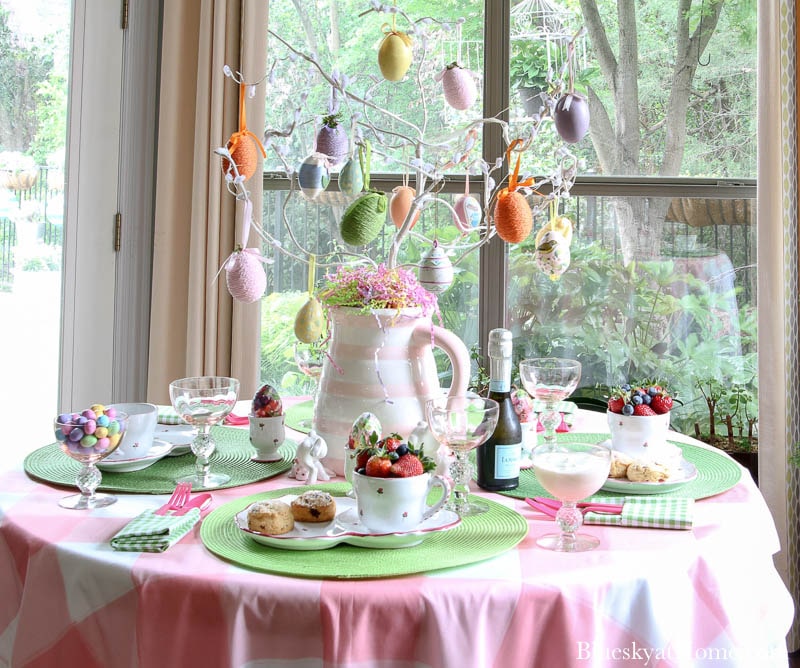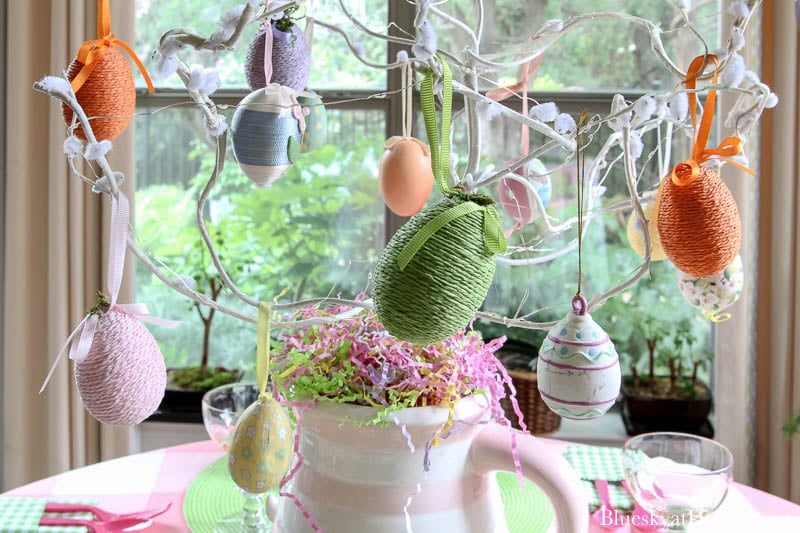 At night, the timer I set brings the Easter tree to life.
I am so ready for springtime and Easter. I am feeling the beauty of spring and the power of Easter more than ever this year. I feel blessed to be healthy, to be at home with Sweet Shark, and to know that our kids and grandkids are healthy.
Thank you for PINNING this Easter tree tablescape and sharing. I hope it inspires you. Here you can find more awesome ideas on my Pinterest Easter Decorating Ideas Board.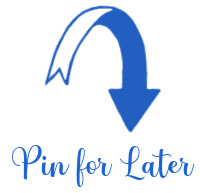 Have a wonderful week.