Rustic Easter Tablescape with Moss and Nests
Tablescapes come in all shapes and sizes, colors and textures. For this year's Easter table I'm opting for a rustic Easter tablescape with moss and nests.
Why moss and nests for a rustic Easter tablescape?
Because I love to use moss in my home decor. Nests have such a spring feel about them and I had them on hand.
I've never designed a rustic Easter tablescape. Wanting something a little different, I looked through our Easter decorations for items that would lend themselves to that look.
I found I had just the right ingredients for a small Easter table that would project a woodsy, natural feel.
Rustic Easter Tablescape with Moss and Nests
This post contains affiliate links to products used in the creation of this project. If you should order any item from this site, I may receive compensation, but you do not pay a penny more. Your purchase is greatly appreciated as it helps support the continued publication of this site.
Easter is now three weeks away. I'm sure many of us are contemplating whether or not we will host or attend an Easter gathering.
Sweet Shark and I don't have family here. All our kids and grandkids are spread around. We have my brother-and-sister-in-law over after church for a glass of champagne before Easter dinner.
I love having a holiday table set a few weeks ahead. That way the table adds to your holiday decorations and you have the enjoyment of the table for longer than a day.
And so that you have plenty of time to plan and set your Easter table, I'm sharing this rustic Easter tablescape in the hopes yo can can some inspiration.
This tablescape would be set in our breakfast room. The style would be very casual.
Ingredients for My Rustic Easter Tablescape
What comes first? The idea for the tablescape design or the elements in the tablescape? I sort of had the idea for a more rustic style for this Easter tablescape about a week ago.
Then, when I started to go through all our Easter decorations, I had just the ingredients I needed.
rustic looking bunnies
large twig white wreath
small grapevine twig wreaths
grapevine twig nests
decorated Easter eggs
In addition to the Easter decorations, I also had these supplies:
blue and white stripe tablecloth – Joann – 50% off $9.99
moss – I'm never without Super Moss for finishing potted plants for decorations
white charger – Dollar Tree
white plates – Dollar Tree
mini bird's nests and wreaths
vintage wood cutting boards – Etsy
champagne glasses – World Market
silverware
split of Champagne
Designing the Rustic Easter Tablescape
A couple of years ago, I bought a blue and white tablecloth at Joann 50% off. I had not used it so I decided now was the time.
The tablecloth was actually meant as a picnic-style with plastic on top.
For the base of my centerpiece, I used a white charger from Dollar Tree. Any large round plate or tray would work.
A couple of years ago, I used this wreath to make an Easter decoration. The moss was still attached. Setting it on the white charger allowed me to move the centerpiece around easily.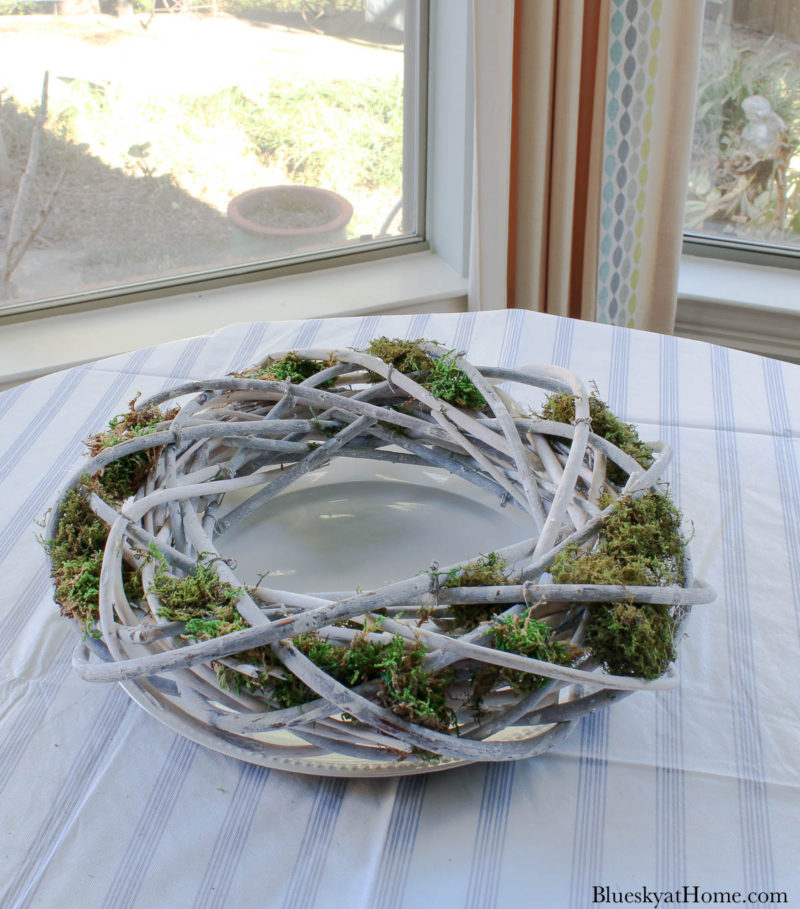 Next, I added two bunnies that have a natural material on them for a rustic look. One is pink for a girl and the other blue for a boy.
I knew that I wanted pretty bright spring flowers as the focal point of the centerpiece. First, I needed a rustic container.
Making a Moss-Covered Container
I love using moss to finish off flower arrangements and for crafts. Super Moss is my favorite.
Adding moss to a green plastic container with adhesive spray was the answer to giving a rustic look to my centerpiece container. I found the container on a shelf in the garage. I already had the moss and the spray adhesive.
First, I placed newspapers outside on the patio. Then I just sprayed on the adhesive in small increments.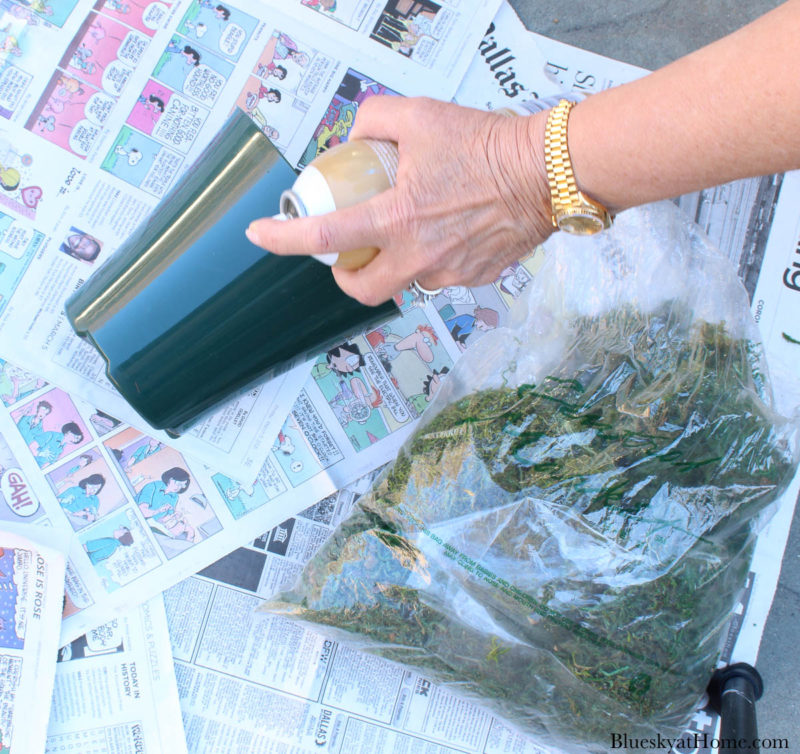 Then in small pieces, I pressed the moss into the plastic container.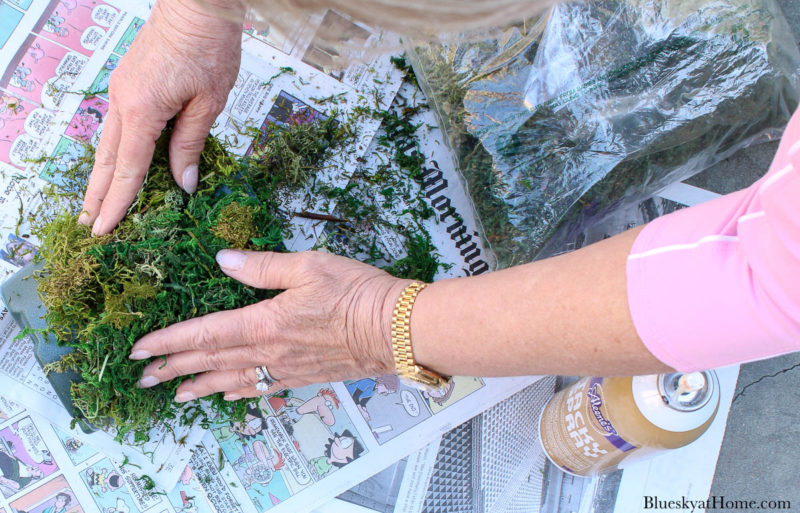 Continue around the container until the plastic container is covered. Allow the moss to dry on the container before adding the flowers.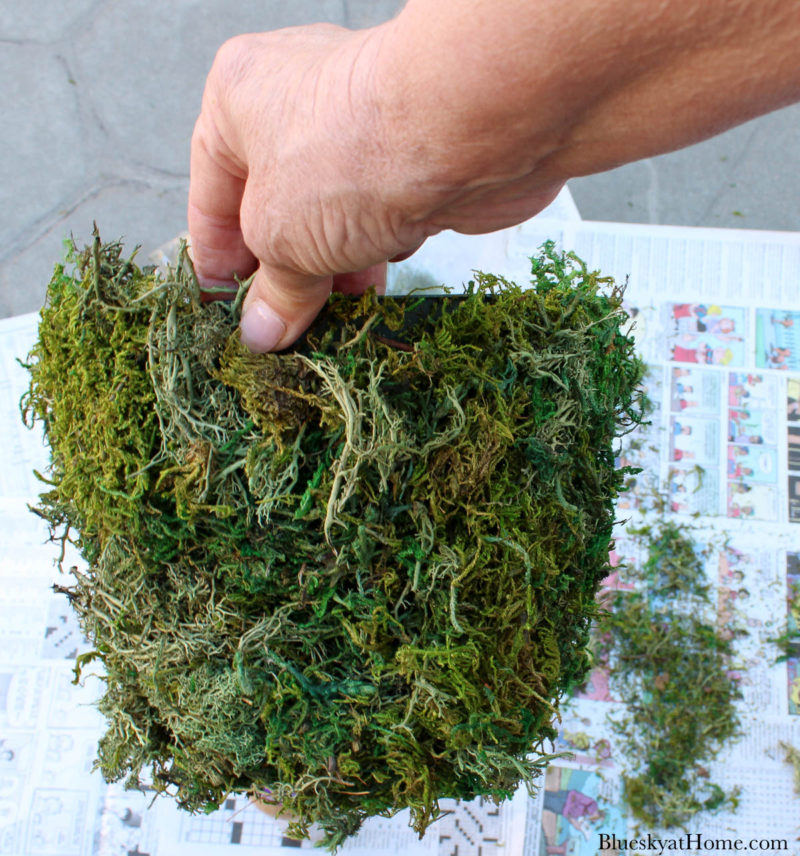 Flower-Filled Cenerpiece
A trip to the grocery store was all I needed for my flower centerpiece. I bought bright pink carnations, pale pink tulips, yellow tulips, and yellow daffodils.
After filling the moss-covered container with plant food, I filled it with the flowers and set it in the center of the white wreath.
I also added some colored twine-covered eggs that I bought years ago at Pier 1.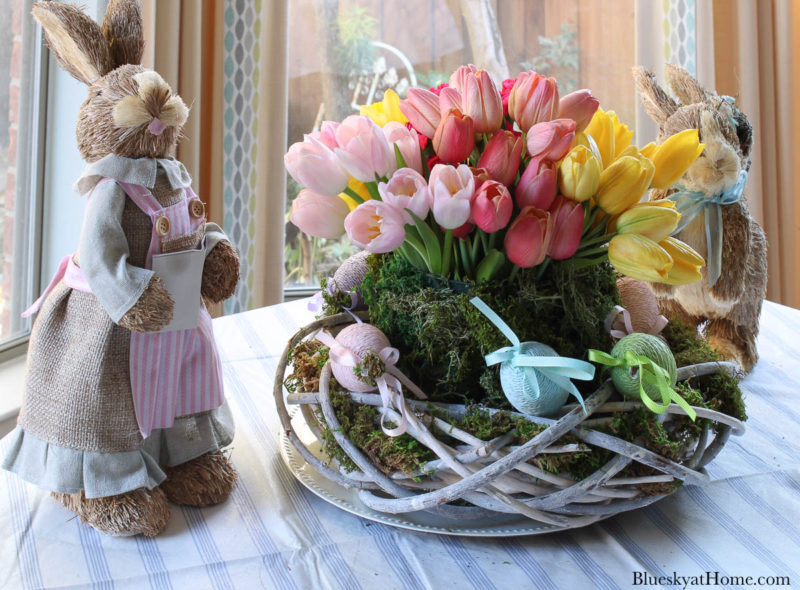 After filling the container with the fresh flowers, I wanted a fuller look. I added faux yellow tulips and pink tulips. Can you tell which ones they are?
Next, I added one large and one medium nest and filled them with moss and some painted eggs.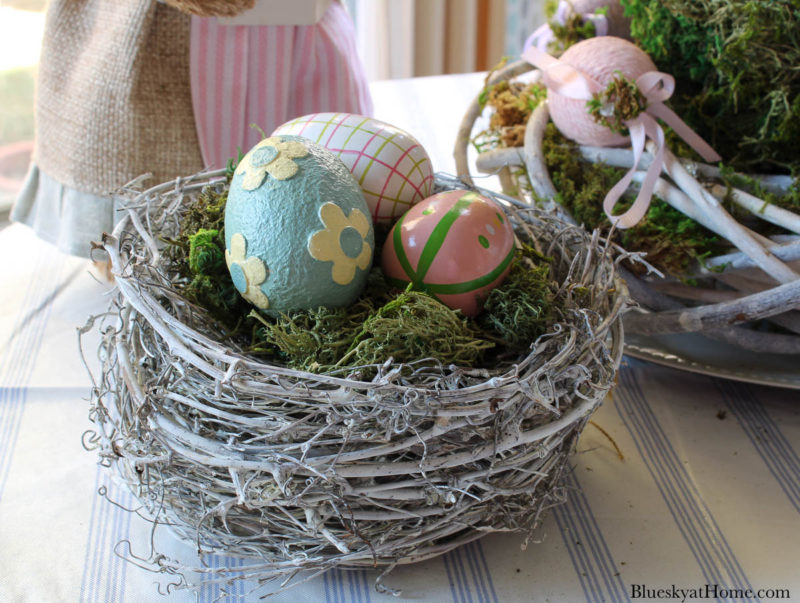 Opening another box of Easter decorations, I found the decoupage eggs I made last year and decided to switch them out. I also made more nests from tiny grapevine wreaths and moss.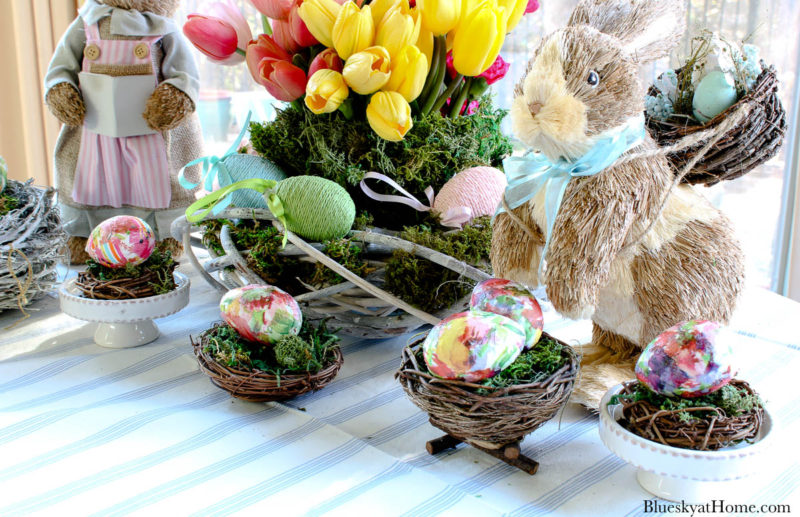 Since this will be a very casual lunch, I wanted to use the rustic vintage cutting boards that just arrived a few days ago from Etsy. I love the look of these made from old wood.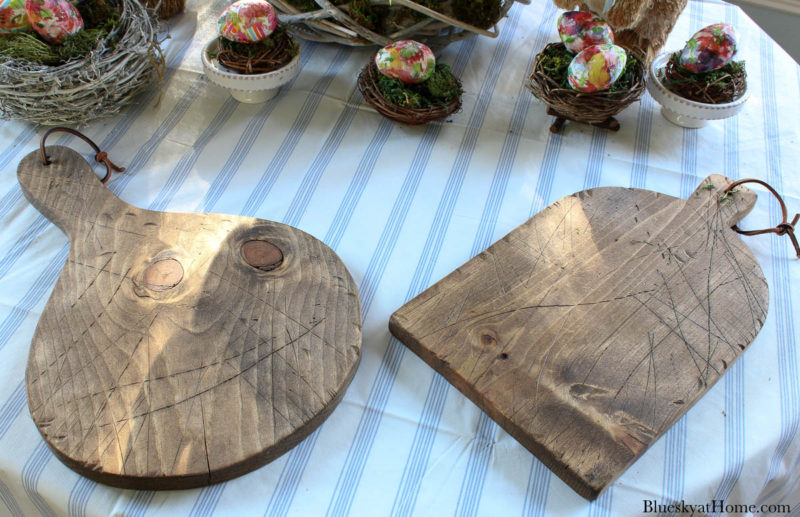 Rather than have place settings, I just added two Dollar Tree plates – the ones I made last year from stencils and Ceramic paint from A Makers' Studio.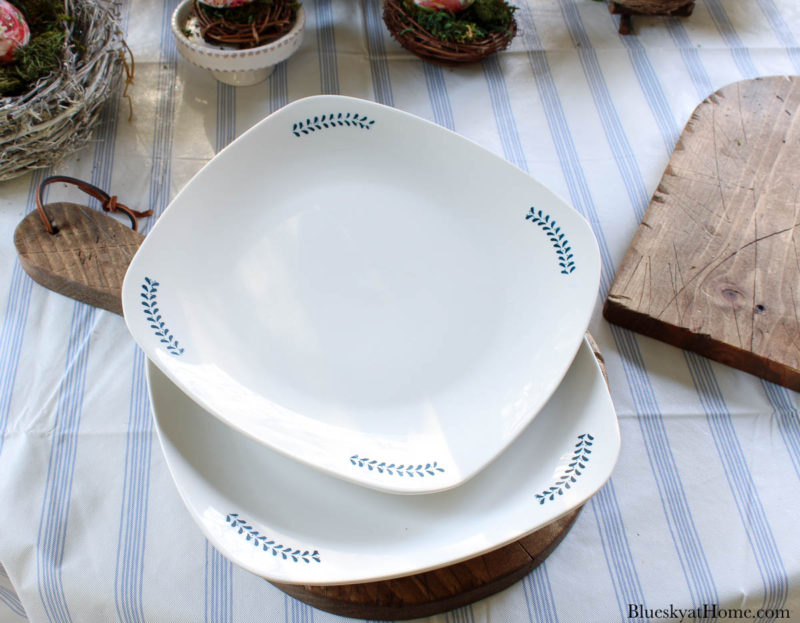 We may be sitting outside, so I wanted large napkins; these are actually dishtowels from IKEA.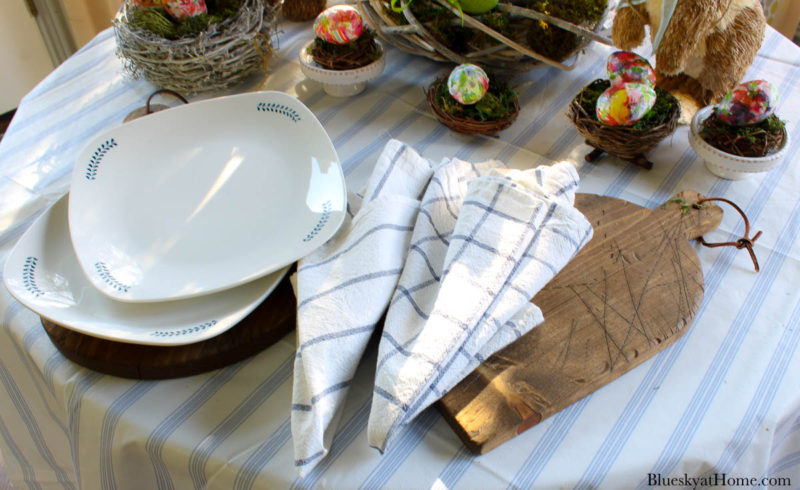 One thing I know we will have are mimosas. I brought out Champagne glasses.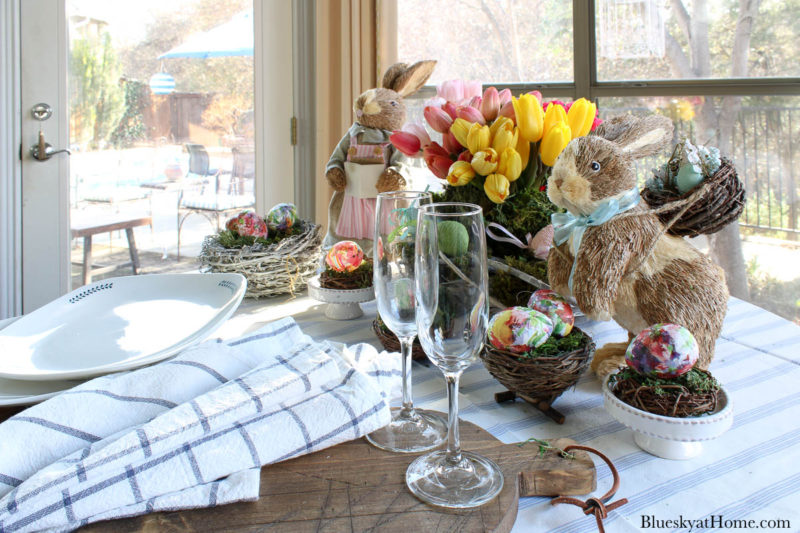 Finally, forks. This will be a one-fork, no-knife meal.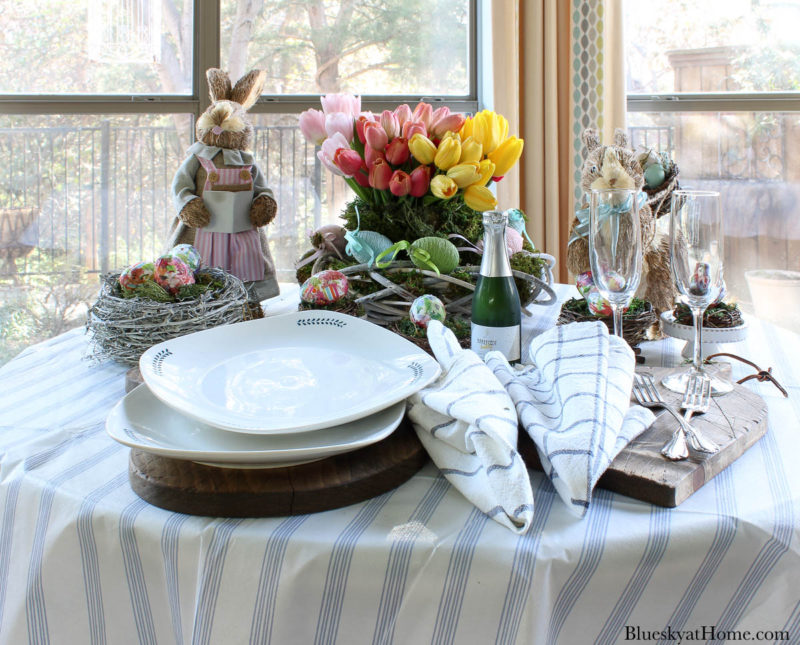 A split of Champagne is the finishing touch.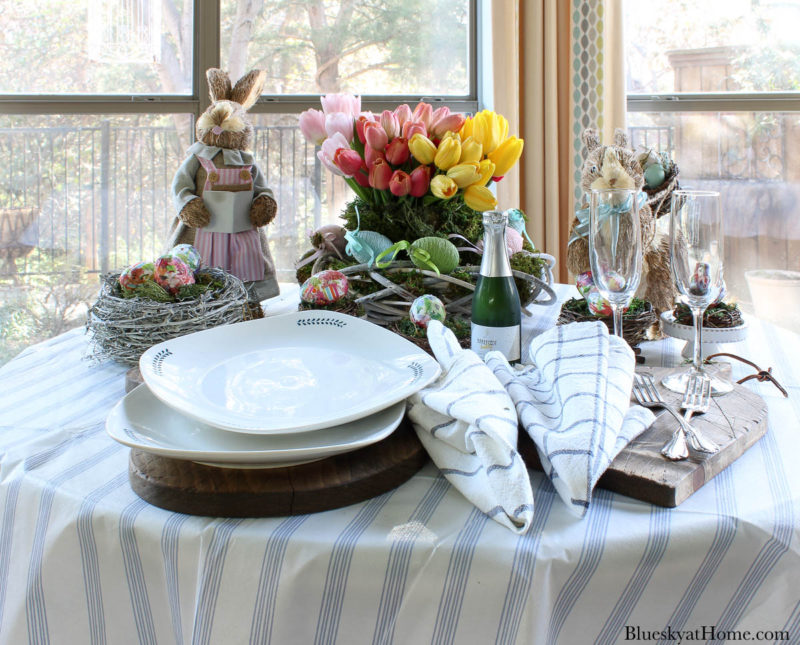 I recently rounded up 5 of my favorite spring and Easter tablescapes that you might like to look at for more ideas.
I know that the flowers will not last until Easter, so I will replace them. The Champagne will go back in the refrigerator until it's time to toast this most special of days.
I hope you enjoyed this rustic Easter tablescape and gathering some ideas to inspire your own tablescape.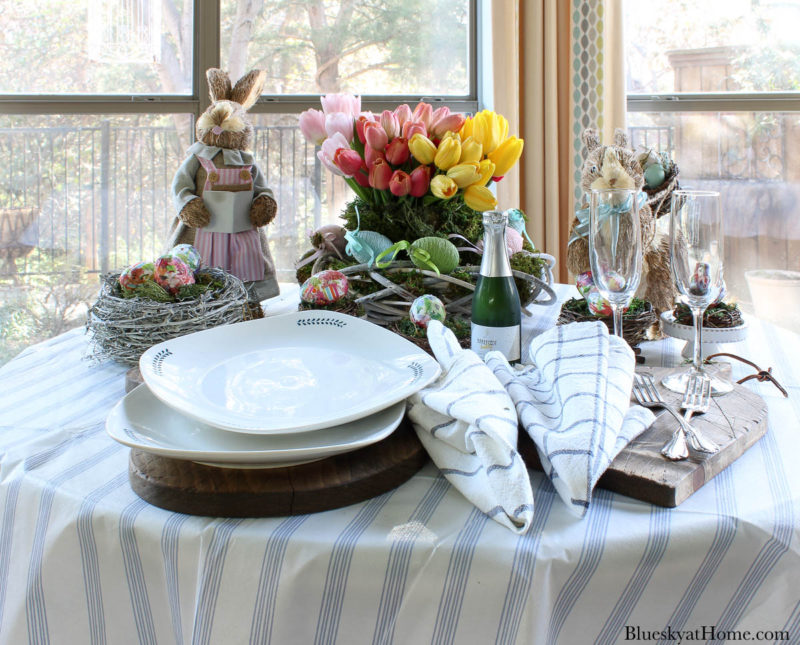 Please PIN this post for your Easter ideas.
Have a great day.