Colorful Easter Decorations Make the Season Special
How do you decorate for Easter? Colorful Easter decorations are one surefire way to welcome spring. Sharing some of those ideas should give you lots of inspiration for your own home.
We have always decorated our home for Easter. Although Easter is the most important day in the Christian calendar, our colorful Easter decorations revolve around bunnies, baskets, eggs and springtime colors.
I'm ready to decorate the house for Easter. From top to bottom and front to back, I love colorful Easter decorations so much. I thought you would like to see them ~ and more ideas for you.
It's a season of celebration, both of the resurrection and of the rebirth of spring. Join me on this little Easter parade as I show you how I use colorful Easter decorations to make every season special in our home.
We have had most of these colorful Easter decorations for years. When my girls were little, they both had Easter bunny collections, mostly Beatrix Potter and Bessie Pease Guttman children's figurines.
My son even had a few bunnies that came out at Easter time. The girls' have their figurines, but I have most of the other ceramic bunnies to use in our home. I'm sure one day I'll give them all to the "kids".
Until then, I use the treasured bunny collections as well as new pieces that Sweet Shark and I add to our Easter decorations.
COLORFUL EASTER DECORATIONS MAKE THE SEASON SPECIAL
Last week I shared this year's Easter decorations in our living room and in the kitchen and breakfast room. So now put on your Easter bonnet, and let's get started with a tour of my cute and colorful Easter decorations from last year. The bunnies are waiting.
EASTER DECORATIONS IN THE ENTRY
For our front entry, I used a wood wreath made to look like thick twigs that I bought last year at Hobby Lobby and never used. I added some green moss just by pushing it into crevices between the wood. 
Then I hot glued Easter eggs wrapped in colored string and tied with a bow that I bought three years ago at Pier 1 ~ 2 boxes for a total of 12 eggs. I used eight of them on the wreath, made a bow, and hung it with another piece of ribbon on our entry mirror.
Simple, but colorful and definitely a nice Easter decoration to welcome guests.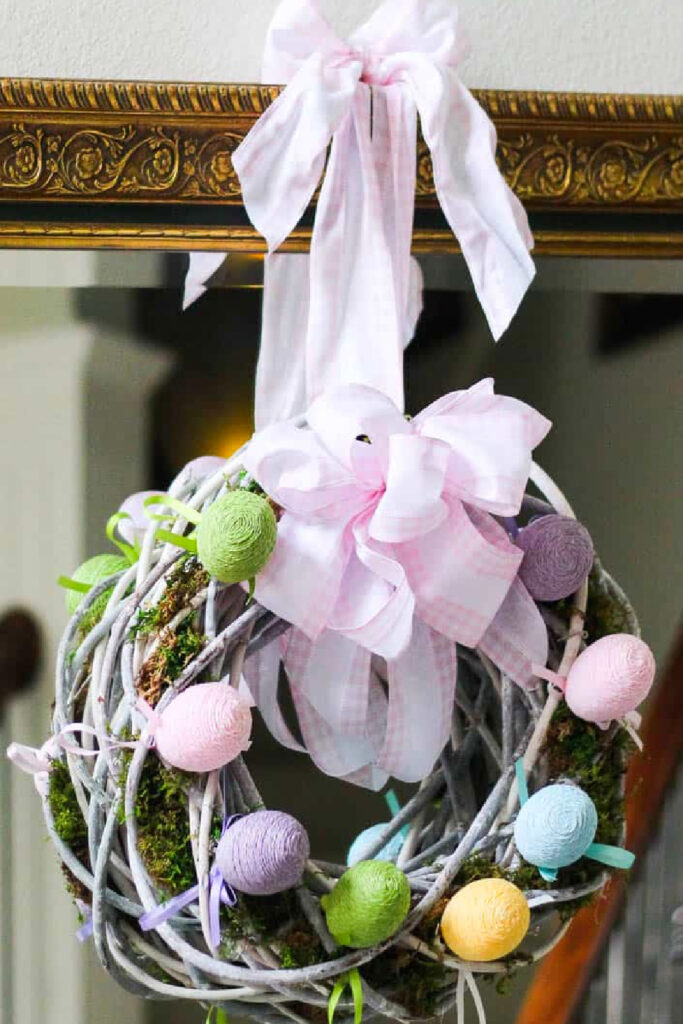 On our entry hall console, I used a pretty embroidered linen runner as a base for our Nambé silver tray with the pastel glass Christmas balls. I thought the shape of the tray and the pretty colors would look nice here.
Next, I added some of our bunny figurines that we have had for a few years and a couple of stuffed bunnies.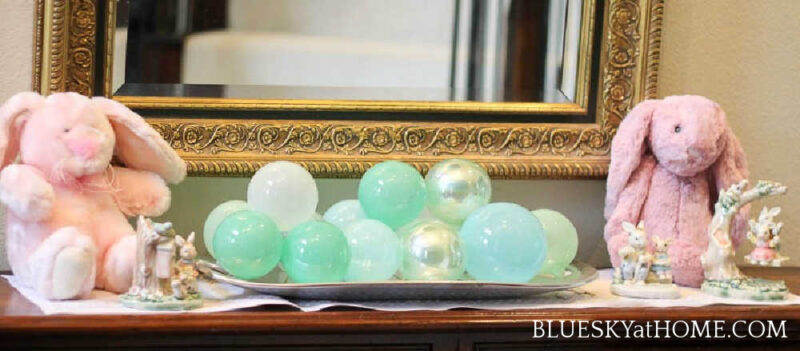 The bunny on the right is a bit special. Sweet Shark came home and told me that he saw a bunny at a local pharmacy and gift shop that looked just like "Jelly Rabbit." We went back to look and sure enough, it was the same bunny.
Both our granddaughters have this same rabbit; the older one has it in white and calls it "Jelly Rabbit" (I've sewed him up a couple of times.) and the younger one has this same pink one and calls hers "Bunny". They do not leave home without them. Now Cici and Sweet Shark have their own "Jelly Rabbit."  The girls got to meet our Jelly Rabbit when they visited last summer.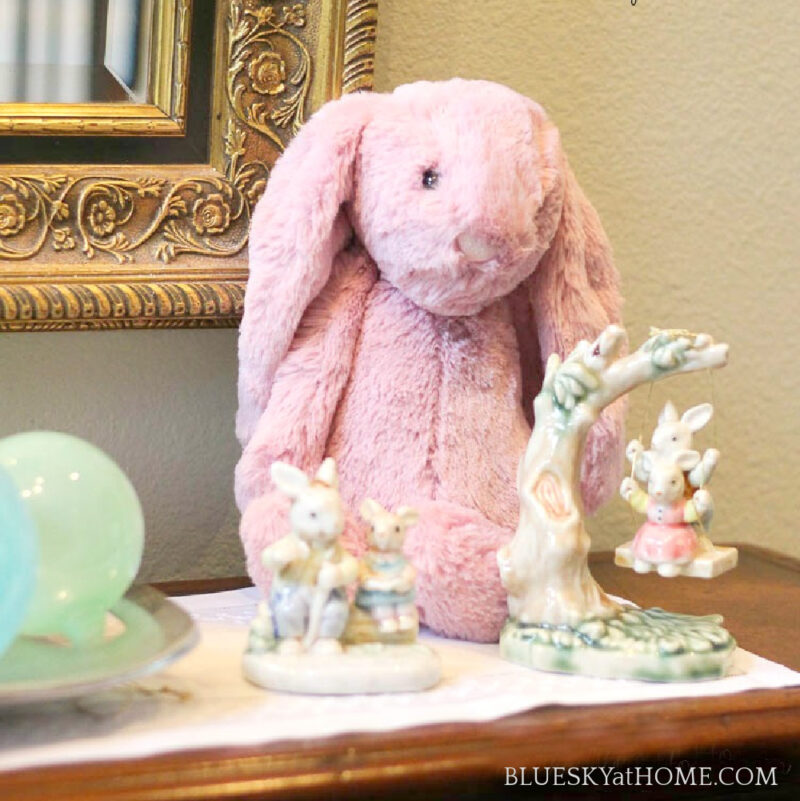 EASTER DECORATIONS IN THE LIVING ROOM
Moving into the living room, you see the mantle where I added several of our bunnies ~ nothing fancy ~ and grouped them next to my favorite pale green vases. Twin bunnies are from Pier 1.
I also used my wire lantern from a few years ago and placed another bunny inside next to another bunny (How many times have I used the word "bunny" so far?) Some bright yellow flowers add a natural pop of Easter color.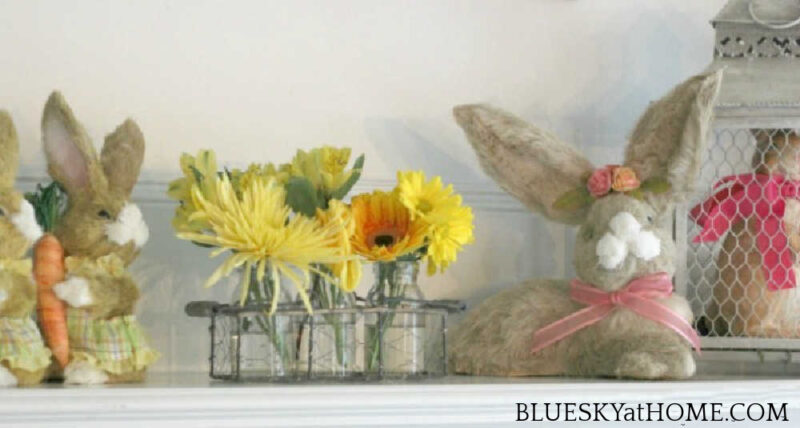 On my repurposed DIY painted side table sits one of my favorite bunnies from Pier 1's collection a couple of years ago. The two bunny candles, which have never been lit, have been around for a long time, but they still look fresh.
On the coffee table, I placed a small white Easter basket full of wooden painted eggs.
On top of the stacked books, I added some of the ceramic Easter figurines that belonged to my girls. A pot of grocery store pink tulips surrounded by some sweet little lambs completes the picture. I used a pastel plaid napkin to cover the plastic pot.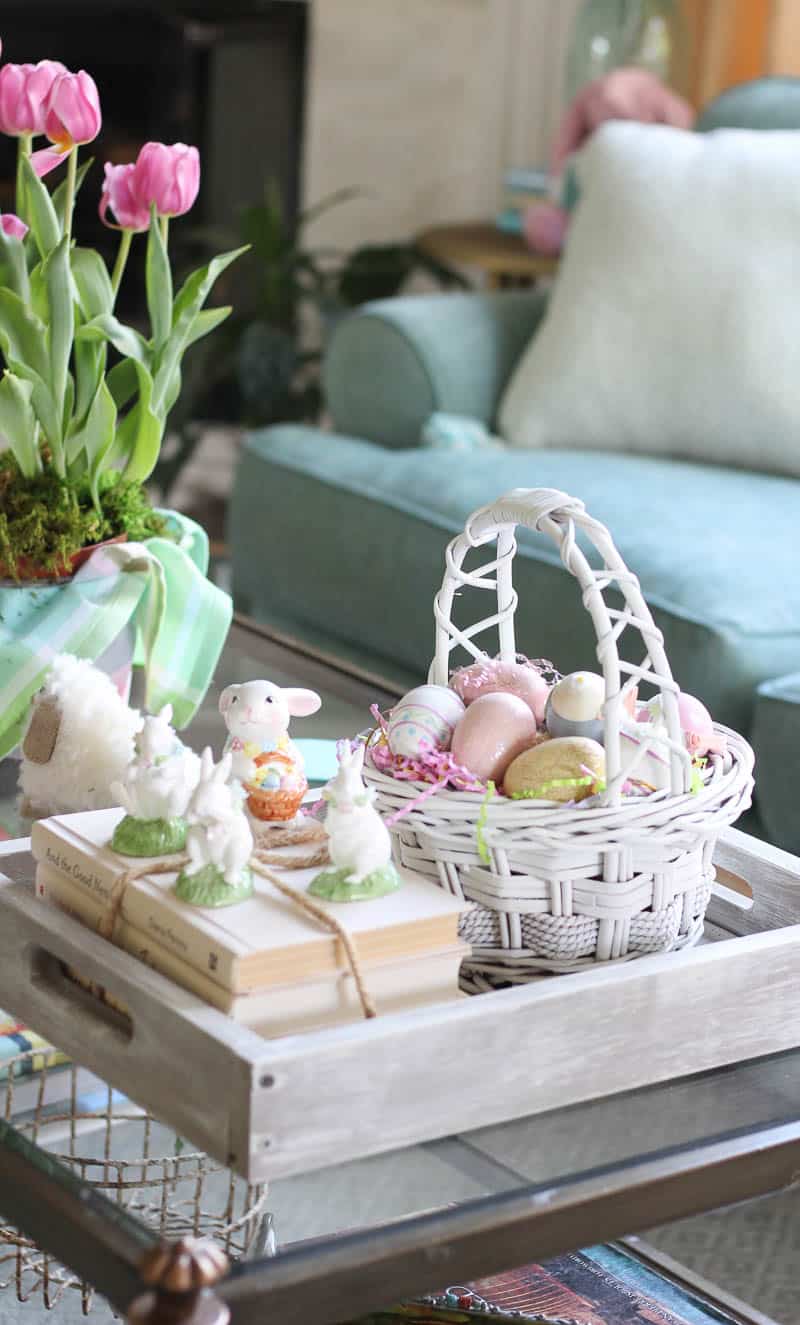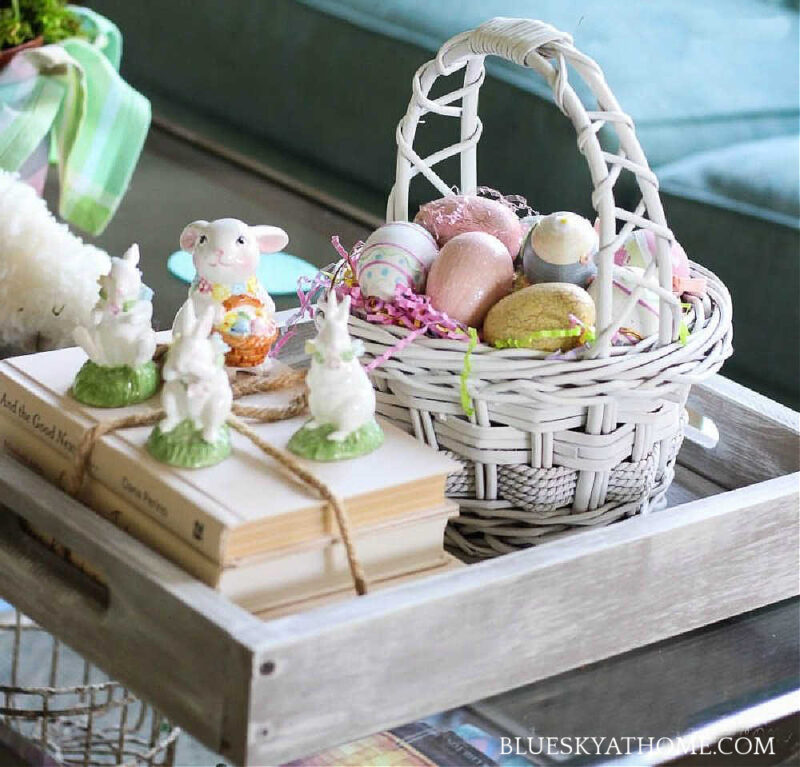 The end table on the other end of the sofa got the bunny treatment too with a collection of bunny figurines. I think most of these came from Joann over the years. After I took this picture I moved the pink stuffed bunny to the entry table.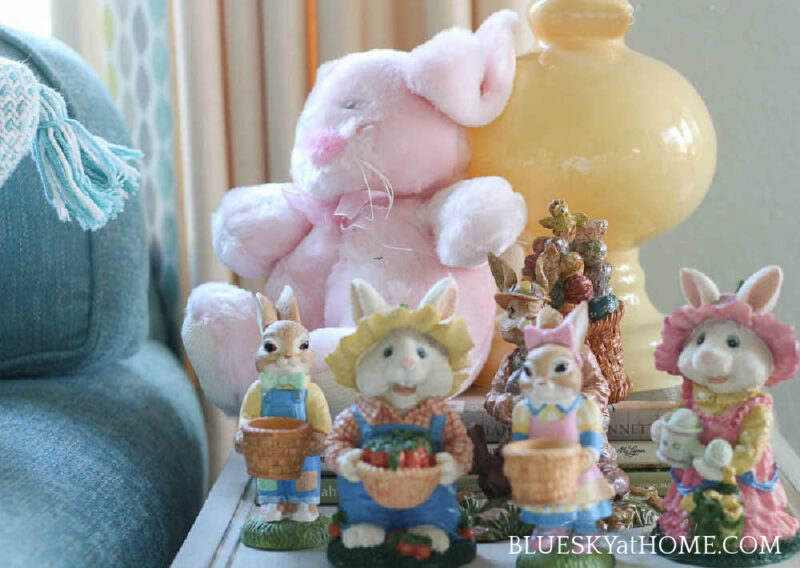 On the table between our Bergere chairs, I used my pretty pastel aqua apple from Home Goods, a yellow bunny dish and a white pear.
The round aqua candle is from a local design store. The galvanized bunny was a new purchase found at a great store in Plano, Texas called Lyla's where I took a Fusion painting class 2 years ago.
BREAKFAST ROOM EASTER DECORATIONS
Two years ago I painted a new round painted breakfast room table. I dressed it up with a birdcage centerpiece that I carried home on the plane from Atlanta and just painted it white while I was working on painting the table.
The little bird nest was a buy at the Antique Mall in McKinney, Texas. The little bird and eggs were in my Easter decorations box. I just added a little moss to the cage and it was ready for primetime. The pink cups and saucers were another Atlanta find. I made the pink toile placemats a few years ago.
A blogger (whose name I can't remember) mentioned that Trader Joe's had French macarons. Being the macaron lover that I am, I had to check them out. They are really pretty and very, very inexpensive.
They are good, but not like the ones I've had at bakeries. The package says to eat within 2 days of opening the package, so guess what? They're gone!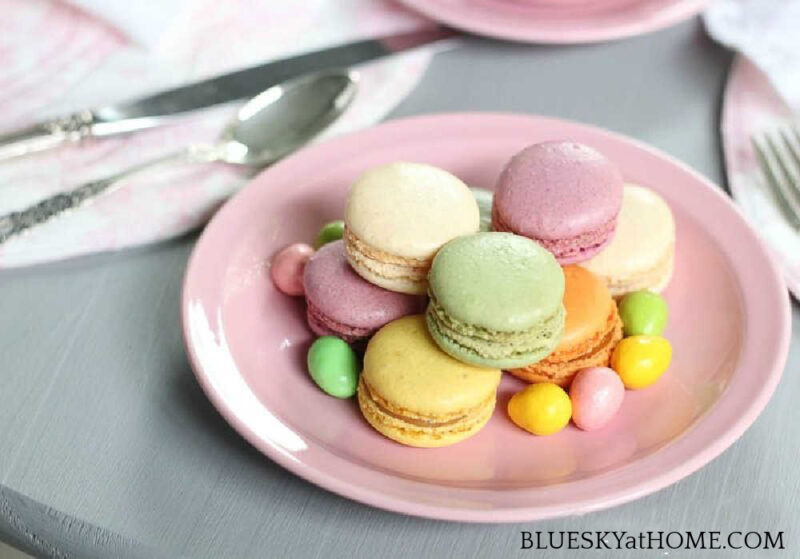 I love these sweet Easter bunny napkin holders, another find at the Antique Company Mall in McKinney. 6 for $15 ~ I thought a great deal.
On the console table in front of our breakfast room window, I displayed more bunnies, my Atlanta goat, and my New Orleans pig.
The white Easter bunny is a longtime one and the carrots are from Pier 1 a few years ago. How about that super cute boy bunny reading. I found him last year on sale (30% off) at Pier 1. Everyone, including the goat, got a bow in a cute pink check ribbon.
The cow creamer was another Antique Company find (Can you tell that I hit the jackpot last year!) and I filled him with faux flowers.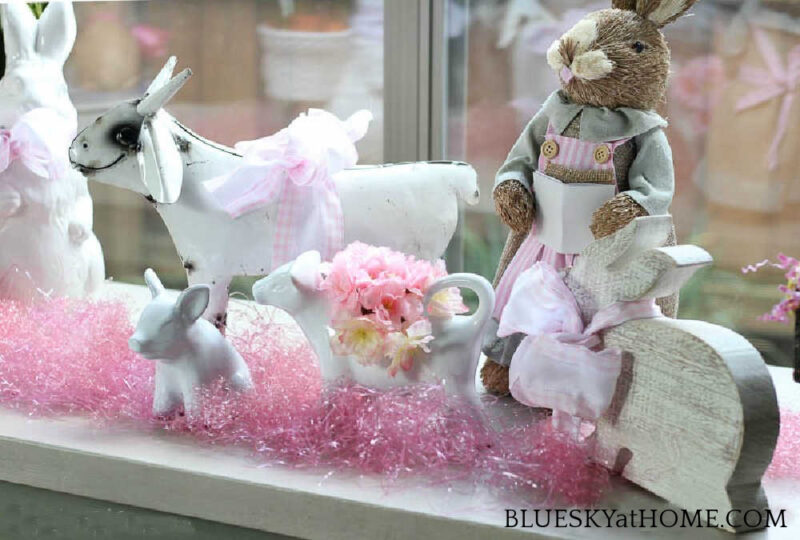 One more new bunny, this time a little girl bunny was on sale at Joann. Too sweet to pass up. The white wooden bunny on the right is a longtime possession.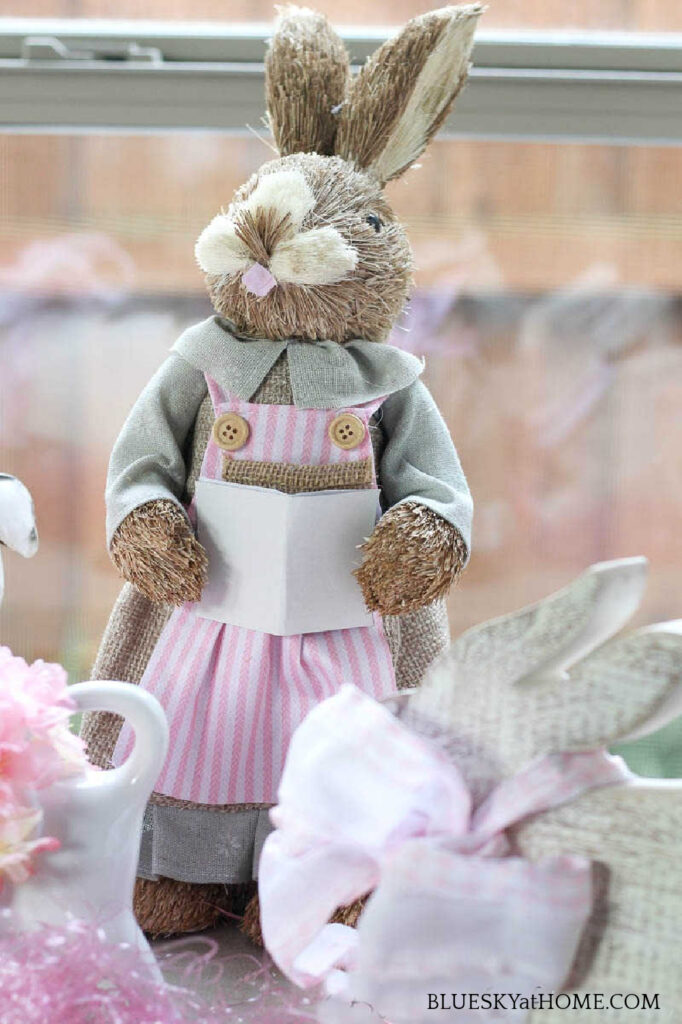 At the side of the table, I used my tall wood lantern to create a little Easter vignette. Another bunny inside shares space with multi~colored grass, more eggs, and a little twig chair for two members of a bunny band.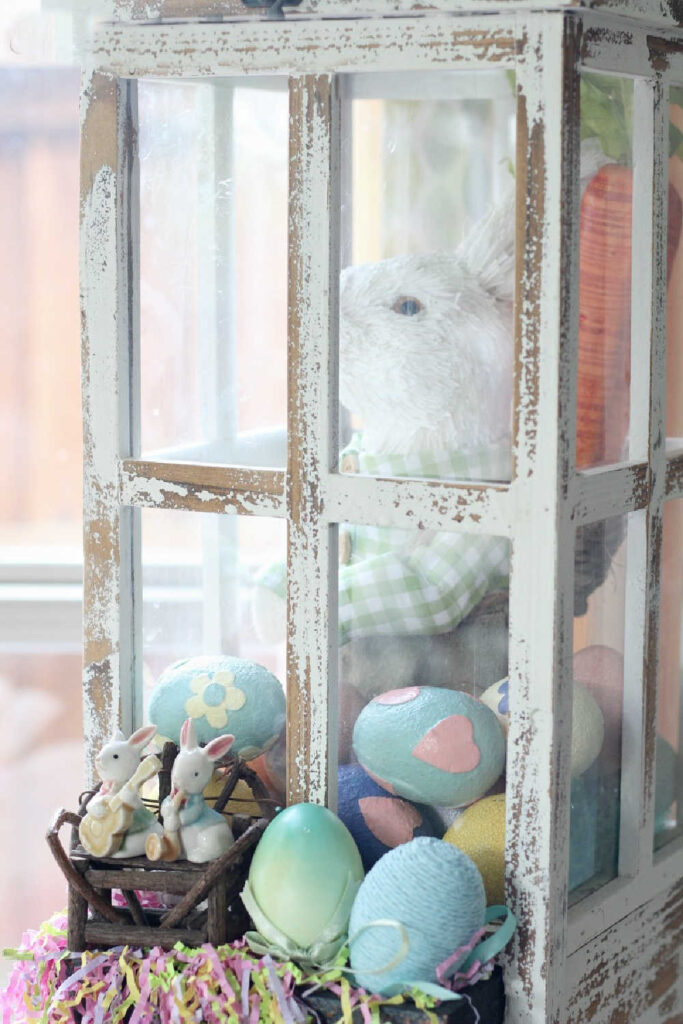 One last set of Easter decorations found a place on a shelf in the kitchen. The acrobat bunnies belonged to my son when he was little. They've always been a favorite. He told me I can keep them!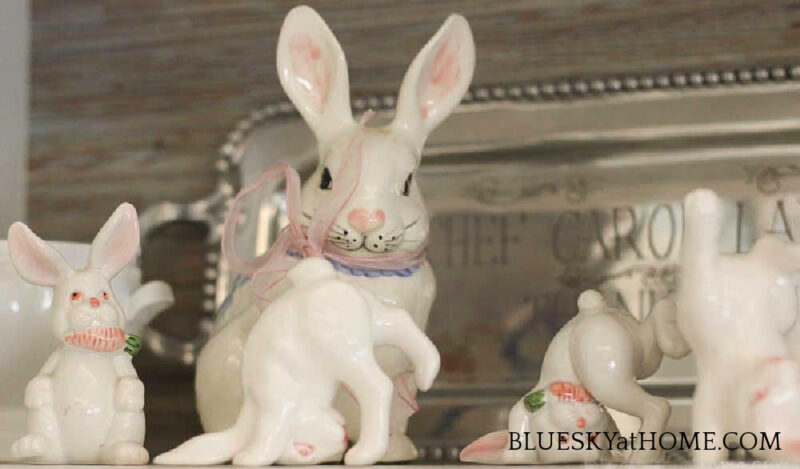 I hope you enjoyed this Easter Parade. It would be great to PIN this post to your boards and share it for next year's inspiration. Please drop into Bluesky at Home in the coming weeks for more spring and Easter ideas.