Two Ways to Decorate a Cutting Board for Spring
Cutting boards are fun items to keep in your kitchen. Not just for dicing and slicing. They can be lovely decorative items, too. Let me show you two ways to decorate a cutting board for spring.
Inexpensive cutting boards are available that are perfect for DIY projects. I have two different DIY projects to decorate a cutting board for spring or any occasion.
The great thing about cutting boards? They have two sides ~ which means you can decorate a cutting board in two ways. That's like getting two decorative items for the price of one.
One cutting board ~ two projects. You can't beat that.
You can decorate cutting boards for any season. Since we are into spring and Easter, that is the theme for my cutting board DIY project.
Two Ways to Decorate a Cutting Board for Spring
Before I start sharing today's project, I'm so excited to let you know that this week is a fabulous Celebrate Spring Blog Hop event. Hosted by Leen of Sand Dollar Lane, 25 bloggers will be sharing everything spring, from porches to entries to mantels.
You don't want to miss this jam~packed week of ideas and inspiration for spring. The list of all the participants is at the end of post. I'll be back on Wednesday for Spring Entry Day.
In addition to the cutting boards that we use in the kitchen for cooking preparation, I have two vintage cutting boards that I bought in Atlanta a few years ago.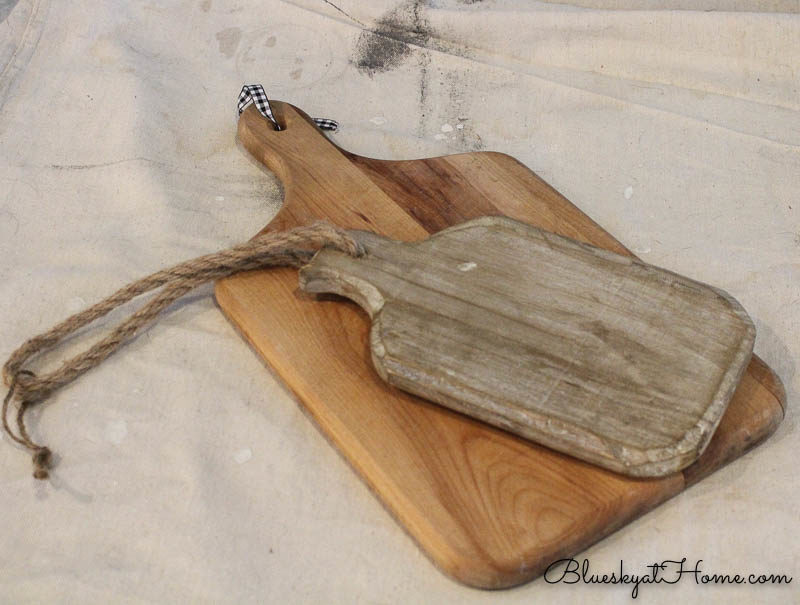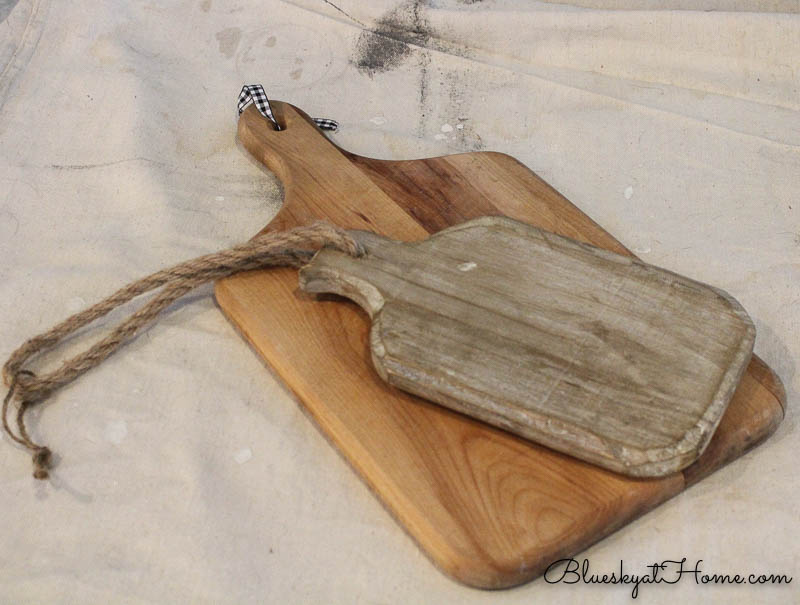 I love to add seasonal designs to them. Since I don't want to permanently alter the vintage cutting boards, those projects have to be ones that are temporary.
This new cutting board DIY project was inspired by one I saw online. I'm sorry I didn't save it. The creator used a wood cutting board from the dollar store. What a great idea.
I went straight to my local Dollar Tree, but, unfortunately, the didn't have any wood cutting boards. I did find a bunch of other things that I thought would be good for spring and Easter projects.
I thought my vision for a spring/Easter cutting board project was over.
Until I got home.
WOOD CUTTING BOARD THAT IS BETTER THAN DOLLAR TREE
What could be better than a $1.00 wood cutting board from Dollar Tree?
A free cutting board.
When I returned home from Dollar Tree, I remembered that Sweet Shark was received a Christmas gift box from one of his clients. Inside were three sets of goodies for a charcuterie board. Each contained salami, cheese, crackers, and mustard. And guess what all these goodies were on?
A cutting board.
We don't need anymore cutting boards to use in the kitchen. But guess who is confiscating them for decorative projects?
Each board has a nice "cut~out" for a handle or twine or ribbon. Perfect. And they are free!
CUTTING BOARD PROJECT ~ DECOUPAGE
I decided to use one cutting board and decorate both sides. One side would have a spring theme and the other side would have an Easter theme.
Following the original inspiration of the cutting board I saw online, I would decoupage it with spring colors.
Supplies for the Decoupage Spring Cutting Board:
Wood cutting board that you do not want to use in the kitchen
Chalk or Acrylic paint
Paint brush for the paint
Mod Podge in Matte or Gloss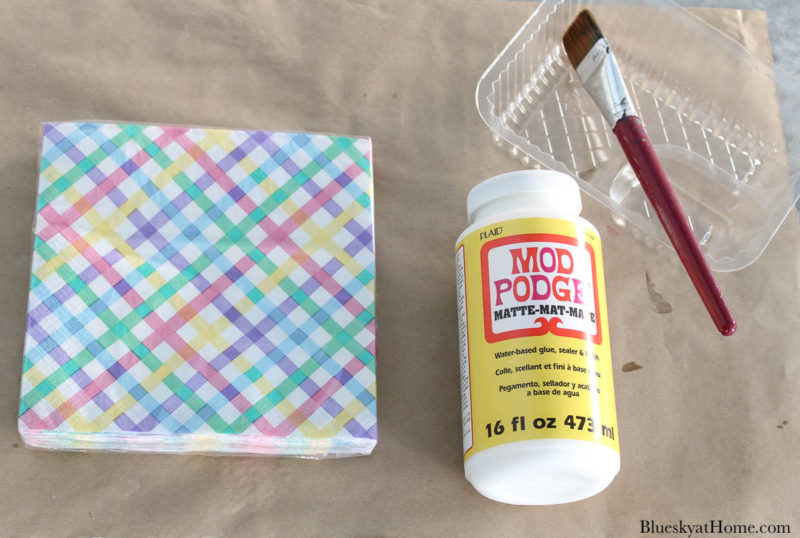 Paintbrush or foam brush for the Mod Podge
Pencil and scissors
Napkin in spring motif
Step 1 ~ Paint the cutting board with your paint of choice. I used Rescue Restore Paint from A Makers' Studio in Biscuits and Gravy. Allow to dry completely.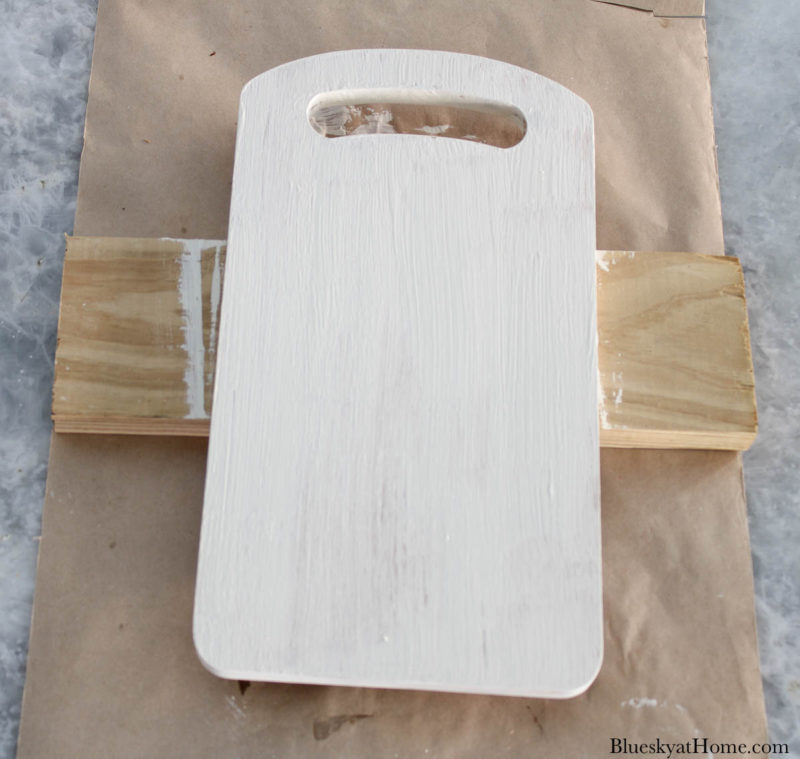 One of the items that I did find on my trip to Dollar Tree was this pastel design, just right for a spring design.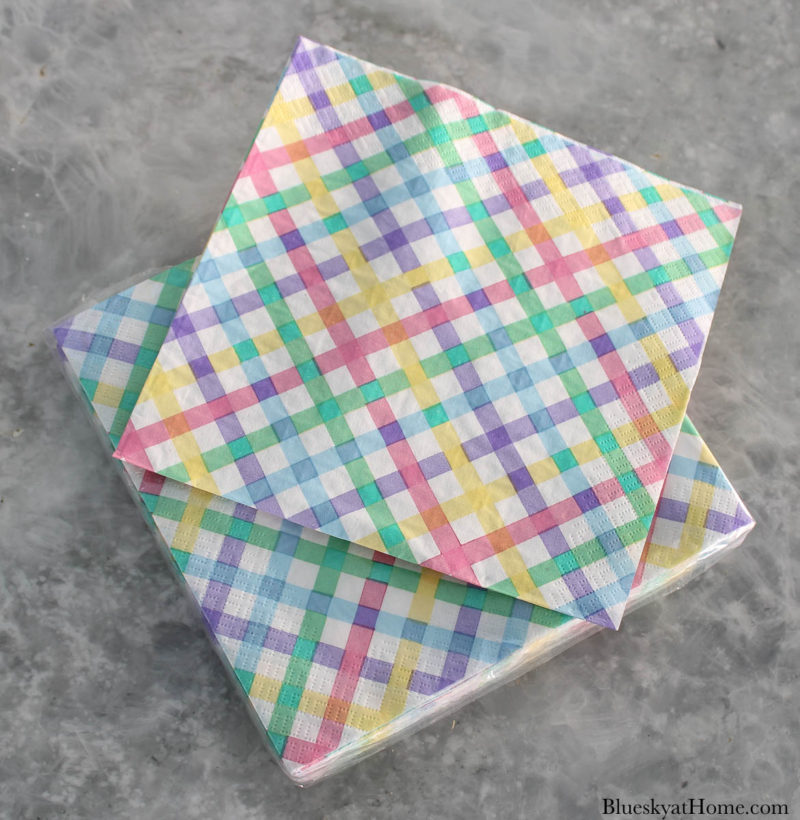 When I opened the napkin, I discovered that the design only covered half of the napkin.
Fortunately, half of the napkin fit the width of the cutting board perfectly. I cut the napkin in half and threw away the blank side
Step 2 ~ Separate the front (top) layer of the napkin from the other layers. Napkins are either two or three layers. Gently pull the layers apart.
Step 3 ~ Using the cutting board as a pattern, trace around with a pencil.
Sorry ~ this image is really blurry.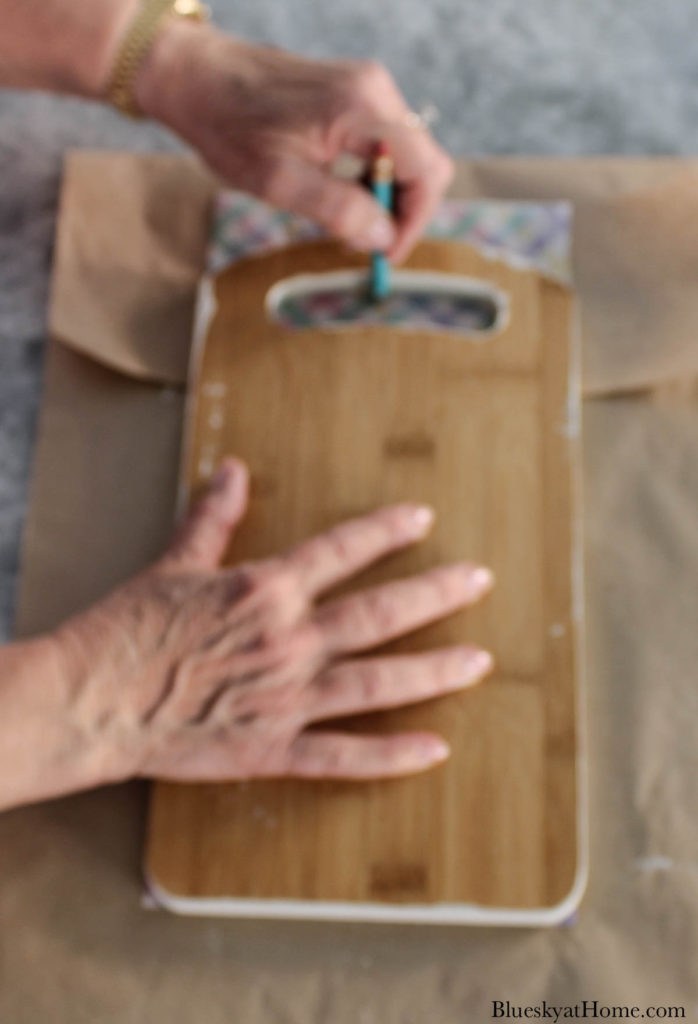 Step 4 ~ Cut out the napkin pattern to fit your cutting board.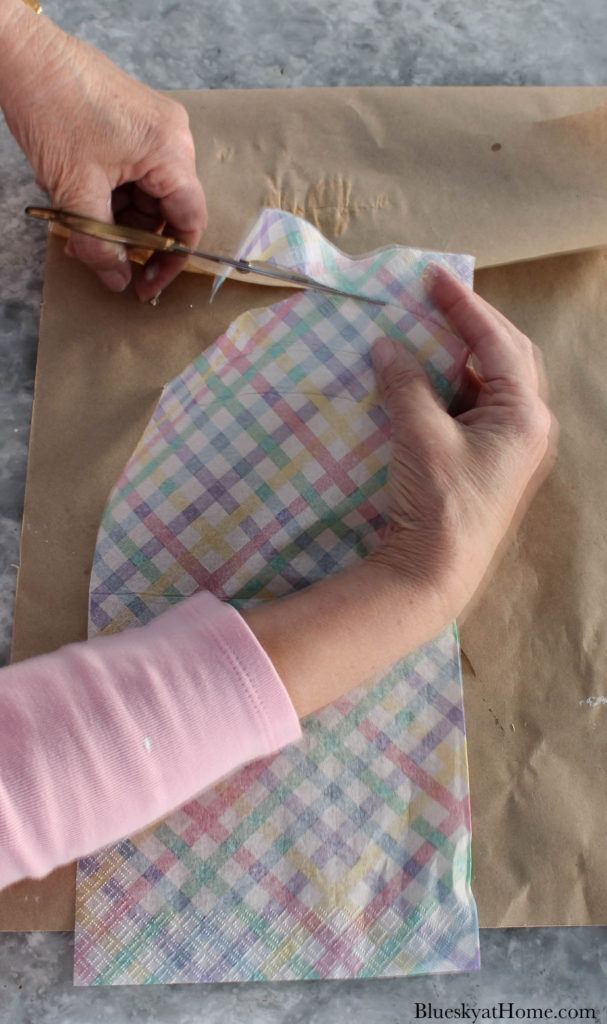 Cut away any extra trim and the space for the handle.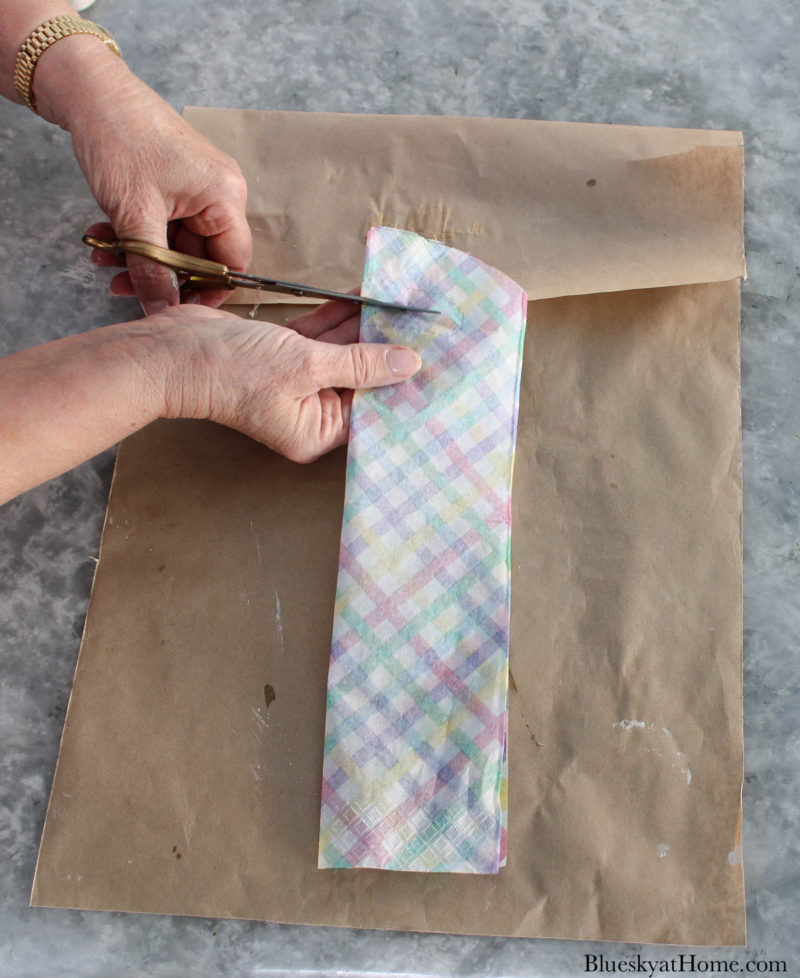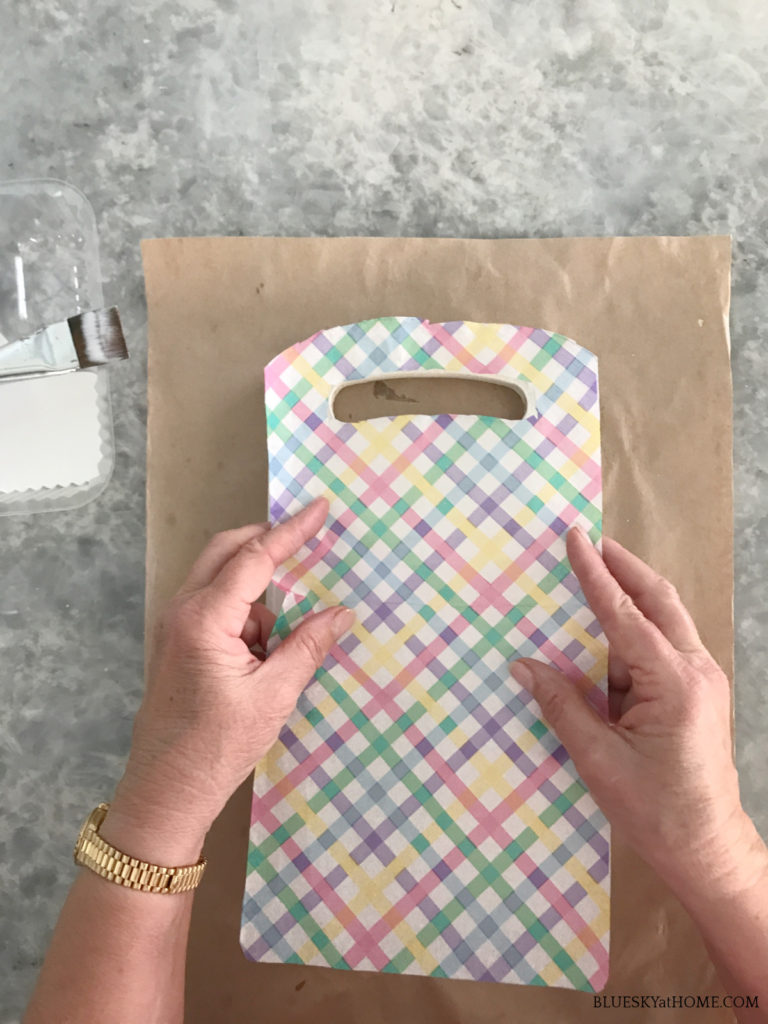 Step 5 ~ Use a Mod Podge brush or foam brush to apply the Mod Podge to the cutting board.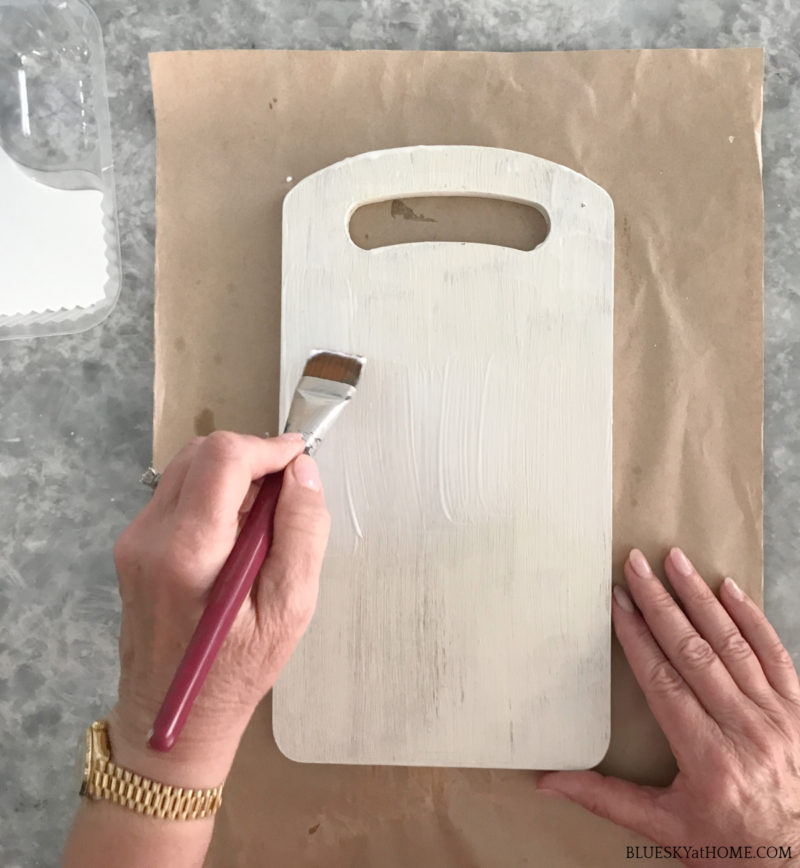 I applied the Mod Podge on the top half of the cutting board and laid down the top half of the napkin.
Then I applied more Mod Podge to the bottom half of the cutting board and laid down the bottom half of the napkin.
Be sure that all edges of the napkin are glued to the board. You can add more Mod Podge in those places.
You will have wrinkles and maybe bubbles. Use your brush to gently smooth those out.
Step 6 ~ Apply a top coat of Mod Podge to the napkin, smoothing out the wrinkles. Most will disappear as the Mod Podge dries.
Let the project thoroughly dry until it is not sticky to the touch.
Once the project was completely dry, I used small sharp scissors to trim some of the overhanging napkin.
Your decoupage cutting board is done.
SPRING CUTTING BOARD WITH PAINT AND STENCILS
For this side of the cutting board, I decided to paint and stencil the board.
Supplies for the Paint and Stencil Easter Cutting Board:
Chalk Paint or acrylic paint of your choice. I wanted a bright pink, so I used Peony from Dixie Bell. I bought this jar about two years ago in Atlanta, but I've never used it.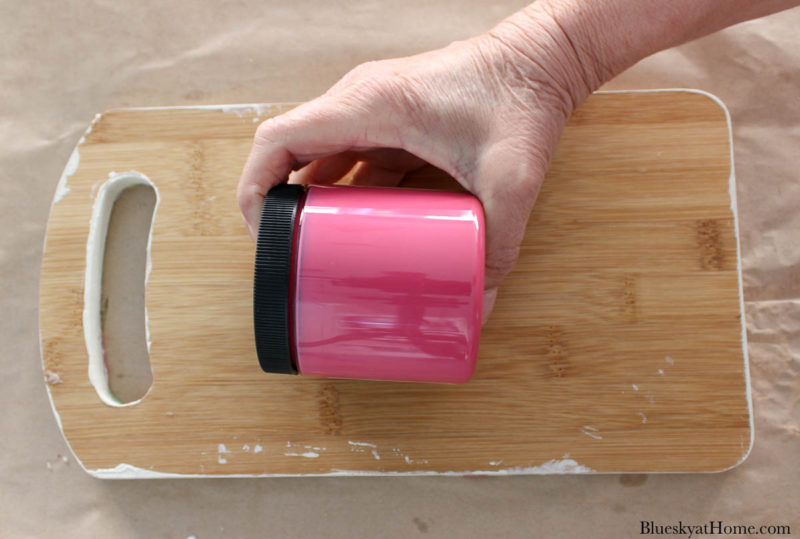 Step 1 ~ Paint your cutting board with your paint color of choice. Let the paint dry completely.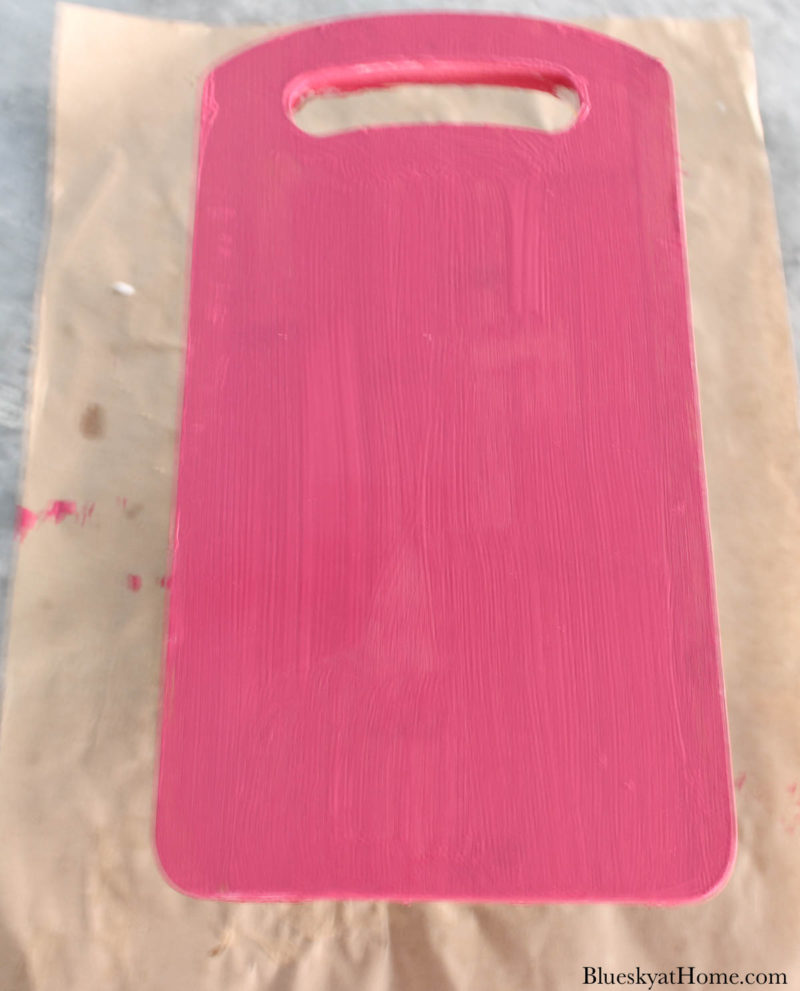 Step 2 ~ Place your stencil on the cutting board where you want it. I centered one near the top and the other one near the bottom of the cutting board.
The stencils are adhesive and repositionable so they will stay where you put them. RUb your hands across the stencil to smooth it down.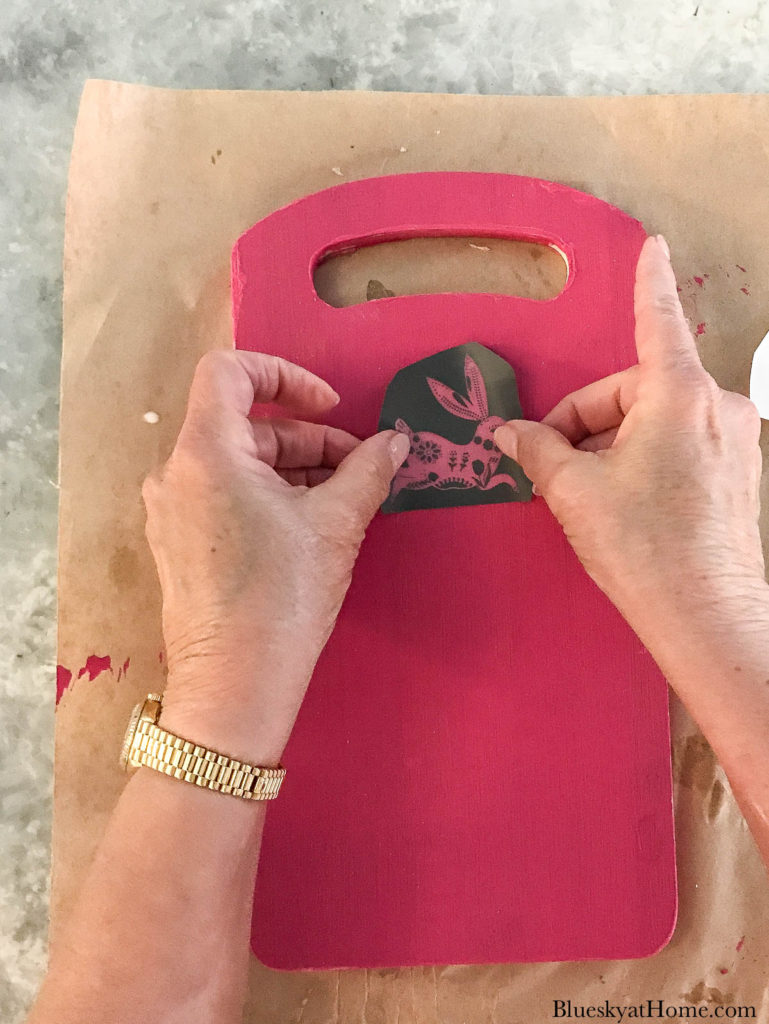 Step 3 ~ Put a small amount of ChalkArt on your scraper. Pushing the ChalkArt into the stencil, scrape it across the stencil until you have covered the entire stencil design.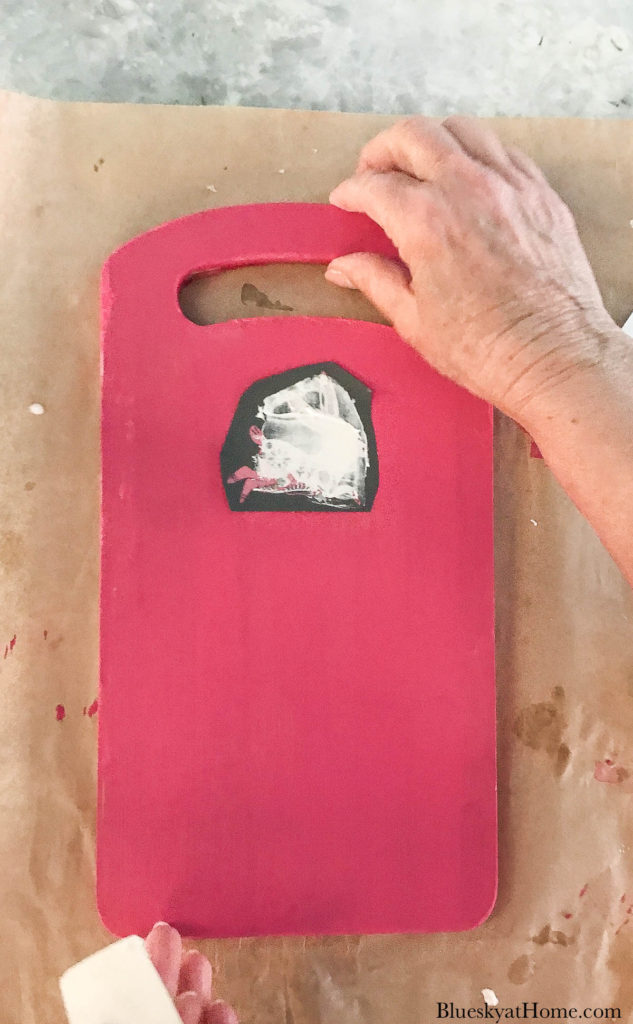 Step 4 ~ Gently remove the stencil from the wood surface. Check to see that all areas of the design are covered before completely removing the stencil from the surface.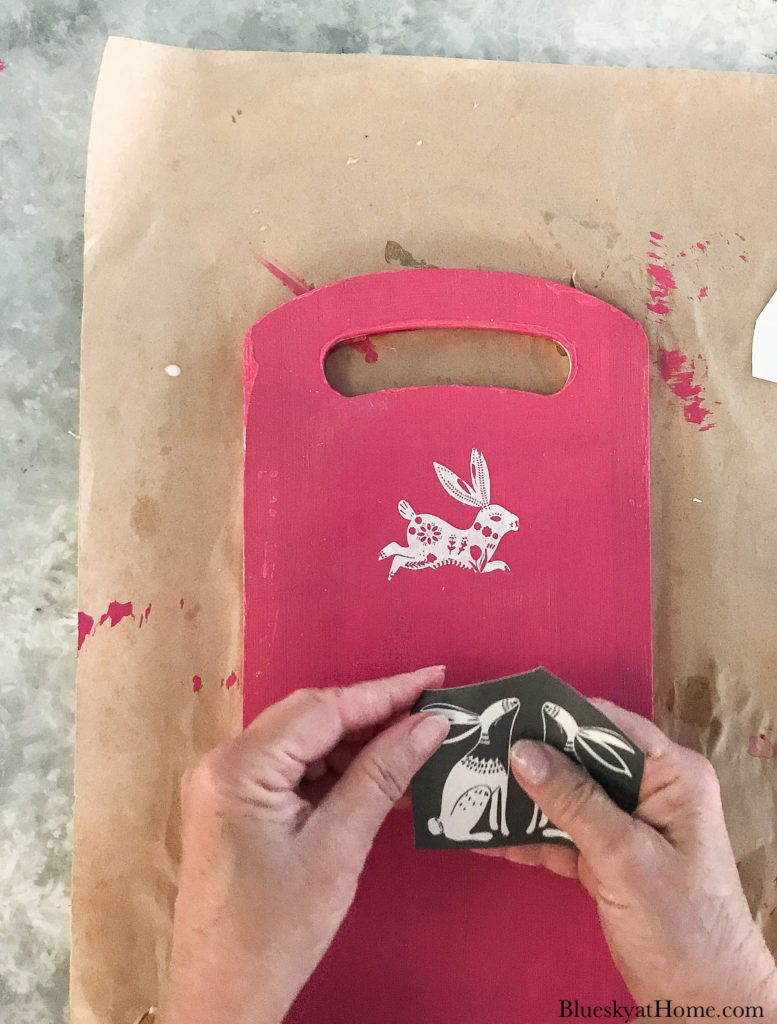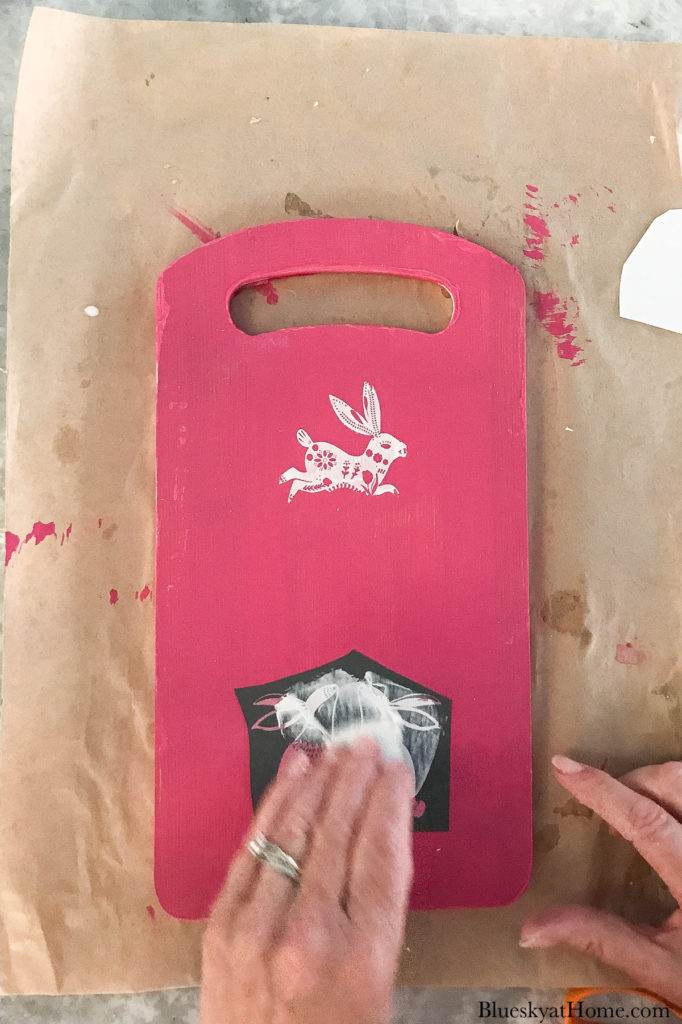 Aren't these designs fun and interesting?
TIP: When you are done with your stencils, put them in a container of water until you are ready to completely wash off all the ChalkArt. Then allow the stencils to dry on a paper towel with the adhesive side up.
NOTE: If you get any extraneous ChalkArt on your surface, remove it with a damp paper towel or damp Q~tip.
Step 5 ~ Allow your ChalkArt to dry ~ about 10 minutes ~ before moving your surface around.
NOTE: see this post for tips on using stencils and ChalkArt.
I have so many Stencil projects here on the blog. For more ideas, just search STENCILS.
DISPLAYING YOUR DECORATED CUTTING BOARD
Use a ribbon or twine to tie a bow around the top of your cutting board or handle.
This polka-dot bright pink ribbon is just the right color. And I love polka~dots.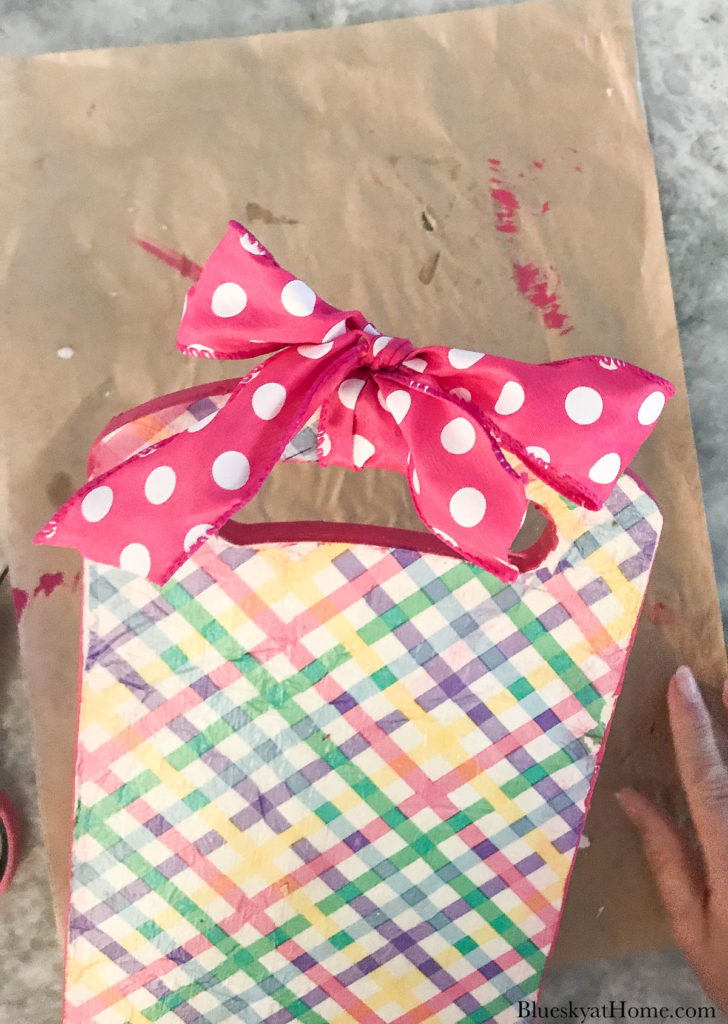 Then you can hang or display your spring cutting board, alternating the two sides.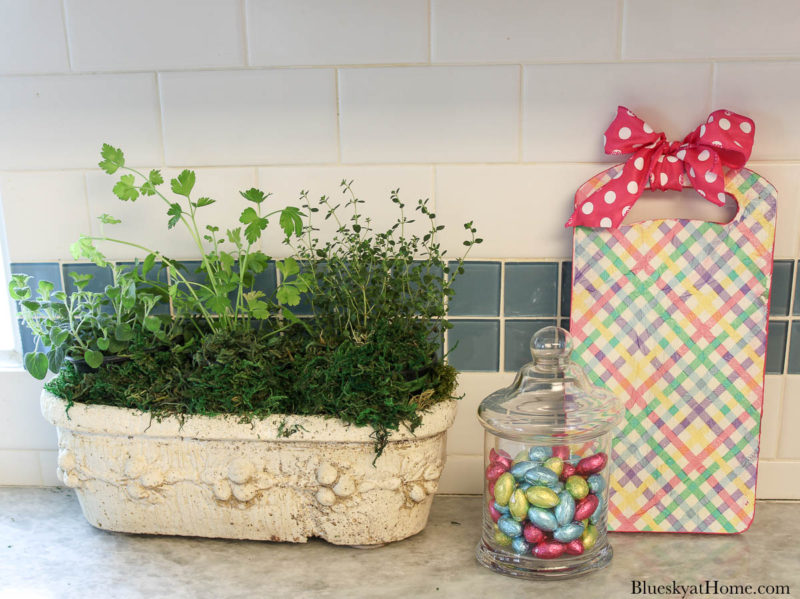 Easter candy is always a nice addition to an Easter vignette.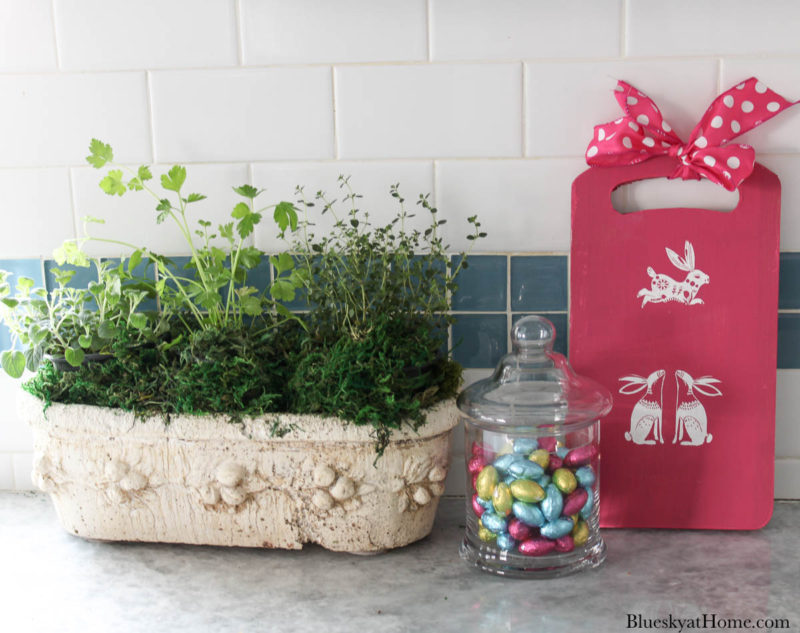 I hope that you will try this spring/Easter cutting board project. It was fun, easy, and very inexpensive. The only thing I actually bought for this project was the $1.00 package of napkins. There are 18 to a package, so this project cost me about 6¢.
Be on the lookout for inexpensive cutting boards. Then have fun with your project.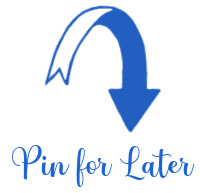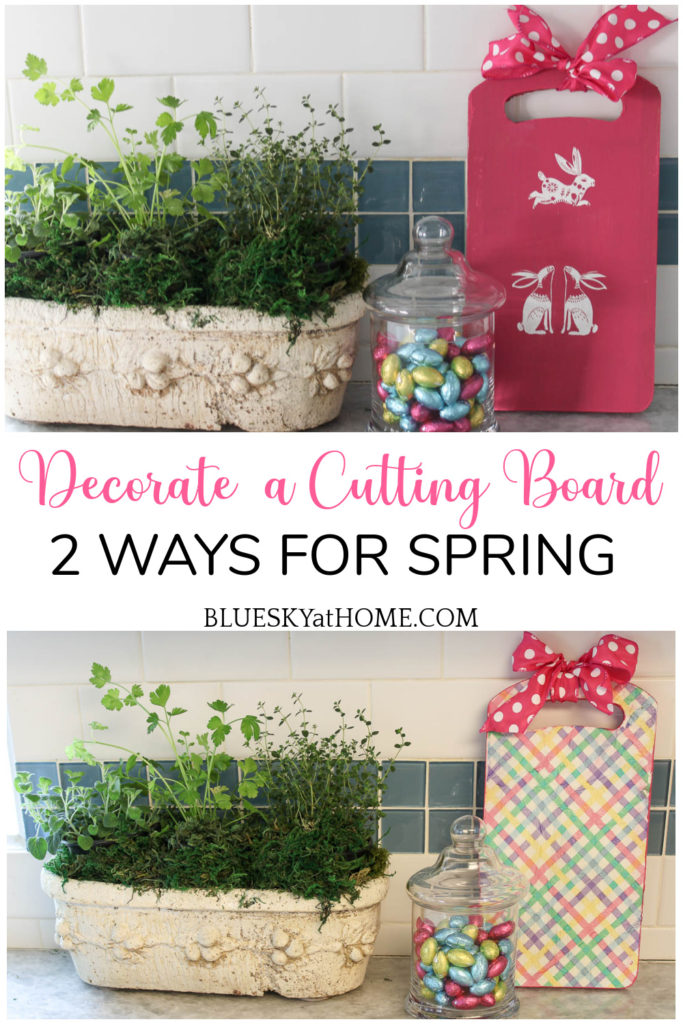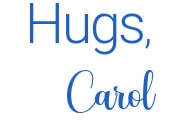 2021 Link Parties March 1 ~ March 7
All About Home Anything Goes Pink Saturday  Beautifully Made  Busy Monday  Celebrate Your Story.  Creative Crafts  Creative Muster  Creatively Crafty  Farmhouse Friday  Friday with Friends  Grace at Home  Handmade Monday Happiness is Homemade  The Happy Now Hearth and Soul Link Party  Home Matters  Inspire Me Monday  Inspire Me Tuesday Keep in Touch  Little Cottage Link Party   Love Your Creativity   Meraki Link Party  Party in Your PJ's   Saturday Sparks  Share Your Style  Sunday's on Silverado   Thursday Favorite Things   Vintage Charm Party   Waste Not Wednesday   Wednesday Link Party  Wednesday Centerpiece Link Party  Wonderful Wednesday  Wow Me Wednesday