5 Spring and Easter DIY Decorations
With Easter just four weeks away, it's time to start decorating our homes. I have 5 spring and Easter DIY decorations that you will love.
I love decorating for spring and Easter. The pretty pastel colors put me in a happy mood. The flowers are starting to bloom and the temperatures are warmer. I couldn't wait to share these Easter DIY decorations with you.
If you need Easter inspiration, I have it for you. If you need step-by-step tutorials for Easter decorations, I have that for you, too.
I would never leave you high and dry without a good project for the upcoming seasonal holiday. I've got you covered. We're friends and friends share awesome DIY Easter decorations.
Spring and Easter DIY Decorations: 5 Projects You'll Love
I actually have more than 5 Easter DIY decorations in my toolbox. I chose just 5 to get your started. No overwhelm here.
Easter Eggs and Spring Balls
Let's start with a decoupage project for Easter and spring.
I learned to decoupage for the first time last year and I love this technique. You can decoupage just about anything that doesn't move.
For my first decoupage project, I chose to make Easter eggs and spring balls. It was so easy, it was so fun. Best of all they turned out so cute. Super cute.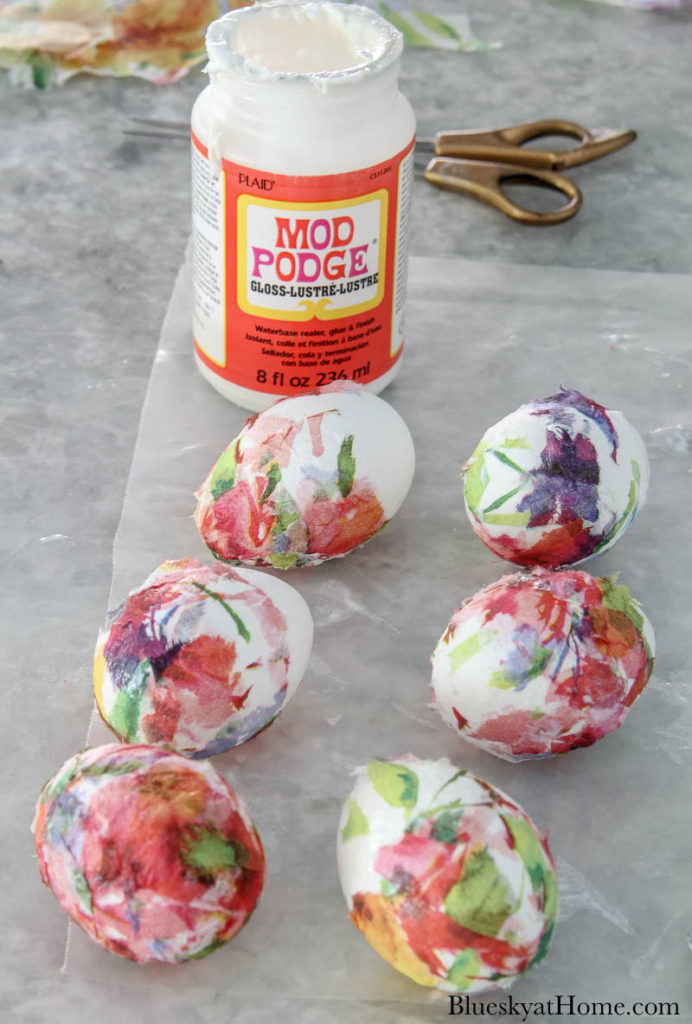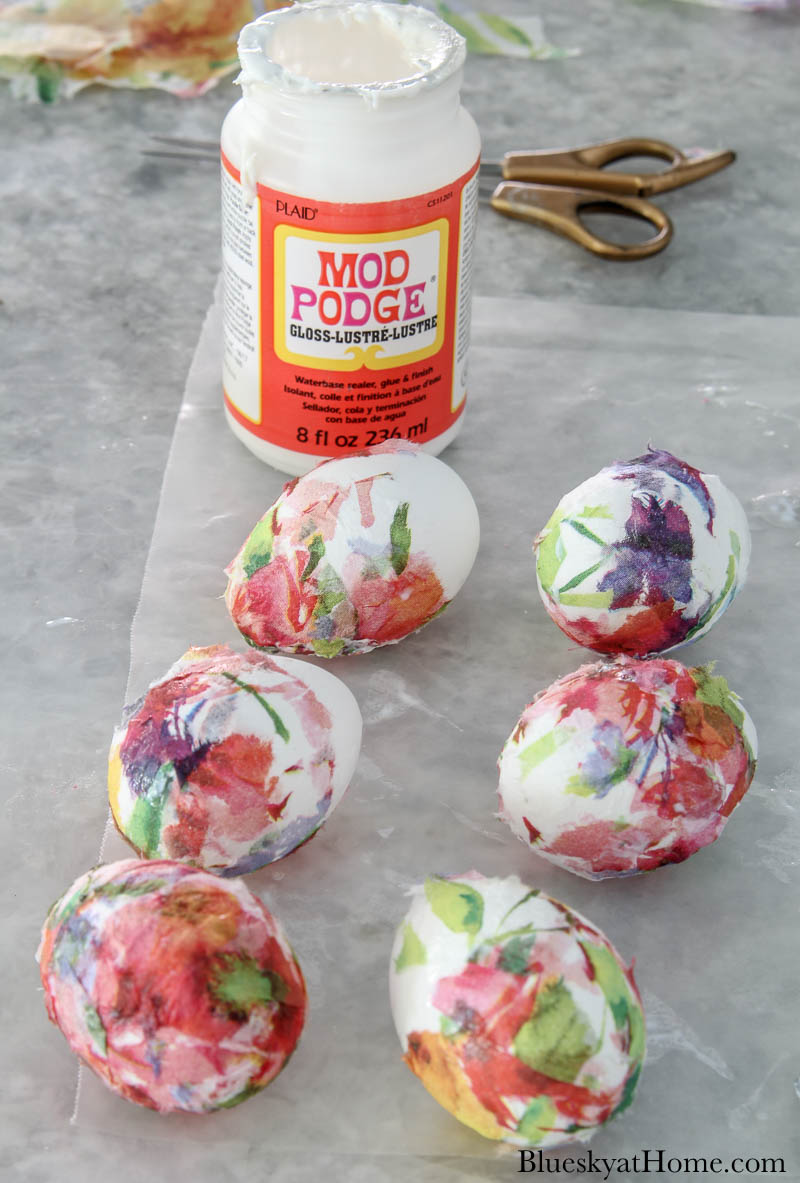 I don't want to give away all the fun, so be sure to see How to Decoupage Easter Eggs and Balls. You will love this project.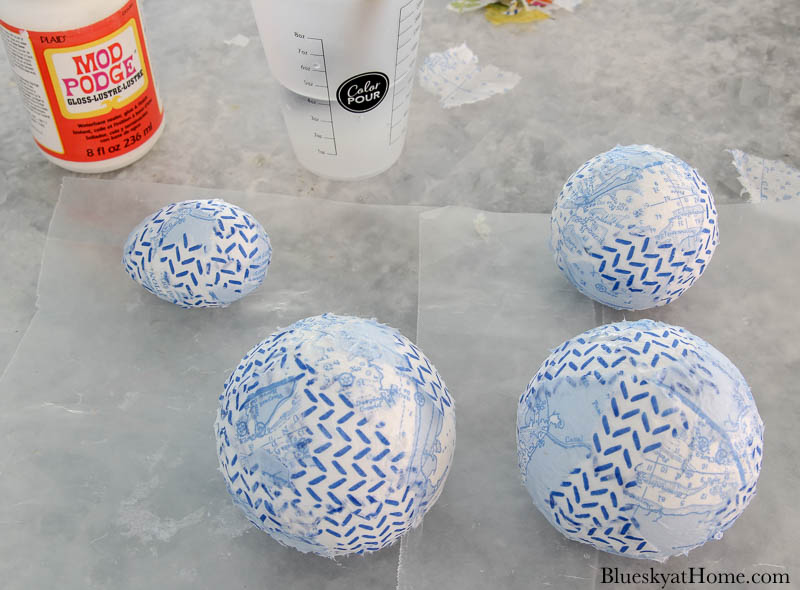 Since this project, I've decoupaged pots, trays, and lamps. You kind of get addicted ~ in a good way.
An Easter Centerpiece from a Repurposed Estate Sale Basket
You can't ever have enough baskets. When you find an awesome one at an estate sale that has been neglected and forgotten, it's a great feeling. Great price is even better.
I had no idea when I found this baset that it would become the inspiration for a beautiful Easter centerpiece. I hope that it was as happy as I was.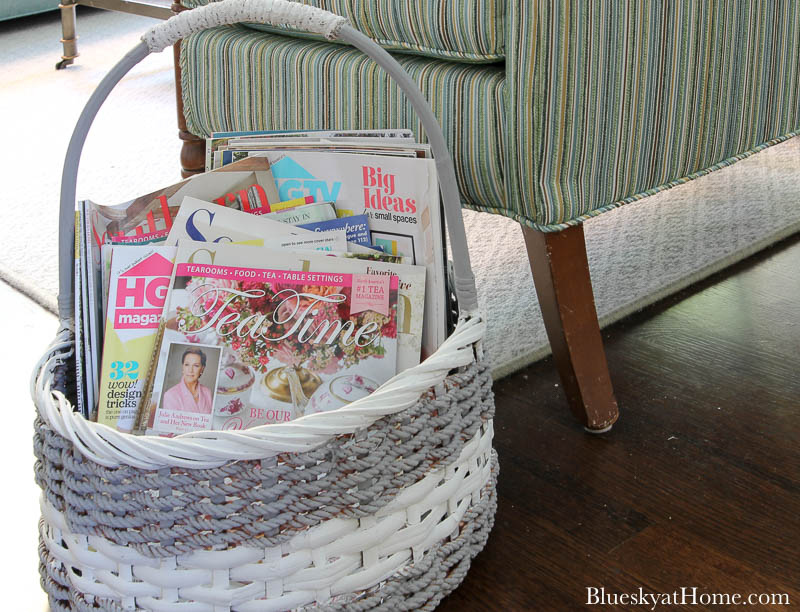 This Bunny and Blooms Basket Centerpiece was the star of an Easter tablescape. It's neglected days were over and it found the spring jackpot.
CURLY RIBBON INSPIRES AN EASTER WREATH
Who doesn't love curly ribbon? Who invented curly ribbon. Thank you, thank you.
It comes in so many pretty colors. It can be used to make presents and packages so much cuter. Making curly ribbon curl is one of the simple pleasures of life.
I never imagined that a bunch of leftover curly ribbon would be the main attraction of this Easter wreath.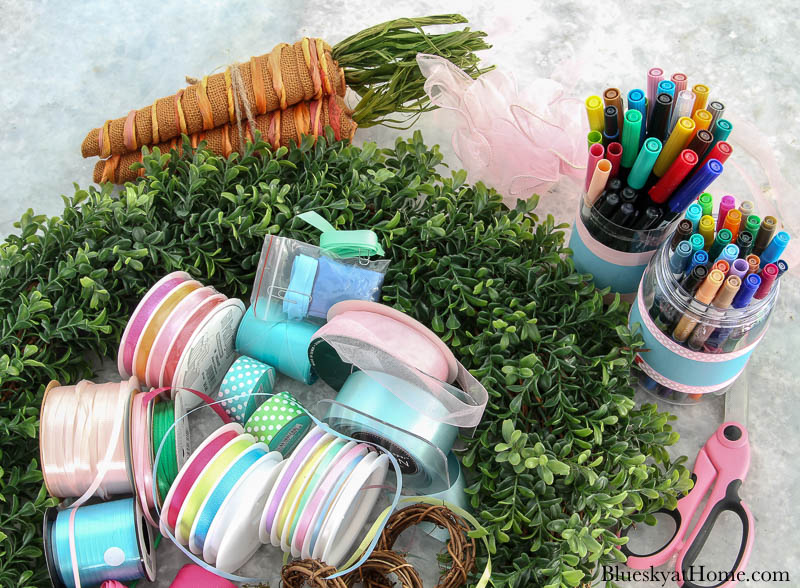 I'm so happy that I keep ribbon from packages (Just ask my kids about Christmas morning.) All the ribbon for this pastel curly ribbon wreath came from presents I've received. That made it even better.
A BIG BUNNY INSPIRES AN EASTER CENTERPIECE
Does one item ever inspire you to create your next vignette, accessory or project? You spy a basket at Target or Hobby Lobby (recently!) and your creative mind starts turning.
That's how this Easter centerpiece was born. By a backyard bunny with dirty feet.
So here is another centerpiece featuring bunnies and blooms. There is more to this centerpiece than just a bunny with dirty feet. I think you'll find plenty of inspiration here.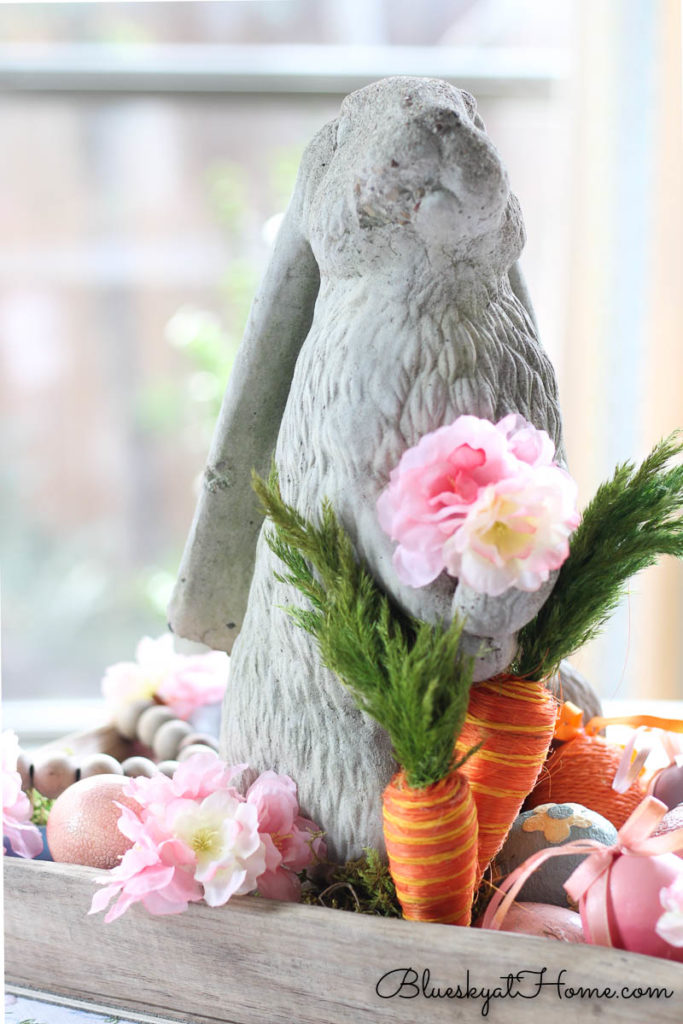 Would just any bunny work in this centerpiece? This special bunny was joined by decorated Easter eggs, faux flowers and moss.
FUN DIY WREATH ~ MORE BUNNIES AND BLOOMS AND BOWS
Can a DIY decoration use simliar elements and still look completely different? Of course!
This Easter wreath includes bunnies. It has bows and it has blooms, but looks completely different than my previous wreath or the centerpiece.
That's what makes creating so interesting.
This Easter wreath with bunnies, bows and blooms is from last year, but it still has a place in my creative heart.
Ribbons become bows and faux flowers become spring flower inspiration.
I hope that I've given you plenty of ideas for your own Easter DIY decorations. I love providing you with inspiration and incentive to create your own pretty Easter decorations.
Even if you don't have a bunny with dirty feet or a box of used curly ribbon, you can make these spring or Easter decorations for your own home.
Be sure to PIN. All these ideas are waiting for you.