How to Make an Easter Centerpiece with Bunnies and Blooms
Do you find things you want to make on Pinterest? I'm going to show you how to make an Easter centerpiece with bunnies and blooms.
With springtime knocking at our door, we are all about spring and Easter decorating. Throw in some bunnies and eggs and flowers and you have the makings of a DIY tutorial. This one is all about how to make an Easter centerpiece that will bring a smile to every bunny.
Do you get a vision in your head that you want to create? Maybe it's from a picture in a magazine. Or Pinterest or Instagram.
Or it could be from a pretty basket or tray you find in a store. Or maybe it's from something you already own and want to reuse.
Like a bunny. Like blooms.
I can't wait to show you how to make this Easter centerpiece. I'll be coming up with a new Easter centerpiece this year, but I really loved last year's and wanted to share it again.
How to Make an Easter Centerpiece with Bunnies and Blooms
This post contains affiliate links to products that I recommend for creating this Easter centerpiece. If you should purchase any product through this site, I may receive compensation, but you don't pay one penny more.
My vision for this centerpiece came when I was outside in our backyard. I spied one of my favorite things. Could I make an Easter centerpiece from a dirty bunny in our flower bed?
I had a bunny as my inspiration. Could I build a pretty Easter centerpiece around him?
Before creating a new DIY project of any sort, I shop my craft boxes to find items I need to create my project. For this Easter centerpiece, I had everything I needed. Not even one little bitty trip to the store.
Here's the elements I gathered and that you will need for this Easter centerpiece:
a tray or shallow basket
a bunny ~ either wood, ceramic, metal, stone ~ whatever you have on hand
faux moss or grass
Easter eggs ~ wood, plastic, decoupage, painted
flowers ~ fresh or faux in spring colors
nests
I decided that for now, I would create my Easter centerpiece on our breakfast room table. The light is wonderful in there and I pass by it dozens of times a day. I left my burlap runner on the table as a rustic contrast to the white tabletop.
THE TRAY
I started this Easter centerpiece with my rustic wood rectangle tray with bead handles. I love that tray! It's absolutely one of my favorite things.
If you follow Bluesky at Home, you've seen it many times. I just love it. It's from Kirkland's. I recognized it immediately as the base for the inspiration centerpiece.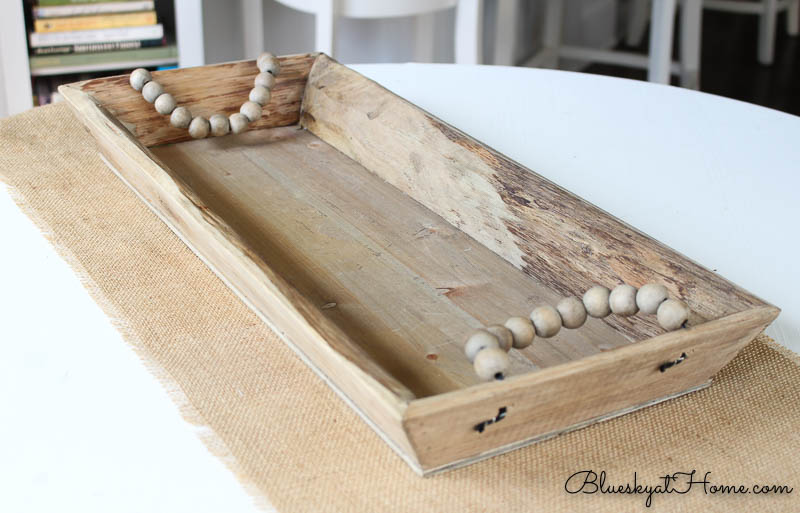 Unfortunately, I looked on their website and didn't see it. I bought it in the fall of 2017, so maybe it's been discontinued. I love the rustic look of this one with the wire base.
THE BUNNY
This concrete bunny that sparked this centerpiece idea has been in our backyard for years. This bunny does not hop because he (or she) is so heavy. I bought him/her inside as soon as I knew he/her would be the center of my centerpiece. He (I give up; he is a he.) had dirt on his feet, so I washed his feet and let him dry out before assembling my Easter centerpiece.
When his feet were dry, I set him in the tray to make sure he fit. He did,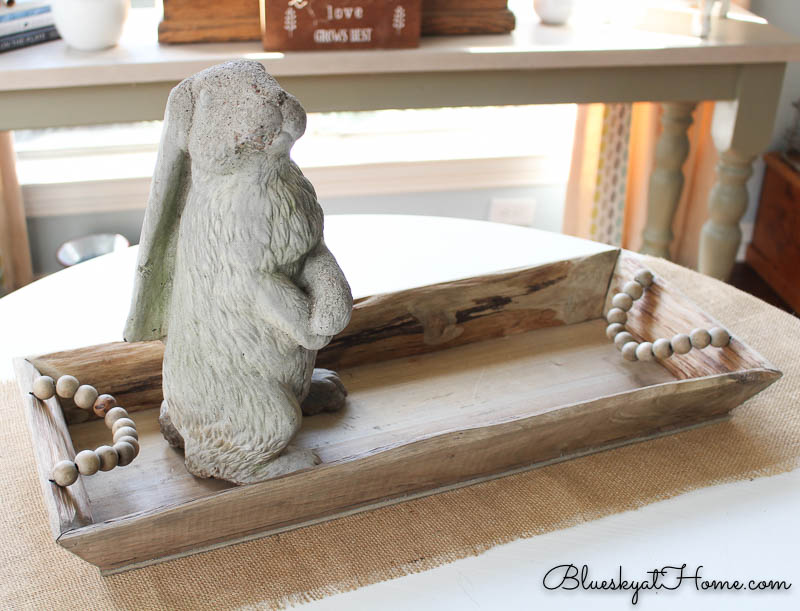 Any large bunny will work for this Easter centerpiece. I think if he is standing up, it will give you more height. I found this one which could be really cute.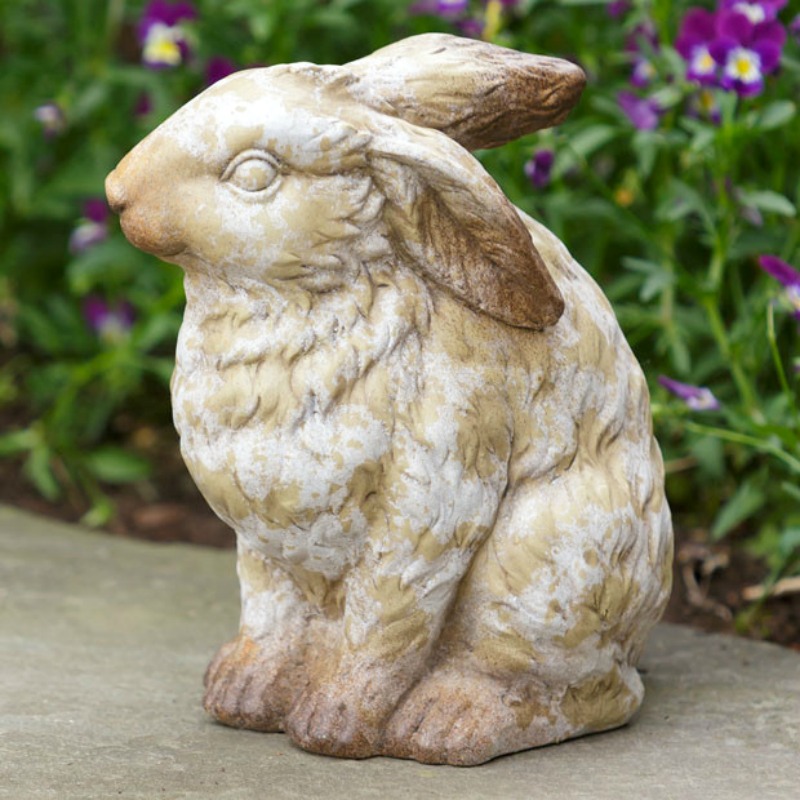 THE GRASS
We always have a bag of Spanish moss and green moss for all sorts of planting needs. You might remember how I used it to finish off our indoor plants.
I laid pieces on the bottom of tray for my "grass". You could use any kind of grass ~ shredded paper or the kind used in a child's Easter basket.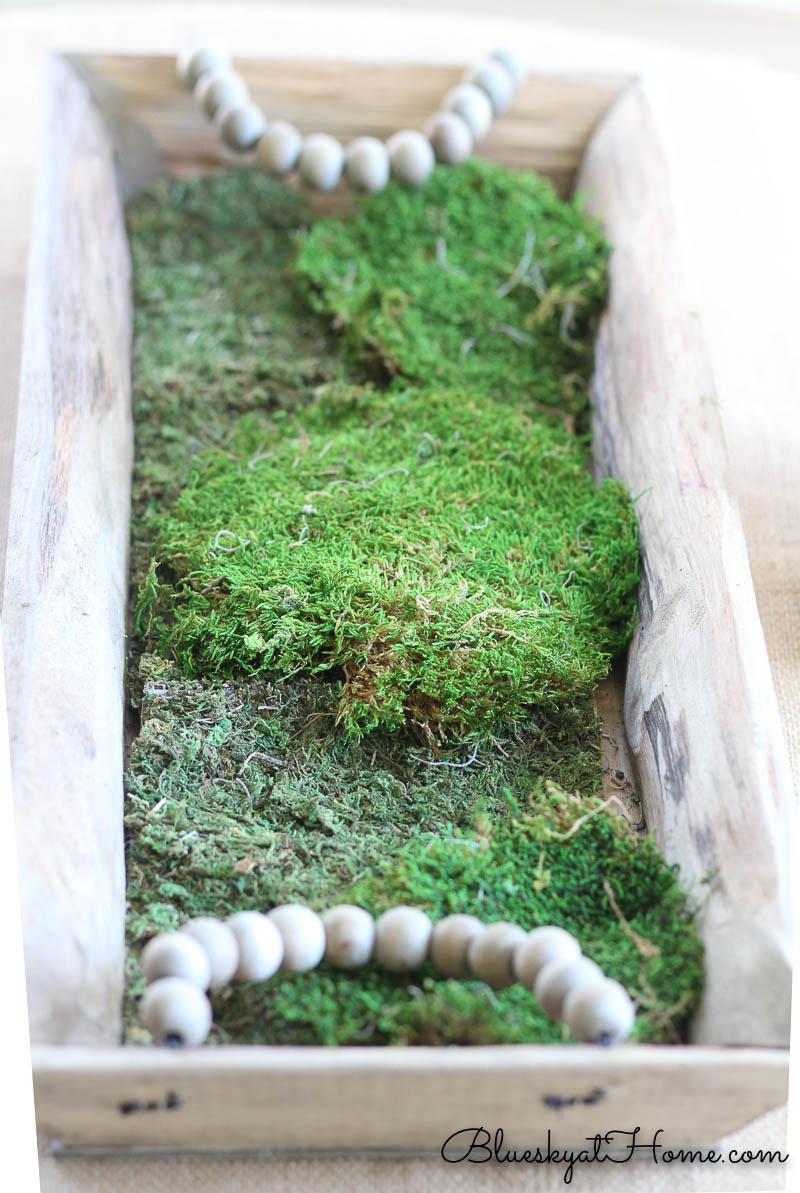 For years we had bought our moss locally at $16.00 a pound. Last year the price went up to $24.00 a pound. I almost choked. When I found this deal, I thought never again about buying moss locally. This really is a great price for green moss and it will last for a long time.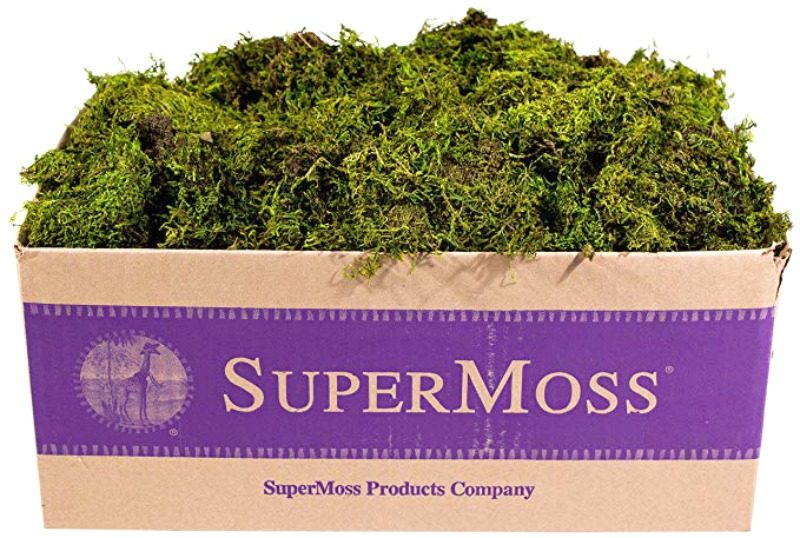 THE FLOWERS
You might remember this white ceramic crock that I stenciled with a spring theme.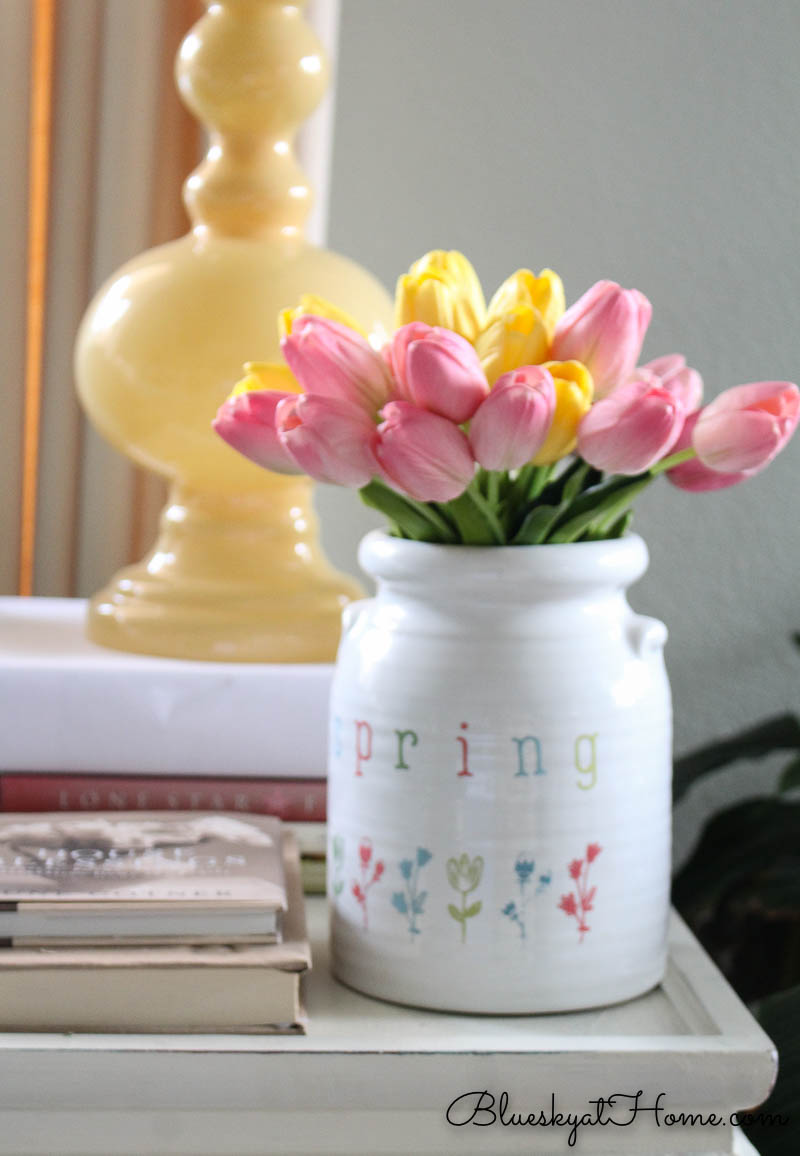 I couldn't leave the other side of the white vase without an Easter design.
Using the same ChalkArt colors, I stenciled the other side with these two darling Easter stencils: Happy Easter Bunny (sold out) on the top and Hippity Hop (sold out) on the bottom.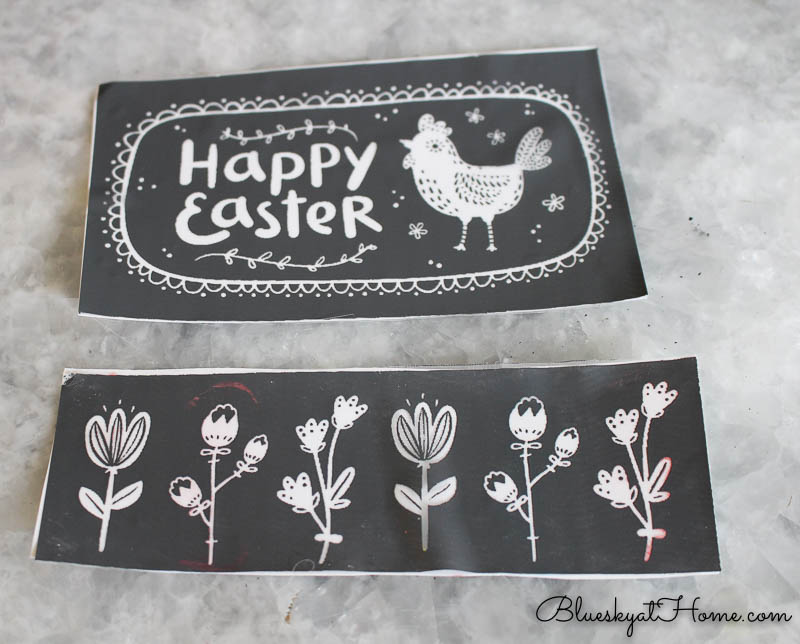 THE TABLECLOTH
In going through my Easter decorations I found an Easter tablecloth I forgot about.
I bought it at the Lakewood Flea Market north of Atlanta about five years ago. The vendor had a huge stack with different color trim. I picked blue. I think they were made in Europe. Sweet Shark helped me lift the tray, which was halfway decorated, and I slipped the tablecloth underneath.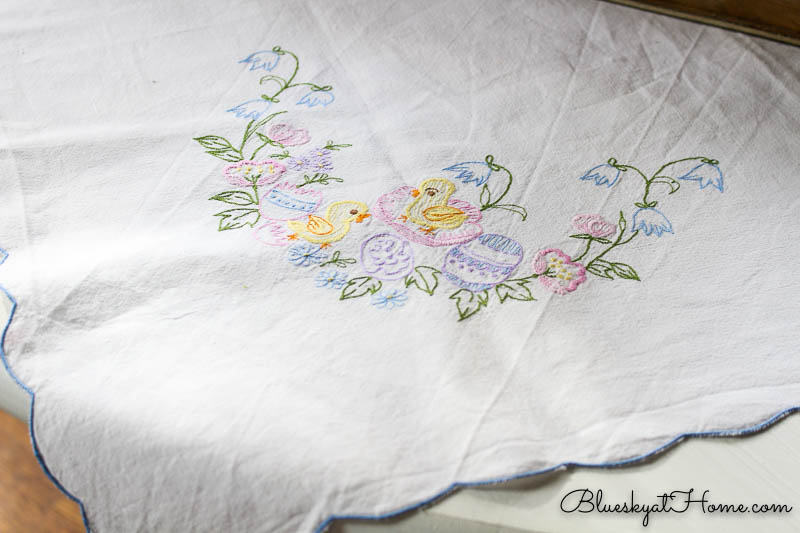 THE EGGS AND FLOWERS
Now I added a variety of our decorated Easter eggs. We have had these for many years.
The hand~painted egg in the lower right hand of the picture is special. We bought it two years ago in Budapest on a pedestrian shopping street called Vici Vaci (vaci is street in Hungarian ~ about the only word we could pronounce and remember.) Painted Easter eggs are a tradition in Hungary.
The tulips (flea market purchase) stayed in the white vase.
Then I added cherry wood blossoms which I bought a few years ago at Pier 1. I took them off the branches and now have a bag full of blooms. I tucked them in and around the eggs and grass.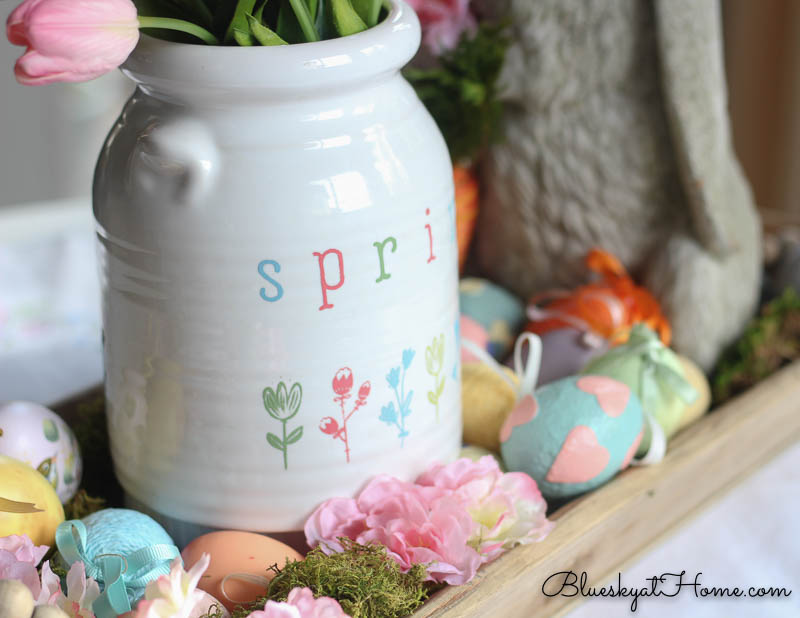 I placed one bunch in the bunny's paws. I also gave him some carrots to munch on.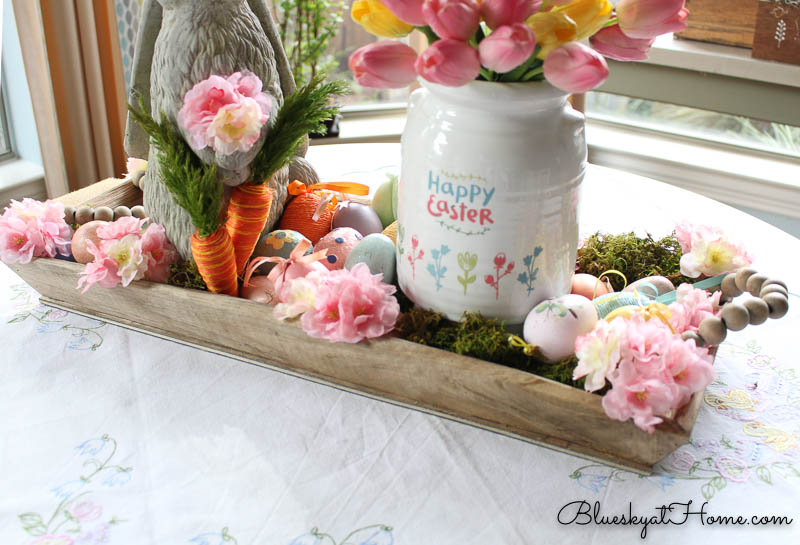 THE NESTS
Was I through with my Easter centerpiece? I wanted little nests. Problem? I didn't have nests, but I could make nests from mini~wreaths and reindeer moss.
The mini~wreaths came from the antique mall in Atlanta and I used them in my green and white spring tablescape. The reindeer moss came from Dollar Tree. I like to keep several bags on hand.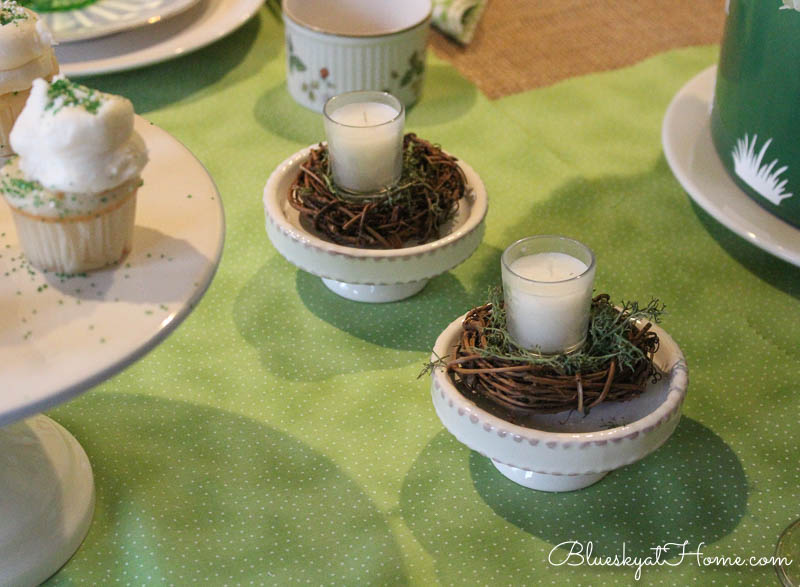 For the Easter centerpiece, I laid three mini~wreaths at the left, center, and right on the tray. Then I added a little more reindeer moss to make a nest.
Each nest for the Easter centerpiece got a sweet little bunny. This is part of a set of five ~ it's a bunny band that I gave to my younger daughter when she was little. Since she has a little boy who isn't interested in bunnies anymore, she told me to keep her bunny collection.
Here's the conductor.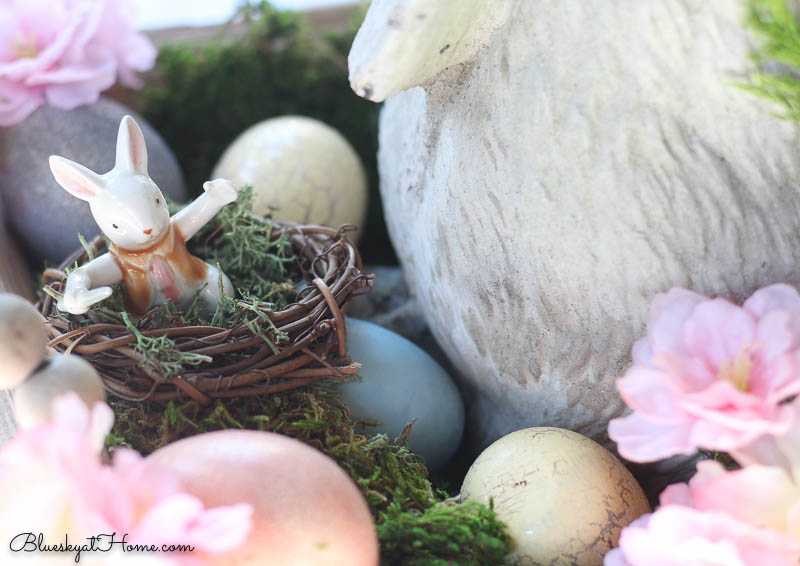 And the horn player.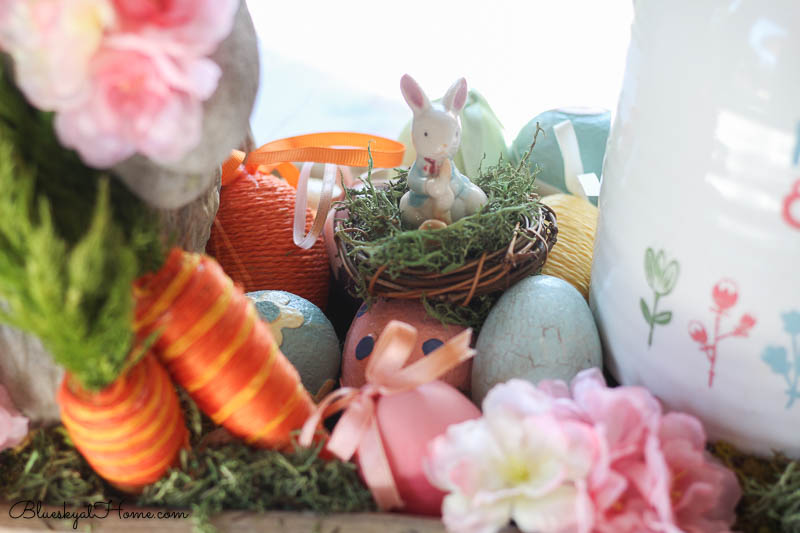 And the violinist.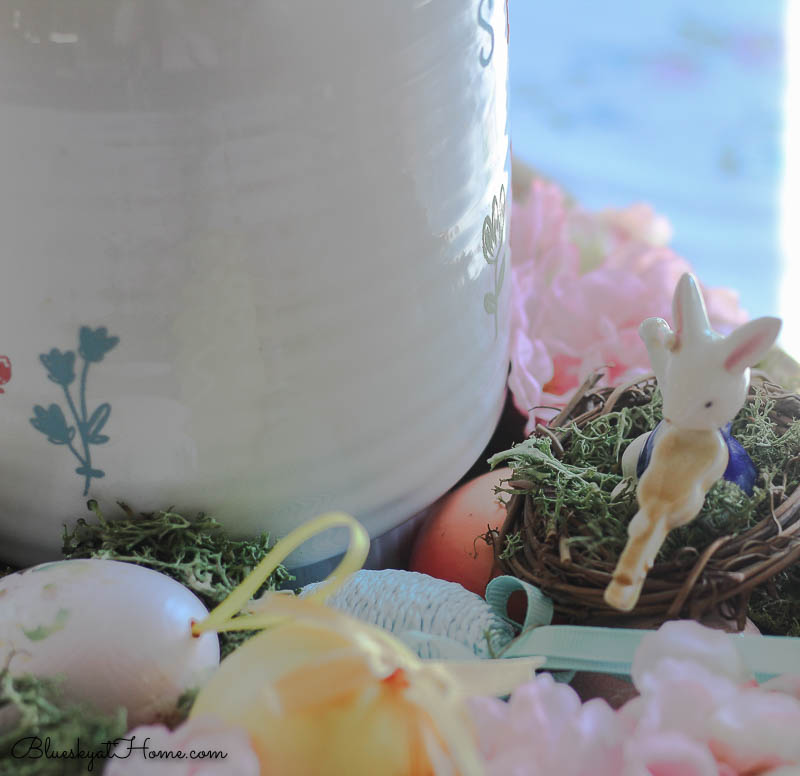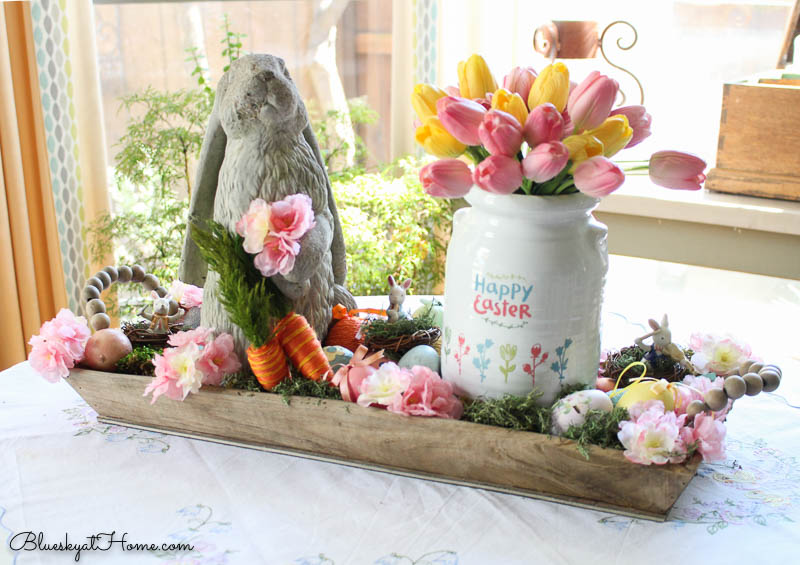 Now I had all the elements that the Easter centerpiece inspired me to create. This centerpiece would look great on a coffee table or a mantel, too.
Knowing how to make an Easter centerpiece is easy when you have an inspiration bunny ~ even if he has dirty feet. Since you now have this picture to inspire you, I hope that you will PIN it.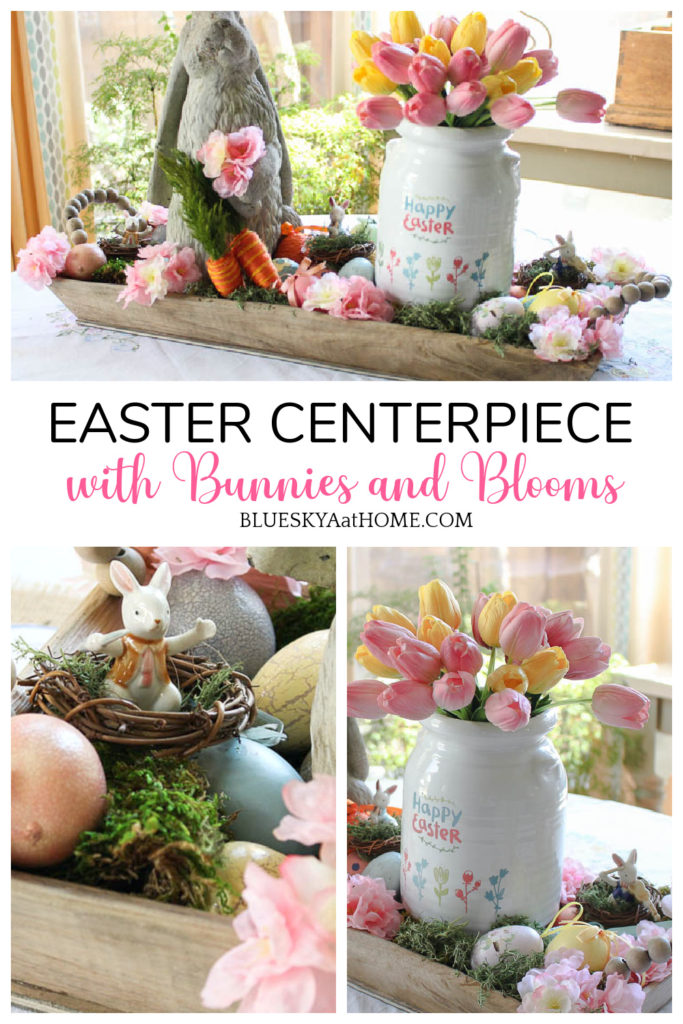 Now I'm ready to create this year's centerpiece. Are you ready?