Your Home Decor Budget – Where to Spend and Where to Save
Do you have plans for updating a room in your home? Do you have a home decor budget? You definitely want to spend wisely.
You want to maximize your decorating budget. Spend where you should and save where you can. Get the biggest bang for your buck, right!
I've shared that we are working on updating our living room. So far, we've bought a beautiful new piece of art for above our mantel (which I'll share later), a new sofa and two new swivel chairs.
Two of those items are big~ticket items that will get a lot of wear and tear. They have to last a long time.
Another item will get little if any wear and tear and may change with the seasons or my current decor style.
Which items do you think should get the bulk of our home decor budget?
I was so pleased to find several articles that reinforced my ideas about where and how best to focus our home decor budget. This information will be helpful to you, too. Either now on in the future.
Be sure to sign up to receive Your Home Decor Budget Worksheet.
Where to Spend Your Home Decor Dollars
This post contains affiliate links to products shown in this article. If you should order any product from this site, I may receive compensation, but you will not pay a penny more.
Sofas
A sofa is a key living room purchase and not worth scrimping on, the experts say.
A well~made sofa should last many years. You can always recover it or have a slipcover made if you want a different fabric or color.
Our current sofa is 22 years old. We had it reupholstered when we moved to our present home nine years ago. It is still in excellent condition.
Why are we replacing it? Three reasons:
Size ~ it's too big for our challenging room configuration
Color ~ I'm tired of aqua
Style ~ I want a more modern style
Sofas and chairs should be well made ~ ideally, the frames are kiln~dried hardwood. The construction should be sturdy. The fabric should be well~made and resistant to stains, dirt, and spills.
Just as important is comfort. Sitting on a sofa or chair should feel good. Depth of the seats and height of the cushion to the floor can only be determined by sitting on the sofa or chair.

The only way to determine the construction of the furniture is to ask the salesperson or designer. The only way to determine the comfort of the furniture is to sit on it.
In the last several weeks, I bet I've sat on 18 sofas and a dozen swivel chairs. It's clear immediately that some are too deep or too high. That's something you can never know by buying a sofa or chair online.
Last week when Sweet Shark and I went together sofa/chair shopping, I made him sit in every chair and every sofa. We had to be 100% sure that the sofa/chairs would be comfortable for us.
There are so many details to check when buying a sofa, but we'll leave those for another post.
Flooring
Flooring has one of the biggest impacts on your living room so it's worth investing in getting it right. Yes, flooring is often a big expense. Getting a floor that will last will save money and time in the long run. 

Always choose flooring that's good quality, easy to clean, won't get damaged easily and will stand the test of time.

If you have original floorboards, the same rules apply: spend on having them sanded, repaired and varnished or oiled by a professional, if you can afford it, for a finish you truly love.
There are so many flooring options and materials these days. You need to do your homework. Ask questions about wearability, durability, and upkeep.
Then buy the best you can afford.
Lighting
It's well worth investing in a lovely centerpiece pendant light, especially if you have a high ceiling.

Lights are real standout features in a living room. If lighting looks expensive, it makes you feel the other items in the room are as well. Cheap lighting shows. 
Well~made accent lamps can add gorgeous ambiance to any setting. A living room design should create soft pools of light for a more relaxing evening ambiance.

Fabric
Do you spend your home decor budget on fabric? It depends.
I love fabric. I have seven plastic storage boxes of fabric (organized by color). High~quality fabric can be very pricey. Where to spend your fabric dollars?
Don't forget to factor in labor costs.

How much money you spend on fabric also depends if you can sew. I have no problem making pillows, shams, easy cushions, simple curtains or valance or even a coverlet. Anything else I turn to the experts. 
Where Spend Your Fabric Home Decor Dollars
on high traffic areas like sofas and chairs that will be used often. These items, which also may be used by kids or pets, need high~performance fabrics that will hold up to daily use.
draperies in public areas ~ cheap fabrics will not hang properly nor will they last over time. Labor costs are the same for $10 fabric or $50 fabric. Spending money having drapes made with inexpensive fabric is – well, a waste of your decorating dollars.
dining room chairs ~ unless you use your dining room every day, this is the place where you want a wow! factor. This is one place to splurge.
If you find an expensive fabric you love, splurge on enough for a couple of accent pillows. 
Last week I saw the most amazing fabric at a designer fabric store. It was $110/yard. I can make two beautiful 18~inch throw pillows for our new living room sofa when it arrives in October for a little over 1 yard of fabric. I'm still thinking about it.
Check out the remnant table at the designer fabric store. Several years ago I bought a 2~yard piece of $80/yard fabric that I loved for $10. A few years later I used the fabric on the captains' chairs in our dining room.
Where to Save on Your Home Decor Dollars
Coffee and Side Tables
These items are home decor staples for many of us, but it's somewhere you can easily save on your home decor budget.

A cheaper table can be styled well with books, plants, and accessories. There are lots of reasonably priced, good-looking ones available. There are also some really good replicas of designer ones around.

You can buy a less expensive table and dress it really nicely. Also, a table doesn't get as much wear and tear as a sofa, dining table or rug.
I love the side tables that we got at Wayfair last year. They are metal and glass, just like the coffee table we bought at the design center nine years ago.

The coffee table was over $1000 and the side tables were just over $100 each. Most people would never know the difference.
Depending on your style, great tables can be found at flea markets, estate sales, and the big box stores. If your table is made of wood, it can be painted or stained to change the look.

Rugs
Once good rugs were investment buys that cost a fortune — and anything other than pure wool was regarded as synthetic and nasty.
Today, thousands of nice rugs are made of polypropylene or polyester. They have beautiful patterns and vibrant colors. Many are stain and pet~resistant.

Today, it's easier to find stylish designs that look more expensive than they are.  There's a real range of well-priced rugs out there and they come in really large sizes.

Rugs are also often covered with sofas, chairs or coffee tables. So maybe you don't need that pricey handmade rug after all.
Just remember that these rugs will not last for years and years. But the price is so affordable that you can change them occasionally.
NOTE: When we couldn't find a living room rug, we had a patterned 100% wool carpet cut and bound. Our rug is 9 X 12 and I think we paid about $1000, which is much less than a comparable type rug. It still looks beautiful nine years later.
We are finally replacing the rug in our dining room (Bought in 2017 at Home Goods for about $379.), Our lovely Layla pretty much destroyed it the last few months of her life two years ago
I was willing to spend several hundred dollars. Keeping in mind that we still have a puppy who is 90% house~trained, it didn't make sense to spend hundreds on a rug.
I started searching online and ordered this 8 X 10~foot rug in a pattern that was interesting and had the multi~colored look I wanted. I couldn't believe the price. We absolutely love it (and no puppy accidents so far).
If it only lasts a few years, we haven't wasted a big chunk of money on it.
Pillows and Throws
Pillows and throws swiftly turn a plain room into a stylish, comfy retreat, but you don't need to spend a fortune.
Beautiful patterns and colors can be found online and at big box stores.

Keeping it budget~friendly also means you can change things easily and cheaply, especially, if you refresh your color scheme by season or holiday.
TIP: when shopping for pillows do look for ones with zippers. That way you can change out the covers and more easily store the covers when not in use.
I recently found the cutest check pillows (with zippers and piping) in the perfect blue at Target on sale for $7 each. What a steal.
Here is a collection of affordable pillows. They are all 18 X 18~inch and have some kind of pretty embellishment.
Decorative Accessories
Accessories are crucial to "filling out" any room. They add interest, color, pattern, and texture. They can be of different sizes and materials.
Do you need to spend a boatload of your decorating dollars on them? Absolutely not.
There are so many resources, both at your local stores and online.
Hobby Lobby, HomeGoods, Target, or At Home, to name a few, offer a wide range of very affordable items.
If you want a little higher level of accessories? Check out Ballard Designs, Restoration Hardware or Pottery Barn.

Online, the possibilities are endless. Wayfair, Overstock, and, of course, Amazon, are as close as your computer.
Fabric
Here's the flip side of where to save money on fabric. These are the places where high~dollar fabric doesn't make sense. 
areas that lend themselves to high turnover or less than ideal environments for fabric
children's bedrooms
laundry rooms or bathrooms ~ heat and humidity are not good for fabric
kitchens ~ you don't want grease and food odors ruining high~end fabric
accent chairs that may come and go in your home
any place you may want to change colors or patterns often
inexpensive furniture that needs to be reupholstered. Would you put $80 fabric on a $20 flea market chair that needs 4 or more yards? Probably not, but that's a judgment call.
Art 
You don't need to break the bank by buying pricey limited editions or original paintings.

You can find lots of art prints on paper or canvas online that don't cost much and, once framed, look great.
There are also many places offering photographic prints, which come in a range of sizes. In large sizes, these can look like a real statement piece without costing too much.
There are many sites to find beautiful and affordable artwork online.

Etsy is a great resource. We recently ordered this gorgeous reproduction on canvas. After it arrived, we ordered a wood frame from a local store and stretched it ourselves. It was easy and we love the new bright colors and modern vibe.
There is such a wide variety to choose from for every style and taste. Here are some very diverse options.
Our homes are our havens. We want to create a beautiful environment, but we want to be smart about spending our money wisely.
Get Your Checklist/Worksheet to help you plan your next home decor project.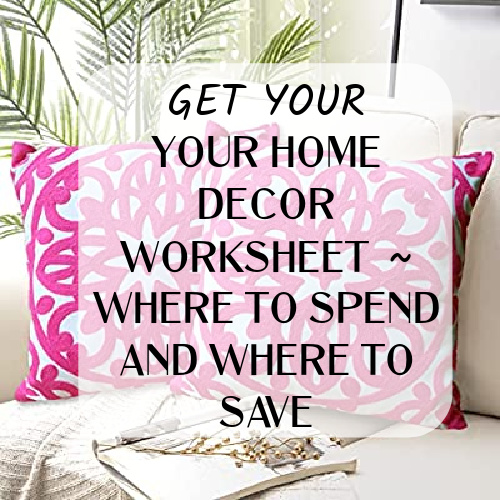 When you are shopping for home decor items, you want it to be an enjoyable experience.
Hopefully, this guide for your home decor budget will help you as you plan for future purchases. Keep this guide to refer to (That means PIN IT!, please.)